A beach-themed bathroom is perfect for a serene ambiance with summer vibes! Coastal interiors are popular for their minimalistic design. It incorporates natural materials with a soothing color palette inspired by the beach and the ocean! 
Bring coastal beauty to your bathroom with elements like wood, stone, and seashells! Not only do they enhance the aesthetic, but also create tranquility and harmony in your space. Beachy colors like soft blue, green, sandy beige, and crisp white exude calm and coolness. 
These are exotic colors for kick-starting your summer days on a high note! I hope these coastal bathroom ideas inspire you to take the plunge!
Beach-Themed Bathroom Ideas
Try rattan cabinets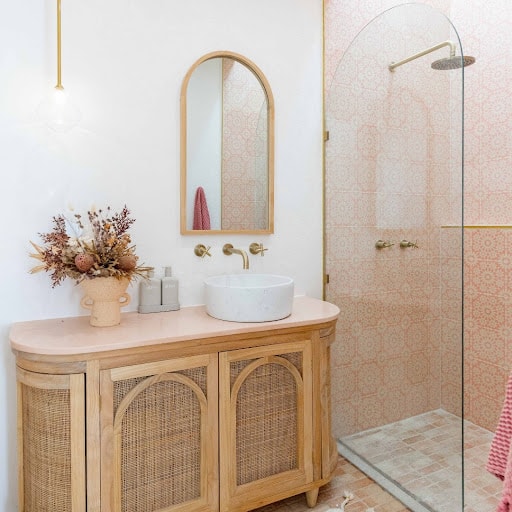 For a beach-themed bathroom, rattan cabinets are an essential choice! It is a naturally light and airy material, which brings an overall coastal look to the bathroom. Lighter rattan colors like white, or natural wood are great choices for a beach theme!
Rattan cabinets are simple and beautiful, giving your bathroom an openness and airy feel. So, you don't need any extra effort for decorations!
Subtle blues all around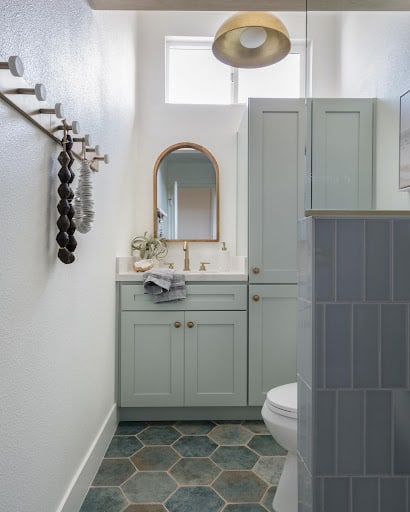 Throw a splash of blue into your beach-style bathroom with subtle shades of the color! Add sea salt blue cabinetry with striking hexagon floors! You can also attach blue subway tiles in the shower along with that. This gorgeous combo is magical enough to relive your mermaid fairy tales!
Something's fishy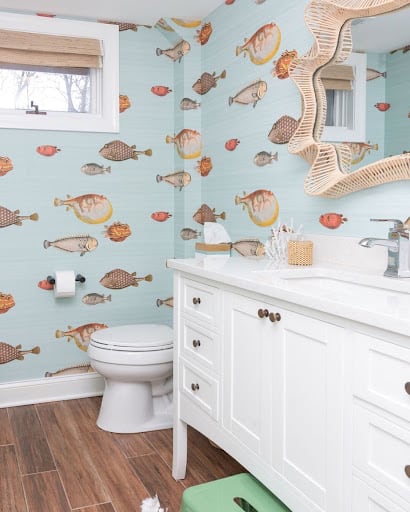 A colorful fish-patterned wallpaper is an incredible addition to a playful beachy bathroom! Keep the rest of the décor simple, since the bold wallpaper is already a focal point. Choose neutral-colored accessories or fixtures to avoid overdoing them! 
Try pairing the colorful wallpaper with natural materials such as bamboo, rattan, or wood! These materials pull off a fun coastal ambiance while keeping the design natural, and soothing.
Use art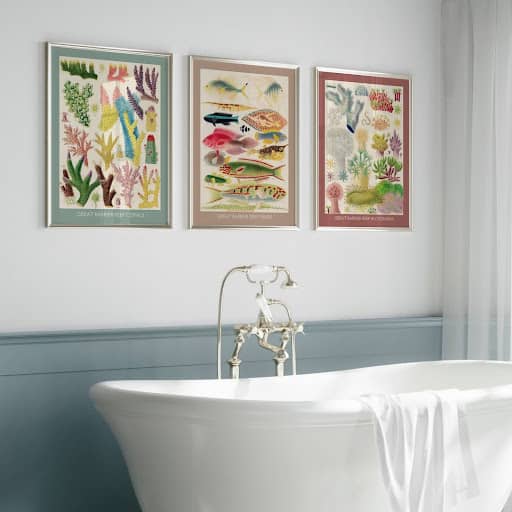 Add beach-themed posters and wall art to enhance your bathroom! Select a few images which go well with the overall aesthetic and decor of your space. Choose your poster sizes according to your bathroom dimensions! 
For a small space, smaller posters are the best option. Instead, try using larger posters for a large bathroom space. You may also create a gallery wall for this! Always try new and unique posters, and you can achieve an eclectic range of stylish looks.
Turquoise subway tile showers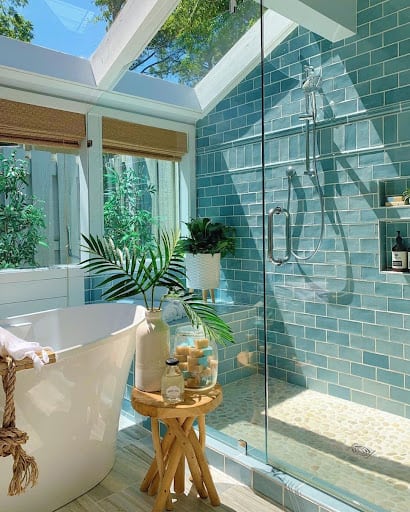 A turquoise subway tile shower evokes the glamor of the sea! If you're adding this subway tile shower as your focal point, you must balance out the rest. 
Use neutral tones like white, or beige for the other walls and the floor. This way, the colors won't clash or become overpowering! 
Pro Tip: Make your subway tile stand out by adding contrasting grout colors. Colors like light gray and white are ideal for enhancing visibility and intrigue!
A li'l coastal and a li'l rustic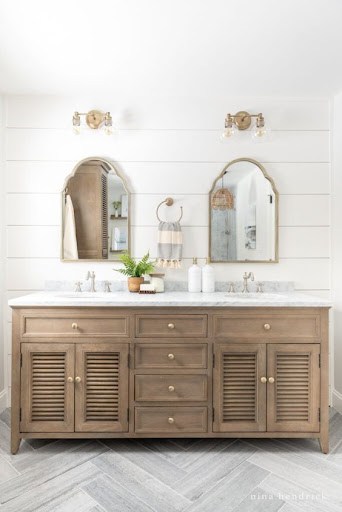 Distressed wood cabinets are such a rustic addition to a beach-themed bathroom for a cozy and relaxing look! Choose a commonly used wood for beach house décor like pine or driftwood, for the cabinets. It will serve a unified look that goes well with the beach theme. 
Keep the rest neutral-colored and simple to match up the rustic feel, along with the striking wood cabinets!
Woven lights and wall décor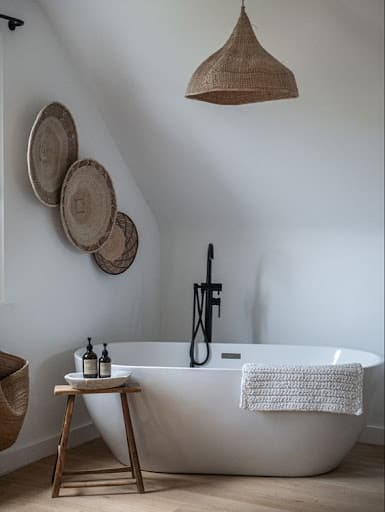 Woven lights and Wall décor are the essentials for bringing texture to your beach-themed bathroom. During selection, choose beach house materials like bamboo, rattan, or jute! Use them as accents, since the woven lights are a bold décor for the space. 
Add natural tones like white, beige, or other light colors for the walls, tiles, and fixtures. You can also keep two focal points in your space like a rattan wall mural, or a woven pendant light!
Bring in some greens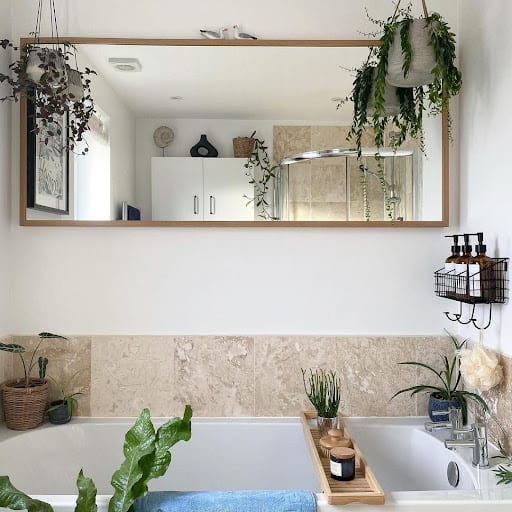 Green plants in a beach bathroom build a fresh and natural atmosphere! But, not all plants are suitable for damp bathrooms. Spider plants, aloe vera, bamboo, peace lilies, and snake plants are perfect for these kinds of environments. 
They add a lively green and a stunning marine finish to your bathroom! 
Mermaid scale tiles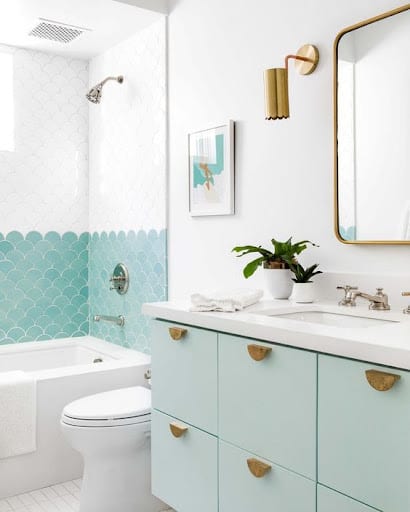 Mermaid scale shower tiles are designed for adding quirky fantasies to the space! These tiles come in a wide range of shades, so choose any one. Shades of blue and green remind you of the sea, while the iridescent tiles bring shimmer and sparkle! 
You can use them for the shower, bathtub, or even to create an accent wall. Just match up the tile positions with the overall look of your bathroom! Once again, keep the other elements neutral and simple, since the mermaid tiles are pretty eye-catching.
How about herringbone?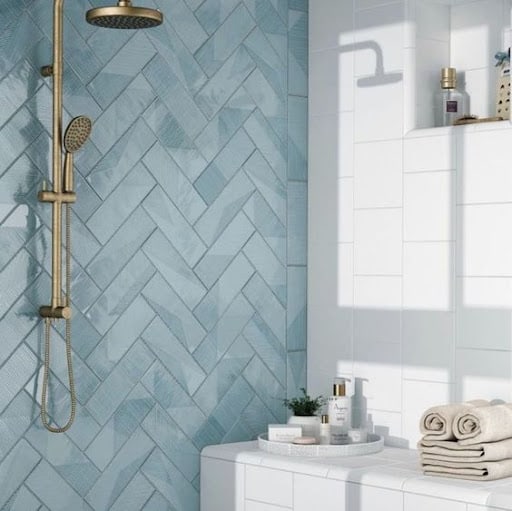 Ceramic, porcelain, marble, and other materials are used for making herringbone tiles! Use a color palette inspired by the ocean to combine the tiles of your coastal bathroom. Shades of blue, green, and sandy beige are perfect for herringbone tiles! 
Since they add a great visual aesthetic to a room, it's necessary to keep the other elements simple and clean.
( Do you enjoy decorating your shower space? Check out these posts on Shiplap Bathroom Ideas, and Floating Shelf ideas for the bathroom, for more bathroom décor tips! ) 
Blue Portuguese tiles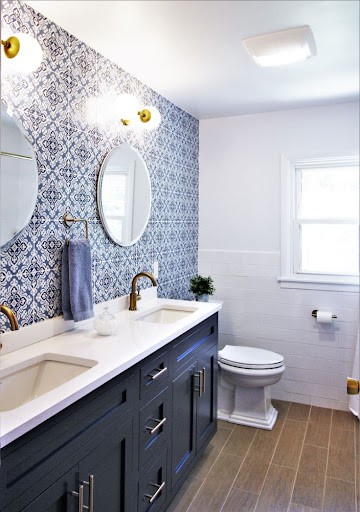 Wanna bring some elegance to your beach-themed bathroom? Try the blue Portuguese mosaic tiles to create a stunning accent wall. Mosaic tiles come in several colors! 
So, choose your preferred blue that goes with your marine bathroom.
Surfboard towel rack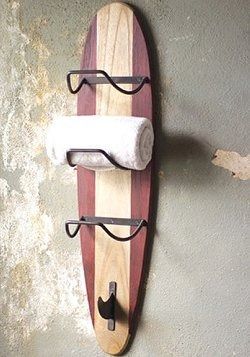 A DIY surfboard towel rack can be an amusing and quirky addition to a beach-themed bathroom. It gives your shower space a rustic beach shack vibe! It is also great for redoing a smaller bathroom, to fit the latest theme.
Bathroom floor makeover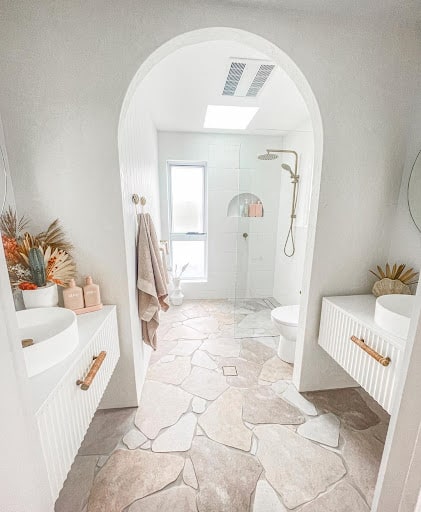 Stone pavers for a bathroom floor create an organic and sunny vibe. To transform your bathroom look, redoing the floor can just be the right thing! A stone floor is a wonderful choice for building visual intrigue and textures to your space!
Pink coastal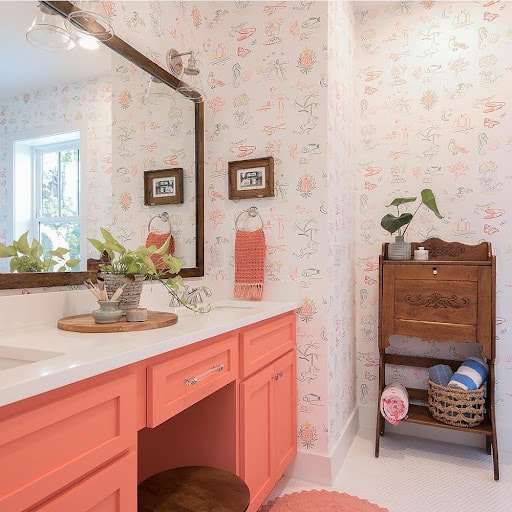 Creating a beautiful pink coastal bathroom is easy. Just add a pink cabinet and a colorful wallpaper with pink accents! Take a break from the traditional blues and browns. Throw some pink beachy elements like seashells, waves, and coral. 
They create a bold unified design, so keep the other elements neutral. This way, your beach-themed will exude pink charm without overwhelming the eyes!
RELATED: 17 Art Deco Bathroom Ideas For You To Bathe In Luxury!