The Art Deco design style began in France in the early twentieth century and quickly spread throughout Europe and the United States. It arose as a reaction to the ornate and heavily embellished design styles that dominated the nineteenth century, such as the Victorian and Art Nouveau styles. It was a departure from these styles as it featured clean lines, bold geometric shapes, and streamlined forms.
The overall art deco aesthetic is used to inspire an art deco-style bathroom, with a focus on clean lines, geometric shapes, and luxurious materials. A sunburst mirror, a freestanding bathtub, chrome or brass fixtures, and bold geometric tiles on the walls or floors are all common features of an art deco bathroom. Mirrors and other reflective surfaces are frequently used in bathrooms with this style to create a sense of glitz.
The following are some art deco bathroom ideas that really stood out to me, and I hope you enjoy them as much as I did!
Some Gorgeous green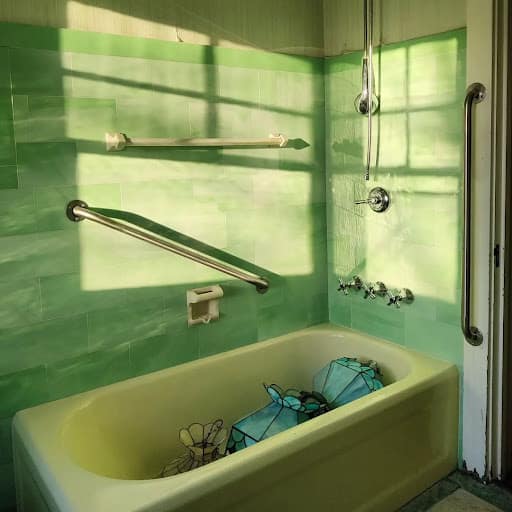 An all-green Art Deco bathroom, complete with a lime green bathtub and green tiles throughout, would be a daring and eye-catching design choice! Consider adding some contrasting elements in other colors, such as metallic silver hardware, to keep the space from feeling too overwhelming.
Remember that when working with a bold color scheme like this, it's important to balance the design so that it doesn't feel overwhelming or too busy. You can create an attractive and visually striking space that feels balanced and harmonious by combining textures, finishes, and complementary colors.
Say yes to pink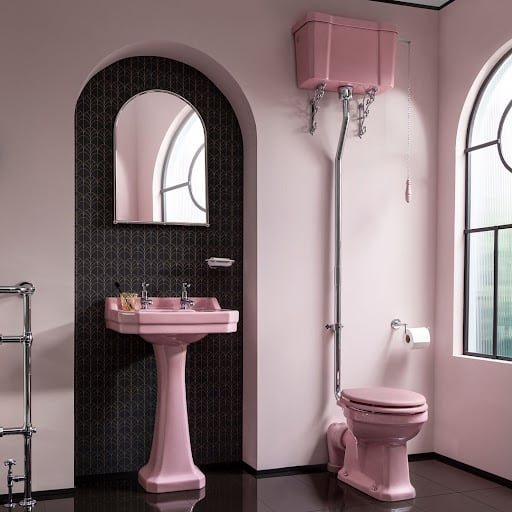 For a truly striking contemporary space, go all out with bright pink. It is critical to select the proper shade of pink- Look for a bold and bright but not overpowering color, such as a deep rose or blush pink.
To give the space an authentic Art Deco feel, look for Art Deco-inspired lighting fixtures, mirrors, and accessories. Use geometric shapes, bold patterns, and metallic finishes to finish up the space or add an accent feature.
Consider using an accent wallpaper as a backdrop for the sink in your all-pink art deco-inspired bathroom to break up the monotony and add visual interest.
Go all out with the plants
Hanging or potted plants can add a natural touch to the space while also helping to soften the bold colors commonly used in the art deco style. When you want to indulge in creating a glam space, a glossy green subway tile and pretty pink-walled luxury bathroom will suffice.
Choose art posters that go with the Art Deco theme and add a splash of color to the walls. Add finishing touches like a patterned shower curtain, a colorful bath mat, and coordinating accessories like soap dispensers and toothbrush holders to complete the look.
Try Decorative mirrors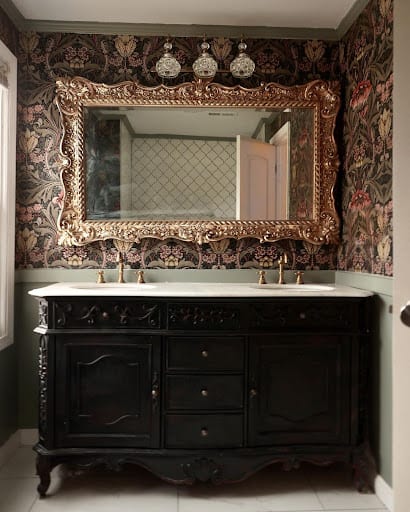 Mirrors with intricate carvings are a great addition to an art deco bathroom. Consider placing the mirror in the center of the vanity space to emphasize the symmetry of the Art Deco style. This will result in a well-balanced and visually appealing design. Choose a wallpaper with a striking pattern that complements the mirror and other elements in the room.
Look for fixtures and hardware with metallic finishes, such as chrome or brushed nickel, to tie the design together.
Some Art Deco Jewel décor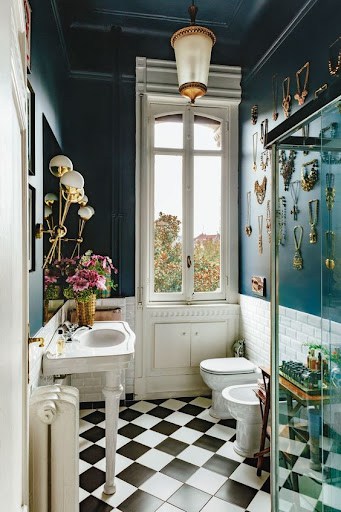 Create a dramatic and eye-catching display by grouping multiple jewelry pieces together. Necklaces, bracelets, and even brooches in gold tone can add a luxurious and royal touch to your Art Deco bathroom. Look for intricate designs or geometric shapes that complement the Art Deco style.
For a unified look, group pieces by color or shape, or go for a more eclectic look with a variety of styles and designs.
Paint your cabinets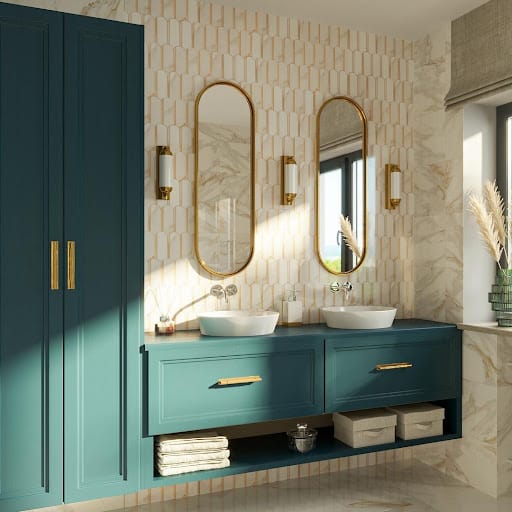 Since the Art Deco style is known for its bold use of color, you can't go wrong by painting your cabinets a deep blue, green, or red. Metallic or gold accents will only magnify the royal look. Hunt for wallpapers that complement the chosen colors to incorporate Art Deco-inspired geometric shapes into your cabinet space. You could also incorporate metallic hardware in unique shapes to complement the overall design.
A Metallic Finish For Luxury!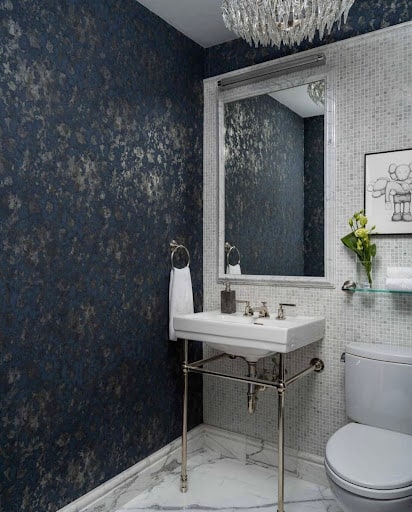 Adding a metallic finish to the walls in your art deco bathroom will bring a glamorous yet luxurious touch of elegance to the space. Wallpaper or paint of a metallic color (such as grays, bronze, or even cobalt blue) is the foundation on which you can add metallic elements and accessories like light fixtures, towel bars, soap dispensers, etc.
Be sure to throw in some contemporary artwork with a metallic frame so as to solidify its place in this (semi) lustrous landscape!
The blues are here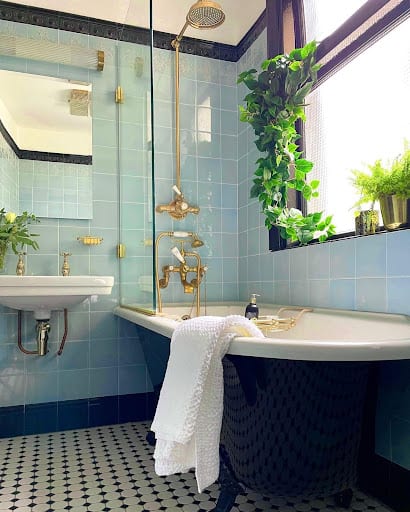 An art deco bathroom isn't complete without a sense of comfort and relaxation – and what brings these out better than blue? And let's not forget the royal touch the hue brings. Who needs a crown when you can have deep navy and midnight blue sanitary fittings? along with lighter shades of sea blue on the ceilings or tiles that will make you feel like you're bathing in the vast ocean, minus the annoying seagulls.
Bottle green tiles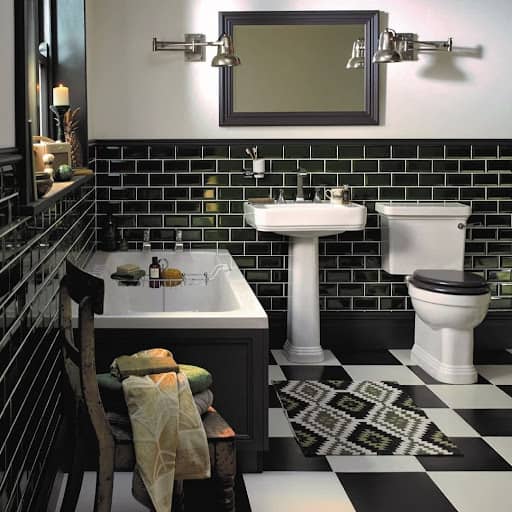 The dark shades of green in the overall design of the Ministry of Magic from Harry Potter (which is also accessible through toilets fictionally) are masterful and true to the idea of mystery and fantasy in this world – much like what happens to each person when they want to use the washroom!
B&W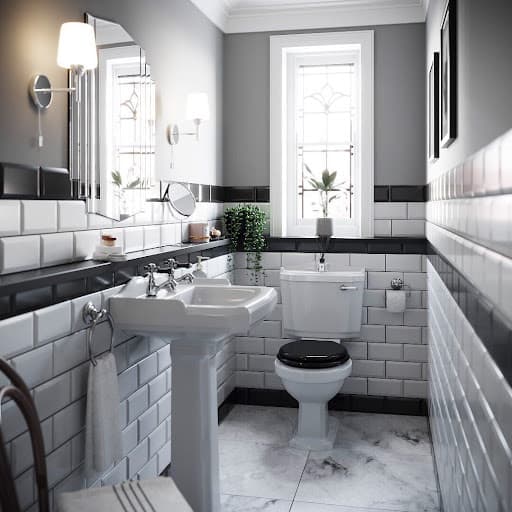 Chess is a game about kings and queens and you should be allowed to feel like that in a place you can call yours! Black and white is the best example of contrast in an art deco bathroom when done right with consistent shapes and proportions. Textures are important as well: consider marble or ceramic tiles when using white, glossy metals and vanity for blacks.
Mid-warm lighting is crucial to such spaces – as you want the colors to bounce off in a way that isn't too discomforting for the human eye!
Add a Rose-Gold tub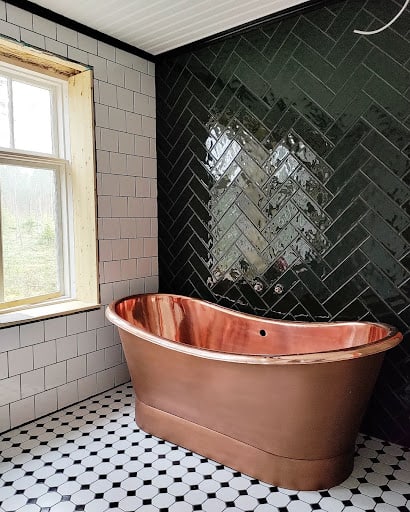 Rose gold is playful, and if you can't feel like a child with your rubber ducky in a bathtub, then you're not doing it right! Glossy touches of pink and light blush are pretty easy to include in your bath time so remember to induct metallic finishes in silver or chrome to make it stick out as a focal point here. Adding pink accessories and toiletries to your space adds to the influence of the color!
Give your flooring new life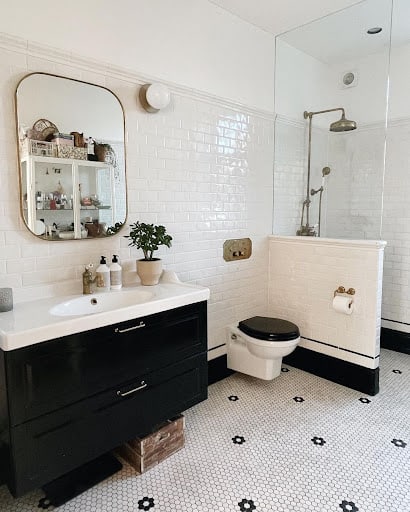 Patterned flooring is a classic Art Deco feature. Look for floor tiles in black, white, and gold with bold geometric shapes, such as hexagons or chevrons. For a subtler look, floor tiles with a smaller pattern in a monochromatic color scheme nail it! This will still add visual interest to the floor without crowding it.
Wallpaper Can't Be Missed!
Big patterned wallpaper is an Art Deco signature that can add a touch of luxury to your bathroom. Select a wall to highlight, such as the one behind the vanity or bathtub, and apply the wallpaper only to that wall. Keep in mind that the wallpaper should complement the overall design of the bathroom. Floral and nature-patterned wallpapers are ideal for creating a bold look.
Yellow and green Are Bold!
A bold and dramatic Art Deco-inspired bathroom design features a bright yellow patterned wall. Choose a dark green cabinet for the vanity to add contrast and balance to the space. This will create a rich and striking contrast with the bright yellow wallpaper. To tie the space together, choose fixtures in complementary colors, such as gold or brass including faucets, light fixtures, and other hardware.
Keep the rest of the bathroom design simple to allow the bold wallpaper and cabinet to stand out. Use neutral colors and clean lines for the walls and floor, and select simple accessories that will not compete with the wallpaper or cabinet.
Patterns all around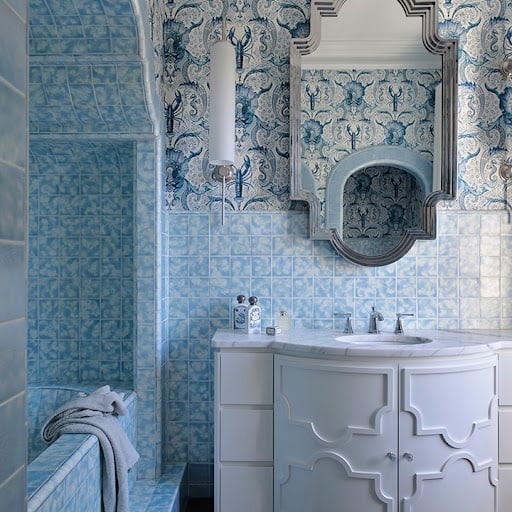 Everything is everywhere all at once – that's the same with gestalt patterns, views, and hues! Geometry and thematic references are prime examples of why minimalist colors could be improved with a little pop and personality! By using wallpaper and textured curtains, towels, and mats, we bring in a little more richness while embracing intricate concepts similar to Moroccan and Spanish styles of backsplashes and accents.
Be sure to add cream and white ceramic to your bathroom to tie it all together! Silver and gold are good contenders for accent colors, enabling the bathroom to be what it is – prosperous!
Pastel heaven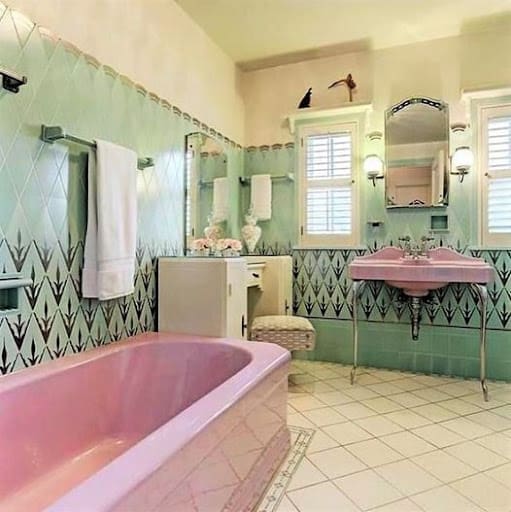 A pastel-colored Art Deco bathroom might just be my dream space. If it's yours too, use soft, muted colors such as pastel pink, green, and beige for the walls, floor, and other elements in the bathroom. Choose black patterned tiles for the walls or floor to add visual interest, contrast, and a touch of Art Deco glamor.
Add metallic accents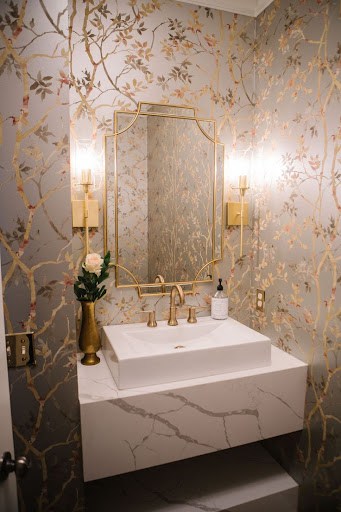 Steampunk is slowly making a comeback, and so should an affinity toward metallic finishes and elements.
Adding shades of gold and silver to your fixtures and storage units is a surefire way to spruce up the place and keep the right eyes around you! The balance of the shine in metallics is important to set the stage for other metallic coverings while utilizing neutral colors so that the lighting appears customized and made for the space! 
FAQs
What colors are used in art deco?
Art Deco is known for its vivid color palette, which reflects the exuberance and optimism of the era in which it was created. Colors that are frequently used in art deco design include:
Black and white, metallics, jewel tones, soft pastels, and neutrals like beige and taupe.
What are the main features of Art Deco?
Geometric shapes: Art Deco design incorporates bold, geometric shapes such as zigzags, triangles, and chevrons. These shapes are often used in repeated patterns to create a sense of movement and dynamism.
Streamlined forms: The design style emphasizes streamlined, modern forms, often featuring sleek curves and clean lines. It was influenced by the rise of the machine age, and many Art Deco designs reflect this influence.
Luxurious materials: The designs often feature luxe materials such as marble, brass, and chrome. These materials are used to create a sense of opulence and luxury.
Strong colors: Incorporating bold, strong colors such as black, white, and primary colors like red, blue, and yellow is key to achieving this look. These colors are often used in high contrast to create a sense of drama and visual interest.
Decorative motifs: Sunbursts zigzags, and stepped forms are common decorative motifs in Art Deco design. These motifs are used to create a sense of visual interest and add to the overall glamor of the style.
Functionality: Functionality and practicality were emphasized throughout. It was influenced by the principles of the Bauhaus movement, which emphasized the importance of design that was both beautiful and useful.