Shiplap in a bathroom is a classic interior design element that has been around for centuries, adding texture and depth to walls.
Shiplap got its name from its original application in shipbuilding, where boards were overlapped and nailed together to form a watertight seal. The technique was later adapted for home construction and has been used for many years in interior design.
Shiplap ceilings and walls were a popular feature in early American homes, particularly in the coastal regions where it was used to protect homes from harsh elements. Shiplap has evolved into a versatile design element that can achieve a rustic, farmhouse-style aesthetic and a modern, minimalist look. In recent years, shiplap wall panels have been popular for bathroom interiors, giving the space a warm and inviting atmosphere.
So whether you're renovating your bathroom or simply looking to update your home's interior, a shiplap bathroom look may be the perfect design element to include in your space.
Add colorful Shiplap To Your Bathroom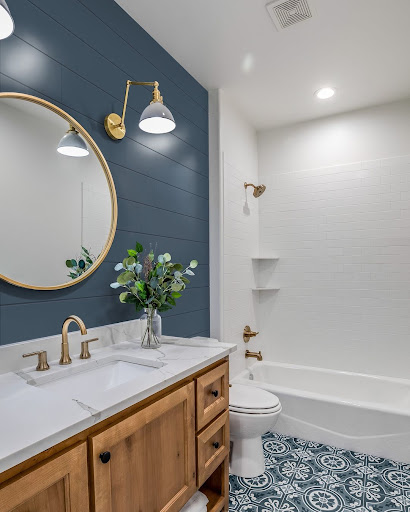 Like this bathroom idea, the shiplap accent wall can be installed behind the sink and mirror as a backdrop, highlighting the mirror and creating a focal point. Shiplap texture adds interest and depth to a wall, creating a sense of visual interest and warmth.
To create the bathroom of your dreams, combine your blue accent wall with gold hardware, such as the mirror and light fixtures.
Pair The Shiplap with wallpaper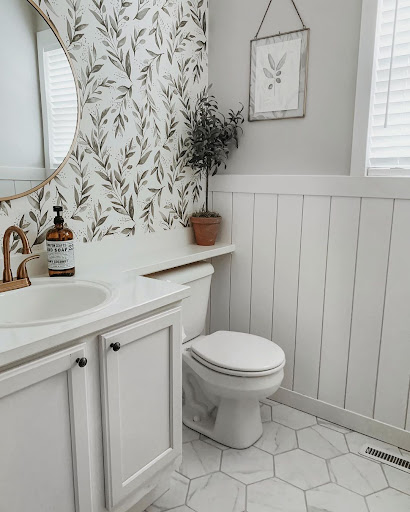 Add a touch of wallpaper magic to add a classy feel to your white shiplap bathroom. Gray wallpaper complements the white wood panels, perfect for a minimalistic look.
Depending on the size and layout of the space, the wallpaper can be installed on an accent wall or the entire bathroom. Have many patterns and textures, including geometric shapes, floral prints, and abstract designs.
Shiplap all over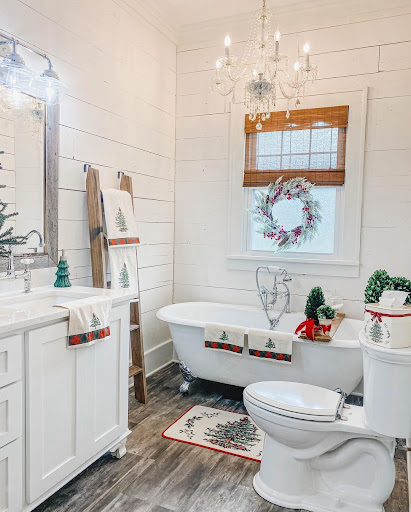 A shiplap bathroom with paneling on all walls gives a charming and welcoming small rustic farmhouse vibe.
To achieve this look, install a shiplap on all of the walls in the bathroom, creating a consistent look throughout the space. To create a bright and clean look, paint the shiplap in a neutral color such as white, cream, beige, or bolder to add character and personality to the space.
Add other farmhouse-style accents to complement the shiplap walls, such as a rustic wooden vanity, vintage-inspired lighting fixtures, and a wooden floor.
Dark Shiplap accent wall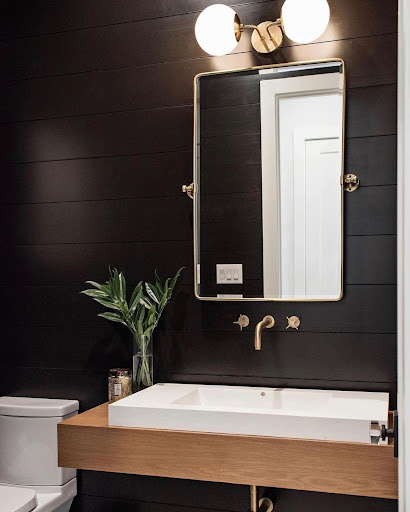 Nothing parallels the bathroom with black shiplap walls and gold hardware with a classy and modern appearance. Combining dark and dramatic black shiplap and luxurious gold hardware can give the space a high-end and stylish feel.
Depending on the desired look and feel of the space, install the black shiplap on one or more walls. Paint the shiplap black or stained for a rich and dramatic look, and fill the gaps between the boards with caulk or wood filler to look clean and finished.
Faucets, towel racks, and drawer pulls in gold can add a touch of luxury and elegance to the space.
A li'l pink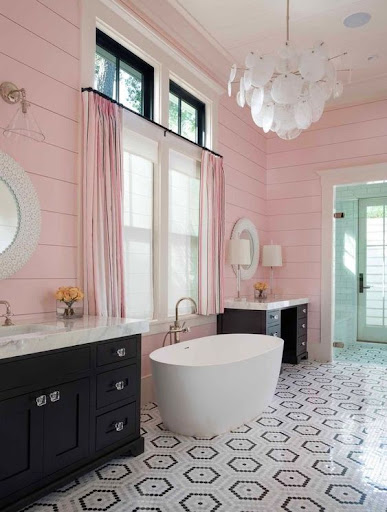 Pastel pinks are ideal for a feminine shiplap bathroom with a calm and romantic vibe. White bathroom fixtures complement the pink, and black cabinets balance the monotony the soft tones might create.
The stone countertops, made of marble, granite, or quartz, can come in various colors and patterns to complement the pastel pink shiplap. Depending on the desired look and function of the space, install the countertops on a vanity or a freestanding sink.
Give it some subtle color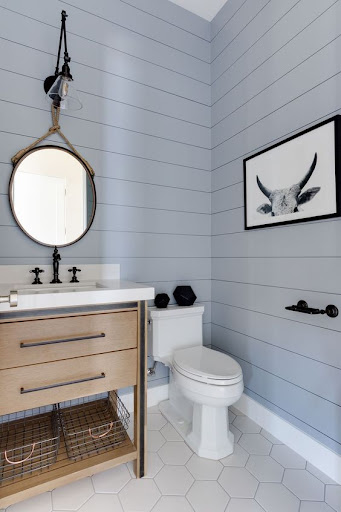 Bathrooms with pale blue shiplap are classy and elegant. Use Natural wood cabinets of oak or maple to complement the color. They can have a variety of finishes, such as a light stain or a natural, untreated appearance. You can use black metal hardware to add contrast and sophistication to the space.
Other accents in the space, along with a white and toilet, can be kept simple and neutral to complement the horizontal shiplap panels and cabinets.
Greens are always welcome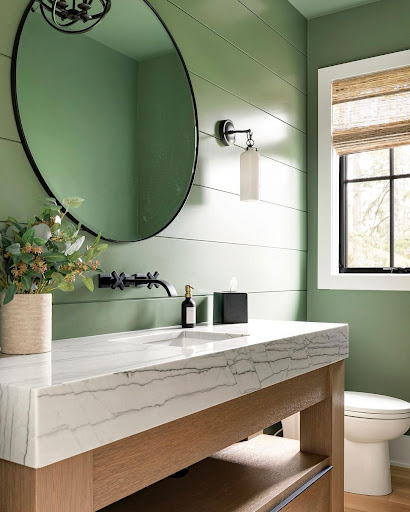 To create a bold bathroom, use a matte green shiplap accent wall and matching green walls. Green walls can be painted in a slightly lighter or darker shade of green to add subtle contrast and depth to the space. Keep other accents in the space simple and neutral to complement the green walls and shiplap. Add plants or botanical prints to the space to add some life to your bathroom.
Shiplap ceilings
A powder blue bathroom with a matching shiplap ceiling transforms a space into something vintage and charming. Powder blue can add a sense of calm and serenity. Paint the shiplap ceiling the same powder blue as the walls to create a consistent look. Adding antique mirrors, artwork, or lighting fixtures to the bathroom can also help to add character and personality, removing any potential boredom that a single tone might have created!
Grey and gold For Elegance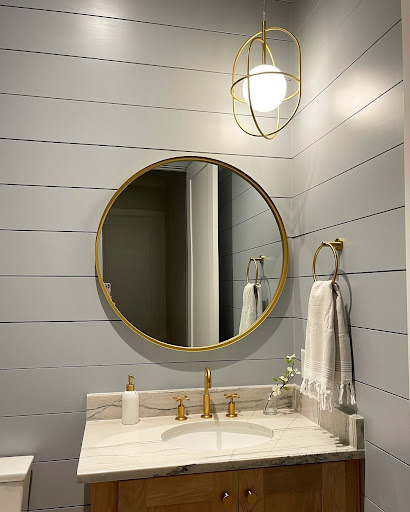 All you need for an expensive space that exudes elegance and grace is a gray shiplap bathroom with gold fixtures and a marble countertop. The cool gray complements the gold fixtures and elevates the space without feeling gaudy or out of place. This is ideal for those who prefer minimalist environments.
Accents and wallpapers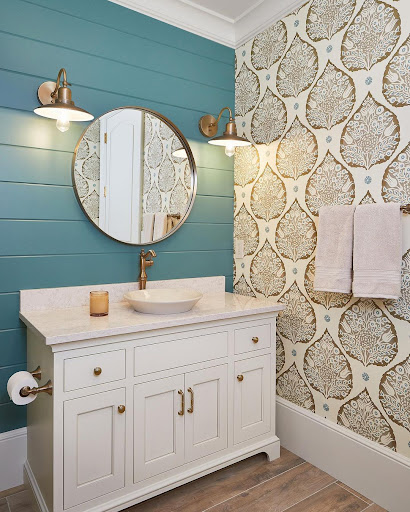 When you want a bold bathroom, go big on the wallpaper and intricate gold patterns. When combined with gold accents, a blue shiplap bathroom looks stunning since gold hardware, faucets, and lighting stand out against the blue backdrop.
So the next time you come across a wallpaper you like, say yes without hesitation.
Try A neutral color palette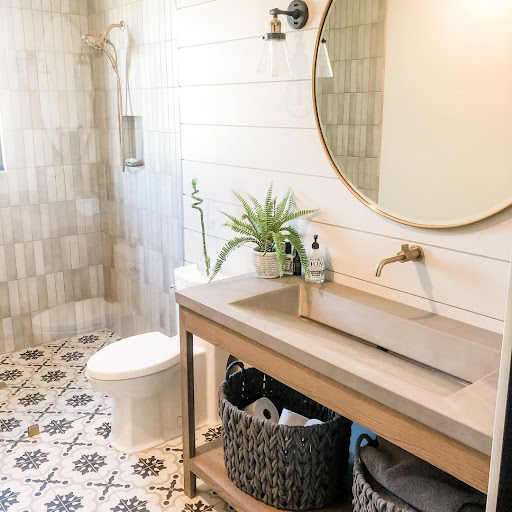 A beige bathroom with a light-colored shiplap wall and neutral subway tiles is a good choice. Bring in some green plants to liven up your space.
Floor tiles with patterns can tie the design together and create a striking and eye-catching look. The patterned tiles can incorporate shades of beige, gray, and other neutral colors to complement the shiplap wall and shower tiles.
Consider Natural wood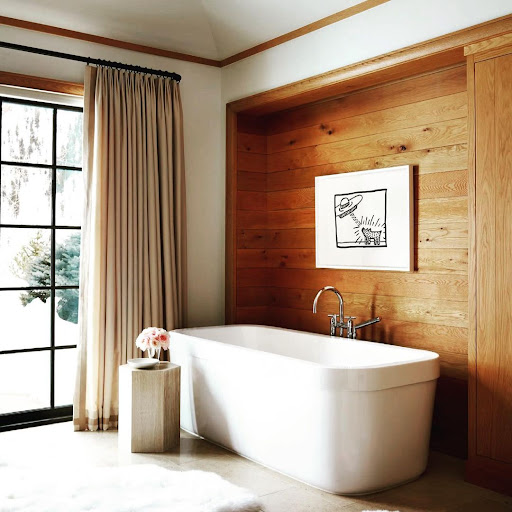 Besides being versatile, a natural wood accent wall in the bathroom can create a stunning and warm backdrop for a bathtub.
Take advantage of the wooden shiplap's versatility and leave the shiplap unfinished or stained to enhance the natural beauty of the wood grain. The gaps between the boards can be left visible for a more rustic and authentic look, or they can be filled with wood filler for a smoother finish.
Brighten it up with orange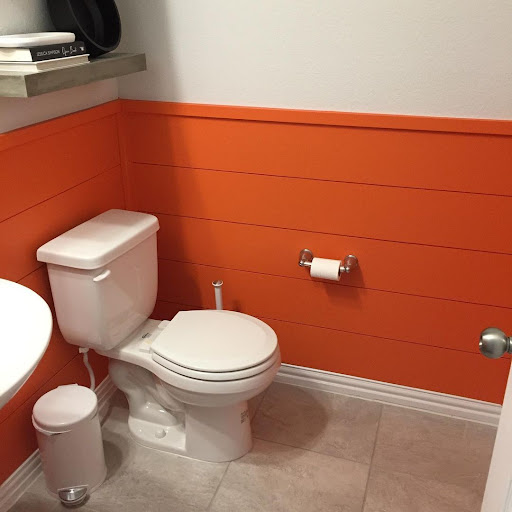 A bright orange shiplap half wall can add texture and interest to the space while creating a cheerful and energizing atmosphere. But don't stop there. Add artwork or decorative items in complementary colors to add a splash of color and personality to the room.
A floral touch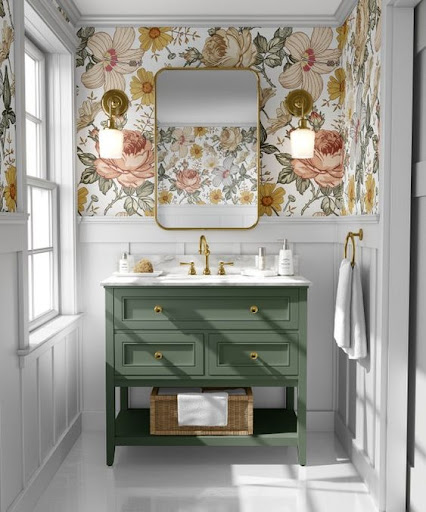 If you want to create a vintage powder room, take inspiration from this idea and add a white shiplap half wall and a colorful pastel floral wallpaper. Adding a vintage gold mirror and an antique-colored cabinet to the space is perfect for adding character and charm.
The antique-colored cabinet can provide storage and complement the vintage feel of the bathroom, while the vintage gold mirror is pure elegance!
Modern Farmhouse Look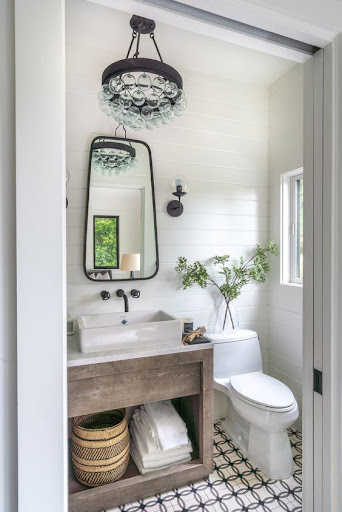 A modern farmhouse shiplap bathroom can combine rustic and modern elements to create a cozy and inviting space. A distressed wood sink cabinet can add a rustic and vintage feel to the space, while an antique metal chandelier adds elegance and warmth.
Makeover for the kids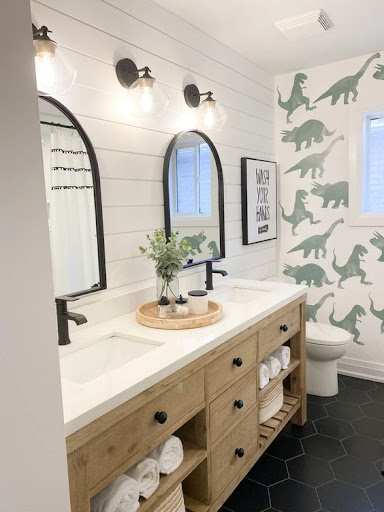 To create a fun and imaginative space for kids, a cute kids' shiplap bathroom with green Dino wallpaper is perfect! Add some wooden storage solutions to keep the space organized and clutter-free, making the space functional and child-friendly. Towels, bath toys, and other bathroom essentials can be stored on a wall-mounted storage unit or floating shelves.
RELATED: 17 Smart Ways To Add Floating Shelves In The Bathroom!
Blue Cabinets In The Shiplap Bathroom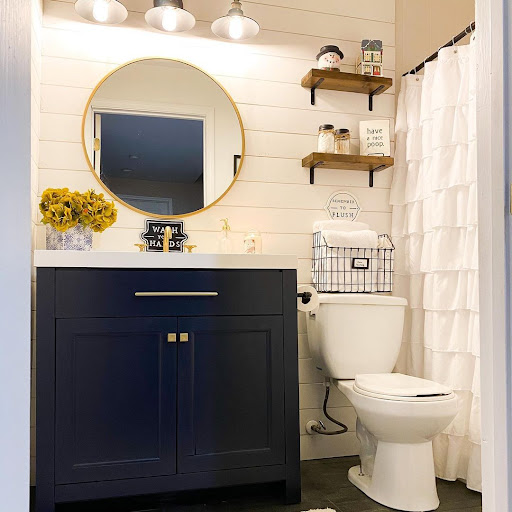 To make your sink cabinets stand out in your white shiplap bathroom, paint them a rich shade of blue.
Adding metallic accents to the bold contrast can create a luxurious and upscale look. Throw in a sleek and modern faucet to add a contemporary and sophisticated charm, while gold or brass hardware is perfect for adding warmth and shining to the space.
Add wooden floating shelves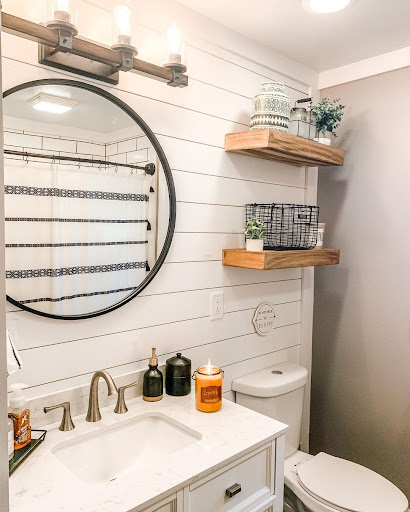 Adding simple wooden floating shelves to your bathroom is a simple and inexpensive way to add more storage and style to your space. These shelves are functional and attractive in any bathroom, and they don't take the attention away from the shiplap design!
FAQs
Is shiplap OK for bathrooms?
As a whole, shiplap is an excellent and practical choice for bathrooms. The overlapping of the wooden planks creates a tight seal resistant to moisture and humidity, making it ideal for bathrooms with constant water presence.
However, it is critical to ensure that the shiplap is properly installed and sealed to prevent moisture from seeping between the boards. To prevent mold growth, it's also a good idea to use mold-resistant paint or finish on the shiplap. Furthermore, if your bathroom lacks proper ventilation, it's critical to address the issue to avoid excess moisture buildup. Or you could opt for the non-wooden shiplap-wall panels altogether.
What kind of shiplap is best for bathrooms?
As a general rule, when selecting a shiplap for a bathroom, choosing a material that is durable, moisture-resistant, and easy to maintain is essential.
Common choices include PVC shiplap, cedar shiplap, treated pine shiplap, and painted shiplap. Your specific requirements, budget, and aesthetic preferences will determine the best shiplap for your bathroom. So make sure you read through all the pros and cons of each type while also considering the overall finish of your bathroom before making your choice.
Should you shiplap a whole bathroom?
The decision to shiplap an entire bathroom is based on personal preference and the overall design goals for the space. Shiplap can create various design aesthetics, including a cozy and rustic farmhouse-style bathroom and a sleek and modern spa-like space.
Shiplap can be installed entirely or partially on a wall, such as behind a vanity or bathtub. A shiplap bathroom accent wall creates a focal point in the room that characterizes your space.
Installing shiplap on all of the walls in a small bathroom, on the other hand, can make the space feel cramped and cluttered. Before deciding whether or not to shiplap the entire room, consider the size and layout of the bathroom.
Are shiplap walls waterproof?
While the shiplap is not completely waterproof, it is moisture-resistant when installed and sealed properly. Shiplap is made of cut and overlapped wooden boards that form a tight seal that makes it resistant to moisture and humidity. As a result, it is a popular choice for bathrooms and other damp areas of the home.
A shiplap bathroom wall is never a substitute for waterproofing materials in areas where water exposure is frequent or extensive, such as in a shower or bathtub area. In these areas, it's important to use waterproof materials such as tile or a waterproof membrane to protect the walls from water damage.