Blue is a popular color choice for kitchens because it's calming, refreshing, and versatile. It's often associated with the sky, water, and nature, making it a natural fit for a farmhouse theme.
The farmhouse kitchen aesthetic emphasizes warmth, comfort, and simplicity in design. It's influenced by traditional farmhouses and rural homes, where functionality and practicality are paramount. Natural materials, such as wood and stone, and neutral colors are common in farmhouse kitchens. Vintage or antique elements, such as distressed finishes, farmhouse sinks, and vintage-style lighting, are also incorporated into the style.
Consider the space's overall color scheme and style when choosing the right shade for your farmhouse blue kitchen cabinets. Lighter blues, such as powder blue or Robin's egg blue, can create a soft and subtle look, whereas darker blues, such as navy or cobalt blue, can be dramatic and bold. Balance the blue kitchen cabinets in a farmhouse-style interior with neutral or natural materials like white or beige walls, wood floors or countertops, and rustic-style hardware.
So let's get started and find a farmhouse kitchen that suits your preferences!
Gold hardware with blue cabinets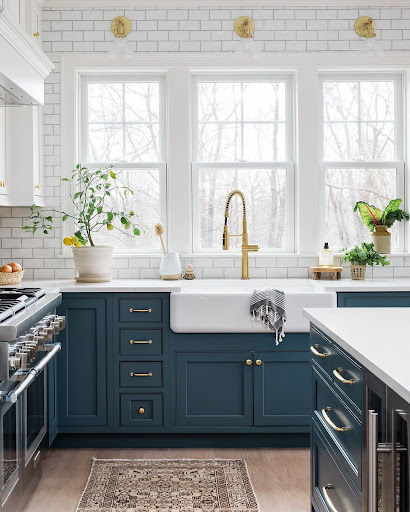 When you're putting together a classy and elegant space, accents of lustrous metals are exactly what you need. Gold is a perfect touch of contrast that stands out from the farmhouse blue kitchen cabinets. Subtle differences between the color style of the hardware, such as sinks, cabinet/drawer handles, the lighting holders, and the space around are sure to woo any guest of yours – surely no one will want to leave without taking it all in!
Mosaic flooring With Farmhouse Blue Kitchen Cabinets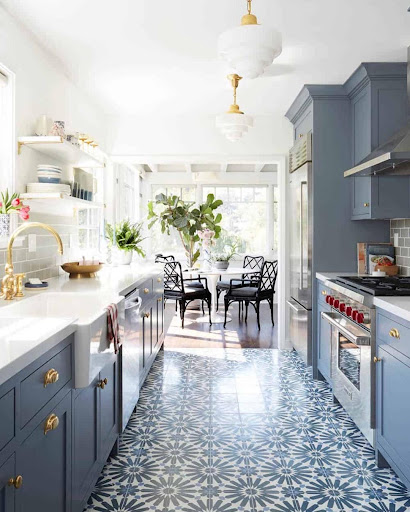 The patterned cement tiles for your flooring will surely knock people off their feet – and in a good way! Simple designs with the right sizing and shades of blue are prevalent in many contemporary kitchens- especially in villages and hamlets worldwide. Get a feel of the countryside as you cook up your favorite dishes and brews in a space embodying the farmhouse look.
Wooden ceiling rafters
Wooden beams stretched across the ends of your ceiling are nifty in creating a Cathedral effect that makes your kitchen look taller. Modern kitchen cabinetry for storing your favorite snacks and ingredients, hanging bar table lights, and a lighter shade for the walls and paneling, preferably white, will make it feel more roomy and spacious.
Powder blue Farmhouse kitchen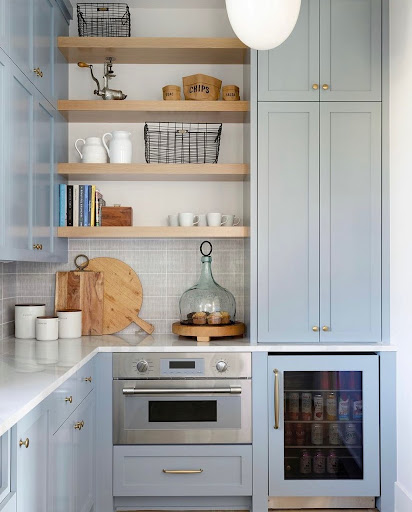 The subtle shade of powder blue is a great option that complements the patterned backsplash of lighter hues of cream and white. Like most pastel shades, soft blue cabinets are open and inviting, exuding a vibrant and amicable atmosphere. Small to medium-sized paraphernalia like glass pieces, wooden book stoppers, and black baskets can give your kitchen a more industrial personality – to cook in a kitchen that encourages experimenting and workshopping a few recipes.
Try Wooden floors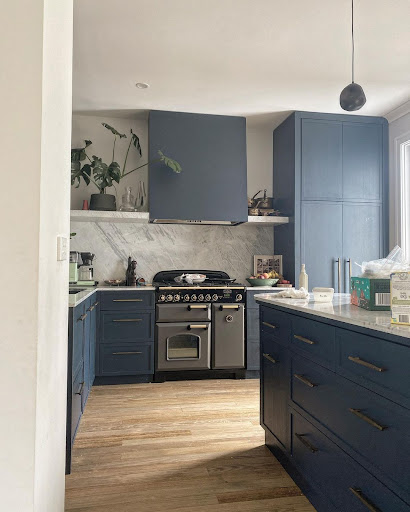 Farmhouses emphasize the use of natural wood. For your farmhouse blue kitchen cabinets to truly pop, consider using reclaimed wood for the flooring, as this surface would be slip resistant and exude a rustic feel that is comforting for you to walk on. Play around with the placement of these panels along the floor, as the wooden brown coloration, when spread out evenly, can appear more lively with sunlight through your windows.
Add a kitchen island to match
A kitchen island is a modern masterpiece if added to your space right. If your kitchen is large and spacious enough to accommodate a dining table-sized furniture piece with some wooden chairs around it, leave space for cabinets under the table. It also makes it a quick breakfast hub for the family and provides a tabletop for fruit baskets, flower vases, or your kitchen sink.
Go dark and glossy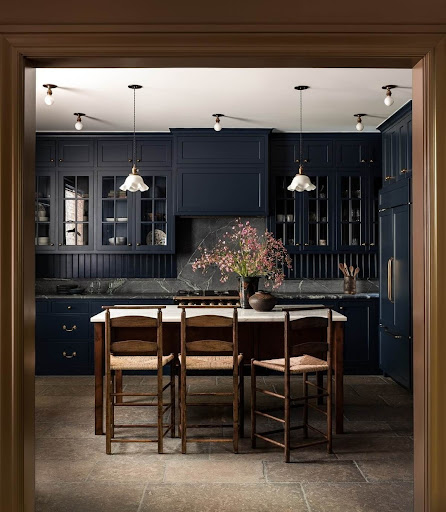 Nothing says sophisticated and classy more than deep navy blue cabinets. Setting a polished wooden table in the middle of a glossy cobalt jungle is a step up from the traditional farm kitchens – it provides a touch of "old money" that your temple of gastronomy could imbibe in the food that's made here. Level up your farmhouse blue kitchen cabinets with the right elements, and voila- you're all set!
Add A Backsplash To Your Farmhouse Cabinets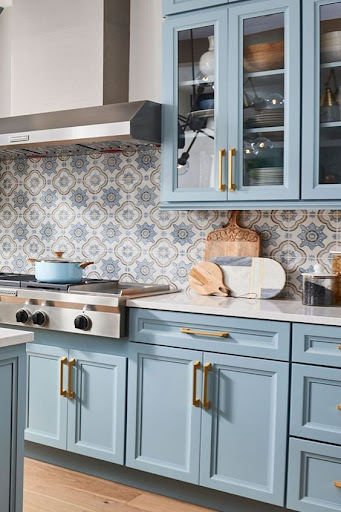 Decorative patterns aren't new in a farmhouse-style kitchen. Whether it's on your walls or along the floor, it adds a refreshing coastal kitchen-type feel to the space. Soft pastels of blue, gray, and cream-white could be the primary colors of these designs, so as to go along with the metallic sections in the kitchen like the chimneys and stoves.
Ceramic tiling looks best when it is in the path of natural lighting, and the accents make the neutral base hues pop.
Try Two-tone Kitchen Cabinets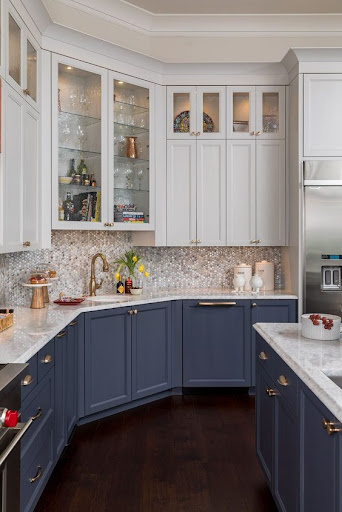 It is important to consider two colors that complement each other. Combining a muted or soft hue with a darker, yet elegant shade of blue that complements the element on which the color is applied can help you set contrasting interior pieces in a fluid manner. Just like this farmhouse blue kitchen cabinet idea, one color could be used on your walls or lower cabinets, while the other can be used to cover the surface of higher cabinets or glass pantries.
Opt For Marble countertops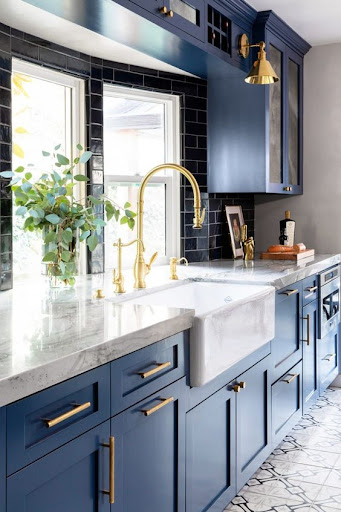 The commandments of the kitchen dictate that the surface must always be a delightful experience: to prepare the food, reflect the shine of the sunlight, and liven up the space's overall aesthetic. Opting for marble countertops is the best choice in comparison to wooden accents. Keeping it safe and clean from scratches is good practice as a chef, to always ensure your farmhouse kitchen is always a step ahead of perfection!
How About Floating shelves?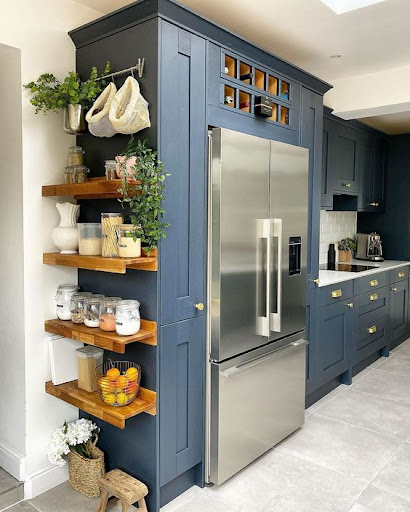 Say you're a spice enthusiast with a green thumb – your closed cabinets and counter racks may not be suitable for displaying your creepers and spice jars in an aesthetically pleasing way. This is where wooden floating shelves save the day – attaching them to the walls or the sides of your pantry unit is an appropriate use of the empty spaces. You can find many ways to decorate these or to keep your easy-to-reach condiments and ingredients in view, without cluttering the space.
Natural stone backsplash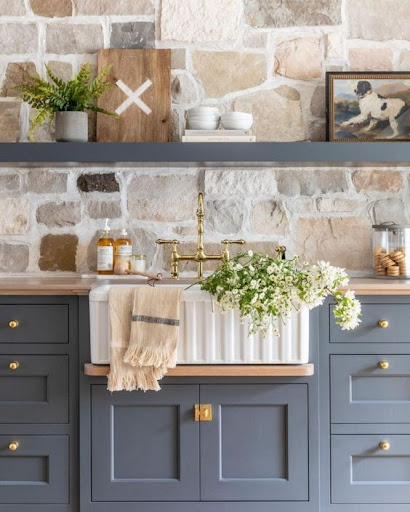 For a farmhouse to really feel like a farmhouse, exposed and unfinished elements from the construction of this space are just what your kitchen needs. Layered stones for the backsplash walls, in neutral shades of limestone, gray, peach, and ochre give your kitchen an extra kick of personality. Say hello to the countryside from the comfort of your cutting boards!
Coordinate your dining space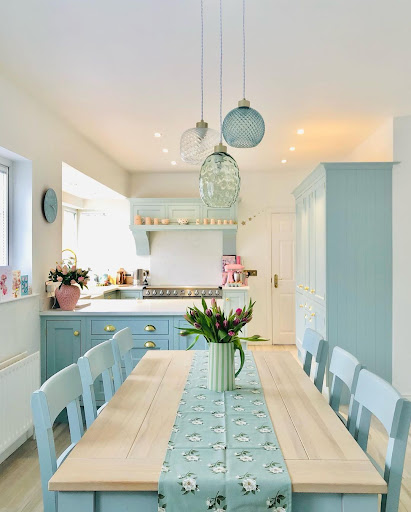 Placement and proportions can set your kitchen apart from the chaotic cooking corners of a household. Having a range of colors and furniture sets is not a surefire solution after all! Take note of the navigation of the space, the proximity between the kitchen island and the countertops, and the consistency in the color style in your kitchen.
Adding small elements like recipe books, flower vases, glass jars, suncatchers, hanging table lights, and encouraging warm hues that reflect from your cabinets are perfect for bringing it all together!
Bring In A Rustic charm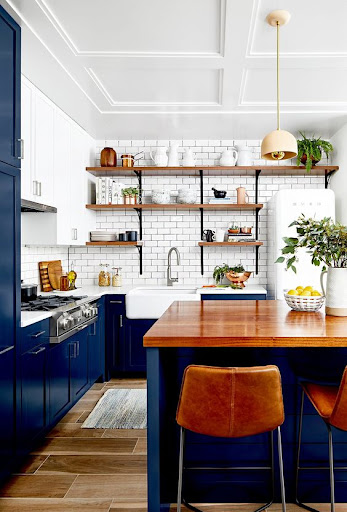 Countryside aesthetics always begin with a baseline concept – round-edged rustic appliances, wooden beams, textured backsplashes, and lustrous metals that age gracefully. As you set up your farmhouse blue kitchen cabinets, don't forget that the core belief of a farmhouse kitchen lies in the utilitarian approach to making a space that is fresh, inviting, open, and versatile!
Shaker cabinets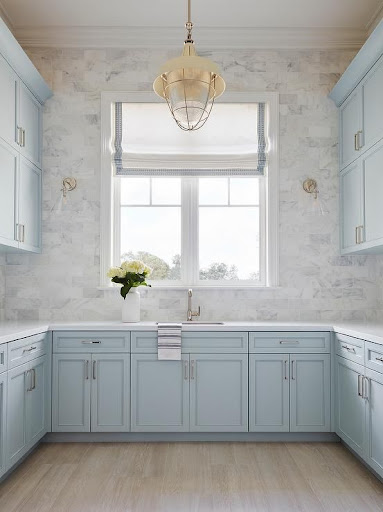 You may have seen shaker cabinets before but with no idea of what they are actually called – these box-shaped cabinets are heralded for their sharp edges. Typically, the best way to bring these into your home is by considering the right finish, natural elements, and the materials used. White kitchen cabinets are your best bet if you aren't going with the usual farmhouse blue kitchen cabinets as it's a perfect finish that evokes modernity in a space known for its aged style.
Yellow pops
Sunflowers, straw hats, hay, and lemons – as perfect representations of the color yellow, why not bring these into your farmhouse-styled kitchen to bring a fresh pop of joy? Contrasting it with natural hues such as blue, green, and even white is sure to make your kitchen tangy and harmonious. Use warm white light bulbs instead of glaring cold white lighting to aid in exuding a citrusy air that would make anyone float to the windows as if a pie was left out to cool down!
Try teal blue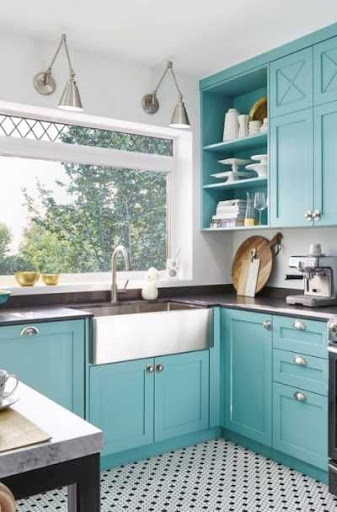 Think Tiffany and Co. but in your kitchen! Adding a thick matte coat of teal paint to finish off your farmhouse blue kitchen cabinets is a graceful touch that otherwise solidifies your playful yet steady persona as a cowboy/cowgirl overlooking the countryside from your window.
Navy blue magic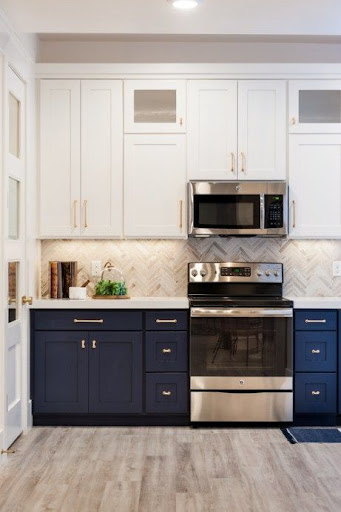 As we approach a new frontier to the farmhouse kitchen aesthetic, it's important to remember that kitchens can also be a space for discipline, perfection, and authority aside from a playful laboratory of experimentation and curiosity. As you cook up your next delicacy, nothing coerces your inner chef into mastering your penchant for gastronomy more than a touch of royal navy blue and white combination.
FAQs
What is the best blue color to paint kitchen cabinets?
The best blue color to paint kitchen cabinets is ultimately determined by personal taste and the style of the kitchen. Having said that here are some popular blue shades that look great in a kitchen:
Navy blue – a deep, rich blue color that can add drama and sophistication to a kitchen. It complements white, gray, and natural wood tones.
Robin's Egg Blue – In a kitchen, this light and airy blue shade can create a soft and calming atmosphere. It looks great with white or cream walls and natural wood tones.
Sky blue – a cool and refreshing blue color that can brighten up a kitchen and create a cheerful atmosphere. It complements white or light gray walls and natural wood tones well.
Powder Blue – In a kitchen, this pale blue shade can create a subtle and timeless look. It complements white or light gray walls and natural wood tones well.
Is it OK to paint the kitchen blue?
Yes, it is perfectly acceptable to paint a kitchen blue! Blue is a popular kitchen color because it can create a calming and refreshing environment while also adding a pop of color and personality to the space.
When choosing a blue color for the kitchen, keep the overall color scheme and style of the space in mind. Blue complements a wide range of other colors, including white, gray, beige, and natural wood tones. It can also be combined with various textures and finishes to create a unified and harmonious look.
Keep in mind that painting the kitchen cabinets or walls blue can be a bold design choice, so before committing to the color, test a sample of the paint color in the space and see how it looks in different lighting conditions. It's also a good idea to consult with a professional interior designer or color expert to ensure that the blue shade you choose complements the other design elements in the kitchen.