Elegant, classy, and chic – What colors popped up in your head? I'm sure they are white and gold – The classic, royal colors that speak volumes of richness and divinity! They will make your kitchen fancier, just like a fine dining restaurant! White and gold is a versatile combination that can add the right amount of glam and sophistication to your kitchen space. These colors complement each other and can transform your kitchen in the most alluring way! 
Gold stands for success and affluence, along with sophistication and luxury, while white being softer, screams cleanliness and simplicity. Just imagine – Simplicity and Luxury, together? A white and gold kitchen idea can do wonders. It is the perfect color scheme to upgrade your kitchen quickly, and on a budget too. So let's dive into the world of white and gold kitchen ideas, that are exclusively tailored for you! 
White And Gold Kitchen Ideas
Pendant Lighting 
Natural lighting is the key to a well-lit space but a set of white pendant lights hanging above your kitchen island decor is the real deal! You can attach a simple gold border lacing around the lighting fixture for just the right pinch of gold. 
This will enhance the overall aesthetic of your kitchen while providing focused lighting for your needs! You may also leave the covering of the lighting transparent, or covered depending on your personal preferences. 
A Little Too White!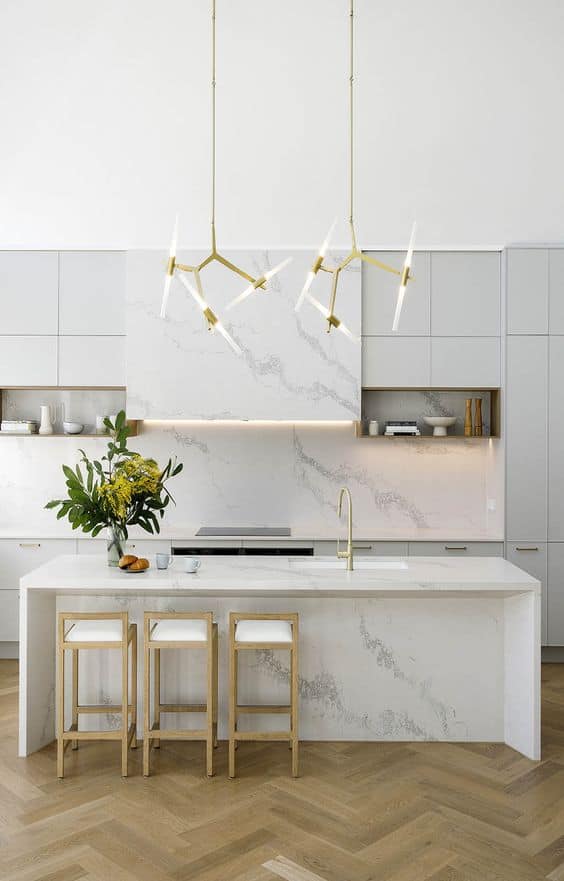 White is one of the few colors that can create a bright and airy ambiance when used a little more! This beautiful color pulls in a lot of positive energy and will cheer you up, even on your gloomy days!  
Your kitchen assets include a white countertop, a white backsplash with a white pantry, and a marble top! They can make your kitchen appear bigger in size. Smaller kitchen accessories like gold lights can entirely tie up the entire look of your white and gold kitchen idea! 
Go For Marble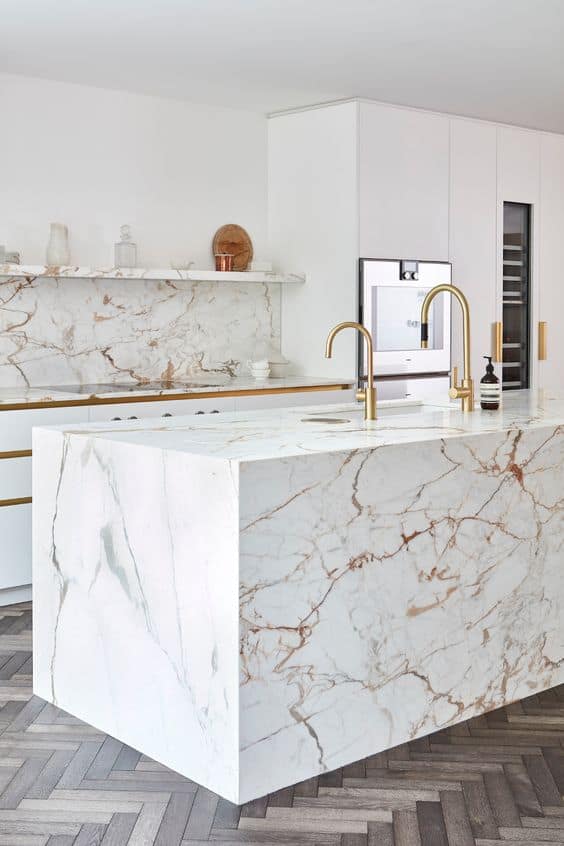 Among the most versatile materials –  Marble enhances your kitchen and makes it more sophisticated than ever! The gold veins on the island and the backsplash are a sign of cohesive marble, and are also the best possible way to build a luxurious kitchen! 
The glossy marble kitchen backsplash is a no-brainer to bring in a dazzling and luxurious look! The plus point is – Marble is easy to clean, so no more time wastage on boring cleaning. 
White Wall Tiles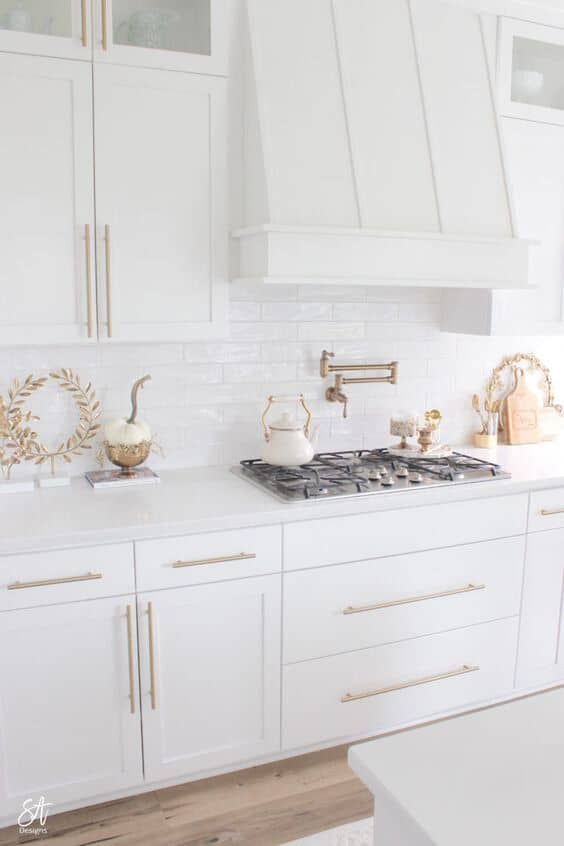 If too much white is not your cup of tea and you want to break the monotony, white wall tiles are here to rescue you! These white tiles can transport you to a whole new dimension with your walls. 
The matte tiles on the backsplash are eye-soothing while creating an aesthetic pattern, resembling the naturally exposed brick backsplash. Just a tiny change in texture can heavily affect your design since it adds more depth to your kitchen space!
Light Wood Finish!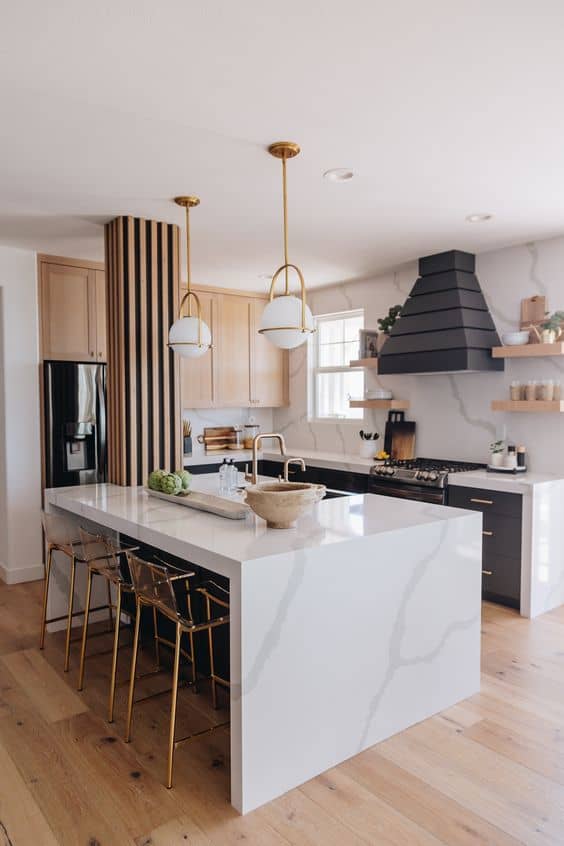 A light wood flooring with woody cabinets radiates a warm and cozy feeling amidst the luxury! Wood is known to create a homely vibe, and adding wood to your white and gold kitchen idea can bring a more intimate space.
The morning sunlight hitting the wooden flooring can get you all pumped up for the day, making you feel refreshed.  Cozy and sophisticated is the way to describe this! 
A Splash of Yellow!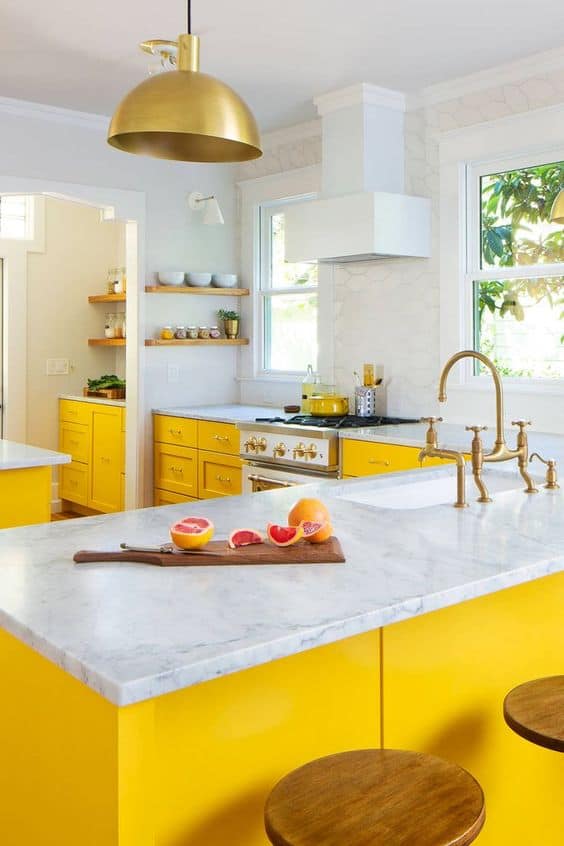 A cheerful splash of yellow can turn your kitchen into a hotspot of good vibes, attracting positive energy! Walking into your kitchen on Mondays can be tedious, but this bright yellow will instantly uplift your mood, making you all energetic for the day! Now, breakfasts will surely be turning out more scrumptious than usual, right?
Black Accents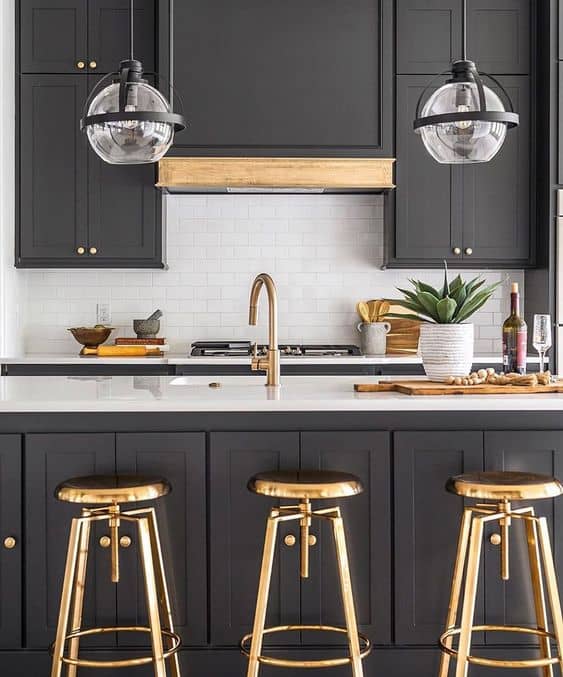 They say opposites attract! Black cabinets, kitchen islands, and pendant lighting with a contrasting white backsplash and countertop with hints of gold in this mid-century modern kitchen can prove so! All of them together cast the right spell in your kitchen by creating a warm yet dark vibe to complement the brightness in an appealing way.
This Pinterest-worthy kitchen deserves to go on your next Instagram story. Another plus point – This white and gold kitchen idea can also conceal all the blunders you might have made while cooking, and looking at your recipe tutorials! (Thank me later) 
Floating Shelves!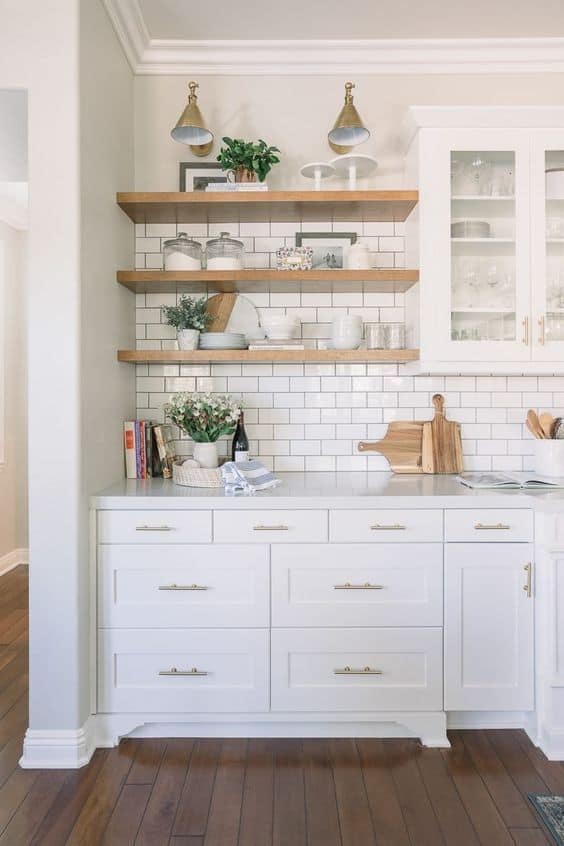 Bring some elongated light wood shelves, and install them against the wall! They will not only declutter your space but also add an extra element, making everyone fascinated with your modern white and gold kitchen idea. 
Floating shelves are an important requirement in your kitchen and choosing the right one will bring out the magic! To finish the look, you can add sconce lighting for a more streamlined finish that everyone will love. Voila, you're all set! 
A Touch Of Gray!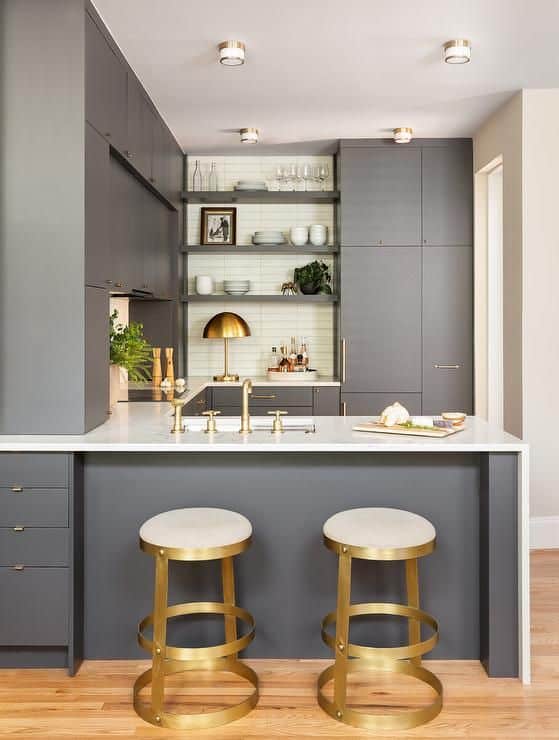 Whenever you aim for a balanced and neutral look – Just Experiment with a hint of other colors, and it won't go wrong! You can add pale gray to the pantry and cabinetry as the foreground, and they will complement those beautiful streaks of white and gold! 
Gray radiates an opulent vibe, and it may also increase your chances to be featured in an interior digest. Be it brunch or dinner dates, your white and gold kitchen idea will be the best possible setting for every occasion! 
Mosaic Backsplash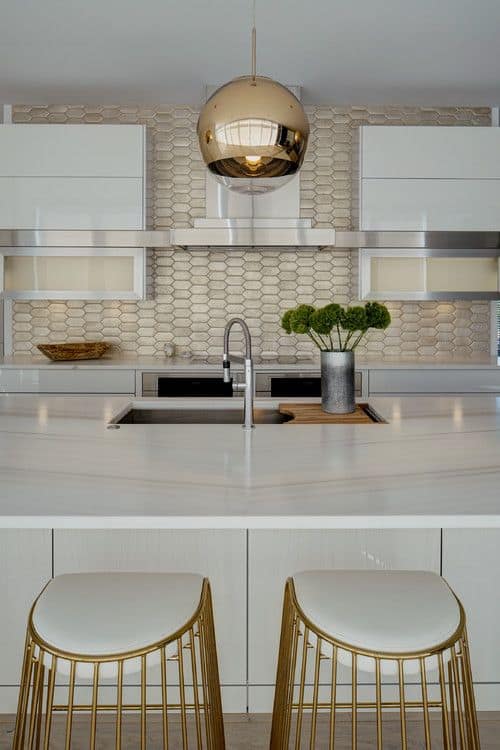 Breaking the monotony of space adds a fascinating visual aesthetic, with more depth in the kitchen! Attach some shimmery golden mosaic tiles on the backsplash, and break the continuity in an enchanting way. 
This way, your focus remains on these tiles, leaving you mesmerized and craving for more. Such small changes in your kitchen remodel can make the bigger picture better, leading to a complete white and gold kitchen makeover!  
Gold Hardware 
The simplest way to create the perfect white and gold kitchen idea is by adding golden kitchen hardware! Be it a gold faucet or gold handles of your cabinets, they are the easiest way to upgrade your fancy kitchen game. 
You may use white as the primary color while the gleaming gorgeous gold can act as a small kitchen focal point, naturally drawing the eyes of your guests!
Cottage Style!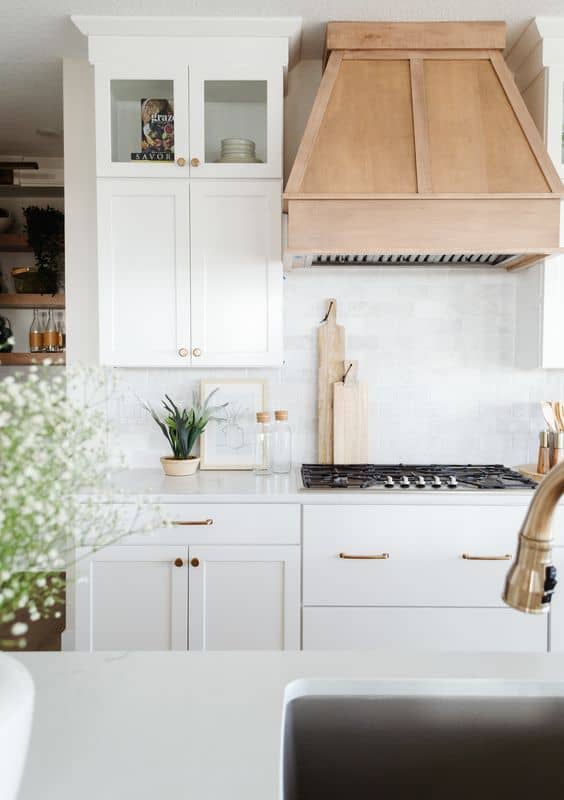 All of us look forward to a relaxing trip to a cottage, but what if I tell you that you can enjoy this aesthetic right from your home kitchen? Sounds exciting, doesn't it? 
You can add small frills of gold to your bright kitchen with light wood hints, whereas keeping white as the primary color! This design will make you feel as if you've been transported to a luxurious cottage in the woods! 
Chandelier 
If you like being a little bit extra, chandeliers have to be your way to go! Like this coastal kitchen, bring your favorite simple and sophisticated chandelier with candles on top of an intricate curvy pattern!
This designer piece can create an eye-catching focal point in your kitchen. Such fixtures are usually fixed at the central islands, and can also aid in focused lighting. It is the key element to a bougie yet subtle kitchen! 
Teal Magic!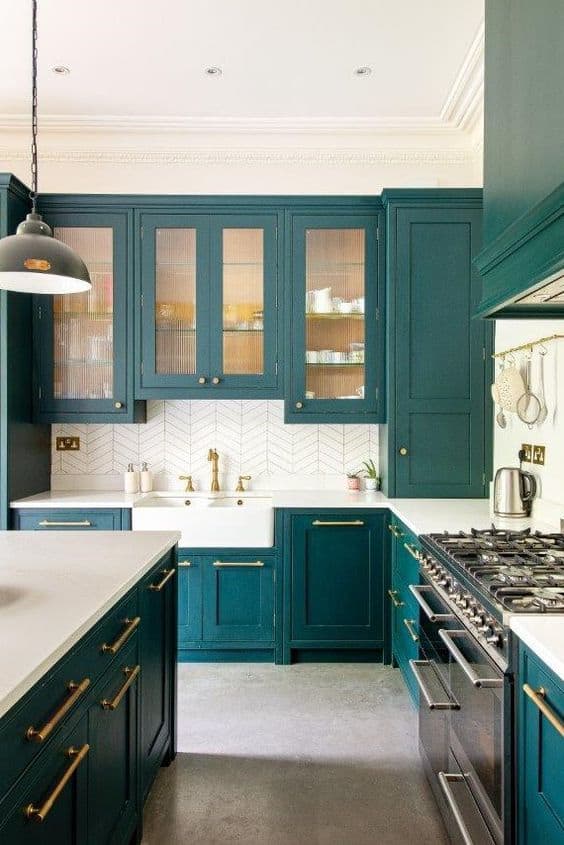 Adding teal to the cabinets and making it the major chunk in your kitchen can create a classic vibe. The shades of gold and white must remain in good proportion, and adding teal will just make the space seem more exemplary and magical! Teal cabinets with gold handles seem so straight from Pinterest, doesn't it?
A Little Of Everything!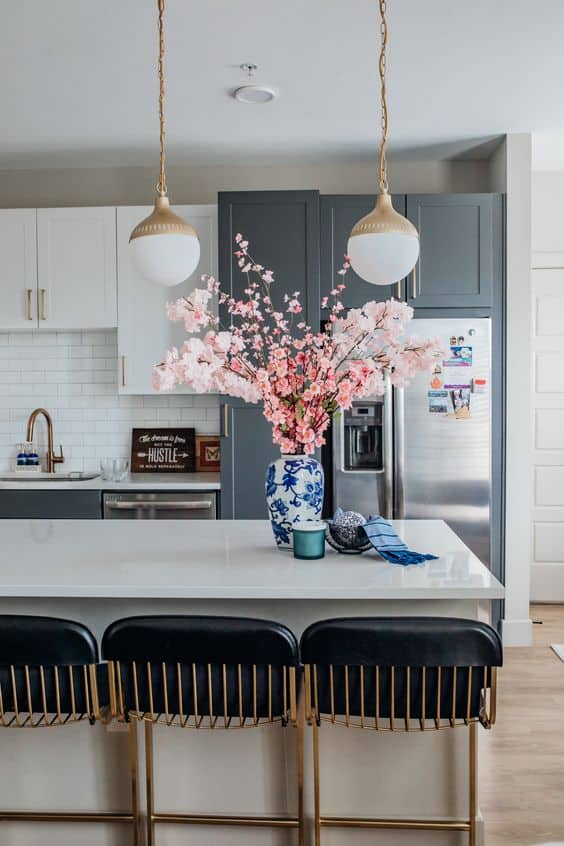 The intricate bold blue patterns on a flower vase with cherry blossoms in it placed? Isn't that an elegant visual charm? You can place it on a counter with a white top, and bring black cushioned stools opposite to the gray cabinet. Ah! One can never get enough of these colors, especially if you have a bubbly personality! 
To resonate with your lively and free-spirited energy, a little bit of everything is the way to go! These chic additions can make any boring kitchen full of life, and it's also the safest option for your white and gold kitchen makeover. 
Silver Lining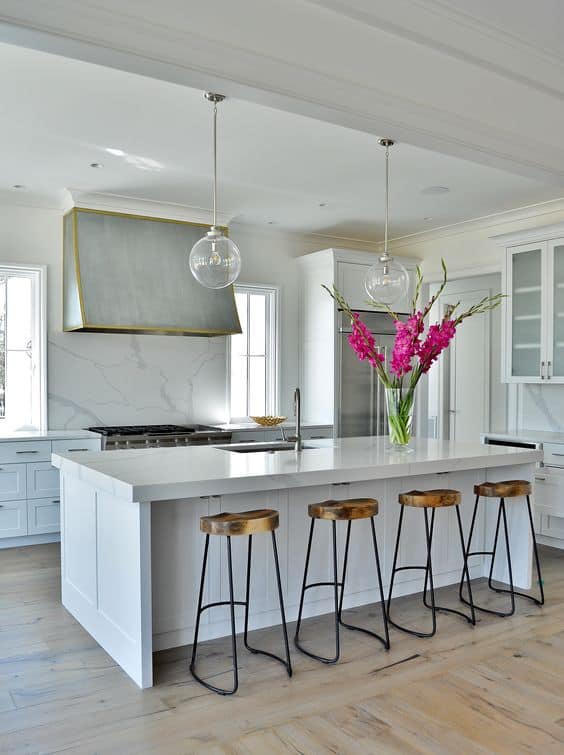 Speaking of luxurious colors, we may have missed out on one color that makes a space seem modern instantly. You guessed it right, that's Silver! 
The metallic silver chimney with smaller accents like the hanging pendant lighting will sit perfectly well with your white and gold kitchen idea! It can also effortlessly make your kitchen look sleek and elegant.
Pro Tip:  Keep in mind the proportions of the colors! Silver can easily dominate a space compared to other colors, so it's best to keep its usage to a minimum.
Industrial Finish!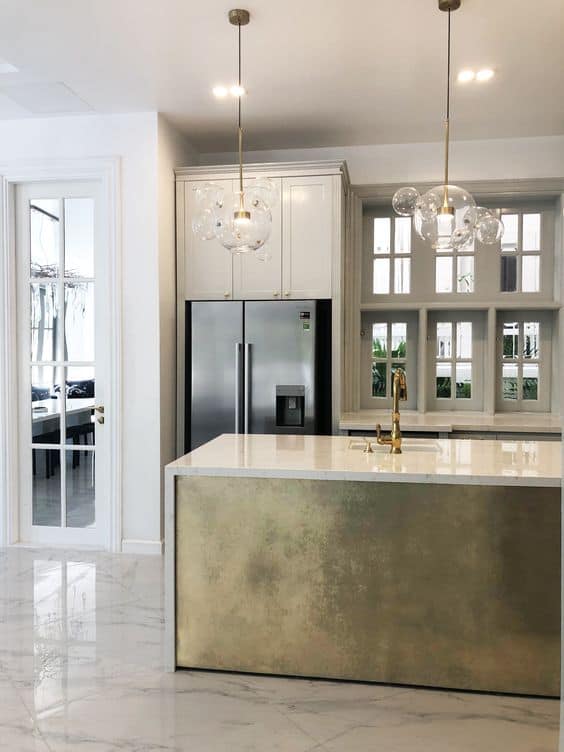 The rawness of the chrome central island with the other shiny elements like the faucet can uplift your kitchen into the perfect industrial version. This white and gold kitchen idea can be the head-turner. Who would've imagined having a chic kitchen that gives off an elegant, industrial look? Well, now you have it! 
You can maintain white as your primary color with golden shades, and then experiment around with the gloss and matte levels! It is the perfect way to go ahead and achieve that fascinating design. 
It's All About Balance!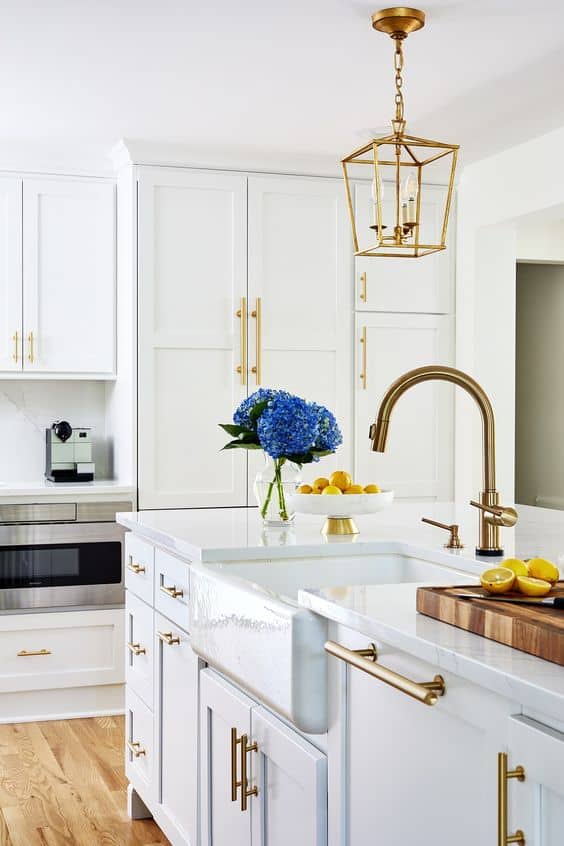 Just like everything in life, your kitchen should also have the right proportions and balance! A pop of color like royal blue flowers with teak flooring, and golden handles, with white as the primary color can enhance the most mesmerizing aesthetic! 
Don't be shy to experiment with other colors and elements too! Choose things that resonate with your personality, and that will make you more confident in your choices for your right home. Just take it as a compliment when your guests ask you the secret to your chic white and gold kitchen idea!