The mid-century modern kitchen ideas refer to the dominant furnishing pieces of the 20th century (duh, obviously?). It is all about simple, functional wooden pieces made from teak and curved supreme designs! This new design was meant to counter the mass production that hit in the early 20th century. So, a soothing style was needed to offer an optimistic approach to the future! It also allowed people to fall in love with the beautiful interior designs. That's how the mid-century modern design arrived!
In modern times, most of us are becoming a subtle and simpler version of ourselves, being mature and more sophisticated. So, take some rest from your decor hunting! We present you with a tailored list of classy mid-century modern kitchen ideas that you will definitely love!
Mid-Century Modern Kitchen Ideas
Wooden Finishes!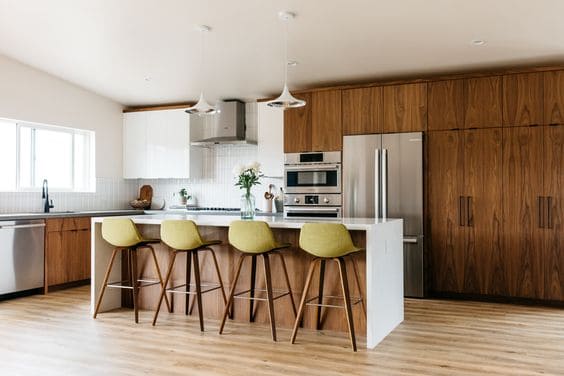 This is a classic example of how wood can turn stylish in no time! The floor-to-ceiling cabinets give your boring kitchen the makeover it deserves. You can pair them with similar flooring, and Voila! 
Now, you've got a classic kitchen that can instantly reflect your cooking space in an uplifting way. 
Pro Tip: Teak never gets old, and it can be molded into several interesting patterns. You may also just leave them just as royal as they are. The choice is yours! 
Color Palette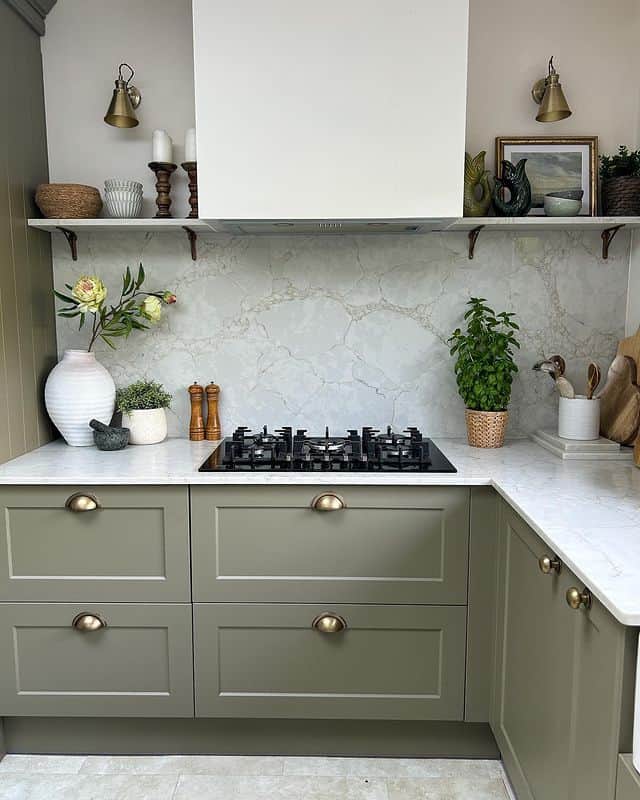 Greens and browns are mid-century color staples! So, these can end up being frequently used in your modern kitchen. The sage green in the kitchen offers your space calmness and aesthetic, and it may feel new and different every time you walk in! 
You can also pair these shades with teak, and just watch yourself falling in love with your kitchen. But, kitchens are a personal space too, so make sure to add your favorites as well!
Natural Light
Just like we humans need sunlight to survive, your kitchen is also desperate for this precious resource! What about glass panes that bring natural light into your kitchen? Yes, please! 
Natural light improves your mood while increasing the positive vibrations in your kitchen space! It is definitely one of the most energizing ways to start your day. I assure you that it will definitely make you want to cook some more! 
Contemporary Touches!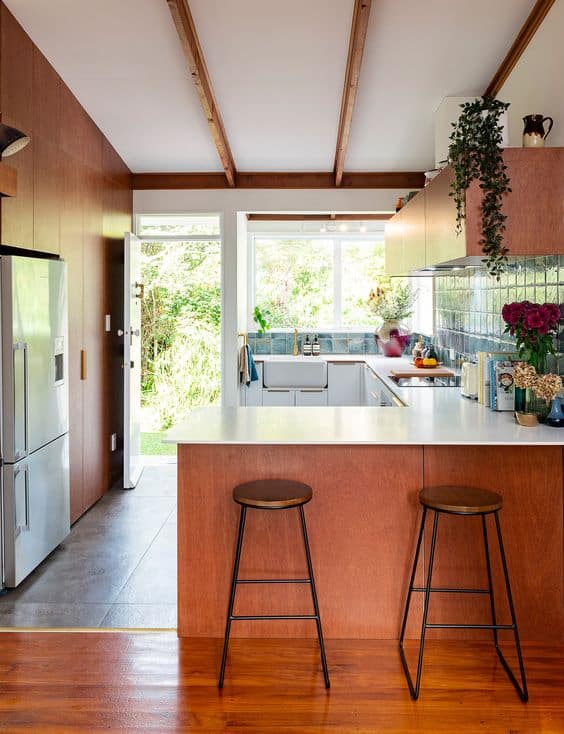 Straightforward lines are for straightforward people! Contemporary touches can easily get your kitchen closer to the mid-century modern style with its clean lines aesthetic. 
This kitchen interior will surely create a no-clutter zone so that you can cook in the most organized manner! This sleek and stylish idea is like a fine wine since it gets better with age.
Marble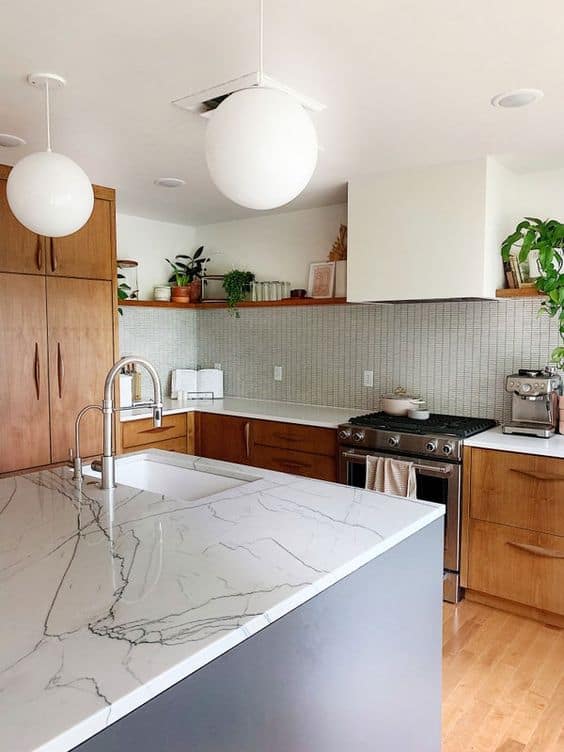 There's nothing that offers your kitchen a better and cleaner makeover than a slab of marble laid on your countertop! Marbles on the island counter give your kitchen a spotless look with minimum effort. 
Pro Tip: You can even have marble on your kitchen backsplash if you wanna upgrade your kitchen to another level! Trust me, you won't go wrong with this, ever. 
Related: 17 Kitchen Island Decor Ideas For Every Style & Budget!
Terrazzo
Through several years, terrazzo has proved itself as quite a popular choice of material for kitchen backsplash. The beautiful marble chips embossed in the cement mixture are an elegant way to top up your kitchen counter along with the flooring! 
There are various terrazzo patterns and colors for you to choose from. So, go ahead and create a funky pattern! You may also leave it to beautiful earthy hues like warm and brown tones. You're the best judge! 
Gallery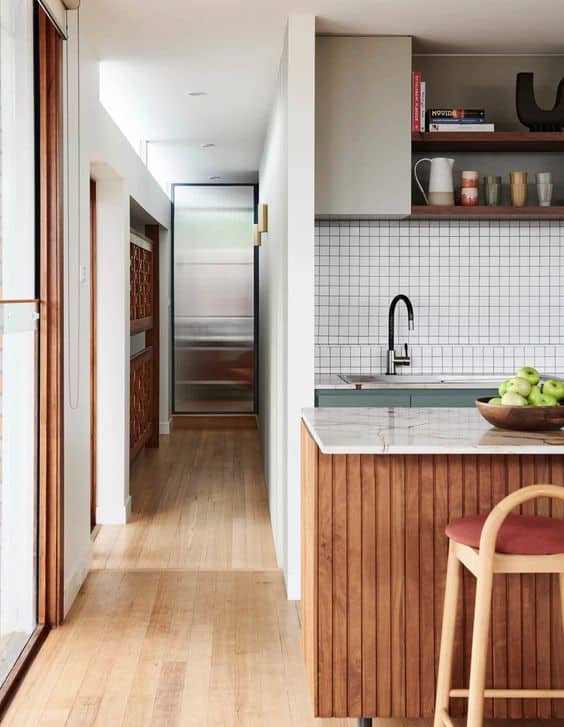 Aesthetics are only aesthetic enough when they are functional at the same time! If you want to use your space to its full potential and create a small and cozy kitchen decor – Galleries are your go-to option! These passageways will be beneficial as it restricts the number of people! (and why would you have many people in your kitchen, anyway?). 
It also gives a more precise sense of direction, leading to more efficient space planning! The passage has a storage rack on the end. So, you can even experiment with windows, or an open garden at the end of your cozy passageway!
Metallic Touches!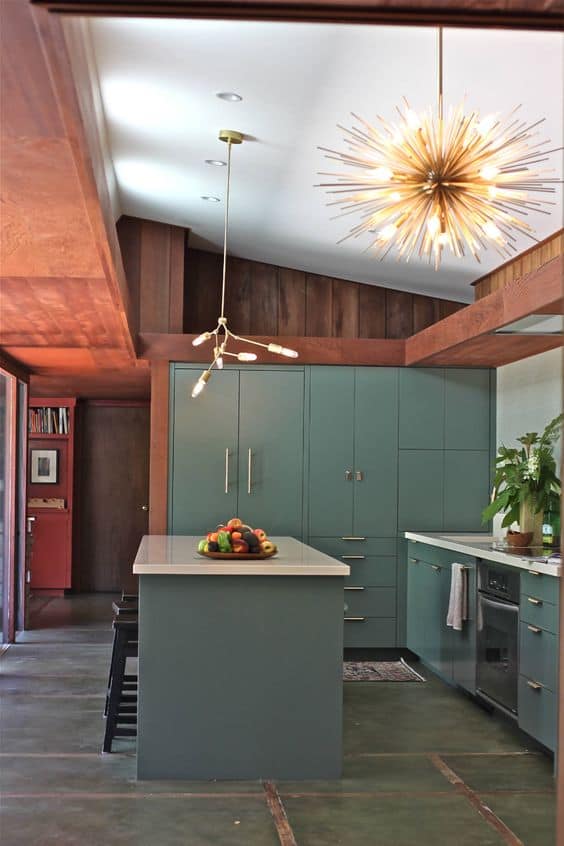 A little bling never hurts anybody, right? Adding a gorgeous metallic gold light fixture can make anyone drool over your kitchen space! It can also turn out to be the best highlight of your kitchen, perfectly balancing the simple mid-century decor. 
You can include the metal in your exposed sanitary fixtures or even at the sleek handles on your kitchen cabinets! Get ready to have your guest's heads turned as you upgrade your kitchen game!
Be Bold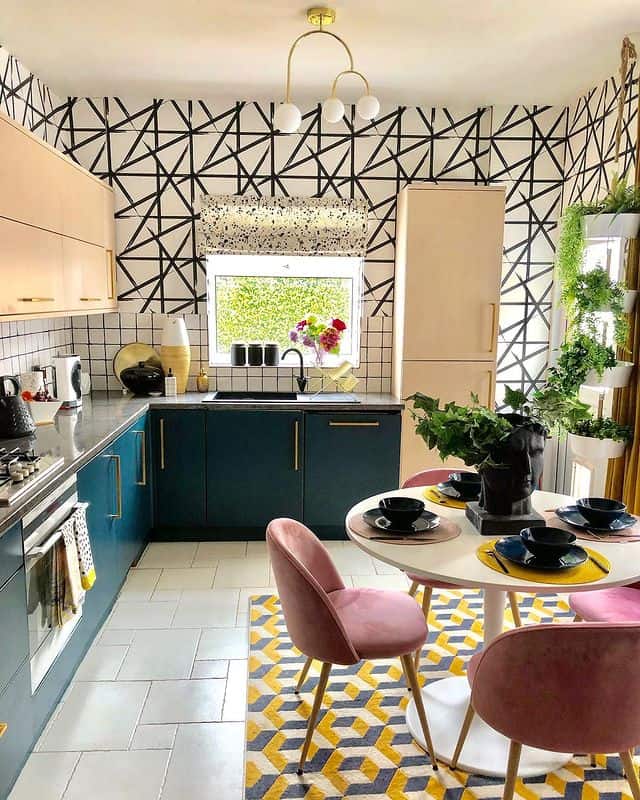 Okay, too many of the subtle elements! Now, let's go ahead with a pop of bold patterns and colors! These are the perfect upgrade for your mid-century kitchen ideas since they go along with the latest trends. 
You can add an alluring yellow rug and tulip chairs, with a strong wall pattern. This quirky combo can provide the perfect balance and a stylish kitchen makeover!
Indoor Plants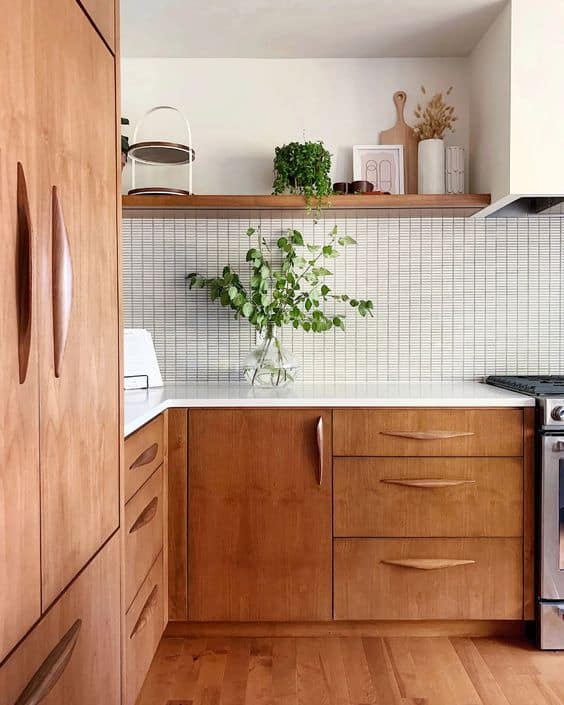 Indoor plants can become your kitchen's best friend if you place them right!  These planters uplift your mood while being your kitchen aesthetics! There is nothing as fresh and energizing as green indoor plants for your kitchen island decor. I'm pretty sure all of us would agree when it comes to this!
The beautiful earthy tones with a light-colored backsplash wall and indoor plants can create the most alluring mid-century modern kitchen idea! Quite Pinterest-worthy, isn't it?
Bubblegum!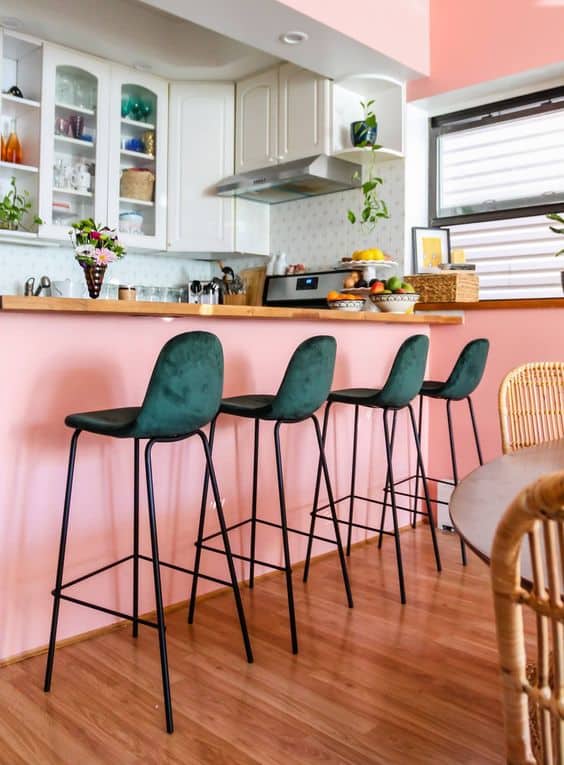 As kids, we've had our fascination with bubble gums – The scrumptious flavor and the most gauzy color! That pretty pink never failed to amaze us and leave us fighting for that last piece of gum. 
This soft and delicate tint of pink can enhance your kitchen feel as if you're in a Candyland. You can even pair it with emerald green bar stools over the breakfast table, or a fancy gold centerpiece. You won't regret it!
Geometric Patterns!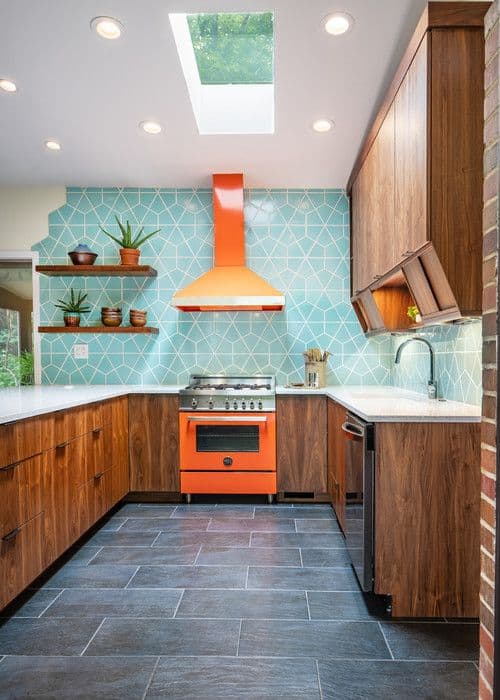 Wanna go a little crazy with the patterns? It doesn't sound like a bad idea! Geometric patterns can do wonders for your kitchen by adding a few points of interest. They can also probably distract your focus from that oil spill! 
Straight, zig-zag, curvy, or radial – The floor is open to everything! Just pick your favorite geometric patterns and create a compelling design like a flower or an abstract that goes well with your space! 
Pop Of Color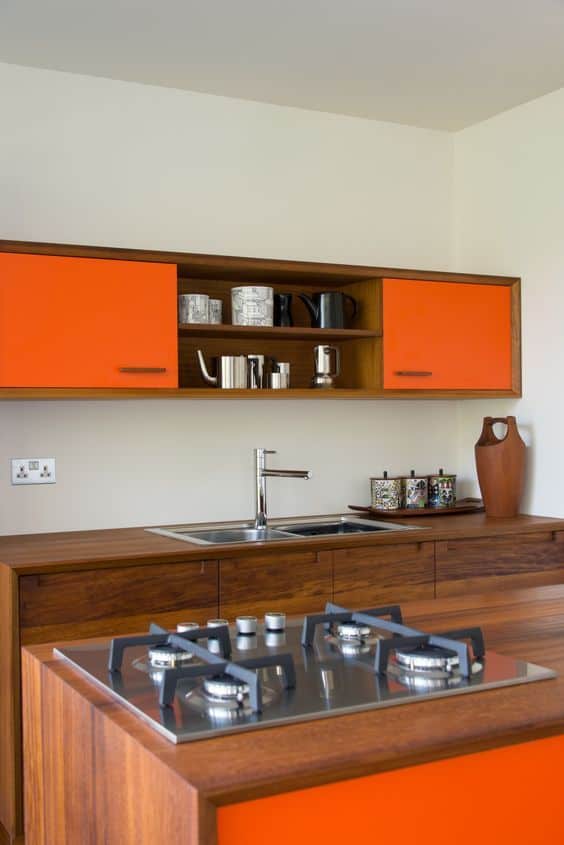 A sudden color change can be a great surprise element to your kitchen! An abrupt pop of color creates a visually appealing essence and you won't ever forget that orange overhead cabinet in your kitchen. But of course, that doesn't mean you won't ever stop showing it off!
Modern Bar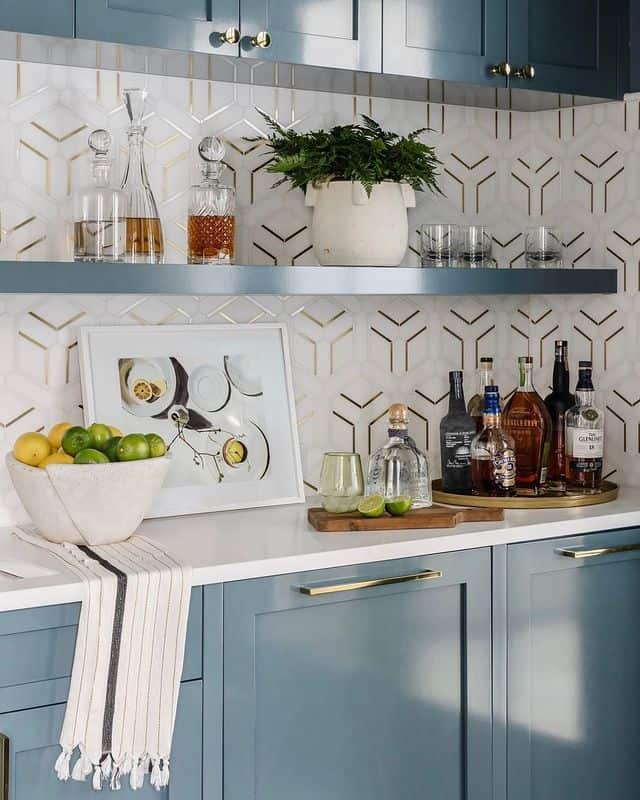 Who doesn't love an open bar in their kitchen space? It is also a sure-shot way to make your home the next hotspot for house parties! The beautiful wooden credenza with a mirror on the rear end can create a beautiful small setup. 
But, the plus point is that it's quite easy to set up. All you need is a few glass panes, a wooden floor-to-ceiling cabinet, and a few bottles of champagne!
Related: 18 Basement Bar Ideas For A Classy Pub-Style Retreat!
Kitchen Lighting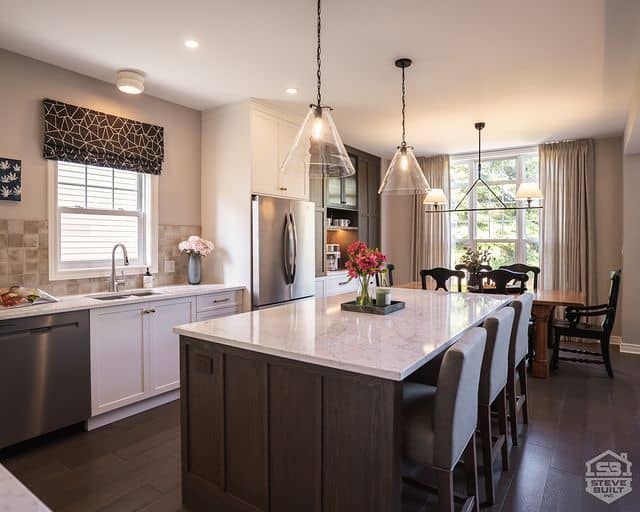 The pendant lighting fixture is a staple of mid-century modern kitchen remodel decor! These heightened hanging lights can create a focal point for your lighting design. These lighting designs go the best with kitchen island decor and will easily take your dinner date plans a notch higher!
Exposed Beams!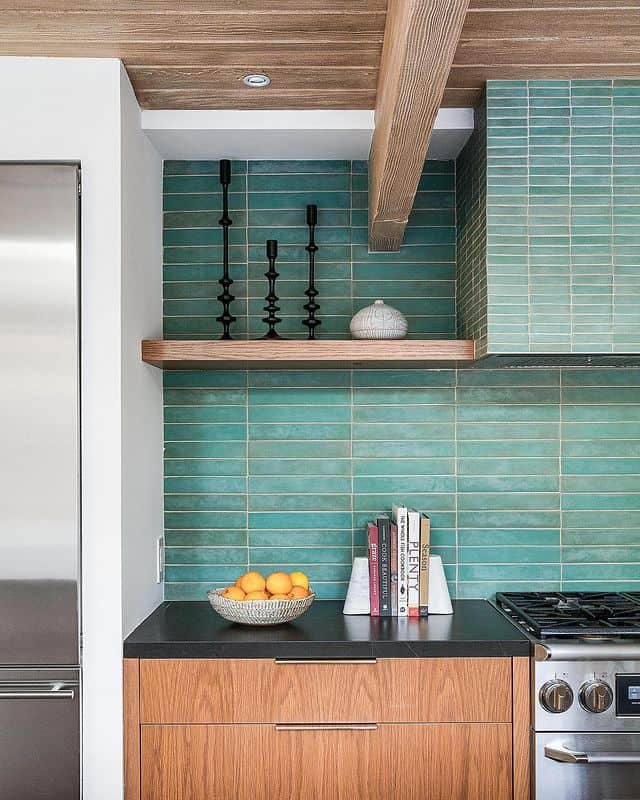 Exposed beams offer a raw, metallic look and can entirely complete your mid-century modern kitchen idea! Wooden beams are an equally great addition as it gives a rustic, classy effect! 
Exposed beams create a visually different point. So, it is the perfect way to break your ceiling's monotony to develop a more fun yet functional element! 
Matte Finish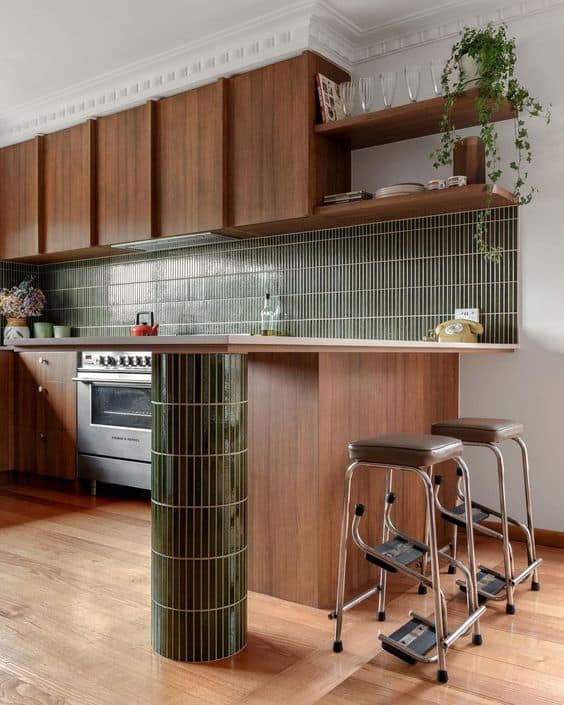 There's nothing better that can convey the vibe of a mid-century modern kitchen idea than matte-finished floors and counters! Browns or any pastel color can further enhance the color, giving your kitchen a cozy finish. After all, matte is the new gloss!
Less Is More!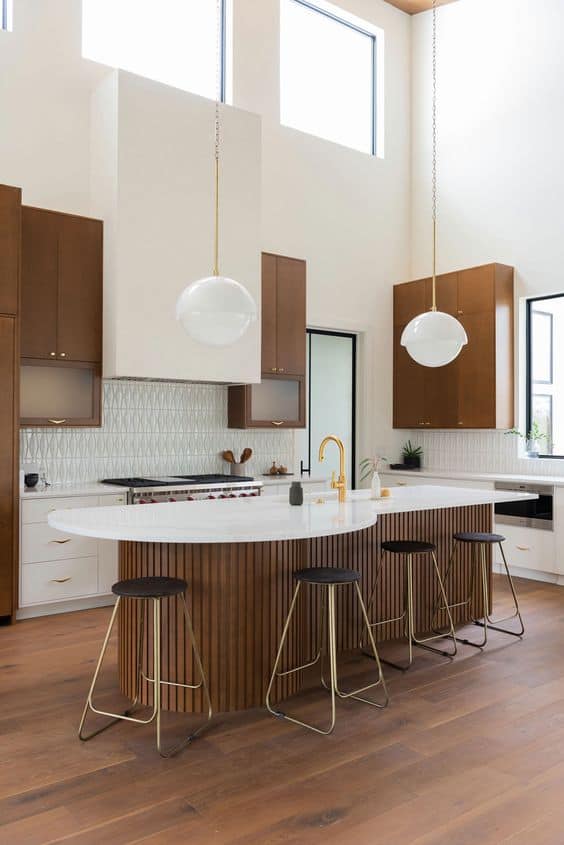 Feeling confused about how to implement your mid-century modern kitchen ideas?  The safest route is to keep your aesthetic to a minimum! You can start off with minimalism and later on, you may skyrocket. 
Feel free to take your style to the next level once you're comfortable with the aesthetic. Always remember that whenever you're doubtful about your decor – Just stick to minimalism and then gradually elevate your interior design game!
5 Tips for Creating The Best Mid-Century Modern Kitchen! 
Warm and Earthy Color Palette
These magic colors are impeccable and can shape and mold your mood in seconds. A soft color palette like pastel yellows, pinks, greens, and browns are the perfect colors you can add to your kitchen zone. 
Related:
Natural Materials
The mid-century modern design celebrates the beauty of natural materials like wood, leather, stone, and metal in your furniture and decor choices! For example, teak and walnut are popular wood choices for mid-century furniture while leather upholstery complements the overall aesthetic.
Retro-Inspired Patterns
A bold touch of vintage can never go wrong. These can create a new passage of nostalgia. Atomic-shaped motifs can be a new pick. Along with that, the good old geometric patterns and starburst patterns are just perfect!
Open shelves
This is a new and aesthetic way of showing off your kitchen cutlery. Open shelves create a more organized storage space as you can find all your spices quickly. You can add a warm brown color for this and it will build your Pinterest-worthy kitchen space. 
Modern Technology
Modern technology can do one big favor to your kitchen – It can quickly simplify your life. You can incorporate modern technology without compromising your style.