You know it's time to upgrade your pantry when you're tired of rummaging through your cabinets, trying to find that one ingredient, only to discover that you've run out of space for your grocery haul. The pain is real. This is the ultimate solution for someone who loves to cook or bake, and it goes a long way with a touch of creativity and personalization.
But don't worry. We're not just talking about boring old shelves and bins. There are endless creative walk-in pantry ideas that can maximize your storage space and add a lot of personality to your kitchen. From custom shelving and life-changing storage solutions to lighting and chic decor, check out these pantry ideas to transform your kitchen into a foodie's paradise!
Add A Modern Aesthetic To Your Walk-In Pantry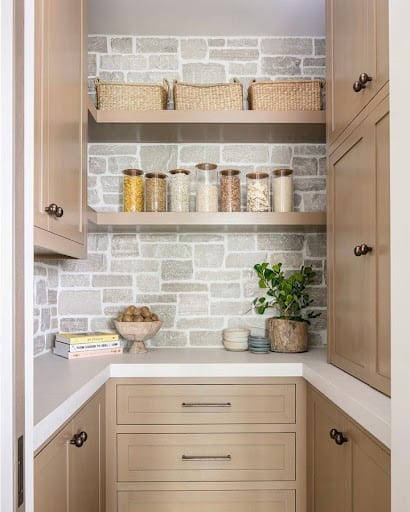 Gone are the days of cluttered and disorganized spaces because this sleek and modern pantry organization will ramp up your kitchen effortlessly! With a modern walk-in pantry, you'll have plenty of storage space for all your cooking essentials, including canned goods, spices, and baking supplies, and the best part? It looks effortlessly beautiful! 
A See Through Pantry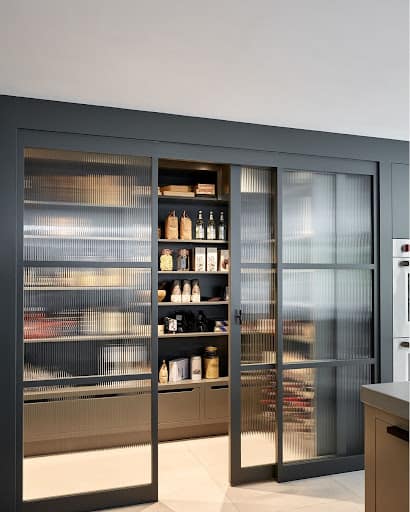 Imagine being able to find everything you need at a glance. You won't have to go digging through a cluttered pantry! So, whether you're a minimalist or a maximalist, considering a glass-door walk-in pantry idea is a great way to elevate your kitchen's interior. And if you're not the most organized person, embrace the chaos! (or become organized, guys!)
For A Small Pantry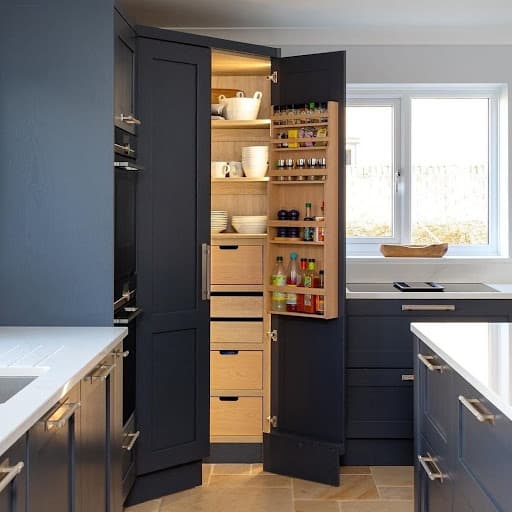 Just because it's a small pantry doesn't mean it can't pack a punch! The goal is to maximize your space and add hooks to the door for things like measuring cups and a small whiteboard for your grocery list. 
This way, you're maximizing every inch of space and making your life easier. Get creative! Paint the shelves a fun color or add some wallpaper with a bold print to the back wall. This will make your pantry feel like its own little room, and who doesn't love that? 
Go Bold With Colors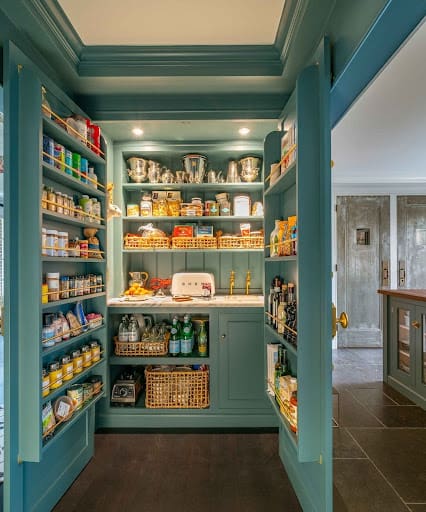 A vibrant, bold color is the perfect solution if you're tired of boring beige or plain white pantries. Imagine opening up your pantry door and being greeted with a burst of teal like this walk-in pantry idea. You can make a statement without doing a complete kitchen overhaul which is the best part.
Whether you go for a bold, all-over color or just a few accent pieces, you'll surely love the energy and vibrancy this will bring to your space!
Try Some Warm Neutrals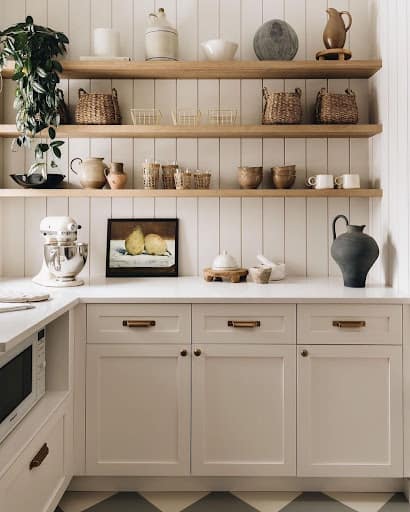 Neutral colors like beige, white, and grey are the perfect backdrop for showcasing your favorite food items, cookbooks, and kitchen utilities. 
They create a clean and organized look that will impress even the messiest of cooks! But just because you're going neutral doesn't mean you must sacrifice creativity, so incorporate natural textures like wicker baskets, wooden shelving, and marble countertops to add depth and interest to your space.
Make It Look Expensive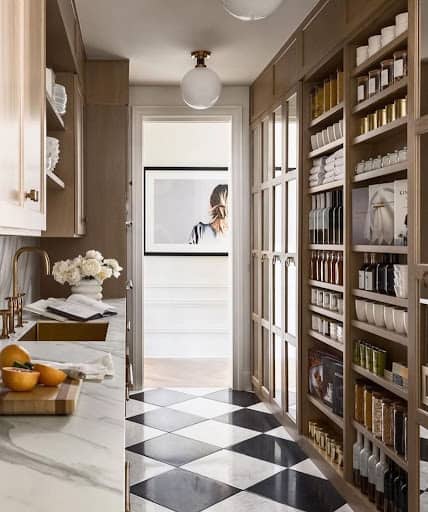 If you're looking for a pantry that screams luxury and sophistication, stop your search at this walk-in pantry idea!
Make your pantry shine with marble countertops, custom-built cabinetry, and maybe even a small chandelier to add glitz. Take care of the lighting. You want your pantry to be well-lit but not harsh. Soft, warm lighting is key to creating that cozy and inviting atmosphere. If you want to go all out, use under-cabinet lighting to showcase your collection. 
A Small Walk-In Pantry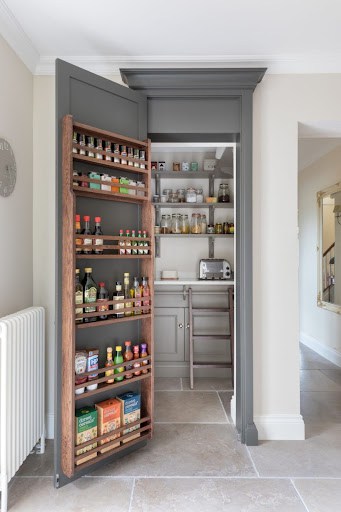 Small spaces can be so challenging when it comes to storage! They demand creativity!
So be creative and add a few well-placed shelves to transform your small walk-in pantry! And if you're short on floor space, consider using the walls and your door too. Don't be afraid to add some spice to your space. Try some pro pantry storage ideas like cute chalkboard labels or colorful stickers to make everything easy to find.
Go For All Wood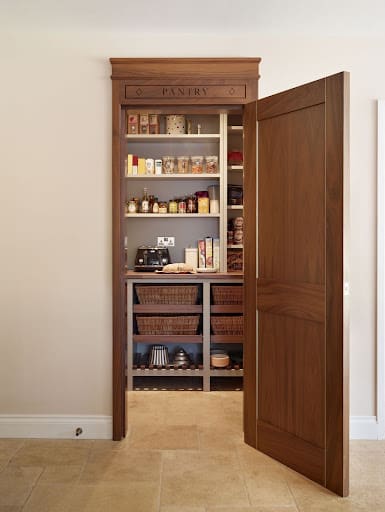 The best way to incorporate wood into your pantry design is to use it for shelving and storage. This creates a cohesive look throughout the space, adds some natural texture, and makes it look aesthetically pleasing against the pantry items. 
Like this walk-in pantry idea, a beautiful, handcrafted wooden door can add character to your kitchen while providing a functional barrier to keep your pantry items organized and out of sight! 
Go for A Butlers Pantry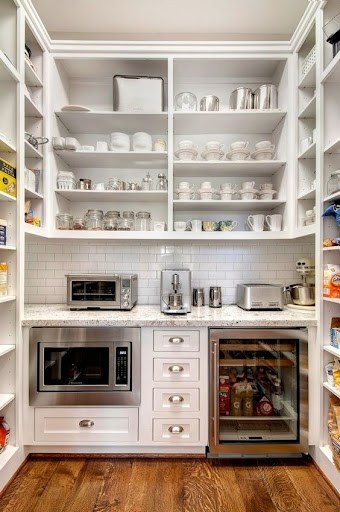 Adding a butler's pantry is the perfect way to keep your main kitchen tidy and organized while keeping all your essentials within reach. You can showcase your fancy dinnerware and store your liquor. Well, the real magic lies in the details! Imagine having a home bar– a dedicated space to prep drinks, a built-in sink and refrigerator, or a coffee station with a state-of-the-art espresso machine- a dream. 
A Dark Pantry Design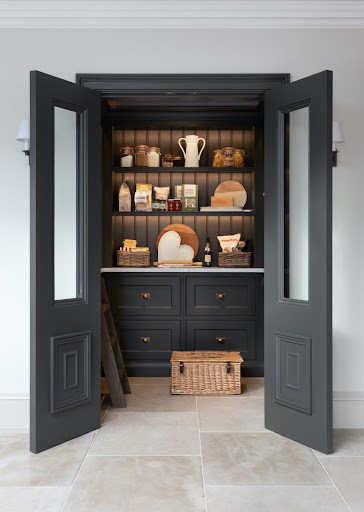 A dark-colored walk-in pantry adds a touch of sophistication to your kitchen that can't be beaten! They let your food items stand out like they never would in a white or light-colored pantry. And don't even start on the accessories you can use to make your dark color pantry pop. Metallic shelving, vintage glass jars, and some textured baskets are just a few examples of elevating your pantry to the next level. 
Open Pantry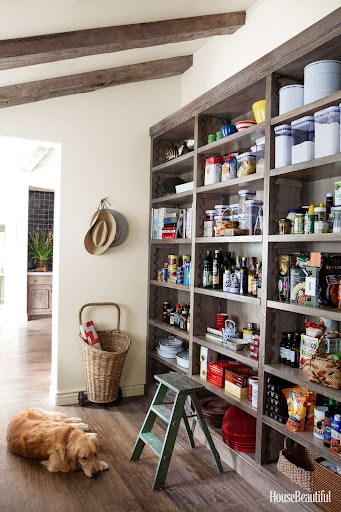 An open pantry is more than just a pretty display. You can finally say goodbye to cramming all your canned goods in one place! Why should your plates and cups get all the attention in your kitchen? Your food deserves to shine too! Plus, with an open pantry, you can easily see what you have on hand.
Quick tip– You can organize your jars and cans by color or brand, display pretty dishes or baskets filled with snacks, or even add some fun wall art or decals to liven up the space.
Keep It Hidden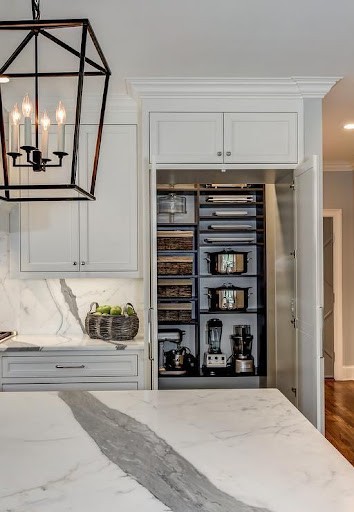 If you are tired of cluttered countertops and overflowing cabinets in your kitchen, consider a hidden pantry! Yes, a pantry that is hidden away from plain sight yet accessible whenever you need it. 
Not only does a hidden pantry add an element of surprise to your kitchen, but it also maximizes your storage space. So, you can store all your bulky kitchen gadgets, large pots and pans, and surplus food items in one convenient location without sacrificing precious countertop space! 
Nail The Farmhouse Look!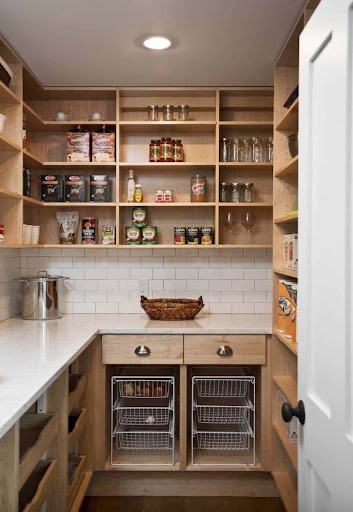 Don't settle for boring white walls in your pantry! Take inspiration from this walk-in pantry idea, mix it with some geometric tiles, or choose a bold pattern to make a statement. Most importantly, don't forget about the grout – it can be a subtle accent or a bold contrast to make your tiles pop! Not only will it add personality and some flair to your pantry, but it'll also make cleaning up any spills or messes a breeze. 
Keep It Light & Airy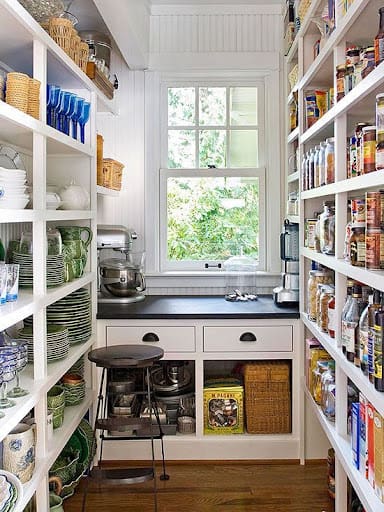 A walk-in pantry idea with a window looks incredibly stunning; it works great if you want your pantry to look bright and well-ventilated. Plus, having a window means you can keep an eye on the world outside while you're busy whipping up something delicious. So if you like your pantry light and bright, this is the way to go!
FAQs
What is the difference between a butler's pantry and a walk-in pantry?
The butler's pantry is a small, separate room adjacent to the kitchen typically used for storage, prep work, and cleaning up. Think of it as a backstage area for your kitchen – a place to stash your mess and make everything look effortlessly chic!
The walk-in pantry is a spacious room with shelving, drawers, and organizational tools to keep your pantry goods in good shape. You can walk right in, and voila – everything you need is within your reach. No more digging through overstuffed cabinets or tripping over bags of flour on the kitchen floor.
In total, the butler's pantry is a hidden gem, perfect for keeping your kitchen tidy and your guests impressed, whereas the walk-in pantry gives you ample space and easy access to all your pantry essentials.
Where should a walk-in pantry be placed in a kitchen?
A walk-in pantry can make or break a kitchen. It's not just about having a designated space for your pantry shelving. It's about convenience, functionality, and of course, style! Ideally, your walk-in pantry should be located close to your cooking area. You don't want to be hauling ingredients back and forth when you want to make a batch of cookies, do you? That's just asking for a mess (and a sore back!). 
Another thing you want to consider is the flow of your kitchen. Your walk-in pantry shelving should be easily accessible from the kitchen and dining room. The placement of your walk-in pantry comes down to what works best for you and your lifestyle. Just remember convenience, functionality, and style are key.
Should a walk-in pantry have a window?
The short answer is no. A walk-in pantry doesn't necessarily need a window! But if you love having natural light streaming in, you can consider it. Who doesn't love a little view while grabbing a snack? And if your pantry is on an exterior wall, a window can help with ventilation and keep things from getting too stuffy.
But, on the other hand, there are plenty of reasons why a window might not be the best choice for your walk-in pantry. For one thing, windows can be a real pain to clean, especially if they're at ground level and prone to getting dirty, so yes, it is high maintenance if you want one. But ultimately, it's all about balance and what works best for you and your space.