Your bathroom is one of the most important spaces in your home, so it should be a relaxing and comfortable zone! If you're not familiar with the term "Backsplash," – It's a type of protective wall covering whatever is installed behind the sink, vanity, or shower area. A modern bathroom backsplash adds style and personality to your bathroom while also protecting your walls from moisture and water damage.
There are various options to choose from when it comes to bathroom backsplash ideas. From bold, colorful patterns to sleek, minimalist designs – The possibilities are endless! Along with the regularly used tiles and glasses, there are other materials like natural stone, wood, or even wallpaper that you can use. The key is to choose a material that not only looks great but is also easy to maintain and will hold up well in a moist environment. So, let's dive into these bathroom backsplash ideas, and I hope you find one that fits your bathroom just right!
18 Stunning Bathroom Backsplash Ideas
The cutest printed tiles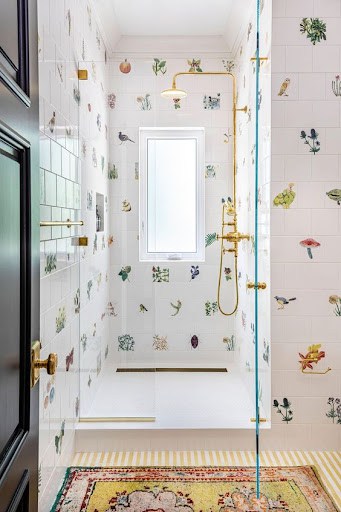 Customized illustrations and drawings based on a certain theme are a simple and easy visual cue to add to your list of bathroom backsplash ideas! You can easily find the designs for these patterns in any sanitary fittings showroom. You can go with aquatic concepts like the world below the sea, including fishes, plants, or shells! You can even use a natural theme with flowers, trees, or birds! This is a perfect example of the idea behind any modern backsplash.
Stone backsplash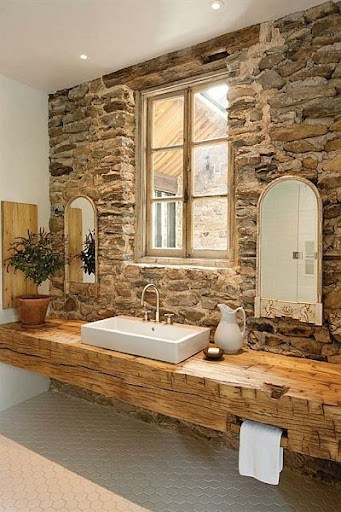 For a middle-aged style concept, you can incorporate stone in a layered fashion to bring a foundational aspect to your home structure! This rustic bathroom backsplash idea adds to the neutral visual style of your space. It also allows you to attach elements of wood, with warm white bathroom lighting to shine on your igneous surfaces! You can even pair it with white sinks, clay paraphernalia, and a small plant. These could step your bathroom up to a whole new level of uniqueness paired with old-school vibes!
Textured backsplash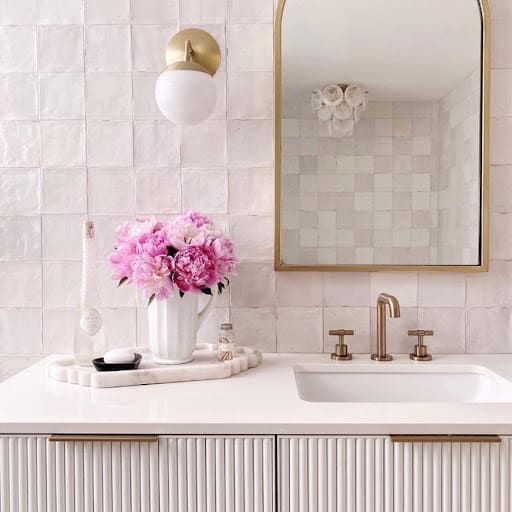 Who doesn't adore a tactile experience that feels familiar and unique to every person? Keeping textures as a part of your bathroom backsplash ideas is essential if you want to create some modern backsplash designs!
You can also mix and match the different textures. The shower tiles can be hard and coarse to grip or rest your back on while you're relaxing in a hot bath. So, you can add softer tiles around your medicine cabinet and sink. These will help you rest your hand for support while brushing your teeth. Soft and bolder tones deserve to be matched up too!
Pro Tip: Bring some creamy, peachy pastels with intense shades! It is highly recommended, but a soft-on-soft duo tone is just as dynamic!
Blue Mosaic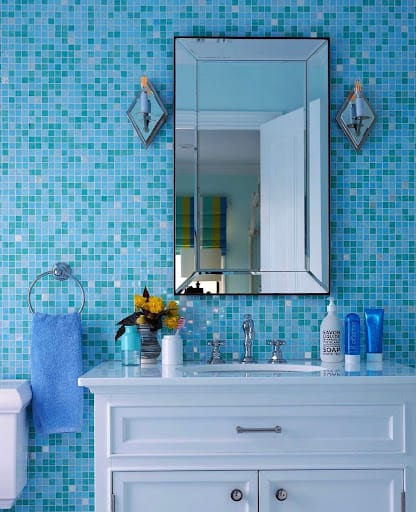 Bathrooms are called restrooms for a reason because nothing feels more calming and cool for your mind than the right shades of blue! The color blue signifies sentiments of trust, comfort, and joy, and for bathroom backsplash ideas, you can easily incorporate blue mosaics! They are aesthetically pleasing and consistent. They also pair well with glossy white and metallic sanitary fittings. You can try cheery colors like warm yellow lighting or accent elements like flowers, towels, and a rubber ducky!
Easy DIY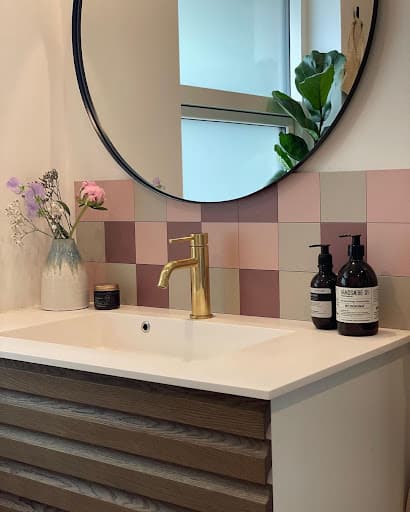 Just pick up a quick and easy DIY for your bathroom backsplash ideas with these cute stick-on tiles! These can instantly bring a pop of color to your space while transforming the whole look of your bathroom vanity. 
Stick-on tiles that come in a wide range of colors and styles work as a colorful addition, bringing texture to your space. It doesn't need expensive materials or professional installation, so you're all good to go!
Pro Tip: Wanna create a focal point and add more personality to your boring space? Just start by using a bold color or pattern! Stick-on tiles are great for updating an outdated backsplash without even doing a full renovation.
Peachy keen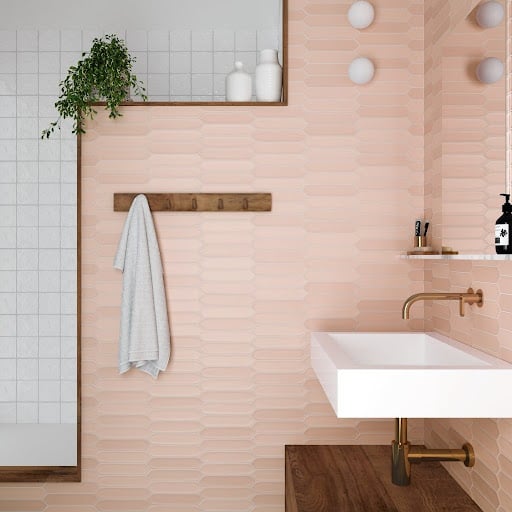 When it comes to bathroom backsplash ideas, adding a peachy tone can just be the right tone to brighten up your space! Peach's warm and earthy tones complement the natural wood finishes, while the crisp white ceramics serve as a clean, neutral backdrop for peachy tones. You can add some green plants that can offer a beautiful contrast, further enhancing the original color scheme. 
Peach is such a versatile color because it is ideal for both traditional and contemporary designs! When it is combined with natural wood finishes, it creates a rustic, organic look. But if you combine it with white ceramics, it gives a more contemporary vibe!
Phases of the moon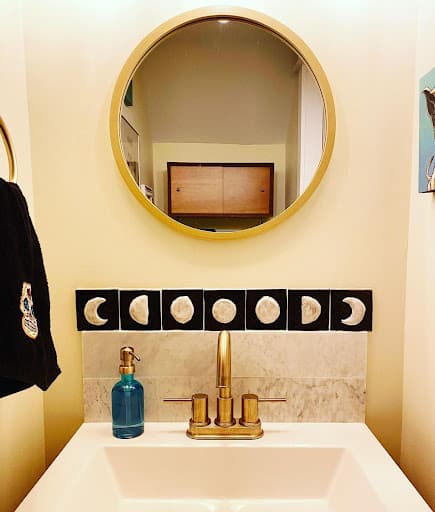 Channel the magic of the moon with this sleek yet adorable bathroom backsplash idea! This idea can be done quickly over a weekend art project for those who are ready to upgrade their bathrooms on a budget. 
This unique backsplash is a fascinating way to add a whimsical touch and personality to your sink vanity cabinet area! The moon symbolizes various things like femininity, cycles, and even dreams. It makes it a stylish motif to incorporate into your bathroom design!
Ruby red glass tiles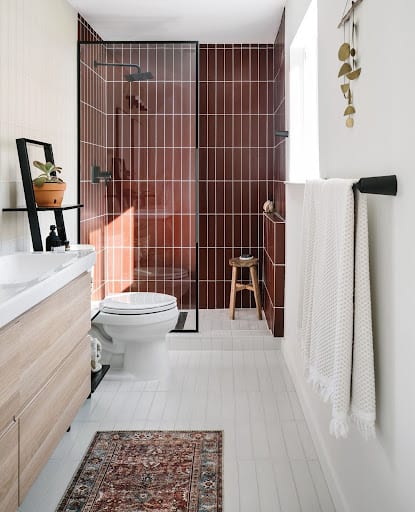 Ruby red glass tiles are a stunning addition to your bathroom's walk-in shower area backsplash! The rich, vibrant color offers your space a bold and luxurious vibe, while the glass material can reflect light to create a sense of greater depth. When you pair these tiles with neutral or monochromatic ones, they all create a bold statement and become the focal point of the shower area. 
Otherwise, you can use the ruby-red glass tiles as an accent on the shower area backsplash! This placement creates a wonderful pattern or a border with the rest.
Glossy mermaid scales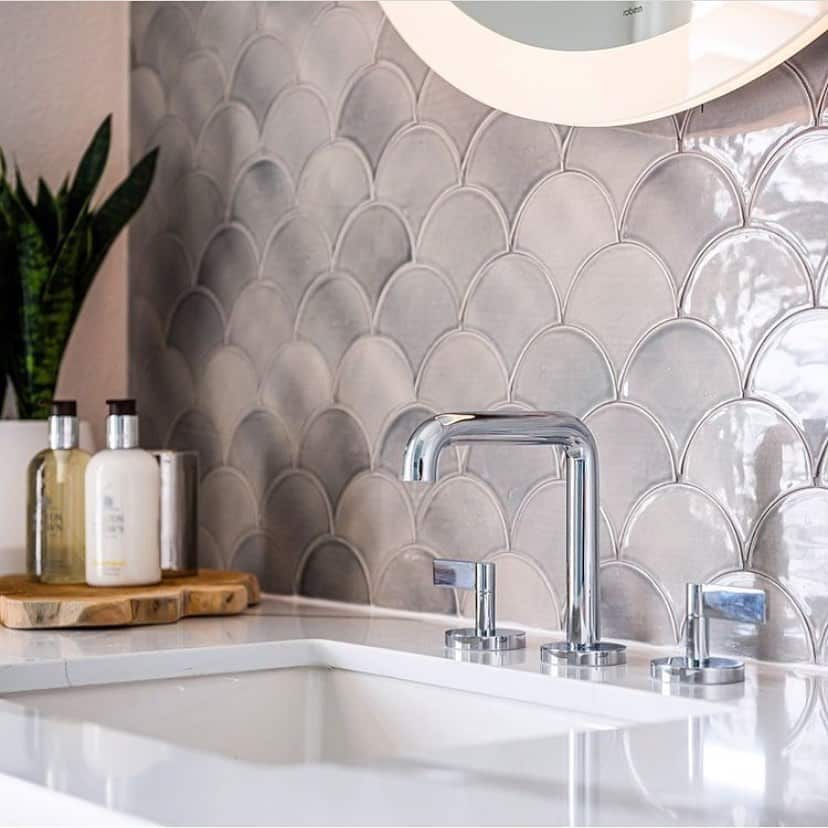 Are you looking for a small bathroom backsplash idea? This one's for you! The glossy mermaid scale concept can be a unique backsplash addition to your bathroom sink area. The iridescent colors of the mermaid scales offer a cutesy and lush design to your space, while the glossy finish reflects light and adds depth! 
Mermaid scale tiles come in a variety of colors, ranging from blue and green to pink and purple. This backsplash idea gives a stunning contrast and becomes the focal point of your space, especially when paired with white or neutral-colored cabinetry and countertops!
Gradient tiles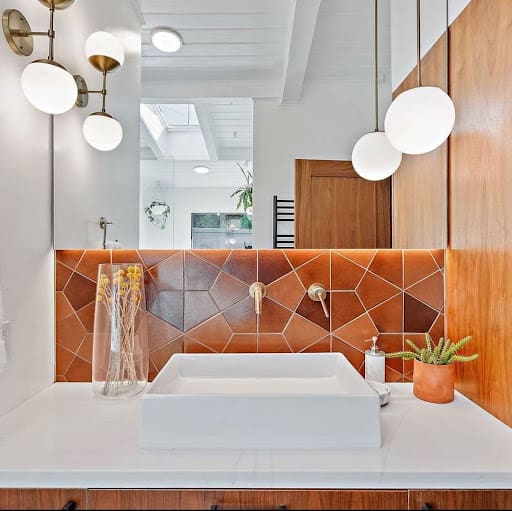 Gradient tiles are perfect for upgrading your sink area for a unique and eye-catching look! These tiles are available in several colors that can blend seamlessly from one shade to the next. They create a lovely subtle effect that transforms even the small and overlooked spaces into a stylish focal point!
Brown and red gradient tiles are a lovely choice for creating a warm and inviting ambiance in your bathroom space. The deep brown and bold red tones complement both the rustic and modern design styles! So, it makes them a versatile choice for any kind of bathroom.
Hexagons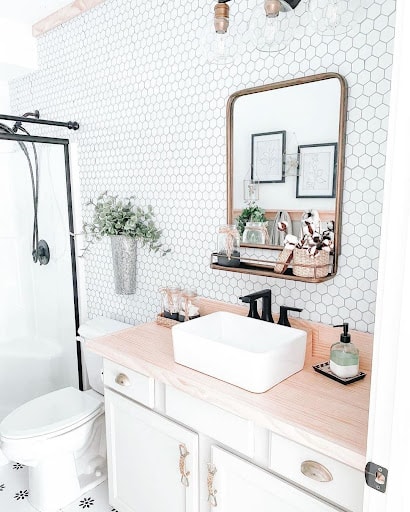 This geometric shape of the tiles plays a huge role in visual interest, giving your bathroom a modern, sophisticated aesthetic! You can add a pattern with several shades and textures of hexagon tiles for your bathroom backsplash. You can combine glossy and matte gray with white hexagon tiles for a subtle look. 
You may even pair hexagonal tiles with a wooden vanity cabinet or a natural stone countertop for a rustic finish! Want a more modern look? Just combine the hexagon tiles with sleek and minimalistic fixtures in chrome or brushed nickel.
Time for wallpaper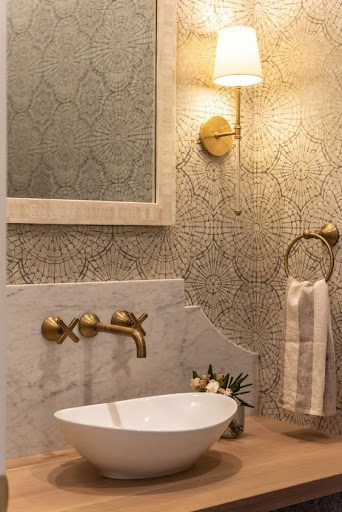 Wallpapers are always cheaper than traditional tiles or stone and are the perfect budget-friendly bathroom backsplash idea! They are available in tons of colors and patterns. You can easily choose the design that goes well with your overall bathroom design while matching your style! 
Bathrooms are naturally damp, and it can cause wallpaper to peel or warp over time. To avoid this, you must select wallpapers that are particularly designed for high-humidity areas! Unlike tiles and stone, wallpapers are not as durable and may not withstand the wear and tear of daily use. So, take your time and effort to choose a wallpaper that is washable and resistant to moisture and steam!
Go for wood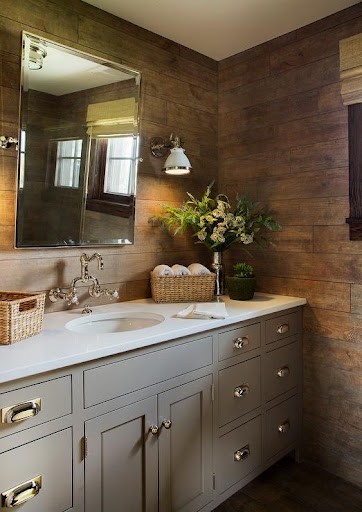 Wooden panels offer your bathroom a natural and rustic feel, creating a soothing, Japanese bathroom atmosphere. They are simple to install and can be tailored to any size or shape for your backsplash idea. To prevent water damage, you can choose a suitable wood like cedar teak or redwood for high-humidity areas! 
Then, you can even apply a protective finish to the wood. These woods also have a beautiful natural color and texture for adding warmth and character to any bathroom!
Peel and stick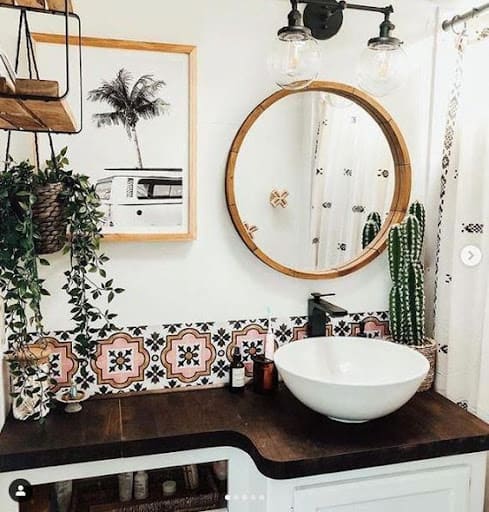 Peel and stick tiles are another unique way to easily upgrade the sink area in your bathroom. Mandala prints are a popular choice for a colorful bohemian essence! These prints also offer a unique and eye-catching element to your bathroom backsplash idea. 
Typically, they come in intricate circular designs with several colors, from bright and bold to muted and subtle! You can use them as a focal point or even as a complement to other decorative elements in your bathroom.
Mustard yellow
The vibrant and warm tone of mustard yellow fabulously stands out against the white ceramics of your sink and vanity! These can add a wonderful intrigue and aesthetic to your space. Mustard yellow can be paired with a wide range of colors and decorative elements. 
So, mustard subway tiles are an adaptable choice for any bathroom style. It is best to keep the rest of your bathroom décor simple and understated since it is critical to deal with bolder shades. Let the mustard yellow backsplash take center stage!
Antique mirror tiles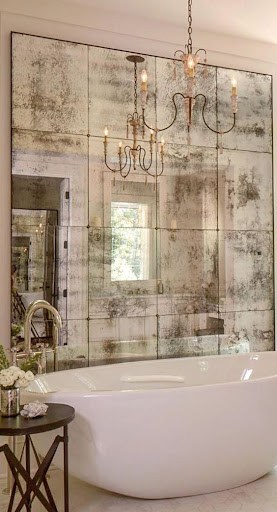 Classy and vintage are the first words you can think of when you hear "old money" in your head. Antique reflective surfaces, hanging candle lights, or golden accents are sure to make you feel bourgeois and bohemian! You can find these in thrift stores or pawn shops with faded, scratched-up, grainy textures. 
Let time do its thing, and you can set these up along your bathtubs or adorn a whole wall with them! But don't worry about water spots since these are only for the aesthetic!
Related: 17 Glamorous Bathroom Lighting Ideas Over The Mirror!
Pebbled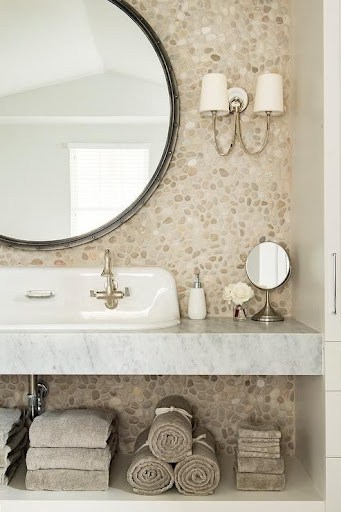 A pebble-textured backsplash made with real pebbles in cement is a unique design element. This gives your bathroom a rustic and organic vibe while providing a durable and long-lasting surface! Cement is an ideal bathroom backsplash material, which is long-lasting and durable for every bathroom environment. Pebble backsplashes look wonderful in coastal or earthy-inspired bathrooms. But, they may not work as effectively in modern or minimalist spaces.
Beadboard bathroom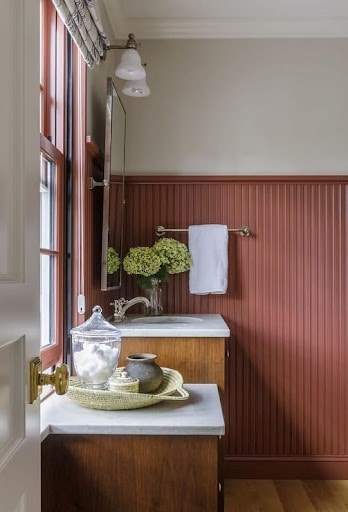 Have you ever been to an art deco-like bathroom at a fancy jazz club and admired the wall's beauty while taking a mirror selfie? Well, you can make it happen for your own bathroom space! You can start by exploring beadboard ideas in maroon, red, and brown shades. More neutral shades like gray, blue, or white are perfect for a subtle and suburban vibe. You can easily pull this off with a unique uniform pattern made from glossy varnished wood!
Things to consider before choosing a bathroom backsplash
Choosing a bathroom backsplash can be an exciting process, but there are a few things you should think about before making a final decision. These elements can have an impact not only on the appearance of your bathroom but also on the functionality of your backsplash.
Color
The color of your bathroom backsplash plays a great role in how your space looks and feels. You can choose a backsplash that complements or contrasts with the color of your existing fixtures, like the sink, bathtub, and toilet. Keep in mind which mood you want to create in your bathroom. 
For example, a neutral backsplash develops a calming and spa-like atmosphere, whereas a bold and colorful backsplash leaves an energetic effect.
Texture
The texture of your bathroom backsplash can have an impact on the overall appearance of your bathroom space. Smooth, glossy finishes bring out a sleek, modern look to your bathroom, while textured or patterned finishes add visual interest and depth. Consider your bathroom's overall style and select a texture that complements it.
Budget
When selecting a bathroom backsplash, your budget is a priority. Some materials, like natural stone or high-end tiles, can be costly. But others, like wallpapers or vinyl, are cheaper. So, you can select a material that meets your requirements while remaining within your price range.
Wall Compatibility
Finally, your bathroom walls must go well with your chosen backsplash material. Materials like natural stone or tiles may require special installation or preparation to ensure proper adhesion and durability. For this, you can consult a professional installer or contractor to ensure that your chosen material works well with your bathroom walls.