Walking into a monotonous kitchen every morning is the perfect recipe to start your day without any color and enjoyment.
Let's change the tale of these plain kitchens. One of the most popular ways to upgrade your kitchen is by introducing a green island in your modern kitchen ideas! Island kitchens are an efficient way to break down and organize your space better. The green color is a versatile color that resonates with calmness and energy, and it is the color of nature as well. This time, green is going to be your new favorite! 
Green kitchen island ideas are the latest additions on the block, and these can turn your entire space upside down by creating a fresh and long-lasting impression on your guests. So, are you ready to meet your new interior obsession? Take a look!
17 Green Kitchen Island Ideas
Add Gleaming Metal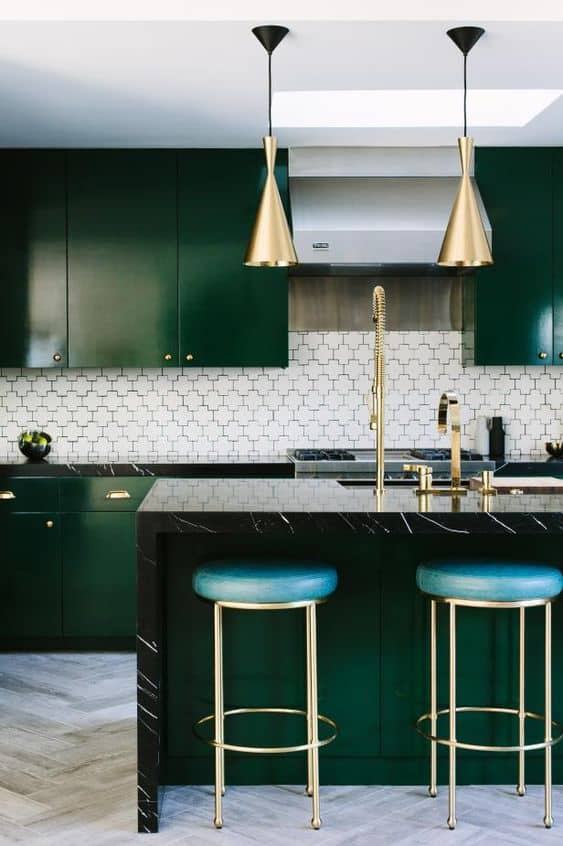 What's better than shiny, glitzy metal against your dark forest green cabinets? It is a versatile combination that looks classy and royal, and it may also end up being your new favorite combination!
The gold metallic accents are a perfect addition to your green kitchen island ideas. They will also help your kitchen keep its spark just like how you never lose that charming spark of yours! 
Maximalism!
Next time you shop from Ikea – Don't forget to get a truckload of fancy green elements in your cart for your kitchen island decor. Elements like matching rust-brown bar stools, lighting fixtures, and funky kitchen tiles will leave no spot empty!
Maximalism is a quirky way to show how experimental and fun you can be – A beautiful way to show that the sky's the limit for you! Remember – The more elements, the bolder the kitchen!
Light It Up!
A sleek black pendant light fixture on a castellone green island can be the showstopper for your kitchen. When two of the most sophisticated colors are brought together in one space, nothing but magic happens! 
Pro Tip: For a final contemporary touch – A perfect matte finish for your kitchen island and the floor-to-ceiling cabinets is all you would need to complete the look of your kitchen! 
Play With Contrast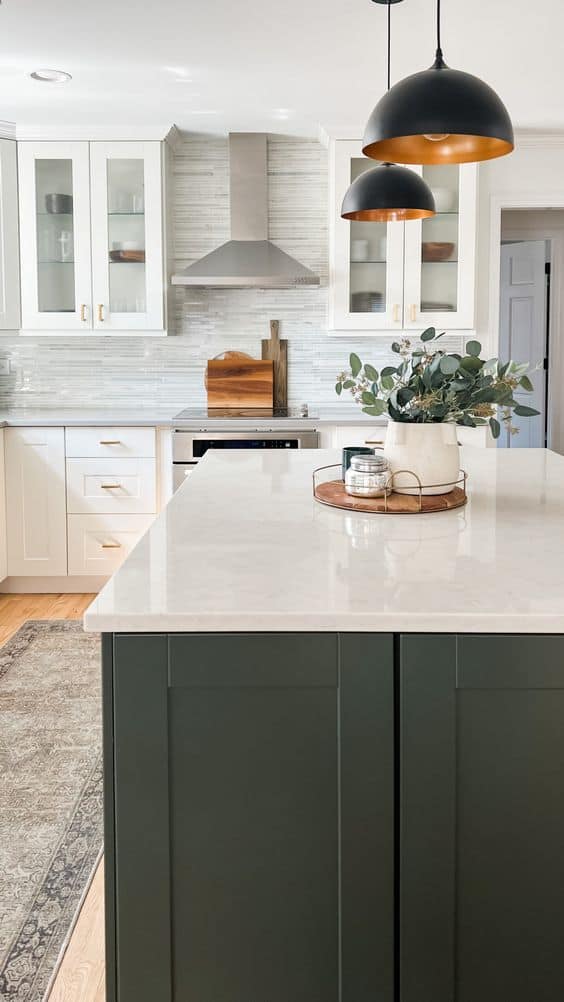 Matching and syncing colors? Eh, that's too boring. Experimenting with bold contrasts is just the right thing for this! You can create an immaculate olive-green kitchen island with white cabinets or countertops. 
Trust me, this sizzling combo can make all the heads turn! Good contrasts help in defining a space more, making each and every element stand out. Who said that opposites don't attract? 
Yellow and Green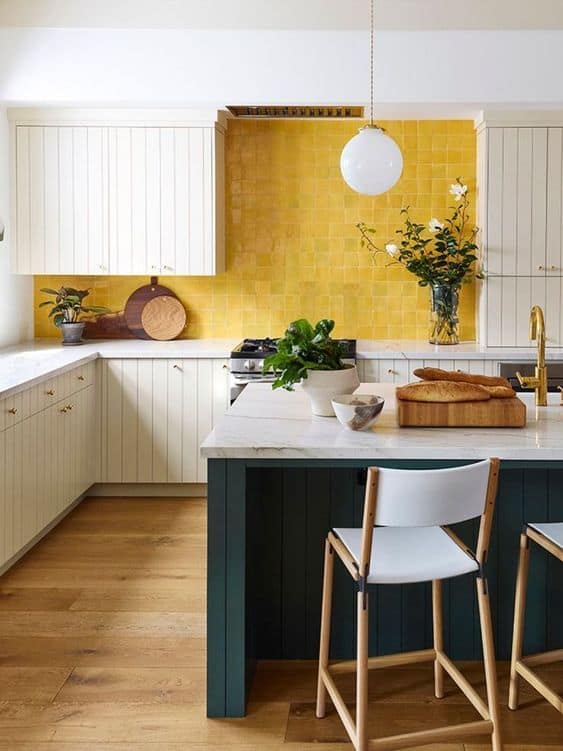 What two colors pop into your head when you hear 'Nature'? I'm sure it's a gorgeous green and a bright yellow!  These two alluring hues form the perfect blend by replicating mother nature's colors. 
Similarly, these two are also well-known for uplifting your mood in seconds! A striking combination of a yellow brick backsplash with a forest green kitchen island idea is all you'd need to get right into the cooking mood. 
Cottage Style!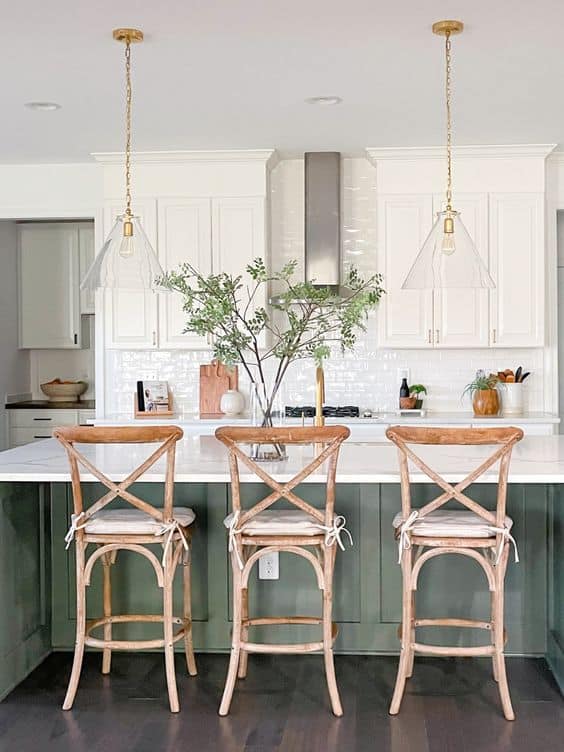 It's true that running far away to a small cottage retreat is like a hopeless dream, but waking up to a kitchen quite similar isn't far from reality! Go ahead and create a soothing, breezy vibe with timber bar stools, white brick backsplash, pure white cabinets, and a sage green kitchen island! This whole package has the power to make your brunch date conversations more colorful and less awkward. 
Raw And Rustic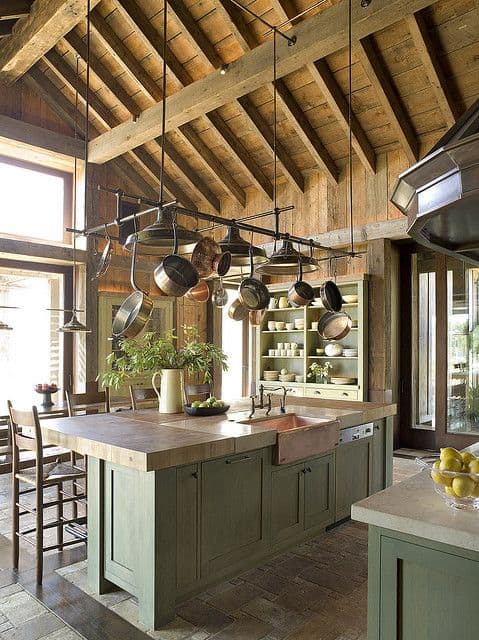 How about a warm, cozy kitchen? That's a yes, for sure! Adding an exposed timber ceiling with abundant natural light can light up your entire kitchen. The sage green kitchen island idea with a wooden countertop is bound to become your homely vibe. 
Don't worry, you can easily replicate this vibe right amidst the city chaos, transforming the kitchen into your favorite escape! 
Alluring Accents!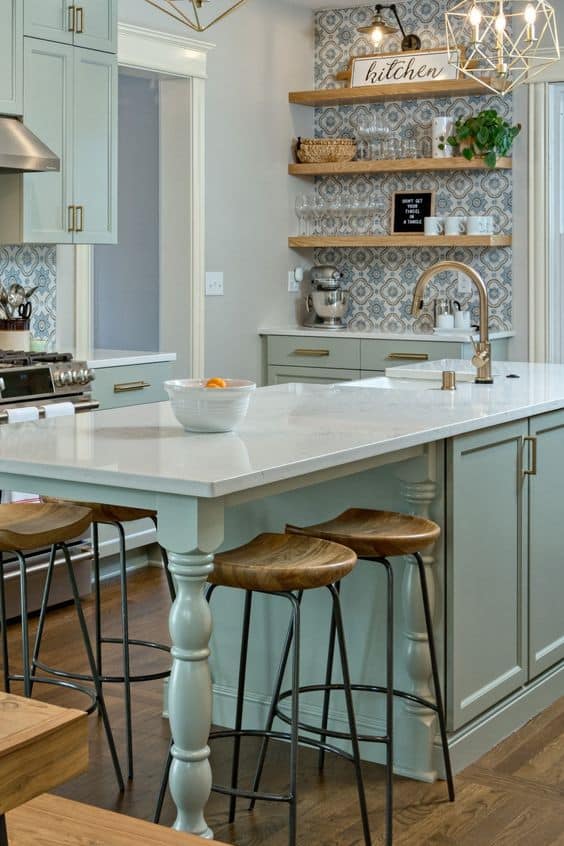 A pop of change is essential when you want to be featured in your favorite interior digest. A mosaic blue accent wall against a sea green kitchen island idea can make your space much more interesting and fun! 
The patterns range from sleek and sophisticated to funky and fun. So, go ahead and make your kitchen speak for you!
Paint It Gold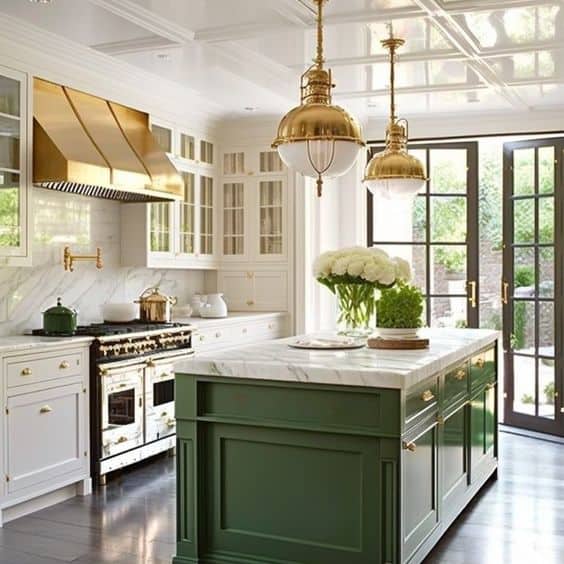 The deadly combination of green, white, and gold in the kitchen is here to kill them with kindness!  
This royal and chic combination includes subtle golden accents and a glossy green kitchen island finish. Their pairing is more than enough to make your kitchen seem like a spot from your favorite cooking show!
Green Tiles For The Go!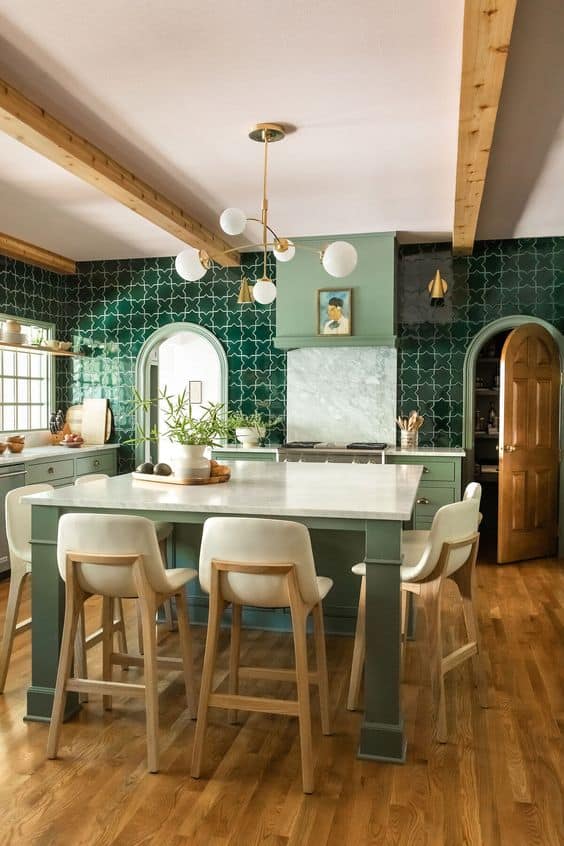 Don't you just wanna go a little extra sometimes? It's showtime to bring the beautiful green tiles that reflect the light off its shiny surface, making your kitchen more aesthetic! 
Feel free to experiment with different tints and shades. This will add more depth to the green kitchen island idea, making it a livelier space. 
Ash Green Mix!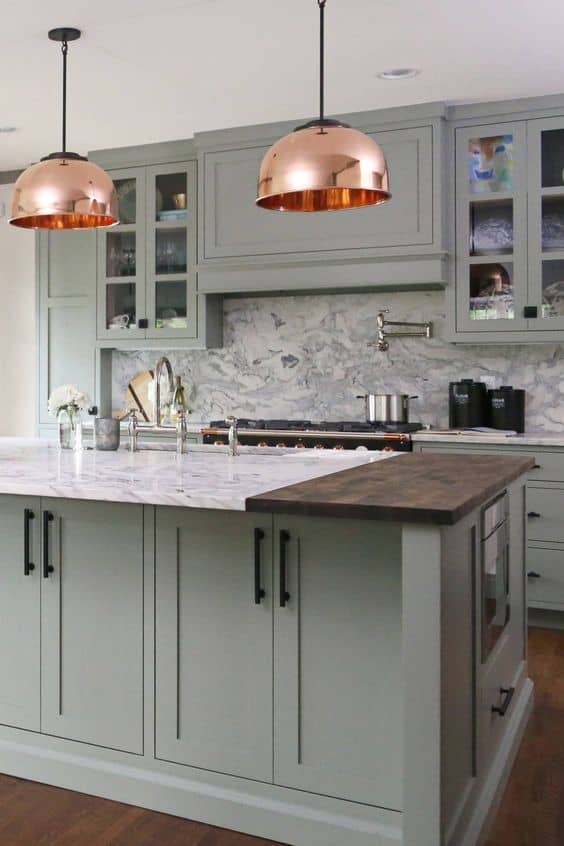 Gray and Green – This color scheme will blow your mind and leave you craving for more! Pair these two up with contrasting glossy accents and your kitchen will automatically start speaking volumes. This green kitchen island idea is the perfect definition of minimalism!
Open Shelves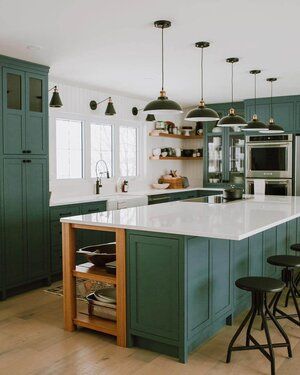 Now, this is an ideal way to show off your organizing skills in the subtlest manner. Display the hottest picks right from your cutlery to cookbooks. Softwood open shelves aligned with floor-to-ceiling cabinets in complementing tones are all you need for a Pinterest-worthy kitchen! 
As a bonus point, this quirky addition won't make a hole in your pocket, so experiment with these to your heart's content. 
Indoor Plants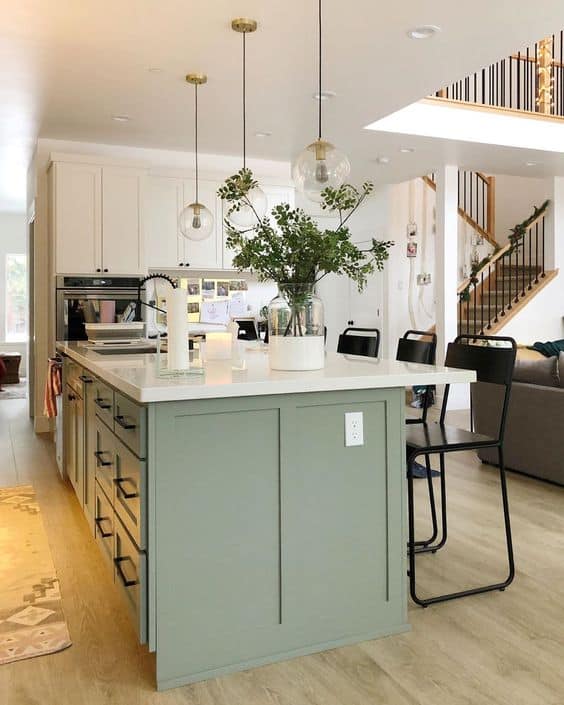 Indoor plants are the simplest addition for making any space more inviting and airy, and it is also a mass favorite! These cute planters will fetch you a lot of compliments and will effortlessly elevate your space within a second. 
You can also experiment with a wide variety of flower plants and natural greens. This green kitchen island idea will pull in every positive and good vibe your way!
Go Monochrome!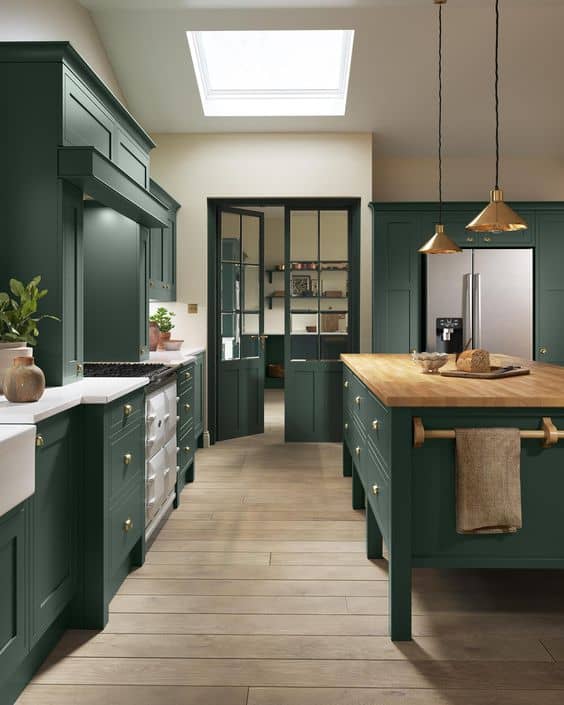 Let's try something bold with this glistening emerald green all over your kitchen. A stylish monochromatic interior is people's favorite and is one of the safest options to go for when you're confused by a variety of colors. This cozy and dark vibe will make you fall in love with your kitchen all over again! 
Pastel Green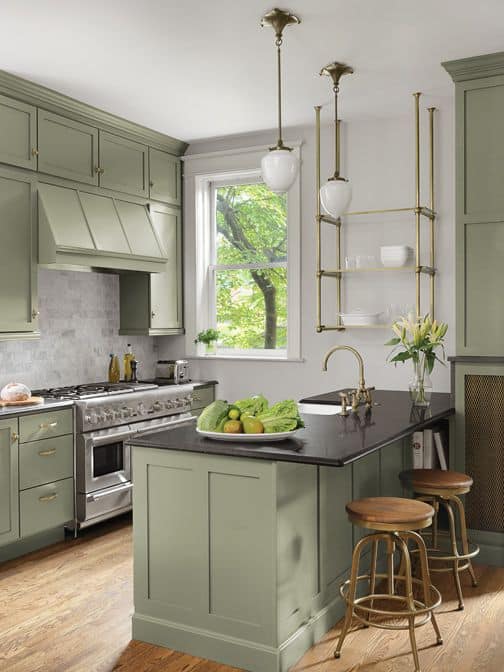 Pistachio green is such a dreamy light green shade, as it creates a mesmerizing palette that you'll be left speechless! Add some breakfast stools and your space will feel much lighter and airy. It may also become your perfect chilling spot by the window. Doesn't it sound amazing?
Marble Countertop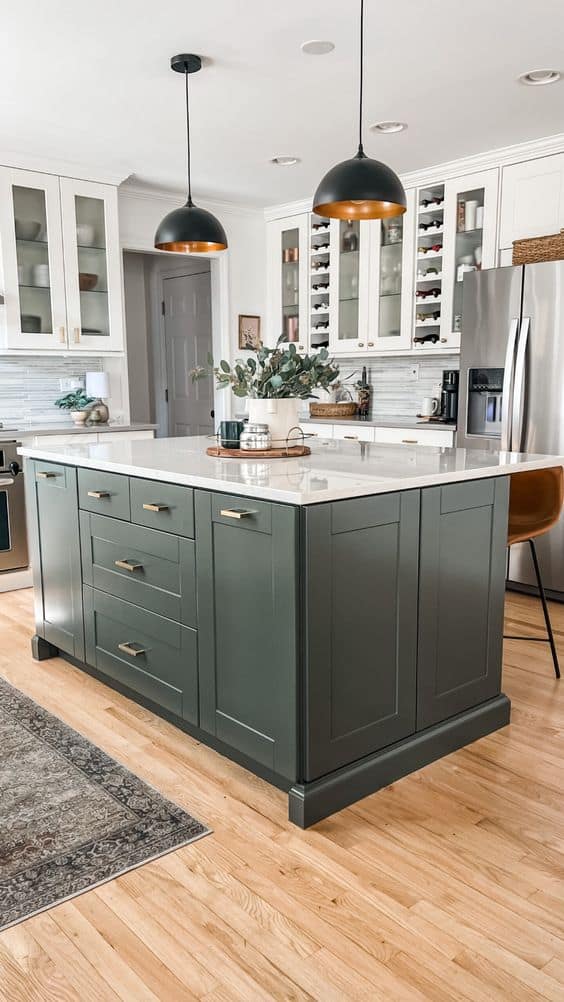 If there's any evergreen material that still feels fresh no matter how old it gets – It is the classic marble. A glossy countertop is enough to make your kitchen seem spotless with the least effort. 
This color forms an exciting contrast and your kitchen will love you for that. Remember to thank me later!
Sea-Green!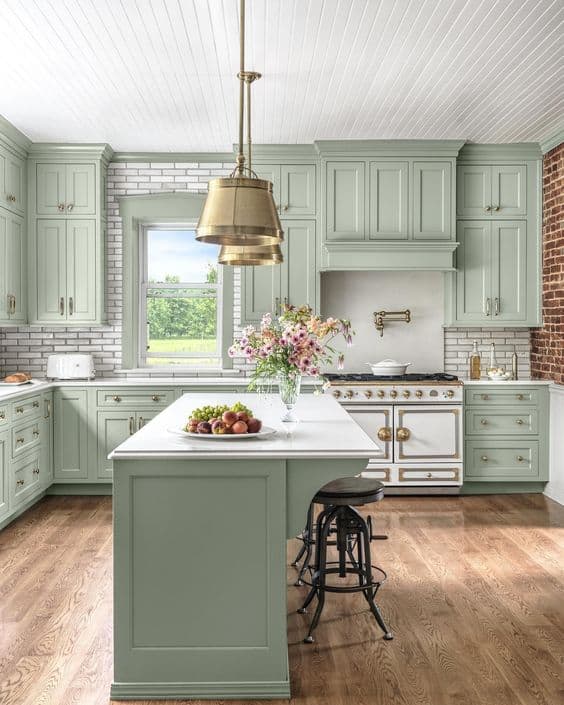 Sea green is a refreshing hue that will transport you to a beach-like destination and create your perfect coastal kitchen! The color radiates comfort, positivity, and warmth. This fancy amalgamation of different hues of green will offer your kitchen extra liveliness. 
Fair Warning: Don't come after me if your kitchen becomes the hot topic for conversations at the dining table!