Let me ask you something. What's one app that takes up your most screen time when you're looking for some trendy room decor inspiration? No, it's not Instagram, but obviously Tumblr! This quirky aesthetic design is pretty popular among the visual arts and other elements found on this app.
We've always had our fascination with those Pinterest-worthy bedrooms in our teenage years, remember? Your favorite band posters and Polaroids with friend groups definitely deserve to go up on your wall. Well, now you can make your teenage dream come true with the eccentric Art Hoe aesthetic room ideas! 
Snuggle up in your bed or on your comfy couch, and get ready for a whole bunch of inspiration to turn your basic room into a quirky one!
What Is The Art Hoe Aesthetic?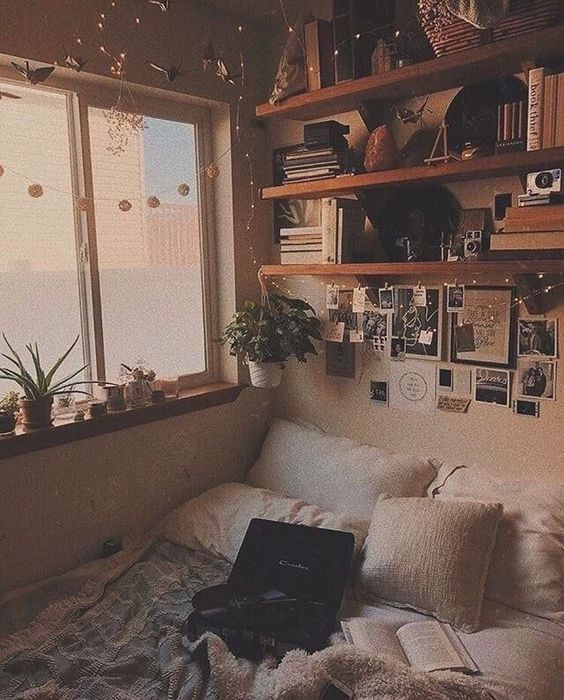 Art Hoe aesthetic is an upbeat style that emerged in 2010 because of its rising popularity in Tumblr, Instagram, and other apps that dominated the design market back then. The Art Hoe movement started as an online subculture that celebrated art, creativity, and diversity! It was made out of the desire to create a more inclusive art community – Highlighting the work of artists of color, LGBTQIA+ artists, and marginalized voices.
Art Hoe interior design is still a niche style due to its latest arrival, but it has already gained popularity among young artists, creatives, and individuals looking to infuse their living spaces with artistic freedom and expression!
This aesthetic blends two of the most beautiful elements: Art and Nature. This design is artistic, eccentric, and a perfect amalgamation of the indoors and outdoors. This style is a mass popular with the most funky motifs, and your favorite aficionados! So, are you ready for your first step to achieve your dream Art Hoe aesthetic room idea? 
13 Art Hoe Aesthetic Room Ideas 
Warm, Cozy Colors!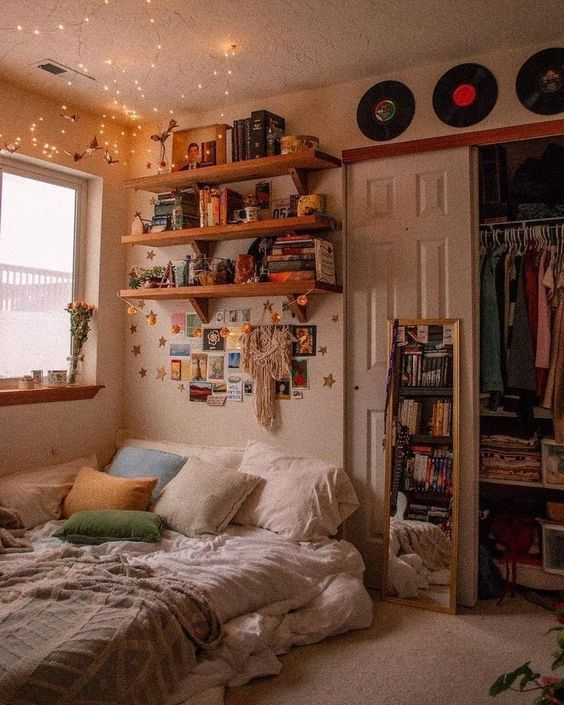 How about a cozy room so cozy that it is impossible to get out of it? The brilliant warm tone of this aesthetic goes well with the eccentric elements! You can bring soft off-white bedding, a warm rug, and teak shelves for this look. Trust me, it won't go wrong! 
Primary colors like red, blue, and yellow are the core of Art Hoe's aesthetic room shades. They will make your living room the coziest ideal space to chill out with a book! 
Pro Tip: Don't forget to bring some greens! This will be required to establish a stronger relationship with the outdoors. 
Indoor Plants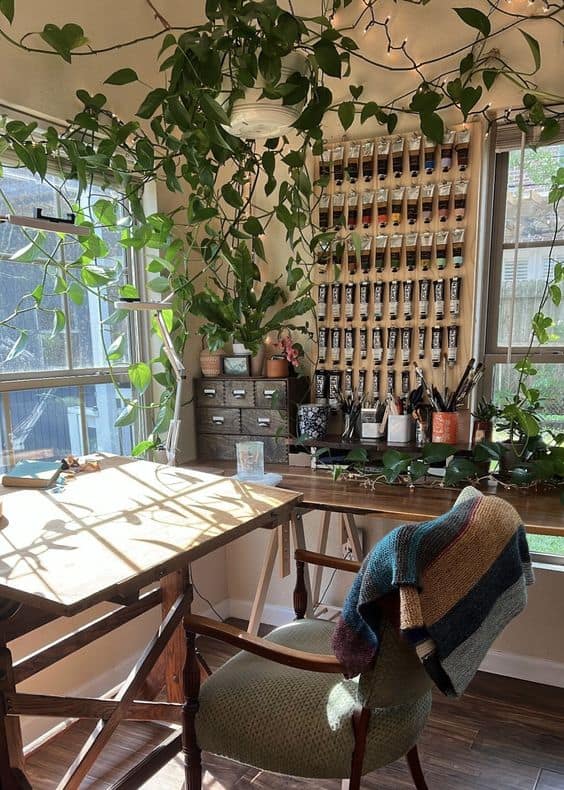 Plant parents, assemble! Go ahead and get that gorgeous succulent from your local nursery without a second thought,  because Art Hoe is here to rescue!  Art Hoe's aesthetic room ideas are all about a balance of the outdoors and indoors, so we definitely cannot miss out on indoor plants. 
A small cactus on your study table or some mesmerizing creepers by your window are a few great choices to make your room more artsy.
Pro Tip: You can add flowers like sunflowers and daisies that are perfect for this style. They will not only elevate your room aesthetic but will also create a better vibe for your unique room decor! 
Alluring Aficionados!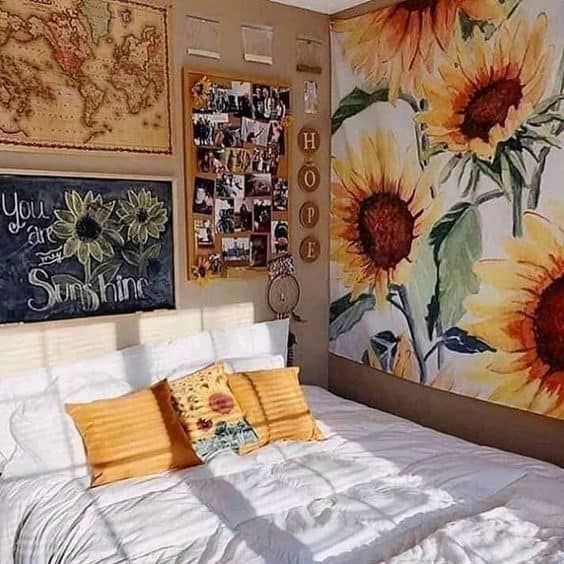 Who wouldn't like to see the posters of their favorite pop band or the Polaroid pictures displayed in front of them as a memoir of the good times? Art Hoe aesthetic room ideas are all about it! 
You can hang, or stick your colorful memories, or album covers to transform a plain wall into the brightest one like this sunflower bedroom. The bonus part is you can even customize it as you prefer! There are zero restrictions on it. 
Experiment With Lighting!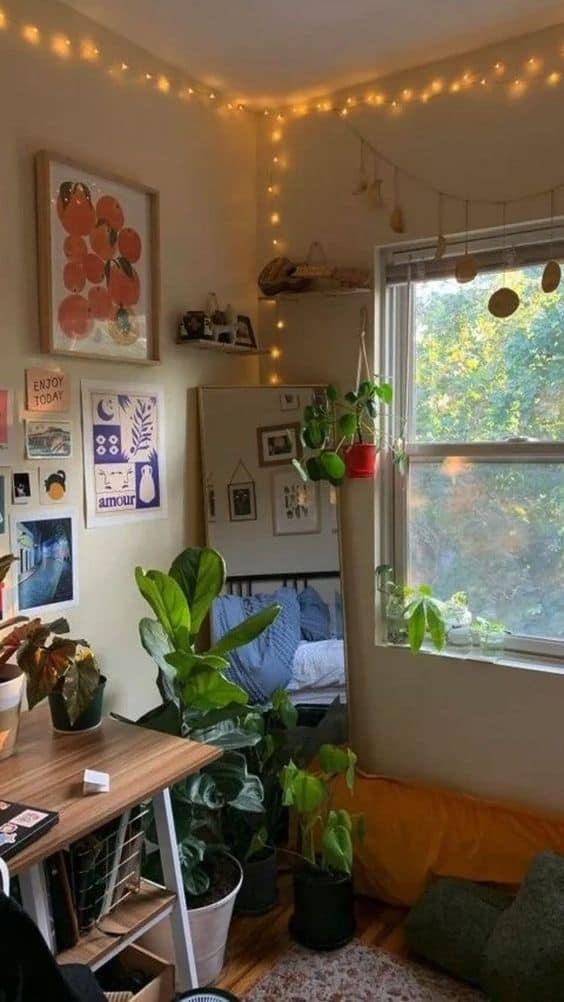 Lighting can do magic, offering a better look when it's warm and nice! You may go for warm yellow tones that will create a gorgeous sunset-like ambiance. Dainty fairy lights also create an immaculate aesthetic vibe in your room that you'll be head over heels in just a moment! 
It's always fun to experiment with different LEDs or rope patterns – So, so here is something fun to do on your next girl's night out! 
Pattern Play!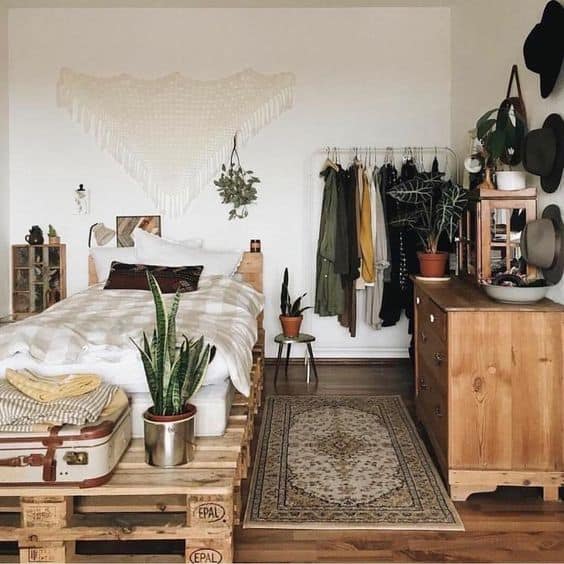 Patterns are the easiest way to get both the subtlety and the funk onboard. Unleash your creative side and go bold with the most peculiar patterns! Your rug and pillows are the right canvas for your artistic side, this time. 
Floral or minimalistic patterns are safe choices, but they are reserved for the more boring people, isn't it? Trust me, patterns are the best way to show off your bold and funky side, so don't be shy to go all out! 
Mirror!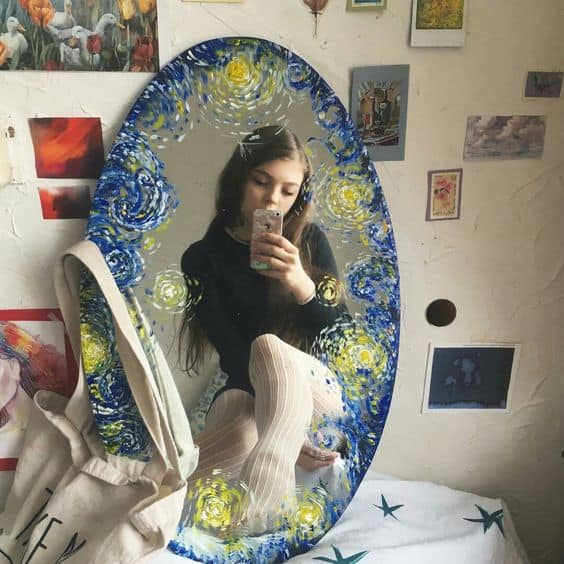 Shall I reveal the secret to upgrading your plain mirrors quickly, making them more intriguing? Just paint them! Different shapes like the oval mirrors can be painted by taking inspiration from different sources like the Starry Nights! 
Adding a painted bedroom mirror is the perfect way to have fun with the decor and then, adorn it beautifully. I think you've just found the perfect style to spoil your creative sides! 
Stick Some Stickers!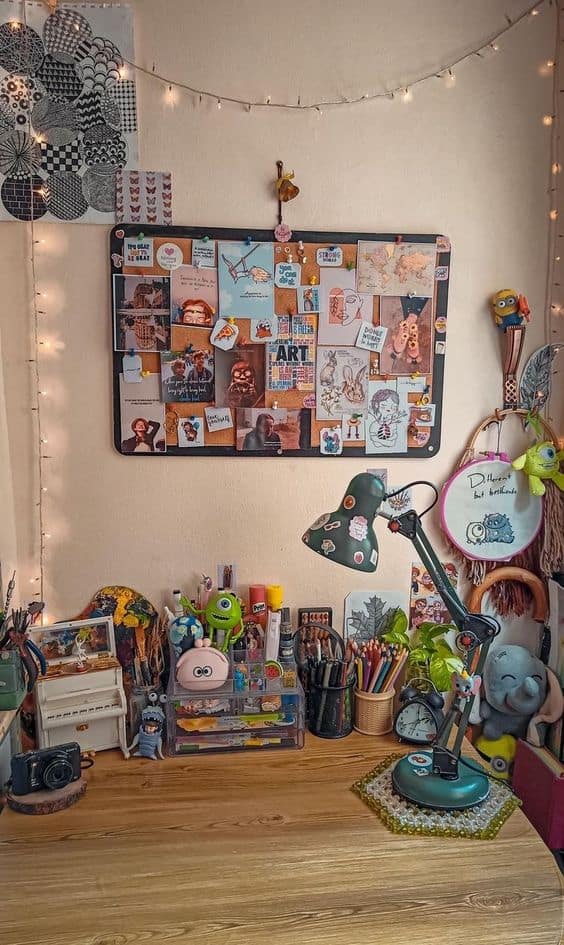 Funky or cute, cool or fun – Stickers are a cult favorite and personally my favorite as well! This tiny addition can escalate your space, whether it is a table lamp or a wall full of stickers! 
Now, it's time to show off your fangirl side and go gaga over the choice of stickers. Yes, it's quite pocket-friendly as well and certainly kid-friendly too!
Sheer Curtains!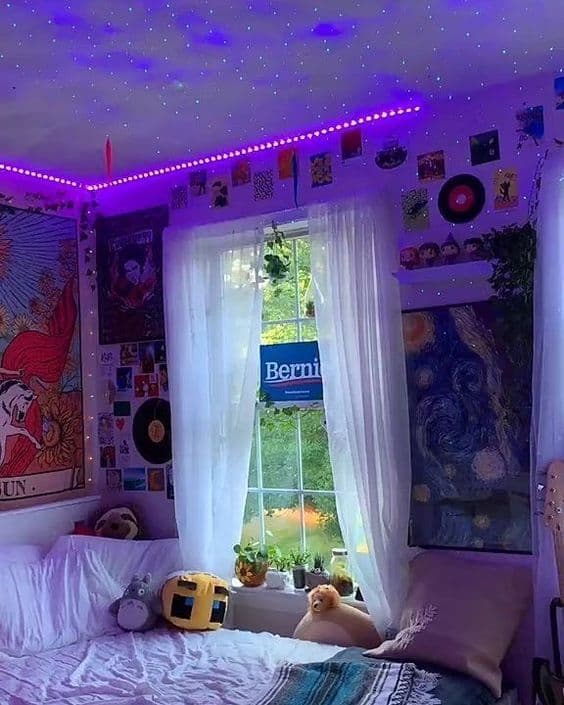 Soft and dainty sheer curtains look nothing less than a dream! These delicately netted curtains are the perfect addition to your classic window. Imagine a chilly day snuggled up in your bed with your favorite book by a beautiful window. Sounds quite dreamy, doesn't it?
Neon Lights!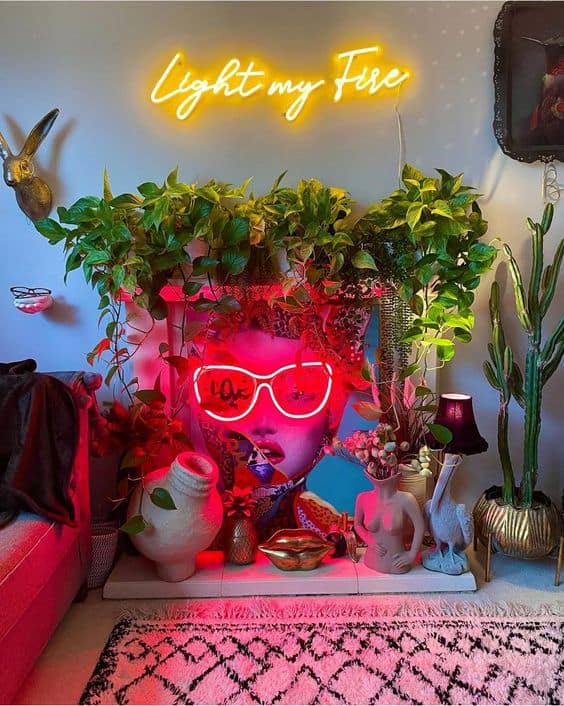 Soft Lights can get you so excited to go to bed that you may forget how tired you were! Neon lights are an aesthetic flair to your room that screams a Pinterest-worthy aesthetic. 
Let your next Instagram story be a backdrop or a Pinterest post – These neon lights are proven to be quite efficient for every scenario!
Open Book Shelf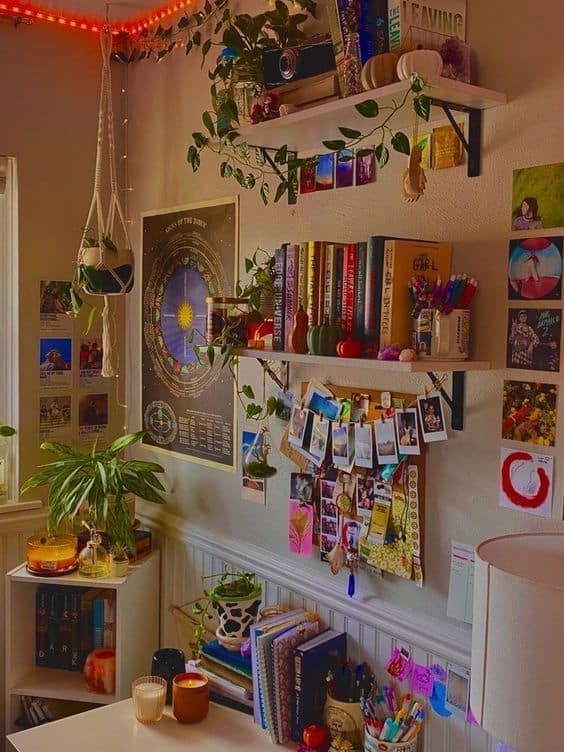 Here's your heaven, bookworms! Open bookshelves are the simplest element that can make your guests go crazy over your book collection! It also gives off an impression of a decluttered space, so brownie points for that too. 
Pro Tip: You can even decorate this space with vines and succulents, mini statues, or aromatic candles to keep any negative energy off the bay! 
Art and Paintings!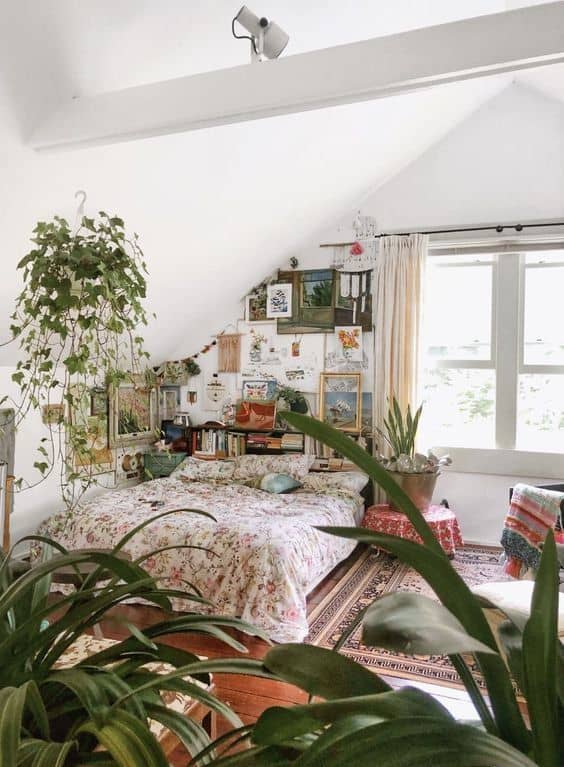 What's better than a cool artwork hanging in your aesthetic bedroom? Yes, it has to be YOUR artwork! Your Art Hoe aesthetic room idea is incomplete without art that expresses you. 
Artwork comes with infinite possibilities – From the most alluring abstracts to intricate impastos. So, don't forget to keep experimenting with artsy bedroom styles!
Bring In Natural Light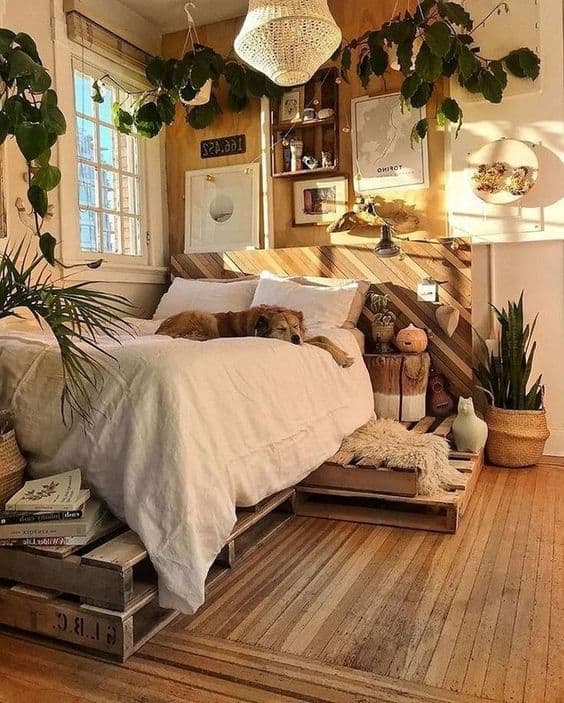 Plants and humans are best friends – So, natural light is a crucial element to light up your space! The bright light through your window will be a bliss to make you more productive. 
So, next time you get too lazy to get out of bed on a Monday – Here's something that will wake you up in an instant! 
Flooring Matters!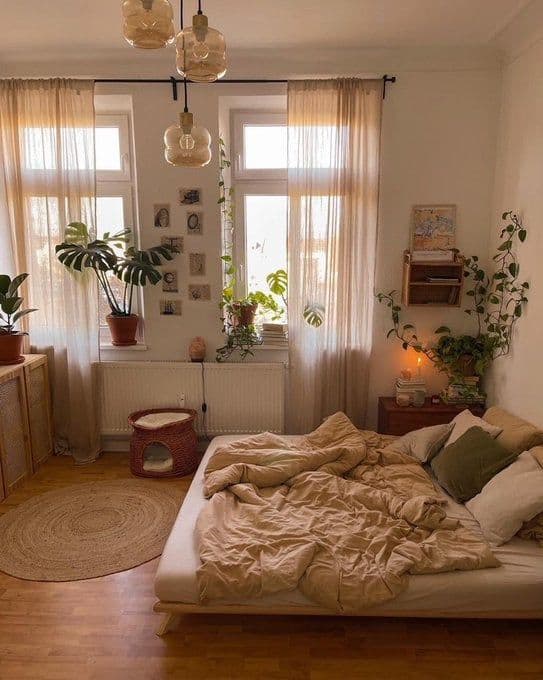 Waking up to cold flooring on a wintry morning will be a bad start to the day, won't it? Softwood flooring is the way out of this! 
This flooring has rugs on top, and that can make up the perfect Art Hoe aesthetic room idea that is loved by everyone. It is close to nature and closer to your heart!
Guide To Creating The Best Art Hoe Aesthetic Room!
Color Palette
The three main colors (yellow, red, and blue) make up the standard color scheme for the Art Hoe aesthetic, along with small tints of green to represent nature. Any hue in the rainbow is welcome, of course! Go for calming bedroom colors and pastel walls, which are the safest bet for this style. 
Furniture
White and light-colored wooden furniture is always a good choice, just like for the walls! Wooden items from thrift stores may be updated by either restoring them to their original state or painting them a vibrant color like blue or yellow.
Bedding 
There are several options available for bedding. You can choose a floral set to stay true to the natural motif or bring some white sheets with a colorful blanket. You may also use embroidered and graphic pillows if the overall design is too plain.
Prints
From the bold to the intricate prints – Opt for such prints that sit well with your space. You can add prints to your bedding, rugs, or even a quirky pillow.
Accessories
There are numerous things you can do to decorate the plain spaces on your walls. You can add Polaroid photos, doodles, leafy garlands, landscape photos, and botanical prints, or even musical posters. There are no boundaries! Create your own amazing layout by experimenting with whatever suits you.
FAQs
What Does Art Hoe Mean?
An art hoe is essentially a creative individual who happens to enjoy the outdoors. They are laid-back and tolerant people who appreciate vibrant surroundings with bright moods.
What Is The Other Name For Art Hoe?
Art hoe is also known by other names like "aesthetic enthusiast" or "aesthetic lover."