We all love the feeling that the beach gives us. So why not just bring that feeling straight to our bedroom with these gorgeous beach-themed bedroom ideas that we have compiled, just for you!
To your advantage, we also have some guidelines you must follow to design this theme like a professional. And later, a handful of beach-inspired decor accessories, to give you a headstart with your decor.
With a lot of comfort and ease, let's dive in!
But first…
What Is A Beach-Themed Bedroom?
A beach-themed bedroom is simply a bedroom that gives a beachy feel. Means, simple colors, and easy and comforting designs.
That's how you define a beach bedroom, and pretty as it sounds, it is prettier.
Beach-Themed Bedroom Ideas
Be Creative With A Net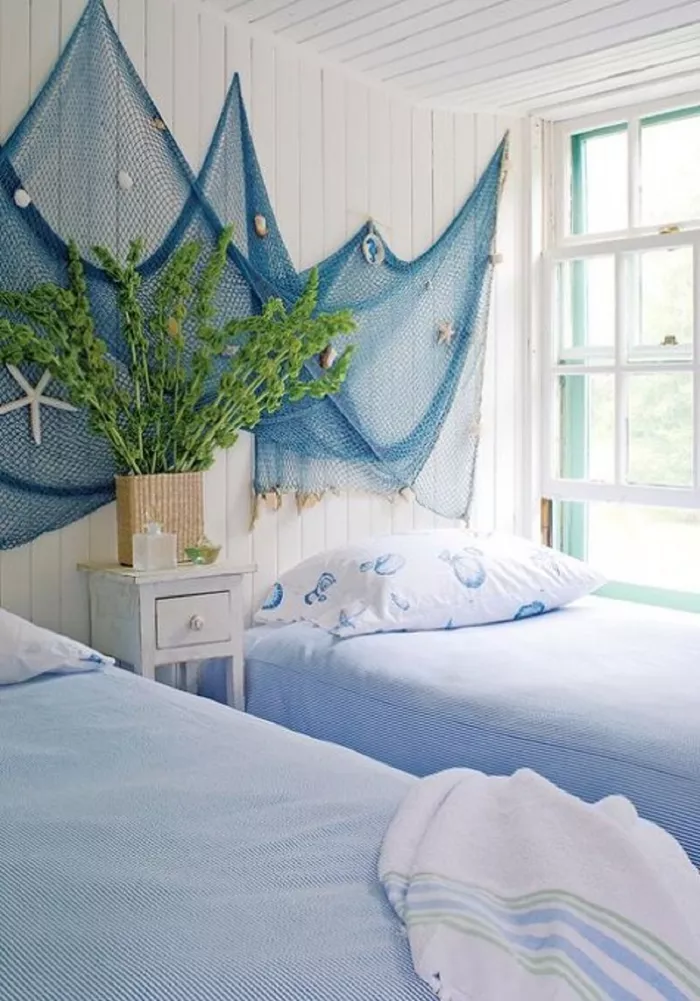 Using a fishing net as wall decor to give the feeling of the waves that kiss the beach, is a creative idea!
The hook is, to use the color of the net that best goes with the coastal theme.
Adding some shells to the net (as in the image) is the recipe for success! Really.
Recreate This Look
Textures Define Beachy…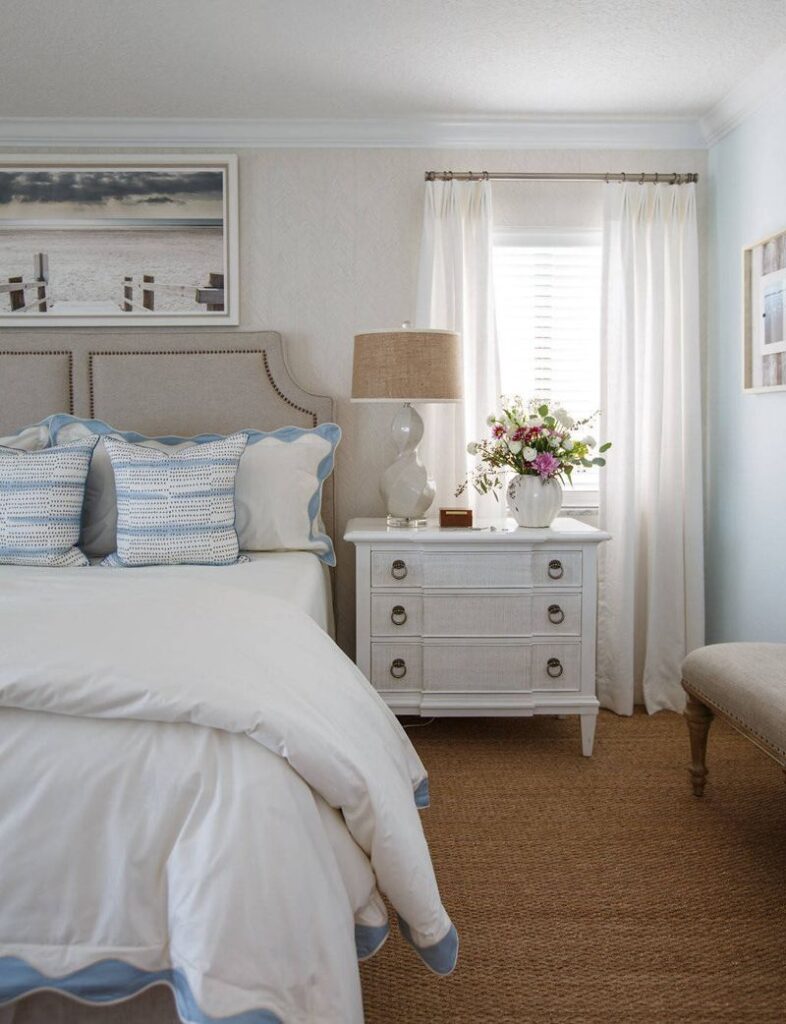 Beach has so many textures that we can feel. The waves have that soft touch, the sand, that rough and cool feel, and the wind makes us forget all our weals and woes.
Our aim is to bring all these textures into a single room!
This image is the best example of that. Various textures, like a jute area rug, a linen bedsheet, and sheer curtains are used. They give variety to the room and enhance the feel.
Recreate This Look
A Canopy Bed Is Romantic, Isn't It?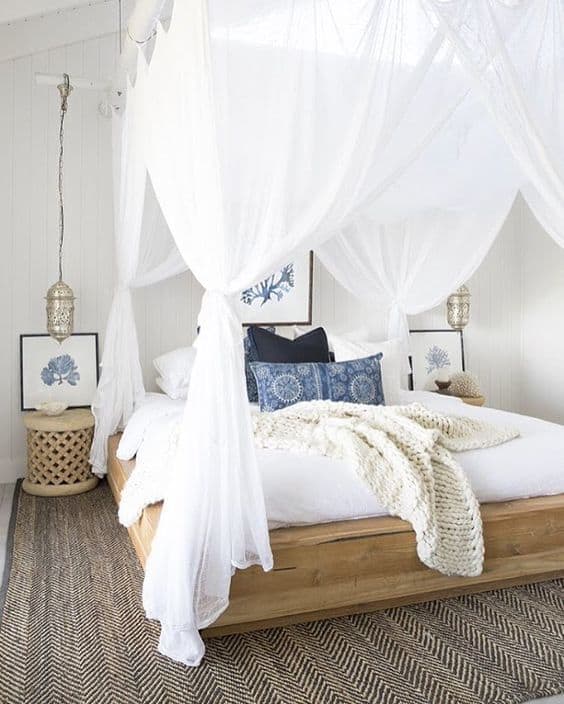 The best feeling the beach can give is self-love and security. The same gives a canopy bed. That's why they go well together.
That's why, to achieve that same feeling in your bedroom, have a canopy bed. Simple.
And if you use some fragrance in the room, besides this, what can beat it?
Recreate This Look
Don't Forget The Sea…
Having a picture of the sea in your beach bedroom is all you need to give it the feel that you want!
The image of the sea will give you that feeling of the soft waves that touch your feet while you are on the beach. It will also aid in making your bedroom color scheme to be calming and relaxing.
After all, looking at water itself is enough to make a person calm and composed.
Recreate This Look
It's All About The Vibe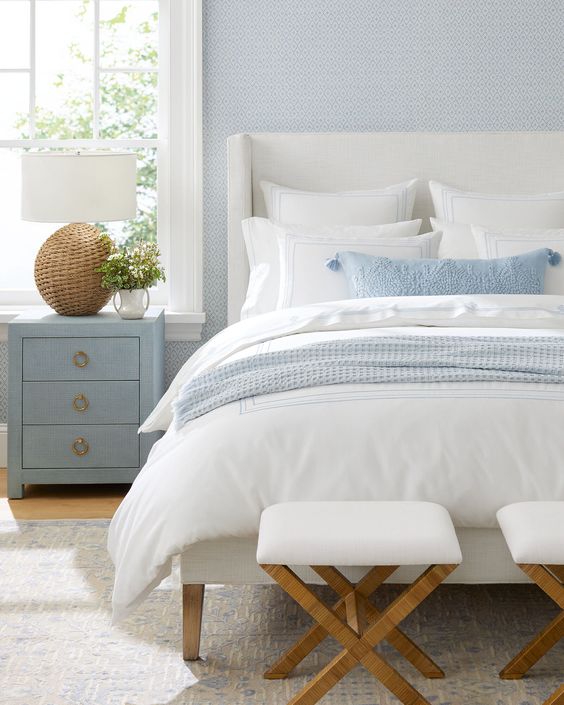 The reason why we all want a beach-themed bedroom is because of the calm and composure it brings to us.
And, to be successful with the theme, it is important that we stick to the feeling at all costs.
For that, use the right color scheme, the furniture, and the fabrics! Don't worry. To know all about choosing the right colors, textured fabrics, and decor for your coastal bedroom, check the next section. We have that covered as well! Tada!
Recreate This Look
Why No Colors?
If you are designing a beach bedroom for kids, it's highly likely that they want various colors in the bedroom. And yet a beach theme!
So what's stopping you? Use some splashes of colors as in the above image, so that the bedroom feels good to your child.
The purpose of a coastal bedroom, after all, is to keep the dweller happy. Right?
But the thing is, not to make the room very gaudy. Using pastel colors in moderation can do you and your kid some good.
Recreate This Look
Go For Neutrals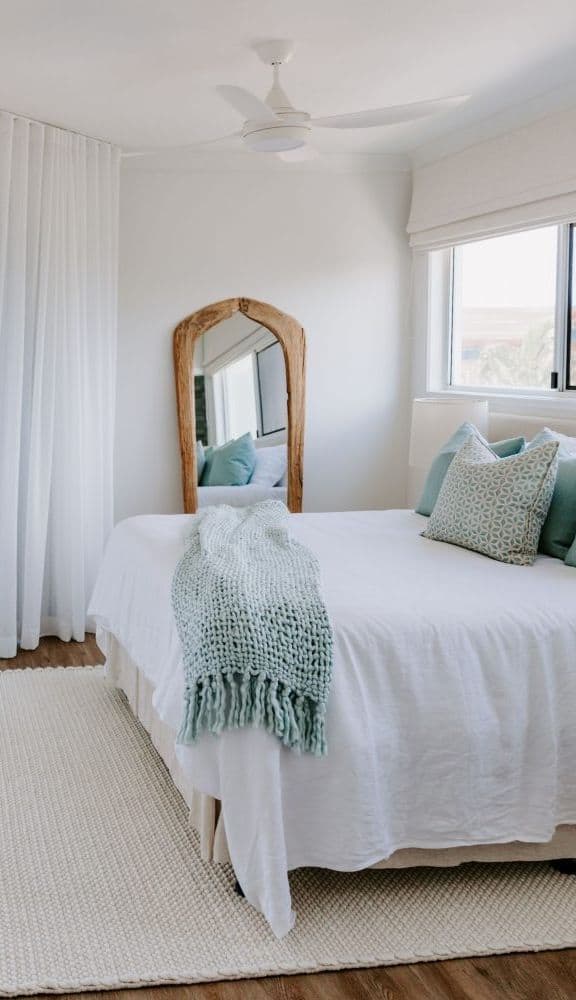 Since we are talking about colors, we mustn't forget the neutral colors definitely.
Especially when you are decorating a beach-themed room for adults, neutral colors can do the magic.
As an adult, it's likely that you don't want to see a lot of colors around and have chosen the beach theme owing to the simplicity it brings to the space.
So, doubtlessly use the simplicity of the neutral colors (except black) to your advantage.
Recreate The Look
The Sand Feel Is The Goal!
We don't just go to the beach because of the sea and the breeze. Even the sand gives us a feeling of being grounded and one with nature, Right?
So why not get its look and feel to our bedroom?
For that, you might want to use some sand-colored furniture and a jute area rug. They'll bring a similar look and color to your room. Happy now? Good!
Recreate This Look
A Gallery Wall Is A Good Idea!
It is always a good idea that we achieve a theme with the wall art.
And when it's a gallery wall, nothing can outshine that. It's especially cool if you have some beachy wall art up there. That'll give a feel that's even more calming and welcoming.
So why wait for anything now? Pull up your socks and get the gallery wall in place.
Starfish Is A Must
Okay! Let's accept the fact that there is not just the sand and the sea on the beach. There are other things like the sand and the starfishes.
Then, that's a great idea to have some starfish decor around your room to give it a more coastal kind of feel.
It is particularly great to look at if the starfishes are climbing your walls (like in the image!) Though, it's not a rule.
Recreate This Look
Some Weathered Wood Is All You Need!
Some weathered wood can give you a traditional coastal bedroom look. It looks as if it has spent a few years in the sea and now is put to use.
You definitely want to have that kind of furniture in your bedroom, right? After all, it's aiding the theme.
Recreate This Look
Don't Forget The Shells
After talking about the starfish and the wood, do not forget the shells.
They are a vital part of the beach after all. There are various ways you can incorporate shells into your beach decor.
It can be in the form of a shell-decorated mirror, a shell-decorated clock, or a shell wall decor. Important is, that you use shells.
Recreate This Look
Make Murals The Life Of Your Beach-Themed Bedroom
Murals can actually save you from all the headaches involved in creating a themed room from scratch.
So, if you have a good budget or running short on time, murals are the way to nail it.
Want An Easy Way? Fix The Bedding
The simplest way to give a beachy feel to the bedroom is by fixing the bedding.
What we mean is, make the bedding comfortable and with the colors you use. Comfort is the aim and the colors must be pleasing to the eyes.
Recreate This Look
Some Natural Blinds
When you are paying such close attention to everything in your beach bedroom, pay a little more to the jute blinds.
These will give a more natural feel to your bedroom and you'll be closer to your home decor goals!
Recreate This Look
General Guidelines To Create A Beach-Themed Bedroom
One of the major reasons we all LOVE beach-themed bedrooms is the casual and relaxing feel they have. That feeling is not the result of just the furniture or the colors, it's the combination of various things like the color palette, the space available, the use of textures, etc.
To ensure that you create the best coastal bedroom for yourself, have a look at some of the rules below for creating a beachy bedroom that's calming and hands down comforting. Here we go:
Choose The Right Color Scheme
The right choice of colors is the first thing to consider when designing a coastal-themed bedroom.
Colors have their own effect on our psychology and since we are creating a bedroom that is relaxing and calming, we ideally want to go for those colors that promote those feelings.
Ideally, those colors are that of the elements of the beach. Broadly, the sea, waves, and the sand. So the colors that you can't go wrong with, are blue, white and light brown.
You might want to use white and blue as the base colors. That would make the room very soothing and monochromatic.
If in case, you wish to make it into something more, feel free to add some touches of green, brown, or any other color, but in moderation.
Take, for example, if you are looking for beach bedroom ideas for girls, you'd find some bedrooms with pink as the dominant color. That is good, in a certain way as girls can relate to pink more than they can relate to any other color. For them, that's relaxing. Purpose solved.
The takeaway is, to use colors that make you feel calm and relaxed. Above all, use them in moderation. You won't go wrong, that way.
Keep It Spacious
Inscribe it to your heart, 'to give a calming feeling to any space, give it space.'
Don't try to stuff your room with all the beach decor. Let your decor be as natural as the beach is.
Only add those decor items that you feel, are highly important and will help you in pulling together the theme.
Anything that does not help you with that or seems to take up any extra space, throw it away. So far as this theme is concerned, that'll be the best decision you'll make.
Use Varied Textures
To give depth to a room, use different textures. This is a simple rule for designing awe-inspiring interiors and if followed correctly, you'll feel the difference. Literally.
Since the beach theme is not just about 'how it looks,' but more about 'how it feels', we ought to fix the feeling.
Now, how will you do that? By using different textured fabrics. For example, you can use jute carpets, a linen bedsheet, sheer curtains, and net fabric for your canopy bed or fishnet wall decor.
There ate many ways to incorporate textures in your room. It's all about creativity! So be creative!
Simplicity Is The Key
Simplicity can never go wrong when the feeling of calmness and composure in the interiors is concerned.
Whether it be the simplicity in your chosen colors or the fabrics and furniture you are using, prioritize it.
Use simple fabrics. Buy simple furniture. Choose simple colors.
And we bet, your bedroom will become your dream bedroom- a beach bedroom!
Natural Light Can Make It Easy
When we talk about simple themes for bedrooms (or any room in that case) or the themes that are closely related to nature, you can't afford to get away without some natural light. Actually, plenty of it!
Even in maximum traditional or modern coastal bedroom ideas across the internet, you'd notice that most of them have a source of natural light. That is what makes them look vibrant and lively.
So once you have your heart set on this theme, give a heartfelt invitation to the sunlight. Once that's in, you're sorted.
Use Fragrances
Okay! It's nowhere written that you must use fragrances in your bedroom to make it look pretty since they have more to do with the feel of the space and less to do with how it looks!
But since, we are focusing on the feeling equally, why not enhance it with some fragrances?
You can use an aroma diffuser (it's really a worth-it investment) or reed diffuser, or some incense sticks or room freshener or scented candles to make your room smell amazing. There is a hell of a lot of options to choose from!
Try it and thank us later!
Pay Attention To The Walls
There is this common slogan that we have (you can find this in almost every post we write! Sorry!), 'the moment a person enters a room, he notices one of the two things. It's either the bed or the walls.' So, pay attention to them!
You can consider having a beachy wall mural up on the wall, or some beach sceneries would look serene too. You can decorate the walls with some shells like a shell mirror or a shell wall hanging. Or, if nothing, how about the shiplap wall panels?
The point is, to take good care of the walls. They can make or break a theme! (Here goes another common dialogue!)
Beach-Themed Bedroom Decor To Fall For!
We know, how excited one can be when decorating a beach-themed bedroom. And to help you with your decor, here are some beach decor accessories you can get your hands on, to take your decor to the next level.
Here we go.
Blue Bubble Cascade Modern Coastal Table Lamp
What can make us feel at peace and serenity in our bedroom more than a lamp as pretty and peaceful as this?
Faux Fur Throw Blanket
What can suit your comfort and the beauty of your bedroom better than this pretty throw blanket?
Beach Canvas Wall Art
When all we want is the beach theme, it's the best idea that we have it on our walls.
Jute Area Rug
It's the sand that defines the beach. Bring it to your bedroom that looks and feels like it.
Nautical Table Lamp
This one is pretty and beachy. What else do we want?
Seashell Figurine
When shells are a compulsion in our decor, we must change the look to prettier ones. This is an example.
Wooden Beaded Chandelier
Why have the beach on the floor and the bedding only when the ceiling can be beachy as well?
Linen Sheer Curtains
You know you are obsessed with a decor trend when you want everything to conform to it. These curtains do just that.
Coastal Quilt
The starfishes are inseparable from a beach. So shall they be from a beachy bedroom?
4 Pieces Beach Wall Decor
When everything is done, it's time to throw in some beach decor to make it more real.
Some Final Words
Before you design your beach bedroom, remember that the aim of this theme is to provide you with coolness and calmness throughout your environment.
No matter which idea you go for, remember to retain that level of comfort that's required in such a space.
Besides that, you are good to go!
If you have ANY SUGGESTIONS or ANY QUESTIONS, feel free to comment below.
Frequently Asked Questions (FAQs)
What Is The Difference Between Coastal, Beach, And Nautical Decor?
There is no real difference between coastal or beach decor. They are basically the same, as they aim at the beach theme. Thus these two terms can be used interchangeably.
So far as nautical is concerned, this decor belongs to the sea in particular. In the coastal theme, you aim to recreate the feeling of the beach. Whereas, in nautical, you aim to recreate the feeling of the sea.
What Is A Coastal Chic?
The coastal chic is just another name for a beach-inspired bedroom.
So, relax! This post has been all about it.
Until next time, happy decorating!