When it comes to traditional gender roles – Women have always been responsible for creating an inviting interior design for our homes. This concept has further influenced the choice of colors, patterns, and decorative elements associated with femininity! But, Surprise! That feminine concept has evolved significantly throughout the years, encouraging women to express their individual creativity. 
Every aspect of the feminine bedroom has expanded over time, allowing a broader range of designs that reflect the unique tastes, preferences, and lifestyles of all individuals, regardless of gender! Today, we will celebrate the art of self-expression, and encourage every woman out there to unleash their inner goddess for the journey of Interior design! 
As Doja Cat once said, "You need a woman's touch in your place," and we couldn't agree more! So, join us on this exciting adventure as we uncover the secrets of interior design tailored specifically for a woman's bedroom. Together, we'll create a space where you can let your imagination roam free, and embrace your feminine joyous energy. Let's dig into the charming bedroom ideas for women, and show the world that we are much more than just a woman!
17 Bedroom Ideas For Women
Infuse Sage Green Energy!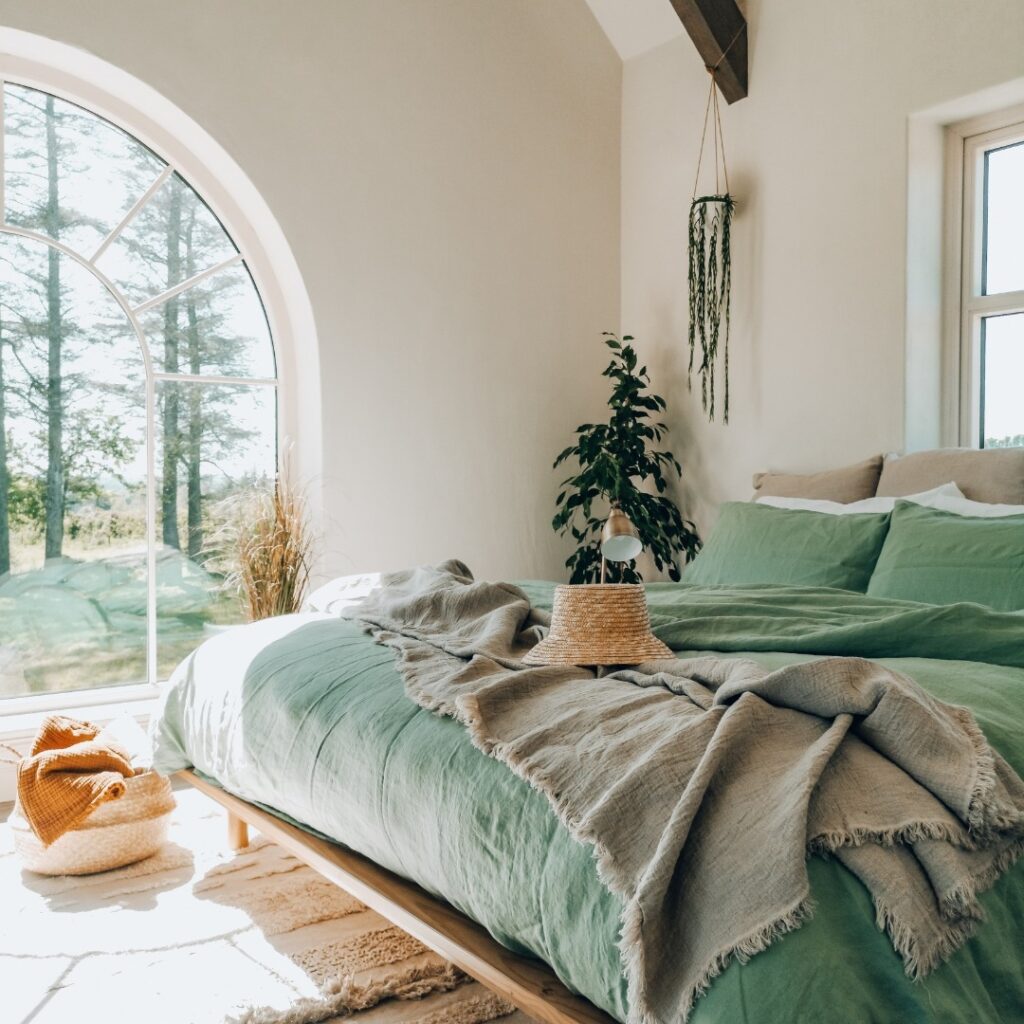 Let's go in the order of the color wheel and kick start this journey with a sage green bedroom! This soothing hue of the tranquil green can create an atmosphere of serenity and rejuvenation. You can pair them with the natural light pouring in through your windows, and your room becomes an ethereal sanctuary!
Big windows invite the outside world to become a part of the interior, and help your space with an abundance of natural light! The blend between this soft, earthy color palette and the natural light enhances a harmonious aura that entices a woman's bedroom with calmness and a connection with the natural world.
Play With Timeless Green Hues!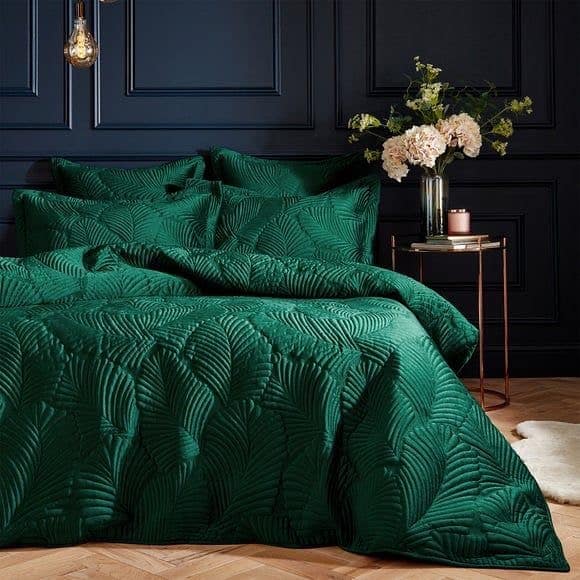 An alluring dark green and navy blue color palette is such an indulgence! These rich, deep hues represent opulence and remind us of the lush forests and midnight skies.
This two-color combination brings a captivating synergy that invites you to settle in a luxurious delight. You can easily infuse these colors through velvety navy blue wall panels or plush emerald bedding. After all, this color palette is all about lavishness, through a natural forest beauty. 
Mix And Match With Teal And Pink!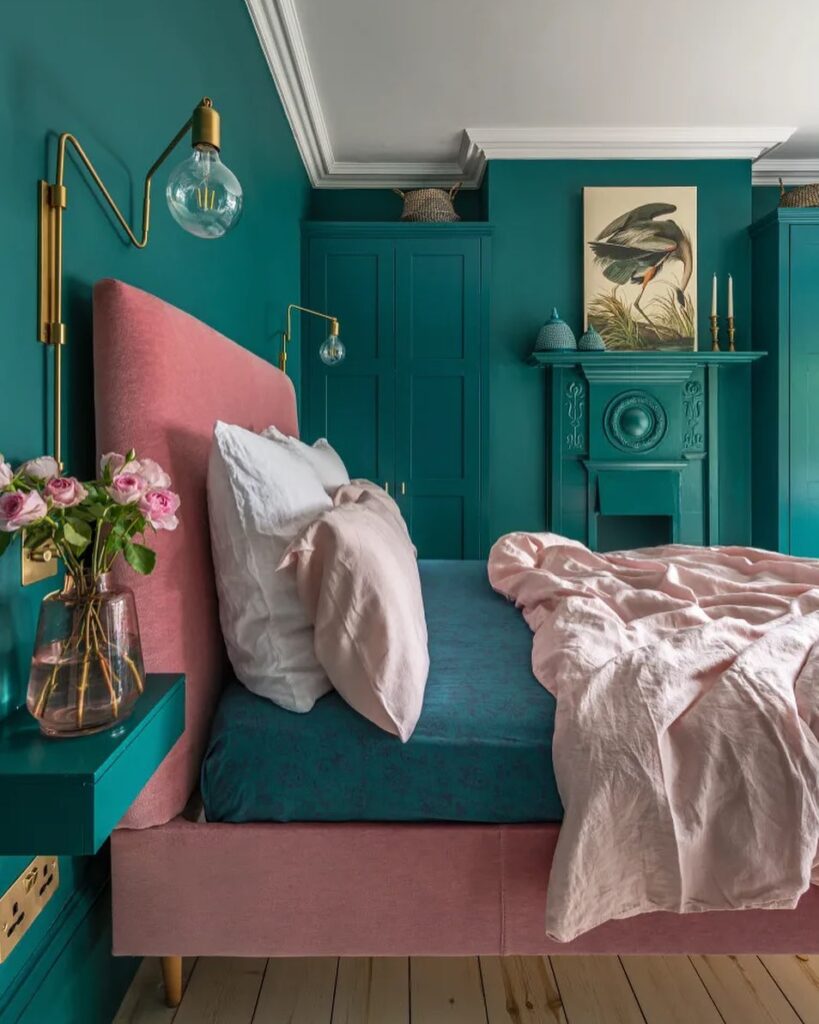 Ladies, it's time to embrace the package of vibrant teal and an alluring dusty pink in your bedroom! This delightful combination offers a fresh and playful twist to traditional designs and offers your space a burst of feminine charm. 
When you paint teal on the whole surface of the wall space, it creates a serene backdrop and a clean canvas while pink adds a touch of warmth and romance! Such a visually delicious retreat, isn't it? 
Interested in teal? Check out these color combinations that go with teal!
Go, Clutter-Free Chic!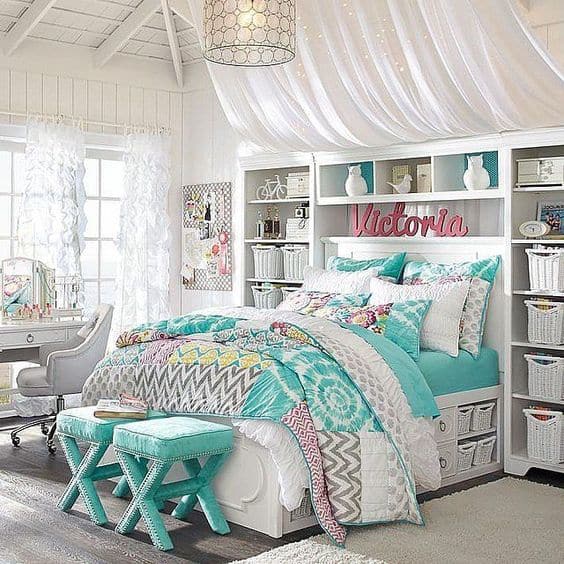 An organized bedroom is essential for peace of mind. You can add smart storage solutions like built-in wardrobes, blanket storage, stylish dressers, and chic storage baskets! They will keep your belongings neatly arranged, and can declutter your space regularly to maintain a serene, neat environment!
Feel free to bring teal-colored accents, gossamer curtains, and dainty throw pillows for extra cozy comfort! How about adding a beautiful end-of-bed bench? This velvety piece is a bedroom essential to add sophistication and serve as a versatile spot for relaxation, or a morning ritual!
Try Some Boho Inspiration!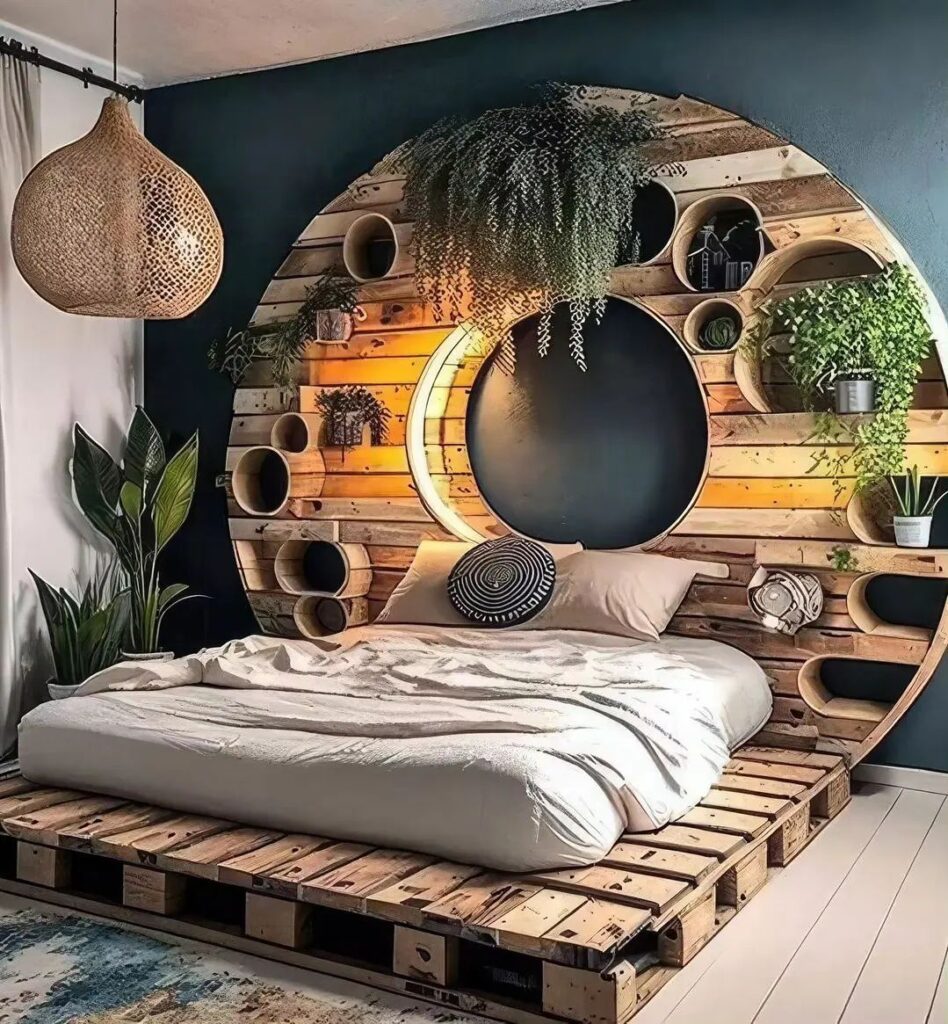 You can transform your space into an earthy bedroom– a tranquil retreat- by introducing natural elements! Indoor plants and fresh flowers are best for your space to bring calmness and vitality. You may also go big or go completely Boho! Just bring a cozy bed with plush pillows. If you love flowy drapes, earth-toned fabrics, and hanging plants – This one's for you! 
Your room can be a playful celebration of nature, with wooden furniture and accents to add more warmth and character. So, go ahead and channel your inner Jane – Grab a book, and sink into the lap of a bedroom that embodies the jungle spirit! 
Pro Tip: You can also add some macramé or a dreamcatcher for an extra whimsical effect to your space! 
The City Of Stars!
Are you looking for an elegant yet comfortable bedroom idea for women? You're in the right spot. Lighting plays an incredible role in any bedroom. So, hang a dazzling chandelier that can create an enchanting dreamscape! Soft, warm lighting casts a gentle glow on purple drapes, and infuses your space with sophistication and tranquility!
Lighting fixtures like table lamps and sconces can bring out the crisp white elements in the room if you place them strategically. You can experiment with different light intensities and angles until you're satisfied with your result. Once you've found the right angle, a visually captivating atmosphere will bless your elegant bedroom!
Showcase Your Techy Treasures!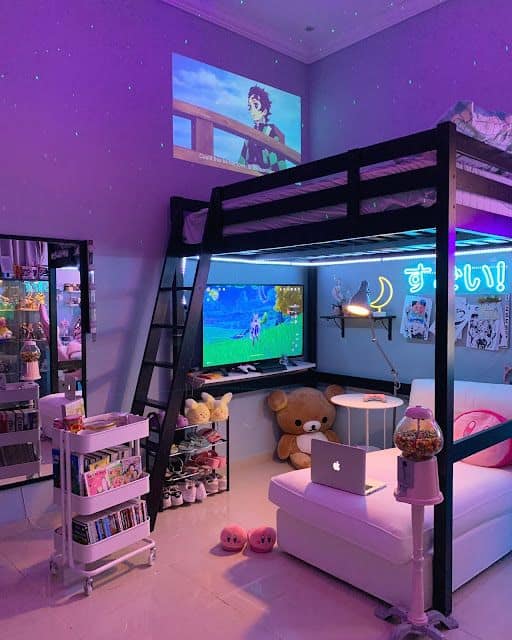 Welcome to a nostalgic woman's bedroom with vibrancy and a kawaii charm! Start off by placing neon lights across the walls that cast a playful glow of excitement. Here, your gaming gear can stand proudly, as it opens up a gateway to endless entertainment. 
You may add a projector and transform your room into a cinematic haven, for movie nights and immersive gaming! Additionally, a single bunk bed is perfect for shared memories and late-night conversations. So, bring out your inner gamer, and relive the magic of college days with a womanly spirit!
Display Your Picture-Perfect Memories!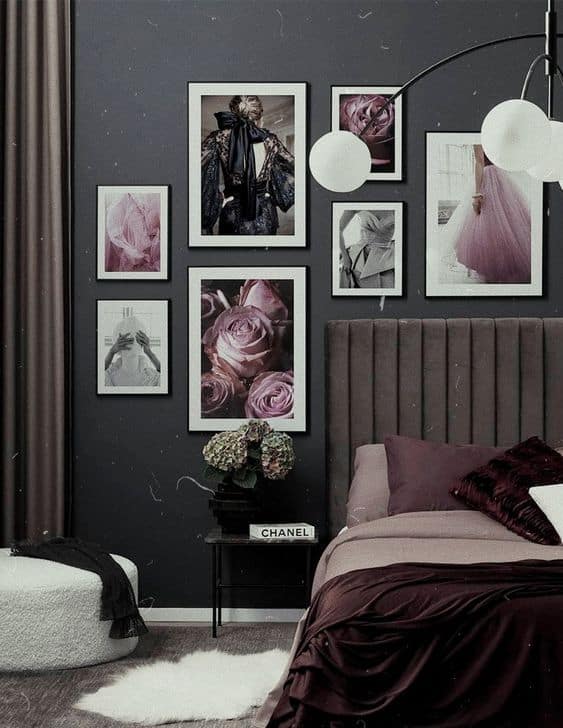 Go ahead and pick the deep, velvety tones of eggplant with neutral black for an enriching personal space look! Aubergine's deep tone encourages a restful ambiance, which is perfect for unwinding after a long day!
Express your creativity through personalized art and décor. You can hang artwork like some bold abstract pieces, nature-inspired prints, or vintage illustrations! Feel free to display your cherished mementos, photographs, or souvenirs that bring back happy memories, making the space uniquely yours!
Related: Partners In Design: 14 Colors That Go With Charcoal Gray!
Add A Splash Of Mauve Magic!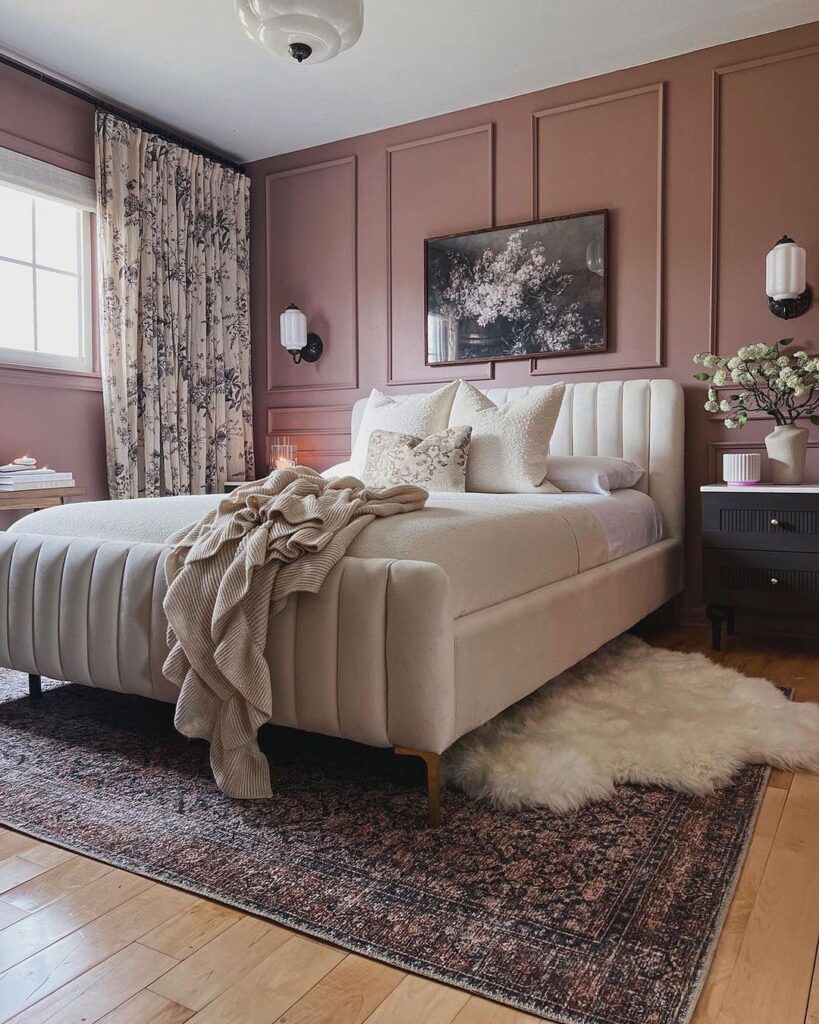 Another great bedroom idea for women is by adding a mauve color to your bedroom! This unique color sets the stage and exudes cozy romance with refined beauty. Unlike other colors for women's bedrooms –  The mauve and cream duo offers a subtle allure with a royal essence of luxury.
The soft, muted mauve tones bring serenity while the creamy hues add a warm and inviting ambiance! Together, they create a glamorous symphony that sets this bedroom apart. They embody a romantic charm that captivates tons of hearts. There is a reason why mauve is such a popular color in every woman's world of cosmetics!
Find Your Boss Babe Haven!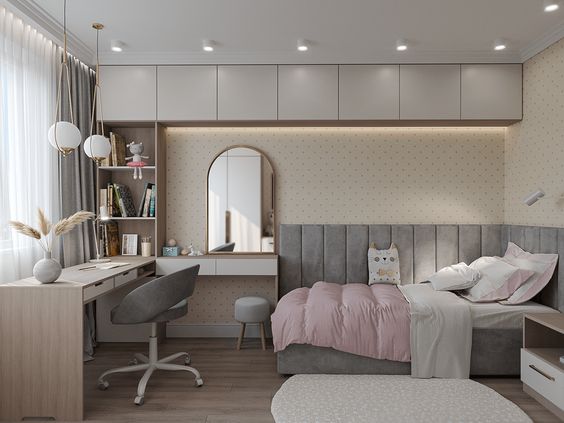 You can make a dedicated workspace in your bedroom, if you require a spot for creative pursuits, studying, or just remote work. Go for a stylish desk and a comfortable chair for your bedroom-cum-office that complements your room aesthetic while providing functional stability! It can easily become a focal point that reflects your unique personality.
You can add a few personal touches like a tasteful desk lamp, motivational quotes, and a few curated decor pieces! These minimal pieces enhance elegance and inspiration. Now, sit back and watch your light cream and gray bedroom support your powerful ambition-driven side too!
Surround Yourself With The Blush And Fluff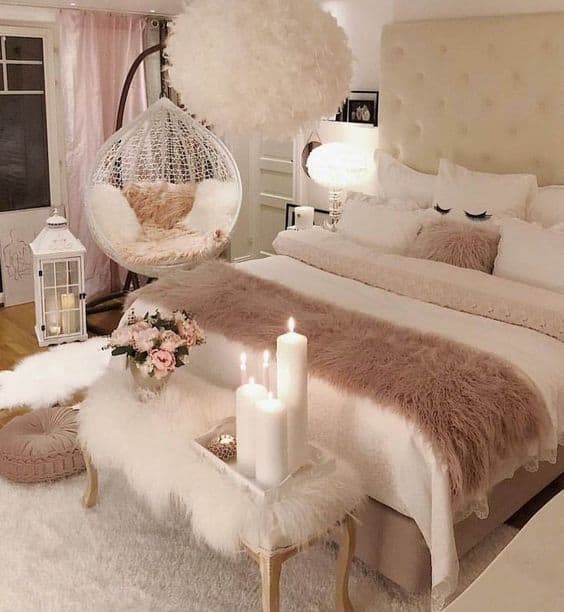 A cozy and comfortable atmosphere is paramount in a woman's bedroom! So bring some high-quality mattresses, plush bedding, and soft pillows to ensure a restful night's sleep. Don't be shy to add smoother fabrics like velvet, silk, and fur for an added touch of luxury!
Pro Tip: Don't forget to introduce layers of lighting to set the desired ambiance! From the task lighting for reading to the soft lighting for a relaxing sleep – anything goes!
The Reign Of Pink Royalty!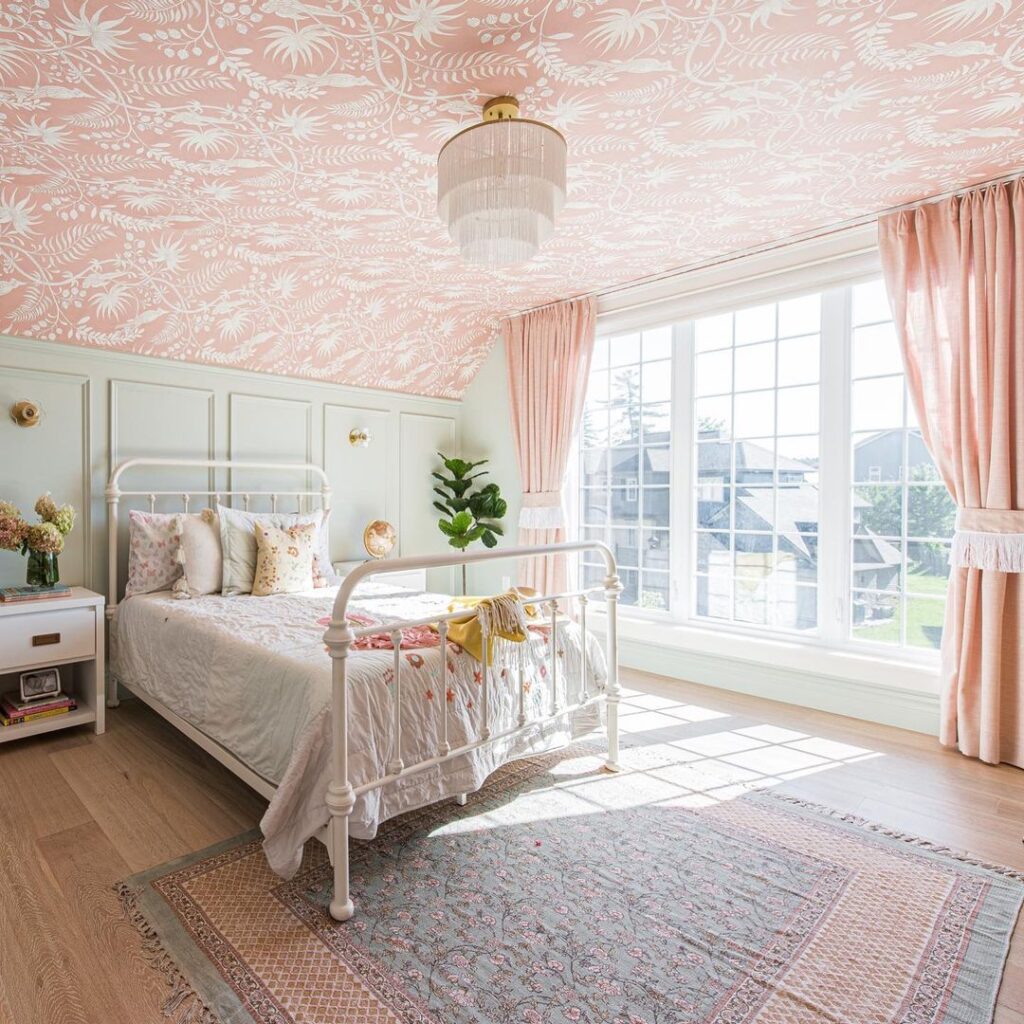 There are endless possibilities to create a space with a unique individual taste – So, play around with pink color palettes, textures, and patterns to curate an environment that speaks to your preferences!
In this bedroom idea for women – The simple metal bed frame, with a soft pink pattern wallpaper adds a whimsical charm! The painted walls with a mint shade provide a soothing backdrop, complementing the femininity of the room. So, whenever sunlight filters through your French windows – it fills your room with a gentle glow. 
Related: 25 Girly Pink Bedrooms That'll Even Make Boys Wish, They Were Girls!
Cinnamon Spice And Everything Nice!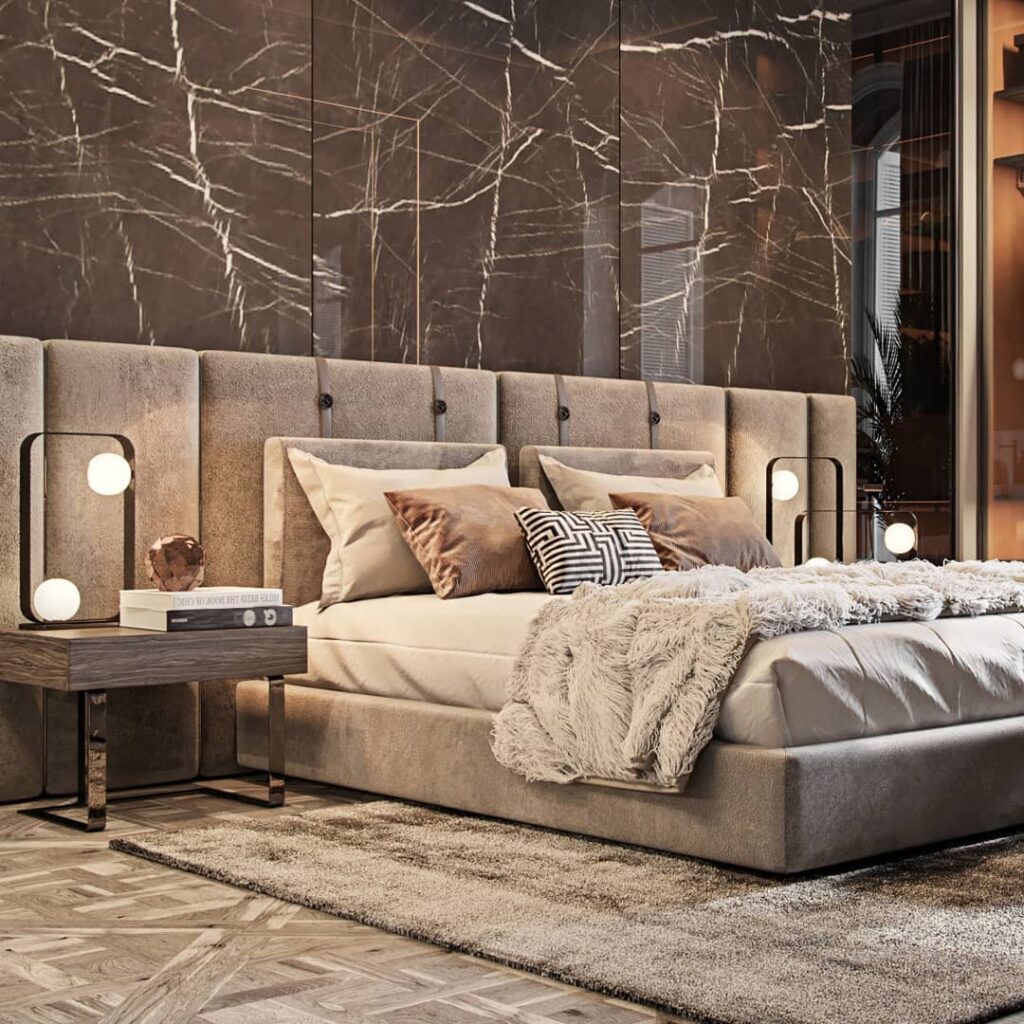 The focal point in this brown bedroom is the luxurious upholstered headboard. This one exudes sophistication, inviting you to lean back into it. The contemporary bedside lights add a soft glow, illuminating your favorite book or cherished trinkets! 
A tile wall panel is also great as a captivating backdrop, adding texture and depth to the space. This iconic blend of earthy tones and modern accents creates a sweet sanctuary that redefines the concept of elegance and comfort in a woman's bedroom!
A Window Seat Delight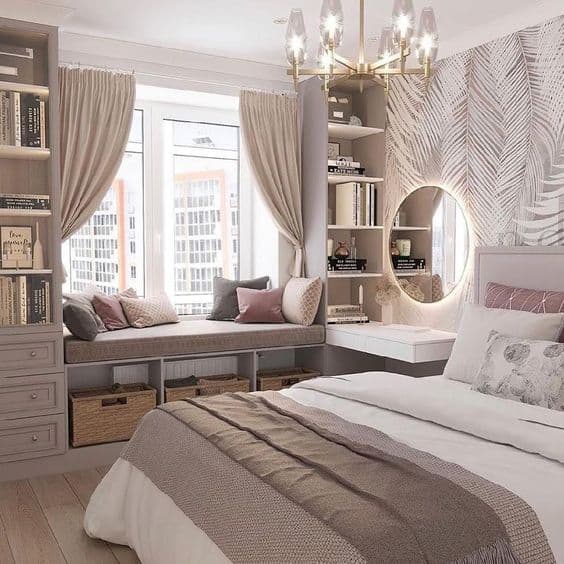 Another simple yet glam bedroom idea for women is to add a window seat! The walls with patterned wallpaper add artistry and personality to your room. A cozy window seat serves as a delightful reading nook and a clever storage solution for your favorite books!
It's time to get cozy with the plush cushions and bask in the sunlight. After all, it's good to escape into the world found within the pages, every once in a while! 
Less Is More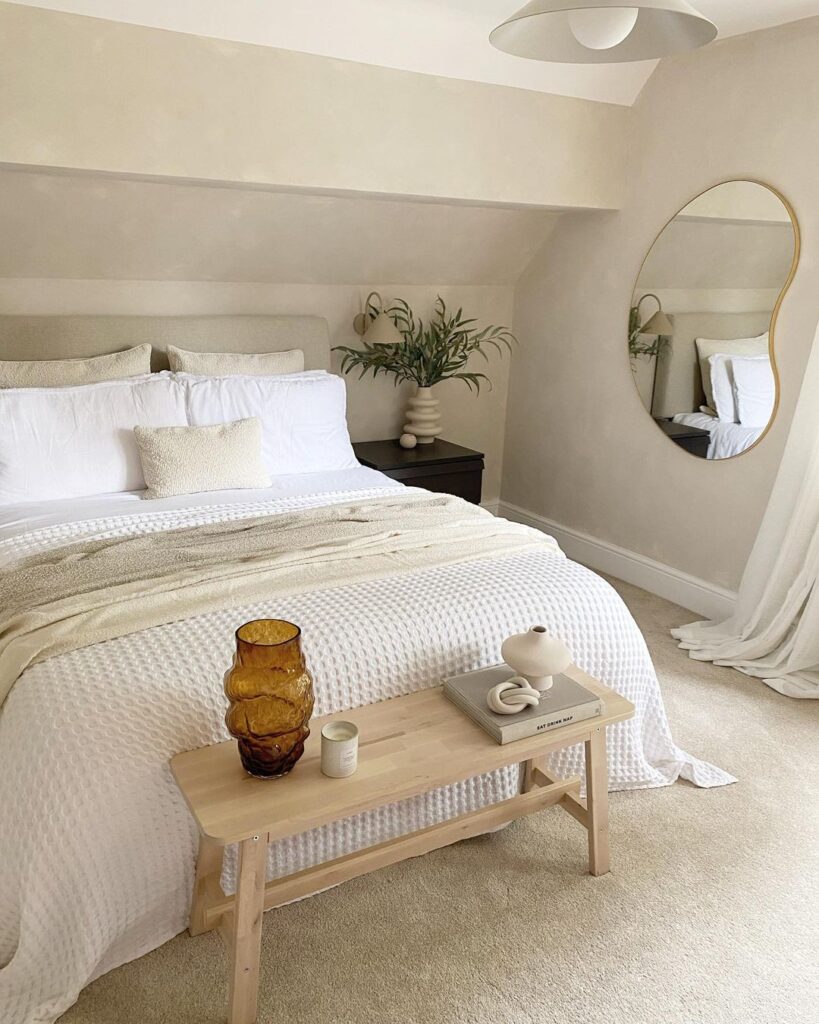 This particular bedroom idea for women is all about simplicity, clean lines, and minimalist style. Bring a unique gold-rimmed bedroom mirror– A statement piece that reflects both beauty and individuality! Create a white backdrop that will allow the mirror's golden accents to shine, offering a refined, subdued glamor to the space! 
The clean lines, uncluttered surfaces, and natural materials blend together to form a harmonious environment. Every element in this minimalist Scandinavian oasis has been thoughtfully curated, letting you embrace simplicity and find solace in the little things in life!
Bring Out Your Inner Coquette!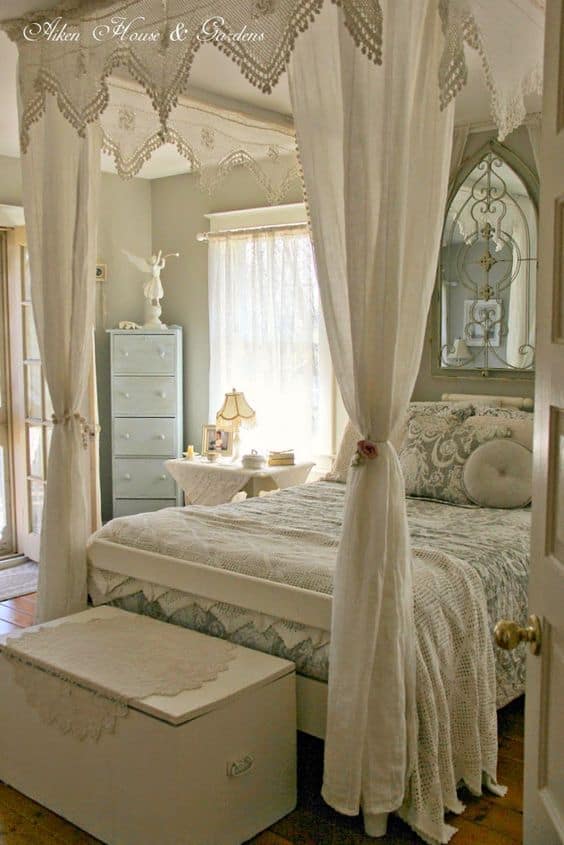 This coquette-style haven features a lace canopy, cascading above the bed. This unique element evokes romance and a whimsical flavor! 
Victorian-inspired furniture adds a timeless allure. Ornate details and elegant curves are perfect for pulling out your childhood princess dreams with the color palette of mature gray and cream!
Classy Contemporary In The High Rise!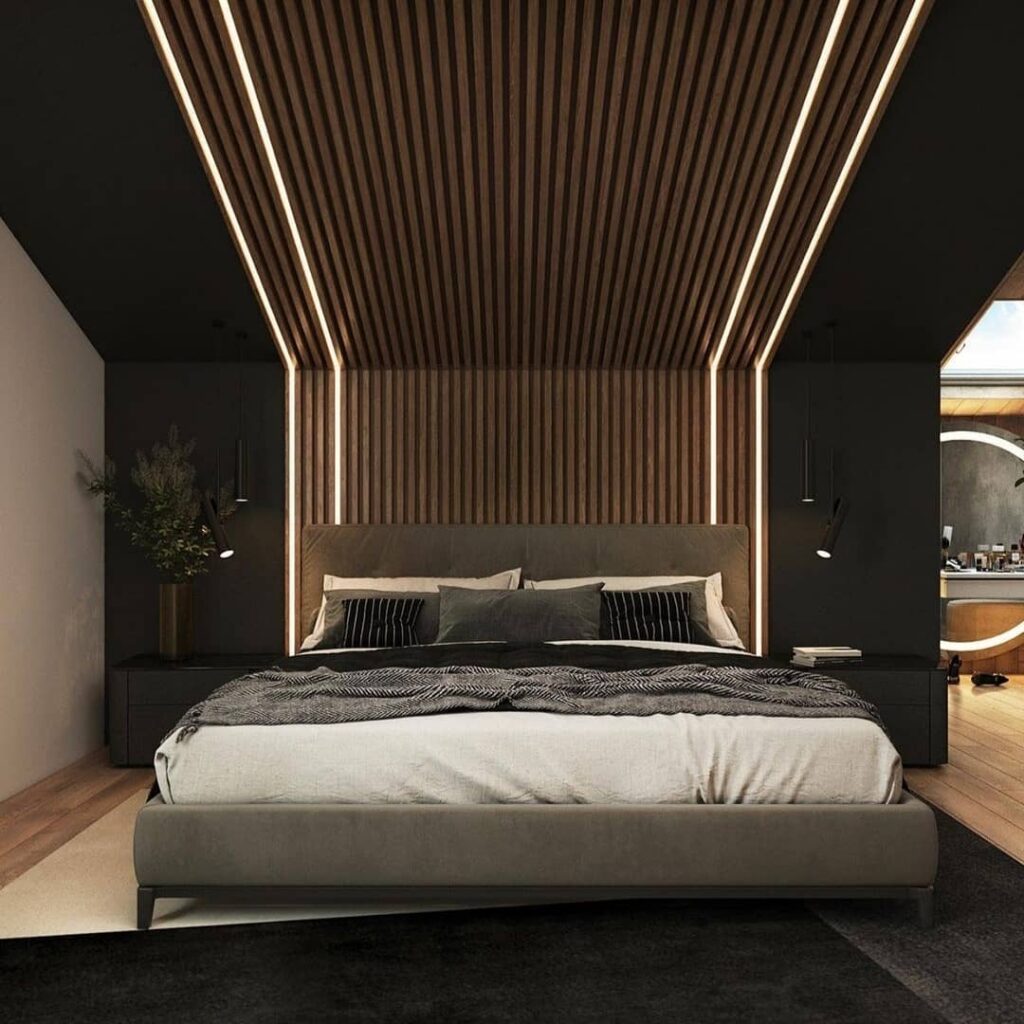 Sleekness and Sophistication are the key principles of a modern-day woman's bedroom. Yes, we always have something for everyone, ladies! This bedroom is packed with a chic black and brown and beige palette, blending timeless elegance with a contemporary flair! But there's more! 
There's a surprise in store — a walk-in closet that's more than just a storage space, it's a playground of fashion and possibilities! It has shiny shelves and mirrors that reflect your impeccable style. It's not just a closet — it's a personal boutique, perfect for the bedroom in your residential apartment!