Teal, combined with other vibrant colorful shades brings a refreshing and lively energy to any space. It's a hue that's perfect for making a statement while maintaining an air of sophistication! The color teal is often associated with several meanings and symbolisms. 
While color meanings can often vary across cultures and personal interpretations – Teal is usually related to spiritual growth, healing, rejuvenation, sophistication, and creativity across the board! It possesses a calming blue and a revitalizing green which makes it a unique and captivating hue. 
Let's embark on a chromatic adventure, exploring the quirky possibilities of teal color combinations!
Effects Of Teal On The Mind
Let's talk about the healthy effects of the color teal on our minds. 
Possesses a calming and soothing essence that can evoke feelings of tranquility and balance.
Encourages clear thinking, promoting a sense of clarity and focus.
Has a refreshing quality that revitalizes the mind, offering renewed energy and positivity.
Inspires creativity and opens up channels of expression like stimulating imagination, and promoting innovative thinking.
Has the power to create a serene atmosphere, nurturing mental well-being, and fostering a sense of peace and calmness in our bustling thoughts.
Are you looking for a vibrant energy burst, a soothing oasis, or a dash of eclectic charm? It doesn't matter, because Teal has the power to transform your interiors with a refreshing spin! So, fasten your seatbelts to unleash your inner artist as I unveil the best colors that pair with teal. Let the journey begin!
19+ Colors That Go With Teal
Teal + Deep Red: Bold And Playful Punch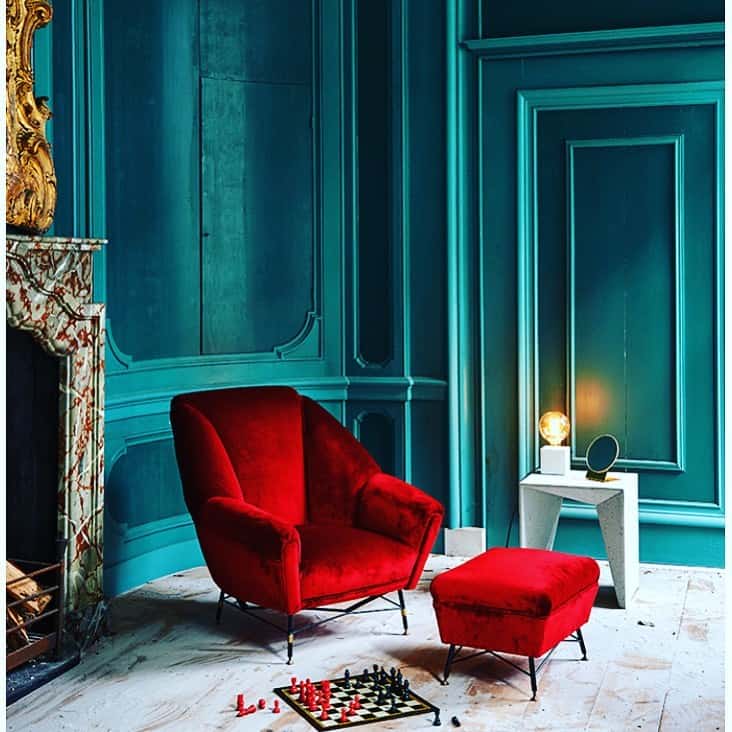 Rich deep red along with the refreshing teal color scheme is just like a match made in interior design heaven! When these two hues collide, they create an eye-catching ambiance that's both inviting and explosive.
Teal is all about tranquility and depth while deep red offers warmth and drama to this sultry mix! Whether you prefer a cozy living room, a stylish teal bedroom, or just an office bold statement – This complementary color scheme is sure to impress you! 
Teal + Cerulean Blue + Green: Trio Of Aquatic Delights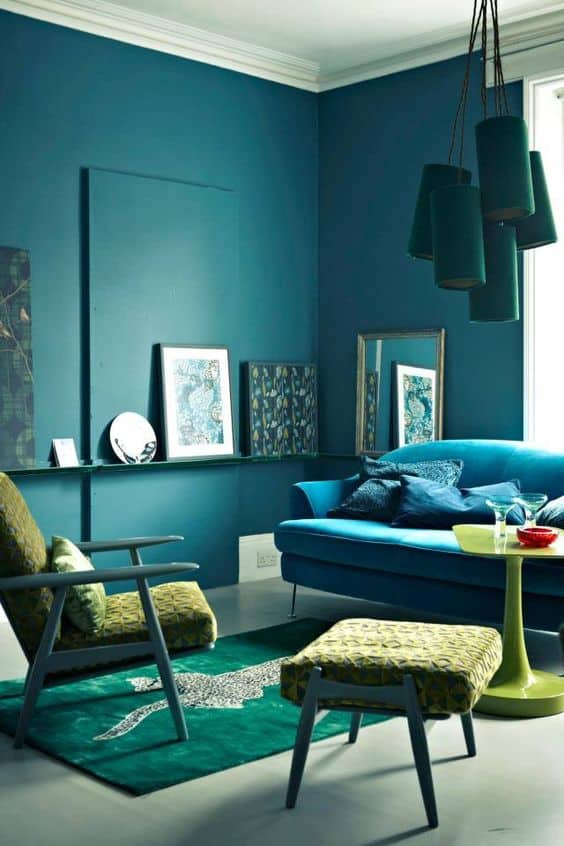 This quirky color trio is an analogous combination! It's like a breath of fresh air, packed with a calming teal, a serene cerulean blue, and a stimulating green. 
For this oceanic combo, teal serves as the anchor for adding depth and sophistication! On the other hand, cerulean blue and green blend together perfectly around it, offering a natural touch.
Teal + Murray + Brown: Rich Tapestry Of Earthy Tones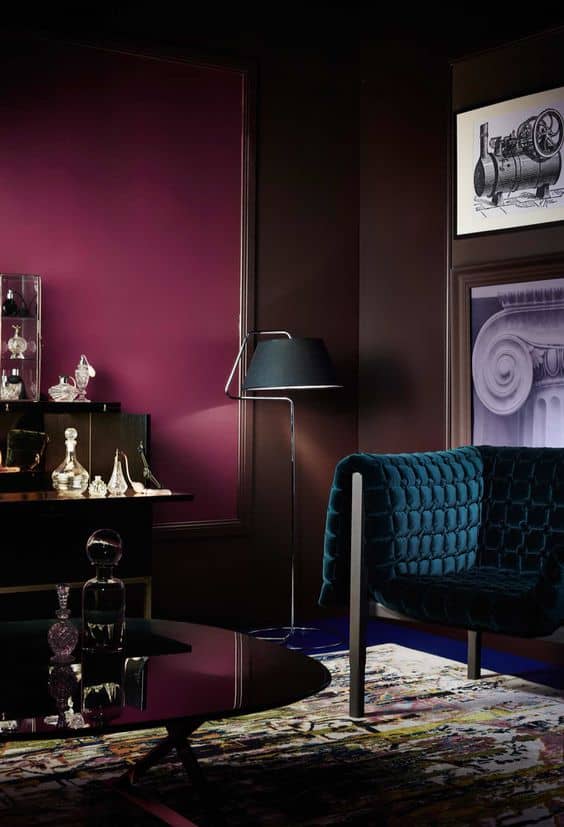 The split-complementary nature of teal, murrey, and brown can magically elevate your space! Some deep rich teal tones become the focal point while Murray brings softness and femininity. But, let's not forget about brown! 
It's responsible for the natural and earthy elements of the color scheme! These are some timeless colors that go with teal, and create harmony, evoking a  sensual beauty and comfort in your space!
Teal + Olive + Purple: Tropical Twilight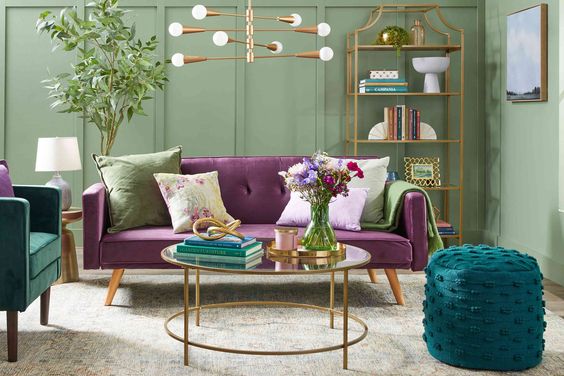 This holy color trio is a striking fusion of sophistication and intrigue! Teal has deep hues, and they serve as the accent. Olive infuses earthiness and natural charm, making your space more grounded. You can purple too, for a regal allure! It adds a fascinating pop of vibrancy and elegance!
These are such vibrant tropical colors that go with teal, and create a bold statement in your interior space! Especially because they possess the magic of being a triadic combination!
Teal + Aquamarine: Dive Into The Teal Ocean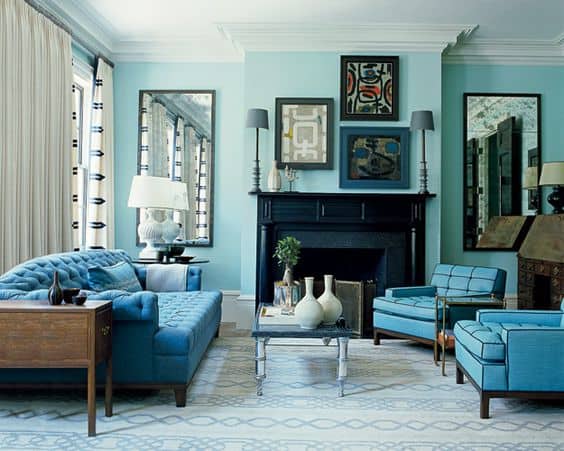 Who said monotonous is plain and boring? No way! It's time to try out the monochromatic color scheme of teal. Teal becomes a primary hue with its rich tones, filled with elegance! 
Aquamarine is a lighter shade within the same color family, perfect for adding a refreshing touch, just like crystal-clear waters and a coastal breeze. Colors that go with teal are plenty, but these ones can create a seamless transition with a wonderfully harmonious flow! 
Teal + Grey: Bold And Subtle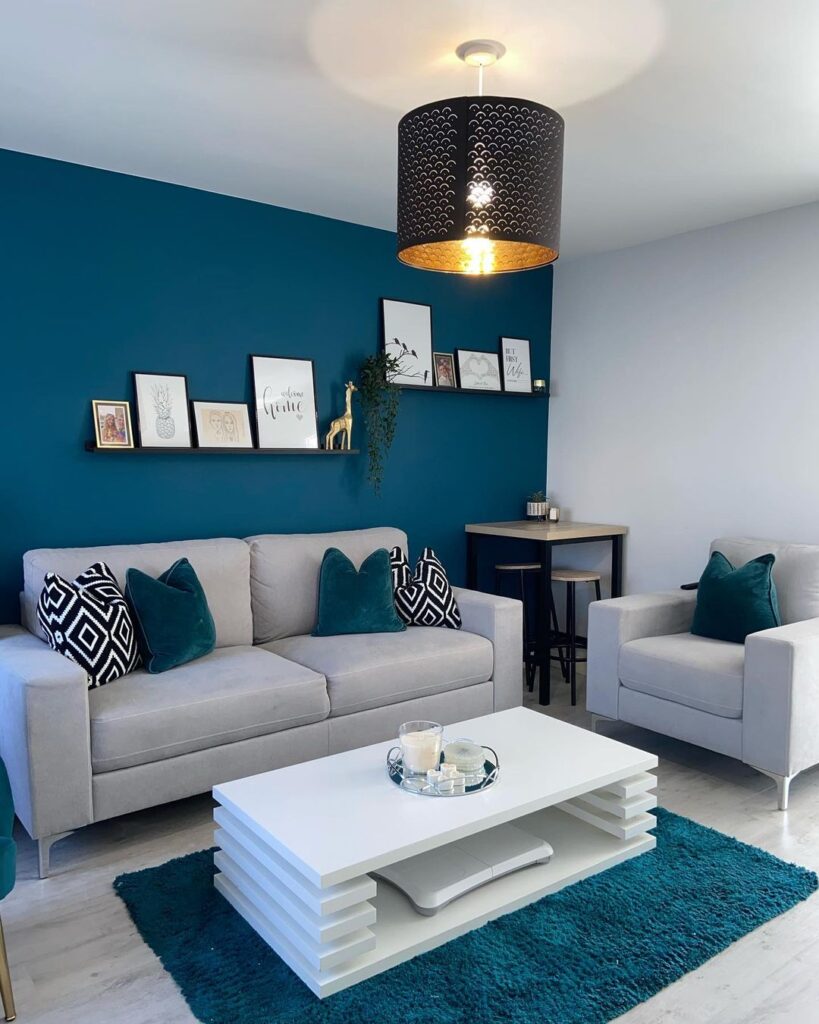 How about we embrace the timeless and chic color combination with teal and gray, this time? This dynamic duo brings together the best of both extremes! It combines the plain and serene gray with the quirky vibrancy of teal. 
What's the result? Now, you have a space that exudes modern sophistication with tranquility! Teal injects liveliness into the neutral tones of gray, making them ideal color partners. 
Teal + Coral: Vibrant And Playful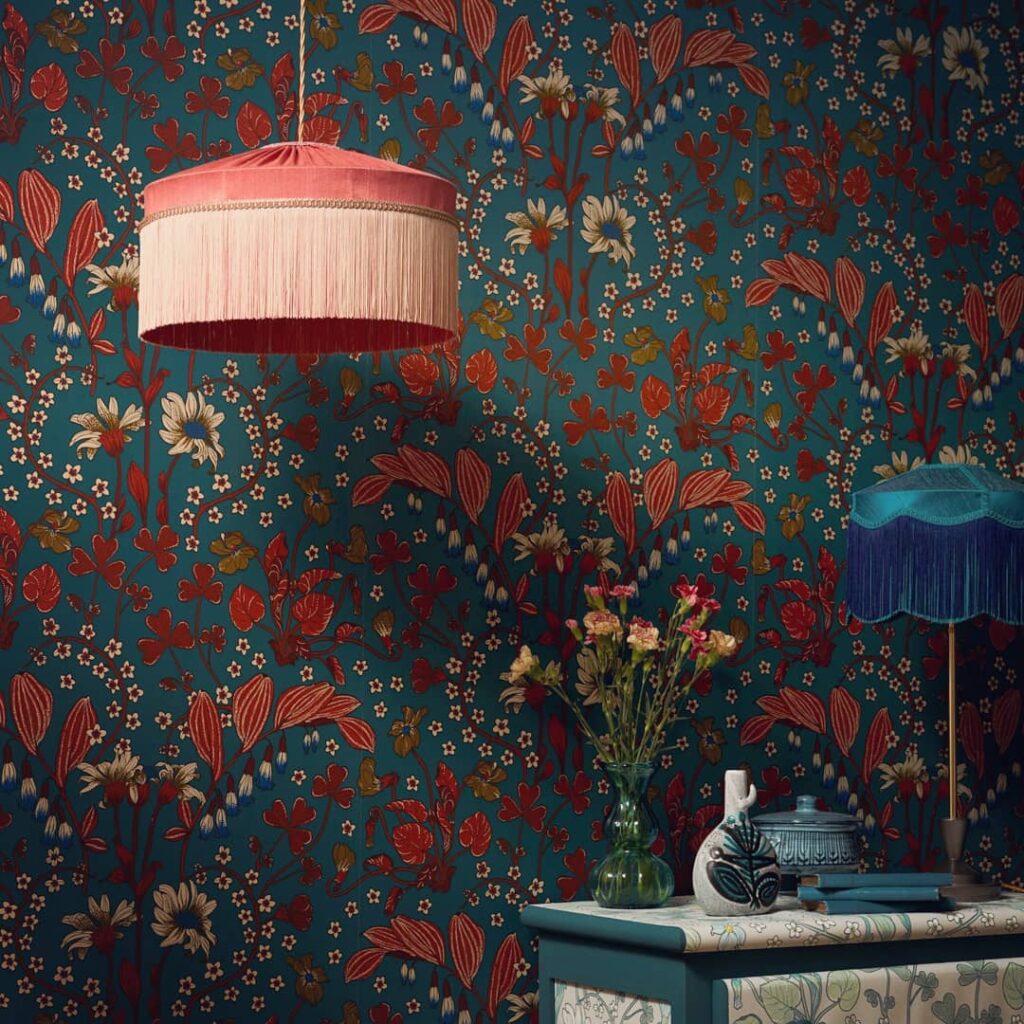 Get ready to experiment and bring a burst of energy and elegance, with the teal and coral combo! This two-color pairing effortlessly blends the coolness of the teal color palette with the warmth of deep coral. This whole mix helps your space to radiate more personality and style! 
Teal brings depth and sets the stage while coral adds an electrifying pop of color. They both team up to make your home a peaceful sanctuary, with the right amount of playfulness!
Teal + Turquoise + Coral: Seaside Serenade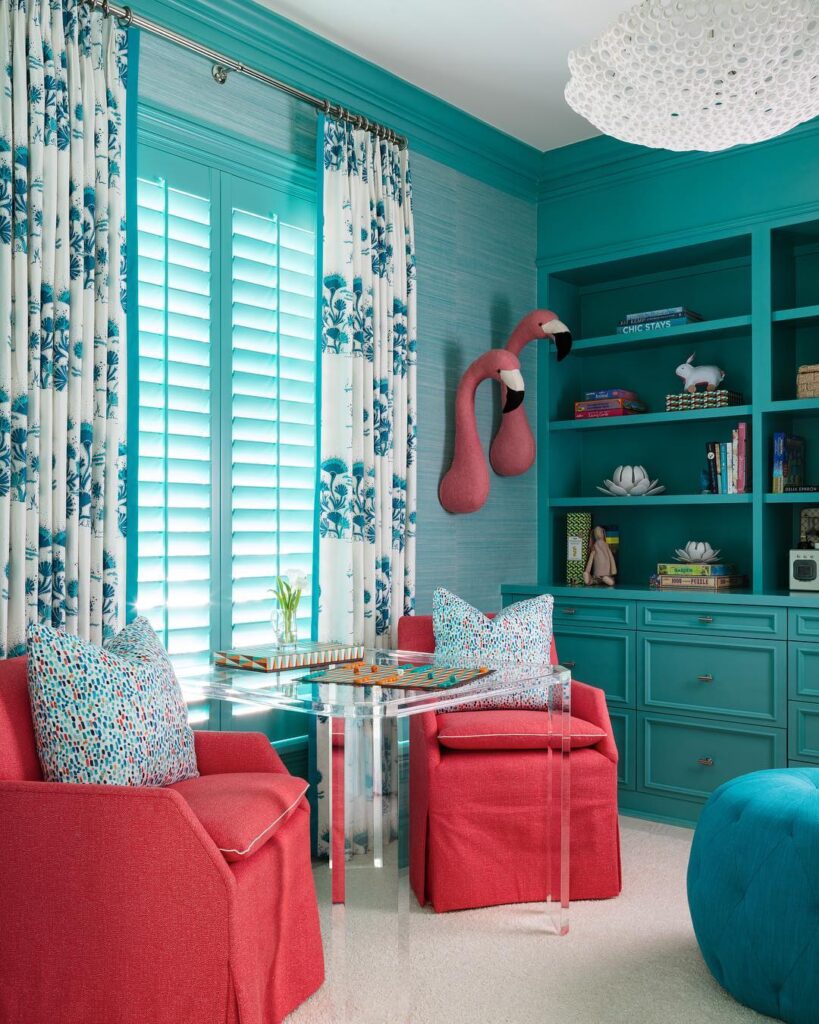 Have you ever wanted to feel the breezy beach vibes right from your home? Well, the combination of teal, aquamarine, and coral can help you with that! Teal and aquamarine pair up together to build an oceanic aesthetic while the coral will remind you of the crabs and flamingos! 
What can be better than having a beach-inspired living room with vibrant pink, teal, and coral? After all, these colors together have the power to transport you to a tropical oasis!
Teal + Gold: Regal And Perky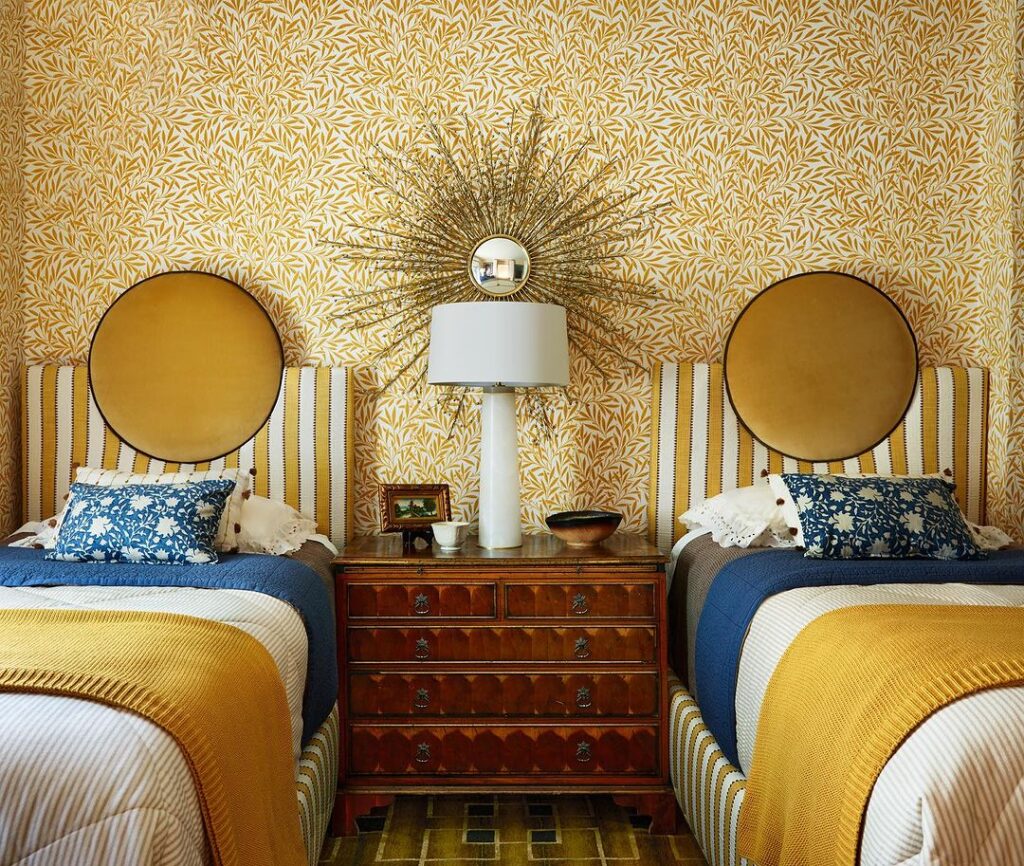 Wanna bring some luxury to your interiors? Let's unleash the glamor of teal and golden! This regal combo of teal provides a solid foundation while the gold offers a shiny, lustrous touch, just like some rich lavish settings.
The two-color combination of teal and gold creates a royal harmony, balancing between the cool and warm tones! This makes your space exude a sense of opulence and refinement. Gold is a unique color that goes with teal, and it can transform your interiors into a sanctuary fit for inner royalty!
Teal + Black: Bold And Chic Noir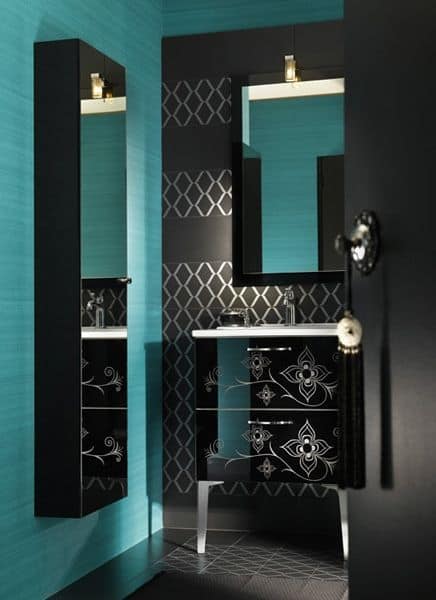 You can easily create a modern chic and elegance vibe in your home, with the powerful combination of teal and black! When you pair up teal with a sleek black shade, the result gives a striking contrast, with a contemporary and refined ambiance! 
Teal can build enough vibrancy while black offers a sleek and timeless backdrop while enhancing the visual impact of the room. 
Related: Partners In Design: 14 Colors That Go With Charcoal Gray!
Teal + White: Crisp And Serene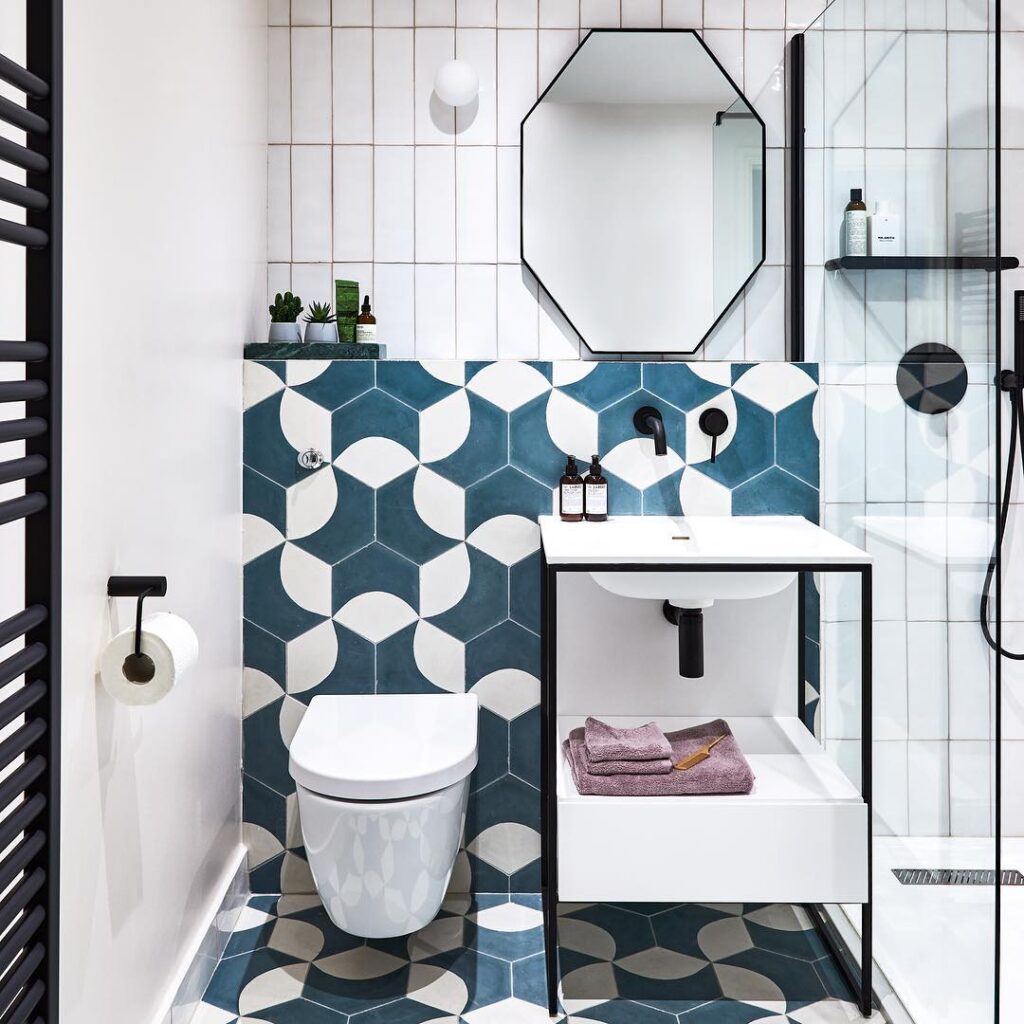 If you're wondering how to create a serene and airy ambiance in your home, teal, and white is your go-to-combination! Teal has its calming effects, but when you blend that with the crisp white – Your space becomes fresh, inviting, and surprisingly chic!
White invites bright openness to the serenity of teal. This combination is perfect for those looking for a modern and minimalist aesthetic!
Teal + Cream: Soft And Serene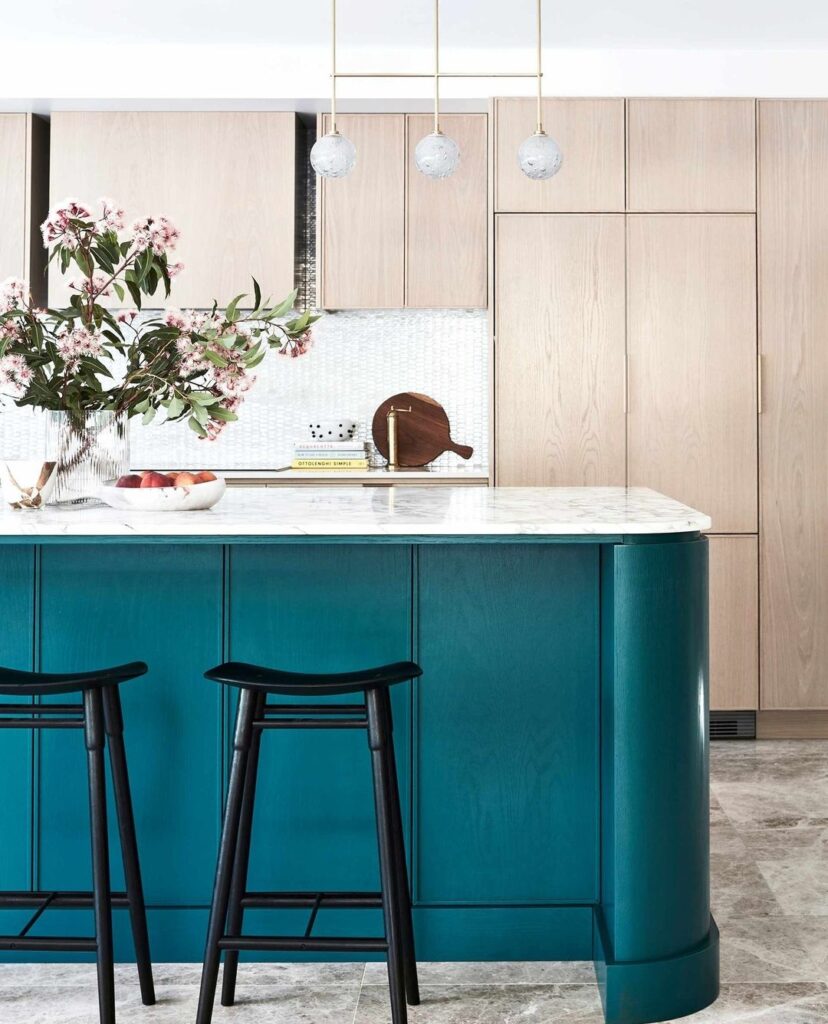 Among the colors that go with teal, – Cream is a great helper when it comes to building a stylish and cozy ambiance in your home! White is often associated with a bright aesthetic, but cream offers a softer and warmer alternative.
On these floor-to-ceiling cabinets, cream serves as a gentle backdrop that can complement the depth of teal. It allows the two-color combination to shine without overwhelming the room. This duo can be your ideal match if you're a fan of a softer and more subdued color scheme!
Teal + Cream + Gold: Trio Of Opulent And Playful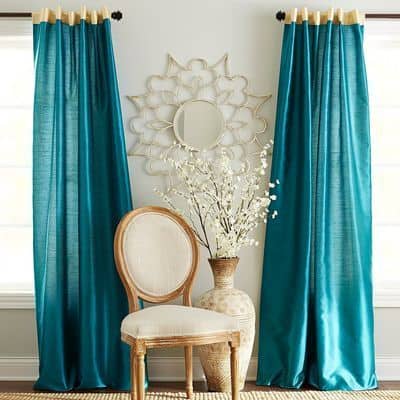 You already know about the soft and inviting teal-cream backdrop. But, if you add a pinch of golden to the mix, it can take you to another next level! Gold infuses glamor, luxury, and warmth into the palette, and elevates the overall aesthetic of the space.
Feel free to bring gold accents, fixtures, or accessories, because this precious metal adds a dazzling effect with a dramatic twist of grandeur! The gorgeous trio has a stunning contrast and balances the cool and warm tones. So, get ready to be mesmerized by your new captivating home atmosphere!
Teal + Orange: Aqua Carnival With A Pop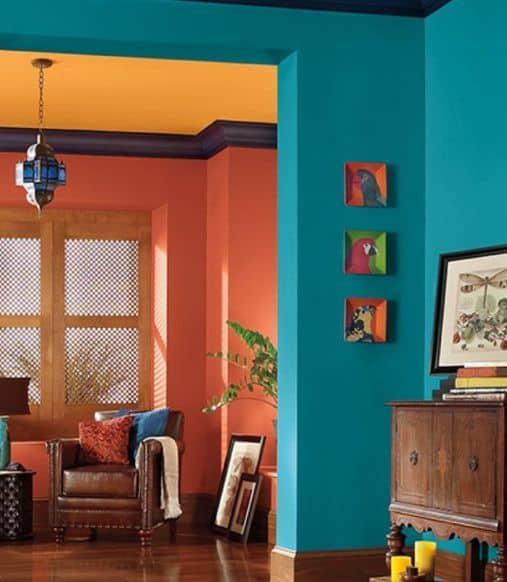 We all crave a flamboyant twist from time to time. But, you can experience that in your home with the striking combination of Teal and Orange! 
Orange is the boldest and enhances a vibrant and lively atmosphere, along with the analogous blue and teal backdrop. 
Teal + Yellow: Bold Contrasts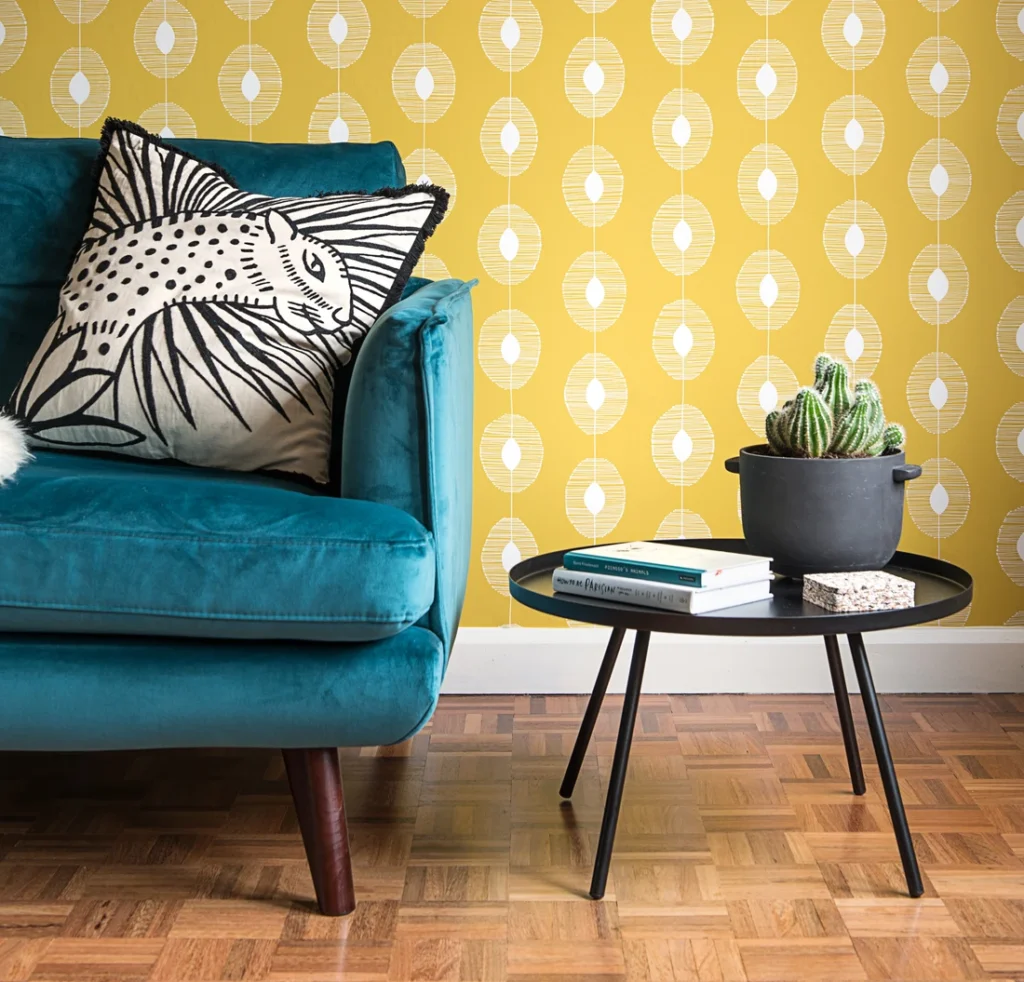 Brighten up your home with the cheerful and energetic combination of teal and yellow! Yellow is a happy color that goes with teal and adds a beautiful contrast to that. It balances tranquility with liveliness while adding a playful and uplifting style!
Teal + Pink + Gold: Glamorous Golden Blush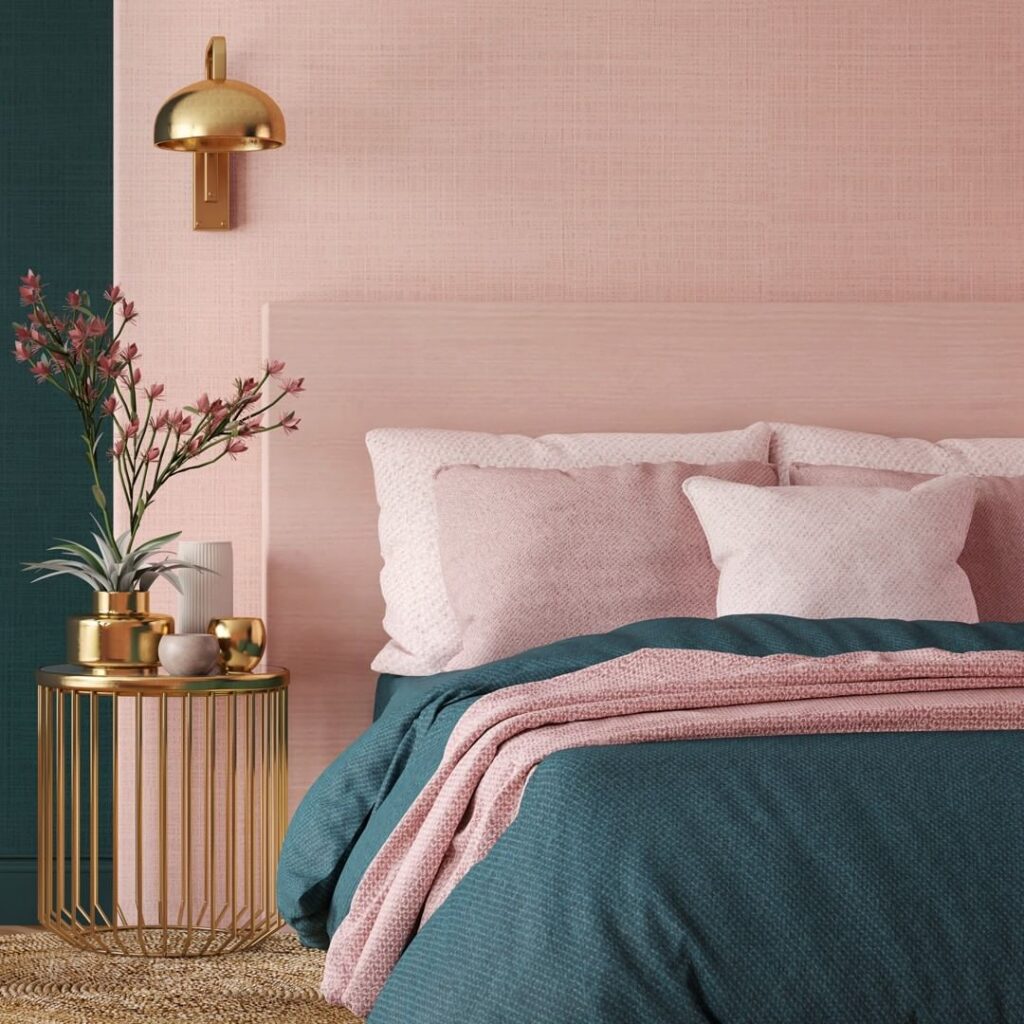 Teal brings the Zen, and gold has the luxury, so it is time for a teal and pink bedroom to steal the show! Pink introduces a soft and romantic effect, with an essence of warmth and femininity.
The exotic combination of teal, pink, and gold strikes a perfect balance between boldness and delicacy, forming an exquisite ambiance!
Teal + Brown: Coastal Caramel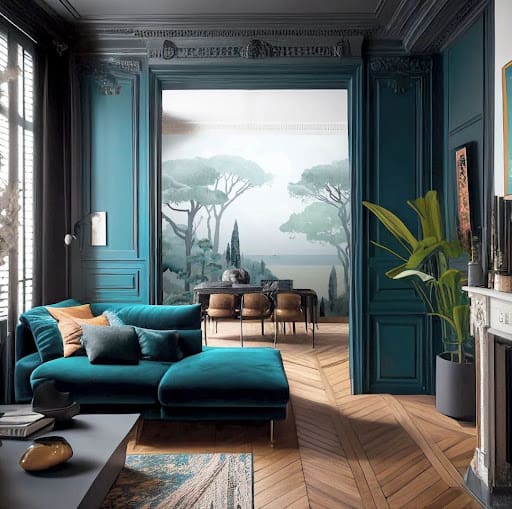 Brown is that one color that goes with teal cohesively because it's easy to access in nature! One word to describe this combo is rich. 
From teal accent walls against a brown backdrop to teal furniture and accessories – This pairing creates a warm earthy aura amidst the coolness!
Related:
Teal + Lavender + Yellow: Whimsical Blooms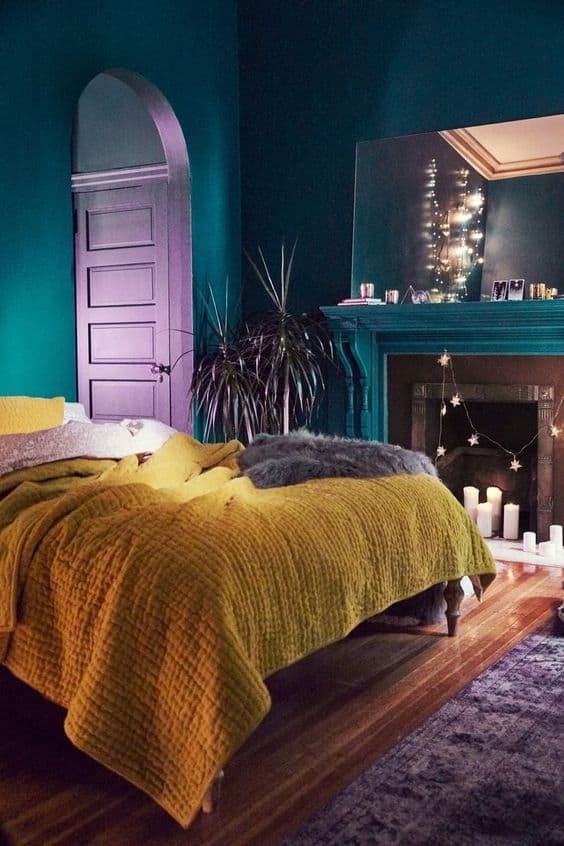 Teal, lavender, and yellow are the 'jewel tones' out of the other teal combos! Jewel tones set a vibrant color palette,  inspired by the precious gemstones. This combination is perfect for those who want to add a bold and glamorous statement! 
Teal is the foundation of the elegant space and lavender sprinkles romance and serenity. The extra addition of yellow explores a burst of energy, creating a magnetic contrast!
Pro Tip: When using jewel tones in interiors – Remember to consider the size and lighting of the space! For smaller rooms, it's best to use jewel tones as accents to prevent overwhelming your space. You can also use proper lighting, natural or artificial, and enhance the richness of jewel tones and bring out their true beauty!
Teal + Lime: Zesty Energetic Zing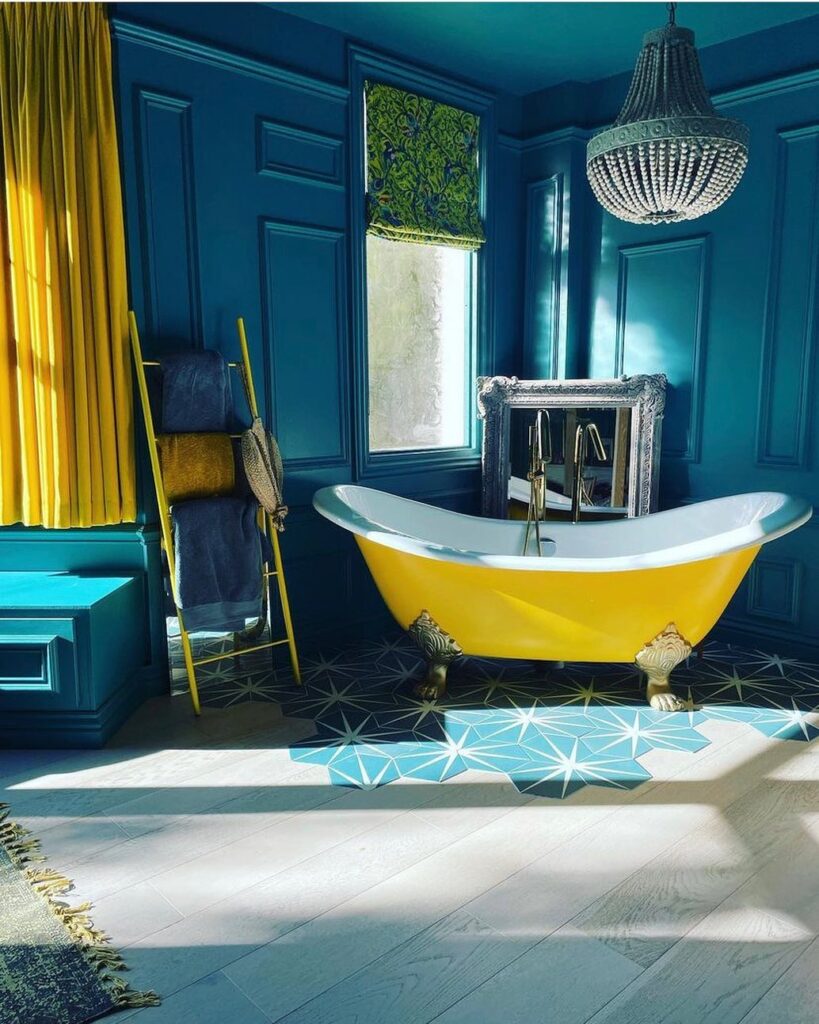 Teal and lime have a dynamic and playful chemistry that can instantly brighten up any space! The difference between teal and lime is how different the moods they bring to the table. Teal has a serene and grounding effect while lime introduces a citrusy and youthful pastel element to the room! 
Teal + Raspberry: Tropical Berry Bliss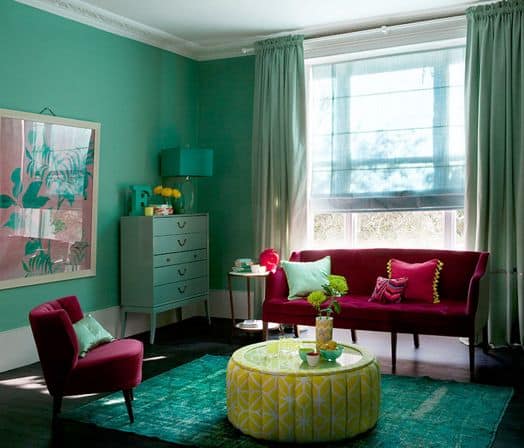 To elevate the cherry magic style of your home – Let's try out teal with shades of raspberry! Raspberry forms a fierce and passionate touch to the teal color palette. Raspberry is a vibrant shade of pink, and it serves as a bold accent with a touch of femininity in your home. 
Bring some raspberry throw pillows, upholstery, artwork, or accents to start off the bold game. It allows you to infuse the space with extra character and sassiness!
Teal + Copper/Burnt Orange: Boldness And Warmth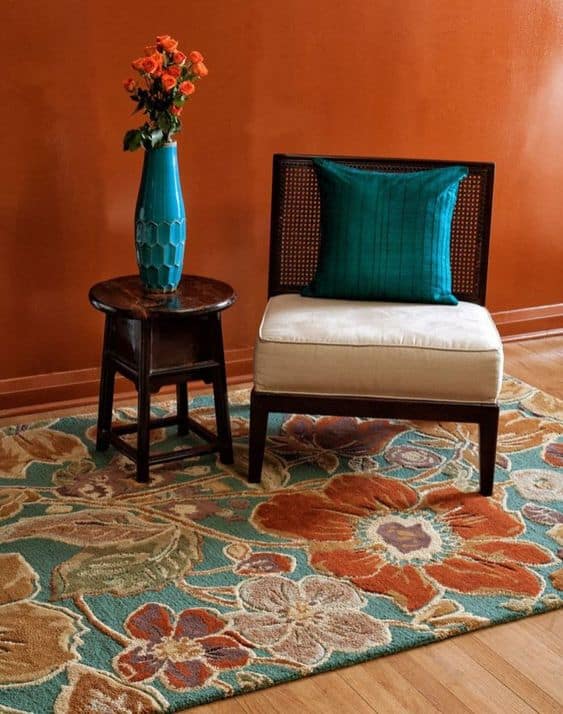 Teal becomes the perfect accent color when paired with rich metallic shades like copper or the earthy hues of burnt orange. The coolness of teal complements the warm and lustrous effects of the metallic colors, creating a fancy homely chemistry!

You can add copper or burnt orange through accessories, light fixtures, decorative elements, or even with the backdrop itself! But, when Teal joins this metallic team, your home is going to have 'class' written all over it!