Colors play a significant role in influencing the mood of an environment. The selection of colors for places as private as a bedroom requires a lot of care to ensure that the space exudes positive energy and helps one start their mornings on a high note.
Your bedroom is a haven for serenity and relaxation. Hence the colors used and the mood composed should promote that feeling.
Using colors like green and blue is considered the status quo for many bedrooms as we associate these shades with peace and mellow moods. However, over time the monotony begins to create an impact.
Mixing two different colors for bedroom interiors provides a subtle visual contrast to the space's overall aesthetic while keeping it exciting and allowing for easy and prospective customization. You won't have to stick to a single color when choosing new furniture and accessories for your space.
The following are a few two-color combinations for bedroom walls you can consider for your next interior revamp!
Two-Color Combinations For Bedroom Walls
Red And White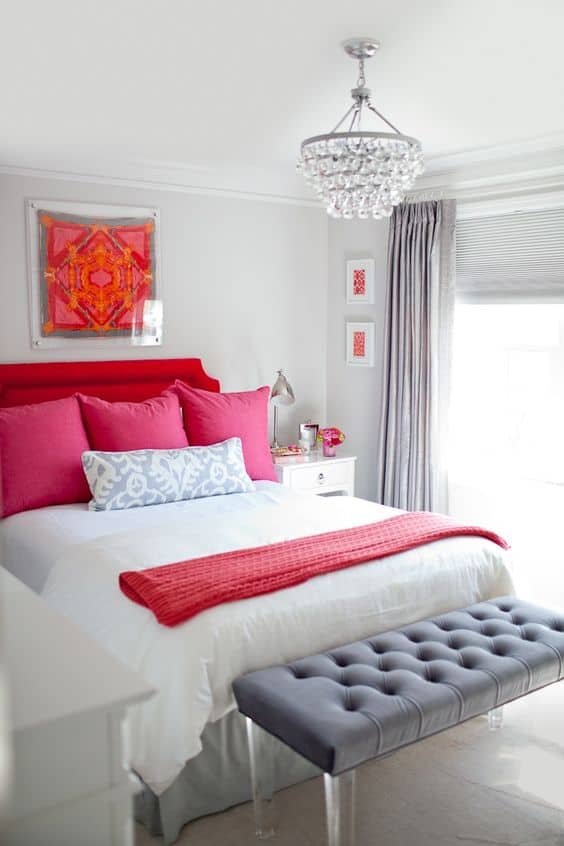 While the thought of an all-white bedroom seems like a dull choice, adding red as a part of the color palette aids in creating a bold statement without overwhelming the room.
Red decorative pillows, accent walls, and bed throw blankets all come together to brighten the space without having too many colors.
Any shade of red can be utilized as pops of color within a predominantly white space to bring a modern and comfortable feel to your bedroom. Thus, when used in the correct proportions, it can be one of the best wall color combinations for your bedroom.
Navy And Gold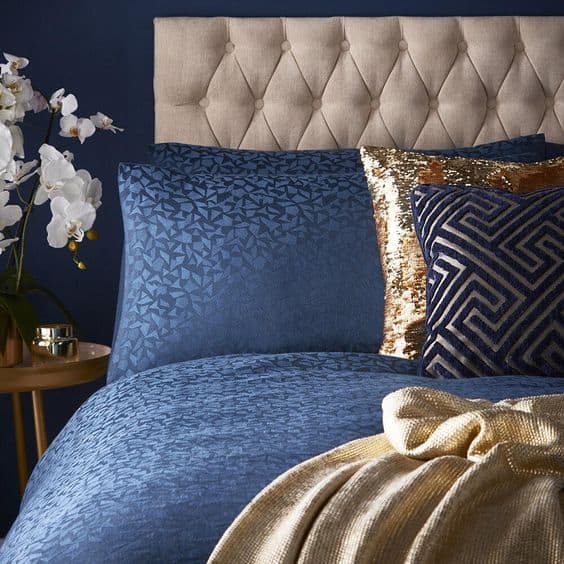 A two-color combination straight out of a fairytale. These two colors are an obvious choice when bringing a sensation of royalty and luxury to the bedroom. Using gold accents against a darker shade of blue will create a shimmer-like effect within a space and make the room feel bigger and brighter.
You can introduce this color combination to your bedroom in pillows, comforters, and luxurious headboards that can instantly transform an ordinary bedroom into a mysterious and magical Neverland.
Read: 19 Magnetic Navy And Mustard Bedroom Ideas You Can't Resist!
Pink And Blue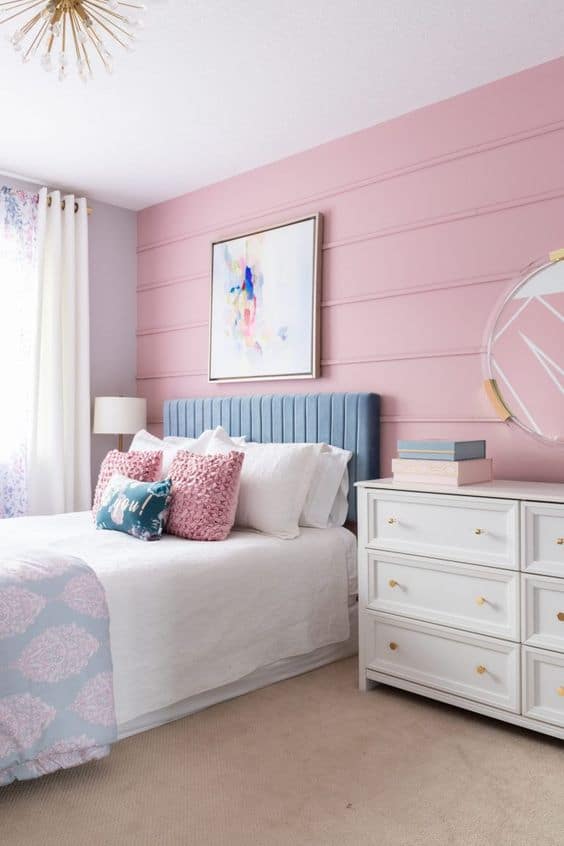 Two versatile colors complement each other in all rooms, not just children's spaces! Light tints of pink and blue go well with white, separately and together, to create an ambiance of tranquility in your room by combining soft tones.
Pink accent walls paired with blue furnishings and décor can instantly switch your room into a romantic and relaxing space for you to retire to at the end of a long day. Doubtlessly, this two-color combination for bedroom walls is a no-brainer!
Red And Green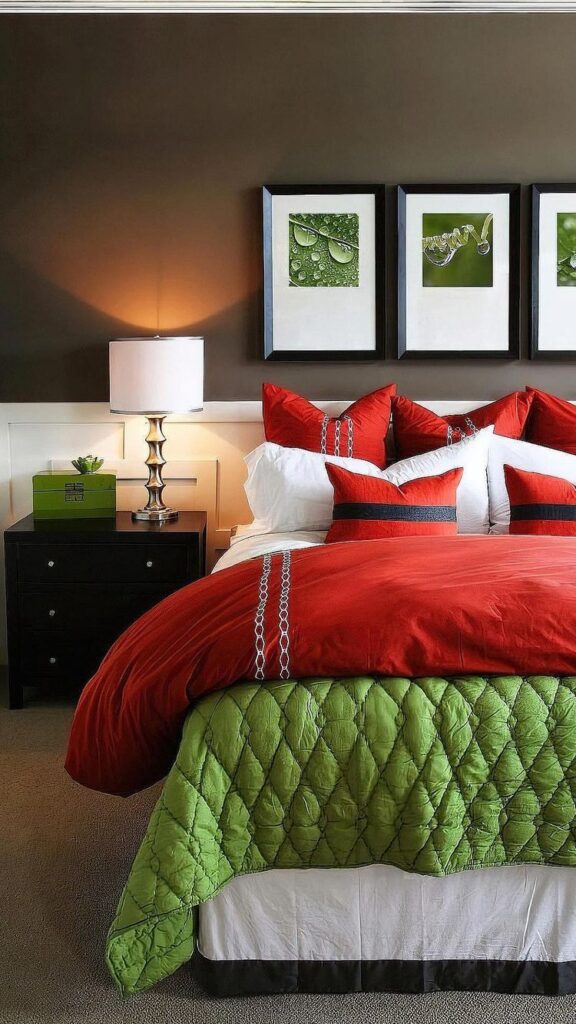 Always unavoidably associated with Christmas and all the fun décor that goes with it, this two-color combination brings a certain feeling to the table (the Christmas table?) This combination appears vibrant all year round when used carefully as a part of your interiors.
These prosperous shades, when used right, can create a comforting habitat that appears rich and luxurious. 
Paired with white and dark-toned decor, these colors enrich the space and give the room a warm feeling that brings joy.
Blue And Yellow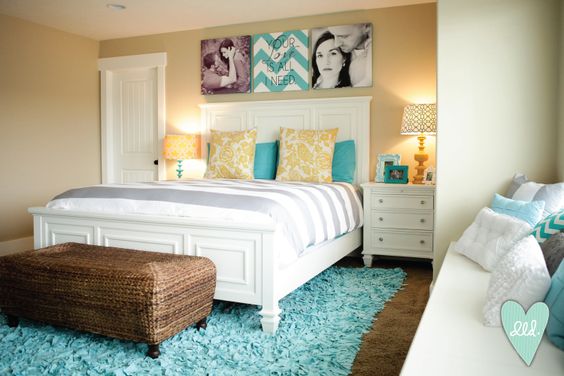 A perfect balance between the calming effects of blue and the warm coziness of yellow, this two-color combination for your bedroom creates an energetic atmosphere and prepares you for the day!
The color scheme can be used in many ways in your bedroom, from accent walls and subtle decor to full-color blocking.
White and brown furnishing can also be incorporated into the bedroom's overall design to evoke a perfect vintage seaside paradise.                   
Emerald green and teal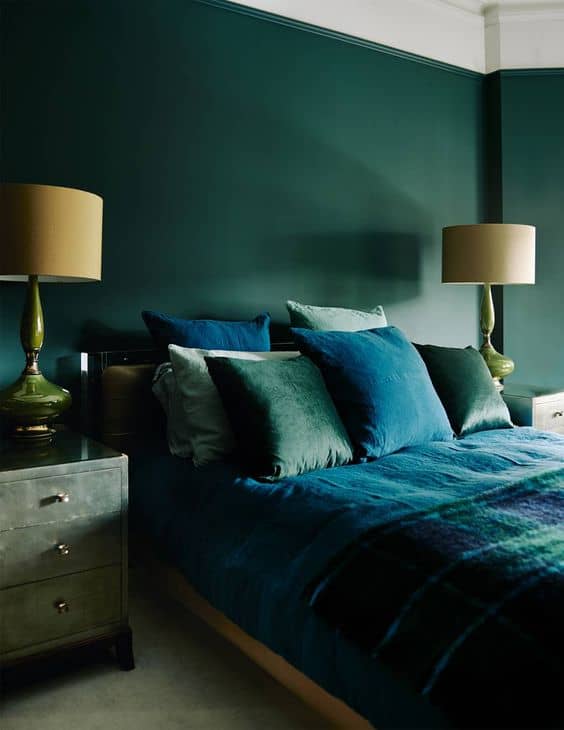 The color teal comes from a mixture of the coolness of the blue and the optimism and healing nature of green. Pairing this with the beautiful jewel shade of emerald green gives the room a calming and rich feel that is bound to soothe and enter anyone who enters instantly.
Beige and dark-toned décor or wall colors can be introduced to the room to balance the overall vibe of the space.
Blue And Dusty Pink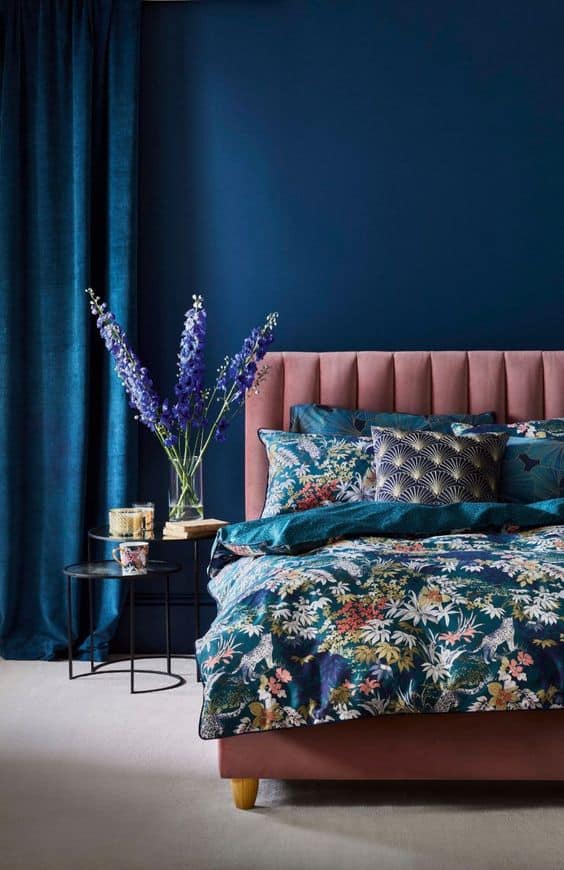 Dusty pink and dark blue materializes a timeless look for your room. This two-color combination for bedroom walls effortlessly adds modern flair to it without making it look too much!
Rich floral prints and gold accessories can be paired with these shades to create an elegant and royal space. Keep the floor light in color, gray, for example, and it won't feel like a dark cave!
Mauve And Lilac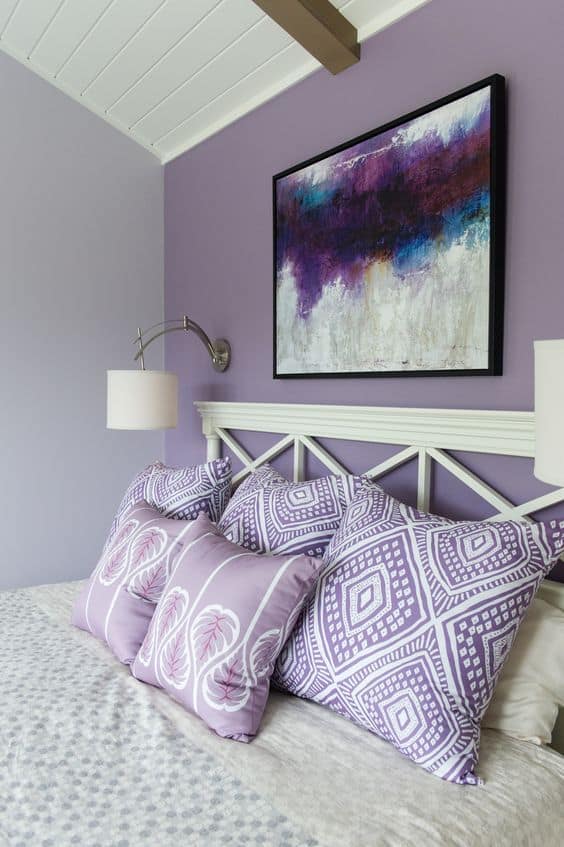 Subtle lilac and dusky mauve are shades of purple that work perfectly together to create rich and unique interior spaces.
Purple is a calming hue that adds stability to any space. It works wonderfully as an accent color in neutral white-dominated areas as well.
White and baby pink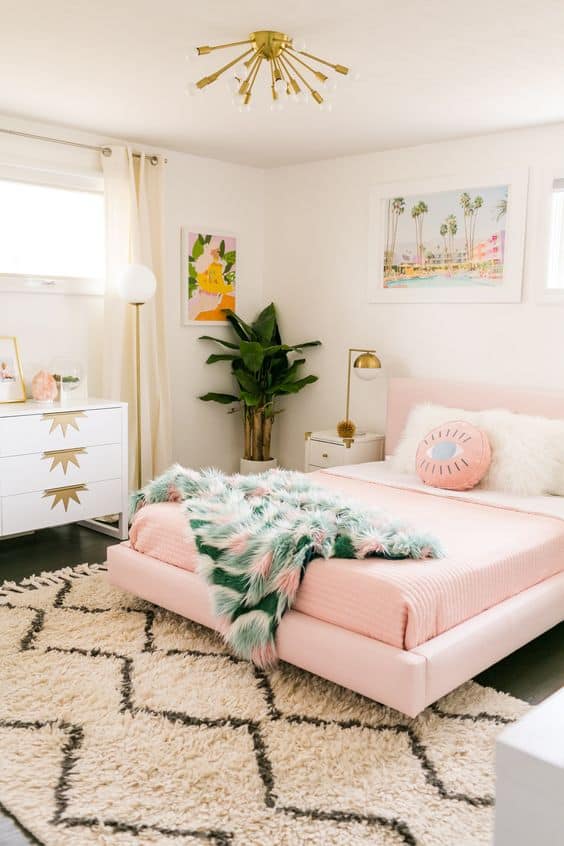 A truly classic color combination for a bedroom that can never go wrong.
Pink is considered a versatile and desirable accent color that can create a stimulating and blooming environment within children's bedrooms and rich and sophisticated rooms for adults.
Putting together pink, white, and subtle hints of green and gold using elements of plants and lighting can create a rejuvenating healing space to rest in for the night and wake up feeling recharged!
Dark green and pink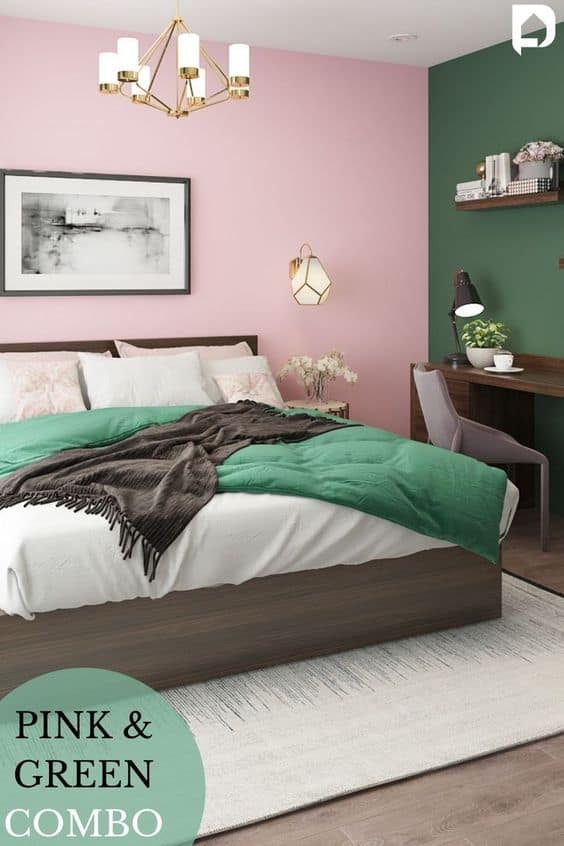 This excellent two-color combination adds a spring-like feel to your interiors and takes you back in time with a retro sensation making your rooms more appealing and exciting.
Walls can be color blocked and paired along with white sheets and dark-toned furniture for the ultimate comfort space.
Light Brown and green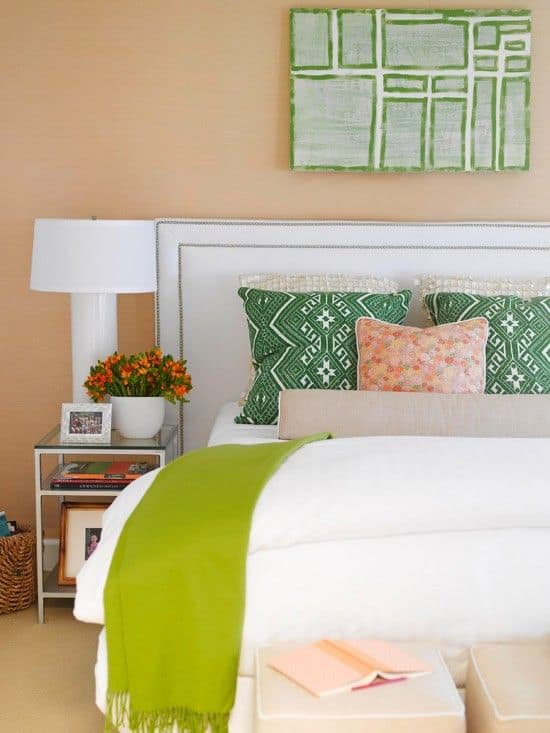 The perfect autumn vibe can be attained within a space when you blend these colors. 
Light brown accent walls help brighten up a space and offer the perfect backdrop for the oaky tones of green to highlight the area with wall art, tapestries, decorative pillows, bed throw blankets, etc.
Chocolate Brown And tan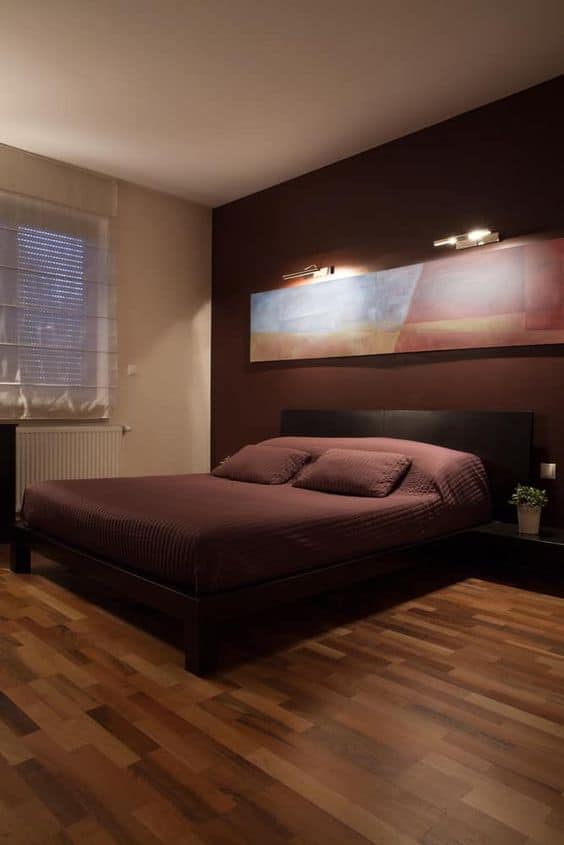 Brown is an intensely versatile shade that has made quite a comeback.
It comes in a wide array of shades that can be paired with each other and somewhat complements white and dark red to create an elegant space. A two-color combination with brown for your bedroom walls is never the wrong choice!
Denim Blue And Coral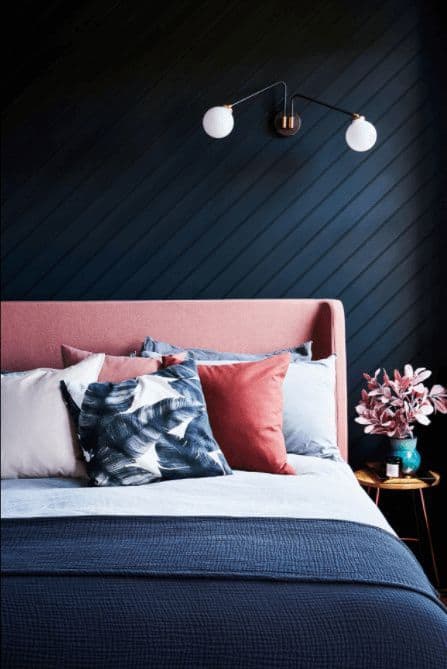 Another harmonious combination of varying shades of blue and pink offers an affluent and elegant vibe to any interior space.
Subtle décor in white, black, and brown shades draws these colors together, resulting in a perfect and warm-toned bedroom. The elegance here is guaranteed.
African Violet And Charcoal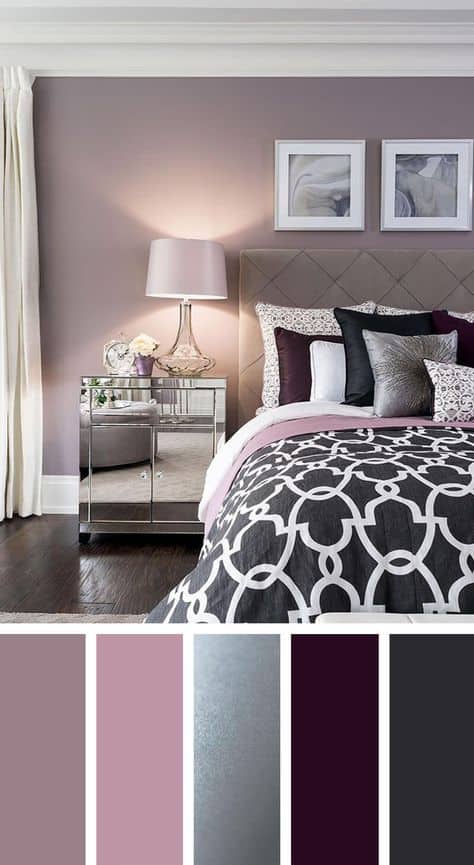 The muted hues of charcoal complement this subtle shade of purple to birth a lovely yet powerful communion.
It combines darker tones of purple and neutrals like beige and white, resulting in a timeless and fashionable bedroom design. Plus, when you pair some prints with a timeless color, it's a charm!
Dark teal and magenta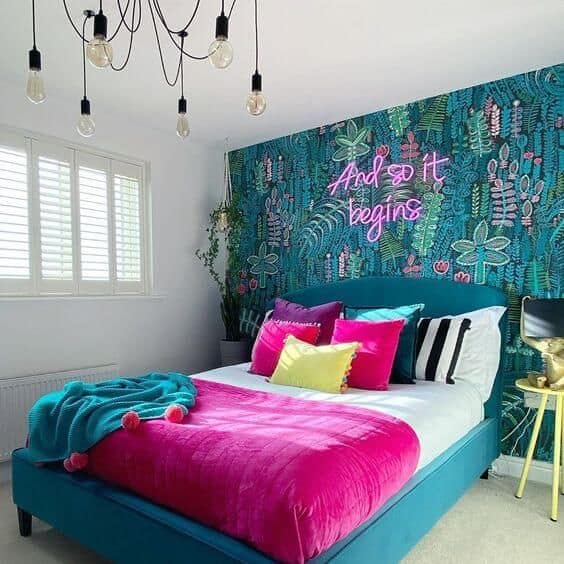 A worthy merging of hues for those who love the addition of color pops and shine to their bedrooms.
Modern dark teal bedroom walls are perfect for pairing with bright shades of pink as décor and furnishings.
A wide range of teal wallpapers can be used in place of plain accent walls to add depth and character to the space.
And if you are afraid of the brightness this bedroom wall color combination might bring to the room, how about using them on a white backdrop? You won't go wrong.
Beige And Salmon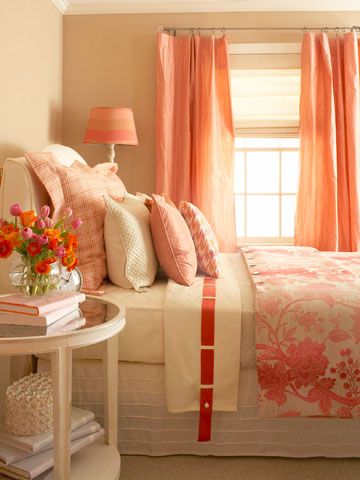 Salmon is a riveting color that perfectly complements the warm neutral tone of beige. It makes quick work of brightening up the space and carries a spark of joy into the room.
Beige walls can be highlighted with salmon drapes, decorative pillows, lampshades, comforters, and stark white elements.
Salmon And Lime Green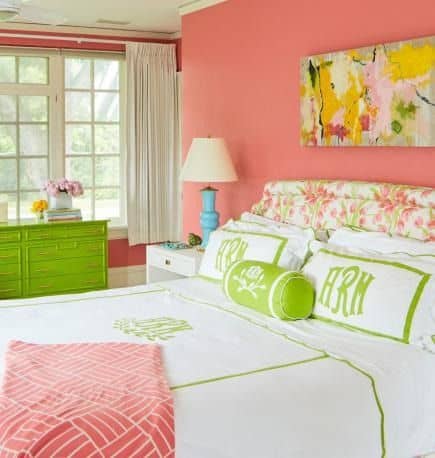 Another beautiful color to pair with salmon would be lime green. While beige offers a more calming feel to the space, lime green brings a boost of energy into your rooms.
Salmon-colored walls pair beautifully with lime green accents throughout your interior and mix well with small elements in shades of yellow to spark the space.
Lime Green And Black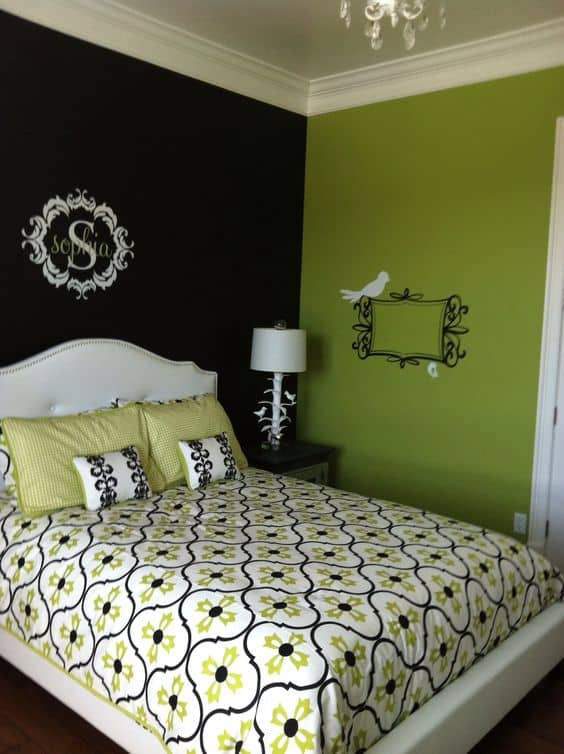 While lime green is preferred due to the vivid tones it can add to a room, black as an accent shade brings balance to the overall look of the space.
Black and white accents throughout the interiors can do a great job in complementing the lime green to gift you a room that teleports you to the warm tropical jungles.
Flamingo pink and off-white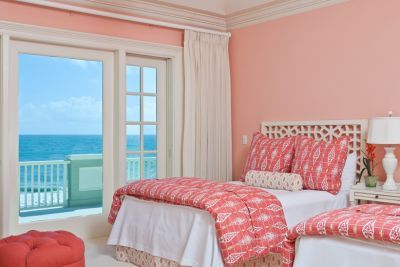 A rosy shade of pink can morph any space into the ultimate princess-themed room.
Paired with the neutral off-white shade, this magnificent color makes the room inviting and warm for all who enter.
Dark tones of pink can be used for furnishings and décor to brighten the room.
Beige And Orange-Brown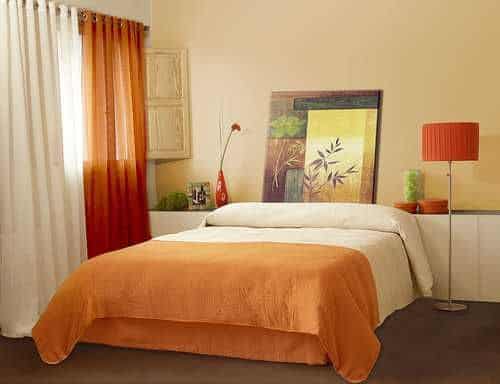 This go-to two-color combination for a warm-toned room helps create a comfortable and cozy environment to relax and get back to your reading!
The fall color scheme has become a significant trend lately and can be paired with white and soft brown furnishings.
Light Green And Dark Green
You can never go wrong with green shades in a bedroom. The healing color renews life within your interiors. When paired with different shades, this combination transforms your room into a natural haven that guarantees to make your mornings brim with hope and energy.
Green And Aubergine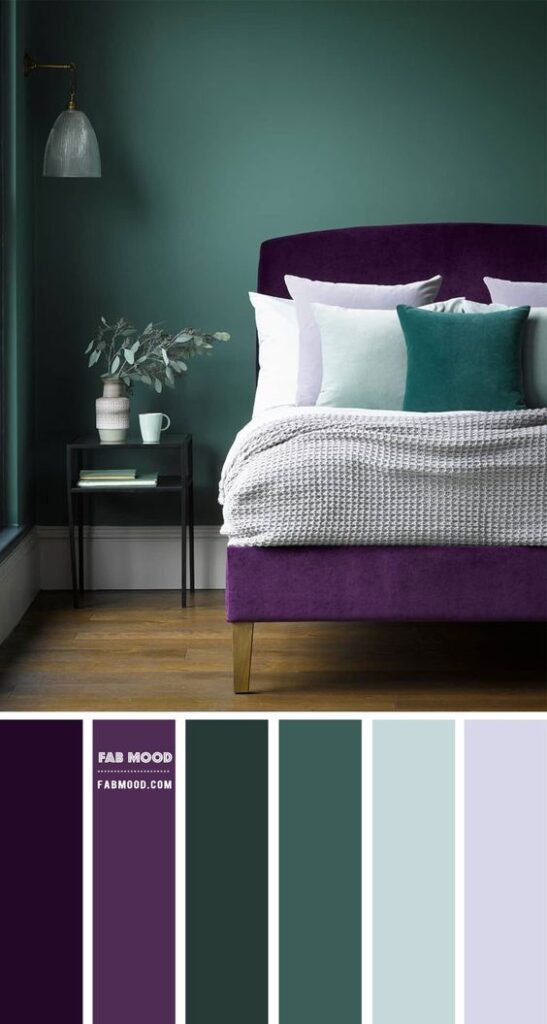 Purple and its various tones come together in designing interiors that are traditional as well as contemporary. Using this accent shade alongside the dark green for decorative pillows and comforters will give a rich feel to your interiors.
Pairing it alongside white and brown décor brings to life a picturesque and stimulating space for one to retire to every night.
Pink And Gray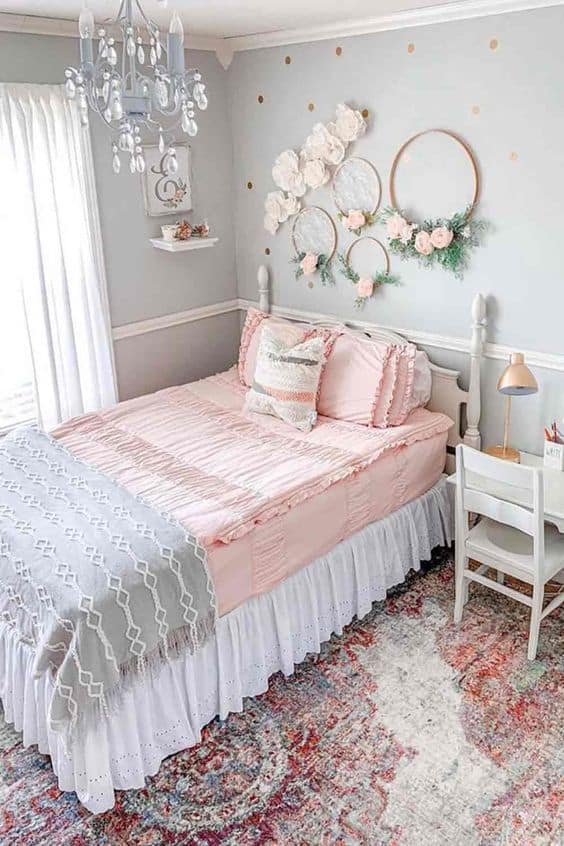 If you were looking for a two-light color combination for bedroom walls, this is it! A kawaii color combination for your bedroom, pink and gray, can reignite the lost peace and calm in your life.
To ensure that the bedroom design doesn't look too plain, use enough textures and decors around the bedroom.
A Persian area rug under the bed might become a show stealer in all this subtlety!
Brown And Cream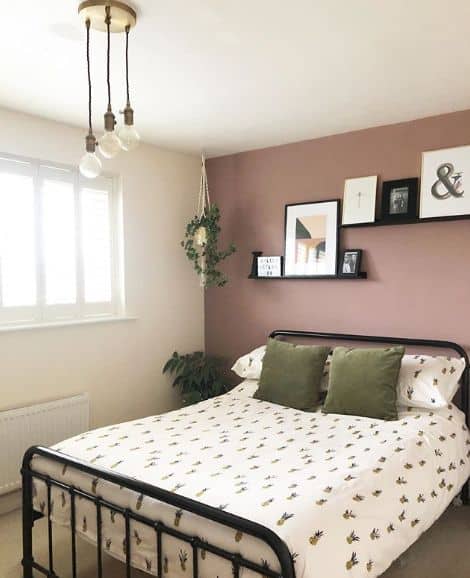 The warm tones of brown and cream can strike a stylish and sophisticated charm in any interior space.
This earthy two-color combination for bedrooms is preferred in many Indian homes as it can be applied alongside white and olive green tone décor to generate a traditional yet modern aura to an interior space.
Dark Blue And Purple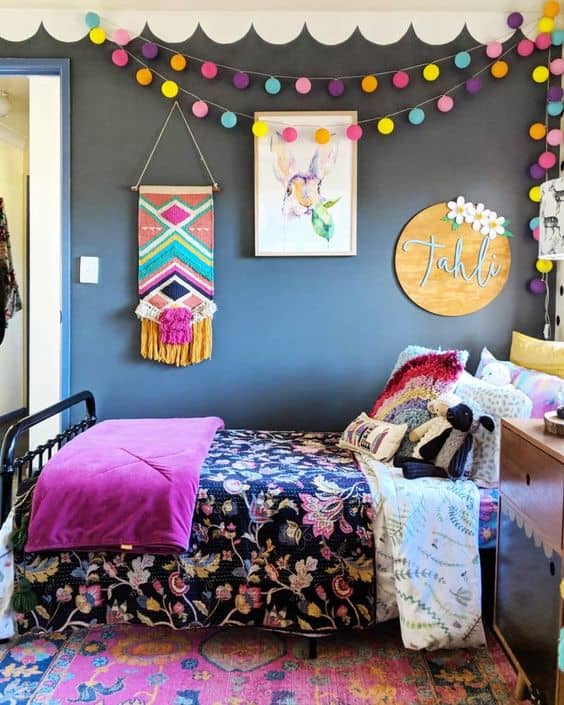 A rich color combination of two ornamental tones can establish a childish charm to a space while projecting a perception of fashionable modernity to a room's interiors.
You can pair these shades with pops of other accent colors such as yellow, green, and white to emanate a warm and inviting space for one to occupy.
Coral And Beige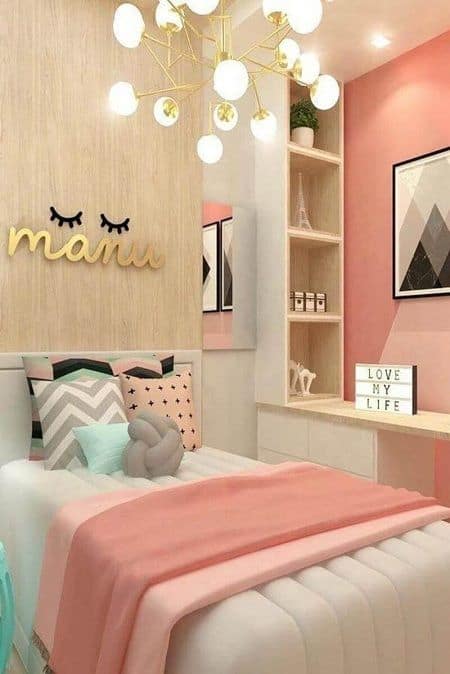 Coral is a classic yet bold shade of orange that packs quite a pulpy punch as an interior area's undertone. Pairing it with the soft neutral style of beige accomplishes the fashioning of a perfect balance between bright and mellow.
This color system gives room for the addition of light grey, teal, and gold accent features throughout your space.
The Endnote
All of these two-color combinations for bedroom walls in some kind evoke certain emotions and feelings, adding into the fray a particular visual contrast. It has a massive impact on the overall aesthetic of an environment. It also keeps it interesting and open for future changes and customization.
No one color is universal; thus, keeping the spectrum visible and easy to use will help you devise the perfect look and feel for your furniture and accessories at any time!
Let us know in the comments which one was your favorite bedroom color combination out of all these.
Until next time, happy decorating!
Frequently Asked Questions (FAQs)
What is the three-color rule?
The three-color rule is a simple and easy method to create a balanced color palette for your space. It states that 60% of the room should be of a dominant color, 30% should be of a secondary color or texture, and the rest (10%) should be of an accent.
The room's dominant color, or background color, is represented by 60%. You'll refer to the area as the "pink" room—or whatever hue you decide—when you look at it.
Your 30% is the following number in this rule. It will complement the primary color and serve as the room's secondary color while adding enough contrast to keep the area attractive. Consider it as such: you'll only need to use half as much of this color as you did of your primary color.
Your 10% as your accent color makes up the fun percentage. Depending on your look, it can be bolder or more subtle. The 10% helps provide the space for its personality or keep it much more neutral.
After picking out your colors for the three parts, 60% constitutes your walls, rugs, and sofa/ bed.
The 30% will be the color selected for your curtains, side chairs, and painted furniture.
Your final 10% is reserved for all your art pieces, decorative pillows, and patterned fabric throws that help brings the room's interiors together.
By following the three-color rule, the colors you pick will not dominate or create an overwhelming space to be in.
Which colors make a room bigger and brighter?
There are many factors, such as the orientation and direction your room's windows face; these will determine the colors you should use for it.
Dark colors work best in north-facing rooms, whereas lighter colors look best in south-facing areas with lots of natural light. A west-facing room would look ethereal at night when the sunset colors are used.
White is the obvious choice for making a room look larger, but an all-white room isn't usually an ideal choice.
A light neutral shade such as taupe on your walls can make the space feel large and bright, and the color pairs very well with dark and rich hues such as olive green and brown, which can be used for furnishing the rest of the space.
Soft shades of blush pink can also help open up a space and make it seem more significant. The color is also a versatile shade paired with blue and beige to create a pleasant feeling within the room.
A light cool gray color wash is an excellent substitute for white since it can feel airy and bright without being as stark as pure white. Cool colors assist visually in creating a sensation of more space since they feel lighter and more delicate than warm hues. Choosing this color would be a wise move to make the impression of a generous, wide area in a room with moderate amounts of light.
When painting a room in two colors, which wall should be darker?
An accent wall is a wall that is painted in a different color or covered in additional material from the other walls in a room.
While numerous ways to designate a wall as an accent, one of the most popular strategies is to paint one wall a different color from the rest. Even though an accent wall can be placed anyplace, some walls would have a more striking visual impact than others.
Typically, a wall without windows or doors works best as an accent wall. It is a simple yet frequently brief wall devoid of any architectural elements. This is an effective method to spice up the space without overpowering it. However, there are a few exceptions to this rule. Decorative windows or doors may be highlighted with an accent wall. An accent wall will bring attention to doors or windows with intricate designs.
An accent wall can also create an optical illusion to hide a room's exceptionally long or narrow dimensions. It will appear to move forward if one of the short walls, typically the one farthest from the door, is painted a darker shade. The space will appear sharper and more in the shape of a square than a rectangle overall. Avoid painting a long wall in a small room in a darker hue since it will make the space appear even smaller.
A calm, dark color should be used on the walls next to the windows to absorb light in overly-bright spaces. Painting the wall opposite the window a dark hue helps reflect light into the room if you desire to create a brighter space.
What are the best warm bedroom colors?
Sunsets are a great source of inspiration for warm color schemes. Bright yellows, pinks, and oranges can be utilized individually or in combination to warm up any space.
If you wish to paint all of the walls in your bedroom, subtle tones of these hues work well. Consider painting only one accent wall in a warm color if you like a lighter style and leaving the remaining walls white.
Even if you choose a warm color palette for your bedroom, you might want to add a few touches of cold tones to give your décor some balance and contrast. Think about adding accents in purple, turquoise, or aqua blue to a palette of yellow or orange colors.
Yellow and its many shades work perfectly in a bedroom and help cast a sunny feel to your space. Warm buttery yellow-toned walls paired with soft brown and deep red décor can create a room guaranteed to make you feel like you're engulfed in an ecstatic embrace as soon as you enter.
Red is a warm hue that many people like but, many believe, is too loud for the bedroom. If you adore red, think about a muted shade; if you desire a genuine red, try painting an accent wall in color. Your bedroom can have just the right amount of flair with a bit of red peeking out from behind a headboard or a piece of wall art. Additionally, white, black, or neutral-colored furnishings and accessories can counteract the vibrancy of red walls.
The color brown, which is seen as neutral or warm, is a comforting hue in itself. Various options include dark espresso, auburn, and light latte. You can choose to subdue the effect of the color or make it as dark as you like. In particular, deep brown might look pleasing to the eye in a space with many windows if it balances the fabrics, rugs, and other furnishings that add a hint of light or vivid coloration.
If you go for a more subdued brown, include various textures and materials into your furnishings to create a monochromatic color scheme. You could also add a splash of color in a vibrant color like orange or turquoise.
Are accent walls out of style?
In the world of décor, accent walls are still very much in style.
The versatility of these simple and fashionable color styles will carry on their continued popularity. You have an infinite number of paint options for your accent wall and other surfaces and materials. Even the placement of your accent wall falls entirely down to you. Because your bedroom is unique, your accent wall must be unique too.
Accent walls aren't limited to solid coats of paint. The use of cladding materials and wallpapers could be employed to add a sense of character to your room and customize it to your taste. Walls could also be covered with pictures or tapestry to feature as accent walls in your space.
It is vital to keep the furnishings and other walls in mind while choosing a shade for your accent wall. A balance must be created for all the colors to work together to create a harmonious space.
Decorative wallpapers are an excellent alternative for painting as you have the freedom to change it more efficiently than having to spend on resources to repaint a whole section of your room.