Hey! Thanks for stopping by to see what we have for you in this post! By the way, Some links here are affiliate links which means, if you choose to make a purchase through them, we might earn a small commission, at no extra cost to you. Thank you so very much for your support! Happy decorating!
Since there are so many great ideas for decorating a budget-friendly room in India, we thought of writing one article dedicated solely to middle-class Indian bedroom ideas. And here you will get all the top-class ideas for a middle-class bedroom plus the things you need to consider before you start designing one. You are also going to get a short description of all the trending bedroom themes so you can decide on the one that best fits you! We believe in providing all that's needed, once and for all! So this one, for you!
Without wasting any more of your time, let's get straight into it.
Yellow And White Bedroom With Wall Art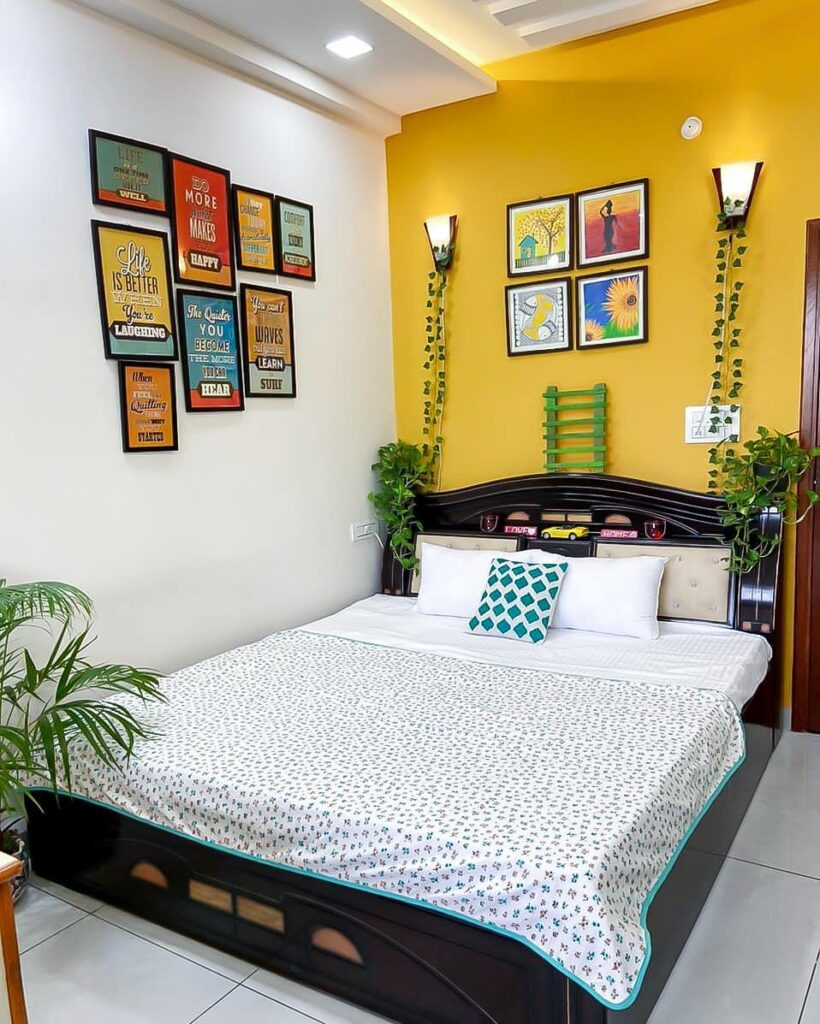 This room, in particular, we like a lot! And there are reasons to support that. First, this room is simply elegant and conforms to the modern design norms. But when we observe this, closely, there's not a thing in it that's unaffordable!
Just closely look at the walls, anyone can get those colors painted! Even the flooring goes pretty well with the paint colors on the wall! And even if your room already has a different color, this decor will not make a difference to it! Rather, it's going to look as decent and elegant as the room looks in this image! Next, the queen-sized bed placed in the corner of the room makes another statement! The white bedspread (bedsheet) nails it so much with this wall painting!
You can always use different colored bed sheets that go well with the color of your walls. The most prominent part of this decor, though, is the painting wall arts and the printable wall arts that are above the bed! They literally add color and mood to the entire decor. But for that matter, don't overlook the little toys placed on the headboard. Don't they add to the decor too? Well, we think they do.
The artificial ivy (above the bed) and the natural (on the floor) and artificial plants (above the bed) are also very carefully chosen and placed. Green always goes so well with yellow. And this combination is quite thoughtfully nailed here!
We don't even think if we need to mention the lamps on the wall. If they weren't there, the room would have looked decent but not elegant! Thus, with all the things in mind, we think this room is an ideal middle-class Indian bedroom! And you can, quite easily, recreate this look.
RECREATE THIS LOOK
A Combination Of Modern And Rustic Decor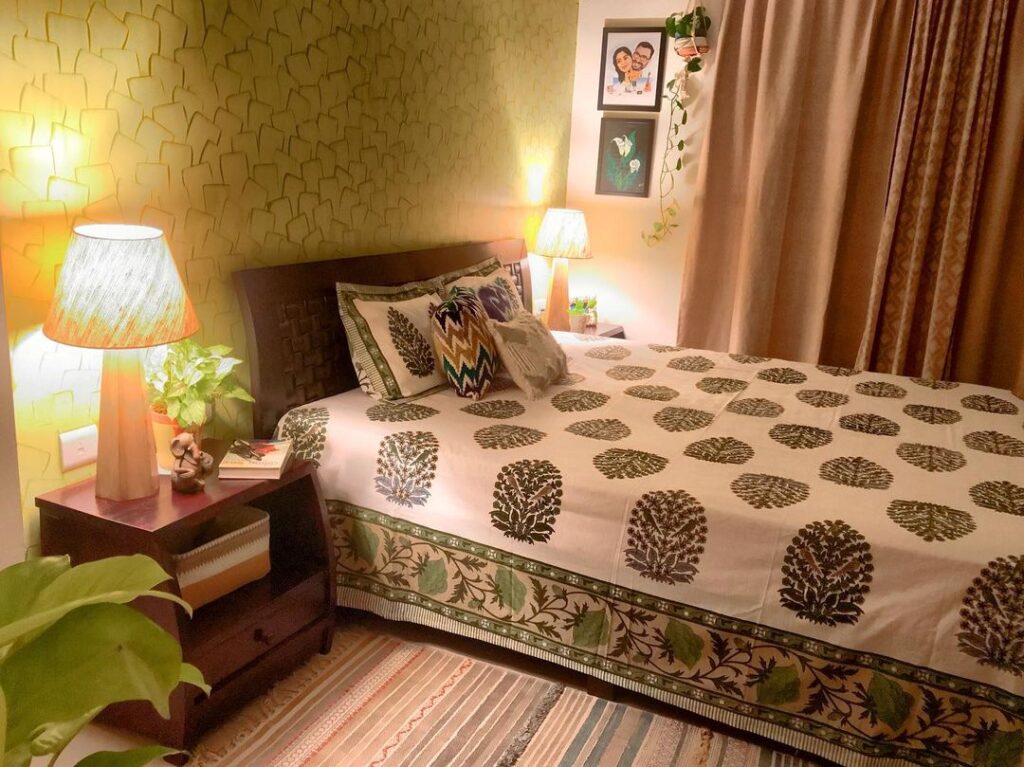 This room, we think is a very balanced combination of the various decor themes that are trending these days!
First, the wall of this room is so beautifully painted! The green color is so balanced- it's not too light nor too dark! And the print on the wall gives a unique royal feel to the space!
When it comes to the furniture of the room- be it the bed or the nightstand, it's quite carefully chosen. Especially because the furniture is wooden, it makes a statement in the room! But it would all have been dull and boring if the bedsheet were not matching the room's color and the lamps on the nightstands were not creating an accent look!
The earth-colored curtains and the rug cannot be over-appreciated for creating such a natural and homely feel in the room. But use them wisely. If inappropriately used, they might make the room look ugly!
Rest, the plants are a must to add life to any decor. And the designer behind this small middle-class bedroom has done just that! To us, this bedroom is beautiful and idle if it is to be created for just one person going to live in it. A double bed can also be added to this look but the look will slightly be changed, in that case.
Read: 10 Ways To Make An Ugly Room The Prettiest Room In The House
RECREATE THIS LOOK
A Monochrome Room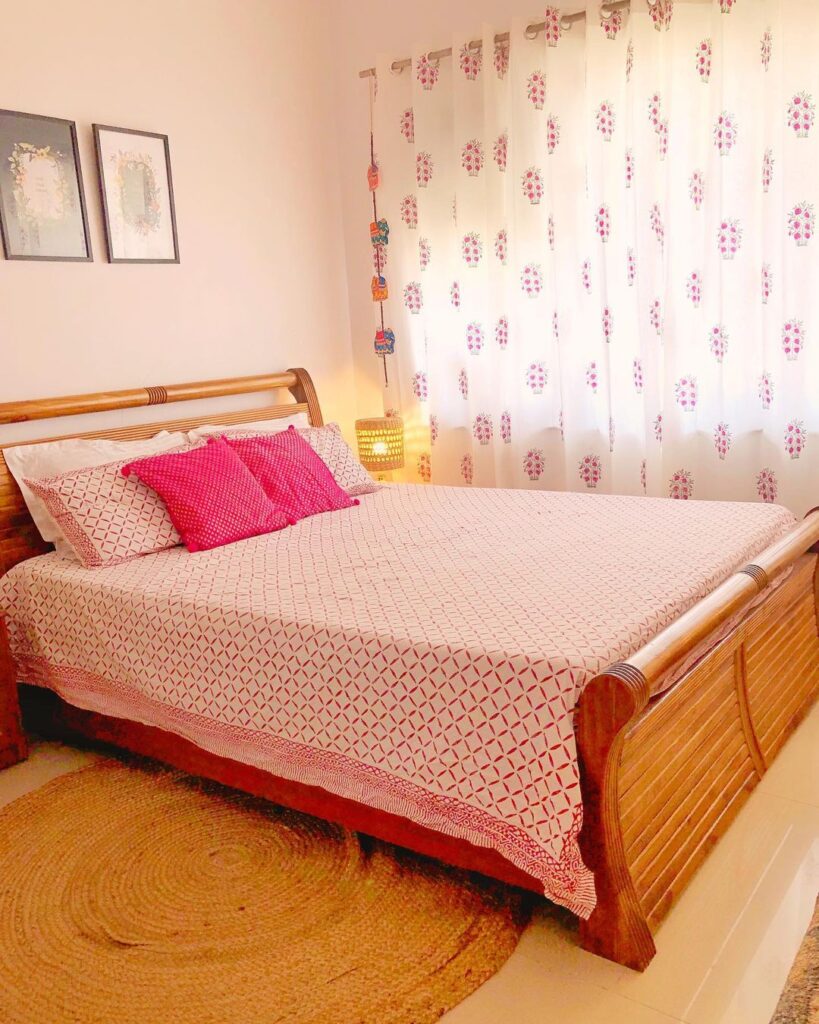 Monochromatic color schemes are basically those that use the shades and tints of the same color all around the room in addition to some neutral colors if need be. This simple Indian bedroom is the perfect example of that!
We are immensely in love with the baby pink color on the walls and the matching colors of the bedsheets and the curtains. Magenta adds so much flavor to the room. Without it, it would apparently have been dull. There is not too much in the room so it doesn't look stuffy either! The wooden furniture along with the matching rug is a statement in itself!
One decent wall hanging plus a golden lamp in the corner has the looks to die for. They add beauty and elegance to the room but don't make it look overly done. If you want to create a bedroom for a girl, this room goes really well.
If it is a room for a boy that you want to create, you might want to change the color used.
The minimalism with which the room is created is the essence of its beauty. We just cannot see anything imperfect in this one! And when it comes to the overall beauty of the room, it has looks to die for! Plus, so far, this one is the easiest to recreate.
RECREATE THIS LOOK
Small Bedroom With Golden Lamp Lights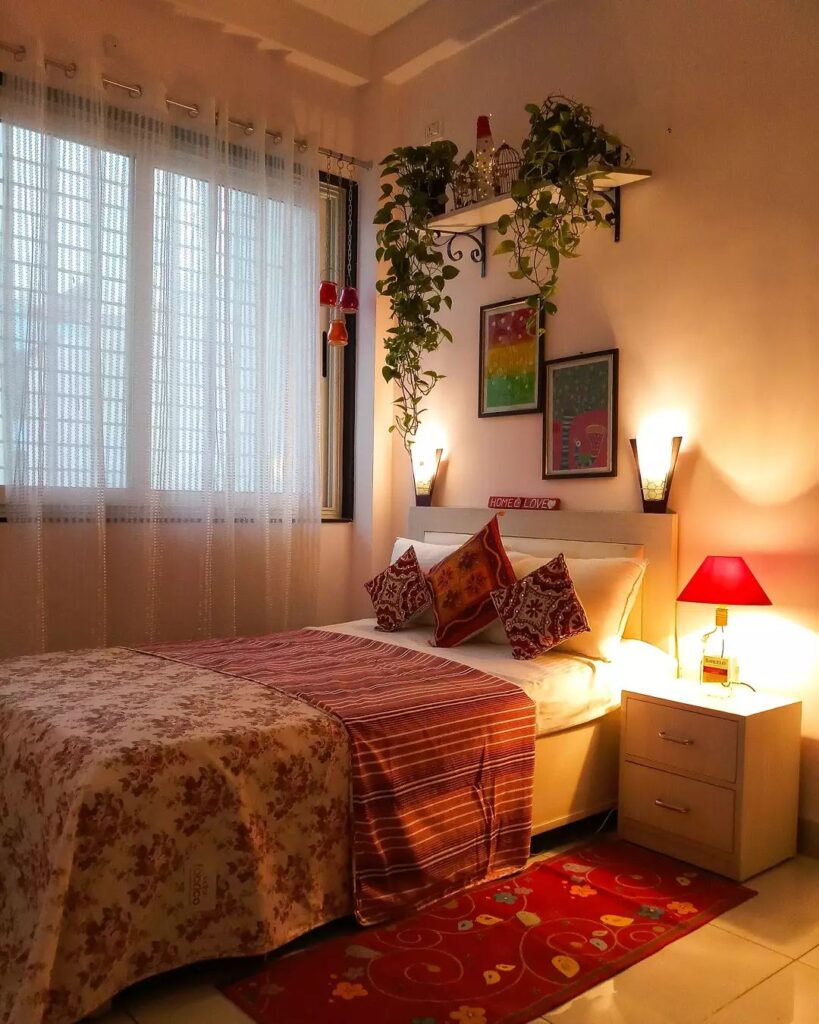 One of the prettiest rooms we have seen is this! A sprinkle of the same color (maroon in this case) all around the room definitely gives it a royal feel.
The white walls and the white curtains don't make the room feel overly done. But they, kind of, give that feel of subtlety and peace to it. On the other hand, the bed is the perfect selection for this size of the room.
We particularly like how the color of the bed and the nightstand goes in accordance with the color of the wall. They give the room, a sense of unity and coordination. It appears as if everything is just so tastefully picked and chosen!
Then, look at how the color of the lamp goes so well with the color of the quilt and pillows. Even the art piece on the headboard matches it!
The wall shelf and the ivy are other decor items you can guilt freely add to the simple middle-class Indian bedroom you intend to create. But it goes without saying that the look and the overall feel of this room would have been so incomplete without these lamps on the headboard and the nightstand. They give such a warm and sophisticated feeling to the room that it looks neither too simple nor too overly done. It creates the perfect balance. Don't you think this too?
RECREATE THIS LOOK
Small Multi-Colored Bedroom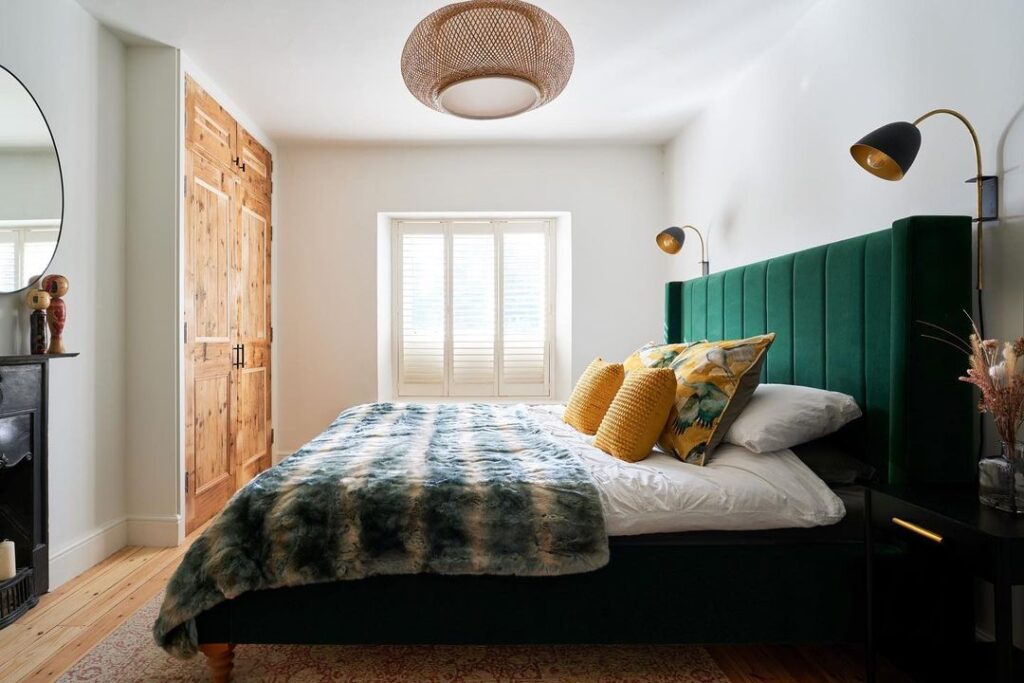 If it is a small room that you want to turn into a bedroom or a guest room, this look is pretty good to go with. White goes well with beige all the time, as this match can be seen here on the walls, floor, and cupboard. We feel this design, too, is quite easy to pull together as nothing much is used to highlight the room.
The color of the headboard, though, does its job quite well. It is its color that makes us fall for the cool color scheme that's used in the room.
The lamps on the headboard are a real deal since they add a statement to the overall design of this room. But, the modern-day chandelier is what puts the room together, honestly. If it were not there, maybe the look had been incomplete and off!
For a simple family, this room is perfect. And above all, it can be created on a small budget. It is not too much you have to purchase and you can still create a cozy room like this. We recommend using accent lights for a more sophisticated feel in this space!
If you would like a more colorful space for yourself, consider checking out THIS post.
RECREATE THIS LOOK
The Perfect Hotel-Like Room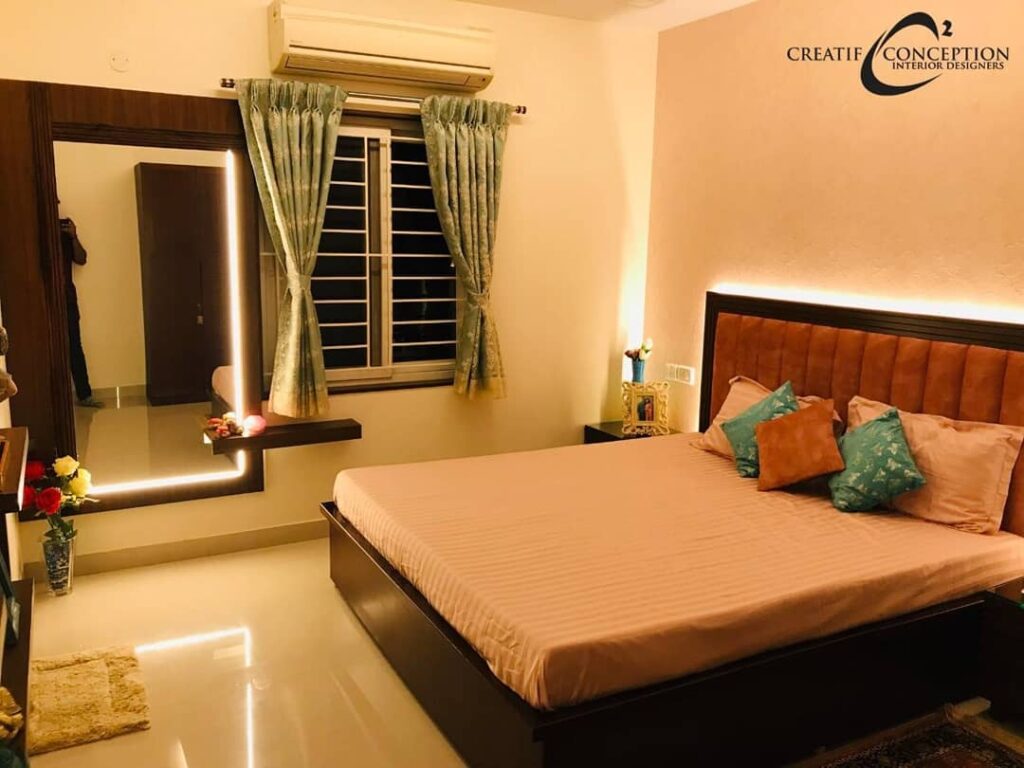 Doesn't this room look like that room in the hotel you visited last month? Well, to us, it does! But look closely, it's the easiest to recreate!
If you have a small room, first get a queen-size (or king-size if it suits you) bed of this style or any other that appeals to you! Place it in the middle of the room. Get the mattress and place it too. Half of this design is done! So easy!
Then get two nightstands exactly the color of the bed and place them on both sides of the headboard. Place photo frames and a flower vase on one.
Now, you want to get a mirror or a cupboard of this design (that has a mirror) and place it in one corner of the room. You are 80% done!
Now get a rug and another flower vase and put them as shown. You are left with curtains which, unarguably, you need to get as well. You are 90% done by now. But you still won't get the same look as this room! Do you know why? Lights play all the game here.
Get the lights into place and your simple and sweet bedroom is ready!
RECREATE THIS LOOK
Having It All White And Spiritual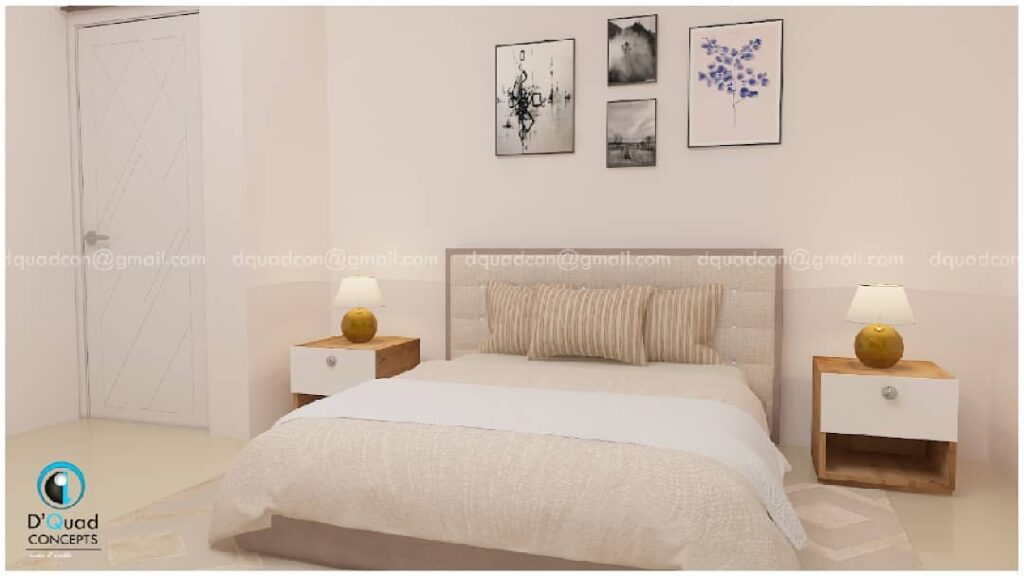 White has its own level of royal feel and sophistication. This room elaborates exactly that!
The perfect and complete minimalistic approach like in a Japanese bedroom is followed in this room. Light shades are used to make it look very soothing and elegant.
You can see, there is just the bed and two nightstands. One lamp each is placed on the nightstands. This itself makes the room complete and whole! The carpet under the bed is also almost the same color as the floor and it does not appear very prominently. But it still is a very crucial element of the decor.
The four-wall art pieces are other elements that highlight the look of the room! Overall, it is a simple room with simple items but a royal look!
If you like simplicity and beauty, this one is just for you!
Read: 11+ Japanese Bedrooms, You Can't Get Your Eyes Off!
RECREATE THIS LOOK
White And Neutrals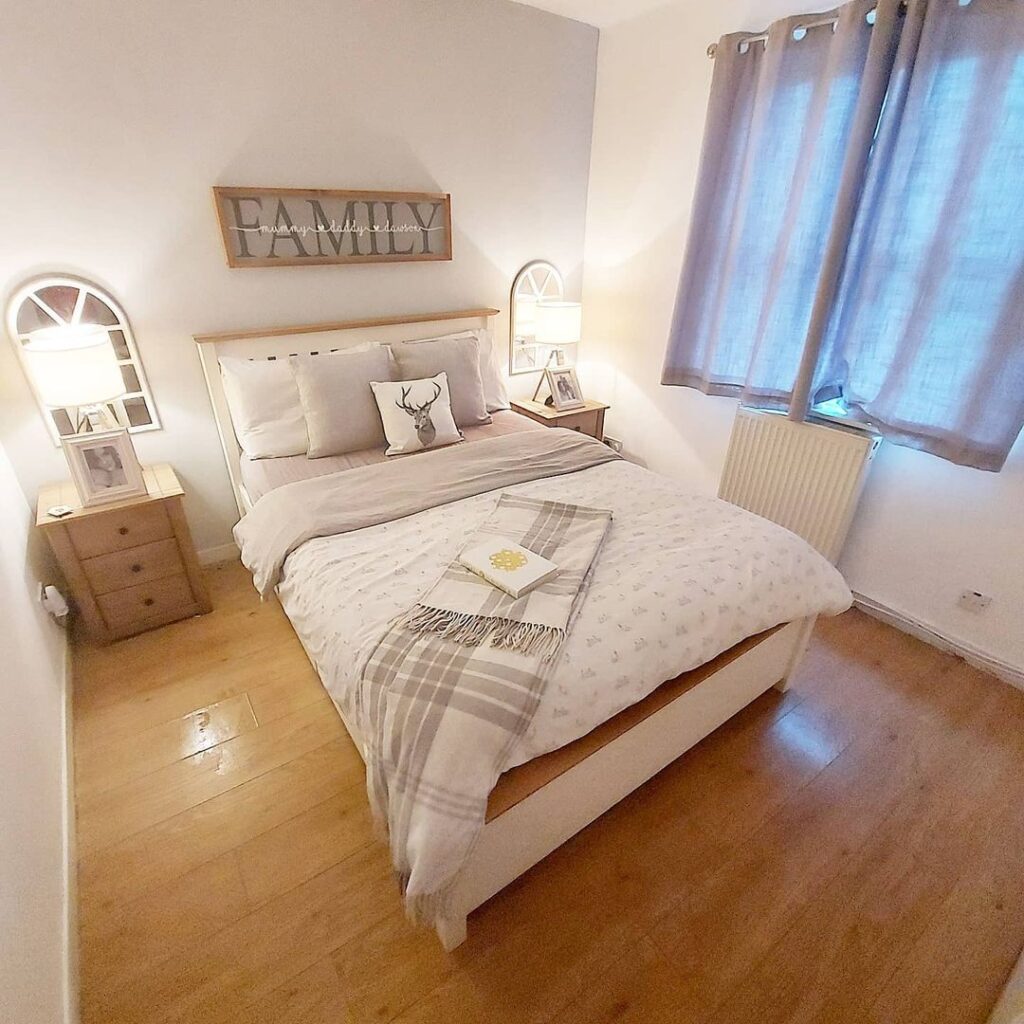 Another room that elaborates minimalism is this! If one person has to stay in the room, this room is idle!
There is not so much that's added to the room but whatever is, it's tasteful! The beige floor looks magic with the overall white look of the room.
Even the curtains are so carefully chosen that they don't let the room look extremely simple. Only what's most needed is added to the room. Nothing more and nothing less. But to steal our hearts, this room leaves no stone unturned.
RECREATE THIS LOOK
Boho-Themed Room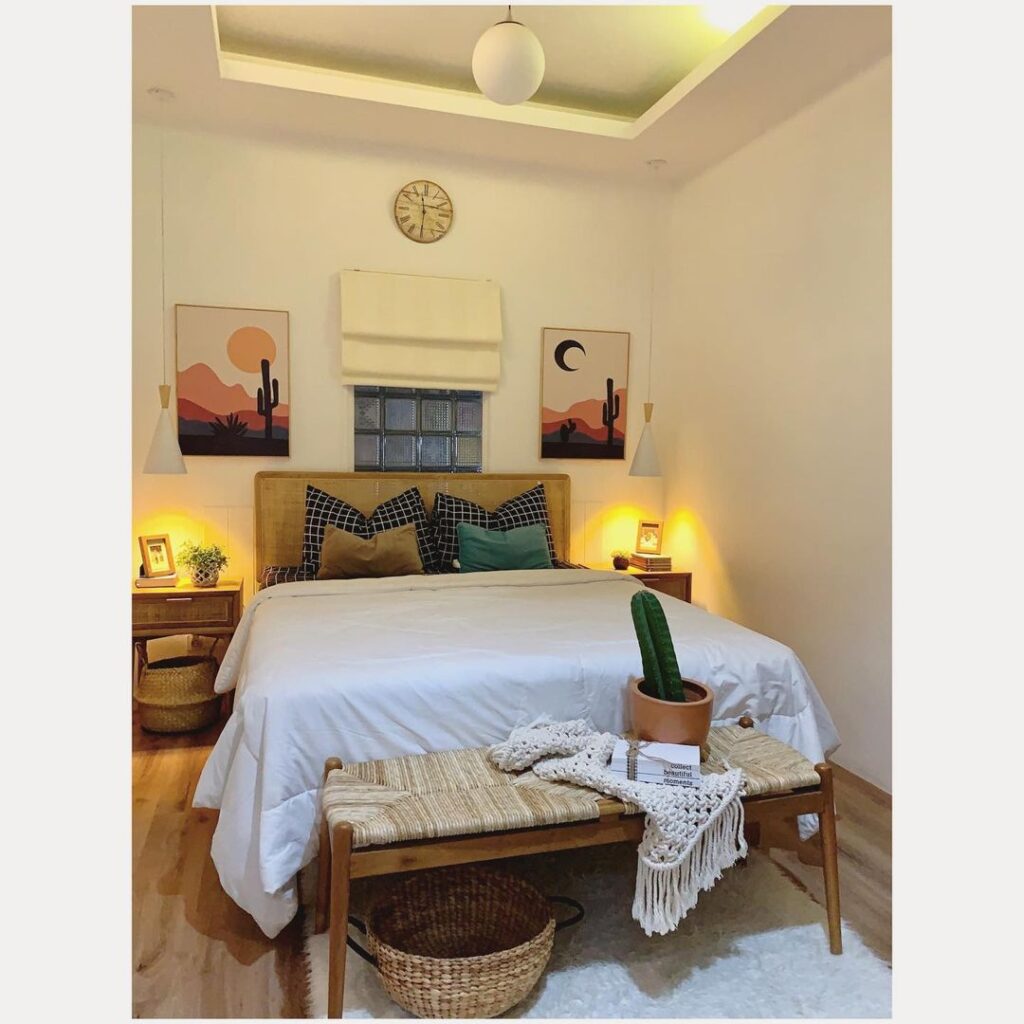 Since this room follows a boho theme, there is anything and everything added to the room as the theme permits it!
The placement of the lights in this space gives it an old-fashioned look. The wall arts put the theme together. Rest the bed is simple but the table before it and the basket under it is the fine elements of the boho theme. And don't overlook the chic if you intend to create this very look.
It's simple and complicated at the same time. That's what makes this room special!
RECREATE THIS LOOK
Large Middle-Class Indian Bedroom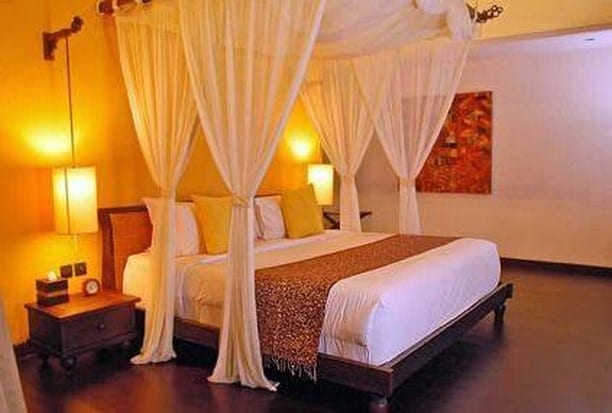 If it is a large bedroom you want to design, consider using curtains around a canopy bed as in this one! It makes the room look quite decent. Plus it does not make it look overly spacious or large!
Using warm-colored lamps as used in this one also is a great idea to use in a large room. Large wall art also does well.
There is not much else that you need in this kind of space because it is complete in itself! Recreating this one is quite easy and not heavy on the pockets. That said, this one is a great idea if a couple is to stay in it.
RECREATE THIS LOOK
Bedroom With The Boho Touch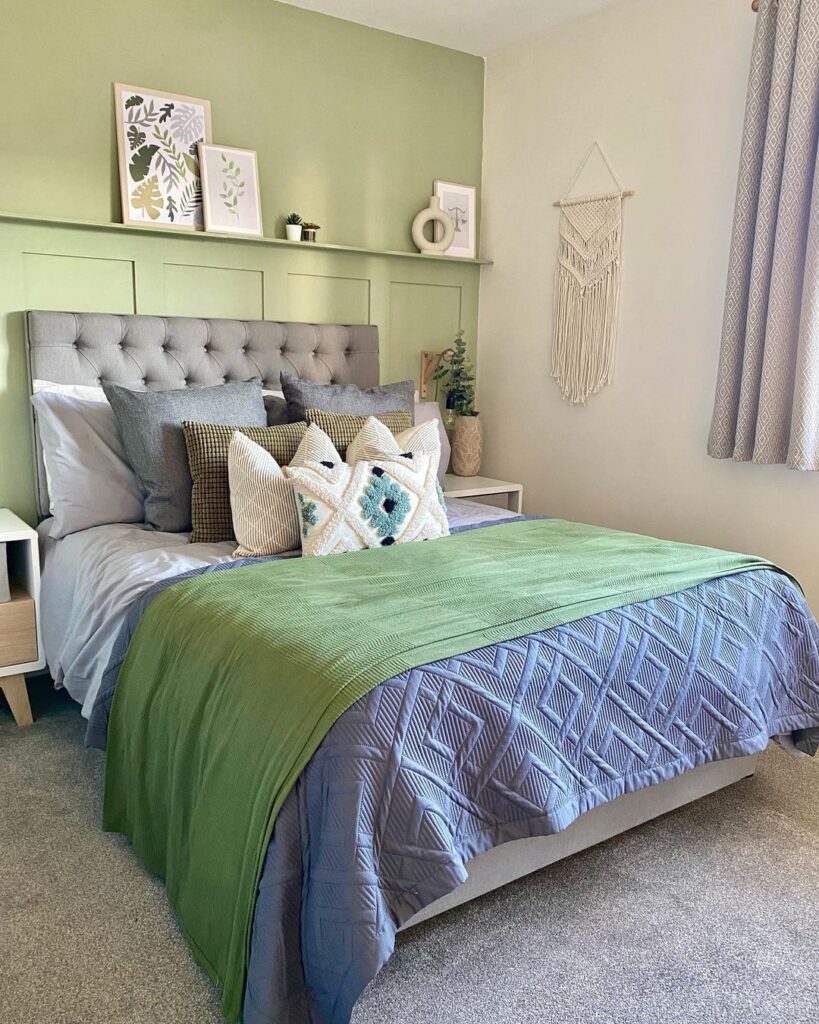 Small rooms have their own kind of charm! This room shows just that!
The green color used in combination with grey just nails it. The wall shelf is a great idea for keeping the wall shelves.
A subtle boho touch is given to the space with the macrame wall hanging.
There is not too much to the room and thus is easy to recreate. What do you think?
RECREATE THIS LOOK
Things To Consider Before Designing A Middle-Class Indian Bedroom
Budget
Since you are looking for middle-class Indian bedroom ideas, budget is too important to be overlooked. Before you decide on anything related to your bedroom decor, first try considering what your budget really is!
It's then that surfing the room decor ideas will be of any importance to you. And we assure you, this is the smartest decision you will ever make in your journey to redesign and create one perfect middle-class Indian bedroom!
After you are done estimating your budget, move on to all that we are mentioning below so you leave no stone unturned and there's a perfect bedroom ready for you!
Size Of The Room
Pay close attention to the size of your bedroom. Sometimes, we want to add too much stuff to it but the space just doesn't allow it. Whereas sometimes the minimalistic look we want for the bedroom leaves too much space in it that the room starts feeling empty. Moderation is always the key so far as decor is concerned!
Also, if the bedroom is small, painting it dark or adding dark-colored things to it might make it look smaller. Dark wall art or furniture might work the best for large-sized rooms. Large-sized rooms on the other hand look like those big empty party halls when painted in light colors. Adding dark colors to large rooms is a smart choice. For a bedroom for a middle-class family, it is always great to go with both dark and light color combinations, if it doesn't mess with your taste.
Gender Of The Dweller
Gender discrimination is punishable we know but believe us, in terms of interior decor, it's the most rewardable! Always take into consideration the gender of the one who is going to live in the room. Boys, of course, won't like pink furniture and bedsheets in their room but girls will! Get the example?
Personal choices of the dweller always make the decor more satisfying and lively for them! According to various studies, boys tend to perform well when surrounded by neutral colors and perform the worst when surrounded by reds and yellows whereas girls perform well in both neutrals and brights (we don't say that, studies do!) So choose the color for your room, accordingly.
Preferences Of The Dweller
Taking forward the previous point, besides gender, everyone has a different choice. Some people might like minimalistic decor whereas others love stuffy rooms. Some might like light colors whereas others might hate them. Few might want to go for one kind of bed design, nightstand design, bedsheet design, or, lamp lights while others have a different taste!
As we have already said, the interior decor of a room will be most satisfying when the preferences of the dweller are kept in mind! So, always ask yourself HOW WOULD YOU LIKE YOUR ROOM TO BE before googling the interior decor trends! You and your personal preferences matter much more than the trends do! Keep that in mind. But yes, since you are designing a middle-class Indian bedroom, don't overlook the budget. Be picky but smart, at the same time!
How Many People Will Stay In The Bedroom?
Another very important thing to consider is the fact that how many people are going to stay in a room? That's how to decide on the size of the bed and the amount of space required in the room. If it's just one person who is going to stay there, why go for a big bed? A single bed or a queen-size bed might do well. But if the room is for a couple, which means two people, a king-size bed is idle!
Taking into consideration the number of people the room is for, you will always be able to intelligently decide what kind and size of furniture you require in the room. It will also help you in deciding the look you want in the room that goes well with everyone's preferences.
Amount Of Natural Lights
How much natural light a room receive, is also a crucial factor. Since lighting is a vital thing to consider while designing a room, you would want to see if the room receives natural light or not. If yes, you would require less artificial light than in a room that does not have any artificial light source.
Also, lighting is of extreme importance for giving a certain kind of look to your bedroom. If you do not have the budget to change the furniture or add something new or modern to your room decor, just changing the light color or its placement is a smart choice. Try it and thank us later!
The Wall Painting Of The Room
Sometimes you are not designing a room from scratch! And we understand that!
So if your room is already painted, you might want to use the furniture that makes the room look even more lively and great! Dark rooms often go well with light color or neutral color furniture. Whereas light-colored rooms nail it with dark furniture. That's understood but it's still our pleasure and duty to mention this!
Size Of The Bed
The size of the room, of course, dictates the size of the bed. But then, the number of people to stay in the room affects it too.
If there is just one person who is going to stay in the room, there is no point in keeping a double bed in there. A single bed can do a great job. But if a couple is to stay, keeping a single bed is a stupid thing to do.
After the bed is placed, all the decor becomes fairly easy to do! Try it and you'll know.
Nightstands (or Bedside tables)
A nightstand, we think, adds life to the decor, and don't you think they are of supreme importance in designing a bedroom for a middle-class family? Choose one that either is in complete coordination with your bed's looks or, it forms a complete contrast. Again, it is all dependent on your individual tastes and preferences.
But before you buy one for your room, consider thinking if you need it. If yes, go ahead. If not, don't stuff up your space unnecessarily.
Even your preferences might defer in what kind of decor you want to display on your nightstand. They might be indoor plants, photo frames, or lampshades. Choose wisely.
Cupboards
We just cannot afford to skip the cupboards, especially for a middle-class Indian bedroom! They are so crucial. See what size of the cupboard you require, and what kind of a cupboard goes well with the theme of the room you have planned (or maybe not planned, that's human! Chill!) See if you prefer a built-in cupboard, a wooden cupboard, or a metal one.
Sometimes you do not have enough space in your room so replacing a dresser with a 'cupboard with a mirror' is prudent! The opposite is the case in case you have a large room. Add a cupboard plus a dresser to it so it doesn't look overly spacious! Make sure it goes with the overall look of the room and does not look like an odd one out! Rest, it all depends upon you.
Some Looks You Might Want To Try For Your Bedroom
Biophilic Design
Biophilic Design, in the simplest terms, is another word for plant-based decor. It means, adding greenery (usually indoor plants) to your bedroom to be in close connection with nature. It is, by far, the most relaxing and healing design we've probably come across. Above all, it is therapeutic, literally.
So you can adopt a biophilic design by adding maximum plants to your decor. With it, you have everything to your advantage- good health (mental, physical, and spiritual) and a beautiful environment! So far as a bedroom for a middle-class family is concerned, this design is pretty easy to pull together.
To nail this design, use plants in every way you can, in your indoors. Have them on the floor (gracefully, of course), have them hanging with planters, keep them on your nightstands, have them on your wall shelves, etc. Use them in any and every way you can in your interiors but yes, don't make a forest out of your home! You are a human, remember?
Bohemian (Boho) Design
Bohemian design is the most unconventional design you could ever possibly come across. It is not always the same. It, basically, is the compilation of various arts and designs from various cultures that makes it stand out and unique! The one thing that is pretty common in the boho (bohemian) decor is the colors. Usually, warm earthy colors, and metallic and jewel tones are used!
In boho decor, you just have no time to embrace minimalism or matching decor! Here you can add anything and everything so long as it is unconventional. That's the beauty of it. It does not have to necessarily be heavy on the pockets and thus makes for one of the perfect middle-class Indian bedroom ideas! We love the article about nailing bohemian decor from 'The Spruce.' You might want to read that one, if interested.
To nail this design for your room, throw in some macrame wall hangings, use shades like rust, turquoise, or something similar, use embroidered or printed bed sheets and quilts, and use tapestry wall hangings, and all the fun things you can dream of having in your bedroom. Give a final touch with golden shade wall lamps. It's magic!
Rustic Design
Rustic design is basically the rough, raw, natural, aged, and weathered kind of design. If you want to create a look in your room that looks ancient, weathered, and old, this decor is for you!
This design has recently become quite popular because people's eagerness for going back to their natural environment has greatly increased. So if you are one of those, who love living in an environment that's akin to something rough, raw, and natural, try throwing in aged furniture (or new furniture that's designed as if it's aged), rugs of ancient designs, earth-colored rugs, etc. Don't just limit yourself to that. You can even get your walls painted in a color that to you, is raw and natural.
You are now the king (or maybe, queen) of rustic decor!
Modern Decor
This design, by far, is the easiest to pull together! Go to the market (or surf the internet) and see what designs, rugs, bedsheets, etc you see in the display. That's all trendy and modern. Match what you like and you are good to go with the modern decor. It's that easy!
But, still that you are here, it's our duty to tell you what's modern in the interior decor these days. So let us just list that for you:
A photo gallery on the wall. (It exceptionally looks well when placed on the wall just behind the bed.)
The monochrome color scheme for a bedroom. This color scheme basically refers to using the same color all around the room but with different shades and tints of it. You can use some neutral colors along with colors like white or grey. That nails it. This color scheme is extremely peaceful and beautiful! We are sure, you will love it!
Another color scheme that's quite popular these days, especially for bedrooms and living rooms, is the analogous color scheme. In this scheme, you use two colors in the rooms- usually shades and tints of it. This as well makes the room exceptionally pretty and elegant. And it's modern.
An above-the-bed piece just simply changes the overall look of the room. It literally makes it look royal!
You can use contemporary prints for your bedspreads (bedsheets) to give it a modern look.
Sheer curtains make the look complete. Try considering them as well.
And don't forget the accent lights!
Related: 21+ Futuristic Bedroom Design Ideas That Excite You For The Future!
Opulent Decor
This decor consists of the maximum use of glass, mirrors, chandeliers, etc. Remember the royal palaces in the movies? Exactly those.
So, to give your room the look of opulence, use mirrors, chandeliers, crystals around the room, ornate-patterned wallpapers, a lot of furs, brocade, velvet, and gold trimmings. That makes your room look simply perfect! And royal, sophisticated, rich, and classy!
Conclusion
Before you design a middle-class bedroom, it's important to consider which design you aim to adorn your room with.
Second, decide what is your budget. All your purchasing depends just upon that! That is when all your purchasing will be smart and prudent. And you won't regret what you purchased and what you didn't.
Third, check what we have told you about the things to consider before designing a middle-class Indian bedroom and check if you have everything sorted.
Last, don't forget to comment below, which design do you have your heart upon?
Thanks for reading!
Until next time, happy decorating!