Japanese bedrooms are taking flight these days, they are indeed futuristic and there are good reasons for it! If you'd rather like to see what futuristic bedrooms are going to be like, consider checking this post out.
They promote so much balance and peace that no one can resist adopting them or adding some element of them to their own space.
Since they are taking so much flight, even we thought about giving it fuel! But what's the difference between a normal bedroom and a Japanese room?
The main difference between a Japanese bedroom and a simple bedroom lies in the kind of furniture used, the amount of space available, and its ambiance. Not to elaborate all of this in the introduction itself, we have this post fully dedicated to this subject.
Without testing your patience anymore, straight into it!
What Exactly Are Japanese Bedrooms?
So, without wandering here and there, Japanese bedrooms are basically the typical bedroom designs that are followed in Japan.
Since the country in itself is very mysterious and fascinating, all that's to it be it anime, its food, or even its bedrooms are fascinating. They follow a not-so-common design and thus, have the interest of most foreigners.
With everything else Japanese, the idea of a Japanese bedroom is also taking flight. But do you know, even the Japanese bedrooms are of two kinds? Namely, traditional and modern. So let us first tell you what they exactly are and what's the difference?
What Are Traditional Japanese Bedrooms?
Traditional Japanese bedrooms are basically those that have been there from around the beginning of Japanese culture. They bear the mark of authentic Japanese bedrooms!
To begin with the furniture, these bedrooms are categorized by very low furniture. Usually, very low beds and low chairs (sometimes without legs altogether) are used. If it is really a traditional Japanese bedroom you are aiming for, maybe you might like to consider not having any bed or chair at all. As we have seen in many shows and series, traditional Japanese bedrooms contain mats where the open can sit or sleep. When not in use, they are rolled and kept in the cupboard.
Also, shoji screens are used for differentiating the sleeping area from the sitting area, if any. This basically has its roots because of the lack of space in Japan. Everyone knows Japan is a very small country and people face the lack of space (that's why they value it most) so many people have to sleep in the same room. But privacy is also a thing of importance. So they started using shoji screens to maintain privacy and not make the lack of space a hindrance in any way!
Smart. Right?
This basically shows the very main characteristic of these bedrooms: functionality.
But before you start creating pictures in your head about the designs of your brand new bedroom, maybe consider knowing that besides functionality, minimalism cannot be overlooked in this decor. So the balance between functionality and minimalism is called Japanese decor. And we want to very well stick to this rule to achieve the very look and feel we aim for.
Then What are Modern Japanese Bedrooms?
As all Westerners are getting drawn toward the eastern culture and decor. Even the Easterners are getting drawn and attracted to the western lifestyle and decor. Maybe, the world is becoming a better place.
Coming back to the question we started with, modern Japanese bedrooms are basically those that follow most of the modern Western decor trends but don't completely let go of the traditional decor.
In simple terms, the furniture in modern Japanese rooms is of normal size and does not have to be compulsorily low. Wall decor is used and carpets might be used in place of tatami mats.
It's basically the fusion of Western and Japanese decor. Adoption some of the Western decor trends and adding some Japanese trends to it might do good for your modern Japanese room decor if that's what you are aiming for.
This is also advantageous in the sense that, if you are not designing your bedroom from scratch and have an existing one right now, you might want to consider adding some Japanese elements to it and retaining some of what's already there.
The Most Important Thing To Keep In Mind Before We Begin
After we have described what exactly traditional and modern Japanese rooms look like, talking about minimalism in Japanese bedrooms is of crucial importance.
No matter which kind of (traditional or modern) Japanese decor you are aiming for, minimalism must not be overlooked. It is a crucial part of this theme and this is what differentiates it from any other existent decor trend.
So in the simplest terms, whenever you are designing your Japanese room, modern or traditional, keep in mind that you must use only what is most needed. STUFFING ANYTHING IS NOT ALLOWED. This is a Zen rule and thus very well followed in all aspects of Japanese culture.
So follow minimalism (even though the term is never used in Japanese decor but is of critical importance) and you are half done with what Japanese design has to offer.
Japanese Bedroom Design Ideas
Mix Of Western And Japanese
This particular bedroom is not entirely Japanese. Since the traditional Japanese bedrooms focus particularly on placing their bed in the middle and placing a shoji screen between the sitting/ working space and the resting space (bed), this layout does not comply with all those criteria.
What it does comply with are the cherry blossom-colored plant and the usage of earthen colors. Plus, this bedroom creates a perfect balance between all that is used ranging from colors to furniture. Also, it is using a low bed which is actually a very crucial part of traditional Japanese decor!
Overall, if you are not deadly to creating a Japanese-looking bedroom, this one might be a great one to go for!
RECREATE THIS LOOK
The Perfect Traditional Japanese Bedroom
When it comes to this layout of the bedroom, we can't refrain from saying that it is perfect.
It has all the elements that a Japanese bedroom should compulsorily have!
First of all, the space that is the most important part of any Japanese decor is taken good care of! Minimalism is very well followed. When it comes to the colors used, they are earthen and thus, are perfect!
Ranging from low furniture to the plants, to the natural light source in the left, to the Japanese wall art, we just cannot find any loophole in this one.
If you want to go for the perfect Japanese bedroom that has everything to do with the theme, this is what we most recommend.
RECREATE THIS LOOK
Small Japanese Room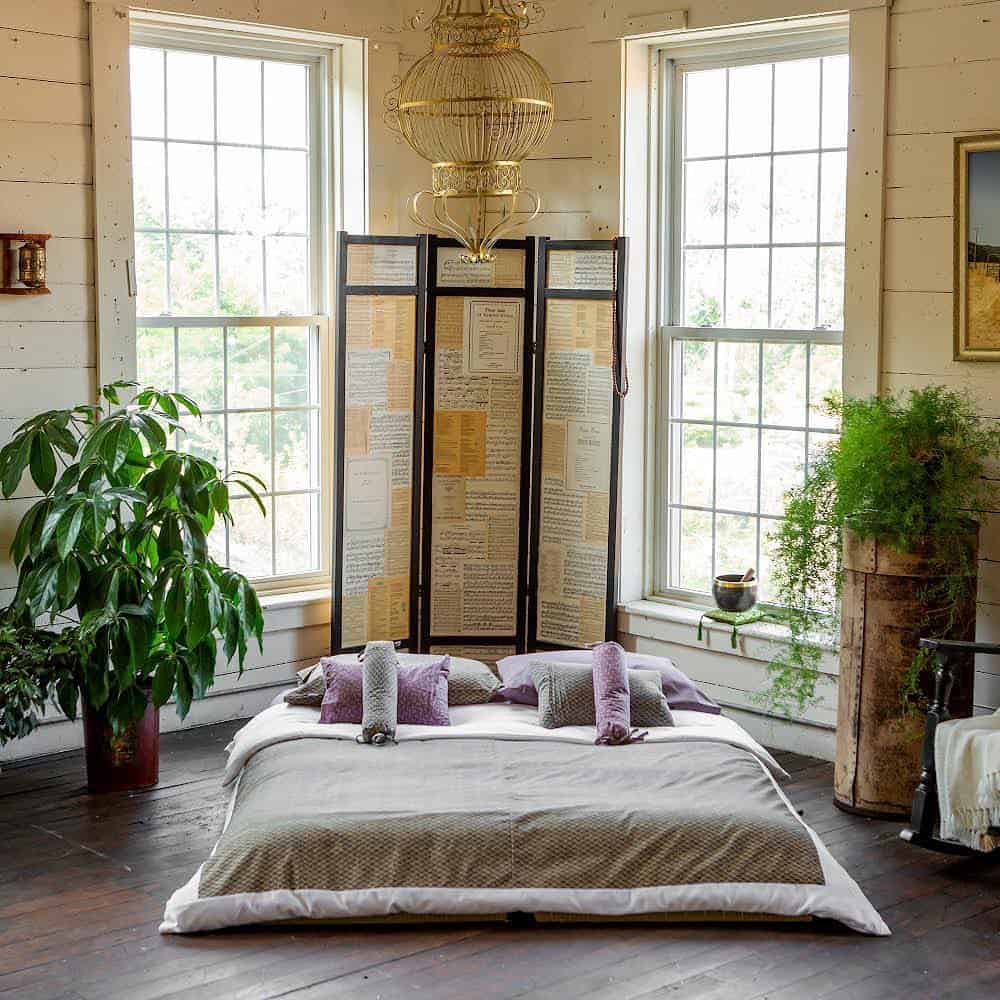 If you have a small room and it is Japanese decor that you aim for it, we think this one is great to stick to.
With low furniture, greenery and natural lighting, half of the criteria are satisfied! The addition of earthy color to the walls and screen makes it more Japanese! But we would recommend that you should cut done on the wall art and the chandelier used. Only one should be used in the entire room if at all needed.
Rest, everything just sticks to the Japanese decor rules and is yet another recommendation.
RECREATE THIS LOOK
Modern Japanese Room
Since this bedroom does not have low furniture and does not completely comply with the rule of the availability of space between everything in the room, this is not a traditional Japanese room but definitely a modern one!
We particularly like the Japanese wall art that's most prominent in this room. Secondly, these hanging paper lanterns remind us of how amazingly old Japanese used to decorate their rooms with these lights before artificial lights had stolen the show!
But what gives this room the Japanese feel it has even though it does not have all things Japanese? It's the screen behind the bed.
Don't forget to add them. They are the real deal!
RECREATE THIS LOOK
All White And Light
Do you know what this room lacks? Natural light, which the Japanese decor primarily focuses on! But, leaving that aside, it is a wonderful modern Japanese room. Not completely Japanese but quite Japanese.
If it is a small room or a corner in your home that you want to turn into the Japanese corner, we don't think anything else can beat this idea in the image! This one is elegant and follows the rule of minimalism which is so important in interior designing these days (except boho design.)
We particularly like the colors used and the soberness the room is decorated with. Its colors make us feel calm and collected the moment we look at them. That's what has stolen our heart in this one. But definitely have a door if you are going for this one! Because this doesn't.
RECREATE THIS LOOK
Neutral-Colored Bedroom
When we look at this image, maybe there is not anything that we could pinpoint as wrong. Because everything here just seems in perfect balance and raw.
The walls are the perfect colors as recommended by the Japanese decor. The bed is a low platform bed and the rest of the furniture is of wood. It even fulfills the criteria of having enough natural light and the paper lantern on the ceiling makes it more Japanese.
But, when we look at it as a whole, something is missing! And we think they are the absence of some color. Everything in this room is so light and simple. Everything is very dull and whitish. We would rather recommend using some color (at least some) to add energy to this room. If they are neutral colors you want to go for, we'd recommend you go for darker shades. But, keep them perfectly balanced. Don't overdo anything.
That, we are sure, will make the room prettier than it is.
RECREATE THIS LOOK
Cozy Room
One of the most perfect rooms we have ever come across is this one!
To be honest, here is everything you might possibly need to have in a Japanese room. Low furniture, earthy colors, high-quality fabrics, good sources of light, Japanese wall art, and above all, minimalism.
We especially like the colors used in the room. The accent wall neither makes this bedroom look boring nor too overly done. It creates the perfect balance and that's what we have immediately fallen for.
Above all, it doesn't look VERY traditional nor VERY modern. Balance is what brings the perfect beauty to this room that it has.
If you have a small room, designing it in this way, we think, would be the smartest choice.
RECREATE THIS LOOK
Grey And Beige Bedroom
Although this room doesn't look very perfect (you definitely might have a different opinion), but definitely very Japanese!
Also, after so many white rooms, this one seems very appealing because of a different color combination. The combination of great and beige is not only soothing but also very welcoming. They are earthen colors and are thus, quite welcome in the Japanese style decor.
Minimalism and natural light are taken good care of in this design plus the single wall art adds to it the modernity that we want.
Overall, a great option for someone who likes simplicity and elegance.
RECREATE THIS LOOK
Traditional Zen Room
Zen Bedrooms are basically Japanese bedrooms only but more of a meditative kind. The peaceful and serene ones.
This bedroom, we are sure, is one such.
If you are not aiming for a bedroom solely but together with it, a meditation space, what on earth can beat this one? With its stark minimalism and raw style, this is Japanese but has a higher level of zen.
If there is incense burning in this room, maybe we'd happily spend our lives in this space. What do you think?
RECREATE THIS LOOK
A Mix Of Western And Japanese
This bedroom definitely has a lot of things that match the Japanese decor. To name some, enough space in the room (that is one of the most crucial parts of designing a Japanese bedroom), earthen colors, a plant in the space, and enough natural light.
Despite all of the perfection that this room has, the hanging clothes and the sandals on the floor (look to the right of the image), are deeply upsetting us! NEVER make the mistake of adding anything unnecessary when designing a Japanese-style room. It completely and literally RUINS the look of the very space.
Overlooking that, going for this design is also a smart choice and a highly recommendable one too for the ones wanting a mix of Japanese and modern decor trends.
RECREATE THIS LOOK
Big Zen Bedrooms
Since you have heard us say so much about the Japanese decor till now that you yourself might have become an expert at it. So, let's just see if this bedroom fulfills all the criteria a Japanese bedroom must fulfill.
First and most important, does it follow the rule of minimalism? Apparently no. There is a vast variety of things used in the room. Necessary and unnecessary. Since this room doesn't fulfill the main criteria, it can't be said to be completely Japanese but it still looks one like it. Why? Because it follows the other rules, like plants, earthen colors, proper lighting, shoji screens, etc. They all add to make it look very calming and zen.
But you know what, in this room, is the most important and without it, it would have been looked as normal as any other bedroom? The fabric used on the bed. YES. This fabric is high quality and its color and design subconsciously make us relate to Japan. See the magic of colors and designs? Don't forget to include them.
RECREATE THIS LOOK
The Perfect Japanese Bedroom
Yes. Perfect. That was the only word that comes close enough to this kind of a bedroom.
The colors used are perfect. The screens used are perfect. The mats used are perfect. The balance between everything is perfect. The plant, the lights, the bedside table, and minimalism, everything is PERFECT. Thus this room is perfect.
If you are designing a room from scratch, we'd highly recommend you go for this one. And thank us later! If not, guilt freely stick with any design you liked. We always emphasize on personal preference of the dweller, above all trends.
RECREATE THIS LOOK
Some Ways That You Can Design Your Own Japanese Bedroom?
Embrace Space
One of the most important elements of Japanese interior decor is the presence of space. If you are aiming for a Japanese bedroom, it is crucial for you to place the furniture widely apart so the space can be clearly seen and felt. For the Japanese, this space creates room for creativity and embraces minimalism. You put into the room only what is most essential and functional and do not fall victim to your desire of stuffing the space available! Clearly, in the Japanese decor, 'less is more.'
Incorporate greenery
Japanese absolutely love greenery! As greenery is being added to almost every kind of design- be it holistic, Scandinavian, or boho, Japanese is no different. Since the Japanese focus on their interiors to be in synchronicity with nature, they emphasize bringing nature into their rooms in addition to painting their rooms in earthy colors. Bonsai plants, in particular, are very own to Japan and go extremely well with the Japanese interior design and thus, should be used with an open heart. 
Let in the sunlight
Since we have already talked about how crucial the element of nature is in Japanese room decor, how can we forget sunlight? You must try to have maximum sunlight in the room, if possible. It creates a sense of peace and beauty, naturally.
If, by some chance, it is not possible to let the sunlight into your room, TRY HAVING ENOUGH LIGHT SOURCES so the room is bright enough (but not gaudy!)
Fall in love with earthen Colors
Japanese decor primarily focuses on getting back in touch with our naturalness. To achieve that, usage of earthy and light colors is the best.
To give your bedroom the perfect Japanese feel, try using white, grey, beige, or shades and tints of those colors. If you like dark colors, we'd rather recommend you use a combination of both light and dark tones. It will promote a sense of balance and would not in any way, shatter your Japanese room dream!
Along with such earthen colors, you might go for some prints on the wall (murals) if you like them. But make sure they don't give a stuffy or gaudy feel to your bedroom. Keep them simple and sweet.
Make it multipurpose
The main aim is to make the bedroom functional but NOT to stuff it up! Now that needs a lot of brainwork. You might want to use Furniture that's multipurpose. For example, a bedside table that's a trunk at the same time! That's all up to your creativity how you do it! But remember, this decor is mostly about the presence of maximum space. So don't break that rule or you'll shatter the essence of it.
Incorporate minimalism
The Japanese embrace minimalism since they believe that it sparks their creative energy. Stick to that. Don't give in to your desire to add more and more to your room. Keep the furniture and decor to the least. Eliminate everything that's not needed or doesn't serve any purpose in the room.
If you follow this, you have nailed half of this theme, already.
Go For Wooden Furniture
Since we have talked so much about making your environment as close as possible to your natural state of being, this point of course is natural too!
Wood creates a very warm and welcoming look, and feel, wherever it is placed. And it is a crucial part of Japanese decor too as it is of most others. Remember to add that to your room to make it look even more Japanese! A good idea is to have your bed in wood, or your nightstand made of wood or bamboo or maybe, even wall shelves or chairs.
Use Low Furniture
The moment you enter into a Japanese room, the first thing you'll notice is the low furniture. The bed and chairs are usually very low. Sometimes (or usually) the chairs do not even have legs. You might also see tatami mats on the floor and the absence of any chair! It is because it is believed that low furniture helps the Japanese stay grounded since it draws them closer to the ground. Because they value their state of naturalness, low furniture is a portal to it!
But in some modern Japanese bedrooms, furniture might not be as low for the sake of modernity. But the overall feel is maintained (like enough space between all that's in the room and the balance between the colors.) So if you want to go for normal-sized furniture but still want to give your room this look, take care of the other elements we have enlisted. Like earthen colors and enough space. Rest, you're good to go!
In case, you are still to buy the furniture for your bedroom, we'd recommend going for low furniture, taking into consideration the theme you are aiming for. So low platform beds, very low tables, and chairs without legs are a great choice!
Why not go with Tatami mats?
Tatami mats are the traditional mats that are used in almost every Japanese household. They are basically made of rice stray but the use of wood chips has become popular these days.
Using these will give your bedroom the traditional look that you might be wanting! These mats are always the aspect ratio of 2:1. That's something special about them. Don't you think?'
But before you decide on buying one for your themed bedroom, let us make this clear the original tatami mats come with a price! They are NOT cheap. Considering the price, you might want to go for the artificial ones if available and if not, the right-sized carpets might be the best compromise. And they won't destroy the look either!
Decorate the room with Japanese paintings
The essence of Japanese design comes with its artwork. You might want to have the wall art of the Japanese dragon, cherry blossoms, or the fishes (they are the crucial part of Japan and its decor) on your walls. They give your room the traditional Japanese look and thus make you nail what you're currently up to.
But, usually, a lot of artwork and decorations are looked down upon as they create clutter in your space. Make sure to use them in balance and to the bare minimum, if possible. Even the paintings that you use must not have a lot on them. It is appreciable if you choose simple ones with not a lot of subjects and objects, painted or depicted.
Usually, large paintings are used above the bed (with or without the frames.) They might depict anything from something popular in Japan to something that is of crucial importance to you! So while choosing a painting or artwork for your bedroom, consider yourself more than anything else. Interesting, right?
Use High-Quality Fabrics
The traditional Japanese fabrics used for bedding are called Kakebuton. Basically, they are minimalist in design and very sober.
But it is not necessary that you use them! You might even want to go for other high-quality fabrics that you like. More than anything else, what matters is your taste. Don't compromise on that. But nor forget that you have a themed room! So you might want to balance that.
Using everything Japanese, we think, isn't too good for your budget. So compromise a bit on some things but not on the overall feel.
Back to the point, try using high-quality fabrics in your room and that's what will nail the entire theme! Some fabrics are not so expensive but look quite Japanese-style and high-quality. Consider, going for them.
That, we assure you, will greatly increase the Japanese feel in your room.
Have It All Perfectly Balanced
Try putting the highest emphasis on tranquility and balance in your room. That's what the most traditional Japanese rooms focus on.
Don't overuse the dark colors or the light ones. Rather, have them in complete balance. Earthy colors get balanced with vibrant greenery in the room. Bonzai plants, remember? Use them or the other plants that you like.
There are various ways through which you can create a sense of balance in your room. Feel free to do your own research. Test what works for you and what doesn't. That's how you will create a bedroom that will cater to all your needs.
Folding Screens
Shoji and byobu screens are usually used in Japanese households to differentiate one area from another. These are basically used there because of the lack of space in Japan. Since many people there have to adjust to sleeping in the same room, they use shoji or byobu screens for the sense of privacy.
You might want to use these screens to distinguish your resting area (bed) and your study space (or home office.) But remember, they are very delicate, Any blow might cause them to damage. So if you have kids in the house, beware!
Use Sliding Doors
Another great idea to increase the Japanese feel of your space is to use sliding doors. They are not common and thus are so interesting.
Even if you are not aiming for a Japanese look for your room, consider using these kinds of doors. They add such playfulness and beauty to the space.
Use Fragrances
Although this is not a very common point we read across the web when reading about Japanese decor, this one is icing on the cake. Honestly.
Having subtle sweet fragrances can definitely have the sense of peace and balance increased in your bedroom That's what you want, right?
Consider using them in balance and you won't regret it.
Frequently Asked Questions (FAQs)
What is Japandi Decor?
Since you know there was a lot of upsurge in Scandinavian decor and Japanese decor, the two of them were combined and named Japandi decor.
This design consists of the elements of both Scandinavian design and Japanese design. Minimalism is common in both the designs and thus is taken good care of even in Japandi design.
If you are confused about which of these designs to go for, we'd rather recommend you go for Japandi. That way, you'll be satisfied you followed both of the trending designs, in balance 😉
What is a Zen Bedroom?
Zen bedroom is basically a more traditional and meditation-oriented Japanese bedroom.
The main focus of it is to offer a meditative environment devoid of noise and clutter. Where Japanese bedrooms are designed as per modern decor norms these days, zen rooms focus primarily on the traditional and raw side of decor. Keeping it raw and natural is what it aims for.
What Is Washitsu?
Washitsu is the term that is used for a Japanese-style room. So you can comfortably replace the term, Japanese room with Washitsu. It's the same.
Is Minimalism Important In A Japanese Bedroom?
Absolutely. That's the heart and soul of it.
If you cannot take care of minimalism in your Japanese-themed room, maybe you've lost half the game.
What Is The Difference Between Traditional And Modern Japanese Bedrooms?
Traditional Japanese rooms basically use all the elements that have been in use from the very beginning when Japanese decor originated. Some of the elements are namely, low furniture or no furniture, maximum natural light, and earthen colors.
Whereas, modern Japanese rooms are a combination of both Western and traditional decor trends. It can be very well said that modern Japanese bedrooms do not completely let go of their traditional nature but do not even completely hold on to them. Normal-sized furniture is used, and a lot of artificial lights are used in addition to some colors as well (that are not earthen.) But at the same time, Japanese art is used, minimalism is followed plus shoji screens and sliding doors.