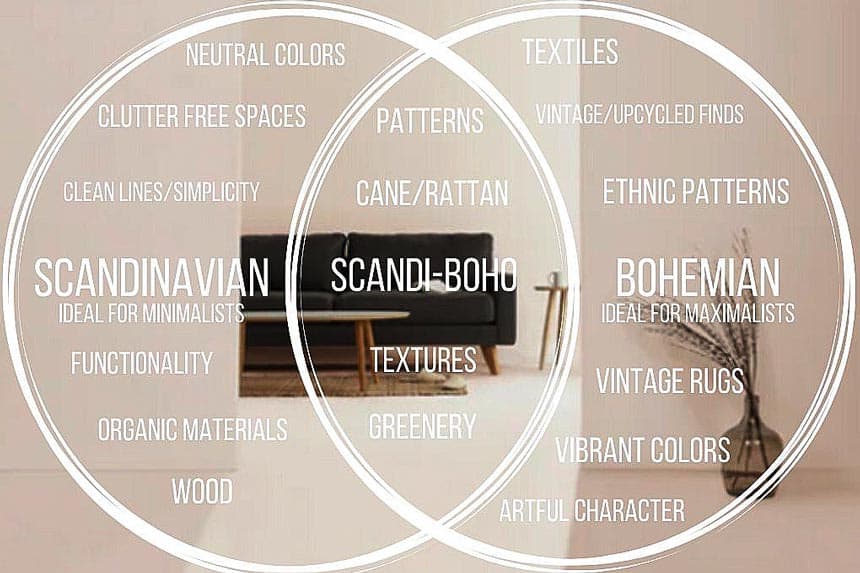 For those of us who love the Boho theme as well as the Scandinavian theme, it is tough to choose which one to go for. But luckily, here we can help you with incorporating both the themes in the same bedroom! It's the boho Scandinavian bedroom.
We know, boho is all about maximalism and Scandinavian is all about minimalism, but true creativity shines through when we can use both of these opposite designs in the same room and neither of them, loses its charm!
These boho Scandinavian bedroom ideas will help you do just that! On we go!
But First,
What Exactly Is A Boho Scandinavian Bedroom?
These bedrooms are basically the mashup of Scandinavian and boho designs.
Basically, they have a mixed vibe of Scandinavian style as well as boho style. Usually, they are white in color with mixed kinds of furniture as well as fabrics.
Above all, they usually give a very balanced and relaxing vibe.
Boho Scandinavian Bedroom Design Ideas
Lagom Is The Word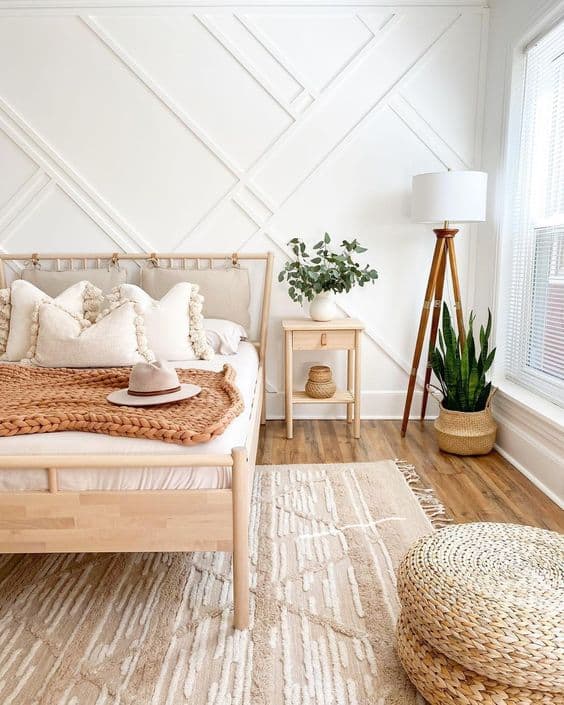 One of the most important things to follow in the boho-scandi design is the 'Lagom principle' which essentially means, being mindful of what we bring into our interior- bedroom in our case. That is to say, be choosy in your decor. Consider, less is more.
We need to balance the bohemian and Scandinavian styles out, thus neither falling for minimalism nor maximalism. It's somewhere in between, that your decor needs to rest. Lagom is the key.
Play A Contrast Between The Walls And Furniture!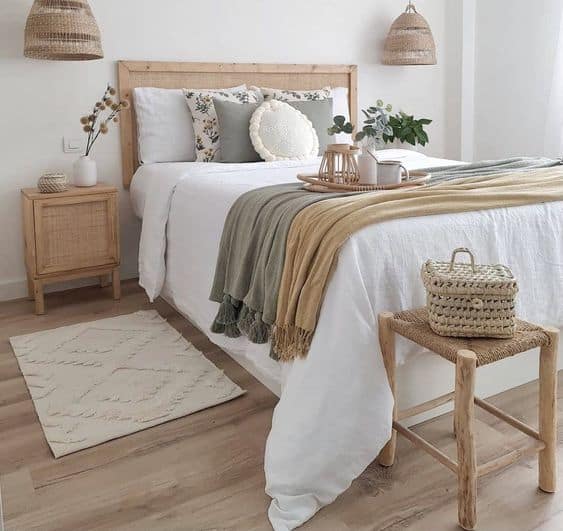 Since all we are focusing on, is incorporating both the Scandinavian and the boho decor into one bedroom, it is important that we balance their colors.
To do that best, use white walls as used in Scandinavian decor and some dark furniture as used in boho designs. That way, you have cleared the first step in incorporating the elements of both of these designs.
But if in case, due to some reason your walls are not white or light-colored and you are unable to get them painted at this while, try using white furniture to contrast them.
Normally, to give the boho look to the furniture, white chalk paint would do the magic and will stand in good contrast against your dark walls.
Let Comfort Be The Focal Point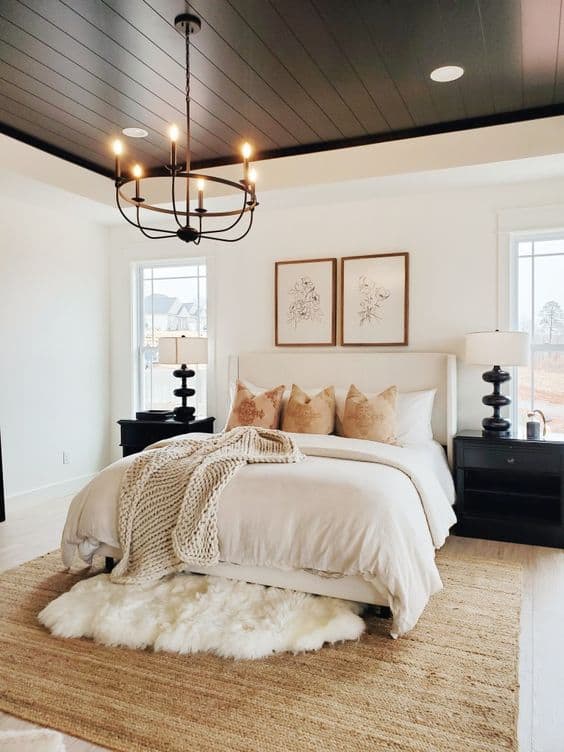 In both the Scandinavian and the bohemian decor, the focus in the interiors is the comfort that they provide, more than their aesthetic beauty.
So, no matter what boho Scandinavian bedding you choose, make sure it is comfortable. After all, at the end of the day, all you care about in a bedroom is how much comfort it provides you with and how well you can sleep, right?
Vary The Textures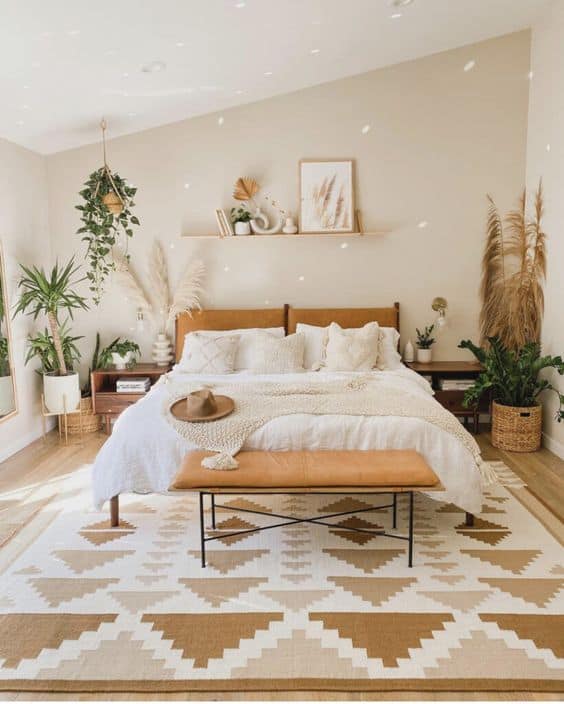 The more you vary textures and materials throughout the space, the deeper and more welcoming it becomes.

My Domaine
It is important to add simple textures as well as boho-vibe textures to your space to give a feel of a space that's impregnated with a mixture of both of these design trends.
To vary the textures, you can use a boho rug, some sheer curtains, macrame wall hangings, chenille throw blankets, and some other stuff too. It's all up to your tastes.
Forget Not The Fireplace And The Fire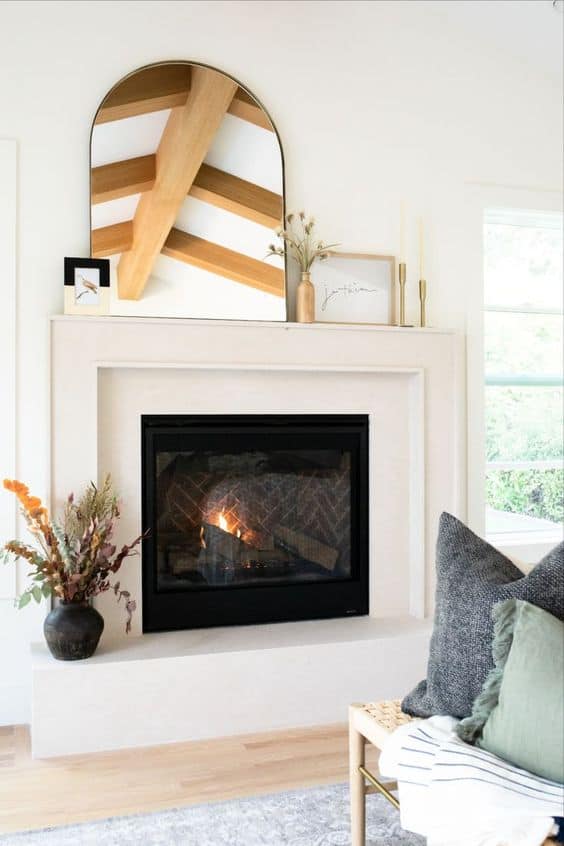 The fireplace is such an important place in Scandinavian homes that if you can manage to have one in your bedroom, nothing can match that.
But if in case, due to some reason you cannot manage to establish a hearth in your bedroom, you can use other sources of warmth like candles. If you happen to use some scented candles, maybe you would want to send us a thank-you-note, later!
Display The Mixture Of Modern Day And Vintage Decor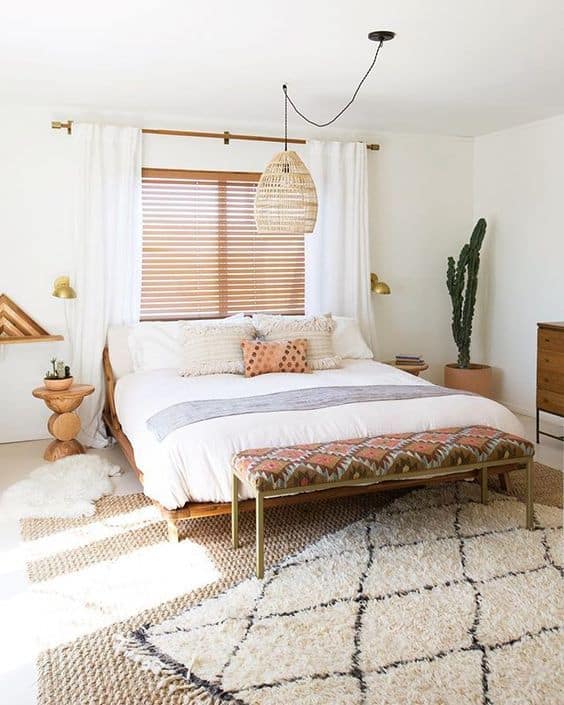 It is nowhere written that you must only use vintage furniture or modern furniture. When you can combine two decor styles, why not two kinds of furniture?
When you use the vintage furniture, it will give the required bohemian vibe to your space and the modern furniture would give somewhat a Scandinavian one. Apparently, your purpose will very well be solved and you would very well be using scandi boho furniture.
The Make-Your-Bed Days Are Gone!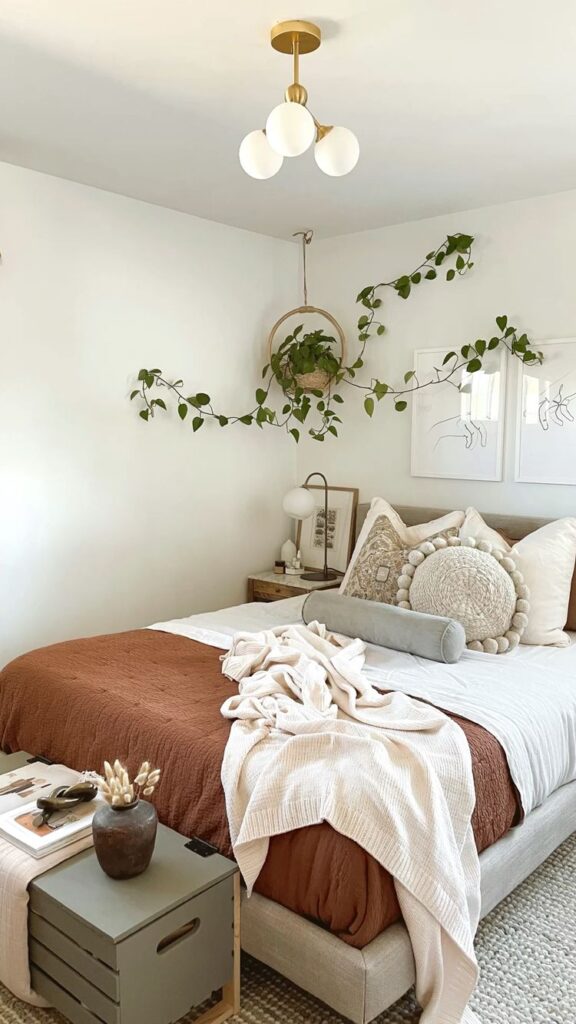 As the boho bedroom trend is rising, we are seeing how trendy it has become to, 'not make your bed.'
Why not use this to your advantage in this boho Scandinavian bedroom design?
It is not at all important that you make your bed or your room completely messy and clumsy, just throwing a throw blanket or giving it a subtle messy look (as in the image) is enough!
Use Earthy Colors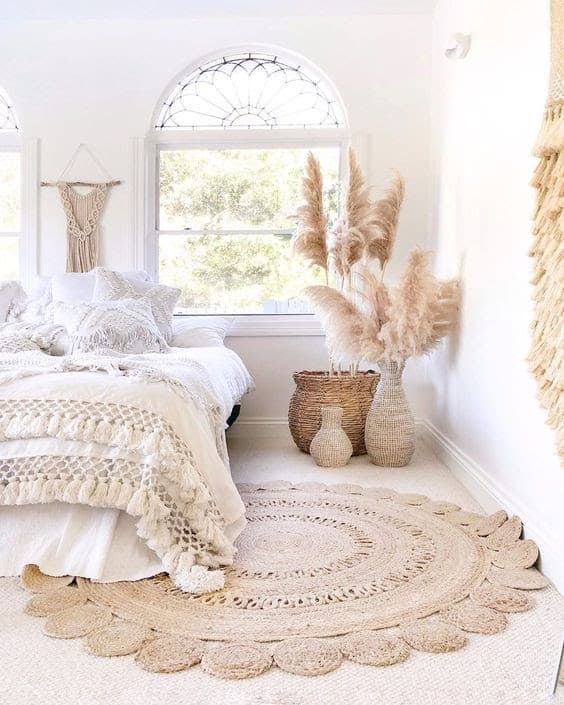 Earthy colors are a vital part of the Scandinavian and bohemian decor. Even though, the bohemian decor doesn't even speak anything against the use of some bright colors.
But, to achieve a boho Scandinavian bedroom look, using some earthy colors is a must. To couple that with white color is a cherry on the top.
The white color would give the Scandinavian feel and the earthy colored fabrics (or the pampas grass in the image) would give the perfect boho vibe!
It's ALL ABOUT BALANCE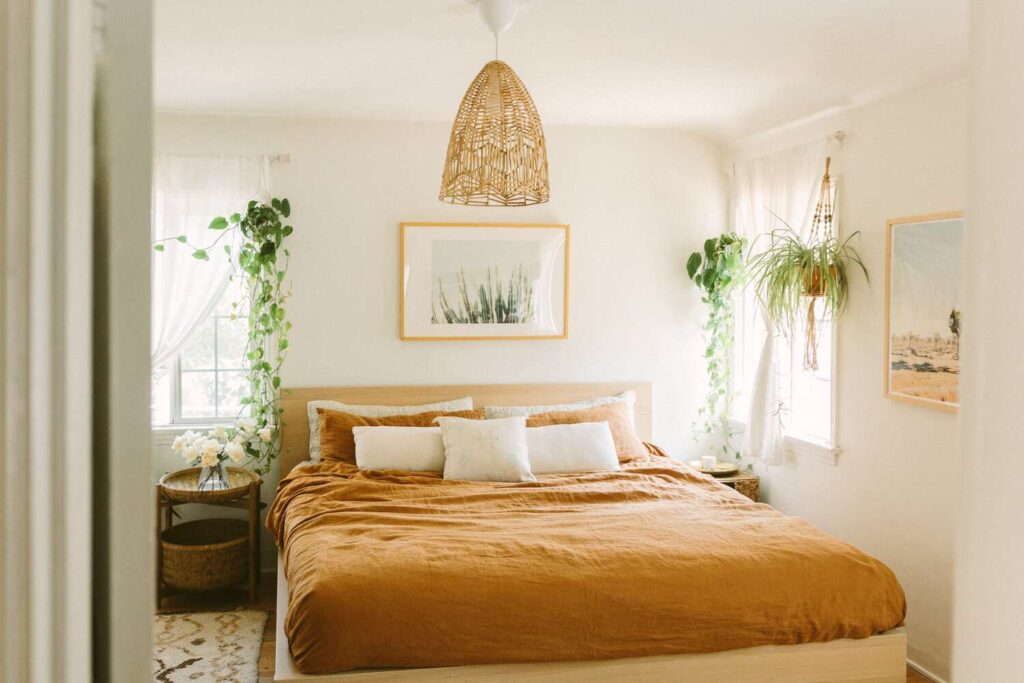 Since we are aiming to implement two extremely opposite designs into one, it is important that we maintain a balance between the two.
In easier language, when using light or earthy colors to give the Scandinavian touch, not overdo them. Use some bright colors as well for the boho vibe to reveal itself.
Then, do not use all boho fabrics. Keep them in moderation and balance them out with simple fabrics as well.
Most important is the space. Minimalism and maximalism, basically. Not to make it completely maximalist or completely minimalist. It's somewhere in the middle, you want to keep it. Or if you ate aiming at a Scandinavian boho minimalist style, then you would want to go for everything minimalistic.
Keep It Natural!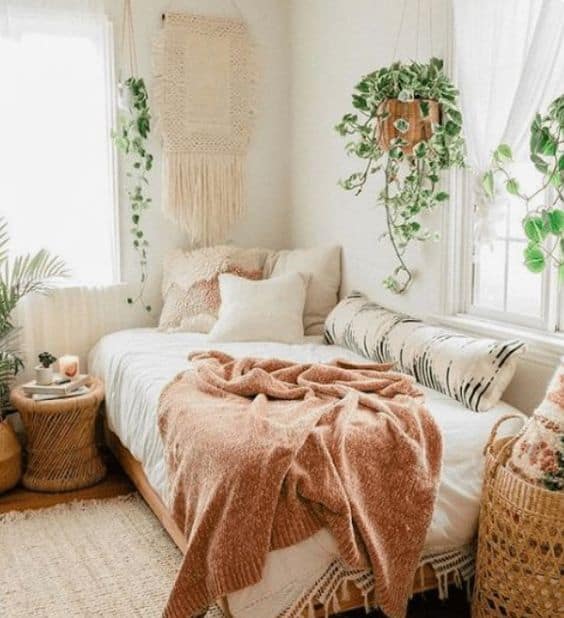 The best thing about these decor styles is, they both use greenery. Especially Scandinavian.
So, use greenery- indoor plants- to your advantage. Having them in the room will give it positive vibrations and increase its overall beauty.
There are various ways you can use greenery in. Try hanging them from planters, use air plant holders, or have some good pots around the room. There are a number of possibilities. Use them to the best of your advantage.
It's Incomplete Without The Wall Decor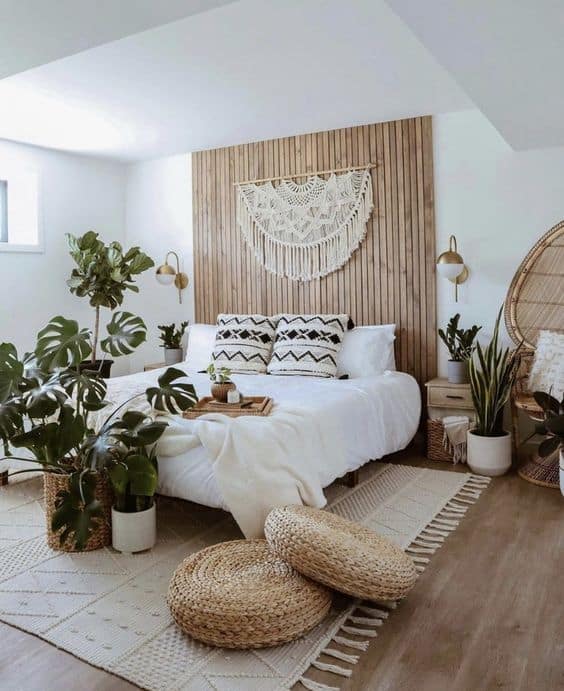 No decor is complete without the wall decor. And the boho Scandinavian bedroom? Not at all!
For the right kind of wall decor, that goes well with the theme, you can use a macrame wall decor. That is related to boho.
If you are using printable wall art or framed art, try to use minimalist ones. They have the Scandinavian vibe.
Natural Light Is The Life Of This Decor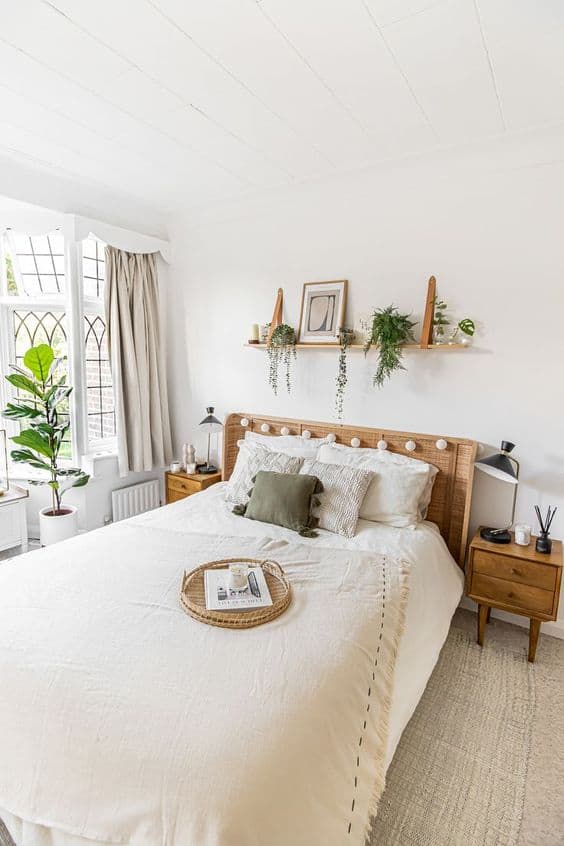 Like the Japanese theme, both of these themes focus on the natural light. It gives these styles their vibe and feel.
Using this common point i.e, the natural light, will not only make your room feel spacious and lively but also, will make it feel natural.
Natural light, more than artificial lights, brightens up the room and increases the beauty of the decor. So, if you can manage to get the lights in, ensure that you do it.
And What About The Artificial Lights?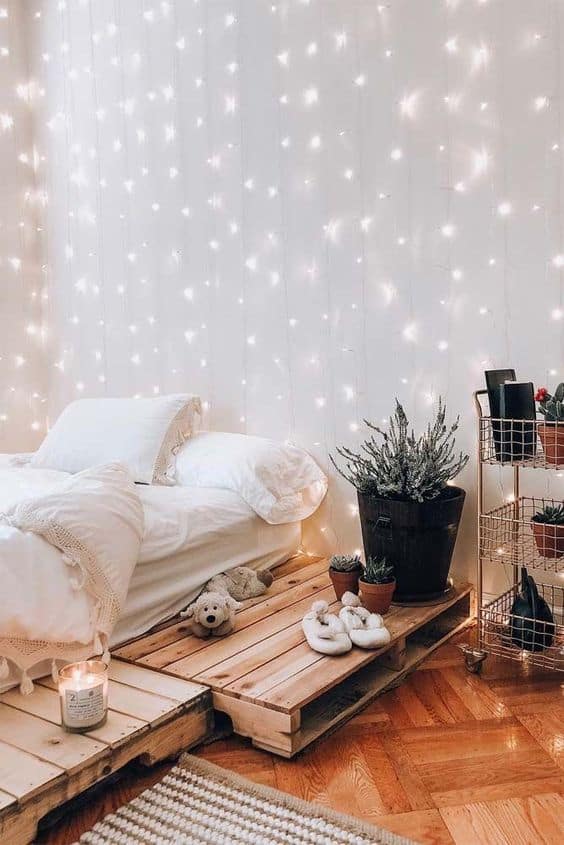 If it is a scandi boho bedroom for a girl, then it better is, to use some pretty lights around the room. That'll be magic!
In any other case as well, you ought to use some artificial lights so that your room looks pretty even when there is no sunlight.
The best is to use some yellowish lamp lights. They make a room look royal, cozy, and relaxing. But then, the kind of lights you go for completely depends upon your personal preferences!
Some Blue Touch Is A Must!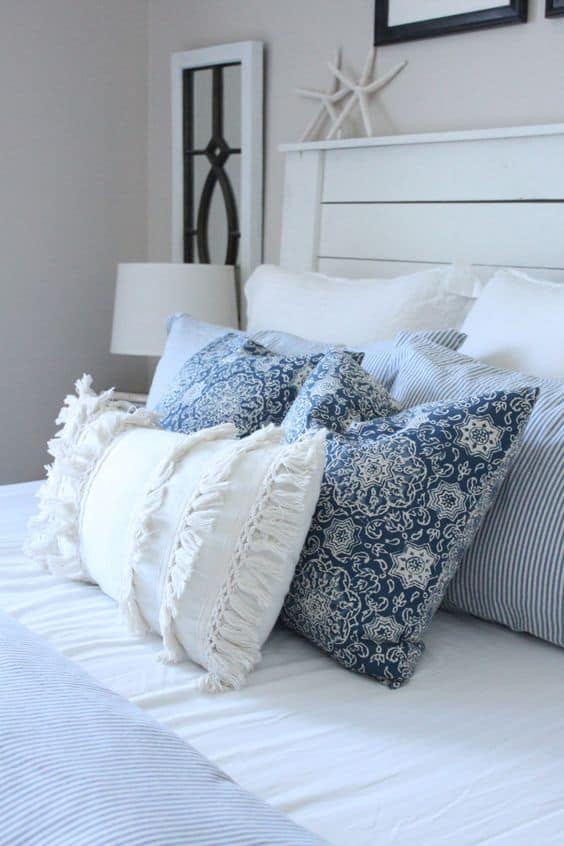 Just like in coastal bedrooms, in Scandinavian homes too, the blue color is often used. That is why you cannot go wrong if you use some blue in your boho Scandinavian bedroom design.
But keep in mind that you don't overdo it else it'll become more Scandinavian and less boho. You want to balance both of them, right?
Scandi Boho Decor To Try Your Hands On!
Boho Scandinavian Rattan Wall Decor
Since we've already said that wall decor is the life of a room, why not have them up there?
Acrylic Wall Decorative Mirror
Mirrors can make that Scandinavian touch more enhanced and elaborated. So it's prudent to use some, as pretty as these.
Air Plants Holders
Plants enhance the beauty of the room, certainly. But when they hang in the air, nothing can match their beauty!
Bohemian Pampas Grass
What can say BOHO more than the pampas grass?
Farmhouse White Wood Beaded Chandelier
Not just the floor, but beautify the ceiling as well with this beaded chandelier!
Framed Canvas Print Wall Art
Now that you are going for a boho Scandinavian bedroom design, throw some colors with this pretty wall art!
Frontsea Rattan Pendant Lighting
This one is the most common pendant lighting but the prettiest one to use, isn't it?
Conclusion
To conclude, there are a lot of ways you can make your bedroom into a boho Scandinavian bedroom. It may be by using white color on the walls, using scandi-boho furniture or decor. But eventually, it depends upon how YOU want to feel the moment you enter the bedroom.
Once you are clear about that, it becomes pretty easy to choose your decor and create the bedroom of your dreams!
Frequently Asked Questions (FAQs)
Are Scandinavian And Boho The Same?
No. In fact, Scandinavian design and boho design are quite opposite.
The Scandinavian design suggests minimalism, open spaces, and neutral colors. Whereas boho is more inclined towards maximalism, stuffed spaces, and bright colors. They don't resemble, at all!
What Is Minimalist Boho?
Going for the boho style but still preserving the minimalist vibe and not over-stuffing the room, is simply minimalist boho! Boho-Scandinavian design is the perfect example of that.