We all LOVE to stay in natural spaces, but sadly our hi-tech lives don't permit us to! But no problem. If you can't go out, bring nature in!
How? Well, below we have some serene and surreal forest-themed bedroom ideas that'll tell you how you can do just that!
Plus, as a bonus, we also have a short guide in the next section of this post that'll guide you on how you can make a forest-themed bedroom for yourself, yourself!
The treat doesn't end here. At the end of this post., we have a collection of some awesome forest bedroom accessories that'll make your heart pump harder, your breath faster just to make you impatient, and run to create a forest-themed bedroom for yourself, immediately!
So, go ahead, dude! There's a lot that awaits you…
11+ Enchanted Forest Themed Bedroom Ideas To Steal!
A Canopy Bed Can Seal The Look!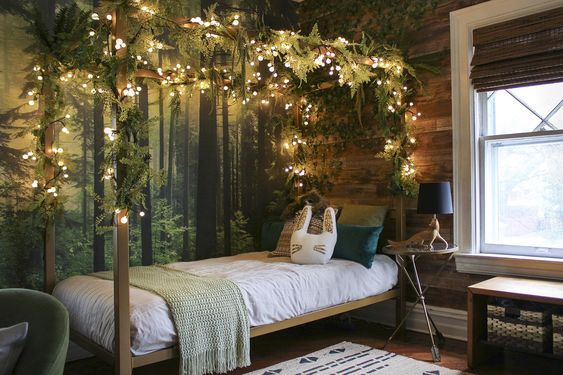 No problem if you have a simple bedroom and want to convert it to a space that feels like a woodland fairy bedroom! All you need is a canopy bed and some pretty faux vines with some fairy lights to wrap around it!
Seems like a good idea? Well, that's the beauty of enchanted forest bedrooms, they are enchanted but not heavy on the pocket!
Recreate The Look
A Forest Themed Wallpaper Can Do The Magic For You!
If you don't want to take the pain of picking and choosing every single thing to fit in your woodland bedroom, there is another way that would be way easier! A forest wallpaper.
It is particularly impressive to have forest wallpaper on the wall where the bed is. Now, the interesting part is not only that there is a variety of forest sceneries that you can choose from but also that if you like a particular forest, you can click it and get it made into wallpaper. Thus, as much freedom in decor as you could ever need!
Recreate This Look
How About Getting The Walls Printed?
Don't want to have wallpaper and don't like plain walls either? Well, here's the trick. If you are getting your room freshly painted, you'd love to have some leafy patterns on the wall, in bright green if possible.
That would make the room get a cozy look like the one above. And also, it'll be fun and different to spend time in such a space, isn't it?
Recreate This Look
A Lot Of Plants= Forest!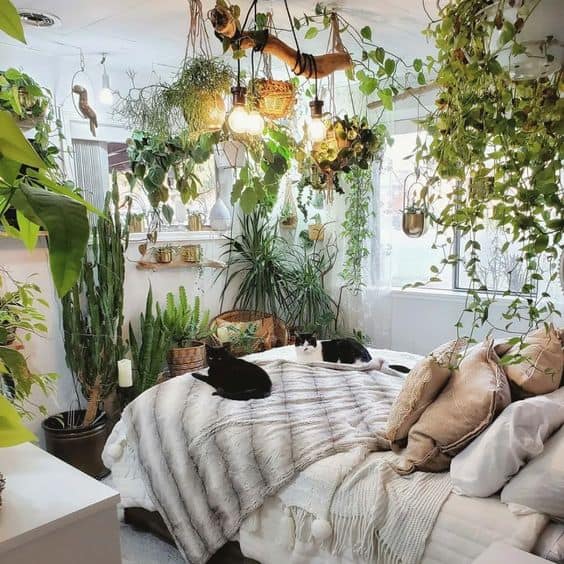 Well, in modern decor, there are no real boundaries. You can achieve a look in pretty much anyway!
This way too is one of a kind!
It doesn't matter if you have a simple middle-class bedroom. The only thing you need to convert it into a green forest bedroom is the addition of plants, here and there and everywhere! It is a biophilic bedroom, which is a forest bedroom of course!
Once you do that, welcome to the jungle!
Recreate This Look
Forest-Themed Master Bedroom
If you are one of those lucky ones who have a large bedroom or are designing your master bedroom in the forest theme, here's your treat.
A big bedroom can accommodate a lot of enchanted elements of the forest! As in the image, that could be a canopy bed, a bridge, and a faux well!
If you have the budget and the taste, it's a great idea to accommodate such elements into your space and make it as real and enjoyable as a forest.
Recreate This Look
Even Wall Decals Would Do!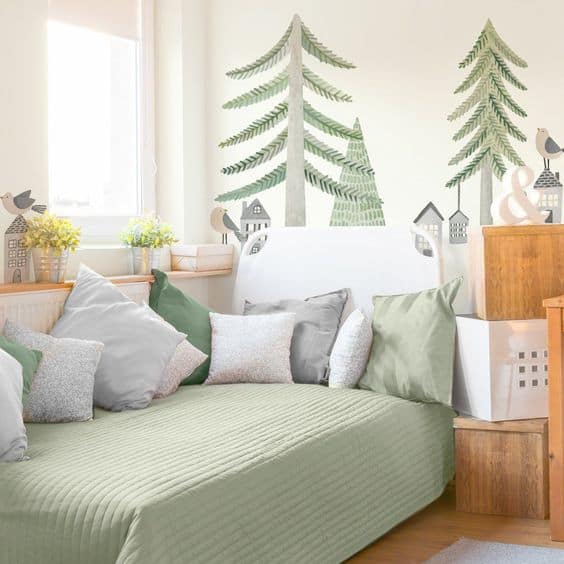 If you are designing a forest-themed children's bedroom, this is an ideal one you want to go for, since you never know when your kid needs a LEGO room and no longer a woodland bedroom! (It could be today evening that he makes the announcement!)
For this one in the image, all you need is a simple green bedsheet and some tree wall decals. That's it.
The bedroom is so simple and appealing that it doesn't only get the kids wanting it but also the adults! Let this create a charm in your space too!
Recreate This Bedroom
Let The Bedding Say, 'Forest'
After having everything set in the forest theme, if the bedding doesn't resonate with it, you ruin the look! Don't let yourself do that.
Ideally, get the bedding that either has some forest-related prints or has the jungle colors like green, brown, or something of that sort! You get the point, right?
Recreate This Look
Half Forest And Half Modern!
Usually, when two people stay in a bedroom, their choices for the design are bound to clash!
In that case, what can be a better idea than that in the image? You can have a simple bedroom, and have a raised platform where you place the bed and a forest wallpaper behind it. Additional accessories can be placed as well!
That way, the bedroom doesn't look too forest-like or too modern, it's hanging somewhere in between. And that's amazing!
Recreate This Look
That Village Look Is Achievable As Well!
Sometimes, that village plus forest look is all we need. And surprisingly, that's quite easy to achieve!
See, for example, the above image. All you need is a door that looks somewhat rustic, a dusty-colored wall, and some vines hanging from it. The old bedding is manageable, right?
Once these three things are set, the look, too, is.
Not Always Do You Need To Get The Forest In!
Like we don't get the beach in a beach-themed bedroom, we don't need to get the forest in a forest-themed bedroom! All we are aiming for is its serenity, right?
So, the colors can also do the magic! Like they do in the bedroom above!
All you need are pretty green walls and to balance the colors out, some white bedding. The accessories would definitely add to the beauty. That said, everything's set!
Recreate This Look
The Lights Are A Must!
If you are designing a forest-themed bedroom for girls, the lights are a must to add since they create a fairy bedroom feel plus, some enchantment as well!
Add to that, simplicity in the decor must never be underrated like in the image above. Thre are the least variety of things added but they create the biggest impact, agree?
A Touch Of Everything!
When you add everything, namely wallpaper, some plants, a rustic vibe, good bedding, that makes a perfect forest bedroom like the one above.
So resist not the decor, that is eventually going to make your bedroom feel like a jungle 😉
Recreate This Look
How To Make A Forest Themed Bedroom?
With everything said and the ideas shown, let's jump into some guidelines that could help you in making a perfect forest bedroom for yourself.
Straight in, we go!
First, Fix The Walls
While decorating a forest-themed bedroom, the first and the most important thing that you would want to consider, are the walls. They make the maximum surface area of the room and thus need special attention. There are various aspects of it that you must consider, some of them are listed below, specifically, in order to avoid confusion. Here we go:
The Color Of The Walls
The biggest impact that creates on the room, is its color. Especially when you are going for a themed bedroom, you must think highly of colors.
Considering the forest bedrooms, the only colors that come to our mind are green and brown. Well, that's an awesome color combination and you can freely go for it in the forest theme. But consider going for different tints and shades of these colors in the same room.
It's not always that the forest bedroom must look green, you might as well like an autumn forest or a dark or enchanted forest. In such cases, your color choices are bound to be different.
For an autumn forest bedroom, orange, red, gold, yellow, brown, and similar colors must be in your consideration. For an enchanted or dark forest or rainforest bedroom, dark colors like grey, dark green, brown, etc would be the top choices.
You could even add some blue for the sky in the bedroom if you wish to!
Also, it's not necessary that you have all four walls painted in the same colors. You can also prefer using color combinations or creating accent walls.
So understandably, before you choose a color for your forest-themed bedroom, ask yourself which of its type are you aiming to bring into your space? Now, Base your choices on that!
Wall Textures
Although changing the texture of your walls is not a compulsion, you could still consider it if you are getting your walls newly painted.
Ideally, for a forest theme, you could go for a rough wall texture to give it that raw and natural feel. It could be popcorn texture, orange peel, leaf prints, or even glazed for that matter. There are a variety of options available so you could choose one of them!
But again, it is not at all compulsory to have these. Don't break the bank to achieve a forest theme, please!
Wallpapers Or Wall Decals
Don't ever underestimate the kind of difference wallpapers can create in a themed bedroom! They can actually make you feel that you've entered a real forest as you enter your forest bedroom. Plus, there is so much variety available in wallpapers that you'll definitely find one that your heart rests on!
Add to that, if you have forest wallpaper in the room, there is little effort required on your part to make them look more magical because it already is!
If in case you don't want to make an investment in wallpaper, consider using wall decals. They are as pretty and great and can help you achieve the look to a great extent.
The Floor Of Your Forest Bedroom
Considering the floor, it is always best to go for a wooden floor in a forest-themed room.
But no problem if you don't have one! You could also play around with some textures on the floor, like grass mats, shag rugs, etc. They create an effect as magical as a wooden floor would.
Time For The Windows
Now, the general treatment of the windows is the curtains. If you are going for them, then it is recommended that you buy those that connect to your theme, through color, or through prints.
But ideally, you would want to go for wooden blinds or chics. They will give a more modern and pretty look to your forest-themed bedroom and the wood will certainly add to the theme!
Now, The Lighting
Now that everything is set, it's time for the lighting to show its charm.
In a forest, you'd never see very bright lights. It would be different in every place, filtered through the leaves of the trees above. That's what we want to do, for our bedroom as well.
What to do about that? Use recessed lighting with dimmer switches. That will enable you to control the amount of light you want in varied areas of your bedroom. Plus, you could also add accent lights at some places. That would be aesthetic!
Add Some Accessories For The Final Touch
Now that everything in your forest bedroom is set, it's time to pay attention to the details.
For detailing, you could add some bird or animal figurines to your bedroom. They could be faux vines, some real indoor plants, some stickers or frames of forests/ trees, or even some earthy fragrances and soft music of birds chirping that you would want to add!
Once all of the details are in place, you're all set to live a junglie life now! 😉
By the way, in order to make your life a little easier, below are some really good fantasy forest bedroom accessories, that you must consider having! Have a look!
Forest-Themed Bedroom Accessories To Make It Look So REAL!
Forest Canvas Wall Art
Forest Shadow Lamp
Forest Wall Tapestry
Forest Bedroom Curtains
Bear Pedestal Table
The Endnote
It's time that we go back to our naturality and experience life at its prettiest with these forest bedroom ideas!
Hope you liked the post.
If there's anything that you'd want us to update in the post, feel free to comment below.
Until next time, happy decorating!
Like Themed Bedrooms? Well, Check These Out…