Shiplap bedroom walls can make that big difference when your plain walls create no texture and give no mood to your intimate space.
Famous within the farmhouse aesthetic and the rustic interiors, elegance, and beauty are shiplap design's pet names!
Shiplap when used vertically takes your eyes from bottom to top, giving an illusion of height. It is thus best for spaces with slanted walls and low heights. When horizontal shiplap design is used, it gives the illusion of space and width. Ideal for small spaces.
So, no matter if you are looking to add some texture, height, width, or airiness to your bedroom or a touch of the farmhouse aesthetic, you'd want to stalk and thank me when you check out these aesthetic shiplap bedroom wall ideas that'll solve all your bedroom design woes, all at once!
So, before you start crying tears of joy, take a look at these!
Paint The Wooden Planks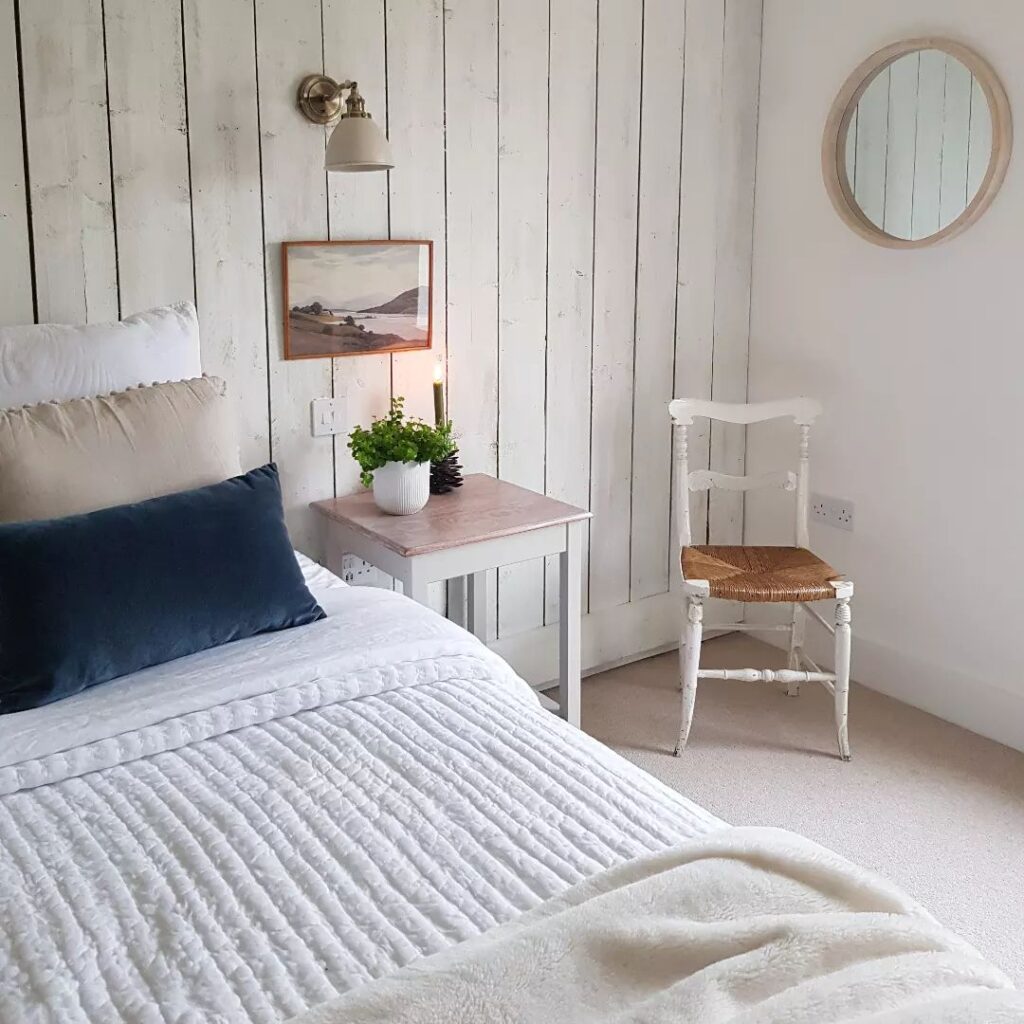 In the age of those sleek shiplap wall panels, real painted wooden planks stuck to the wall with their surfaces painted white can create a 'no-pretense' rustic farmhouse look, that no artificial material ever will.
Keep your interiors minimal so that the wooden planks you (or your carpenter!) have put a lot of time into DIY-ing don't lose their charm.
Wide Is Wow!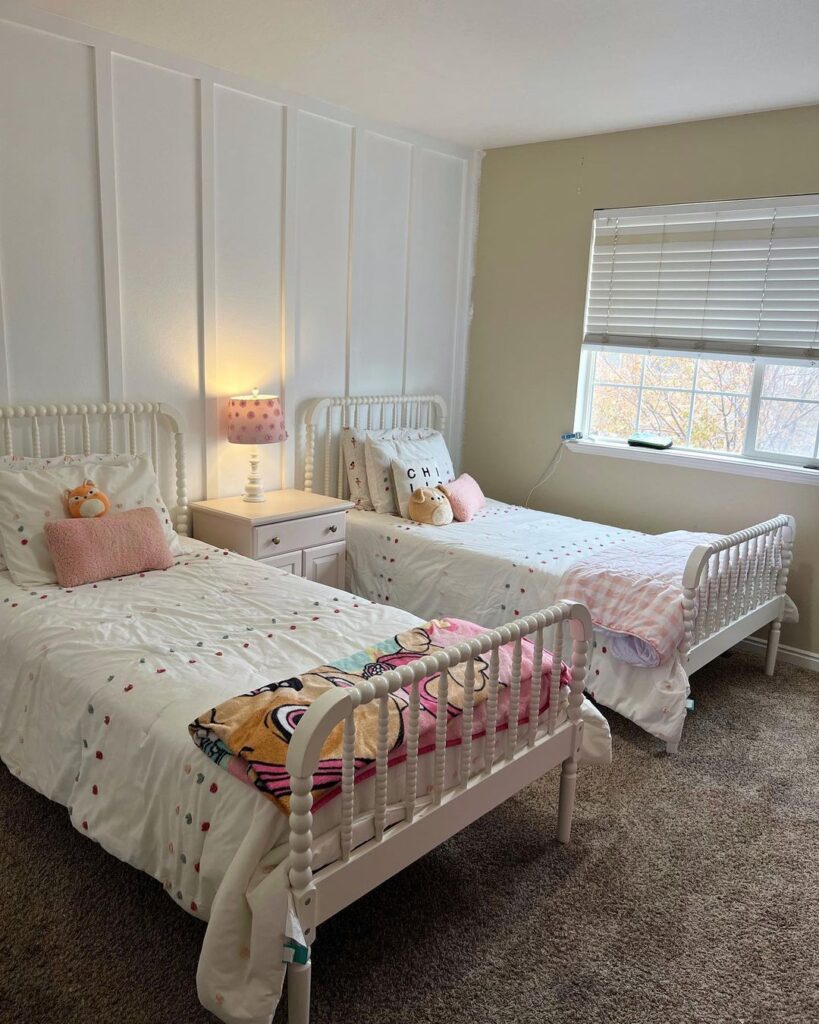 In an already textured room, a traditional shiplap wall can create an 'extra' texture. That might sometimes take the minimalism of the room away. That doesn't mean your love for shiplap needs to wither.
Rather, go creative with the width you choose for your shiplap design like this pink bedroom that every girl dreams of! It won't over-texture the room and keep it simple, minimal, and sophisticated.
Create The Typical Farmhouse Space!
Shiplap design is the most related to the sober and sophisticated farmhouse interiors. They are light, easy-going, airy, and bright.
Like this farmhouse bedroom, retain the traditional look by going for a brilliant white shiplap bedroom wall and pairing it with light beige and neutral accents. Keep minimalism in place and you won't go wrong!
RELATED: 21 Beige Bedroom Ideas To Bring In The Warmth And Coziness!
Make It Aesthetic
If simplicity and all whites and neutrals are not your things, then maybe this aesthetic shiplap bedroom idea is tailored for you!
As much simplicity as shiplap can create, it creates equal beauty, texture, and visual appeal when colored the right color and wedded with the right decor. Add some fairy lights, decorate with flowers, add some texture, hang some vines and throw in some colors, come on!
RELATED: 19 Artsy Vintage Aesthetic Bedroom Ideas That You Can't Resist Falling For!
Rustic-Cum-Farmhouse
Merging two interior design styles with a hint of a third is challenging but equally rewarding! Just like this farmhouse-cum-rustic bedroom with a hint of industrial style, add some interest to your space with rustic shiplap, farmhouse color scheme, and industrial furnishings.
You are up for something truly creative, now!
Vertical Shiplap
Most interiors across the web feature the traditional horizontal shiplap wall, but that's not where it's supposed to end.
Exactly like this airy and spacious shiplap wall bedroom, experiment with going for vertical shiplap. They make your room gain height, look handsome and be a strong boy!
Stained Shiplap Is All The Hype!
Stained shiplap gives the walls a feel as if they are designed from real ship planks that have been stained and seasoned. And at least, some rustic flair to your space.
Like this subtle and cozy shiplap bedroom, consider a stained shiplap wall that adds some extra texture and some extra 'originality vibes' that makes your space looks truly coastal.
RELATED: 13+ Gorgeous Beach-Themed Bedroom Ideas That Are Hands Down Awe-Inspiring!
Why Limit Shiplap To The Walls?
Punctuating the shiplap vertical lines across the entire bedroom can make everything look quite related and planned.
Like this green forest bedroom idea, be creative and add shiplap vertical lines to your pillows, headboards, and wall of course! Your love for shiplap reflects in every corner of your room now!
Add The Cozy Lighting
The perfect lighting adds mood and elegance to a bedroom- and some extra interest in a shiplap-inspired space.
Just like this cute and sophisticated shiplap kids' bedroom, add lamps as wall fixtures so that your shiplap bedroom wall is aglow when they are lit! Don't forget to add some wooden wall furnishings besides the neutral color palette so your space becomes a perfect beach-room inspo!
Why Just White?
You can often find shiplap in neutrals- the typical browns and whites. But there's no point. Make your shiplap bedroom wall colorful by choosing the shiplap panels in colors that you love.
Just like this perfect preppy bedroom, add some more pops of colors like blue and red across the room, so you don't want to rush back out the moment you enter in!
RELATED: 19+ Preppy Room Ideas That Are Calm & Classy!
Now Try Diagonal!
When all is said and done about the horizontal and vertical shiplap designs, the diagonal shiplap wall just jumps in to break all the design myths and ends up stealing the spotlight!
So, just like this elegant one, if you are looking to create a focal point in your bedroom with your shiplap wall, then choose a diagonal one! Add some more textures against the wall on your headboards, nightstands, and cushions, and bam! A magazine-worthy room is ready.
Why Limit It To One Wall?
Shiplap creates the perfect airy and calm vibe in your bedroom and there is no reason to limit it to a shiplap accent wall in your bedroom.
Go for a full shiplap room makeover and use it left, right, front, and center, exactly like this slanted wall bedroom. Design it with some night-neutral colors, so the lights reflect just perfectly in your space, making it lights, bright and enviable!
RELATED: 17 Stunning Ideas On How To Decorate A Bedroom With Slanted Walls?
Your Perfect Cabin Room!
Shiplap, when used in dark, earthy colors, can create the coziest cabin room you know!
Use wooden shiplap, or faux wood shiplap wall panels all around your cabin space, throw in a couple of plants and let a lot of natural lighting into your cozy bedroom. And exactly like this pretty room, add some rustic furniture so your bedroom looks as if it's built in the middle of the forest!
RELATED: 21 Cozy Cabin Bedrooms That Are Peaceful And Grounded!
Aesthetic And Artsy!
A shiplap bedroom doesn't need to be simple and sophisticated all the time. Sometimes, make it aesthetic and artsy and it'll turn out much better than a simple farmhouse bedroom would!
Add some aesthetic LED lights to your bedroom, throw some vibrant colors, display stuff you like and love and never make your space look boring.
RELATED: 23 Insanely Aesthetic Rooms With LED Lights You'll Love!
Elegance OP!
And then when the whites and grays were tired playing, black entered the space.
Make your bedroom cozy and sophisticated by adding a black accent wall. Use brilliant white accents against it, furnish with beige furnishings and add a lot of cozy stuff. You won't want to leave your space anymore.
RELATED: 15+ Ideas To Add A Black Accent Wall In The Bedroom!
Color-Block
If it's hard for you to let go of your plain walls and commit to shiplap, then maybe colorblocking a wall with shiplap is one of the most creative ways to reatin the feel of both the designs.
Use colored shiplap on half or one-third of your bedroom wall, you get the sophisticated look without letting go the plain one!
Always color-block one-third of your wall, leaving one part at the top. It is called the rule of three and makes your room look more visually appealing and least kiddish.
Why Leave The Kids' Room?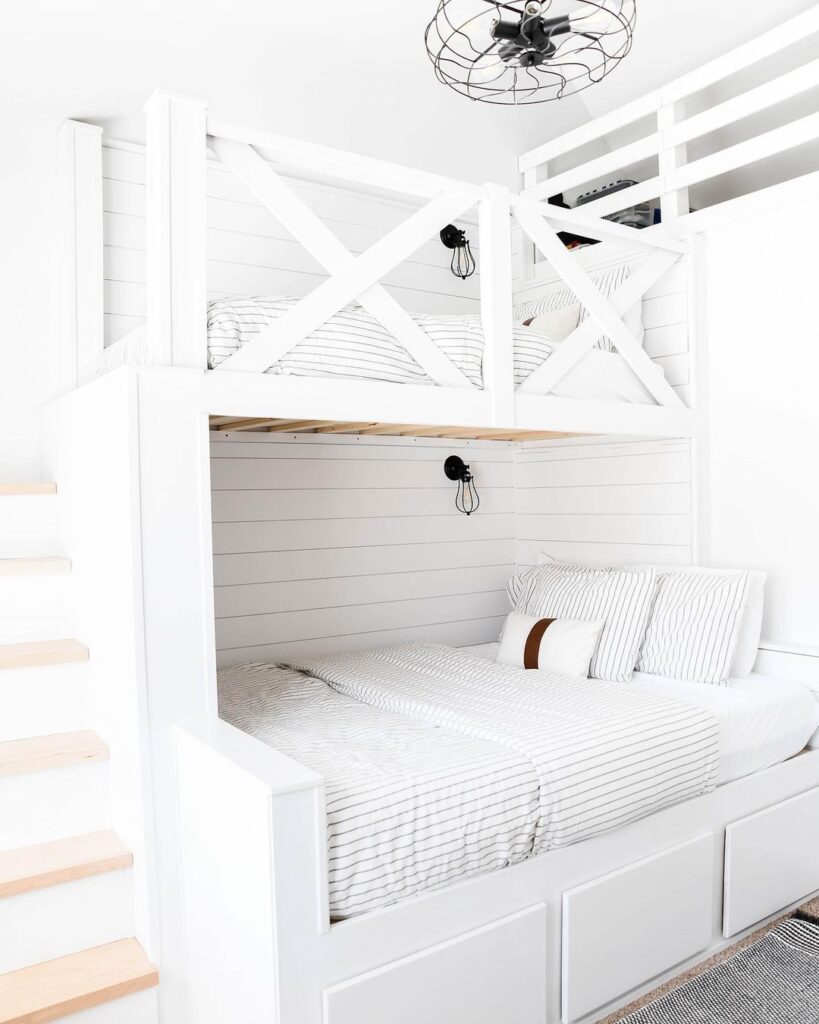 Shiplap can make even a kids' room look quite simple, sophisticated and airy.
Just like this little boys' bedroom, add a bunk bed against the shiplap bedroom wall, and add some pops of colors so your kids' don't feellike running straight out of the all-white space.
Brown For Coziness
Since the shiplap bedroom wall creates a sense of space and airiness in the bedroom, sometimes you'd want to specially add a cozy feel.
Earthy colors in the bedroom like brown, sage and beige can help. Exactly like this brown bedroom, add a flair of such neutral earthy tones and you won't go wrong!
When using shiplap on the walls, ensure that you color the wall behind it the same color as your shiplaps. It won't look bad from the gaps between the planks and give your room the perfect finish.
RELATED:
design The Ceiling In Shiplap!
If you are blessed with a bedroom ceiling with beams, then maybe you'd want to revamp it a li'l bit into a shiplap ceiling to give it a modern flair!
Keep all your walls plain, and just add the shiplap wall panels or planks on your ceiling. You now have a bedroom design that doesn't look like every other out there!
Let In A Lot Of Natural Light!
Besides keeping the lines clean and pretty, letting a lot of natural light into your shiplap room is as crucial.
It keeps the airiness and subtlety of the design alive and doesn't make you feel as if you aren't living in a farmhouse bedroom! And when you do not want a lot of natural light to enter your zone, use blinds. They'll make your room look contemporary too, exactly as this gray room does.
Give It The Boho Vibe!
The coolness of shiplap and the coziness of boho bring the bedroom to a balance! You don't feel a bit too airy or a bit too packed!
Add some boho accents like macrame wall art, wool throw, and pillows, to get a bedroom vibe as intimate as this cozy boho room!
RELATED: 23+ Cozy Boho Bedrooms To Make Winters A Celebration!
Don't Fear Wall Art!
It's a bit of usual advice that accent walls should be clean and prominent without doors, windows, and sometimes, even wall art!
But when you have to give a nice shiplap flair to your bedroom without making it too boring, never a pretty piece of wall art. Add one that you love. And even add some prints to the room like on curtains and bedding so your space looks personal and intimate!
Make It Cozy And Chic!
There are so many colors, accessories, and decor that you would want to add to your shiplap room.
Take some inspo from this shiplap wall idea and add use the earthy tones, add throw blankets, add mirrors to your bedroom and make the space feel 'yours truly!'
RELATED:
Frequently Asked Questions (FAQs)