Times have changed but our love for hello kitty hasn't! This little girl (according to its makers, it's not a cat, you see?) is the best friend of every little girl on Earth!
And just in case you want to permanently bring your best friend home, here are some cute, kawaii and awesome hello kitty bedroom ideas that'll help you stay with her in the best way possible.
After you've seen all the ideas and how you can recreate them, below is the section where you can find some awesome hello kitty bedroom decorations that'll take your decor to the next level, right away!
Excited? Well then, let's see what is in store for you:
The Ceiling Can Define Your Theme!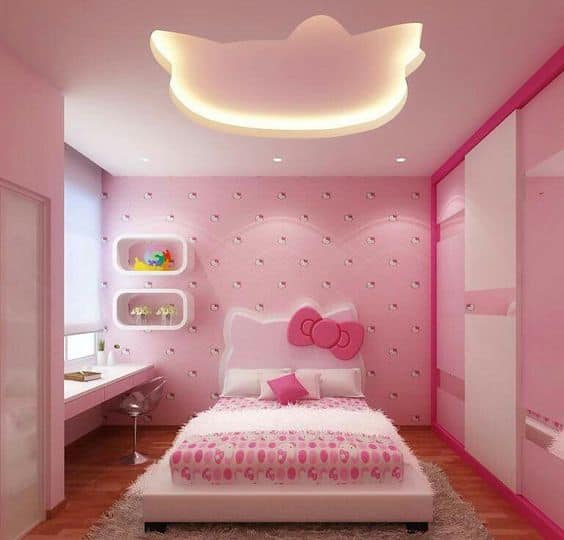 If budget is not a problem, then this is the idea you want to steal straight away!
The traditional ways say that we must decorate a themed bedroom with fabrics, walls, and stuff, but when we have a more modern and classy way, why look any further?
You can ask your designer to add a faux hello kitty ceiling to your bedroom and even have lights in that area to make it look more sophisticated and fun!
So, what do you think about this?
Recreate This Look
Celebrate Hello Kitty With The Cute Big Bed!
We know we have said this is pretty much every post we've published, that the moment you enter a bedroom, you notice the bed the first thing! That's what can create or devastate the impression of your bedroom.
That is why for your hello kitty-themed bedroom, make sure you have a bed as cute and majestic as this one.
There is no chance, then, that you could fail in this theme!
Annnddd, by chance you are designing a hello kitty bedroom for a little girl, you are in for some hugs, we bet!
Recreate This Look
Your Headboard Is Where You Can Experiment!
There are a lot of places in a room, where you can experiment with some themed decor. But, few are as good as a headboard!
That's because the room doesn't look overdone and you have already placed the themed piece/ look on the focal point of the room (the bed) so it magnifies the effect!
We need not go into that depth, we're sure. But only that, if you can manage to get your headboard to work for you, hurry up! 😉
Don't Forget The Bedsheet Please!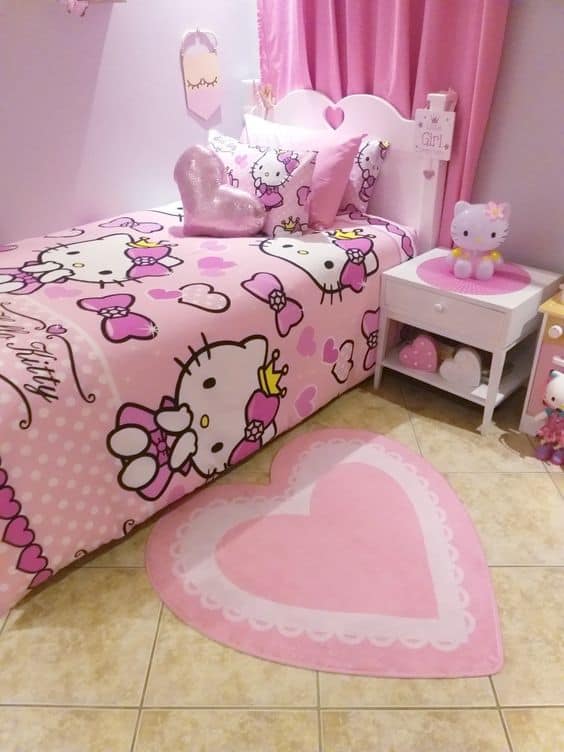 When we are already talking so much about the bed, it is important to consider the bedsheet as well, right?
So, if you don't want the pains of decorating a hello kitty-themed bedroom, but still wish to have one, this is the perfect hello kitty small bedroom design! For this, you must consider buying a bedsheet of the same theme.
What it does is, it adds the perfect amount of balance to the theme of your bedroom and you need not add anything else, although you may if you want!
Recreate This Look
Your Cupboard Isn't Just For Storage, Girls!
We absolutely love our wardrobes, right? But when that can add to our theme as well, it becomes more lovable!
So, if you like how this looks, you might want to consider getting your cupboard customized. In easy terms, why not get a large hello kitty sticker on our cupboard, or better still, get a hello kitty cupboard?
That will be fun and above all, something different!
Recreate This Look
You're A Princess, After All!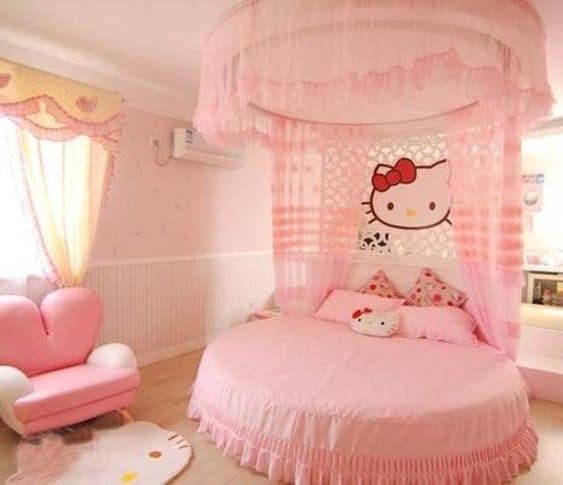 Just in case, your little girl doesn't just like hello kitty decor but princess and fairy style decor just as much, it's time you look forward to some royal bedroom arrangements.
Like in the image above, they could be some pretty net arrangement around the bed that you could look forward to or the round bed, which isn't but magic in itself!
Add to that, the fancy seat on the left and the hello kitty rug. Everything makes up for a perfect bedroom and you could easily recreate this one!
Recreate This Look
The Wall Is Your Best Friend…
If you are designing a room from scratch or have a good budget to refurbish it, you have an infinite number of options as to how you want to incorporate the theme into your space! One is definitely by using wallpapers.
Wallpapers can help you succeed in almost any theme if used correctly. If you are lucky enough to find a great hello kitty bedroom wallpaper, just go ahead! You won't regret it!
Wall Decals Are Just As Good… You See?
It's not always the case that people like wallpapers. Well, in that case, what do you say about wall decals? They are simpler and don't cost a fortune!
Even this a great idea that whatever color your bedroom is, it looks elegant to use a darker shade of the same color for wall decals. It won't give a kiddish look, best for teenagers who love hello kitty! Don't you think so?
Recreate This Look
In Case You Have Study Cum Bedroom, This Is What You Need!
Now there are kids that have a study room with a bed, for them this idea is unbeatable!
The hello kitty decor is behind the study table so the kid won't be distracted and it pretty decently, upholds the theme! Even gives a cute study room decor!
So, kids, you are up for a treat!
Recreate This Look
Throw In Some Plushies, Please!
No cute and kawaii room is complete without the plushies. Nor can this cute hello kitty bedroom be!
You get the point right? Throw in as many hello kitty plushies as you want and just see the cuteness overflowing!
Recreate This Look
Pink Is A Must!
Hello kitty bedrooms are girls' favorite! And pink is, too.
It's then so important for us to combine the two, isn't it? But if all very pink seems so overdone to you, it's highly recommended that you balance it out with some neutral colors like black and white as in the above image.
It would also be wise to make your bedroom pink only with pink fabrics and not paint your room in the same color, just in case you change your mood later. Coming to the hello kitty theme, you know what to do, right?
Recreate This Look
Throw In Some Red Color
The die-hard hello kitty fans know, how immensely it loves the color red. So it's a sin not to add that pop of color to your bedroom.
To add that, you can choose red fabrics like bed sheets, rugs, or curtains, or get a wall in your room painted red. It will not only support the theme that you like so much but also add that aesthetic vibe to your room.
Use Some Patterns Around The Room
If you are lucky enough to have a big room for yourself, then this idea is what you need.
To give the room a fun vibe, you can add some patterned fabrics in the room, as they are used in the image. Even the wall is printed/ patterned.
That done, you have a lot many options as to how you want to add that hello kitty vibe to the room. It could be on the ceiling, the walls, or even your cushions. Have a look at the image.
Recreate This Look
Add Some Curtains For A Kawaii Vibe
A Hello Kitty Space is cute. And to make it cuter, why not consider adding to it some curtains and plushies.
That way, the space would look cozy and it'll be more fun and feel safe to spend time there! Good idea? Of course, it is!
The Hello Kitty Lights Are Compulsory!
After everything is done, if you don't have the right lights in your room, then they look just isn't complete!
So simply put, you might want to get your hands on a cute and pretty hello kitty lamp. And also, some cute accessories we have for you, down below.
Recreate This Look
Some Hello Kitty Accessories That You'll Absolutely Love!
Hello Kitty Table Lamp
Since we've talked about how important lights are, already. Let's add this one to our decor, to prove it!
Porcelain Hello Kitty Figure
It's always cute and praiseworthy to add some little figurines to our bedroom. Appreciate the cuteness with this hello kitty figurine in your space.
A Cute Pillow
This pillow itself proves to be pretty and cute, right? So get it HERE.
A Kawaii Rug
Rugs can play an important role in up-leveling your theme. THIS one can do the same for you!
A Plushie
How can your bedroom be cute without THIS plushie, you see?
Conclusion
Well, you don't require too much effort but definitely an eye for design! We hope this hello kitty bedroom ideas post has provided you with one!
Let us know in the comments which one was your favorite?
Until next time, happy decorating!
You Might Want To Read: