Among teens, neon aesthetic bedrooms are the most popular ones! After all, they give that party vibe every time you step in, and who more than the teens can love that?
For supporting them (and everyone of course!) in their undertaking for decorating a full party vibed, neon, bedroom here we have some tips and ideas that'll help them in decorating their best one!
Without any more waiting, into it.
What Feel Do You Want In Your Neon Aesthetic Bedroom?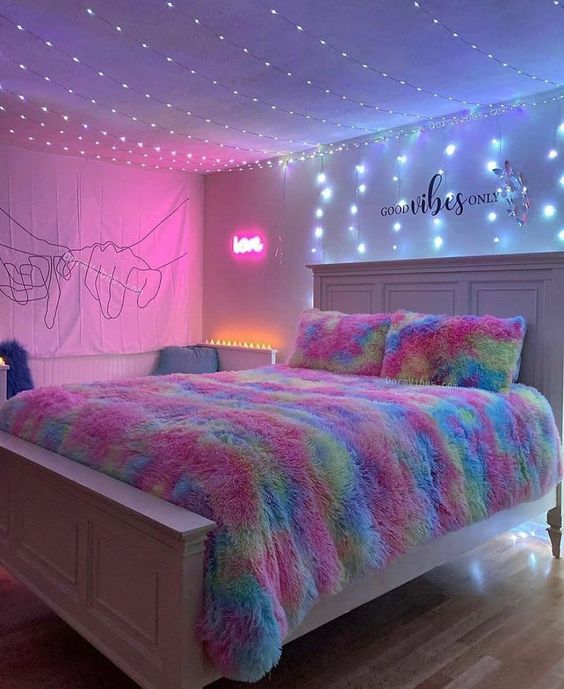 The first step you must take before you start designing any interior is, 'what is the feeling I want, should dominate this space?' Once, that's answered, it'll become quite easy for you to know when you've reached the end result.
It's important to have a clear destination in mind. So, in the case of a neon aesthetic bedroom design, ask yourself, what feeling do you want to dominate in this space?
Is it a cozy neon aesthetic bedroom you want to create or is it a grunge aesthetic room that most suits your needs?
Additional things to consider would be, whether you would want to adorn your room with fairy lights or are they neon signs that most attract you? There are endless questions to consider. Once you've answered the relevant ones, let's move on.
RECREATE THIS LOOK
Cozy Aesthetic Room Design With Led Lights And Vines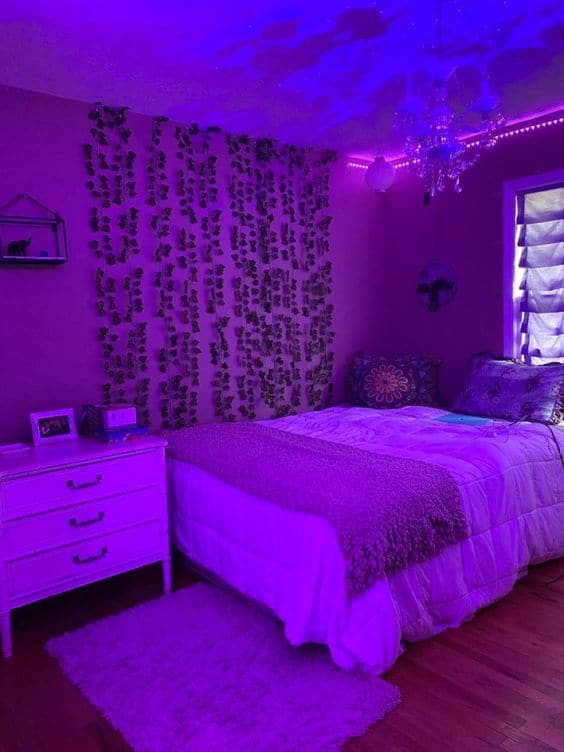 We are sure, LED lights are not necessarily neon but they are no less, right? To achieve the look, they are just perfect.
So, in order to create a neon bedroom, the first thing to consider is installing a LED light.
Now, there are many options available. If it is just a single color you want, should dominate the room, have that up. But then, you can also have a multicolored LED light that you can change the color of every now and then, according to your mood.
In addition to that, have some faux vines up on the wall, so that it magnifies the aesthetic feeling your bedroom already has. Aesthetic room with LED lights and vines looks good, after all!
RECREATE THIS LOOK
Lavender Neon Aesthetic Bedroom Design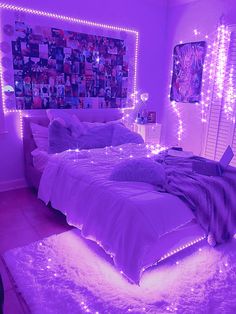 Lavender is one of the most popular colors when it comes to designing a neon aesthetic bedroom for girls, and sometimes even boys!
All you want to design one, is a lavender LED light. In fact, there could be a pink neon room you might be designing, and you've to do all the same- install a pink LED light!
But you know what? Don't place the lights in such a manner that they glare in your eyes (putting them right in front of your bed, for example.) You want them to enlighten the room but together with that, not irritate you in any way! We are also discussing some creative ways about the placement of the lights as well.
RECREATE THIS LOOK
Mount Some Strip Lights On The Edges Of The Ceiling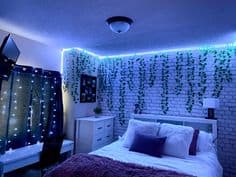 Now that you know, lights are the mightiest when we are designing a neon aesthetic bedroom, their placement is even more crucial.
One great idea is to fix some strip lights on the edges of the ceiling. That way, you get the look you want and they don't even make the corners look as dull as they generally do.
This room in the image above looks exceptionally pretty also because of the brick design wall at the back of the bed. You can also use such wall panels (get them HERE) for a similar look. And yes, don't forget the vines!
RECREATE THIS LOOK
Get An Aesthetic Neon Sign For Your Bedroom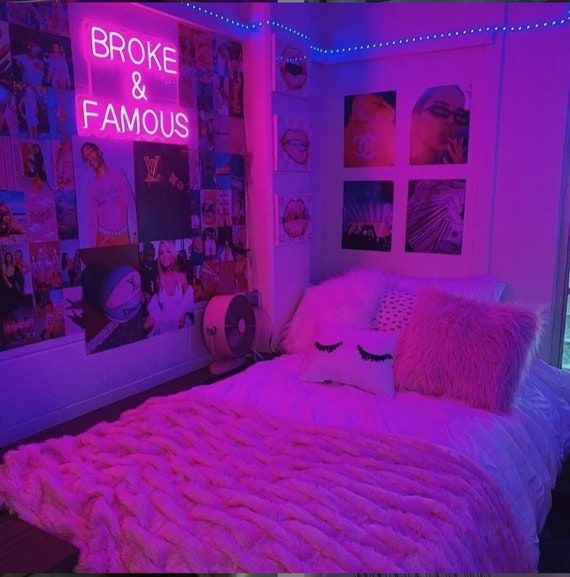 There are (literally) a LOT of aesthetic neon signs you can find on Amazon or other e-commerce stores (we are saying this with PROOF!)
These neon signs make your room look prettier and give it a more lively, vibrant, and aesthetic feeling. When we have all the pluses that accompany these signs, why not stick to the walls, our rules, and feelings in form of these signs?
RECREATE THIS LOOK
Neon Bedroom With Fairy Lights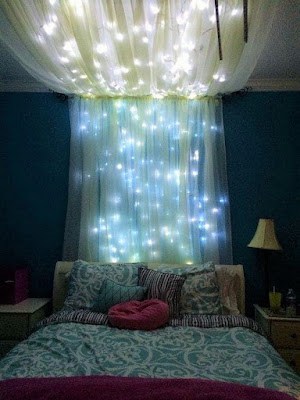 Now that we are talking about aesthetic bedrooms, they are incomplete without fairy lights.
Fairy lights happen to make them more of a magical bedroom. Plus, you can customize the space by putting the fairy lights wherever you require. Actually, they make us appreciate beauty more and make our surroundings truly aesthetic!
RECREATE THIS LOOK
Get The Ceiling In Place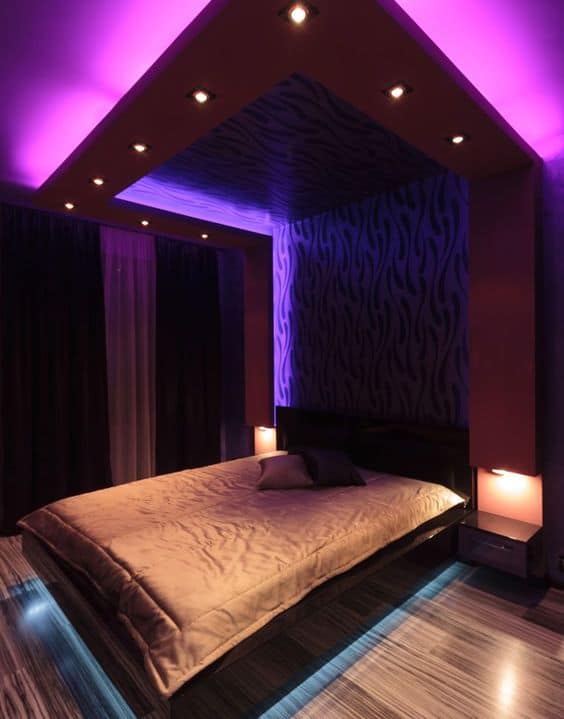 If in case, you are not planning to get grunge feel to your aesthetic bedroom, but still want a subtle neon feeling, we highly recommend you go for ceiling lights.
The subtle artistic feel that such lights give to your ceilings, indeed makes your bedroom look artsy and welcoming. Plus if it is a dark bedroom, the lights play a better role and you can't go wrong, you see?
How About Some Strip Lights Under A Floating Bed?
Now that we are off to designing a neon bedroom, it is safe (and fun) to be creative, isn't it?
So why not just try out a floating bed and have some strip lights under it so that it not only makes our bedroom feel aesthetic but also futuristic and dreamy. What do you say?
RECREATE THIS LOOK
Throw Some Neon Stuff Into Your Bedroom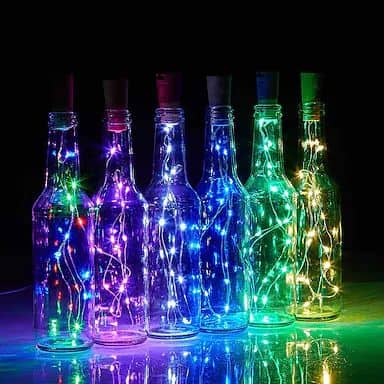 No themed bedroom is complete without good decor! That is why it is important that you throw some neon aesthetic accessories into your bedroom to give it a more complete feeling.
The accessories might be some bottles with fairy lights in them (like the ones above), some glowing pigment powder, or something else. Think about how you can add lights to your bedroom and just do it!
RECREATE THIS LOOK
Glow In The Dark Paint Is A Perfect Idea!
The glow-in-the-dark paint can also be used at various places on your walls or other decors so that when you turn the lights off, that aesthetic neon look doesn't turn off too.
Neon Aesthetic Bedroom Signs That Are A Must-Have!
Now that we know all that we must, do for decorating a neon room, let's move on to the actual decor that'll aid us in decorating one in the best way possible!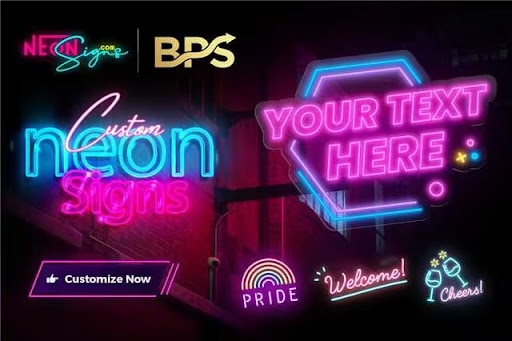 Sponsored: If you don't have your favorite neon sign on the market, don't compromise! Go a step further and get a customized neon light tailored to your style and preference on BPS!
'Hello Gorgeous' Neon Sign
It's important that YOU feel good the moment you enter your bedroom. It can definitely be possible once you see a cute greeting upon entering the room. HERE is one. What do you think about this?
'Heart' Neon Sign
Sometimes it's good to stay wordless and let the heart speak for itself! It is very much possible with a sign like THIS! So why consider having one?
'You're Like Really Pretty' Neon Sign
It feels good when someone praises you, right? Well, having a sign that praises you every day would be fun! Let THIS just be on duty… what say?
'It's 5:00 Somewhere' Neon Sign
Having a party atmosphere is a must! And what's better than neon lights for having one? HERE is a perfect neon sign for the party vibe you want in your room. It'll be fun, won't it?
Custom Neon Sign
Why choose the signs that already have a quote on them? Choose your own quote and let the sign enlighten that! Get a custom neon sign HERE.
'This Is Where The Magic Happens' Sign
Now that you know your bedroom is magical, let everyone else know that too! And what can do it better than THIS neon sign?
Gamepad Neon Sign
Your gaming room needs to look like a gaming room. Nothing can do it better than THIS gamepad neon sign! Why not consider having one for yourself?
Conclusion
Whenever you are designing a neon aesthetic bedroom or any bedroom for that matter, remember it is about the feel that dominates the bedroom, more than anything else. So, keep in mind to neither overdo it nor underdo it.
When everything is in balance, you are sure to go the right way!
Now hurry up! Go! Your Neon Bedroom is waiting for you…
Until next time, happy decorating!