We all desire a glamorous bedroom that showcases our tastes and personalities, but working with a limited budget; we frequently run into problems. Although some available décor items match the intended theme perfectly, the price tags tend to make our hearts sink.
Lucky for you, I found the right tips and tricks for you to create a luxurious bedroom even on a tight budget. Sometimes all you need is a little paint and the right fabric to add glam to your space.
So I hope you find these glam bedroom ideas on a budget inspiring enough to start adding some stunning pieces to your rooms and make them look so much more expensive and royal!
Wallpaper Accent Walls For The Glam Bedroom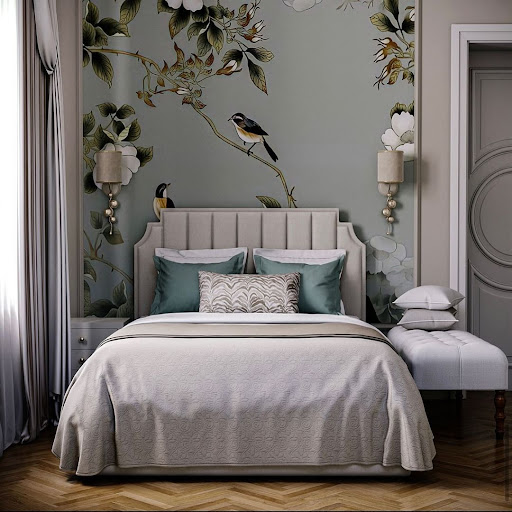 This is it if you're looking for glam bedroom ideas on a budget. Utilizing wallpaper as an accent element within your bedroom offers your area a wonderful focal point that I'm sure you'd enjoy.
Your choice of wallpaper can help your bedroom's walls provide color, texture, and pattern. It gives the space more glitz and character.
When choosing the area of your space to serve as the center point, take care. The finest one is the wall behind the bed. When selecting wallpaper for it, keep in mind the pattern's size and color scheme so that it blends seamlessly with the other walls' design.
All The Glam Hollywood Feels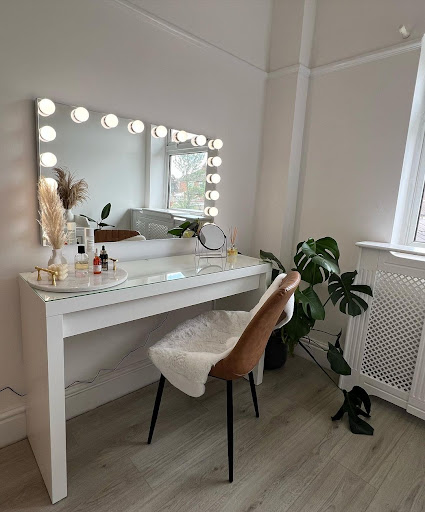 Old Hollywood is the epitome of glam, so why not add some vanity mirrors to your bedroom for a modern glam look? These mirrors are quite reasonably priced and ideal for your dressing spaces. However, if you're handy enough to DIY your own, go ahead and get creative!
These bedroom mirrors make stunning bedroom accessories and offer the ideal level of even lighting for applying makeup.
You Can Never Have Too Many Pillows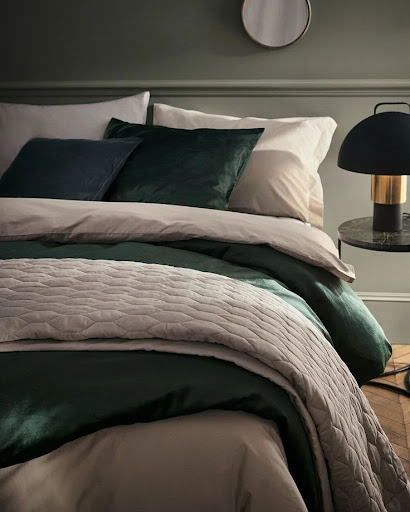 There can never be excessive pillows when you want to give your bedroom a glamorous effect. Pillows of various sizes, shapes, and fabrics can be combined and matched to produce a fashionable and coordinated effect to tie up your glam bedroom décor and add a splash of color.
The fact that you only need to purchase a new set of covers that go with your room makes this a terrific method to utilize surplus throw pillows when designing your space. You can alter the design several times to fit your moods.
Colored Cabinets Are Glam!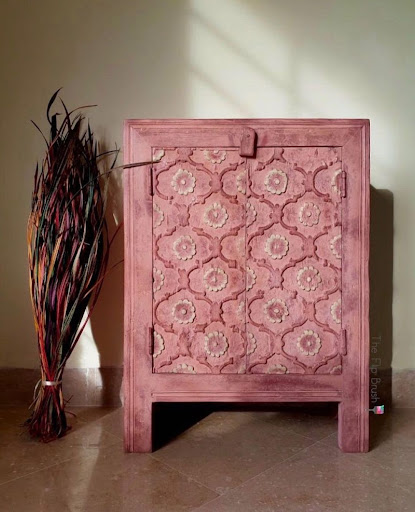 With colored cabinets, you can add the ideal splash of color to your glam bedrooms. When you locate the ideal cabinet at a thrift shop, painted in a color that doesn't fit your room's style, this glam bedroom idea on a budget works nicely.
Colorful cabinets are excellent accent pieces for your bedrooms and are a terrific weekend project idea. So rush quickly to your favorite thrift store to find one that fits your needs. (or doesn't!)
Decorate Your Glam Bedroom Walls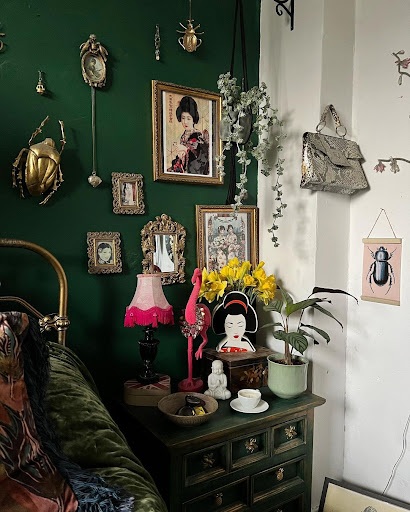 Never empty your walls if you're going for a maximalist glam-style bedroom. Decorate it with artwork and pictures displayed in ornately carved metal frames to draw attention to your walls and fill the room.
Along with hanging frames, you may also hang wall hangings and metallic accessories to complete your wall and make the ideal bedroom focal point or even give it a Victorian touch.
Add Sparkle With Metallic Accents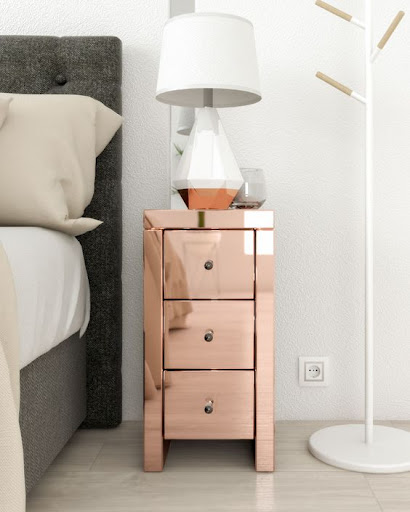 Gold, silver, bronze, and rose gold metallic finishes can give a bedroom a hint of glitz. Silver accents have a more contemporary and refined feel than gold accents, which add warmth and richness.
When using metallic accents, they should be used sparingly so as not to overpower the room. Bedside tables like this one are an excellent focal point for your space, making the bedroom look much more expensive and rich.
A Statement Chandelier Is Perfect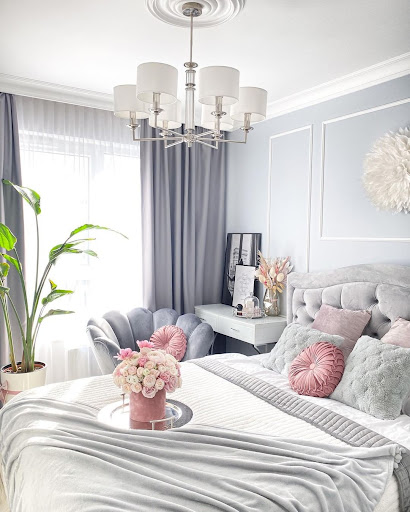 A magnificent chandelier brings beauty and glamour to a bedroom. To avoid having it stand out like a sore thumb, pick one that complements the style of the rest of your home, like the one in this gray bedroom. Compared to white lights, warm chandelier lighting creates the ideal ambiance for your bedrooms.
A modern chandelier with clean lines and metallic finishes generates a sleek and sophisticated aesthetic, while a crystal chandelier can provide a more traditional and attractive touch.
Throw In Some Fresh Greens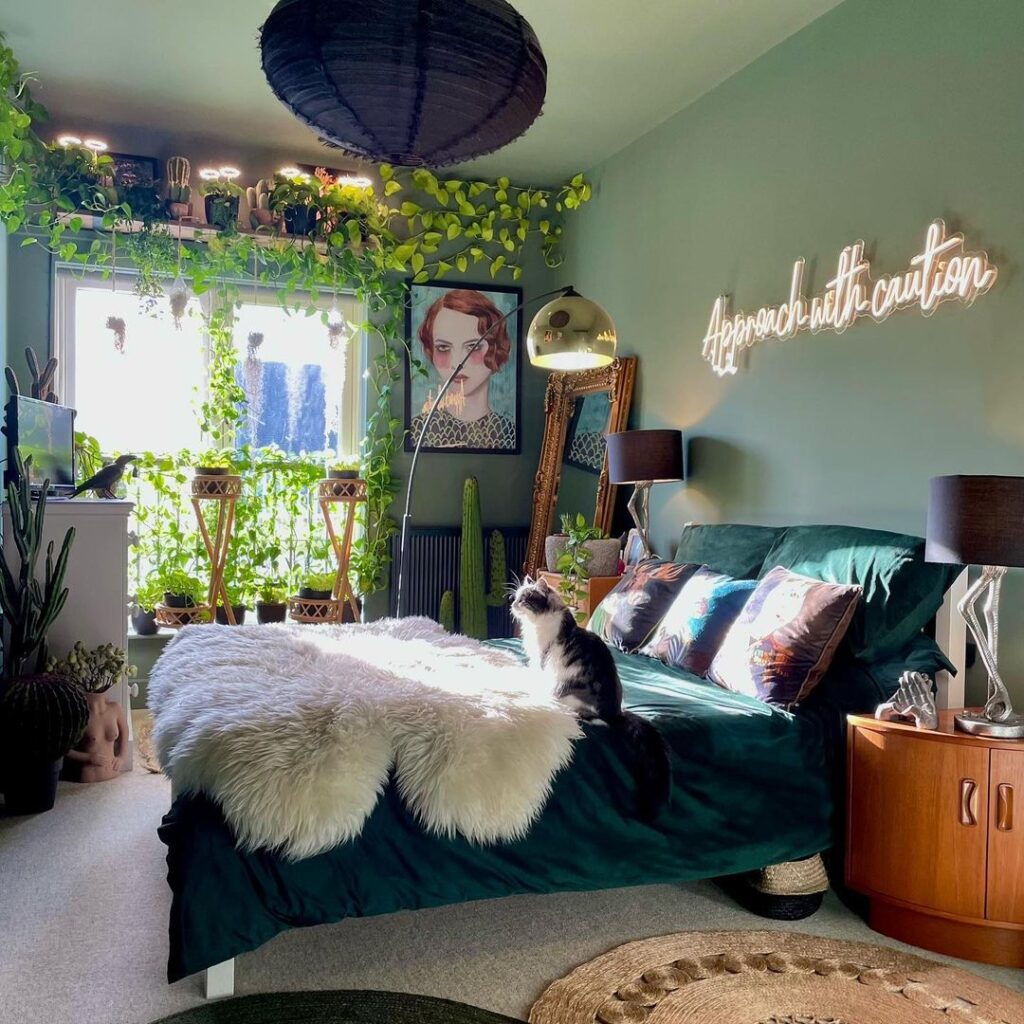 When looking for glam bedroom ideas on a budget, plants can add a touch of natural beauty to any interior area, transforming it into a peaceful retreat. Of course, besides improving mood, sparking imagination, and providing fresh air.
Like this dark green bedroom idea, there are numerous ways to incorporate plants' softness into a glam bedroom. Thanks to decorative metallic pots, hanging vines, and even a plant wall, your area will have a distinctive and intriguing appearance.
Snake plants, pothos, rubber plants, and birds of paradise are a few of the plants that function best. 
Light Up The Space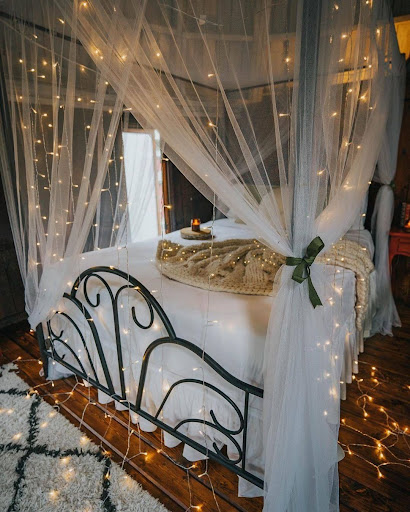 Fairy lights can make an aesthetic bedroom effortlessly! They facilitate mood-setting and foster a cozy environment for you to unwind.
It's the best glam bedroom idea on a budget for anyone wishing to quickly and easily update their bedrooms and make them feel like a fairyland.
Use Glass Trays To Add Extra Glamour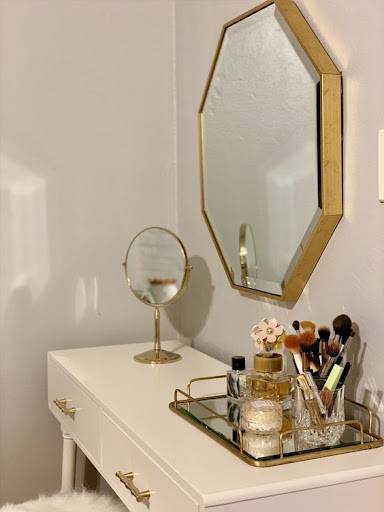 A glass tray holding jewels and colognes might add sophistication and organization to a beautiful bedroom. By selecting the right type and size of your tray, showcasing your favorite scents, coordinating with other items in the space, and using it for practical and aesthetically pleasing reasons, you can create an attractive and sophisticated design that is sure to impress.
It's a great idea to up the glam factor of your bedroom by color-coordinating the items on your tray with the rest of the room's décor.
Don't Forget The Aromatics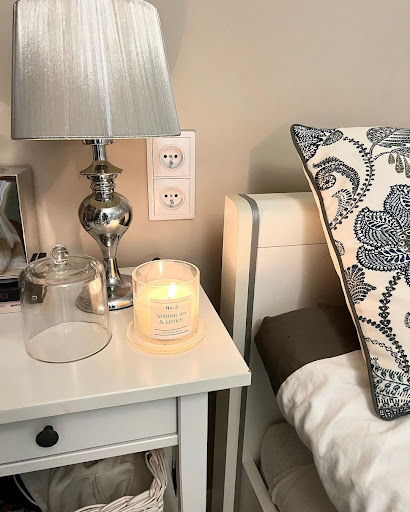 Aromatics lend your home a calming and luxurious atmosphere and give your bedroom a posh scent. Vanilla, jasmine, and lavender are among the most popular bedroom scents. Before bed, light a candle or use a diffuser to create a calm and peaceful ambiance.
To perfectly incorporate it into the concept of your bedroom, match your candles, candle holders, or diffusers to the color of your décor.
Mix Different Textures And Prints!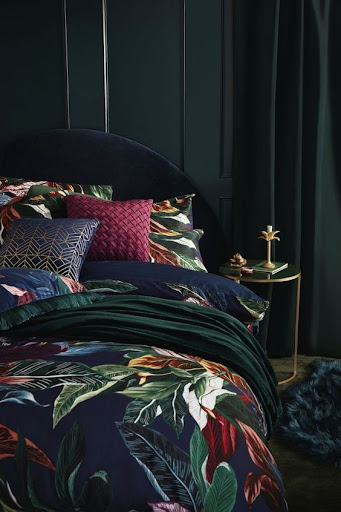 By utilizing various fabrics and patterns, you can give your bedroom's interiors an intriguing and sophisticated appearance. Layering these together can create a rich, opulent atmosphere in your bedroom. While bedspreads and pillows are considered bedroom essentials, this glam bedroom idea on a budget works nicely.
Based on the selected color scheme, choose your fabrics. Use bold, deep jewel tones without hesitation because they can enhance the glitz of your bedroom. Match your fabrics' and prints' patterns to the wall art, other decorative accessories, and lighting fixtures in the space. This may contribute to a unified and balanced appearance. Mix various textures, including silk, velvet, or faux fur. 
Cover The Floor With An Area Rug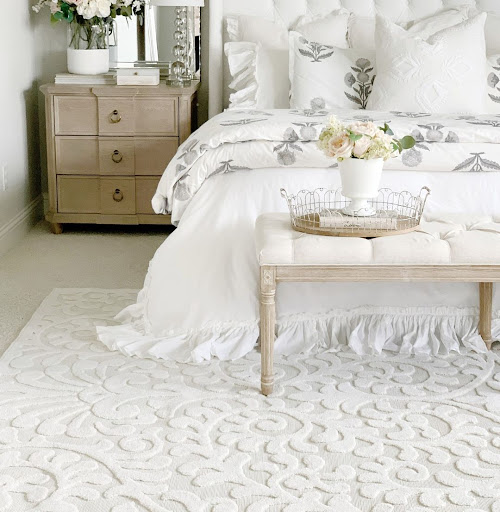 Including a floor, the rug may give your area a cozy and chic feel, much like this coastal bedroom. You can layer them to create a distinctive look or choose ones with patterns.
Rugs with faux fur are very popular for glam bedrooms. If you prefer to sit on the floor to carry out your daily tasks, it makes your room feel pleasant and gives you a comfortable resting place. Place your rug according to your needs and coordinate it with the other décor in the space.
Use Faux Fur
Faux fur can be utilized for footstools and old furniture reupholstery in addition to floor rugs. On a budget, this DIY glam bedroom idea is ideal for people who want to furnish their bedrooms with used or thrift furniture.
Fur should fit your room's décor in terms of color. A throw blanket draped over your bed with faux fur can give your space a stylishly sloppy impression.
Bring In Sheer Drapes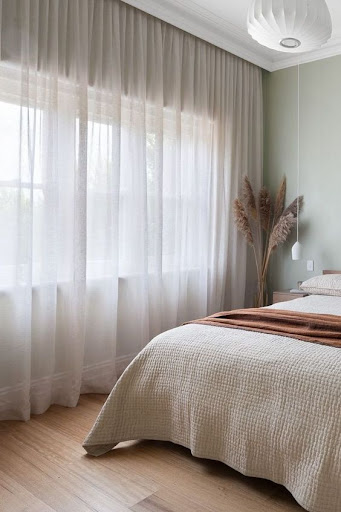 Sheer drapes are excellent for glam bedrooms since they can soften the appearance of your windows to give your bedroom a romantic and dreamy atmosphere. They provide the proper privacy while allowing enough natural light to brighten your space and highlight your décor.
Fix Some Floating Units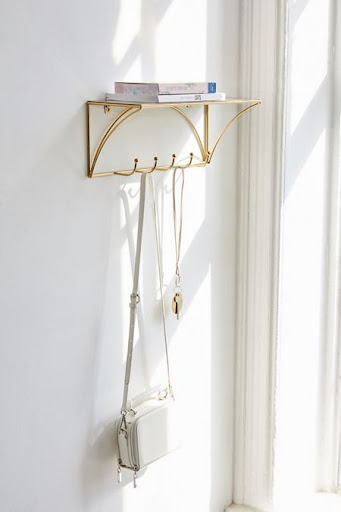 The principal benefit of floating units in the bedroom is the floor space they can free up for other uses. Floating units can help you meet your design and storage objectives, whether you want to arrange your stuff, add décor, or store baggage.
If you want to add a sleek and simple feature to your space, you can choose metallic fixtures like this one or another design that perfectly fits your budget and glam bedroom!
Metallic Curtain Tiebacks Are So Glam!
Adding a visual delight with metallic tieback curtains to your area is a simple yet amazing glam bedroom idea on a budget.
Metallic curtain tiebacks add shine, are straightforward and versatile, are simple to install, and have practical use. They can assist you in achieving your design objectives, whether you're trying to tie your décor together or add a dash of shimmer to your room. 
Bedroom Bench To Make It Comfy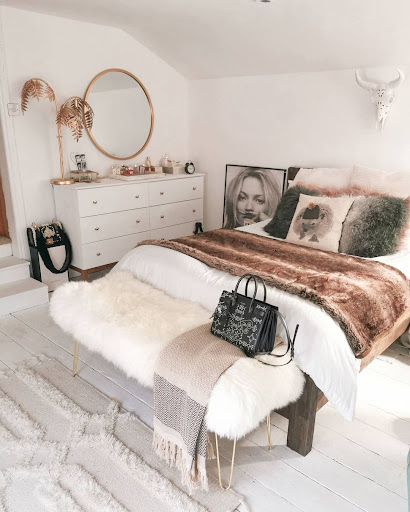 Last but not least, you might think about including a bedroom bench to give your space a little extra oomph. These benches may be upholstered in various materials to suit your tastes and help bring the space together.
Depending on the type you select, it gives you more seating area and storage. (and comfort!)
Guide To Creating Your Best Glam Bedroom On A Budget
Colors
When picking color schemes for a glam interior style, go for rich jewel tones or metallics. These colors will give a luxurious feel to your bedrooms. Sapphire blue, emerald green, rich burgundy, and silver and gold décor are all you need when looking for glam bedroom ideas on a budget.
Accessories/ décor
Adding a glam flair to your bedrooms is easy when working with décor, as you can switch them out and constantly change them to suit your ever-growing tastes and likes.
Bedroom Mirrors can help make your space appear bigger and are available in many shapes, sizes, and textures to match your ideal aesthetic.
Bring fresh flowers regularly and place them around your space for a touch of elegance. You could also cover your empty walls with artwork and posters of your favorite bands or movies to add a personal touch to your bedroom.
Lighting
The right lighting is important to create a warm and inviting feel in any interior space. So, when aiming for a modern-glam look, warm lights are so important to give a subtle glow to your space.
Invest in chandeliers, cute tabletop lamps, or string lights to achieve the right ambiance for your bedroom. Avoid white lights, as they often wash out the colors in the surroundings and make your bedroom feel cold and uninviting.
Furniture
The best places to find one-of-a-kind and inexpensive furniture pieces are thrift shops and online marketplaces like Etsy. Nevertheless, suppose you're looking to enhance the visual aesthetic of your current furniture; spending less money by giving it a new coat of paint or reupholstering it with new material is a fantastic way to go about it!
To make furniture stand out, seek pieces with unique shapes and textures.
Fabrics
When you think of luxurious fabrics, velvet is often the first to come to mind. But there are many more options that many tend to overlook: we have faux fur, silk, and even linen available to add glam style to your space.
Throw pillows and blankets are a great way to use these fabrics. You could even get old furniture reupholstered with these to upgrade it. Mix in layers of different fabrics and colors to tie up your space.