A perfect mix of violet and pink produces a pale purple shade known to many worldwide as Mauve.
The 1890s are sometimes referred to as the 'Mauve decade' due to the popularization of the color. It revolutionized the fashion industry with its accidental discovery by William Henry Perkin – an 18-year-old chemist searching for a cure for malaria. He then produced the first ever mass-produced dye: the color Mauve.
It was named after the mallow flower, also called mauve in French.
The color symbolizes decadence, youth, and femininity. The moodiness of a deeper purple arouses thoughts of devotion and purity. It conjures up the spirit of rebirth that springtime is known for.
It can be utilized in creating monochromatic environments with black, white, grey, blues, greens, and purple or pink. It is a versatile hue that can be incorporated into virtually any bedroom style as it brings an air of vintage and dreamlike sensation that many crave.
The following are some mauve bedroom ideas that you could incorporate into your space!
Mauve Bedroom Ideas
Brighten up the B&W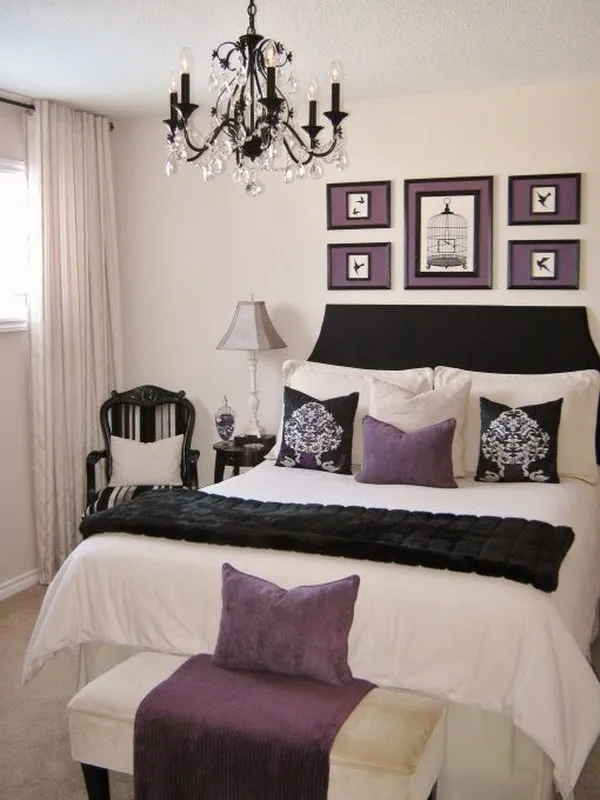 Adding a touch of mauve to a black-and-white color palette can help elevate your space with a slight pop of color. The pale shade of purple works perfectly alongside stark white and black interiors.
Photo frames, decorative pillows, subtle lampshades, and warm bed throws can be added to the fray of an existing black and white themed space to morph the feel of your room efficiently without spending on extreme makeovers and material costs such as painting and changing wallpapers.
RECREATE THIS LOOK
Mauve and neutrals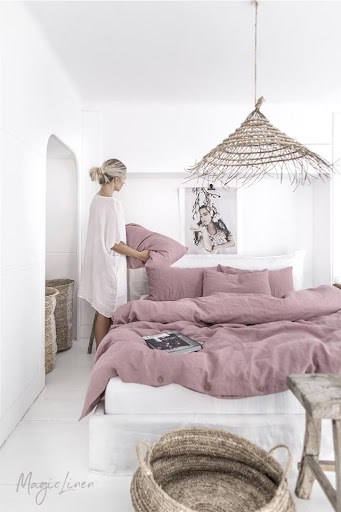 Neutral colors are subdued tones that give the impression of being colorless but tend to have underlying hues that shift depending on the nature of the lighting. The colors beige, taupe, gray, cream, brown, black, and white are great examples of neutral hues.
While most people may not prefer to have an utterly neutral-themed room, the addition of the mauve color into a space can help brighten up the room without adding an overwhelming amount of colors and strain.
Mauve and white is a very popular combo, but this shade can be used alongside cream and beige to create an extravagant mauve bedroom that gives a sense of class and royalty.
Light mauve rooms can be achieved by using the shade to spruce up white roomed walls with beautiful mauve-colored bedding.
RECREATE THIS LOOK
Furniture in mauve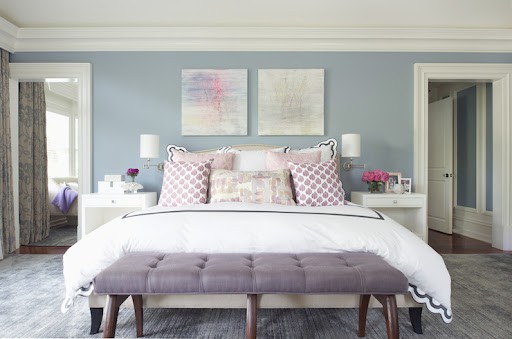 Bored of the same old brown and white furniture?
A mauve bedroom theme can be accentuated further by including beautiful and rustic pieces of furniture in this gorgeous color to add a perfect burst of vibrance into your space.
Bedroom benches are an excellent addition to your living space. They can be used as a seating space while getting ready in case you don't want to mess up the bed you just perfectly made.
RECREATE THIS LOOK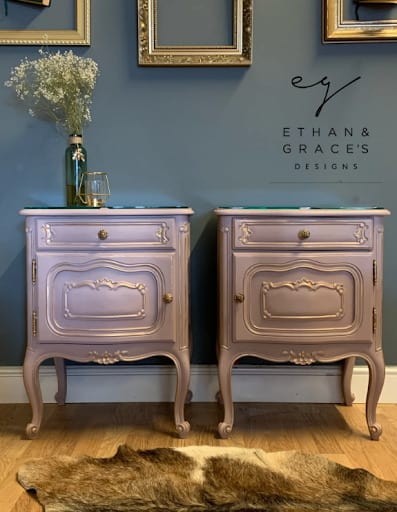 They also function as a space to place your decorative pillows on for the night instead of tossing them onto the floor or allocating a separate space within your wardrobe.
You could also swap your regular bedside tables for some mauve ones to bring a "wow" factor to your room!
RECREATE THIS LOOK
Mauve with wood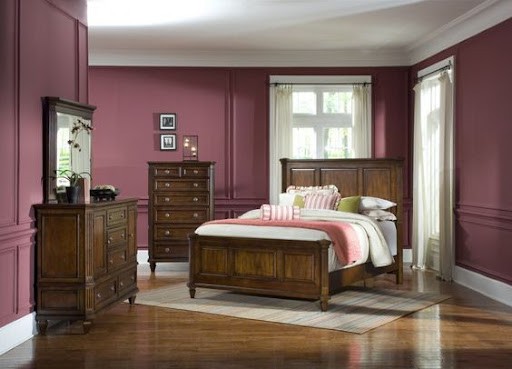 You could never go wrong with wooden flooring and furniture in your bedrooms. The perfect shades of brown in wooden furniture help provide a warm atmosphere for your room.
Mauve walls paired with wooden furnishings and white linens create a bedroom that references the shade's historical roots to its vintage glory days.
Colors such as lime green, baby pink, and other shades of purple can be mixed into the room's palette as accents.
RECREATE THIS LOOK
Blues and mauve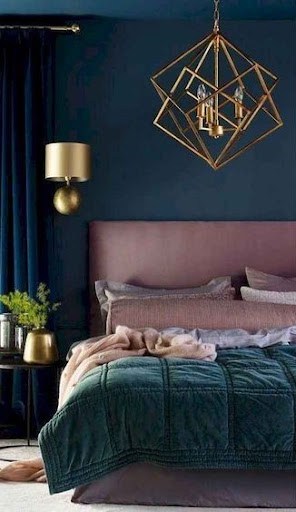 Another way to achieve your dream mauve bedroom would be to pair it as furniture with dark blue walls. It helps generate a balance within the room to prevent it from turning into a dull space due to the darker tone of navy blue.
The cooler undertones of mauve pair perfectly with blues for a soothing space.
RECREATE THIS LOOK
Dark green and dark mauve paired together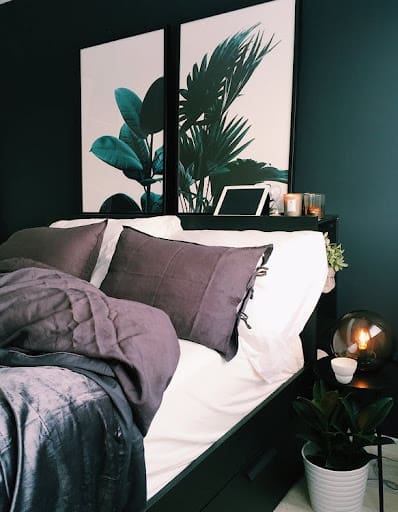 Mauve and dark green convey spring energy and add a woodland feel to your space. It conveys a magical feeling and creates a warm and comforting space for you to conclude your day.
White linens and mauve bed cover perfectly accompany your forest green walls.
RECREATE THIS LOOK
Shades of mauve
Combine the darker and lighter shades of mauve color within your space to create the perfect blend of colors for your room.
The bright space can have softer shades of pink and warm reds and browns to add more depth to your space. Your room has come anew, brimming with empowering and glowing feminine energy.
RECREATE THIS LOOK
Balancing grays with mauve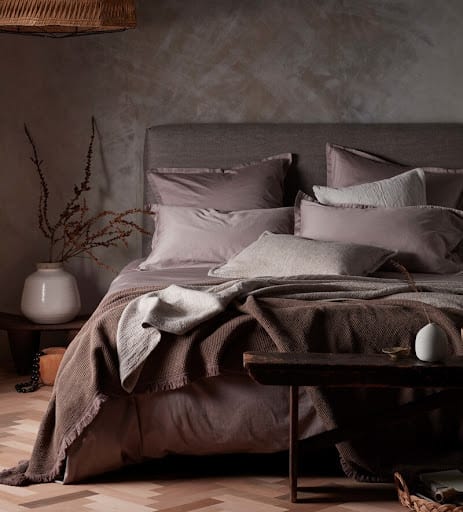 Incorporating mauve within a charcoal gray bedroom incorporates an element of sophistication that helps balance out the industrial feel that a gray bedroom may induce.
Opting for satin sheets and pillows in a pale shade of mauve to complement the gray walls can help add a touch of elegance to your room.
RECREATE THIS LOOK
Color blocking with mauve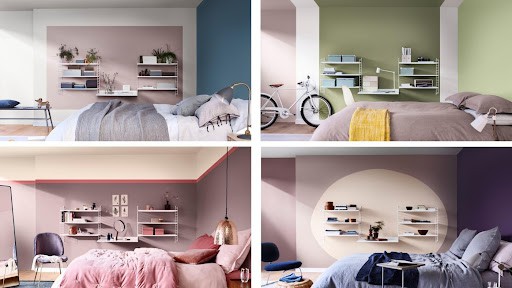 The goal of color-blocking in interiors is to create different geometric shapes, such as squares and rectangles, using color as a tool to break up a space. For example, a rectangle-shaped wall can be divided into various squares and rectangles of different colors.
Similarly, mauve bedrooms can be color blocked with contrasting/complementing shades to bring a unique feature to your room; mauve could also be used as a color block in a room that follows a different color scheme.
But color blocking doesn't always have to be executed in rectangles or squares in particular! Arch-like features, and undefined shapes, when utilized right, can act as outlines for filling in.
RECREATE THIS LOOK
Mint and mauve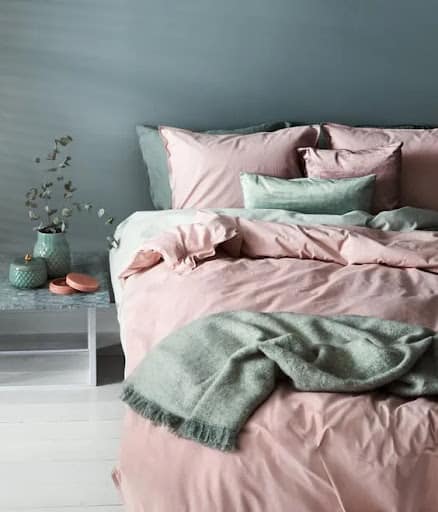 A calming mix between gray and green – mint green!
A refreshing color to pair with mauve generates a soft-themed bedroom that can be customized easily to suit one's aesthetic necessities as time goes by.
Both these shades can be paired with other colors to suit your ever-changing and evolving sense of style.
Sage green walls can be paired with mauve bedding to create the perfect contrast. Over time, neutral shades like beige, cream, and white, and earthy tones of brown bring forth a unique bedroom that one could never tire of!
RECREATE THIS LOOK
Floral mauve wallpapers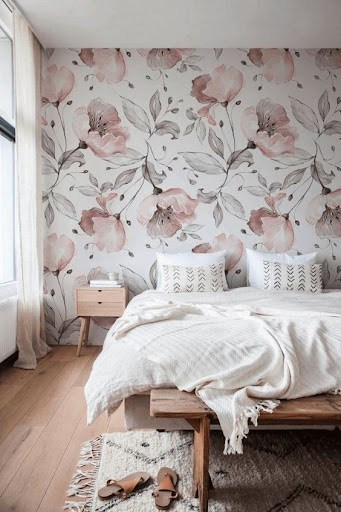 Floral wallpapers are a great way to add color to your rooms and are easier to change than the tedious process of re-painting your bedroom.
Light mauve room themes paired with floral wallpapers can help add darker grey, green and brown tones into your space. The contrast produces an interesting detail in your room whilst opening up to the joy of spring and nature becoming a recurring theme within your bedroom.
RECREATE THIS LOOK
Splash of gold and mauve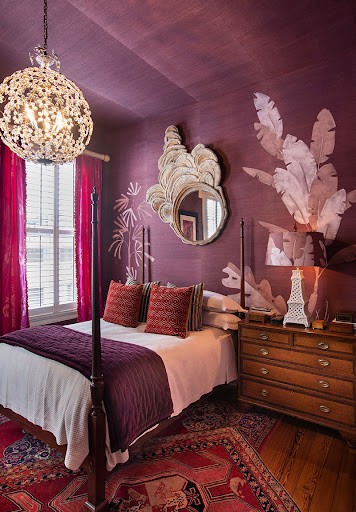 A dark mauve or eggplant-colored room can be furnished with gold accents and light fixtures to shine a sparkle into your space.
A fairytale combination loved by little children while also appealing to adults for its sophisticated and elegant appearance.
RECREATE THIS LOOK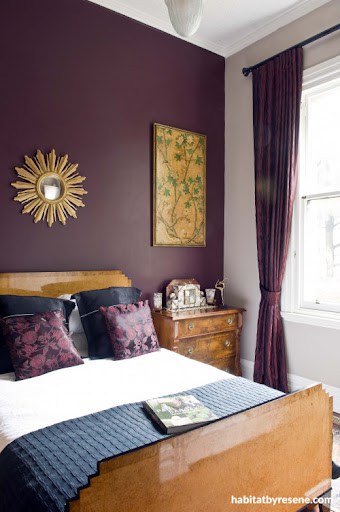 Gold accents can be generated using gold satin pillow covers, golden picture and mirror frames, and gold CNC panels when these are used as decorative paneling for your wardrobes.
RECREATE THIS LOOK
Fabric headboards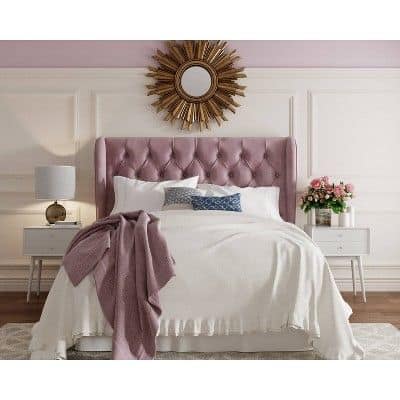 A mauve and white bedroom theme would benefit significantly from using mauve-colored headboards such as this one by Lilian August. They help add a pop of color to your room without spending a lot of money on purchasing new bedding and wallpaper.
Fabric headboards are available as individual pieces, which can be attached to your bedframe to spruce up your current room. Using detachable headboards allows you to change up your bed every once in a while to refresh your space.
RECREATE THIS LOOK
Colorful ceilings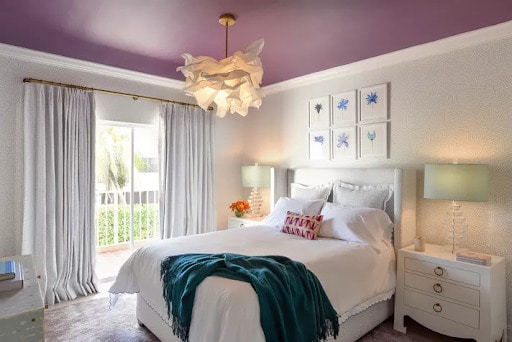 Contrast ceilings are also a great way to add a touch of unexpected wonder to a space.
A mauve-colored ceiling also offers an excellent background for adding unique light fixtures to your bedroom.
A white bedroom can be changed into something better over time, adding this lovely color in the most unexpected of places: the ceiling!
RECREATE THIS LOOK
Cozy nooks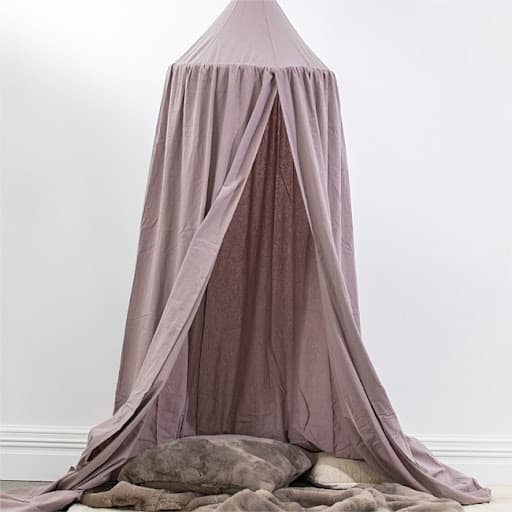 A mauve room design can become a cozy corner of comfort when you add a dreamy little canopy space that can act as a reading corner or a space of relaxation for you to enjoy a cup of hot chocolate.
Big pillows of shades matching the rest of your bedroom can be placed under the canopy hanging from the ceiling. You could also use fairy lights to adorn your cozy space for those late-night reading sessions to become a spot you can cherish dearly.
RECREATE THIS LOOK
Brown with mauve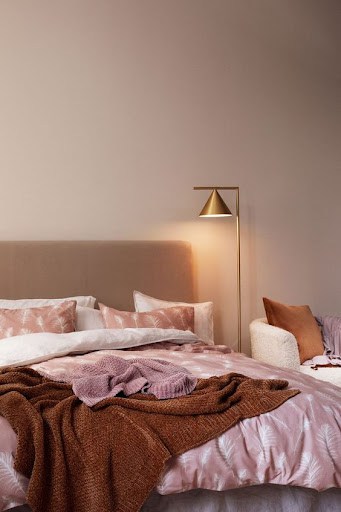 Brown-themed bedrooms always give off a sense of warmth to all who enter. And when paired with mauve, the bedroom takes on a comforting aura like no other.
Either of these colors can be used as a neutral hue for a total room makeover or in adding a focal piece and any accessories in the eye-catching color scheme for an instant upgrade.
Mauve room décor can be added to brown walled rooms to help balance the richness of the warm-toned brown.
RECREATE THIS LOOK
Colorful curtains
Using mauve curtains for bedrooms is a great way to include the hue into your bedroom scheme without having to paint walls or buy furniture to fit into the vision of the mauve bedroom that you have in your mind.
Curtains are a great way to use colors within a neutral-themed space without committing to it, as you can always switch these when the monotony hits.
Mauve-colored curtains go great alongside white, beige, and even brown interior spaces.
RECREATE THIS LOOK
Fuzzy floor rugs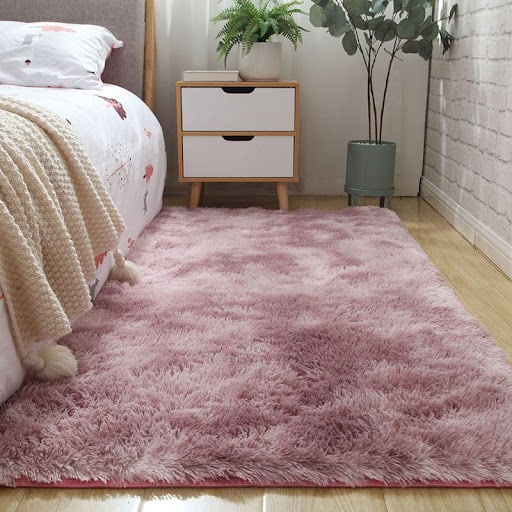 Stepping onto a warm fluffy rug is always a great start to your day.
Adding a floor rug right alongside your bed can add a touch of vibrancy to your space, and mauve is just the shade to add that subtle pop of color to your bedroom.
RECREATE THIS LOOK
Decorative pillows and comforters in our new favorite shade!
Last but not least, the most common way to add a bit of color to your bedrooms is made possible best: with the help of decorative pillows and thick comforters.
They come in a range of patterns, designs as well as textures.
Mauve-colored pillows and bedding can be used with many different color schemes to add a unique touch to your bedroom.
RECREATE THIS LOOK
FAQs
What colors go with a mauve bedroom?
Pale purple hues like mauve are frequently linked to feelings of romance or sentimentality.
This color from the purple family, which conveys a mood quite similar to that of a dusty rose, may evoke a variety of distinct feelings depending on the mauve color combinations.
Mauve and green, for instance, exude the vitality of spring, whereas mauve and gray have a more subdued, formal feel. Depending on your own preferences and the atmosphere you want to create in your home, mauve can be combined with other colors in your bedroom.
Mauve pairs well with warm and cold hues since it incorporates blue and red.
Play around with other colors of purple, especially dark purple, to discover an excellent complement for mauve.
Mauve will show out more clearly against lighter purples, while the softer tones of deeper, richer purples will go well.
One of the best complementary color combinations for mauve is yellow. Mauve and yellow are complementary colors because they are located opposite one another on a color wheel.
Mauve and yellow are frequently used to highlight floral or spring-like elements. Both colors can be soft enough to not be overpowering while still being brilliant enough to have a lot of individuality.
Consider using yellow accents to create a subtle but significant splash of color if mauve and yellow are too vivid for you.
Another instance of a color opposites match is the lighter tint of mauve and green, which conjures images of spring.
For other seasons of the year, a darker green, like forest green, is acceptable. For instance, the woods atmosphere of mauve and forest green might be carried over into a fall or winter wedding.
You might also choose a complementary color scheme for mauve, such as a yellow-green found in hues of natural green. A fantastic mauve color combination might be mauve and sage or mauve and olive green.
Is mauve a good bedroom color?
According to Vaastu Shastra science, purple is described as a color of richness, faith, trust, and dignity.
While the paler purple hues have a calming impact, the darker purple hues give bedrooms a feeling of drama and aggressiveness. Additionally, purple is thought to offer therapeutic powers that promote calmness and relaxation and improve sleep with pleasant dreams. So definitely, you can go for it for your bedrooms!
How to use the color mauve to decorate and furnish a bedroom?
If you're unsure about coloring your walls in the color mauve, décor and furnishings are a safe way to incorporate the hue into your bedrooms.
Mauve-colored side tables, curtains, wall art, decorative pillows, comforters, and bedspreads are a great way to add a pop of this beautiful color into your room without worrying about having to commit to the mauve theme forever.
Love to add Color To Your Room? Check These Out: