Why do we all daydream about cozy bedrooms when we're away studying, working, or with boring people? Because distance makes the heart grow fonder. (Lol)
Ok, ok, but the seriously-The bedroom is an integral part of our lives. It's where we relax, rest, and prepare for our day. It's also one of the only spaces to find solace. 
To feel rejuvenated and refreshed, we must incorporate calm and peace into our bedrooms. 
Now it's not just one thing that does the work. You must select suitable fabrics, furniture, and colors and choose other decor items carefully to get them right. But as of now, for this post, let's talk about the one that plays a significant role- colors! Let's talk about calming bedroom colors.
Now calmly scroll down!
Calming Bedroom Colors
Light Tiffany Blue, The Best Hue!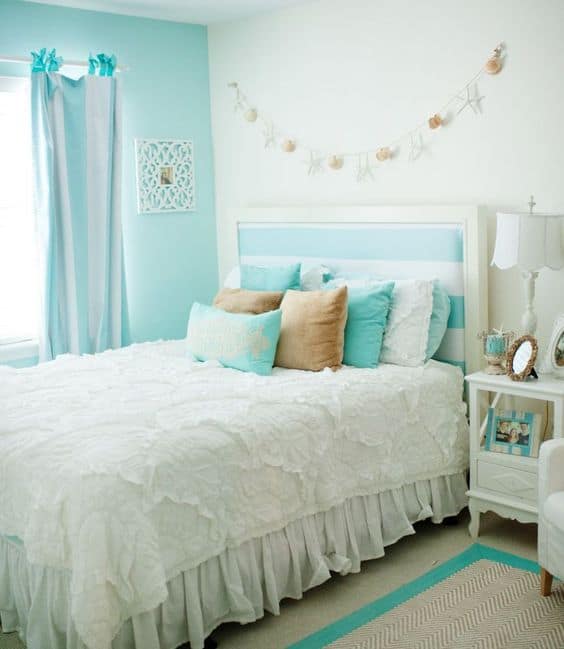 Doesn't a coral beach vacation with pearls around your neck, gazing at the endless ocean gurgling at its pace, sound so dreamy and agreeable? Why not get a bedroom just like that? We mean, a tiffany blue bedroom.
Tiffany Blue is one of the most tranquil and calming bedroom color. Hence we decided to introduce it at the very beginning.
You might find it interesting that Tiffany blue got its name after the famous designer Charles Lewis Tiffany. She decided it to be the official color of his jewelry line. 
Recent studies show that:
 Blue is one of the most uplifting and calming colors.
 We perceive blue as "non-threatening, secure, and orderly." 
Blue is a sign of stability and reliability.  
So it's safe to say that a blue space would help you relax, unwind and feel great entering. A Tiffany blue, coastal-themed bedroom with white or pastel accents is an absolute no-brainer for serenity and peace!
For Dusty Pink, Don't think!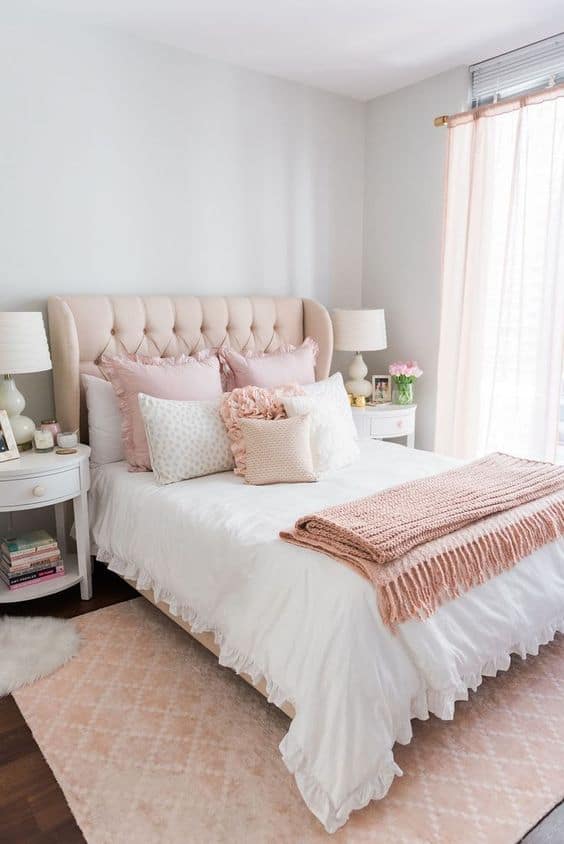 Total pink spaces are most definitely not calming. Because the color is said to create a sense of urgency and activeness, it's a very playful and brilliant color and can be used in total if 'absolute calm' is not your thing! Though pink symbolizes romance, sweetness, femininity, and love, it also psychologically irritates some people. So go forward only if it doesn't do that to you!
But dusty pink (or any other light pink), on the other hand, is a subdued, soothing color, which even comes off a bit "dirty" as it's mixed with beige. That said, it looks and feels exceptionally chic, comforting, and, thus, a calming bedroom color. A full dusty pink bedroom might not be calming from any angle, but when you pair it with white or Cream, thank us later! 
Lavender Will Soothe Your Soul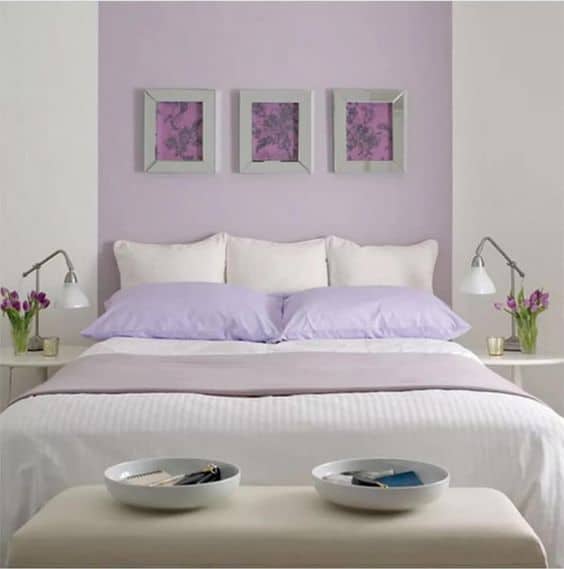 Lavender has some calm blue undertones, so it's a very calming bedroom color. It's a muted purple, so it carries royalty, calm, elegance, and the quiet confidence violet brings.
Cool and pretty, lavender is quite chic.  
It could be one of the most calming bedroom colors for you (unless you have some personal issues with it, lol!)
This color is instantly welcoming, and who wouldn't love to sip some coffee while reading a novel here?
Sea Blue Is Sea-Rene!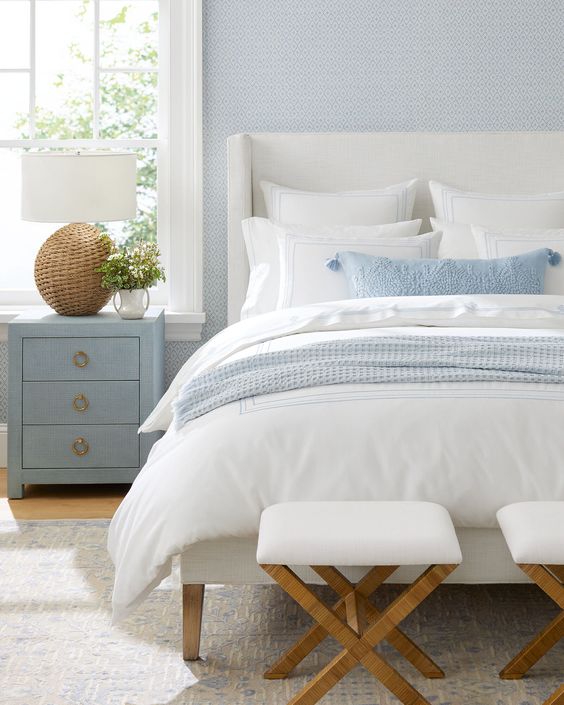 Blue is a lot of people's favorite color, and it's easy to see why. 
It's evocative and cool. 
We've said this before, and we repeat it, a blue space is excellent to loosen up, unwind and enter into, no matter which tint or shade you go for!
It's a relaxing, confident, and tranquil color, so you want to sleep in its embrace, don't you?
Beige Will Never Age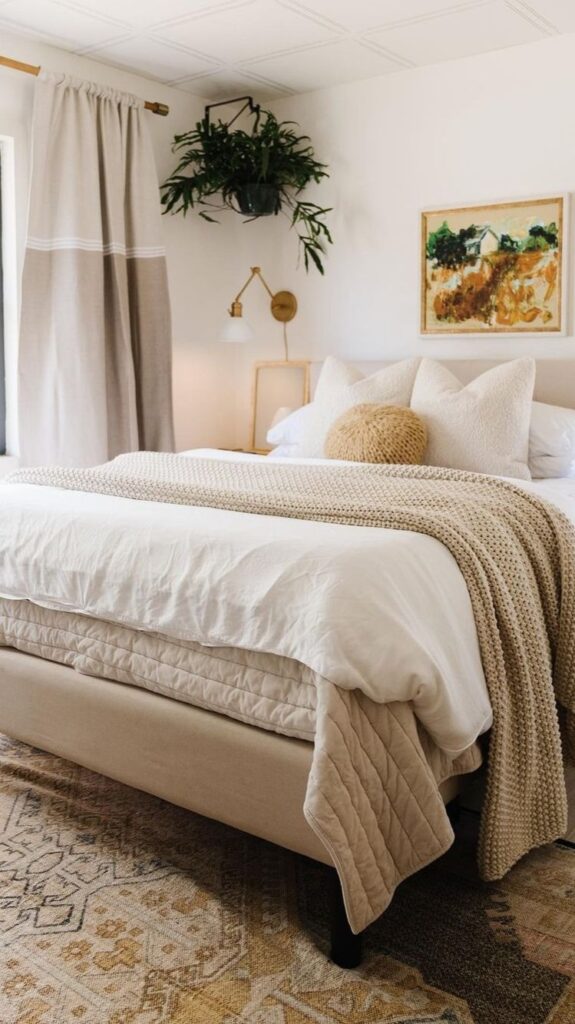 Inherently sophisticated, beige is an achromatic color. Beige has been on trend for ages, and that's for good, solid reasons!
Soft winter sweaters and knitted beanies, beige reminds us of all things calm, comfortable, and cozy. 
When calmness is the destination, consider beige to be the path.
If not a full beige bedroom, it is perfect to be paired with white. A neutral and timeless combination.
You may also pair it with bolder accents to achieve a more vibrant look! To add depth to a beige bedroom, one can add dark colors such as black or red. But don't them dominate, because that'll shift the purpose of a calm bedroom. 
Go, White And Bright!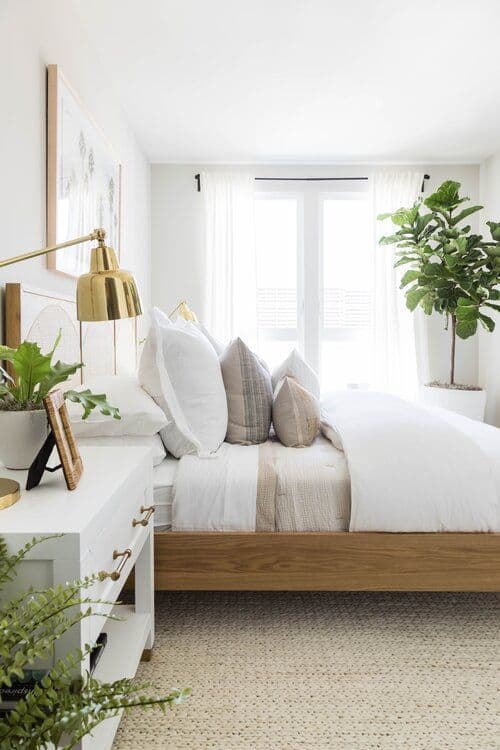 As a calming bedroom color, white is evergreen (green?) White instantly brightens up any space and even makes it look vast. It's the color that encompasses every other color and its calmness. It's illuminating and glistening.
White can ooze out any feeling. It gives you sophisticated hotel vibes, playful and comfortable ones, or even minimalist, peaceful vibes. 
A monochromatic white look is one of the calmest and universally accepted colors, besides being the best color for bedroom walls. That's why, when you know of no way, go white! But if not that, using it as a backdrop against any soft accent colors, like pink or blue, works wonders. 
Then, add some plants and an area rug, and you have a zen meditation room at your disposal!
Can't Go To Beach? Go For Peach!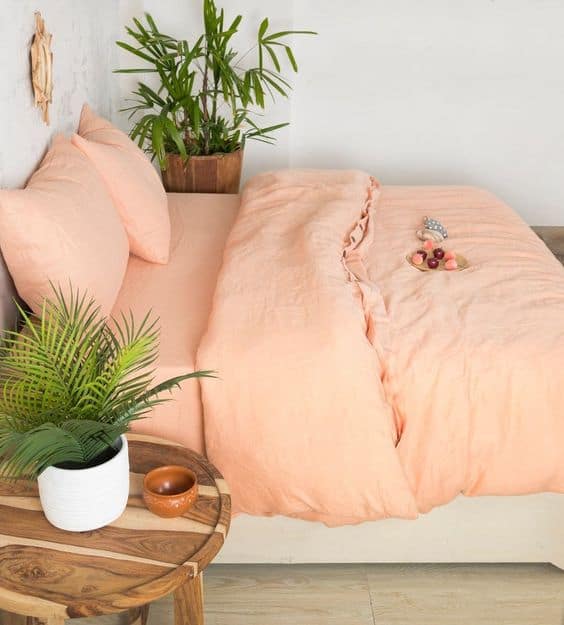 (Sorry for the lousy heading! but…creativity)
When you hear peach, you probably think of the sweet mixture of orange, white and yellow that oozes out the juice and is a bit powdery to taste, right? We aren't talking about that! (Better luck next time!)
Do we hope you've heard the phrase, pretty as a peach? Isn't it entirely accurate? Because this is a color for the soul. It's so lively yet so comforting. It instantly uplifts your mood and, at the same time, centers it.
Psychologically, peach is known to give a sense of joy. It's an expansive and calming color that reflects positive, radiating moods. That makes it an ideal one for a bedroom.
You might not want to go for an all-peach room. Consider pairing it with blue, green, Cream, or white. 
The color is decorative by itself so you won't require too many decors, congratulations!
Sage Green For The Sage Within!
Sage green is a faint, gray-green color. It got its name from the plant that produces the color, Sage.
It's an attractive, pleasing, relaxing, and calming bedroom color. Because it represents nature and the earth, many paint brands have labeled green the 2022 color of the year, this shade is on-trend at the moment, and it's going nowhere this century (did we understate things?)
You'll feel transported to the mountains with this in your bedroom. (FYI, that's where the sages are found.) The earthy tones and benign vibes will relieve you as you close your eyes. (FYI, that's how the sages are relieved.) So, have sage green around your bedroom. (FYI, that's how you'll become a sage!)
Brown Can't Make You Frown!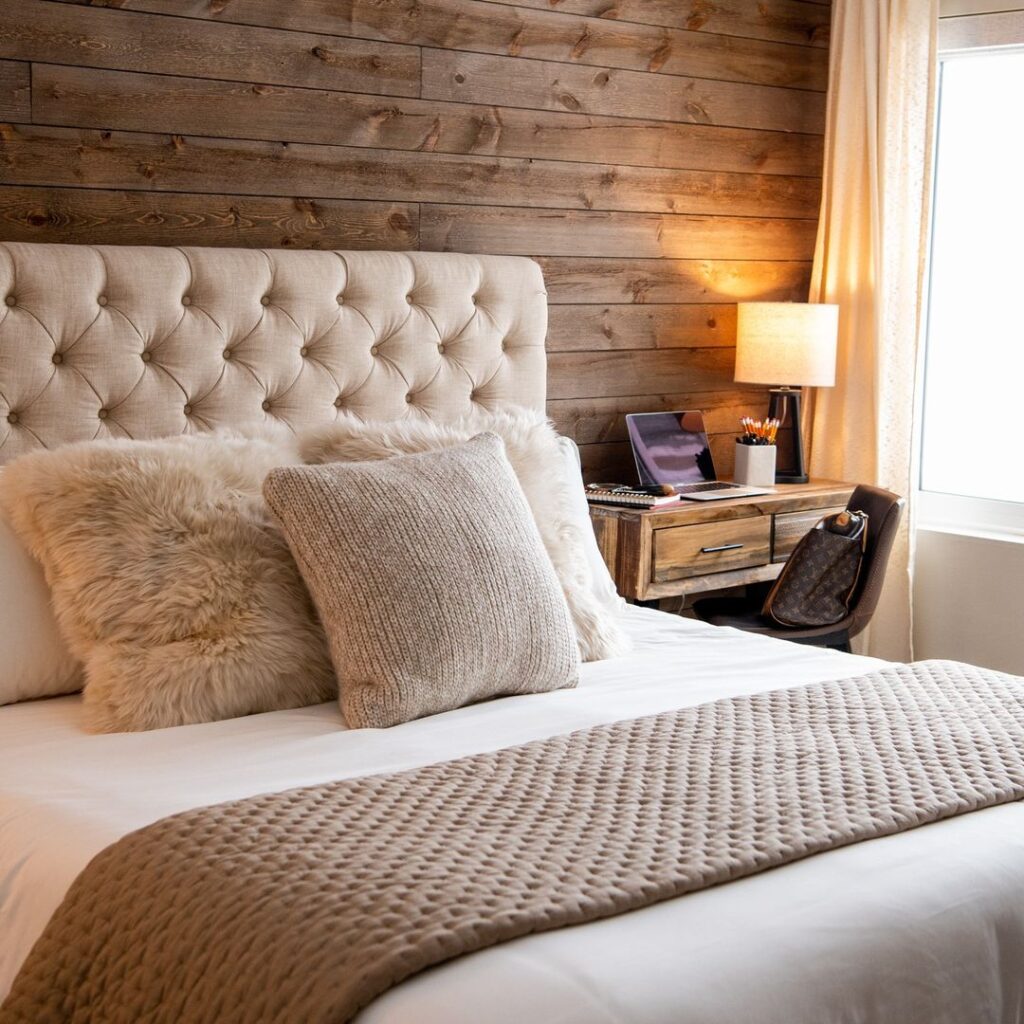 The color of chocolate, brown, is an earthy and rich hue, which looks elegant and gracious.
The neutral is a calming bedroom color, often associated with resilience, dependability, security, and safety.
Hence it's great for the calm feeling and space you're looking for! 
It's linked to increasing tryptophan and serotonin in our bodies, which are related to sleep and mood.   
It's better to use a light shade for a simple and sophisticated room, but if you have to add some mood to it, why not add a shot of chocolate brown to it?
Charcoal Can Make Our Hearts, Whole!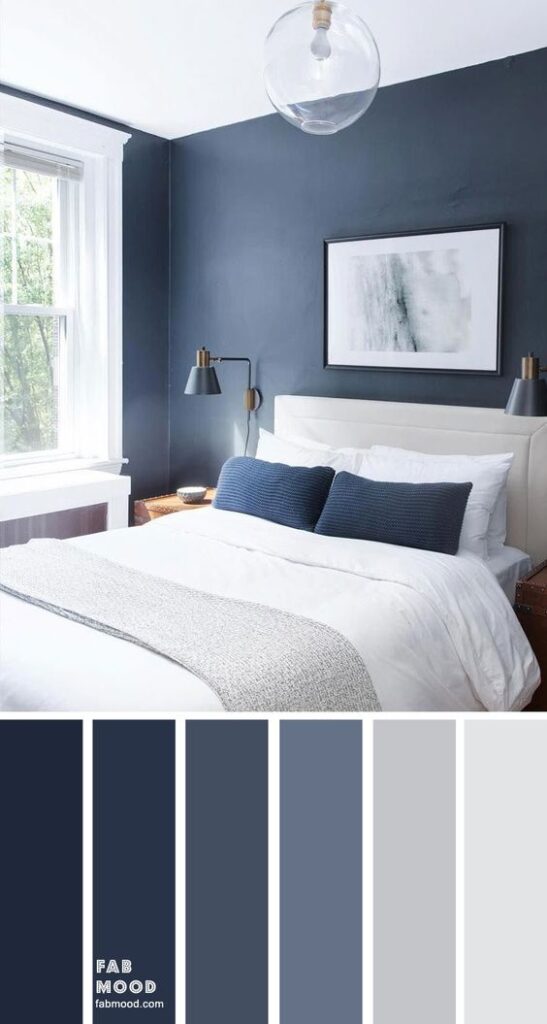 Nest Casa founder Sara Colombo considers charcoal the perfect neutral. "It's softer than black but equally versatile," she says. It's a dramatic color that creates a perfectly soothing atmosphere. 
Whether you use it as wall paint or as an accent, it's perfect.
Although it's bold when used on its own, it can be one of the calmest colors when paired with cool hues such as baby blue, pink, Cream, or white.
Light Gray. Yes, You May!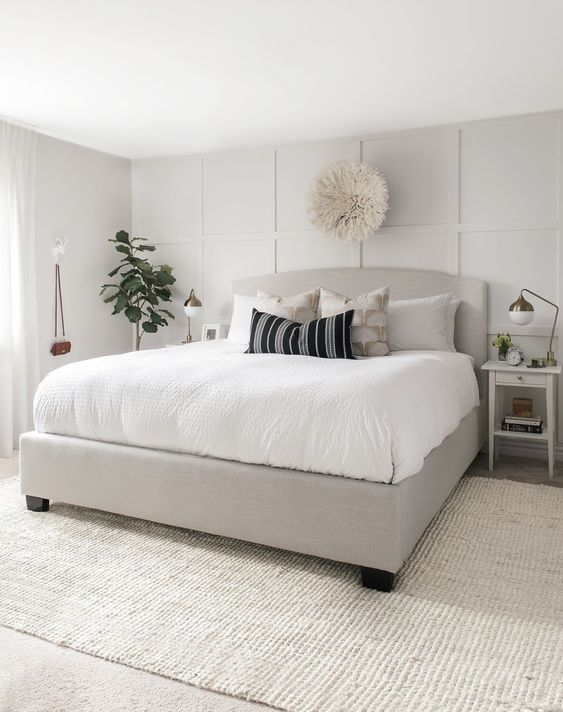 Light gray is one of the best colors for bedroom walls, which is excellent for a calm bedroom scheme. It's elegant even if you go for a monochromatic look.
The black and printed pillows, the accessories, and the plants perfectly align. 
Porcelain ceiling lamps will create the perfect ambiance if you live in colder regions, where the ceiling's free!
The color reflects light, so it creates a bright and spacious environment, which in itself is calming enough!
Plus, it's one of the best colors for bedroom walls as it works as a perfect plain background to add any bold accessories against it.
A Cream Room Is A Dream Room!
The cream color looks adorable when paired with mustard yellow and gray. That's precisely why we urge that it's not dull. No neutrals are. They're a plain backdrop, like white, but even better because they are more subdued and aesthetically pleasing.
The cream color is a versatile neutral, and the dark undertones relax you.
Cream in color psychology stands for humility, comfort, and openness.
According to PicsArt, Cream's complementary color is Light Blue which is nearly Lavender Blue.
An analogous color scheme is one made up of neighboring colors. These palettes are known for setting a balanced and calm mood.
So, Cream's analogous colors are pastel green and light pink. This combination is most closely associated with spring and the idea of renewal- your renewal!
Dark Green Is Serene
'Dark' green might not feel like a calming bedroom color but trust us. It can create the perfect ambiance for those who love nature and its serenity.
As per Very Well Mind, colors made up of long wavelengths are considered "arousing or warm," whereas colors like green that have shorter wavelengths are "relaxing or cool." So, there you get it!
Shades of green can help put people at ease in new places. Green's calming effects might derive from its association with nature, which people typically experience as relaxing and refreshing.
Although some find green a relaxing color, others say it motivates them.
An all-dark green bedroom might not be the best one for you, but when paired with white or gold, it could be the one you never want to leave!
Calm=Coral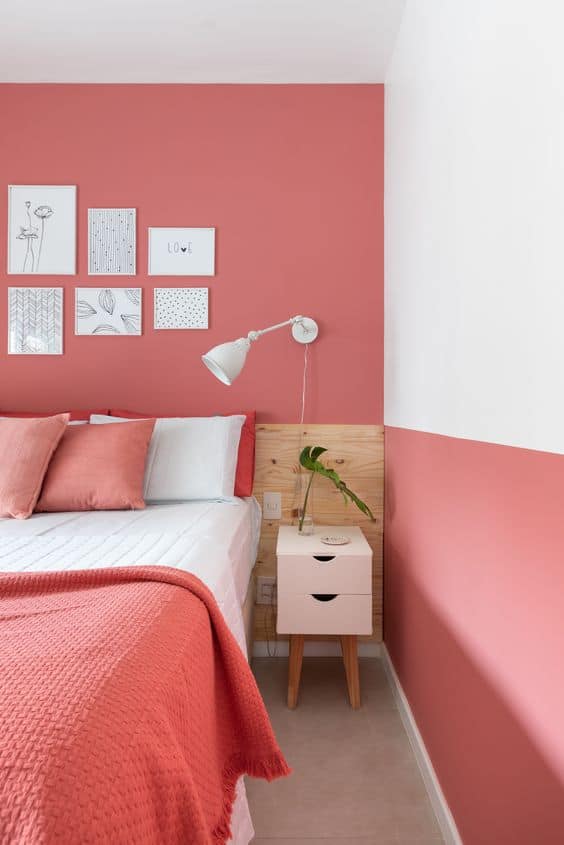 Are you looking for a reddish room with a calming feel? Coral's the best for that!
According to Shutterstock, strongly associated with vacations and relaxation, it's an overwhelmingly positive color, making it a versatile color choice for a range of industries and designs,
Because coral combines several warm colors, it's enveloping and comforting.
Deeper coral red or coral pink pairs beautifully with teal green, teal blue, or turquoise because red's complementary color is green. Purer, more vivid blues complement orange corals, such as Tiffany blue, sky blue, or aqua blue. For summer schemes, coral and blue are a natural choice, evoking tropical beaches and vast cloudless skies.
With such versatile combinations and a calming feel, how can it not be a perfect color for a bedroom? Agreed?
How About The Eggplant Color?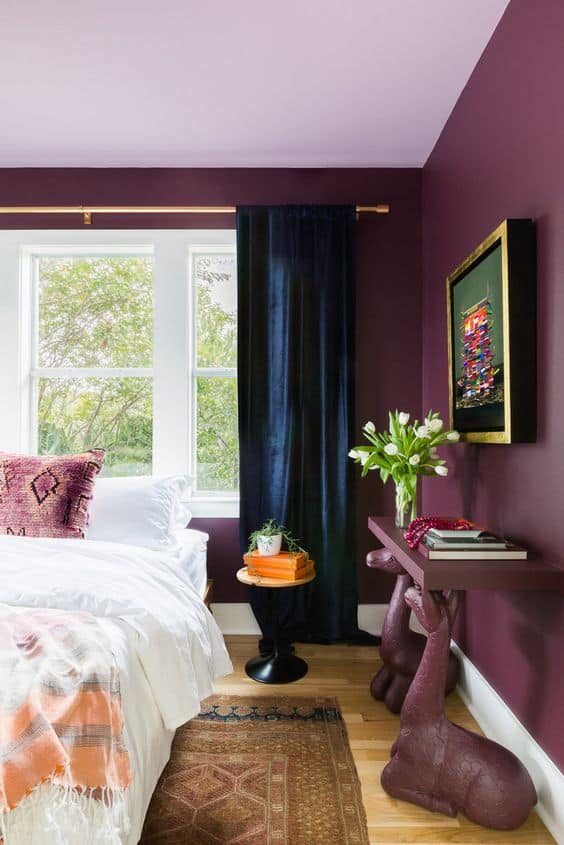 Aubergine is a rich and polished shade of purple.
Create.vista.com says, as a muted color, it works better in combination with other muted tints. Combine eggplant with nude, ivory, or beige to create an elegant aesthetic.
Pair it with its complementary color — dark green — to make a nature-inspired palette.
You can also experiment with mustard: this color combination is perfect for standout, yet refined, designs.
Eggplant also works well with different shades of pink.
With different things combined, you can be sure that aubergine is a relaxing color for the eyes. 
Psychological studies suggest that the aubergine color emits morale and self-respect. It has been linked with stance and supremacy since old times.
Terracotta Is Evergreen And Ever Serene!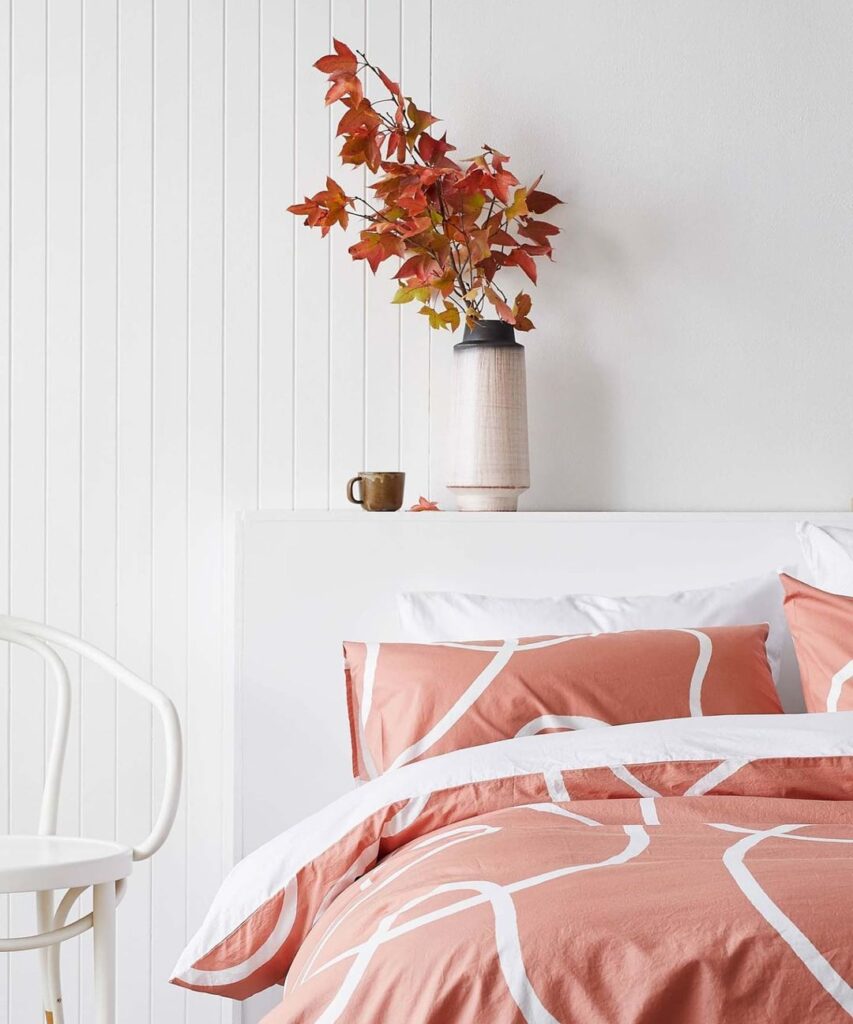 Terracotta is a warm and satisfying color, which also induces a sense of protection in us because it's mixed with brown. And brown is a color of security in itself. 
The word terracotta means fired earth, which means it has earthy tones. 
Terracotta-like orange radiates warmth and happiness, combining the physical energy and stimulation of red with the cheerfulness of yellow.
This color is optimistic and uplifting, rejuvenating our spirit.
It's also easygoing and simple to blend into our interiors. 
When paired with nice cool colors like white and Cream, it's one of the most calming colors for a bedroom you'll find around!
Deep Blue IS Deeply Calm!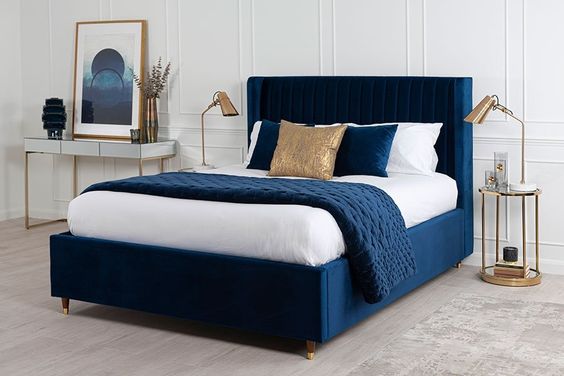 Navy blue is one of the most versatile and engaging colors!
It has been revealed as the most relaxing color in the world by papermaker G.F. Smith.
People say they feel instantly calmer when looking at a darker blue shade. 
Being a mature, bold, yet tranquil color, it's versatile! And most definitely, a calming bedroom color.
It can be easily paired with golden, white, or even silver. And you get calmness left, right, and center.
Mustard With Some Light Tones!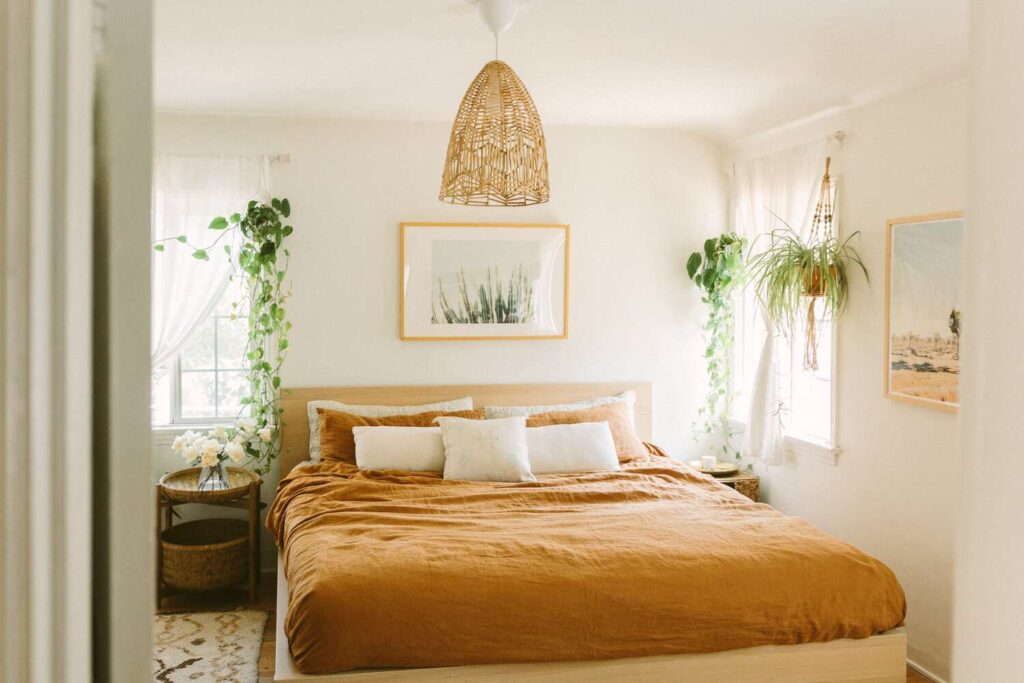 The color mustard energizes and stimulates the mind and body. As the warm color mustard can trigger feelings of warmth, it can also increase positive emotions and general feelings of optimism.
'Because mustard does have a visual sharpness, it needs to be balanced with softer naturally colored elements that you can enjoy touching and snuggling into, warm dark natural woods look amazing with mustard yellow, too,' says Marianne Shillingford, Creative Director of Dulux, to Real Homes.
It's great for darker rooms where you can't get enough natural light, so the yellow does the work of brightening up your space. 
A happy and refreshed mind is automatically a calm and relaxed mind. 
Colors like black, navy blue, white and gray pair wonderfully with mustard. 
Colors That Are NOT Calming For A Bedroom
Since we've already looked through the list of some of the most calming colors for your bedroom, why not take a look at the ones that mar the cool of your room?
On we go:
Red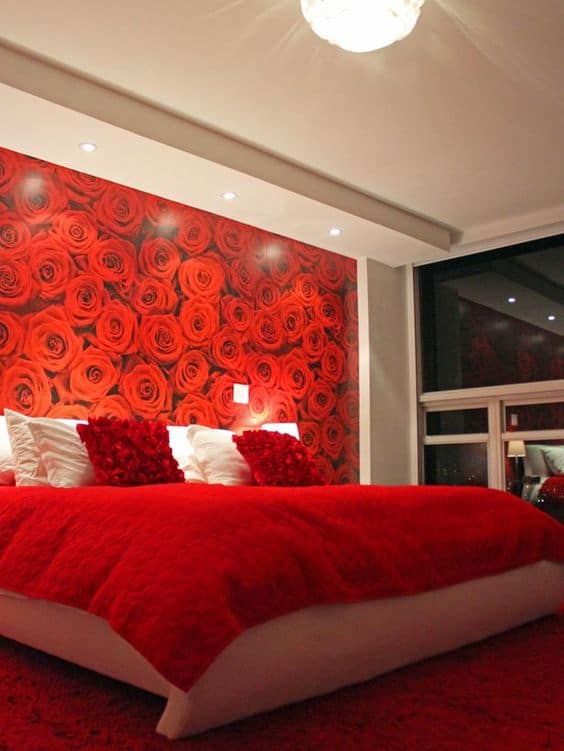 Red isn't a color for the faint-hearted! So, we don't recommend a red room if you're looking for a calm bedroom. According to psychologists, red is the most stressful color.
Red symbolizes energy, fire, and power. It's also bold and outright. So for a bedroom built for a battle, go ahead with it. But if peace is the goal, Nah!
Use it as an accent if you love red so much that you want to add it to a calm bedroom scheme. Simple red pillows in an all-white bedroom, for instance, could work wonders and not affect the calmness of the bedroom even a tiny bit!
Black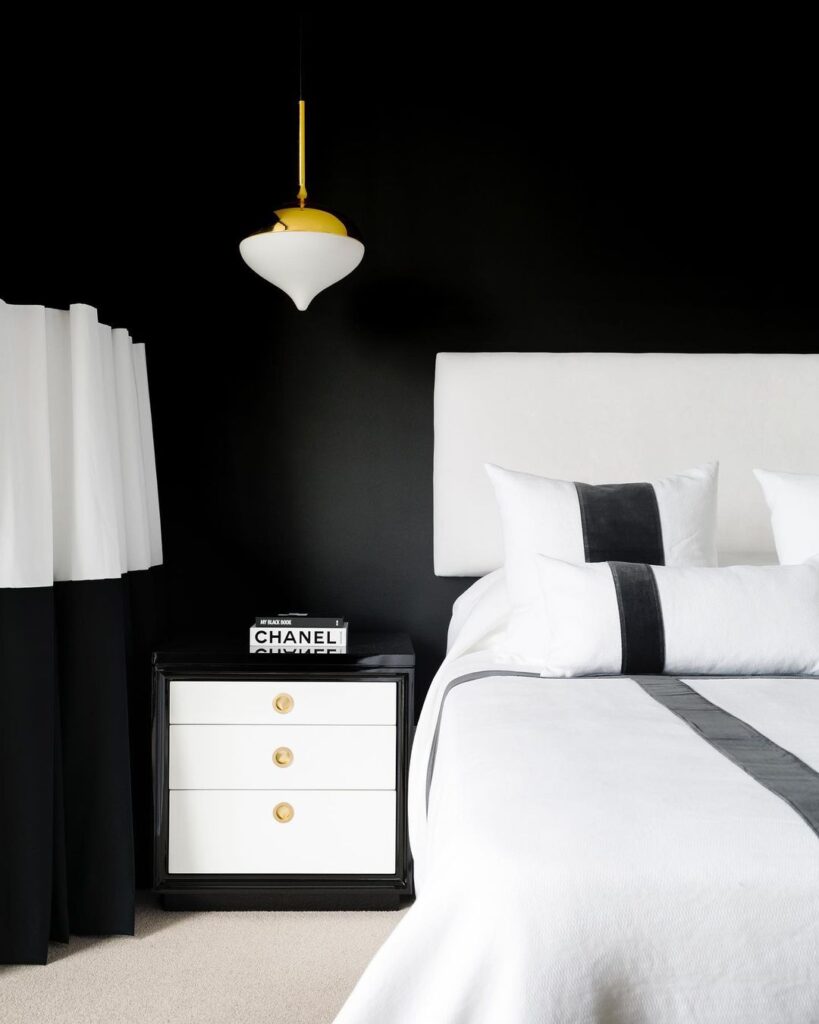 Black is classy. Black is sophisticated. But black is not calm. The energy it gives out is of mystery, power, and sometimes even sadness and depression. 
Many consider black to be a mood-dampening and depressive color.
It also absorbs all light, so it's a low-energy color.
Yellow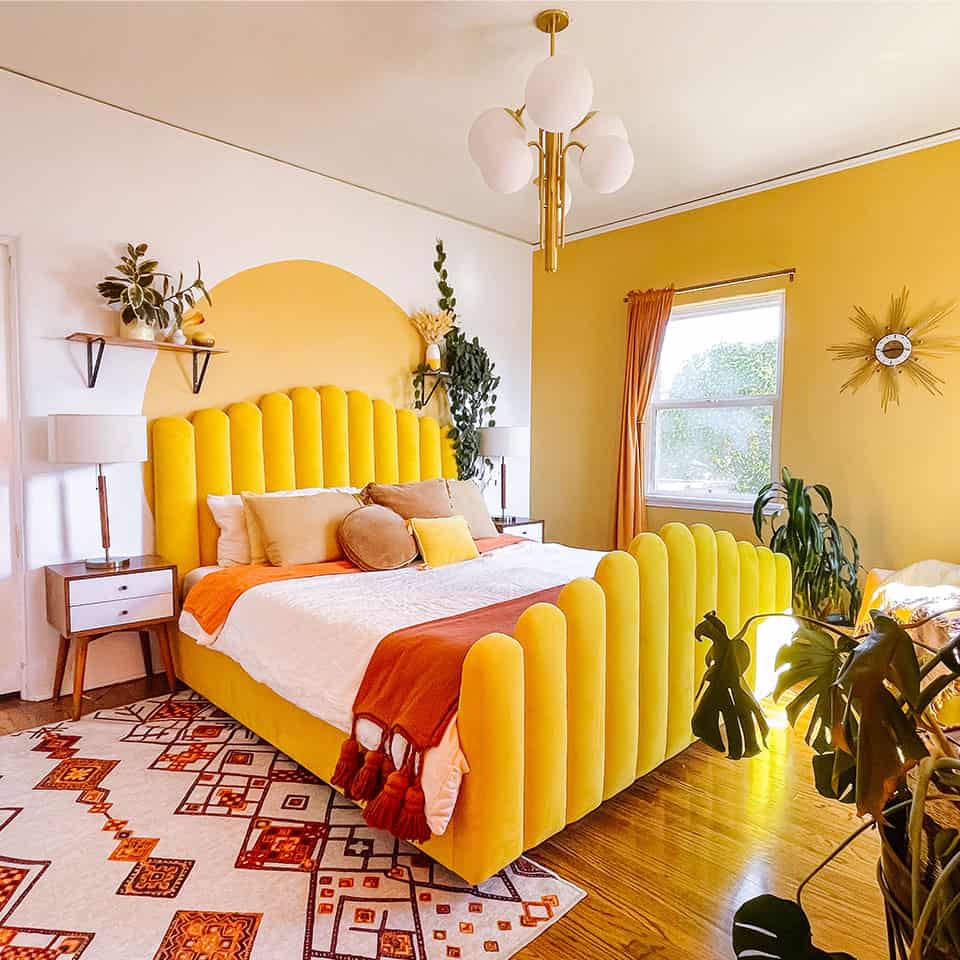 While yellow is one of the happiest colors, it might not give you the peace you want because it's very bright and feels on your face. Light or pale shades of yellow might do something, but bright yellow? No, no!
Orange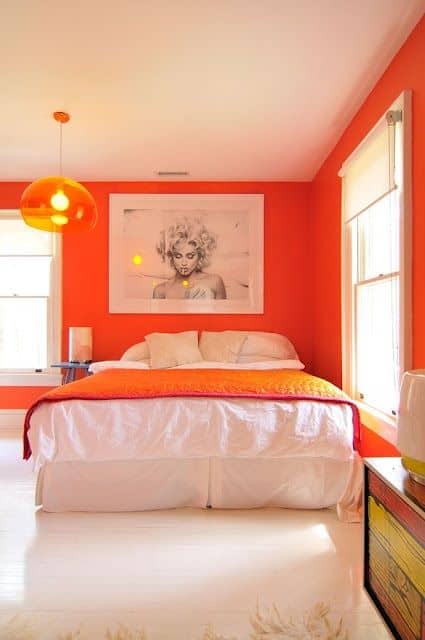 Oranges are pretty good, but only for eating! 
For a calm bedroom, it's a huge no! 
Even closing your eyes in an orange bedroom is unimaginable because everything will be in your face, Like the brightness and the playfulness.
You can imagine a kid's playroom dipped in orange, but for someone looking for an excellent morning yoga session, turn away.
It might even induce bouts of anxiety in some. How threatening!
According to Sensationalcolor.com, Orange has one of the most potent measurable physical effects of any color.
It stands for danger; it's used for safety equipment and indicates areas where we need to exercise caution. That's why designers use it sparingly. You must, too.
Things To Consider For Designing A Calming Bedroom
Choosing The Right Color For Walls
Bedroom walls have the power to set the tone for the rest of the room. So choose excellent color for your bedroom wall because that's your base. That's going to put the overall mood of the bedroom.
Since you want a calming bedroom, lighter hues like blue, purple, and white work best, any color you go for, make sure it's a relaxing color for the eyes. That'll be a good color for sleep too.
Choosing The Right Color Scheme
Not always will you have just one color across your bedroom? There'll be more than one, so choose the color scheme wisely. The color scheme you choose for your bedroom is as important as choosing the right color for the walls because peace is incomplete without symmetry and sync.
It'll be great to decide on a color scheme, so your room looks planned and organized.
Cleanliness
Psychologists correlate cleanliness with mental ease. That's why the first step to start decorating a calming bedroom is to tidy up and organize! Say goodbye to excessive clutter and hello to a minimalist, peaceful bedroom.
You don't need to be looking to start from scratch. You might even make a few changes with affordable stuff. Keeping your personal space clean and clear is an essential first step. Maybe more important than colors, we'd say.
Correct Furniture
The functionality, harmony, and aesthetic of your furniture define the room. 
Any bedroom is incomplete without the right furniture in the right place. You'd want some plain, sober-looking furniture across your bedroom.
Also, for a calm bedroom, one needs to avoid excessive clutter. Because clutter means mess, and mess means frustration. That's exactly what you don't want.
That said, it doesn't mean that only neat minimalist styles work in a calm bedroom. Nope, not at all; the finishing and the finesse is the secret ingredient!
Some Space
We've been aiming at avoiding clutter but not just that, ensure that you have ample space in your bedroom.
The more space there is, and the less stuff there is, the calmer a place would be. That's why you like spending time in the bathrooms and not in your store rooms.
So, space is the key. No matter how good colors you have in the room, it isn't very worthy without enough space.
The Endnote
You know how it's said, charity begins at home? Well, inner peace also starts at home. Because if you're happy and at peace at home, you'll feel free and happy outside too. 
It's said you're most at peace in the morning. It's when our mind is a blank slate. Each morning gives you a fresh beginning. So how that goes sets the tone for the rest of your day. That is why people advise you to speak sweetly while the sun shines. 
But for a morning to be good, what do you need? A good night's sleep! 
And we hope you found this list of calming bedroom colors helpful and good!
Let us know in the comments which is YOUR favorite calming bedroom color.
Until next time, happy decorating!
Frequently Asked Questions (FAQs)
Which Color Is Calming For Sleep?
Blue, Light pink, beige, lavender, and white are some calming colors for sleep. Generally, cool and light hues are considered calming for slumber time, but for some- colors like brown or dark green can even imbibe peaceful energy because of their nature-centric undertones. 
Which Are The Most Comforting Colors?
The snuggliest colors are probably mustard yellow, brown, or terracotta. These have earthy undertones, making you never want to leave your room. While colors like blue, lavender, peach, or coral are calming, they also have an energy of optimism and activeness.
Which Is The Calmest Color?
The most tranquil and calm color is probably blue because it gives a sense of infinity and endlessness. 
It's calm and relaxing. 
And other refreshing colors like green and purple too have blue undertones, which immediately silence you as you see them.
Navy blue and violet are friends of blue, giving you the calm and peace you want without being too bold.