The holiday season and too much fun are just around the corner! It's time for those delicious recipes, intimate gatherings, and lavish home decor.
Well, we don't know about the delicious dishes and your fabulous gatherings, but so far as the holiday home decor is concerned, we can help!
Bedrooms are the most overlooked room of the house when decorating for Christmas. But not this year, please! You need to feel the festival in the most private corner of your home- your bedroom!
For starters, look at these stunning Christmas bedroom decor ideas, and you'll know how important it is to decorate your bedroom for Christmas!
On we go.
Christmassy Christmas Bedroom Decor Ideas
It's Nothing Without The Christmas trees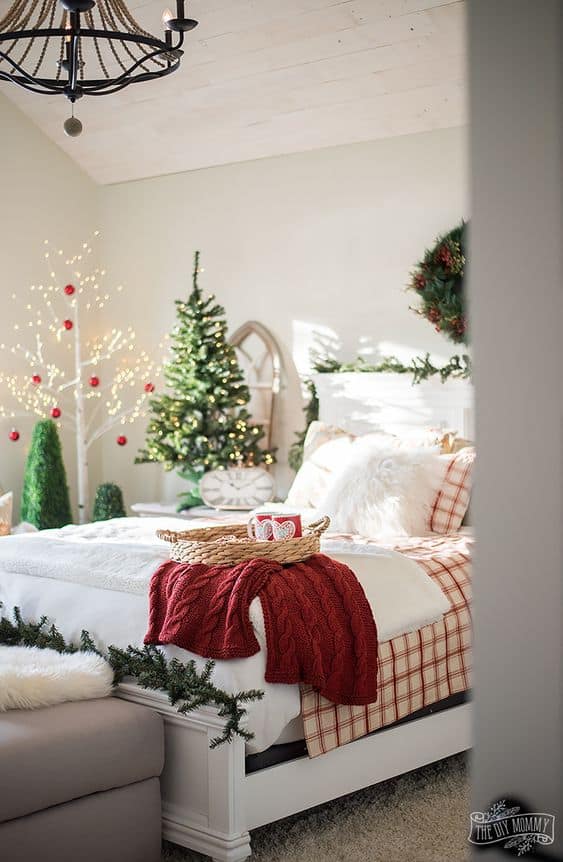 You know how important the Christmas trees are for a Christmas bedroom! You don't want to overlook them!
You NEED to add at least one ( or more) Christmas tree to your Christmas bedroom. They bring the festival straight beside your bed! You FEEL it!
Plus, to add an aesthetic touch to your festive bedroom decor, you can add a lot of decor and fairy lights to the trees.
If the space doesn't permit a large enough Christmas tree, how about getting a miniature one to display on your nightstand?
RECREATE THIS LOOK
Simple Christmas Bedroom Decor
If all the aesthetic and bright festive decor is not your thing, then there are a lot of simple Christmas bedroom ideas you can look up to.
Adding, for example, some red pops to your bedroom can get half your work done! It can be done by adding a few red throw cushions, throw blankets, and red wall art here and there.
Give your bedroom the final touch with a wreath and a miniature Christmas tree beside the bed!
RECREATE THIS LOOK
Use Snow-Dusted Christmas Decorations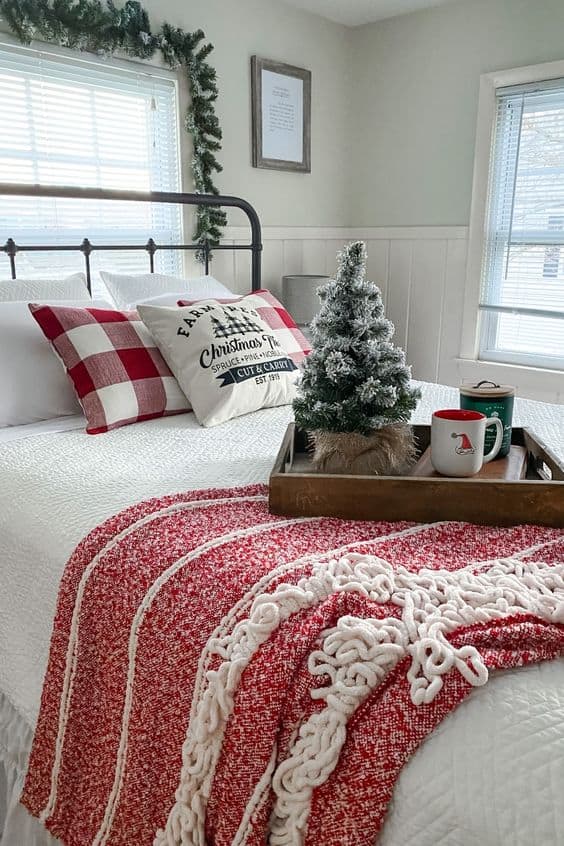 What is Christmas without the Snow and cold outside? Bring the winter wonderland into your cozy Christmas space with some snow-dusted Christmas decor.
That could be a cute little Christmas tree, a green wreath on the wall or a little fat snowman, or some pine wood ornaments here and there.
Add details to the look by adding a red throw blanket with some white finishings.
RECREATE THIS LOOK
A Boho Christmas Bedroom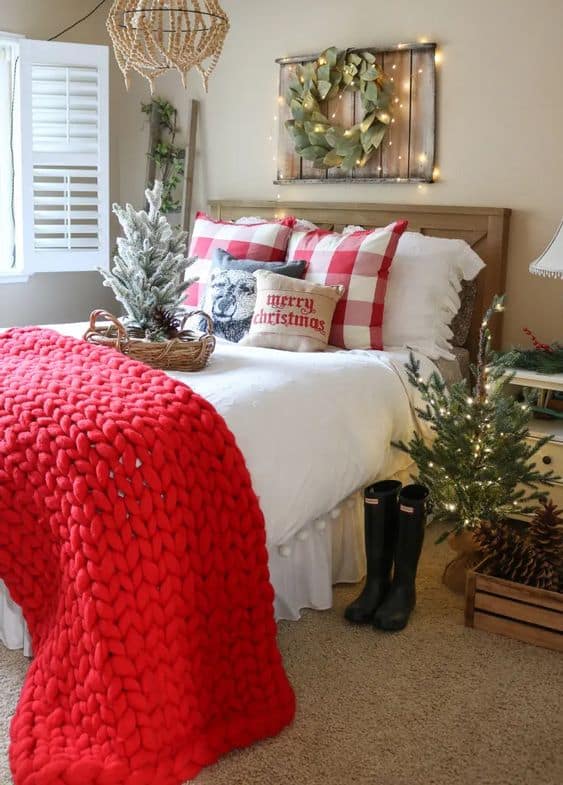 If it's about bringing in the warmness and coziness much needed in a winter bedroom, the boho theme is the go-to!
Use rattan furniture and decor, beaded chandeliers, and nicely knitted throw blankets. Add a few indoor plants, and your colorful, warm, and cozy bedroom is ready for the holiday season!
Consider adding a few fairy lights across your room to give it an aesthetic boho vibe.
RECREATE THIS LOOK
Add The Checky Christmas Bedding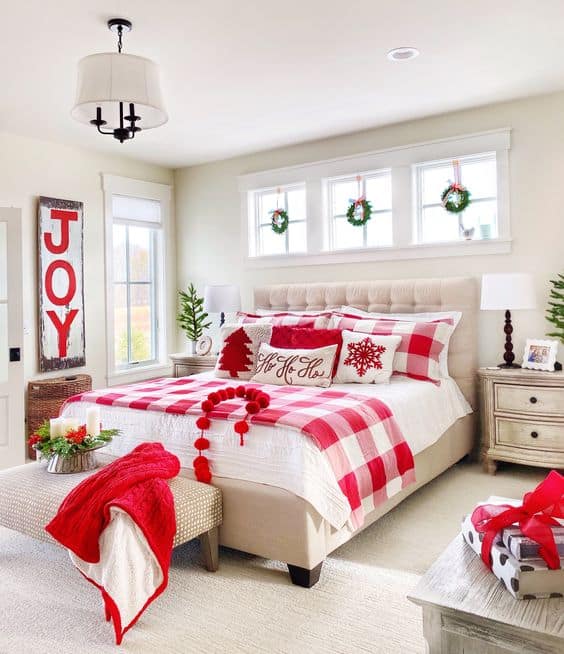 Buffalo plaid Checks are such subtle designs that they can add colors to the room without making it look overdone.
For a more traditional and classy Christmas bedroom, you might want to consider a checky Christmas bedding. Use it on a white backdrop and get the perfect farmhouse theme!
Add a few wreaths and Christmas decor across the bedroom to make the bedroom look more tailored for the holiday season.
RECREATE THIS LOOK
Decorate The Headboard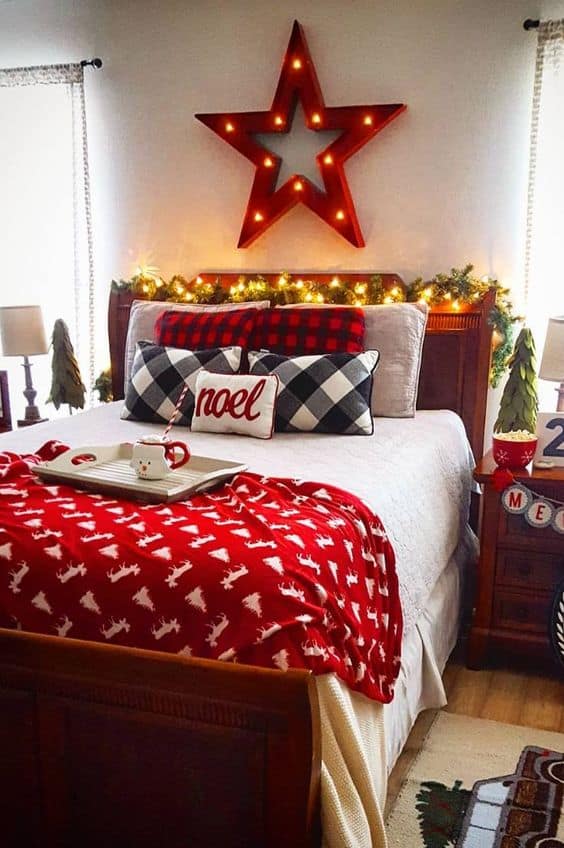 In the whole bedroom decoration, don't forget the headboard! All it takes is a lovely aesthetic Christmas garland to be laid on your headboard.
Consider decorating the wall above your bed with a Christmas wreath or a Christmas sign to add a more festive flair.
You already know about punctuating the reds and greens across your holiday room.
RECREATE THIS LOOK
Just A Simple Red Bedding Can Do The Job!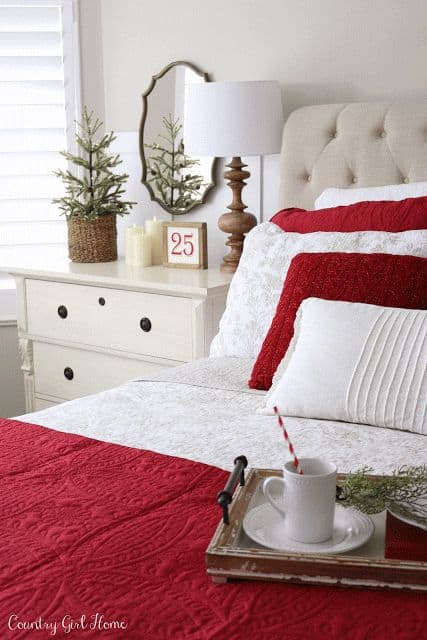 Not always do you need trees and lights spread across every nook and corner of your Christmas bedroom decor.
For the love of simplicity, consider adding just a few red throw pillows and a red throw blanket to your bed.
Try having them on a white backdrop for a more Christmassy color scheme. Just a plant or two can be added. Anything more is clutter.
RECREATE THIS LOOK
A Red Throw Pillow And Nothing At All!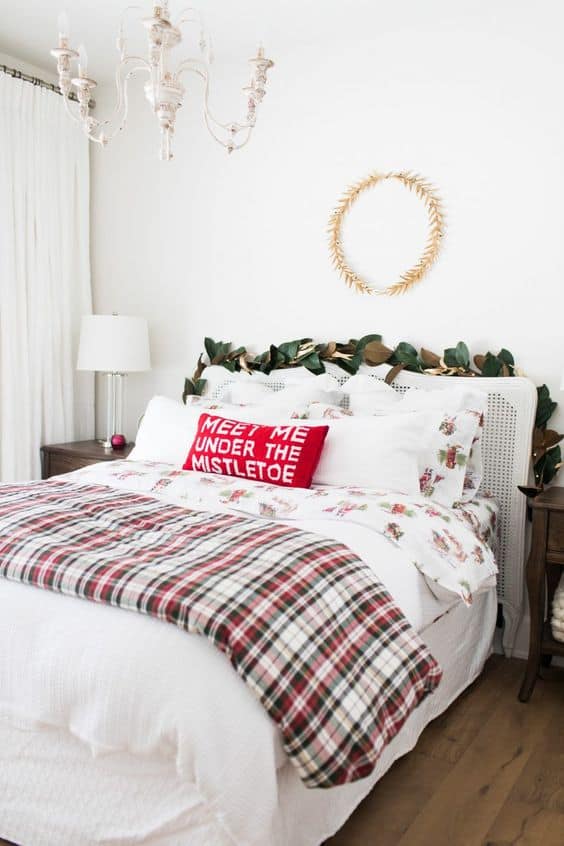 If adding a red throw blanket and throw pillows sounds like too much work, add ONE Christmas throw pillow in your already decorated bedroom, and you're done!
A splash of red on an all-white bedroom is enough to bring the Christmas vibes in!
Add some check patterns to your bedding to add a more traditional vibe to your bedroom.
Lights Are A Must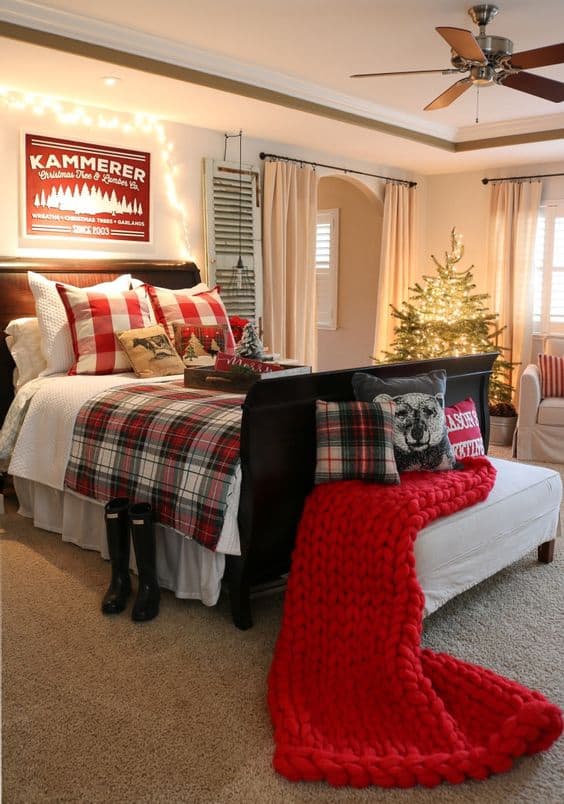 What is the holiday season without the lights?
Add many fairy lights across your bedroom for your Christmas bedroom design to give it an aesthetic flair.
Add them to the Christmas tree, over your headboard, on the wreath, and around the wall art. or fairy lights, and during the festive season, more is more.
The Farmhouse Christmas Bedroom Decor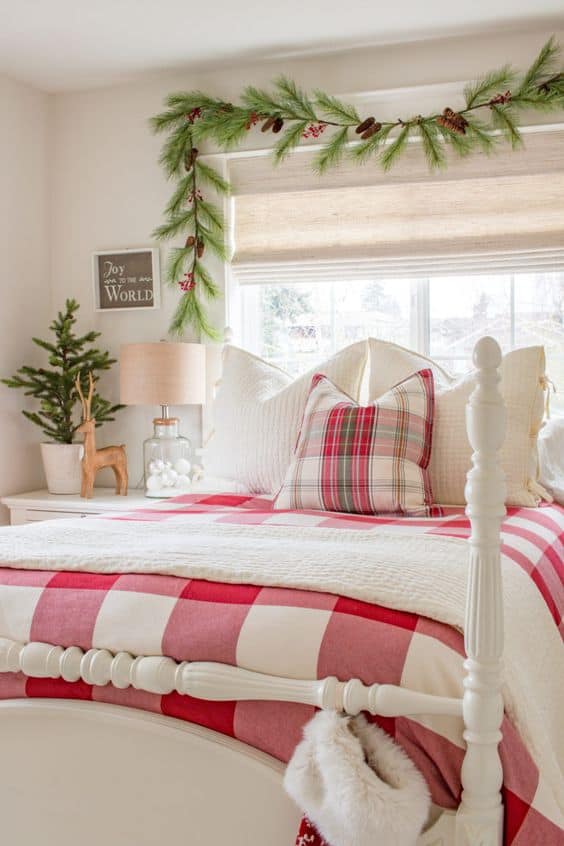 Farmhouse decor guarantees serenity and calm. Bring that calm to your holidays with a farmhouse Christmas bedroom design.
Add maximum light colors, preferably off-white. And add nice red check bedding against it. To make it look Christmassy, consider adding a few green garlands, and there you have it!
You can have this kind of bedroom all year round owing to its calm colors and farmhouse theme, agree?
Decorate It With A Wreath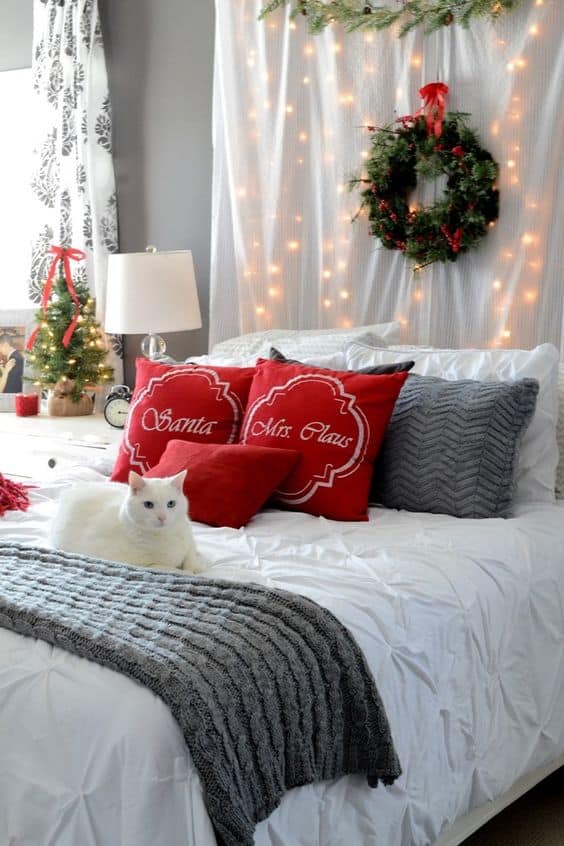 Whether it's your door, entryway, living room, or bedroom, a wreath is a must for Christmas decor!
Add a lovely green Christmas wreath on the wall behind your bed or several wreaths across your bedroom. Add fairy lights around it, and half your work is done!
Marry the wreaths with a miniature Christmas tree in your bedroom to bring the festival straight into your bedroom!
A Black And Red Christmas Decor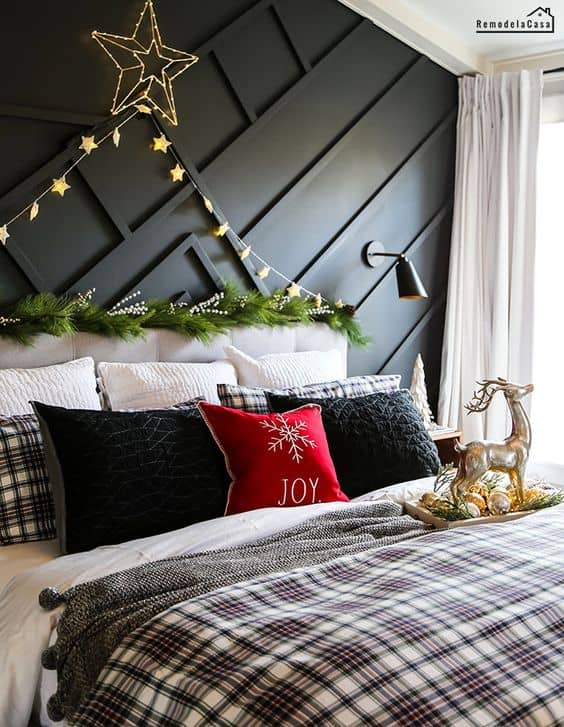 Who said the Christmas bedroom should only be red and white? Bring black in.
If you have back wall panels like here above, great! If not, consider adding a few black decorations to your bedroom and some golden decor to complement that.
Once that's done, punctuate red and green in your bedroom not to let go of what a traditional Christmas bedroom looks like!
All White And Snowy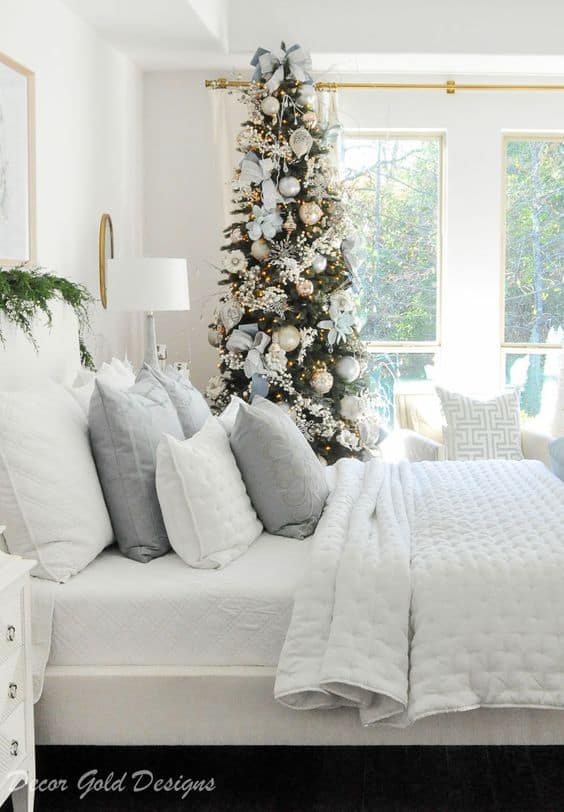 When you need a charming white bedroom and still want to decorate it for Christmas, go ahead!
Use white beddings against the white walls. Consider adding a Christmas tree with some faux snow decorations to add the perfect Christmassy touch to the room. For Christmas eve, decorate y your bedroom with fairy lights, and the red color won't even be a requirement!
But consider adding a few textures to your all-white bedroom so it won't look too bland.
A Canopy Christmas Bed For Kids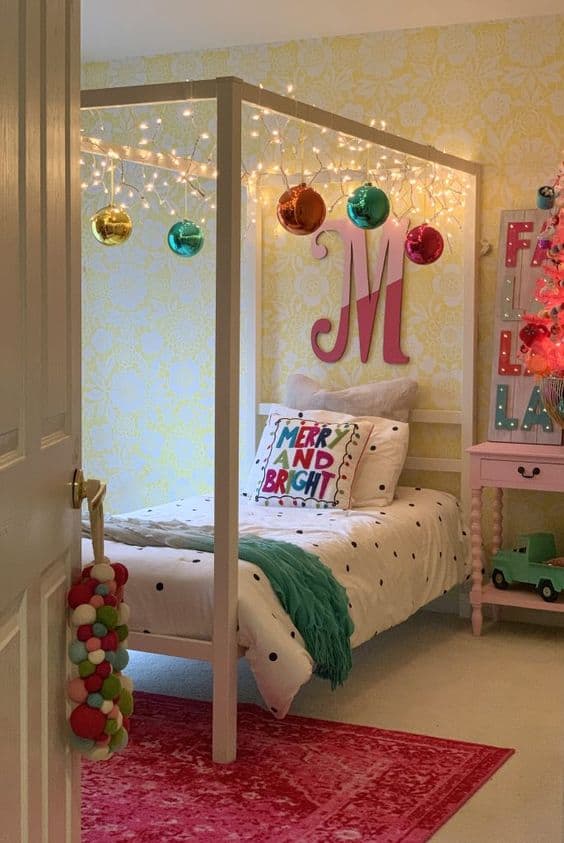 For a Christmas bedroom for kids, you might like adding a few glittery decorations around their beds, like in the image above.
Many colors in a kids' bedroom might be your best move this holiday season. Decorate their room with colo full pom-poms, lights, and paper decorations; there's no end to creativity.
The more colors, the better.
How About A Christmas Canopy Bed For Adults?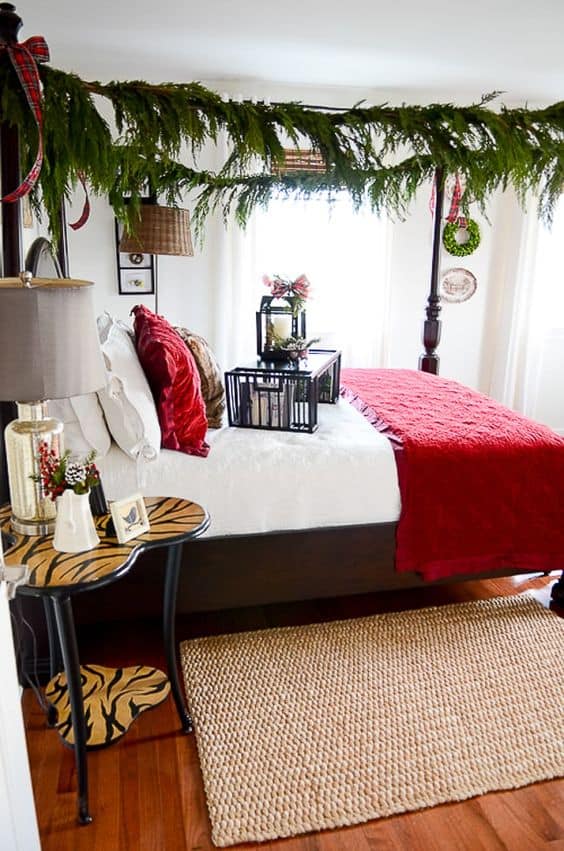 Have a canopy bed in your bedroom and want to decorate it for Christmas? Use a green garland around it.
The green garland in any room gives it a Christmassy vibe automatically. And anything above that is ic ng on the cake.
Besides the garland, use rattan decors, Christmas wall signs, cute Santa decors, and a few wreaths.
A Vintage Christmas Bedroom
Christmas garlands steal the look all the time. And when adorned with fairy lights, they make Christmas bedrooms straight from fairy lands.
Make it look vintage with excellent rustic doors or rustic Christmas wall signs.
Add check beddings in subtle colors, and your room's already glowing before Christmas eve!
It's Festive, Make It Maximalist!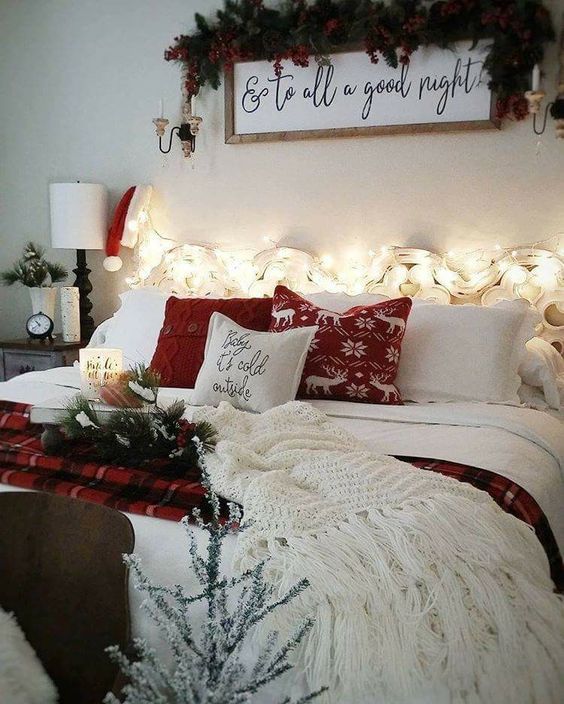 Since it's Christmas, there's no reason not to add as many Christmas decorations as you wish! Make your room maximalist and make it vibe for this holiday season!
Naturally, add a few red and white throws around the bedroom, a stunning faux Christmas tree, a few green wreaths and garlands here and there, and lights, of course!
And did we forget the candles and the incense sticks?
Just A Christmas Tree. Done!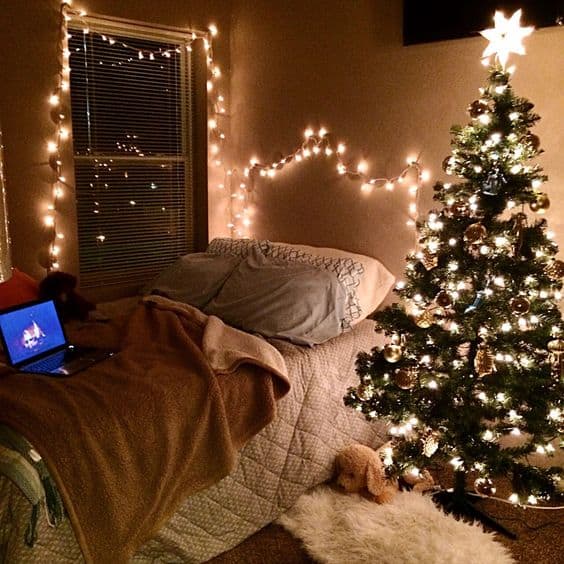 If you are looking for a Christmas bedroom decor idea that doesn't require much work, then maybe adding just a Christmas tree to your room is enough!
The tree is the signature decor and doesn't require anything to complement that.
Add a few fairy lights to turn your Christmas room into a more aesthetic space and see it glow!
A Cozy Christmas Bedroom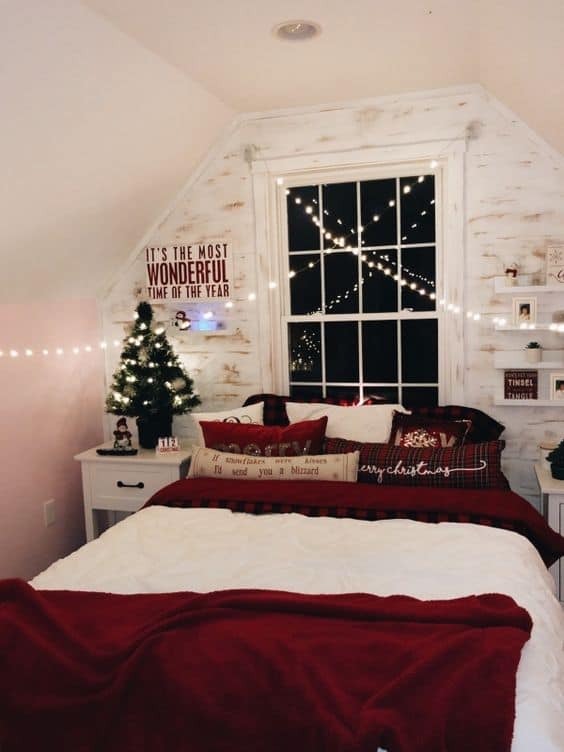 Small bedrooms make the best festive havens! Like this bedroom with slanted walls, you might want to add just enough fairy lights and the red and white pops.
A good number of cushions and excellent Christmas signs on the walls can make the bedroom feel too cozy to leave!
And don't forget to add the miniature Christmas tree to your nightstand. That's the evidence- it's Christmas!
And If You Aren't Even Thinking About The Budget!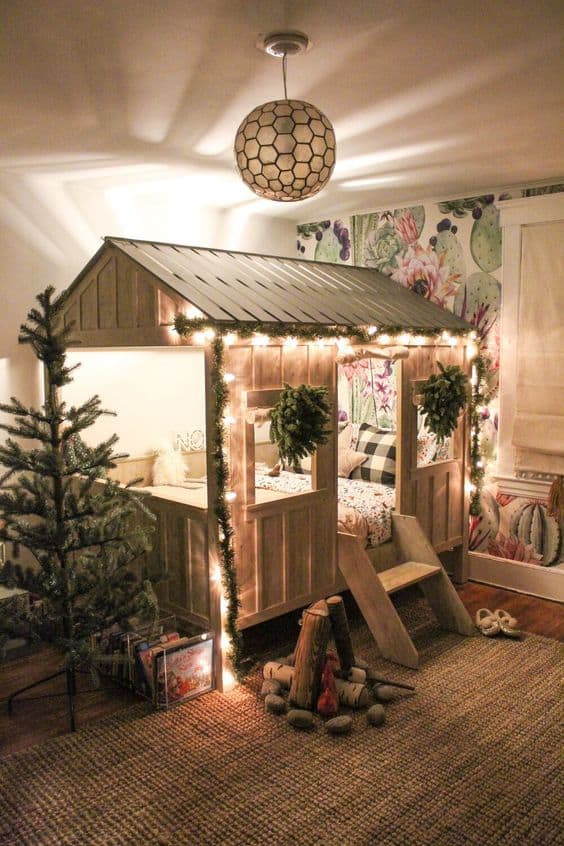 If budget isn't your problem this festive season, you could consider creating a cute and cozy bed hut inside your bedroom.
We know this has been your favorite since your childhood. But never too late.
Make it a cozy corner by adding many fairy lights, garlands, and other Christmas decor.
Add Everything You Can Think Of!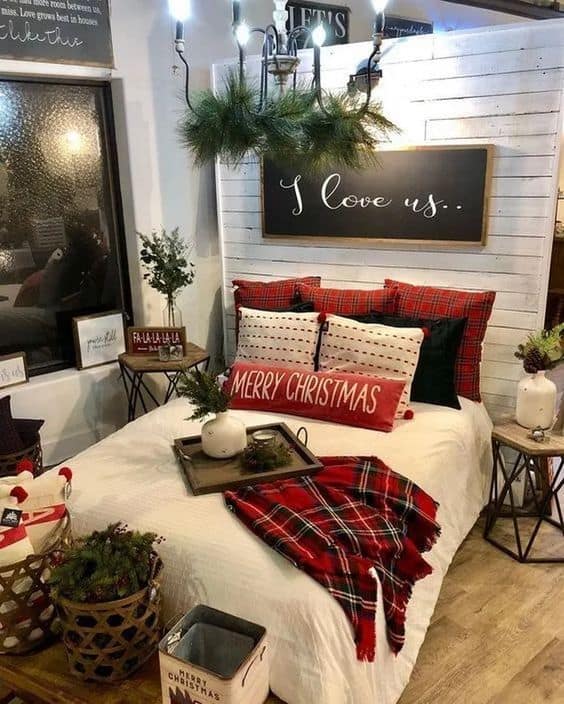 We said this before, and we must repeat it, it's a festival, and it must look so!
When it's Christmas, don't hold things back. Just add all the decor that [laeses your heart and head! It could be red and white bedding, check patterns, a Christmas sign, garlands, lights, Christmas trees, wreaths, trays and baskets, and whatnot.
The post can end, not the Christmas decor. Make it memorable with all that pleases your heart!
The Endnote
Christmas is special, and it must be celebrated uniquely!
There are so many things to add to your home decor in the holiday season, and life becomes a party, inside the home or outside. And you don't deserve any less!
To help you with your home decor this holiday season, we tried to compile the best Christmas bedroom decor ideas across the internet in one post. We hope you found this helpful!
We'd love to hear from you in the comments section. What are you up to this Christmas? And which Christmas bedroom decor idea was your favorite out of all these?
A very merry Christmas to you, your family, and your friends!
Until next time, happy decorating!
Frequently Asked Questions (FAQs)
How Can I Make My Room Feel Like Christmas?
Below are the following ways that can make your bedroom feel like Christmas pretty quickly:
1) Use lights around the room: Fairy lights can immediately create a Christmassy mood and vibe. No matter if it's your home exterior or interior, USE lights. They are worth it.
2) Use Scents: Festivals have an added charm when you can smell good food and good homes. So, use incense sticks, aroma oil diffusers, reed diffusers, scented candles, and room freshers to make your room smell like a flower garden all the time!
3) Use candles: In the wintery Christmas, even a little warmth seems like heaven! Candles can help. Use candles around your room. Use scented candles for the added charm!
4) The Christmas tree: Among all the other things, don't forget the Christmas tree for your Christmas bedroom decor, please! Decorate it with many decors, faux Snow, stars, and lights. You have the main thing set!
5) Use other Christmas decorations: When it's Christmas, holding back on many decorations is a sin! (really) So, use as many wreaths, garlands, lights, little Santa and reindeer, stockings, and gifts all around the room to make yourself and your home all set for Christmas!
What Are The Six Colors Of Christmas?
The six colors of Christmas are:
1) Red: Red represents the holly berries that represent Jesus' blood when he died on the cross and the apples on the paradise tree.
2) White: White is the color for purity and peace. It also represents the white wafers (bread) eaten during the Christian communion when Christians remember that Jesus sacrificed his life for them.
3) Green represents the evergreen trees of mistletoe, holly, and ivy. They remind everyone that spring will come and winter won't last forever. They are also a sign of good luck. Even the 'Paradise tree' from Eden's garden represents a green pine tree with red apples on it. Now, the Christmas tree with red decorations.
4) Gold: Gold is the color of warmth, much needed during the icy winters. It also represents the gift that the wise men brought to baby Jesus and the star they followed.
5) Blue: Blue represents the color of heaven. It is often associated with Mother Mary. In ancient times, blue color was more expensive than gold, and only the royal families wore it. Thus, it represents royalty and richness in Christmas.
6) Purple, On advent, purple is used as the color for the altar cloth in many churches.