Hey there, rug enthusiasts! Are you tired of seeing your bedroom like a blank canvas that's missing a personality? Worry not! I've got just the right "Rugs & Rhymes" edition for you! Let's whisk you away into a fantastical world where we're turning under-bed spaces into symphonies of style!
From bohemian rugs to minimalist ones – This curated collection of rug under-bed ideas is tailored to meet all your needs and aesthetics. After all, every room deserves its chart-topping hit!
So, join us through art references, and different interior styles to discover the perfect rug under-bed ideas for you! Trust me – your toes will tap, your heartstrings will strum, and your soul will sing along, as we navigate this creative journey together!
18 Rug Under-Bed Ideas
Cozy Shaggy Retreat!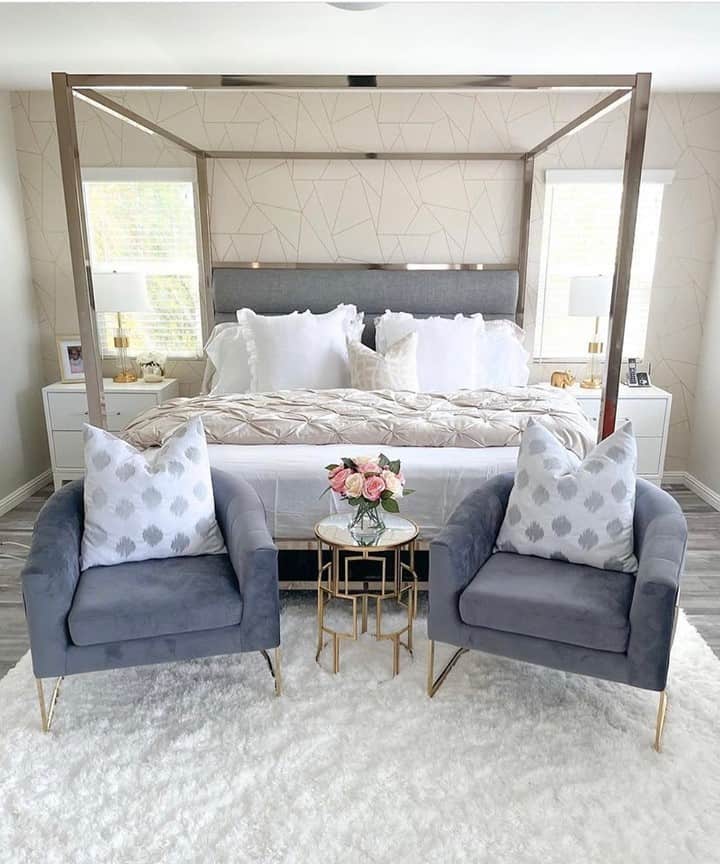 A plush high-pile shag rug in neutral tones like cream or light gray adds warmth and texture to your bedroom. This is a type of carpet with long, dense fibers that create a thick and plush surface. They have taller pile heights, typically measuring around 1 inch or more. 
The extra height of the fibers gives the rug a soft feel underfoot, making it super comfortable. Go ahead and sink your feet into its softness and get a cozy retreat right by your bed. 
Pro Tip:  High-pile rugs require more maintenance and can be prone to trapping dirt and allergens due to their deep fibers. So, make sure to keep your little rugs clean! 
Vintage Elegance!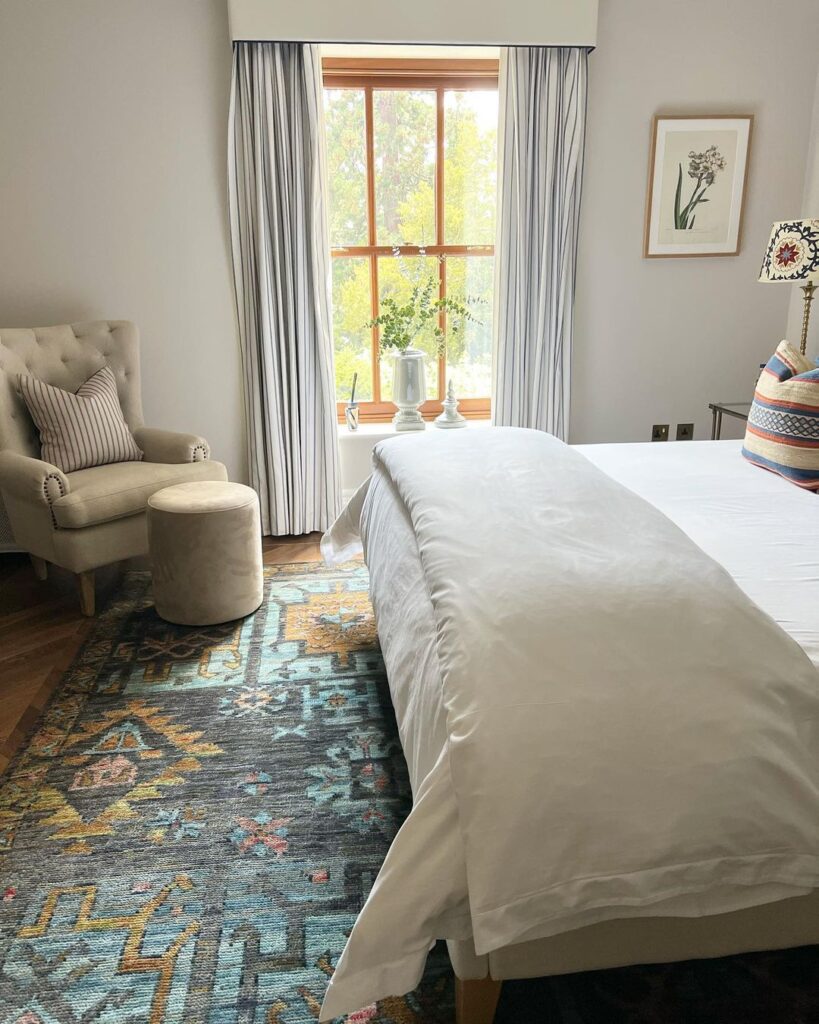 Go for a traditional Oriental rug with intricate patterns and rich colors for timeless elegance in your bedroom! The contrast between this detailed rug and a simple bed frame creates a stunning focal point.
You may also opt for a Moroccan-inspired rug with vibrant colors and patterns to add an exotic flair to your bedroom. The geometric motifs and vivid hues enhance a captivating visual appeal as well. 
Bohemian Chic!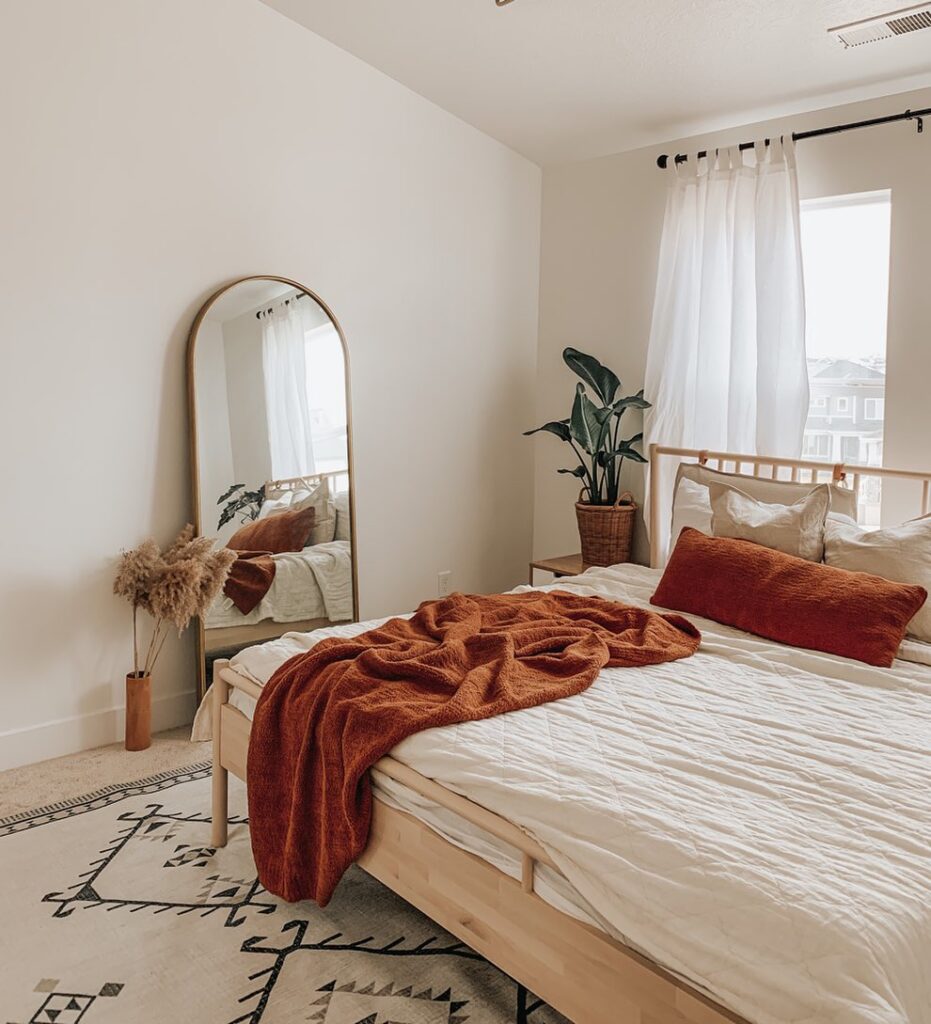 Let's embrace the Boho style by including a colorful, patterned rug in the bedroom with tassels or fringes! 
This laid-back and whimsical look complements a variety of bedroom designs. It even adds a pop of personality under your bed region. 
Modern Geometric Finesse!
You can choose a contemporary geometric rug with clean lines and bold colors to achieve a quirky modern aesthetic! This rug brings sophistication and is compatible with minimalist or industrial-inspired bedrooms.
Coastal Escape!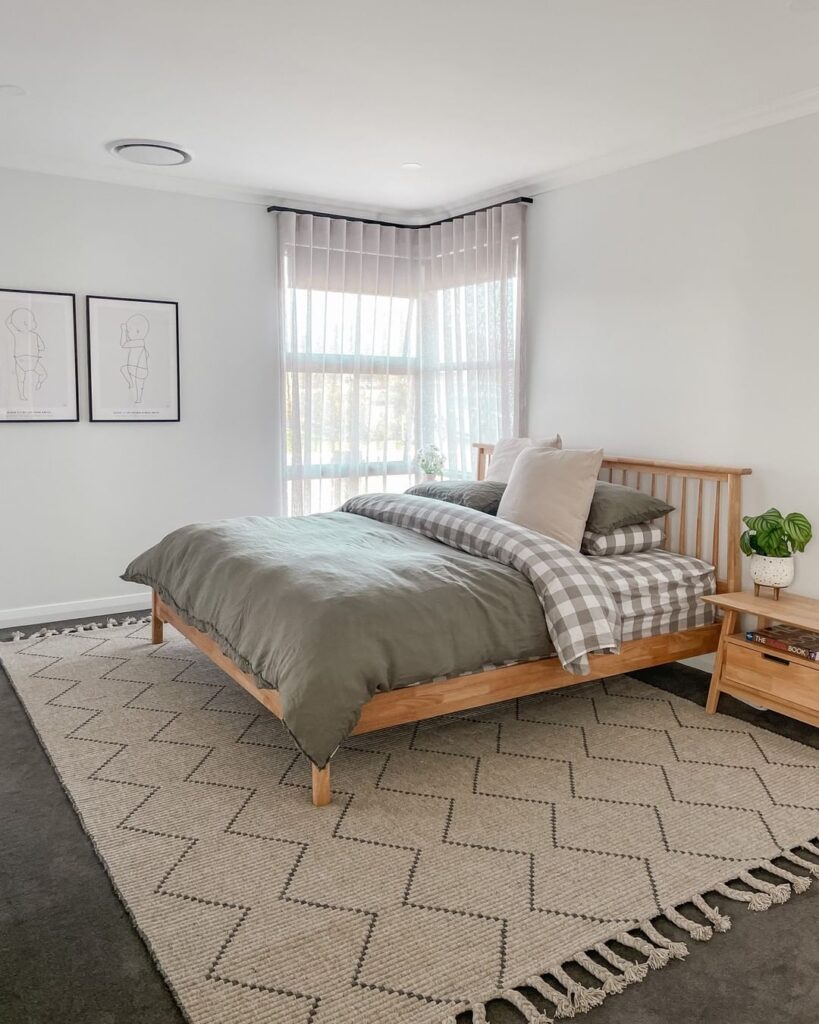 How about a beach-inspired bedroom this time? You can easily create one by opting for a woven jute or sisal rug. Its pleasant texture and light tones evoke a calming, coastal ambiance, perfect for a relaxing escape. For their durability and resistance – Jute or sisal rugs stand the test of time and offer low-maintenance care. 
Their neutral tones blend with various decor styles, creating versatility for your bed. These rugs treat your feet to a soothing experience, each time you step in and out of bed. Embrace the eco-friendly luxury with this rug under-bed idea!
Scandinavian Simplicity!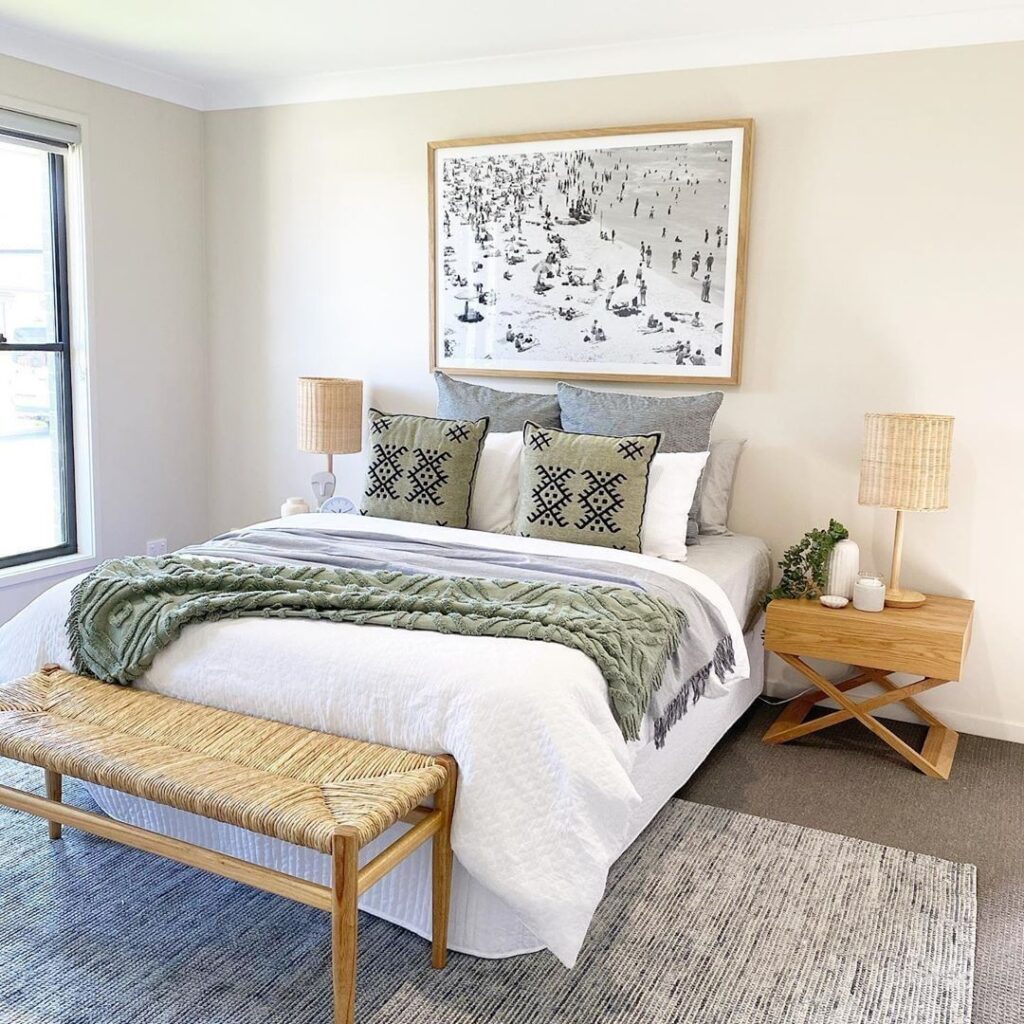 It's time to bring in the Scandinavian design in your bedroom with a low-pile rug in muted colors like white, light blue, or gray! This style focuses on functionality and minimalism, resulting in a clean, tranquil under-bed space.
This rug is a type of carpet with shorter and tightly packed fibers with a flatter surface. The pile height of these rugs is typically less than 1/4 inch. Low-pile rugs offer a smooth and firm texture, which is easier to clean and maintain than high-pile ones. 
Pro Tip: Low-pile rugs are a practical choice for high-traffic areas since they are more durable. These rugs are ideal for you if you own a pet because they are less likely to trap pet hair. 
Go Artistic With An Abstract Rug!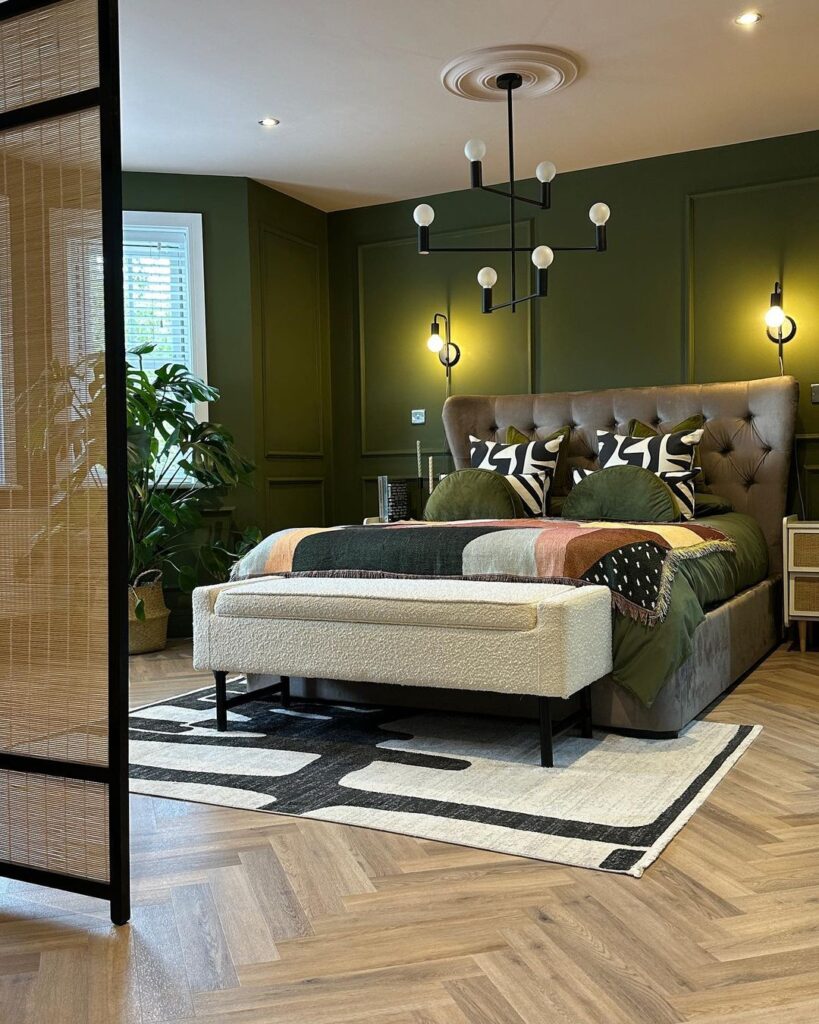 Like this dark-green bedroom, uplift the artistic appeal of your bedroom with an abstract rug with bold brush strokes, vibrant colors, or unique flowy patterns! This rug serves as an eye-catching statement piece that complements every modern or eclectic bedroom.
Give It Some Regal Elegance!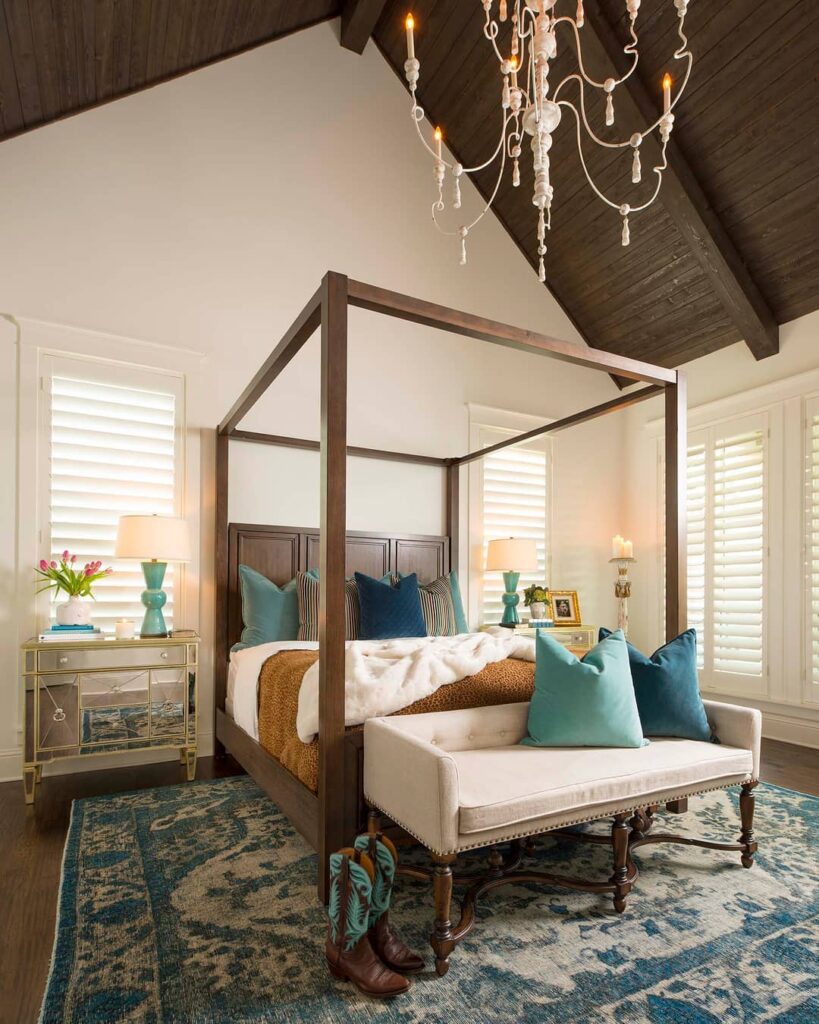 Get a little luxurious by placing a plush, velvety rug in rich jewel tones beneath your bed. Just like this regal teal carpet! This opulent choice adds a majestic essence to your bedroom, creating an aura of grandeur and royalty, exactly like this Victorian-style bedroom! 
Earthy Neutral Tones!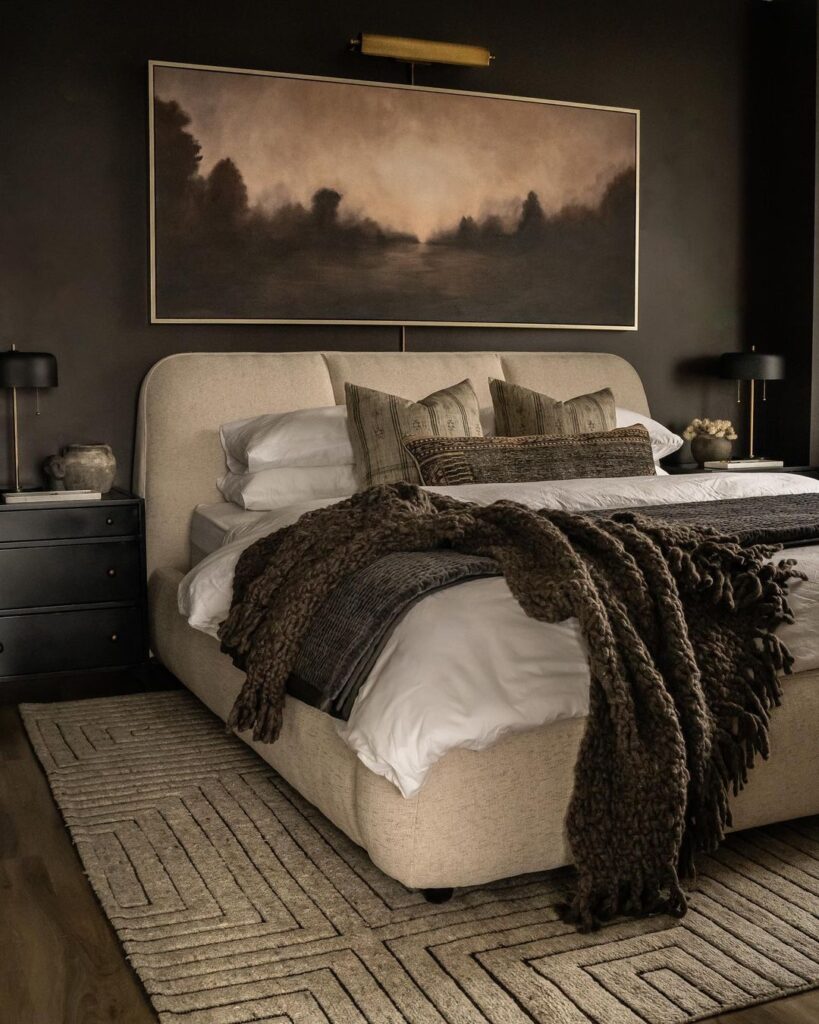 Wanna enhance the natural and rustic vibes in your bedroom? Go for a wool or jute rug in earthy tones like beige, brown, or olive green! 
These organic fibers and colors bring warmth and comfort to your space. This choice adds a touch of wilderness to your earthy bedroom, which is perfect for nature enthusiasts!
Playful Kids' Haven!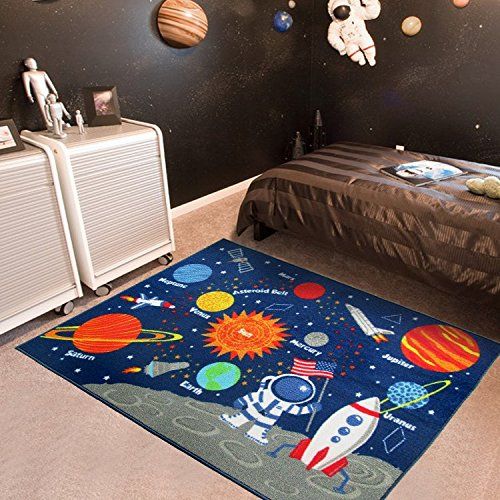 For a child's bedroom – A playful rug with fun patterns, educational themes, or cheerful colors would be wonderful. This kind of rug stimulates creativity and makes the floor a comfortable space for a kid's playtime. It is a must-have rug if you wanna bring visual interest out of a small bedroom!
Fall In Love With Classic Stripes!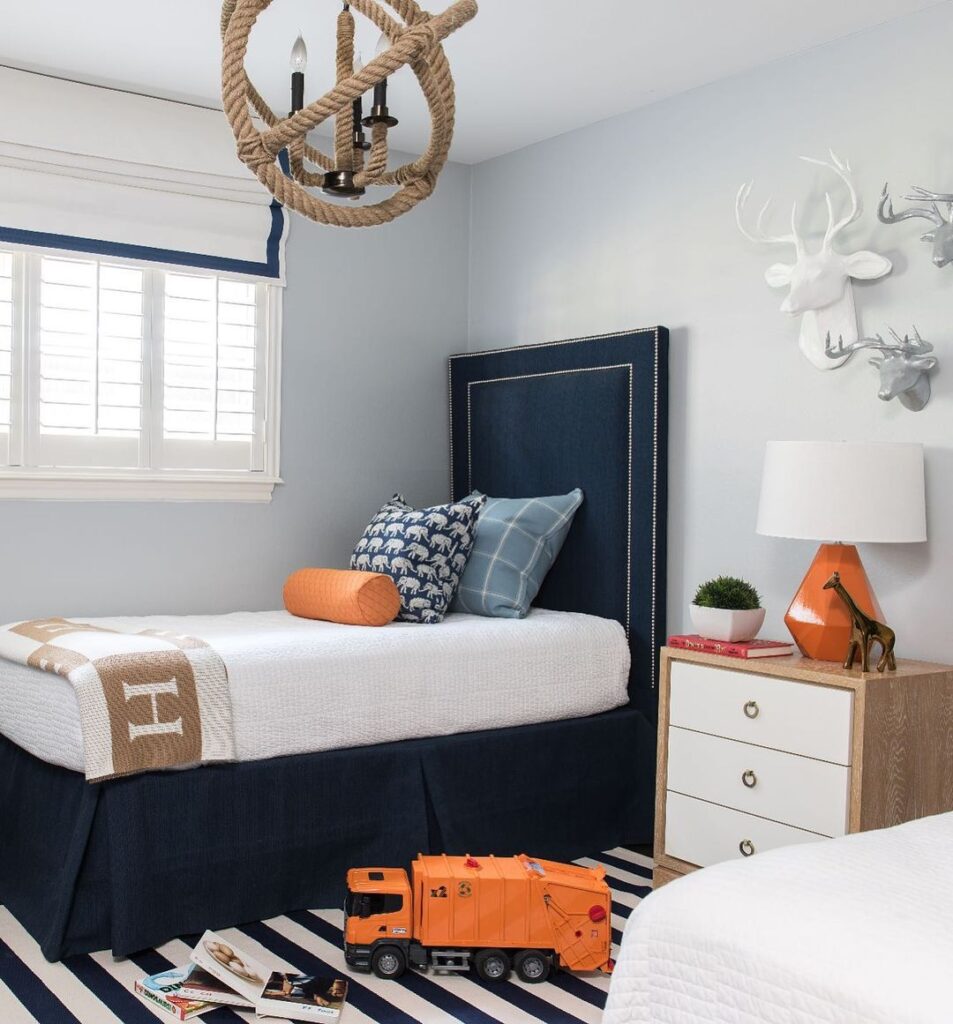 Timeless elegance can be infused with a striped rug in black and white, or navy and white. The clean lines of the stripes add visual interest while maintaining a sophisticated flair. 
You can even bring an oceanic charm into your bedroom with a nautical-themed rug featuring blue and white stripes. This choice is ideally suitable for coastal or beach-themed bedrooms!
Create A Floral Haven!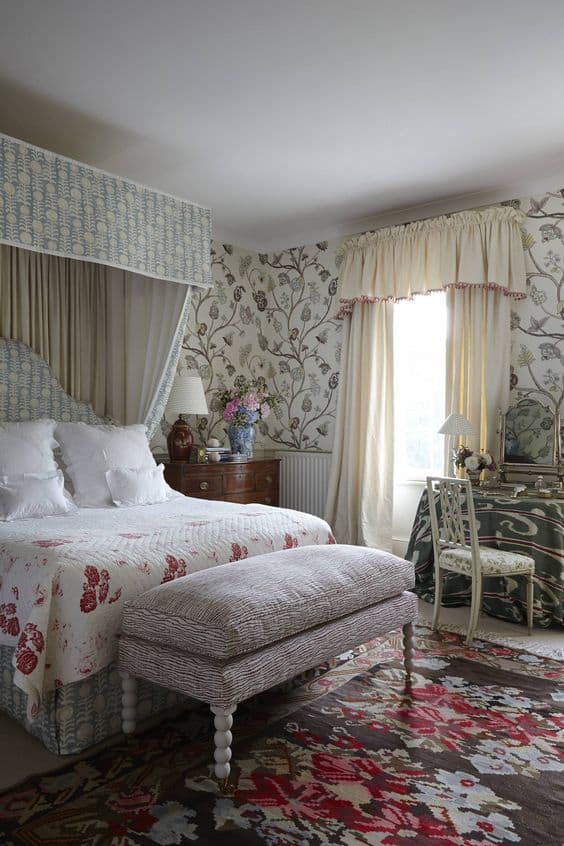 A floral rug with intricate blooms and soft colors can create a dreamy, whimsical ambiance in your bedroom. This choice works well with vintage, preppy, or coquette bedroom styles.
This floral pattern complements various color schemes and furniture styles, providing versatility in design. The rug's artistic appeal enhances the room, transforming it into a haven of comfort and soothe!
Faux Fur Luxury!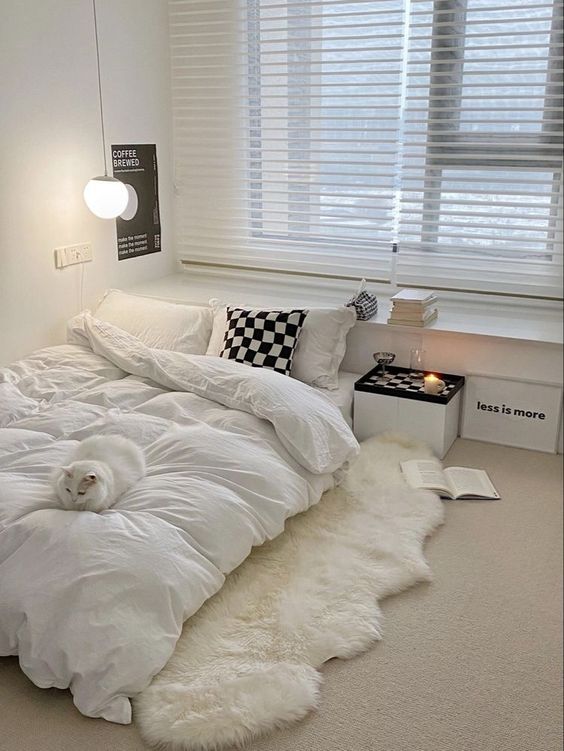 Add a cozy touch of opulence by placing a faux fur rug under your bed. This indulgent rug under-bed idea offers a sumptuous feel and complements bedrooms with a comfy and glamorous aesthetic.
Try A Hand-Knotted Rug!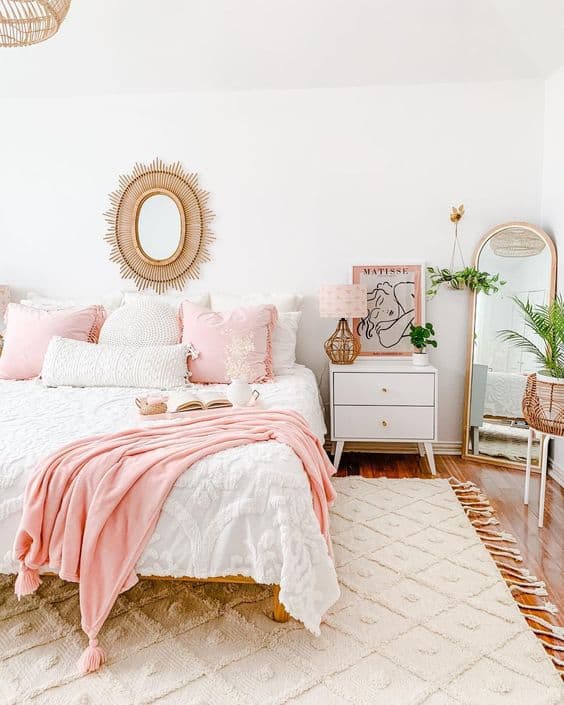 A hand-knotted rug is that rug under-bed idea that adds a timeless allure to any bedroom. It has intricate craftsmanship and exceptional durability, so it easily becomes the focal point of elegance and warmth.
The plush texture and artistic patterns elevate the space, making it a must-have choice for those seeking an unmatched artsy aesthetic room! 
Monochrome Minimalism!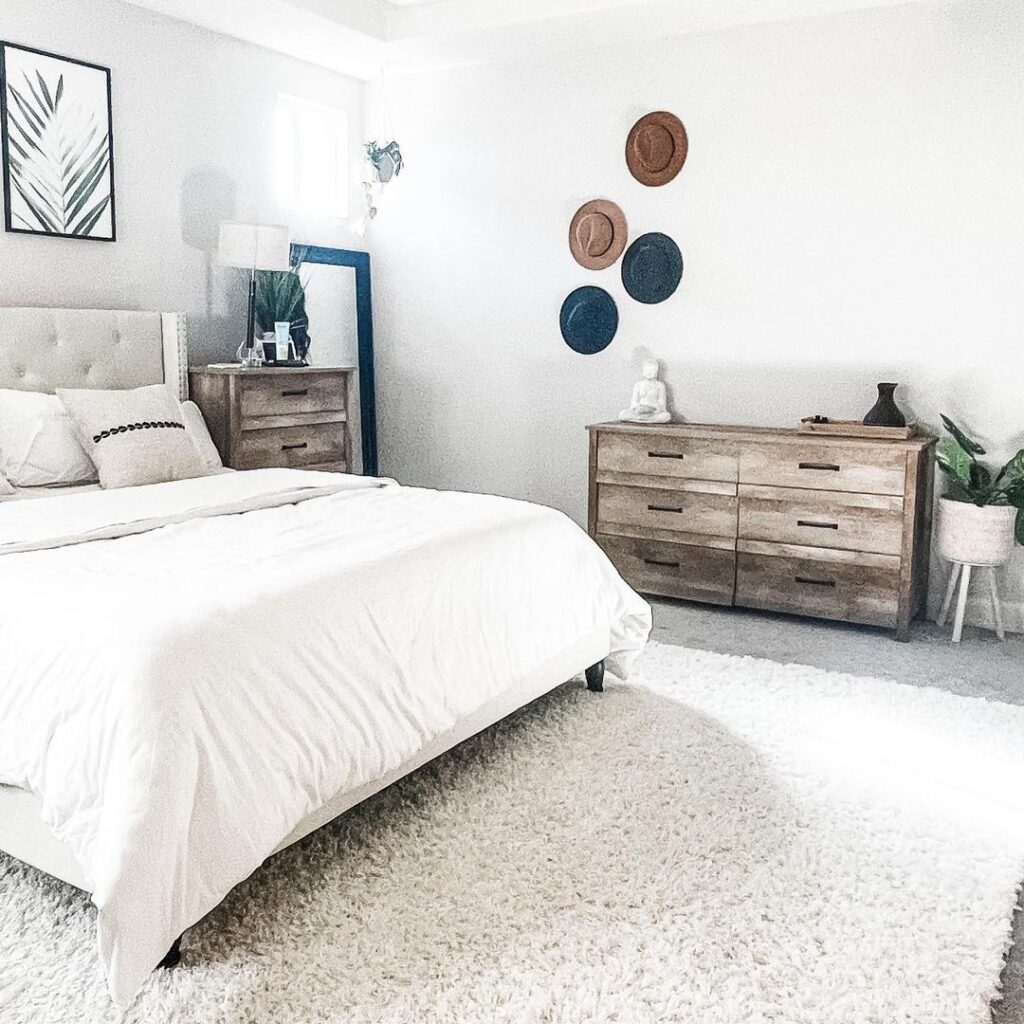 Minimalism Time! A minimalistic approach with a monochrome rug in a black, white, or gray shade can do wonders! 
This choice goes well with a contemporary or industrial-themed bedroom while offering a simple and elegant touch.
Cute Polka Dots!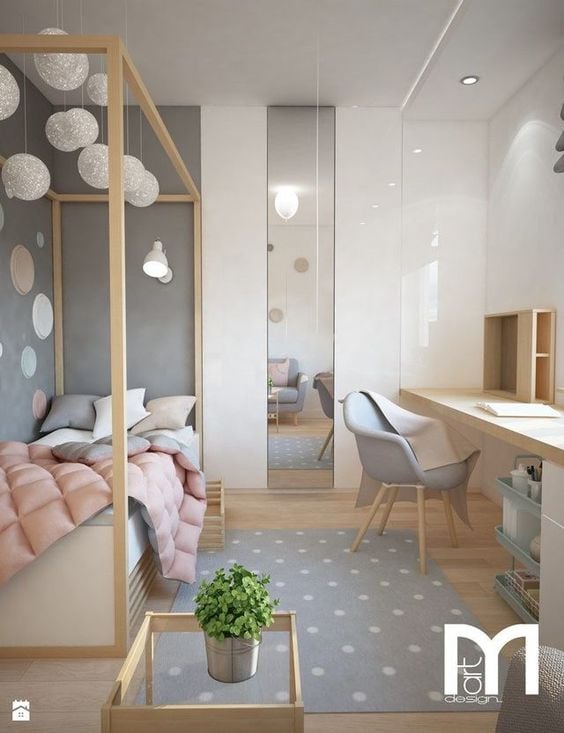 Lighten up the charm of your bedroom by adding a rug with playful polka dots! Choose colors that match your bedroom's palette and you can easily create a cohesive and cheerful vibe with this rug under-bed idea. 
Natural Prints!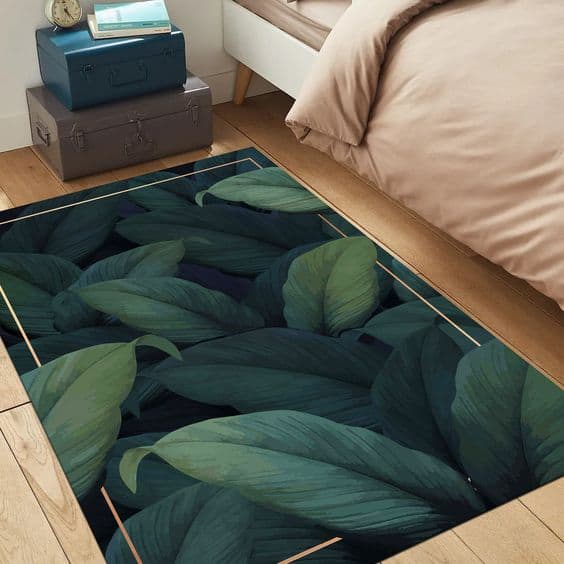 This is my favorite! Select a rug with leafy or floral patterns and bring natural beauty to your preppy bedroom. This rug under-bed idea complements every eco-friendly or nature-inspired bedroom design.
Bold Color Contrast!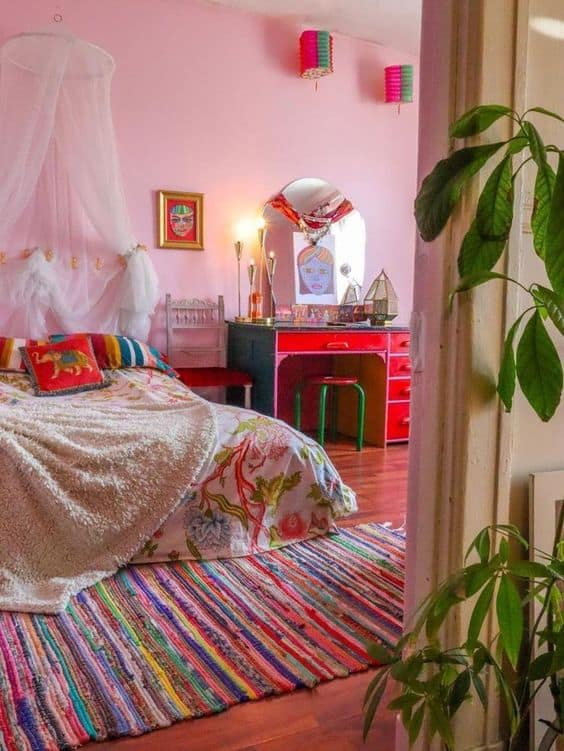 No more minimalism, it's time to go bold! A bold-colored rug that contrasts with your bedroom's walls and furniture would be a flamboyant addition. In a maximalist bedroom, a rug with vibrant contrast colors becomes the pièce de résistance!
Maximalism has an explosion of colors, patterns, and textures. So, a striking rug can effortlessly enhance this aesthetic. This magnetic rug becomes the dynamic focal point. It not only elevates an eclectic ambiance but also embraces a weirdcore aesthetic's whimsical boldness. 
Guide To Choosing The Right Rug For Under Your Bed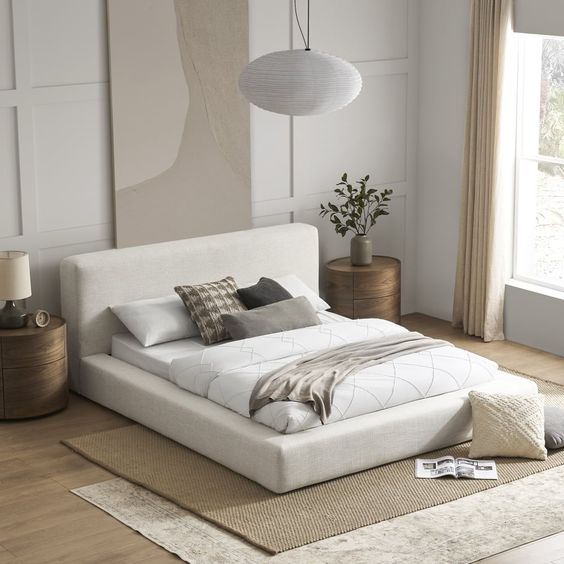 Choosing the right rug for a bedroom is essential to create a harmonious and appealing bedroom. Here are a few points to consider when making your rug choice:
Size Matters
Start by determining the appropriate rug size. Measure the area under your bed –  The length, and width, and ensure that your rug extends beyond the sides and foot of the bed. Ideally, there should be enough rug space to step on, whenever you get in and out of bed. 
Consider the Bed Placement
The placement of your bed in the room is crucial. If your bed is centered in the middle, you must choose a symmetrical rug. If the bed is placed against a wall – Consider an asymmetrical rug that extends further on one side.
Bedroom Style and Aesthetic
Choose a rug that complements the overall style and aesthetic of your bedroom. You can choose colors, patterns, and textures that blend well with your decor and furniture. Whatever your interior style is – The rug should enhance the ambiance of your room. 
 Material and Texture 
Select a rug material and texture that suits your needs and preferences. For a soft and luxurious feel – Opt for materials like wool or faux fur. If you prefer a natural and organic touch,  – Jute or sisal are good choices. Remember your lifestyle and any potential allergies when choosing the material.
 Durability and Maintenance
It's important to consider the durability and maintenance requirements of your rug. Every rug under the bed experiences foot traffic and may need regular cleaning. It's best to choose a material that can withstand wear and tear. Make sure your rug is easy to clean and maintain over time.
 Budget Considerations
It's wise to set a budget for your rug shopping and stick to it. Rugs come in a wide range of styles and prices. So, it's essential to find one that fits your budget while meeting your style and quality preferences.
Area Rug Sizes For A Small Bedroom
When choosing an area rug for a small bedroom, it's crucial to find the right size that complements the room's dimensions while keeping the visual impact. Here are some area rug sizes that work well for small bedrooms:
5′ x 7′ or 6′ x 9′: Rugs in these sizes are suitable for a small bedroom with a twin or full-size bed. It provides enough coverage under the bed and extends beyond the sides, creating a cozy and proportionate look.
4′ x 6′: This size is great for a small bedroom with a single twin bed. It offers sufficient coverage under the bed and leaves space around the bed for a balanced appearance.
3′ x 5′: A rug of this size is ideal for a small nursery or a toddler's bedroom with a crib or a small bed. It provides a soft and comfortable area for babies and young children to play.
 Runner Rugs: In a small, narrow bedroom – A runner rug alongside the bed can add style and comfort without overwhelming the space. A runner rug should be approximately the length of the bed. It must also be wide enough to extend a bit beyond the sides.
Round Rugs: For a small bedroom with a round bed or as an accent piece –  A round rug with a diameter of 6′ or 7′ can be a great addition. It enhances a unique touch and breaks up the square-like or rectangular effect of the room.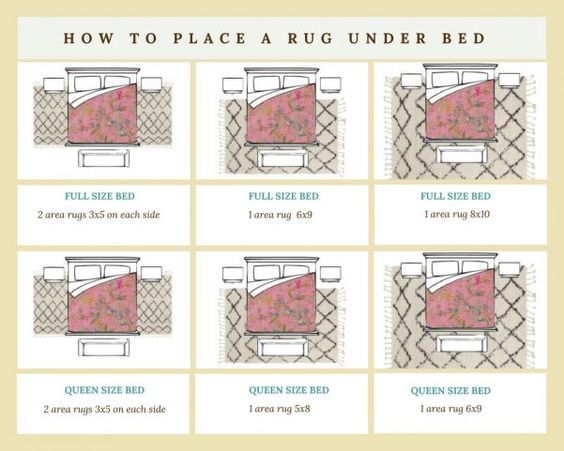 Whenever placing the rug – Ensure it's centered under the bed, with an equal amount of rug extending out from the sides and foot of the bed. This arrangement is visually appealing and creates a soft surface for your feet. 
Area Rug Sizes For A Large Bedroom
In a large bedroom, you have more flexibility in choosing the size of the area rug. Some area rug sizes that work well for large bedrooms include:
8′ x 10′ or 9′ x 12′: These sizes are suitable for large bedrooms with a queen or king-size bed. An 8′ x 10′ rug will provide enough coverage under the bed, while a 9′ x 12′ rug can offer a more generous amount of space around the bed. It also creates a luxurious and visually appealing look.
10′ x 14′: For exceptionally spacious bedrooms, a 10′ x 14′ rug can work so well. This rug covers a large area, making it suitable for rooms with multiple pieces of furniture like a sitting area or a vanity.
Runner Rugs: For a large bedroom with a long and narrow layout – You can consider runner rugs on each side of the bed or at the foot of the bed to add style and comfort. Runner rugs must be proportional to the bed's size and the available space.
Round or Square Rugs: For large bedrooms with shapes or specific furniture arrangements – Consider round or square rugs as focal points. A round rug with a diameter of 8′ or more builds a cozy aura in a spacious bedroom.
 Layering Rugs: In expansive bedrooms, you can get creative by layering rugs of different sizes and shapes. For example, you may place a large area rug under the bed and layer a smaller accent rug in front of the nightstands. This can add texture and interest to your bedroom.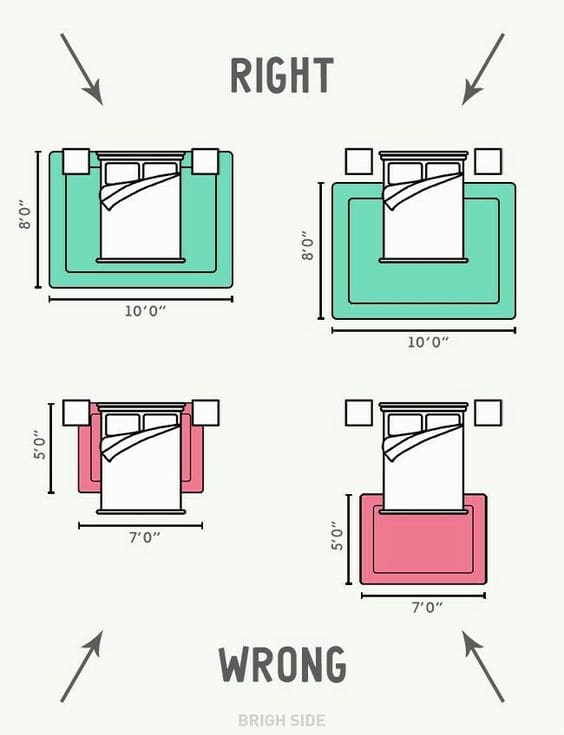 Whenever placing the area rug in a large bedroom – Ensure it covers a significant portion of the floor, leaving enough space around the bed and other furniture. After all, proper rug placement makes up the room and creates distinct zones within the space.