Your house is shaped by the interiors and those interiors are shaped by you! If you just go with the dreamy aesthetics when choosing your interiors – You can get the most amazing and diverse output from them! From the vibrant boho to the rustic farmhouse – Your space speaks about what YOU find beautiful. 
After all, watching Disney movies while growing up has been a common point of our lives, isn't it? Those grand palaces and surreal rooms that make you feel just like a princess – Yes, please! A life of grandeur is something we've all been fascinated about. We have imagined our houses to be gorgeous, dreamy, and heavenly – a space where every corner feels light and divine, exactly like a Disney princess movie. 
You're already dreaming of that perfect bedroom, aren't you? If you have, I've got some great news! Just take a seat back, and let me introduce you to some ethereal aesthetic room ideas; a style that will certainly make you feel like you're in heaven!
What Is An Ethereal Aesthetic?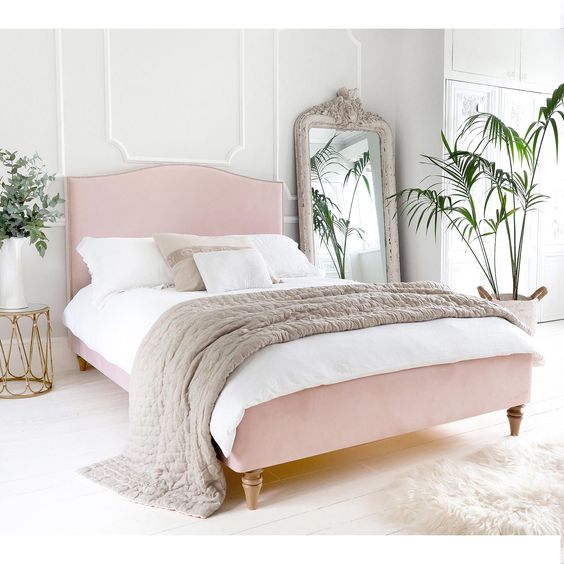 It is a dainty aesthetic based on creating a space that is quite divine and delicate as if it belongs to another world. Ethereal interior design is a classy light-colored style that has a ton of intricate details! It is pretty feminine with beads, laces, and florals as its core depictions. Most importantly, it uses a lot of natural light to create an illusion of a larger space.
Ethereal is all about elegance, calmness, and divinity. So, now you can already imagine how that would shape up! How about we waste no time and start exploring the ethereal aesthetic room ideas? I'm sure you're craving to make this aesthetic entirely yours! 
13 Ethereal Aesthetic Room Ideas
Introduce Vintage Mirrors!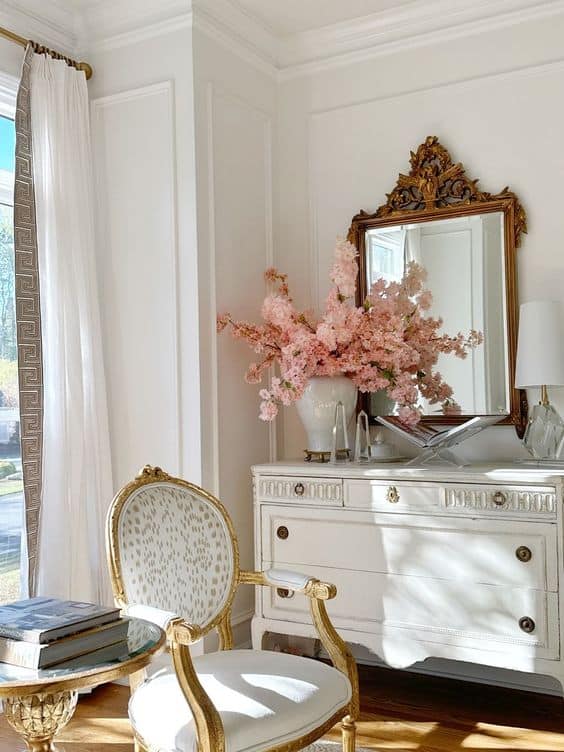 Ornamentation and ethereality go hand in hand. These intricately carved vintage mirrors are an essentially dreamy element for your ethereal aesthetic room idea. 
You will often catch yourself staring at the bedroom mirror, or just admiring yourself along with this beautiful element too! Your go-to choice can be a mirror with a brass or gold frame running all around the edges. 
Pro Tip: You may also play around with the proportions of these mirrors! Whether they are portable mirrors, table mirrors, or full-sized ones – Never stop with your quirky experimentations!
Use Sheer Curtains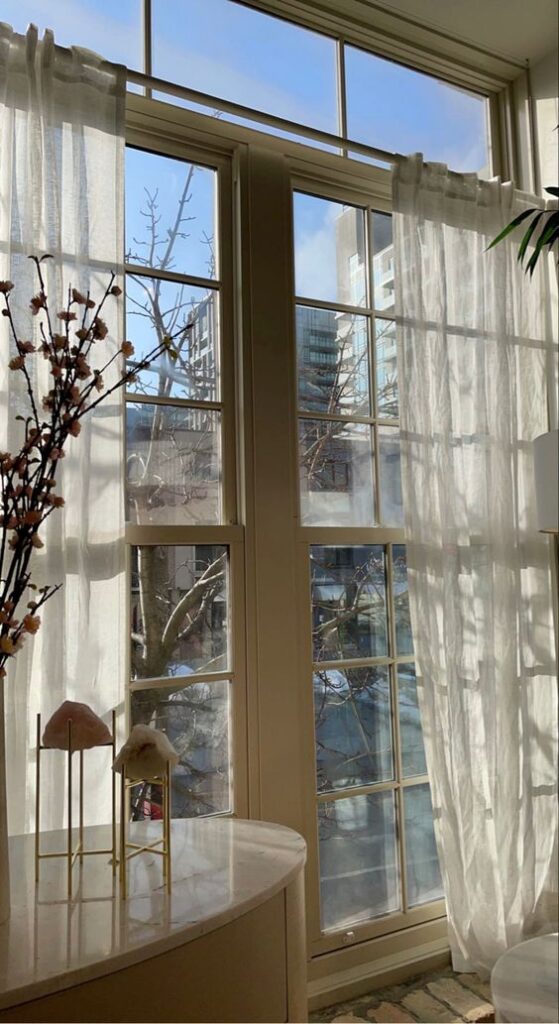 Are you bored of your regular, dark, and dull curtains? It's time to upgrade and get your sheer curtains onboard! These delicate, translucent curtains let in natural light while also providing privacy. Pair up these curtains with indoor plants on the sides. 
Voila! Now, you have the most beautiful corner and certainly the best backdrop for your next Instagram post! Grab a steaming hot cup of coffee and your favorite rom-com book, because this will be your ideal reading spot soon. 
Silk Bedding Is A Must!
Imagine waking up to the softest bedding ever, and that will become another excuse for not leaving your bed. There's no better material than silk when it comes to light and smooth bedding texture! 
These perfect velvety-textured bedding on pure white bed sheets can enhance your room with a dramatic change. I'm sure your room can easily compete with the luxury of any hotel bedroom. But don't worry, your comfort will never be at risk, so just enjoy! 
Use Flowers!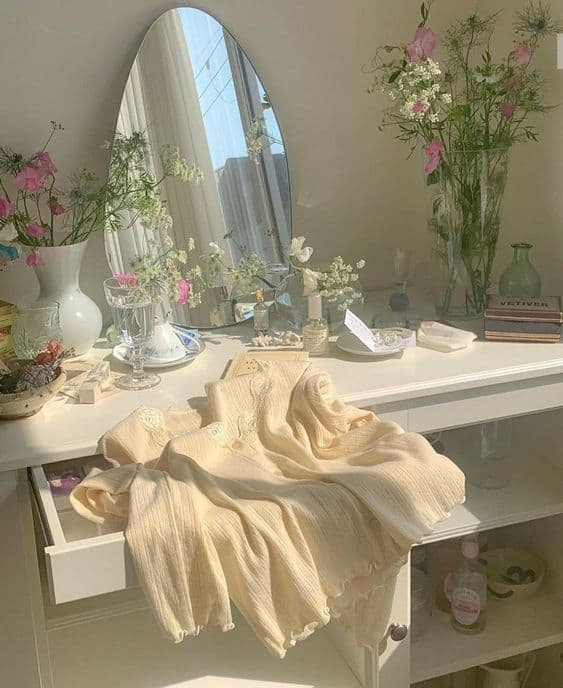 As a love language – Flowers are the most gorgeous gift you can ever receive! It can be more gorgeous if they are usable for adorning your room. They add a natural effect to the other dainty elements in your room. 
But, the greatest bonus is you can place them in multiple zones, or just leave them in transparent flower pots alongside your mirror. So, go and get ready with a bit of divinity!
Opt For Soft Pastel Colors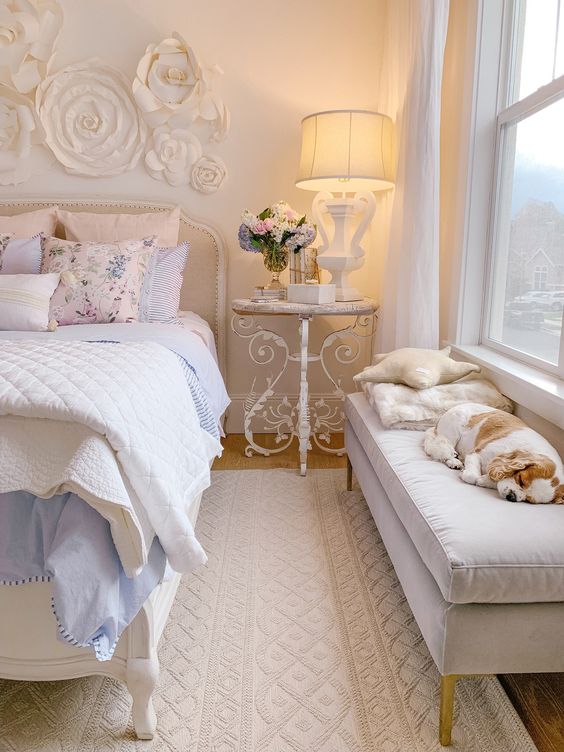 What can make your ethereal bedroom more surreal? Off-white color in the backdrop of a striped blue bedsheet and a white textured carpet! These soothing pastel colors in your room will become your go-to color scheme as they bring a relaxed vibe, making your space seem much lighter. 
Your aesthetic bedroom won't look any less than a dream! You can also never go wrong with adding some dainty flowers – So, go overboard and create your magical fairyland to explore! 
Lighting Matters!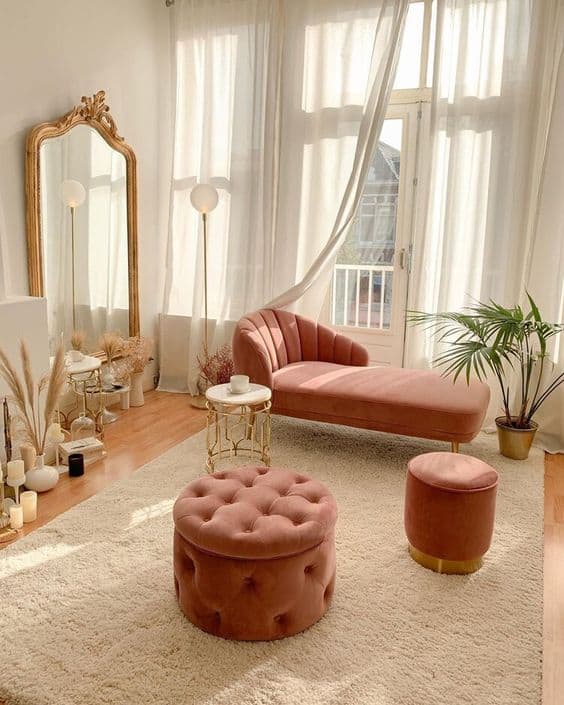 Let in some natural light through your carved wooden-framed windows and sheer curtains. If you've got dark wood flooring for a dark ethereal design, it will only make your bedroom your favorite spot. 
This cozy and airy setting can be the perfect Pinterest-worthy spot, so don't blame us when your friend's favorite hangout spot becomes your home!
Pro Tip: You can incorporate artificial light that can be added with a set of light stands on your white tabletop! Instead, you could also bring a graceful collection of bold or delicate golden candles to elevate the lighting game further. 
Design Your Walls!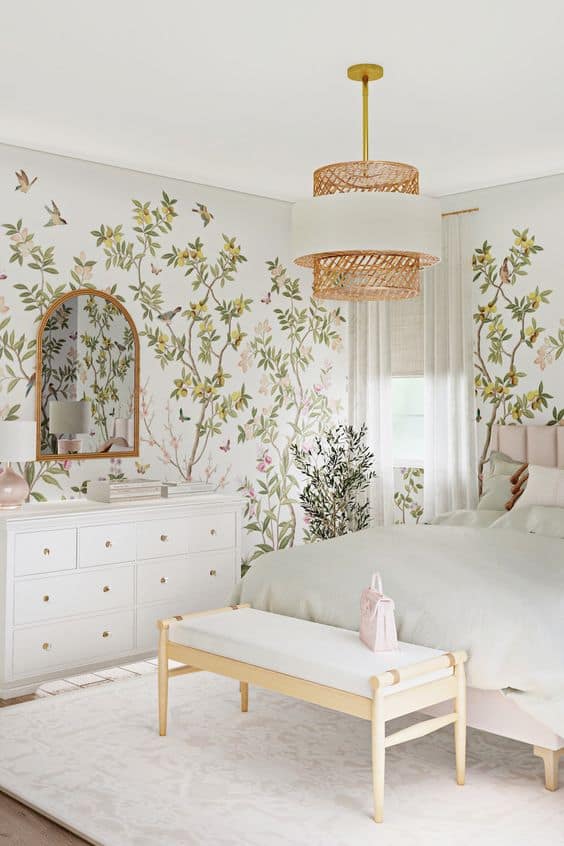 Walls are the largest organ in your room, and are a crucial element to design so that your room doesn't look naked! You can easily transform plain walls into a whole other dreamland, with the proper elegant elements! 
It can either be an alluring pink wallpaper with red flowers, on a subtle pastel-colored wall. It's quite fun and easy with wall decoration! Imagine waking up and staring at these beautiful walls every day – It will only get more charged up for the day! 
Hang A Victorian Chandelier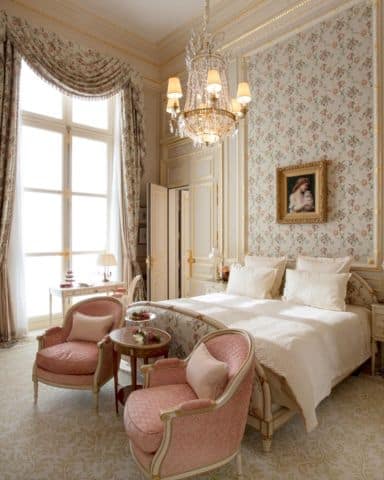 Say hello to the prettiest chandelier ever! These are the most ornamented lighting fixtures that bounce back the gleaming sunlight and shine their way through the dark. A Victorian design chandelier can be the new focal point, being one of the best elements for an ethereal aesthetic room idea. 
It can complement your entire space and push your room a notch higher on the aesthetic scale! Just make sure your chandelier sits properly and in sync with the proportions of the bedroom to make it more suitable.
Try A Canopy Bed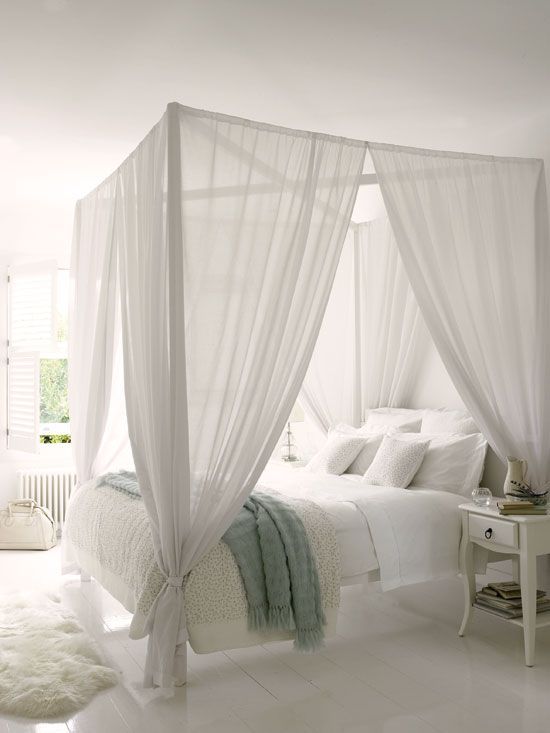 A little extravagance never hurts anybody, so this dreamy canopy bed can be the bed of your magic land! The gorgeous cotton-white canopy draped over your cozy bed in the morning will build the most scenic setting ever! 
Canopies give more definition to your dreamy bedroom, making it seem much more wholesome and comfortable. So, get ready to snuggle up and get cozy as you binge your favorite Netflix show from the comfort of your dainty canopy bed. 
Add An Aesthetic Touch With Fairy Lights!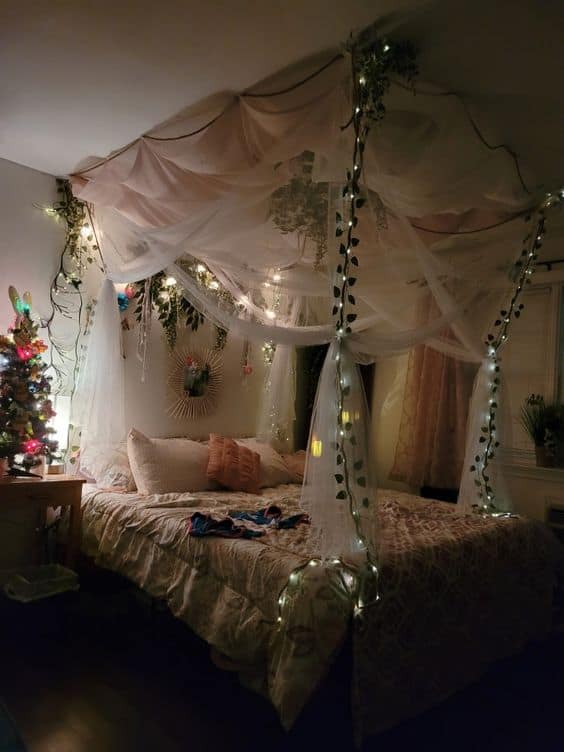 The most aesthetic nighttime element has to be a glorious set of fairy lights thrown across your canopy bed or left hanging from the ceiling. These lights can adorn your room at night because no one has ever gone wrong with these indoor plant lights! 
You can experiment with different light patterns, and play around with the colors if you wish! How about you take a snap of this picture-perfect setting, and put it on your next Instagram story, hm? 
Add Exquisite Furniture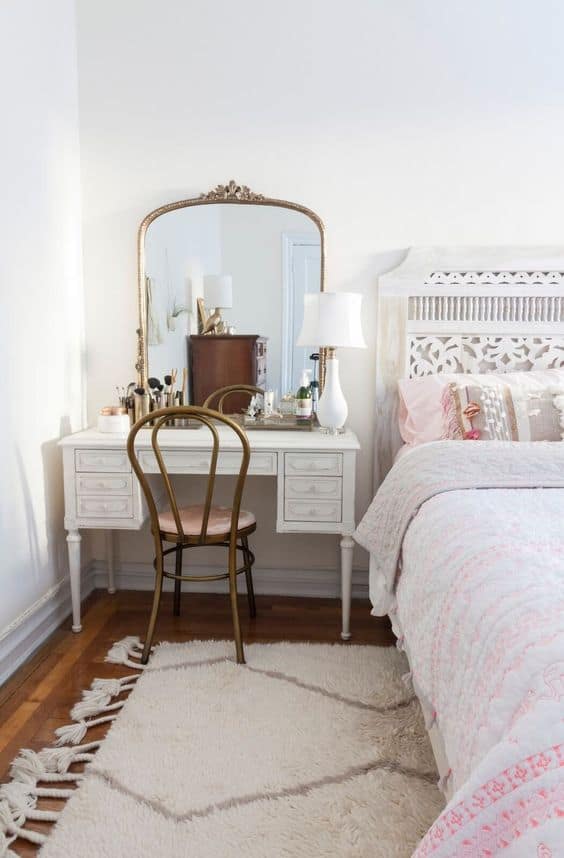 A room without furniture is like an interior design without colors. Plain Boring! Adding exquisite furniture pieces like a gaudy side table can enhance your bedroom, keeping your eyes wandering for more alluring pieces. 
So, ditch the boring mainstream marketplaces and go hunting in the underrated furniture nooks. After all, that's where the real deal is!
Subtle Detailing!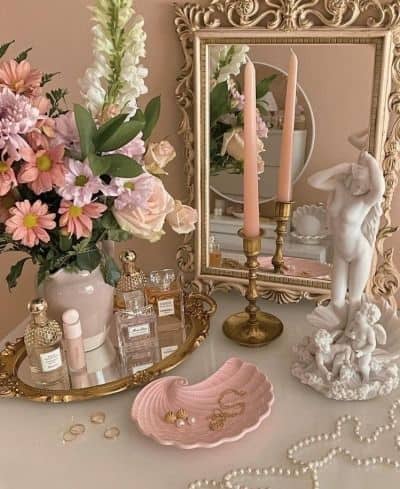 The magic of details is your most powerful weapon for creating a stunning room, where every corner would speak for itself. Intricate details like the brim of a holder, or the ornamentation of a white mini sculpture can add the bigger difference! 
What about an extravagant carving on the mirror frame? You didn't miss that, did you? Gold and brass are your best friends here since they help a lot with the elements that grab all the right attention!
Fancy Candles!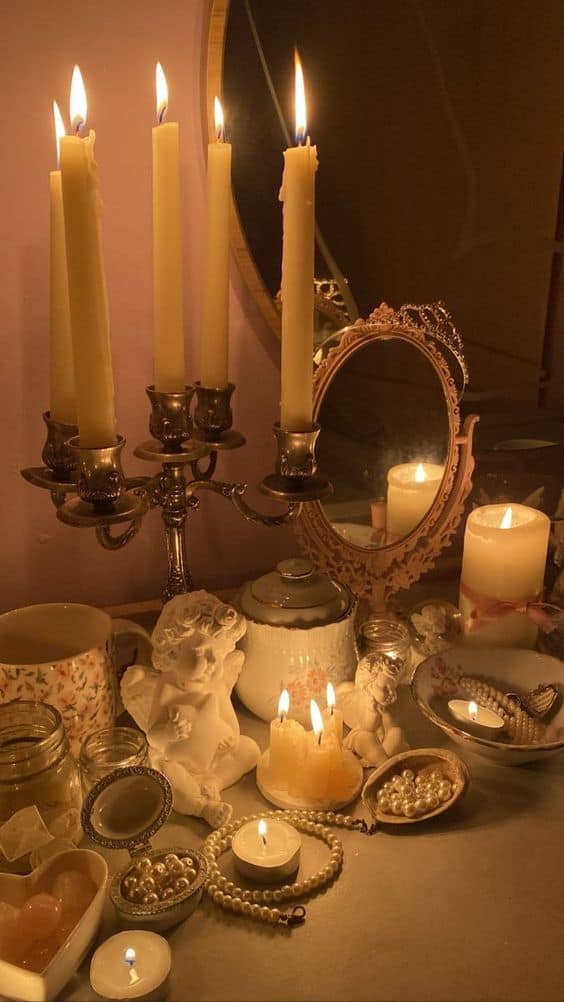 Entering a room filled with aromatic candles can uplift your day, instantly making you go from cranky to a cheery mood. Candles are a significant element for ethereal aesthetic room ideas. 
They won't just create an alluring aura, but also will bring intrigue into your space! Placing them right next to a portable mirror on an elegant candle stand can enhance a scenic picture. 
A Quick Guide To Nailing The Ethereal Design 
Colors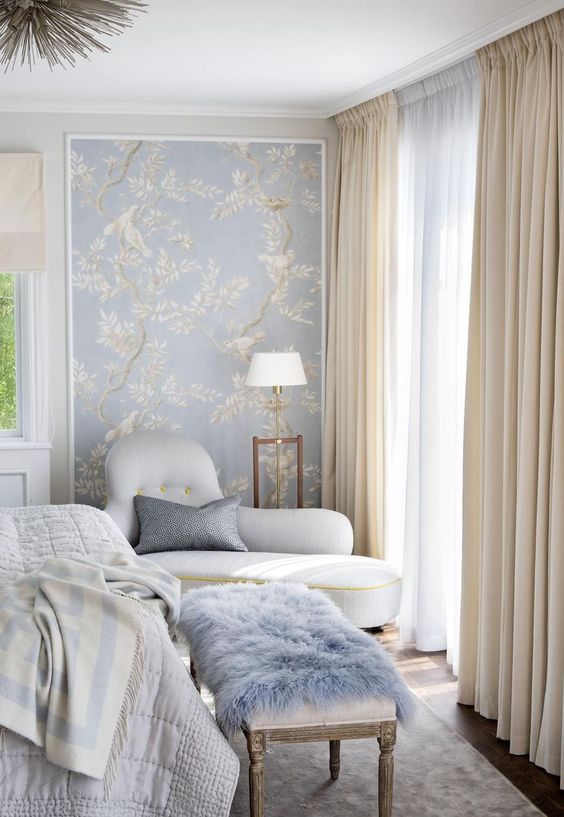 Colors like soft, pale, and pastel hues can create the perfect ethereal aesthetic room idea for any space. Feminine colors would be your go-to choice because they are refreshing to look at! Opt for colors like fern green, powder pink, or pale yellow and they can bring out a dramatic look! 
Related: How To Decorate In Danish Pastel Style? 9+ Chic Ideas!
Furniture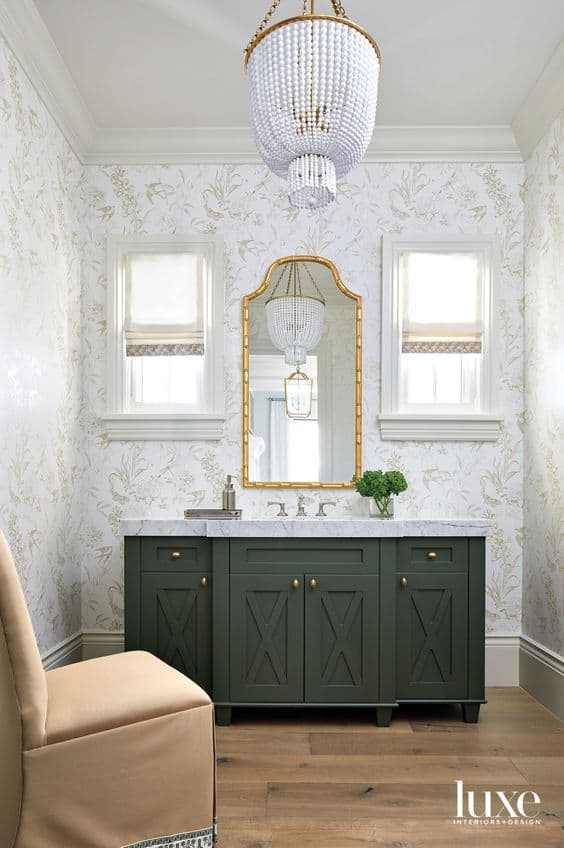 Ornamented furniture like golden-framed mirrors is the right way to go about your ethereal aesthetic room ideas. They are functional furniture, that is gaudy and delicate, making them the ideal choice for an ethereal space. 
Bedding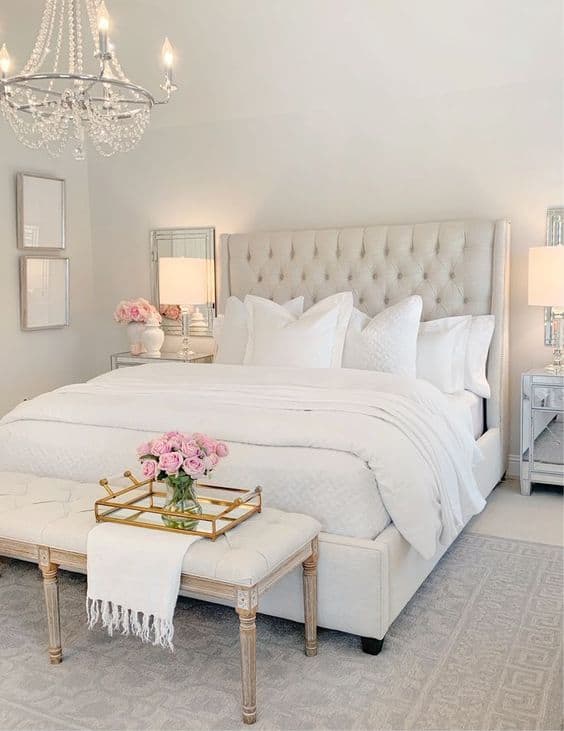 Soft silky bedding doesn't only make your bed super comfortable but also brings the aesthetic to complete the entire look of your room. You can pair it with any kind of patterned rug, and watch the magic unfold!
Decor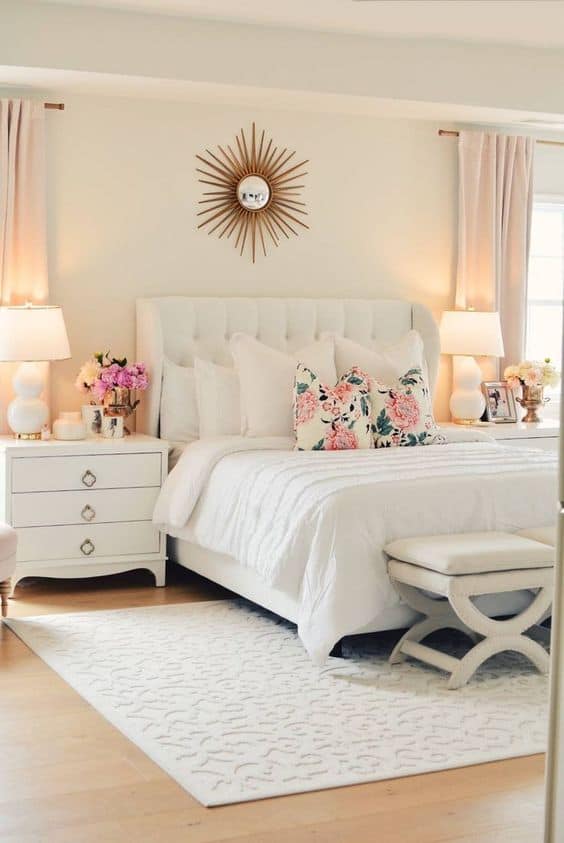 Decor pieces are the subtle and crucial elements that can make your home scream ethereal. It doesn't need extra work and no high maintenance.
How To Bring The Ethereal Aesthetic Home?
Details
Details are your go-to element as they instantly elevate any space. Make sure they are bold but dainty. The ideal colors for details are gold and silver, representing the colors of royalty. 
Soothing Color Palettes
Any kind of pastel color that is soft and soothing for the eyes can help you achieve the ethereal aesthetic room ideas quite instantly. 
Decor
You can use decor elements to adorn the entire place and leave your guests visually craving for more. You can never go wrong with these delicate pieces!