"The world is your fashion runway and walk like you own it!" I'm pretty sure everyone is guilty of checking out themselves in every mirror we walk past. Obviously, we humans always put our best foot forward when it comes to our physical appearance! Who wouldn't enjoy those sweet compliments thrown at them and why not? You deserve to be called beautiful. 
For making your guests appreciate their stunning looks, especially if that elevates your space as well – A stylish entryway mirror idea would be perfect! What's better than a mirror right in your entryway? You can welcome your guests pleasantly while checking out your outfit once more right before you leave the house. 
Mirrors in the Entryway can make your space seem much bigger and you can also choose the ornamentation on the mirror's frame according to your aesthetic style! Interesting, isn't it? Mirrors can have a similar style just like your surrounding furniture. You may select or paint your frames to complement or match the color scheme of the entryway. So, go ahead and grab a hot cup of tea because it's time to dive into the world of mesmerizing entryway mirror ideas! 
18 Entryway Mirror Ideas
Try A Rustic Affair!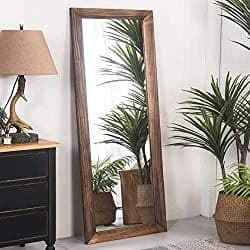 Everyone wants to host a warm welcome for their guests! So, you can choose a frame made from reclaimed wood for your full-length rectangle mirror! This will give off rustic vibes for your farmhouse-like decor. 
Keeping it subtle and natural is the new normal! You may opt for earthy colors in the backdrop and attach indoor plants that are your safest bet at all times! 
Go For Moonburst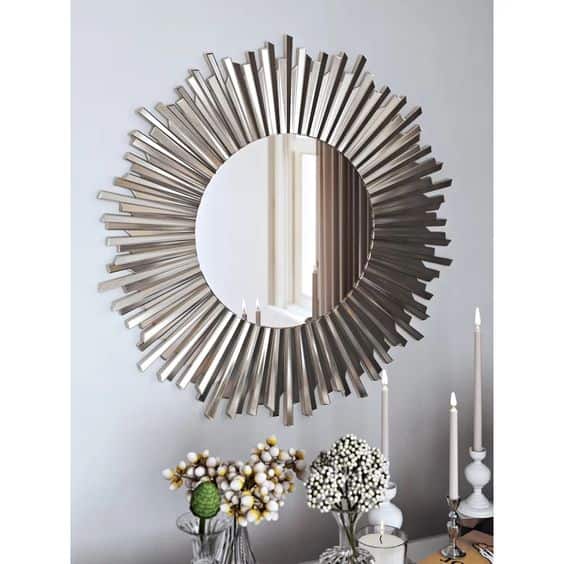 What's more promising than a chic silver burst of frames from your circular mirror? Moonburst mirrors draw all the attention while you prepare for the shower of compliments coming from your entryway.
Pro Tip: Are you feeling a bit more experimental? You can try and play with the frame or sizes of this mirror style! But don't forget to add minimalist or sophisticated decor around it, to create an extra immaculate vibe! 
A Timeless Blue and Gold!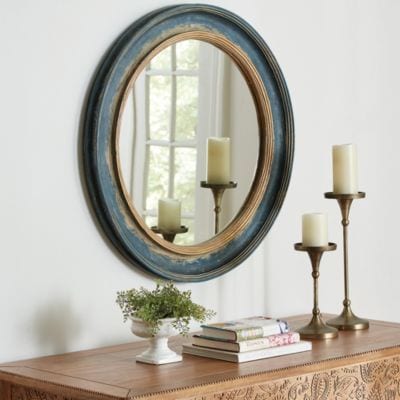 Sophisticated homes start off with the right color picks, and so is the magic of blue and gold! In this chic foyer mirror decor element – Blue and gold are the colors that can catch anybody's attention in a single glance. A matte frame over a circular mirror is all you need for your guests to be in awe of your classy entryway mirror ideas!
Go Vintage!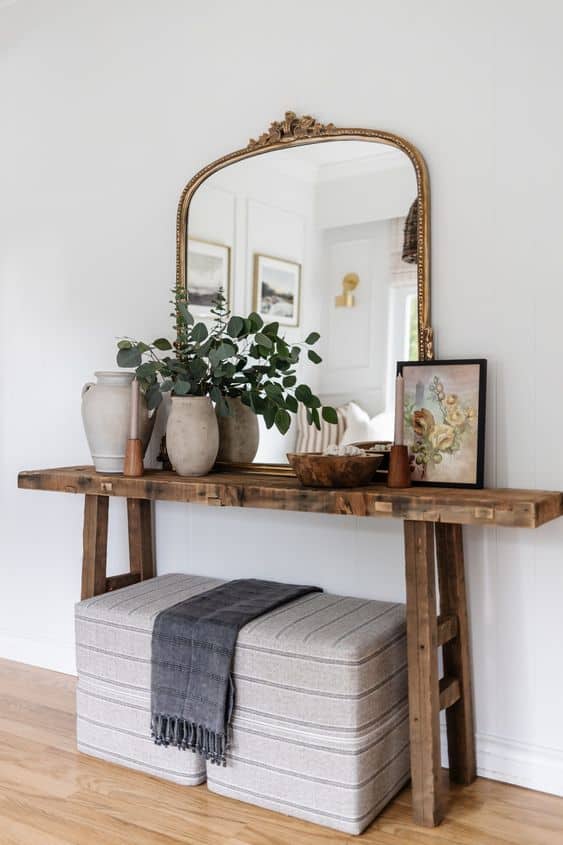 "Old is Gold" – A phrase that has become quite outdated can dramatically revive your alluring entryway mirror idea. One of the classiest looks that you can try is to provide a dainty metallic or wooden frame around your simple mirror and make it gold! 
This decorative addition will be loved by all. So, get ready to collect a lot of compliments from your near and dear! 
Arched Mirror Are Go-To's!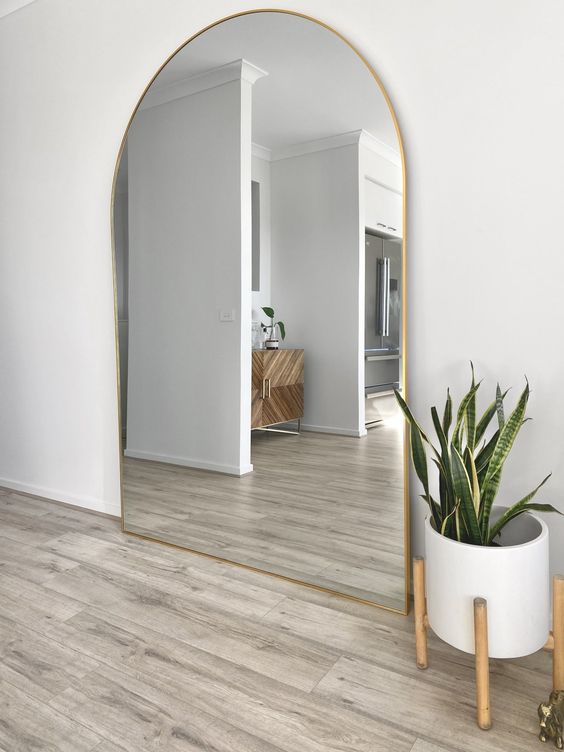 Now I'm introducing one of my personal favorites – An arched mirror is the latest hot topic on the block! This minimalist frameless mirror is the right element to create the illusion of a bigger entryway or the classic bedroom mirror idea. 
It can also amplify your down-to-earth personality. So, add a set of white planters, and Voila! Here is your entryway mirror idea that leaves a lasting impression for a long time. 
Boho Style!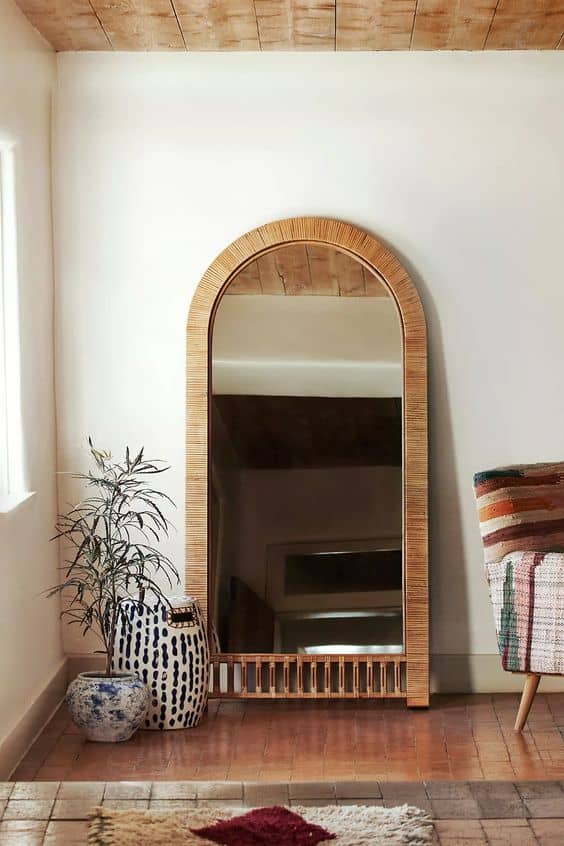 Boho homes are a staple for people who are warm, fuzzy, and full of life! This interior aesthetic will make you go head over heels for your small, well-put home. 
An arched mirror with a boho-inspired frame, decorated with some indoor plants is something you'd need to complete your interior look! 
Sunburst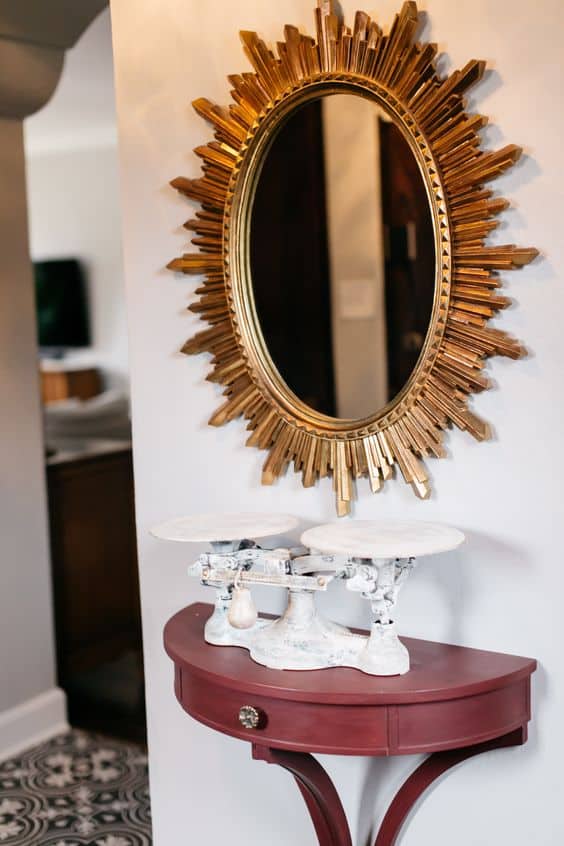 How about a shiny burst of sunlight right after the moon? Yes, please! For your well-lit and gaudy room aesthetic – A sunburst mirror is the perfect way to complement this decor! With a golden aesthetic, this mirror can quickly become a crowd favorite. 
If you want to lessen the shimmer a bit, just place it on a plain, simple backdrop to keep it well-balanced! After all, what could be better than to welcome your guests with this sunny entryway mirror idea? 
Half-Moon Mirror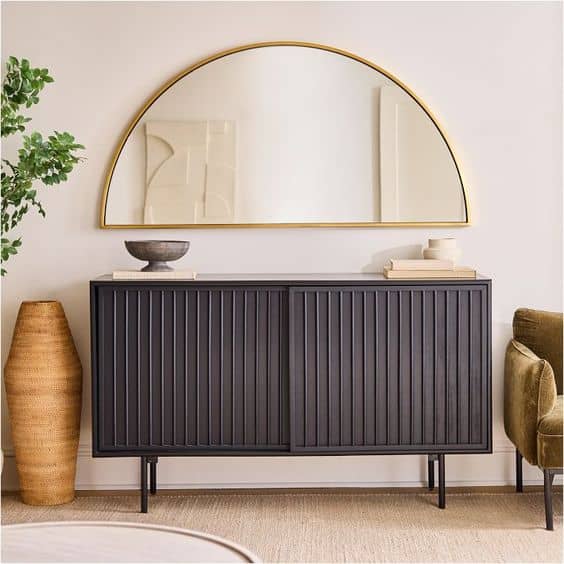 It's time to break off the old monotony and induce some fun in your space! Half-moon mirrors are semicircular mirrors that look like a layout but are also elegant at the same! A delicate golden frame will keep up the minimalism, perfect for a touch of sophistication. 
To complete the whole look, you can add a bold dark credenza and just watch how asymmetry plays out in its magic! Remember, sometimes it's okay to break the traditional norms and go bolder with your choices. (It's not just about the interiors, though!)
Trefoil Mirrors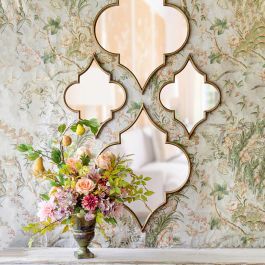 An effective addition to your simple mirror is a trefoil curve, which can make your mirror stand out a lot more! This will create more depth in your mirror, enhancing a better focal point. Trefoil mirrors are great, especially if you're looking for something simple, chic, and budget-friendly! 
Geometry Play!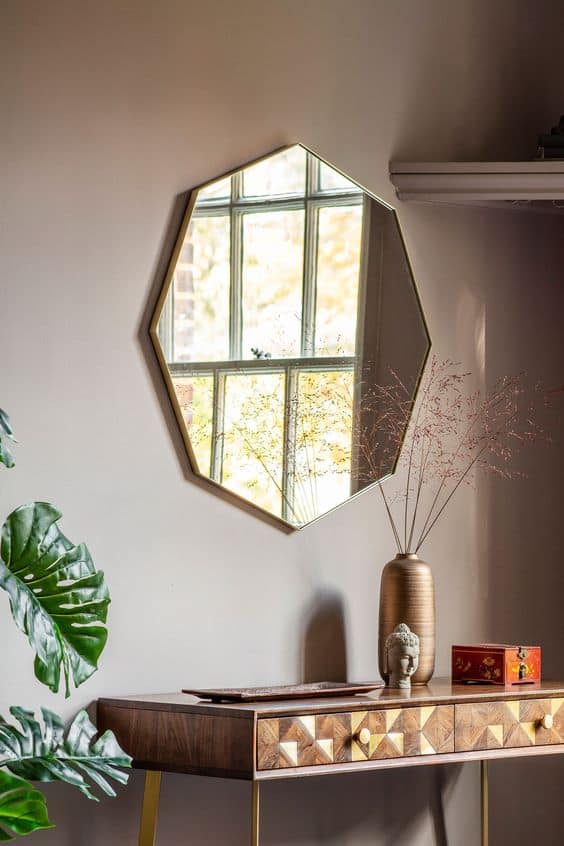 A subtle yet playful way to keep your guests hooked is by attaching geometric shapes to your entryway mirror idea! Geometric mirrors bring an interesting pattern to the frame with experimental materials and are a sure way to create an allure for your entryway. 
Pro Tip: You can always play around with the shapes of the mirrors – be it triangles, circles, or even polygonal ones! So get ready to welcome guests in a delightful manner this time. 
Simply A Circle!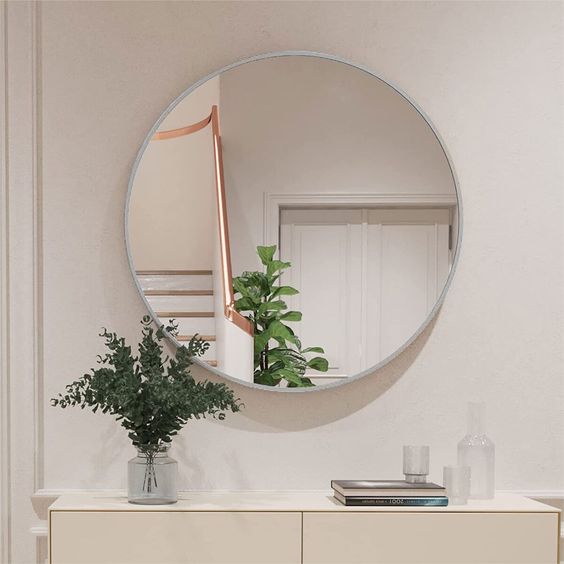 Subtle, chic, sophisticated, and elegant  – it's quite difficult to describe a brilliant circular entryway mirror in just one word. This one is probably the most budget-friendly and the easiest addition that can elevate your space both practically and effectively.
As a side note, a circular mirror can work just equal owners for your bedroom mirror or add some charm to your vanity! Don't restrict it to the entryway.
Golden Affair!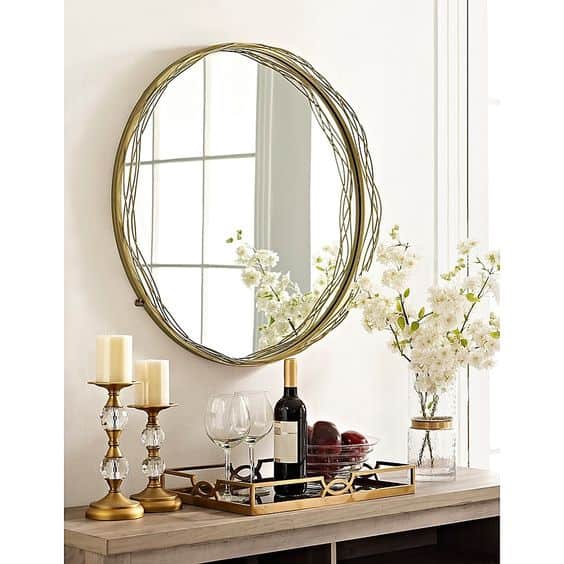 Gold is the color of royalty, which you can easily bring into your house with this classy gold framed mirror! There are delicate golden wires wrapped around this simple mirror that can make you feel like your house is the one from the movies!
You may add a credenza with bougie stuff like a bottle of champagne, white flowers, or an ornamented candle stand. They will further strengthen your entryway mirror ideas game!
Invite Gigantism!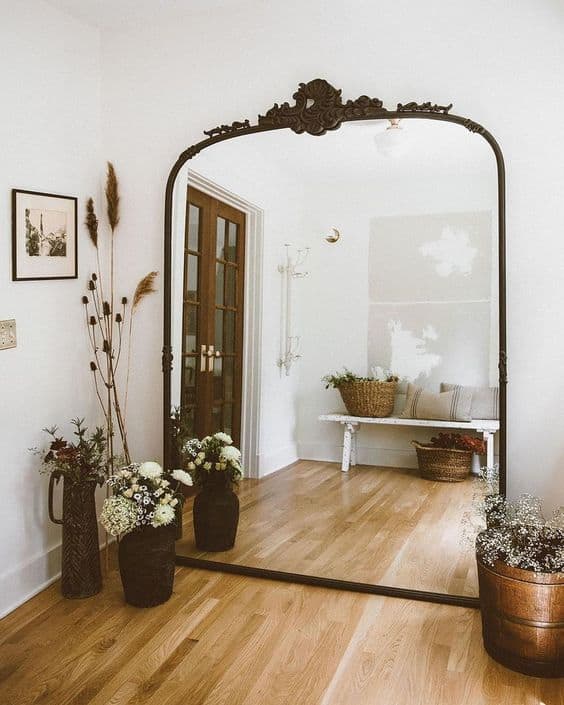 Why should you settle for less, when we can live a life of king-size? A gigantic mirror is perfect for taking your Instagram OOTD post, and it can also make your entryway seem much larger and fuller! This floor-to-ceiling mirror will ensure that your guests keep gazing at their beautiful (uhm?) selves! So, why not be a little extra, right? 
Paneled Mirrors!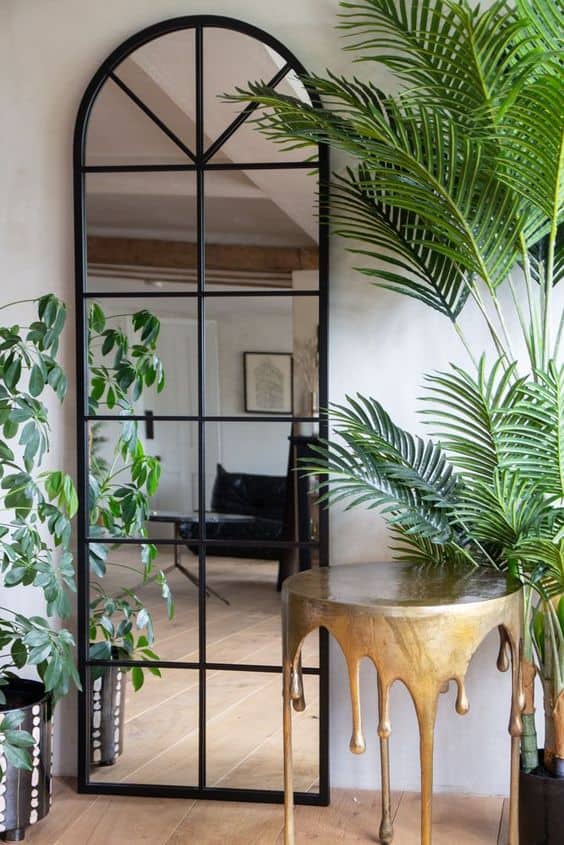 This is the simplest way to break down a mirror and make it much more definite! Paneled ones have a metallic frame amidst the mirror and that shapes it down further. 
A simple black metallic frame is a subtle way to replicate a window, creating an exciting combination of both reflections and patterns! 
Irregular Mirrors!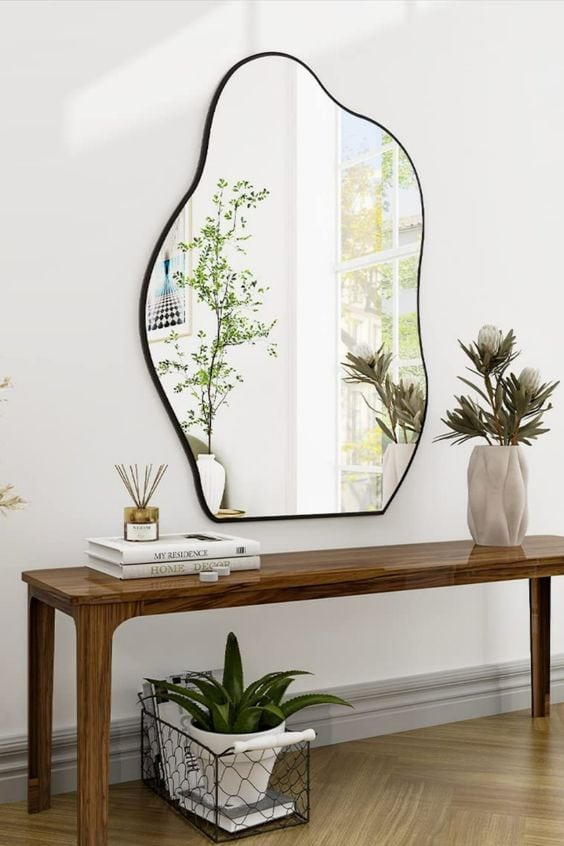 "Go with the flow" – Well, let's go over this phrase, literally! An irregular mirror that doesn't have any defined frame is quite wavy in nature. You can be extra imaginative and customize it accordingly! It goes well with a credenza with books, or miniature statues to offer a little more shape and depth.
Oval Mirrors!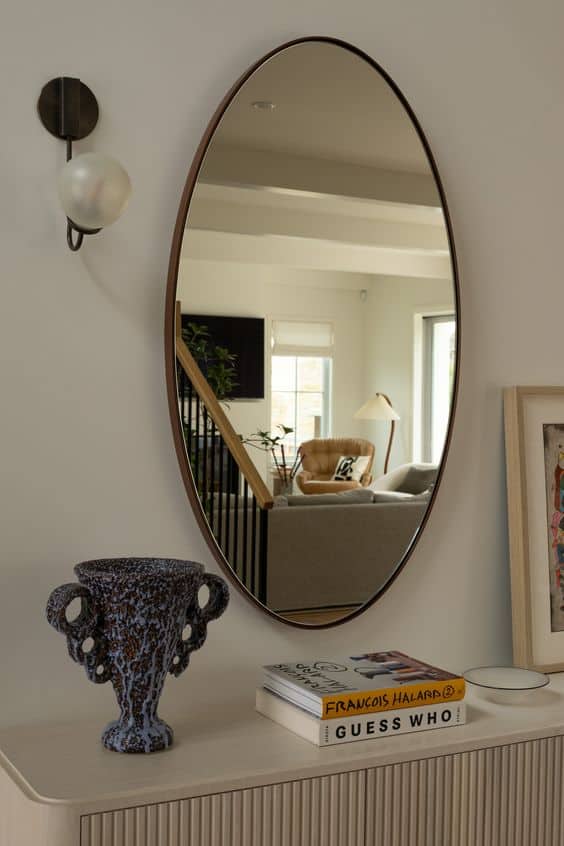 Now that's a break from the regular mirrors. An egg-shaped mirror creates a perfect backdrop for your Pinterest aesthetics! These are sleek, classy, and subtle. They are something that will go well with your chic house decor. You may also experiment with different lighting fixtures to make your space more enjoyable!
Charcoal Hues!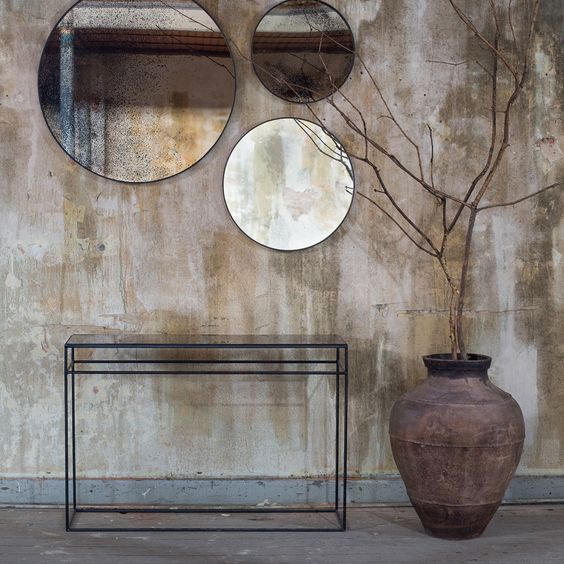 A bold color which is an ideal choice for a posh lifestyle has to be black. It's a sensual color that you can experiment with and use in different shades! 
Charcoal hues with your mirror can uplift your entryway to the next level. An elegant tint of black with a minimalistic planter and console can do wonders in your space. 
Oversized Mirrors!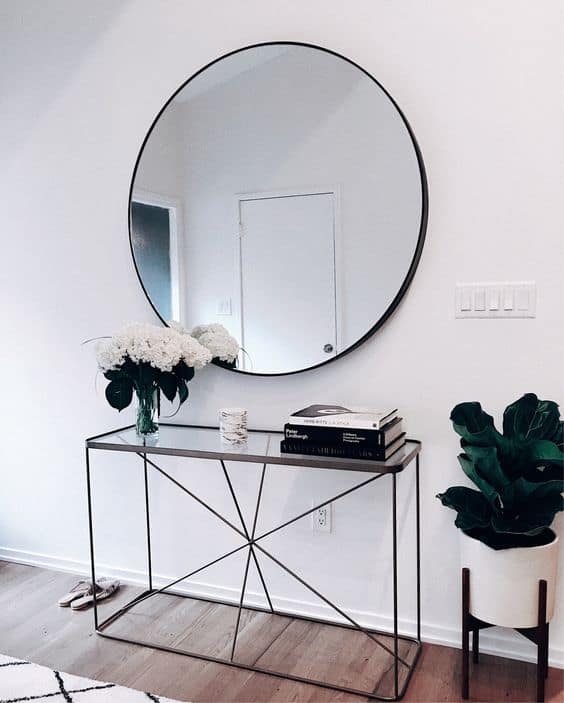 Following the interior trend – Oversized mirrors are here for the rescue! These pretty mirrors can make your space wholesome with minimal effort. You can add a dainty credenza with proportionality along with the mirror. 
Remember that the propositions and scale are crucial when it comes to using a disproportionate element. So, make sure it complements and balances surrounding elements as well. 
Scandinavian Mirror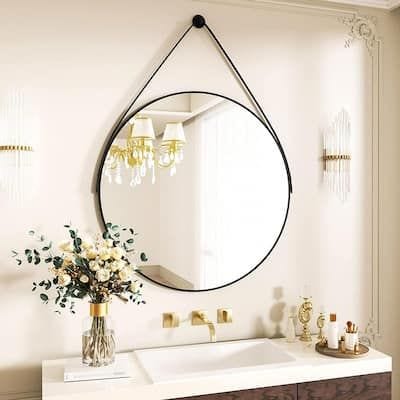 A Scandinavian-style mirror for the entryway is a charming element to create a stylish and functional space!  Scandinavian design is known for simplicity, functionality, and its emphasis on natural elements. It creates neat and clean lines and delivers a space that is more versatile and cooler to the eye! 
Add Some Shimmer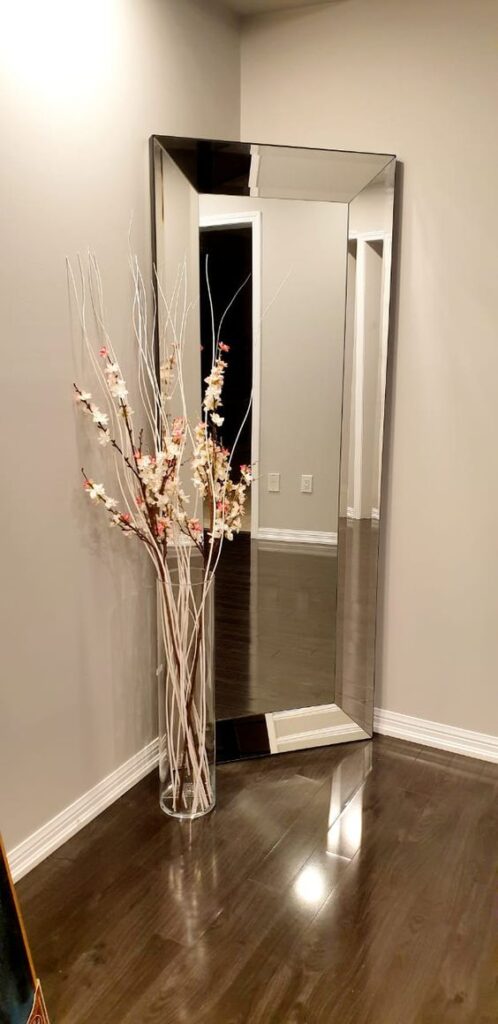 Be prepared to get your feet swept away as this extravagant mirror takes all the dullness away! The mirror shines with a polished silver frame. Adding lavishness with a full-length mirror is the ideal way to keep the spark burning! 
So, go extra and get on board with this "extra" entryway mirror idea. It is perfect for homes that need a minimalistic elegant touch to the decor. 
Cluster Mirrors!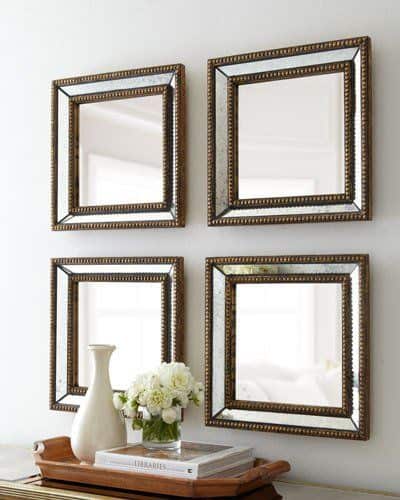 Multiple elements together cast wonderful magic! Clustering down a mirror into different, similar, or unique pieces breaks the routine. Your guests will never expect such an innovative mirror right at the entryway. 
Surprise them with this wonderful piece, then. Let's just say these multiple mirrors speak about your multiple mood swings! 
Black and White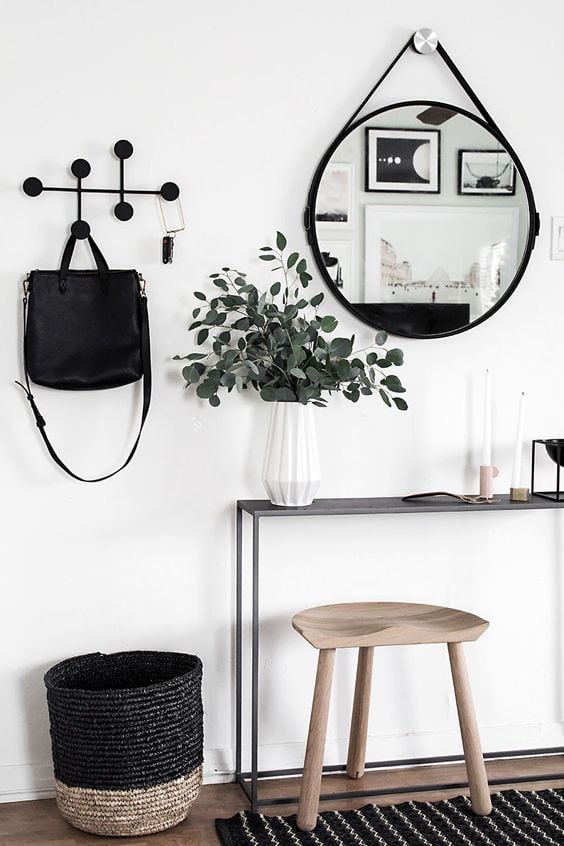 Let's minimize the color hues and get back to these two classic colors! A versatile amalgamation of black and white is opposing but blends perfectly well together. You can opt for a black mirror with white elements, or vice versa! 
This quirky entryway mirror idea can become a showstopper! It has the power to make anyone fall in love with your entryway style. So, go ahead and flaunt your new design skills!
5 Tips For Selecting An Entryway Mirror
Consider the Size and Proportions
To choose the right size of mirror – Measure the available area in your foyer. The mirror should fit effectively on the wall without crowding the space with its width and height. Make sure the width of the piece of furniture or wall above the mirror is roughly two-thirds of the mirror's whole width. 
Reflect the Style
Your chosen mirror must go well with the design of your house and foyer as a whole. Choose a mirror that complements the other design elements in your room – Be it conventional, contemporary, farmhouse-style, or even eclectic. For instance, you can use a sleek, minimalist mirror if your design is contemporary. A vintage-style mirror may fit better for a more traditional setting.
Frame Material and Finish 
The frame of the mirror is crucial for how it looks as a whole. Think about the material and finish that complements the design of your entryway in the best way. Wood, metal, rattan, or plastic are typical materials for mirror frames. Light wood or rattan frames work well with a Scandinavian or Seaside theme. Metal frames lend an element of industrial or futuristic design as well. 
Functional Features
Some mirrors come with additional features like built-in shelves, hooks, or a ledge that provides space for storing keys, sunglasses, or other smaller items. These functional elements keep your entryway organized and clutter-free.
Reflect Natural Light
It's best to position the mirror in a way that reflects natural light into your entryway. You can place it opposite a window or next to a door. This can bounce the light around the space, making it feel brighter and more welcoming.
FAQs
Is It Good To Have A Mirror On The Entryway?
Yes! Having an entryway mirror can be a great option since it enhances the spaces and provides more light. It makes the entryway more welcoming, creating an aesthetic space in your home.
What Is The Best Mirror Shape For The Entryway? (According To Feng Shui)
In Feng Shui – The best mirror shape for the entryway is generally round or oval. Round mirrors are believed to promote positive energy flow and bring harmony and balance to the space.
How To Style An Entryway Mirror?
Styling an entryway can be easy and fun! The simplest way is by creating a focal point. You can add more greens to the picture and layer it with artwork while keeping it clean too.