Imagine walking up to your dining table, and finding out that the floor is cold and hard. It doesn't fit right, does it? Well, of course, nobody likes that.  Your feet are a robust sensory point for how you feel – So, so the colder the surface, the more uncomfortable it is. But, let's change that. Rugs are the perfect accessory for any space that will make you go "Why did I not think of this before?" 
Rugs are nothing but a magical addition that can make any space much warmer and cozier, perfect for those long wintry nights! They are crucial for comfort and the overall appearance of the room; the pieces that never fail to speak volumes about your dining room! An intricate sophisticated rug would be as beautiful as your minimalist personality. How about a hand-woven rug with earthy colors for your soul? We can go on like this forever.
It's true that selecting the right rug for your dining room can be quite a confusing task, especially with a wide range of options. So don't worry, we've got your back! Dive into your favorite couch, as we dive into the world of rug under dining table ideas! 
17 Rug Under Dining Table Ideas
Go For Intricate Rugs!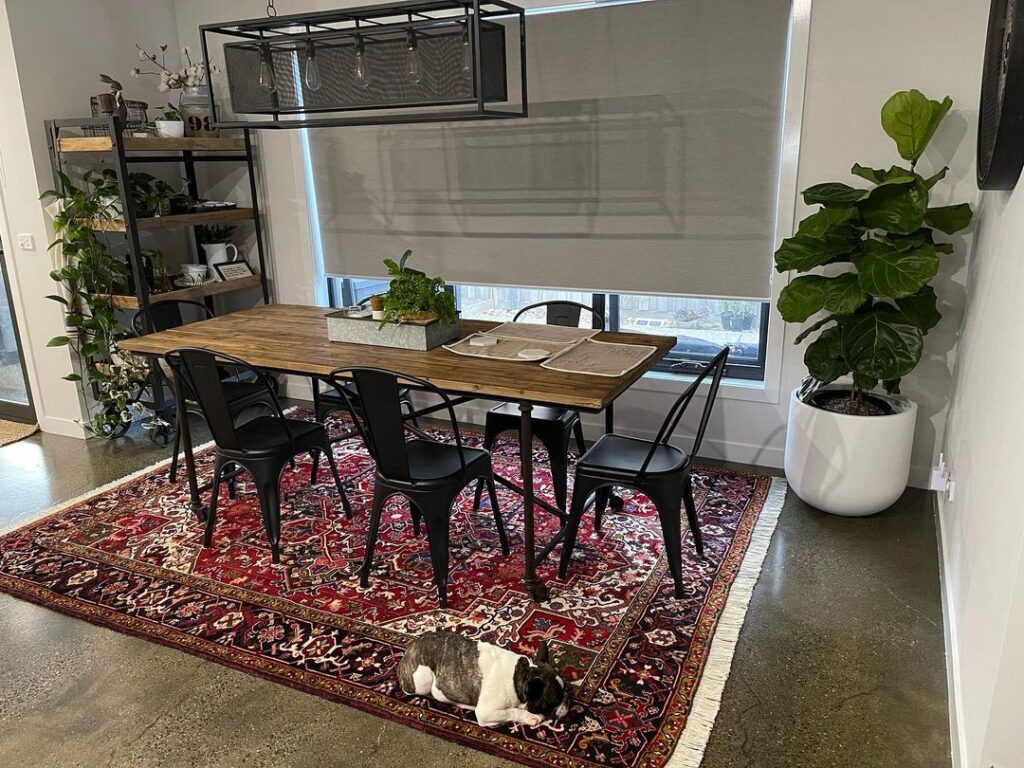 Who doesn't love living the high life? This beautiful hand-crafted rug will take your dining space a notch higher! You can pair it with minimalist furniture as well, but look out for the right way to balance the proportions.
Intriguing patterns are a popular choice, so this way you won't miss out on the mass favorites! This is the right rug for you if you want to balance extravagance with simplicity! 
Choose Minimalism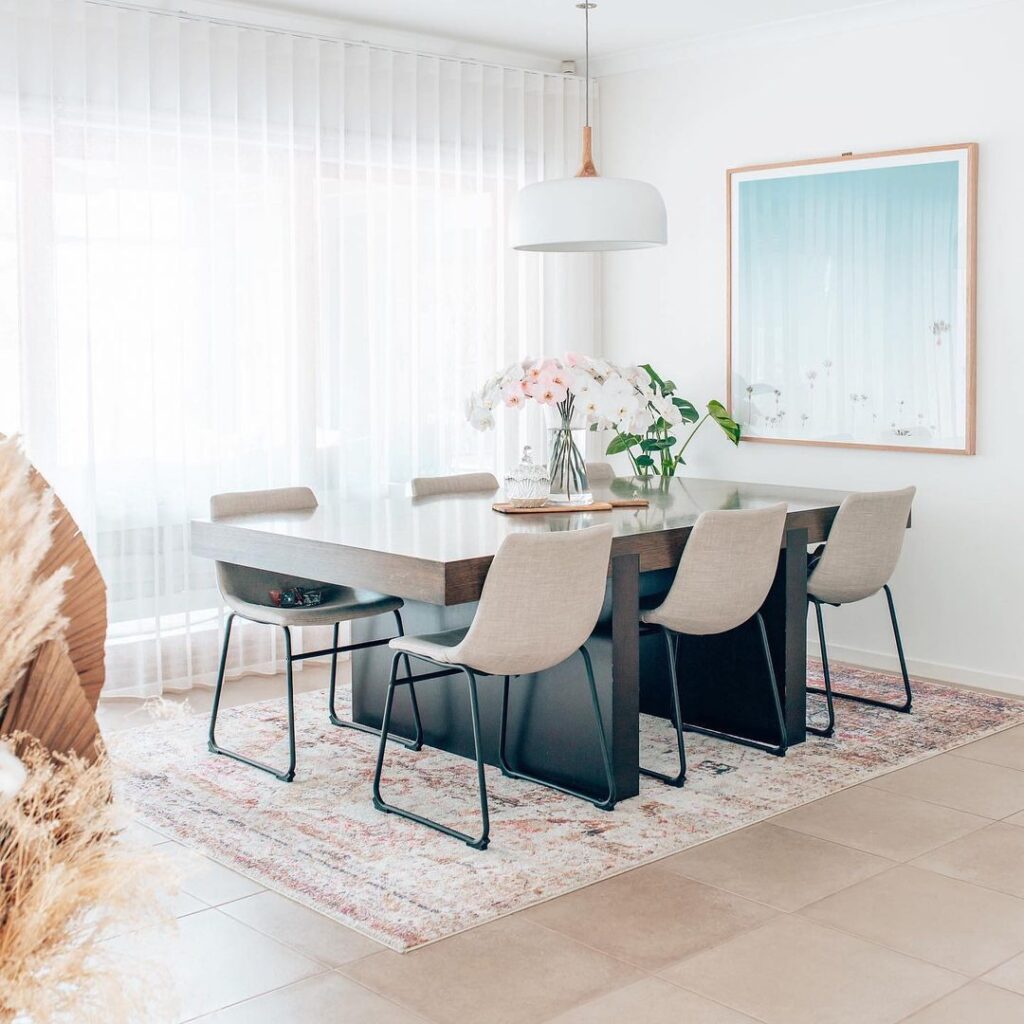 Waking up to a good breakfast makes you energetic. But, waking up to breakfast in a coastal dining room with an alluring rug will double your energy! Simplicity is the key – So, why shouldn't you flaunt your personality by placing a beige rug? 
This beautiful element sits perfectly with any pale decor. The airy space will make you fall in love with your design skills. After all, it's a sure-shot way to win compliments! 
Pro Tip: Bring some soft white flowers with a transparent glass vase! This will further enhance your space, making it much more lively! 
Oversized Rugs!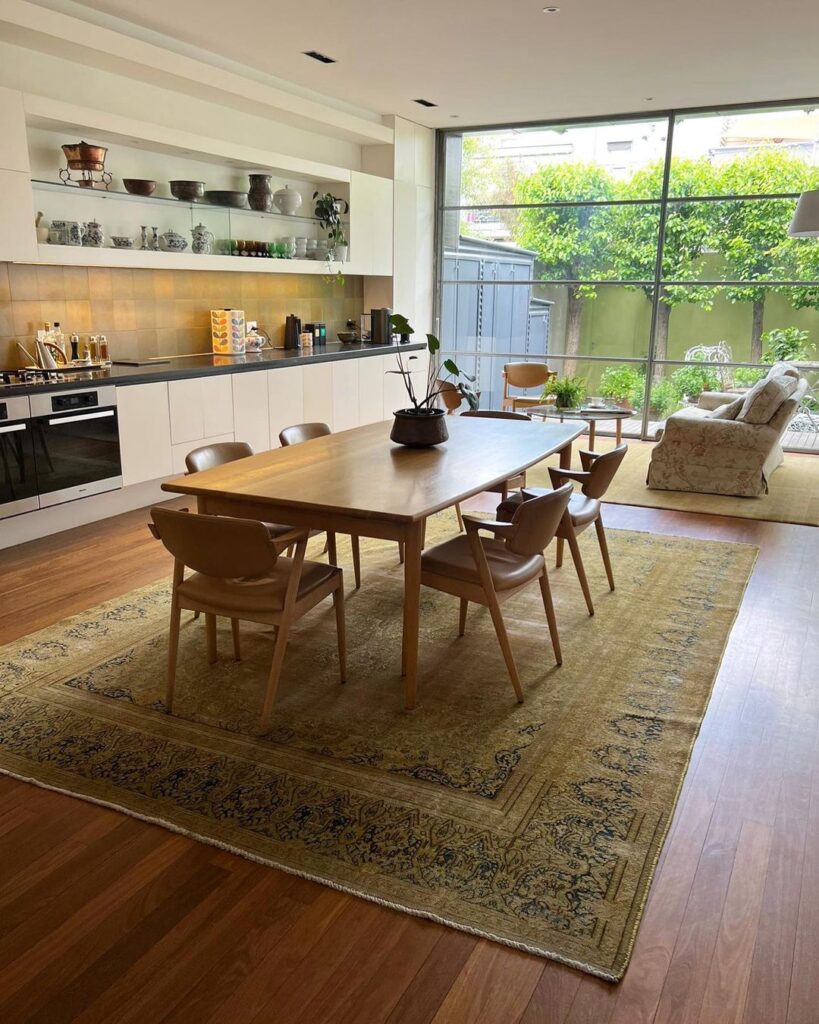 Interior designing experts advise leaving an area empty for your rug space from all sides of the table. This is mostly because the chairs are easily available. Larger rugs are preferred since smaller ones may cause the chair to fall over. 
This oversized rug adds up to your functional dining room, as well as to the aesthetics! Another excellent way to be a part of the mass is by including a warm faded yellow rug with a teak dining table! This combo can create a mesmerizing aesthetic that is ideal for a quick brunch session. 
Choose Rugs As Per Room Shape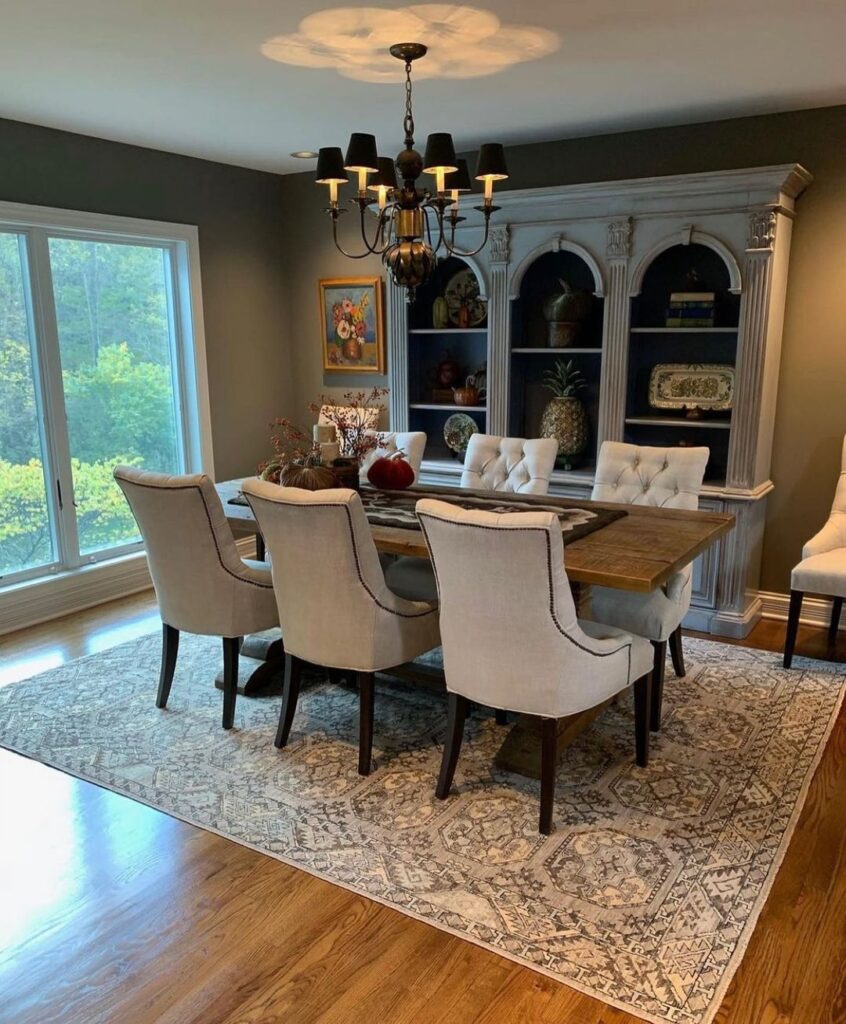 Wanna know the main secret about rug under dining table ideas? The easiest way to assess the right rug in the dining room is by choosing the one that compliments the shape of your room! 
For example, a rectangle-shaped rug would look great in a rectangular room only. A mismatch of rugs would be a disaster, so it's best to avoid that. So, go on and invite this beautifully woven white rug with black patterns as your new favorite pick! 
Contrasting Rugs!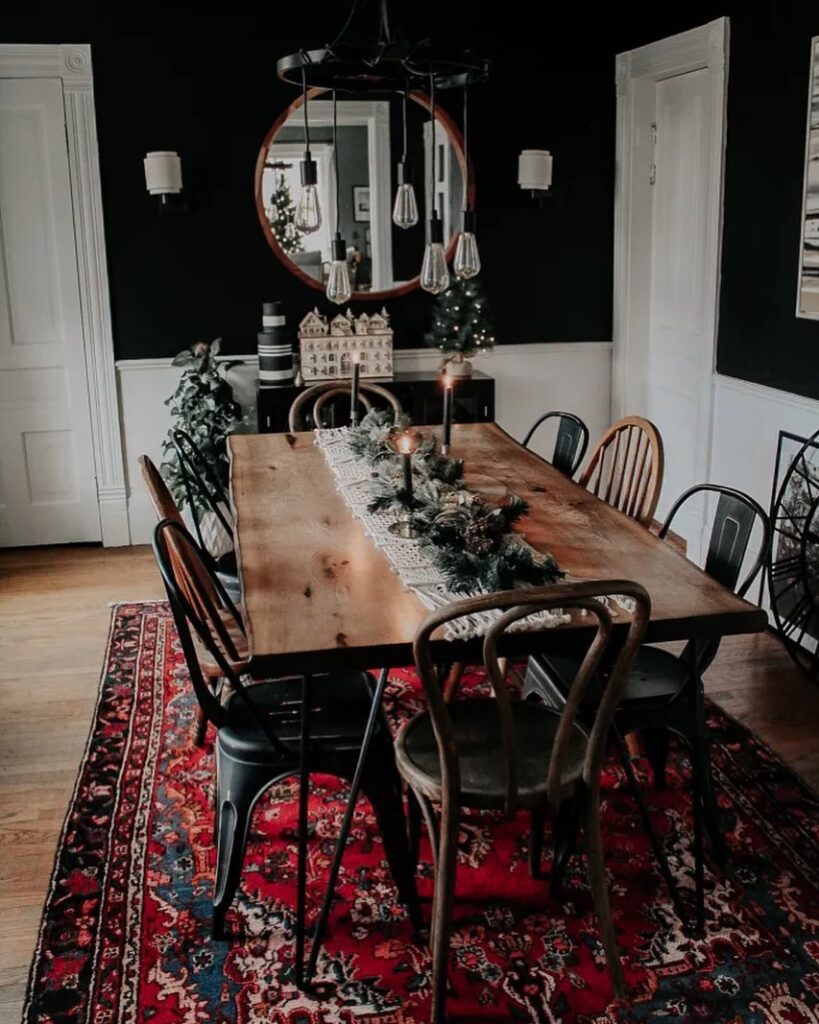 This dark red rug under the dining table idea will remind you of a fine Christmas morning! Playing with contrasts has never gone wrong, and you may even get ideas for dining room accent walls to add up to this versatile aesthetic. 
This rug under the dining table idea has proved to be a success in creating visual points and dividing your attention in the right manner. Pairing with extreme colors will show your bold dynamic and creative personality. So, go wild with your rug choices and create something quirky!
Dining Table Shape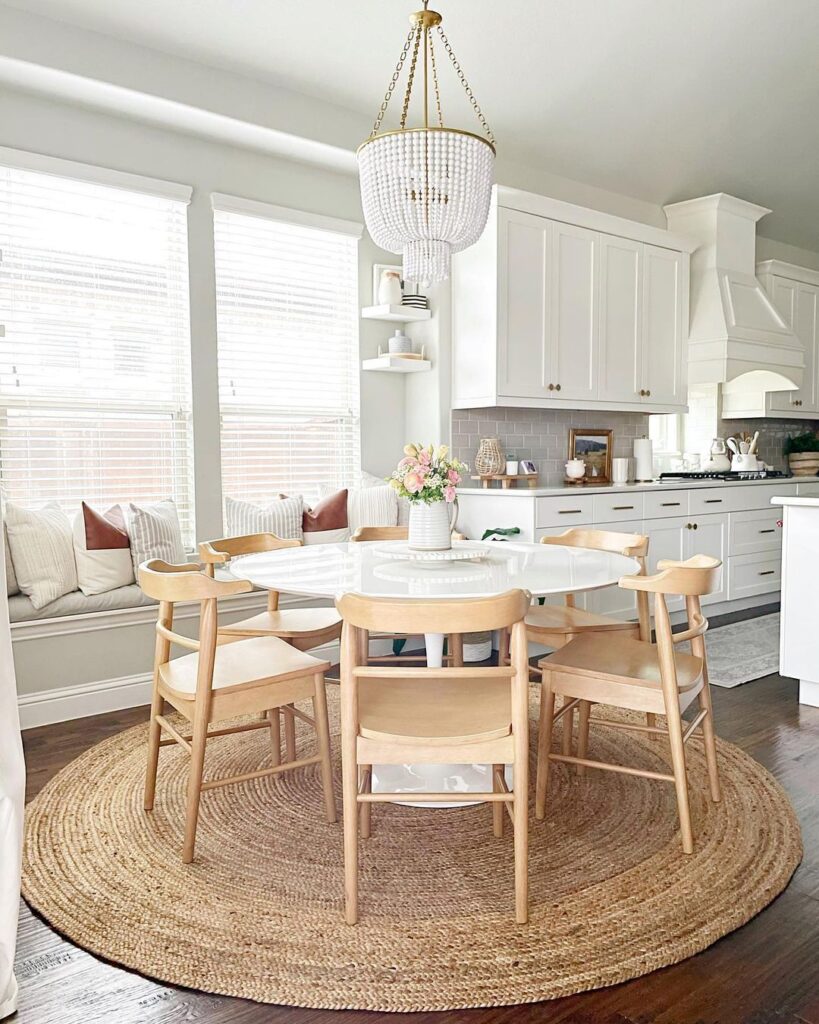 Mirroring your table shape with a carpet is a fancy strategy while choosing the right rug! A circular jute rug with an airy white dining table can help your guests notice all the right features. This provides a concrete definition of your room and enhances better visual points! 
So, remember to match the shapes and unfold the magic effortlessly. Now, why don't you put this rug under the dining table idea on your cheat sheet this time?
Match The Decor With Rugs!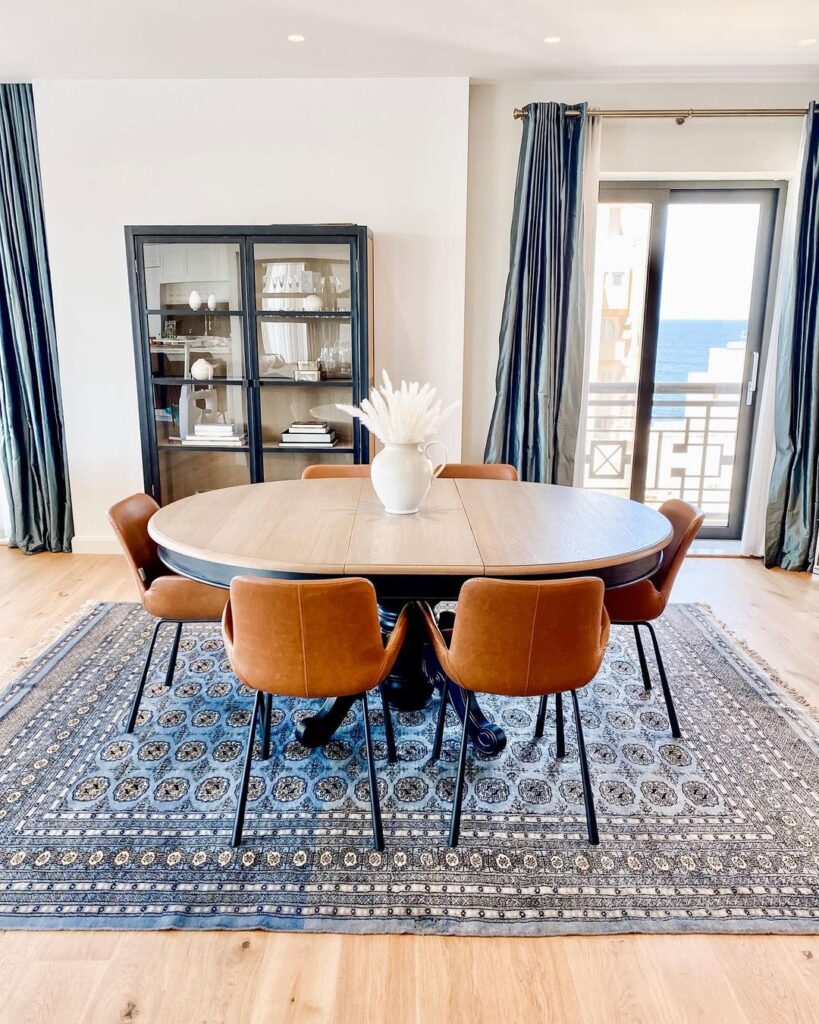 Interior decor elements are interdependent to each other. One cannot go without the other, and it is the same for colors too! Colors play a huge role in interior design since they can make you feel entirely different based on the palette. 
You can create a royal dining room with a blue rug and soft pastel blue curtains, which can be a massive hit. This rug under dining table idea will help you select rugs better and quicker than most!
Geometric Rugs!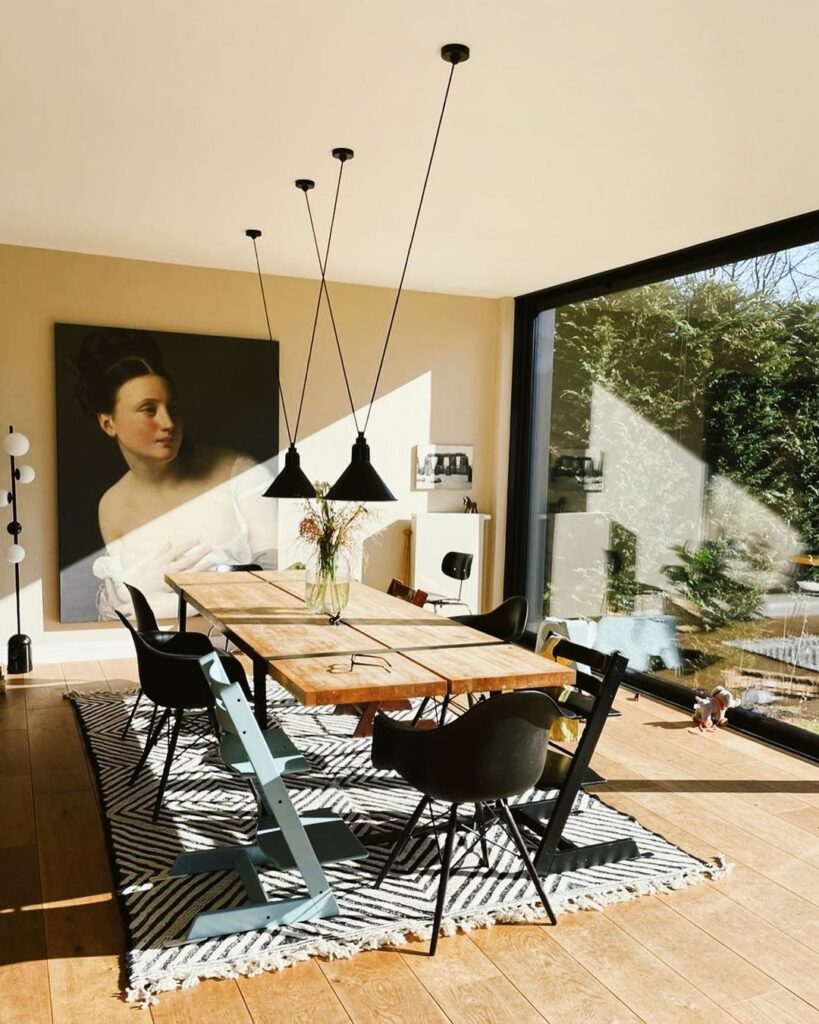 One of the easiest ways to make any rug an off-beat is by adding a simple geometric pattern! The bold black and white geometric rug can induce an interesting pattern and is bound to catch the eye of anyone. It makes an ideal dinner date setting, doesn't it?
Pro Tip: You can pair it with minimalistic monochrome furniture too! The combination adds more balance to your space. 
Add A Pop Of Color With Rugs!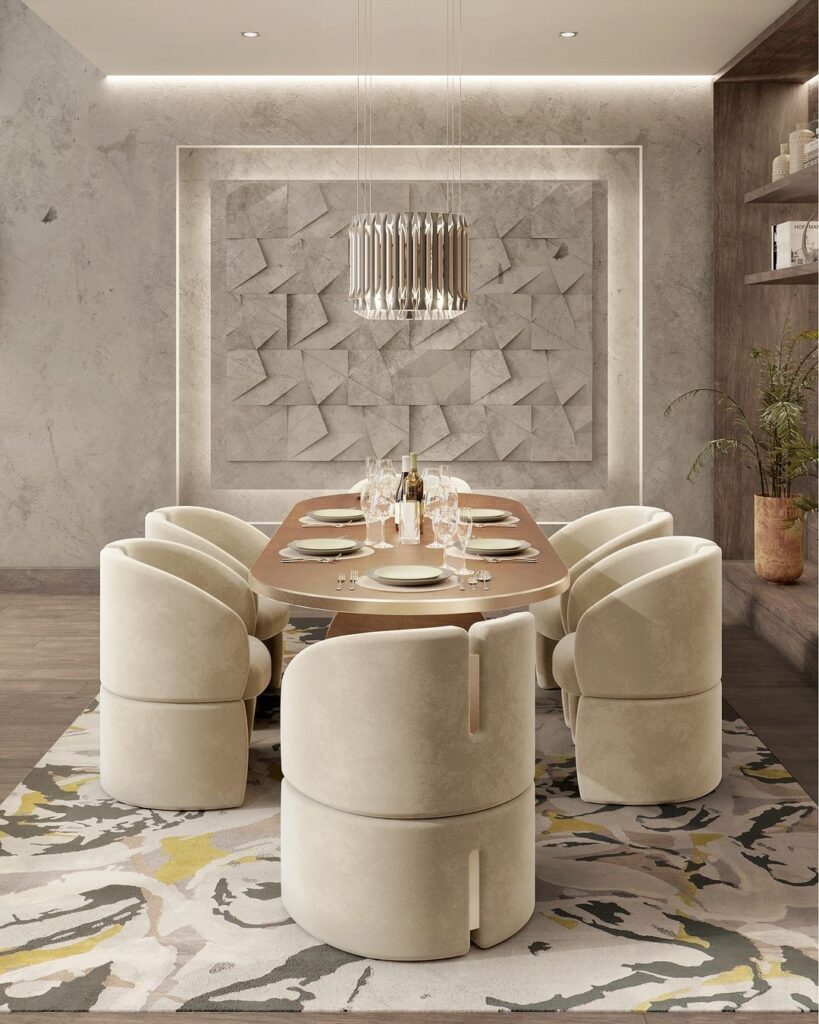 Colors are an important element of interior design that nobody can do without. These beautiful elements add liveliness to your dining room and make it much fuller. 
All you need is a rug with a few swirls of colors splashed across it. Make sure to be subtle and not go overboard with furniture when using this kind of rug, because it may also be overwhelming to the eye sometimes. 
Textured Rugs!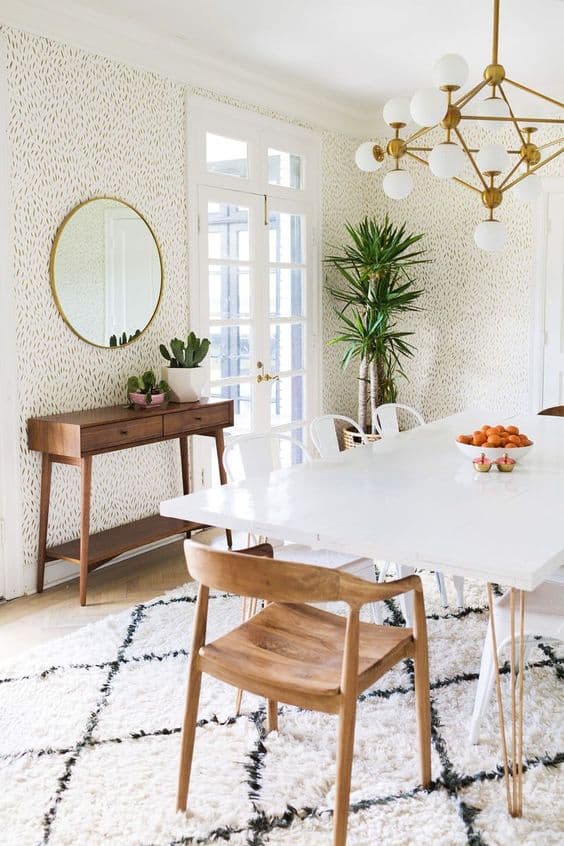 Doesn't this cozy rug under the dining table idea make you wanna rub your feet on that? One of the main factors while buying a rug is comfort! During a leisurely dinner at the dining table – Your feet must feel warm and soft, and not rigid or icy. 
So, choose comfortable and warm clothing that will aid in your comfort, making your dining table a spot to curl up and eat! 
Pro Tip: You can always experiment with the texture of rugs by playing around with the softest material. After all, your feet deserve love too! 
Playful Rugs!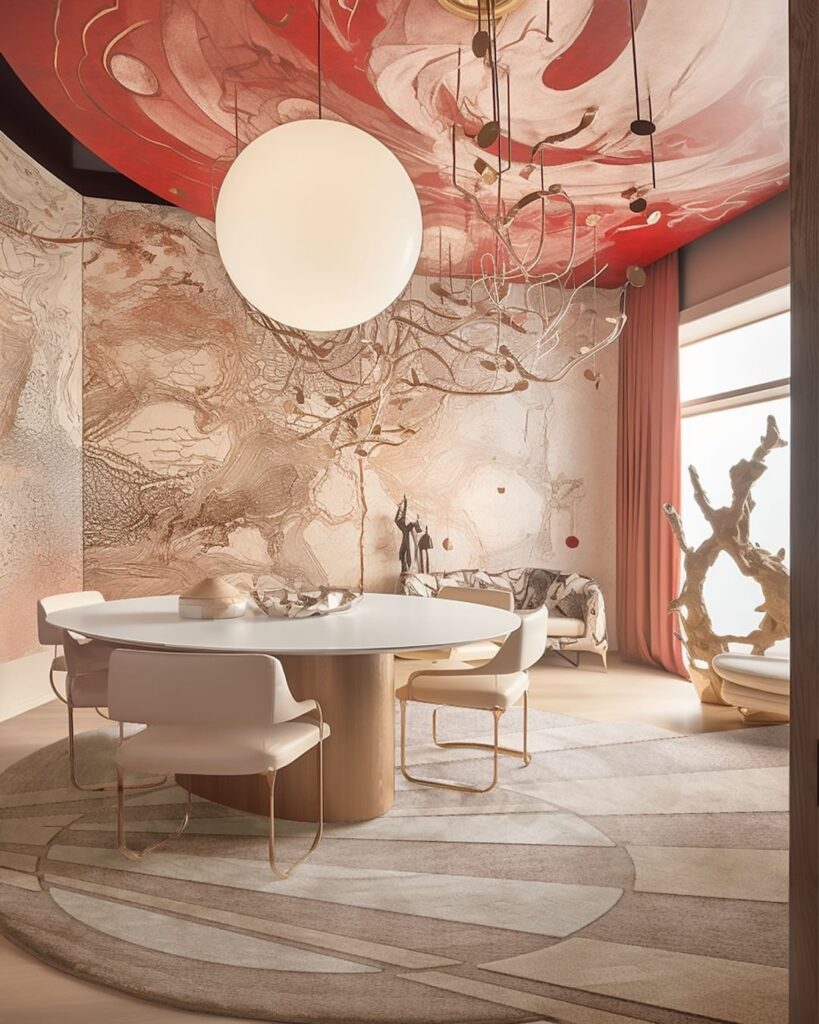 Life is too short to spend with monotonous and boring stuff. So, make some space for a unique showcase of this quirky rug that can elevate your dining space instantly! A radial pattern that extends in a limitless direction is something so eccentric for a style. 
The perfect blend of soft colors completes the entire look as well. You may bring some other dining room wall decor to go with your rug this time. Say hello to playfulness in your gorgeous dining room, and ditch the boring interiors!
Jute Rugs!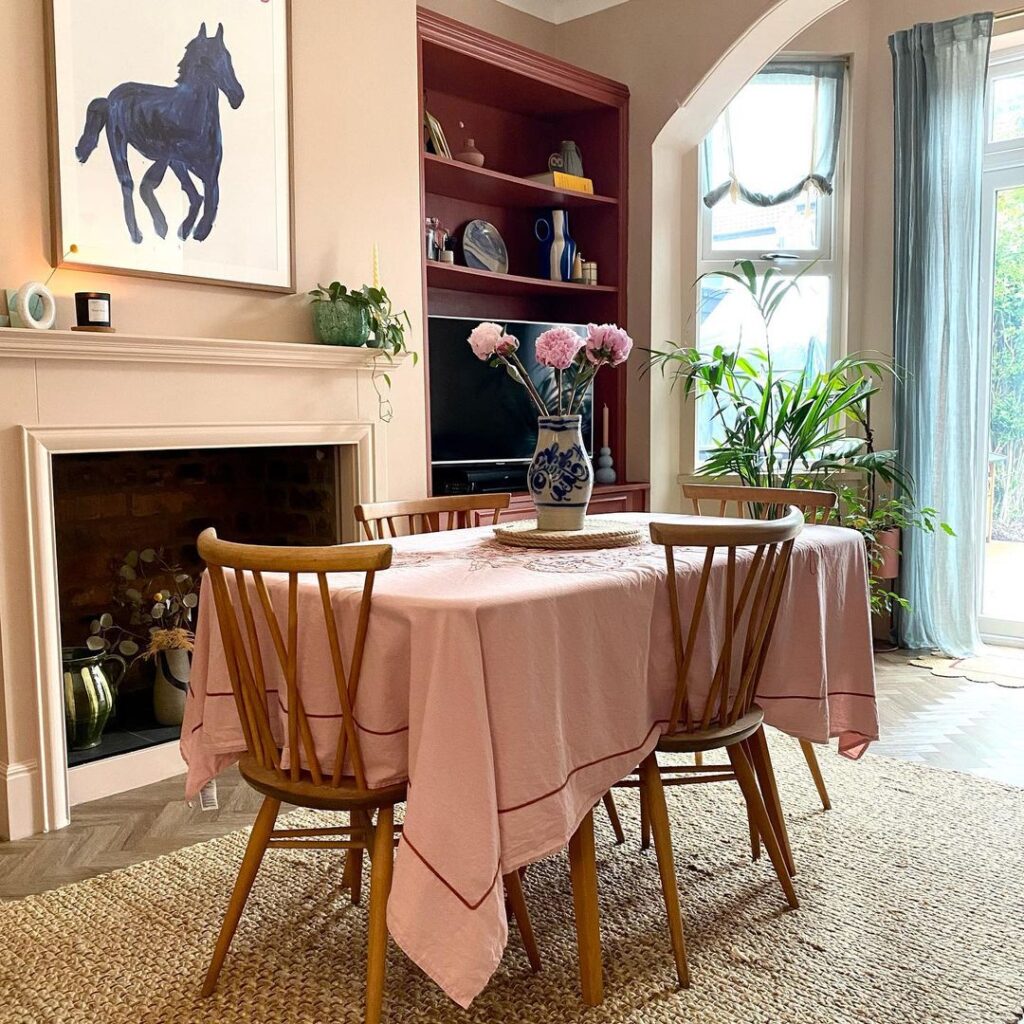 Jute carpets are an excellent option in most situations! Apart from being traditional, they also offer a warm, loving, and homey feel similar to handcrafted carpets. 
Imagine a bright Sunday morning while you're having a perfect French toast in your warm and cozy dining room. Sounds dreamy, doesn't it? So, hurry up to your local shops that offer this magical piece and grab a jute rug for your dining table right now!
Handcrafted Rugs!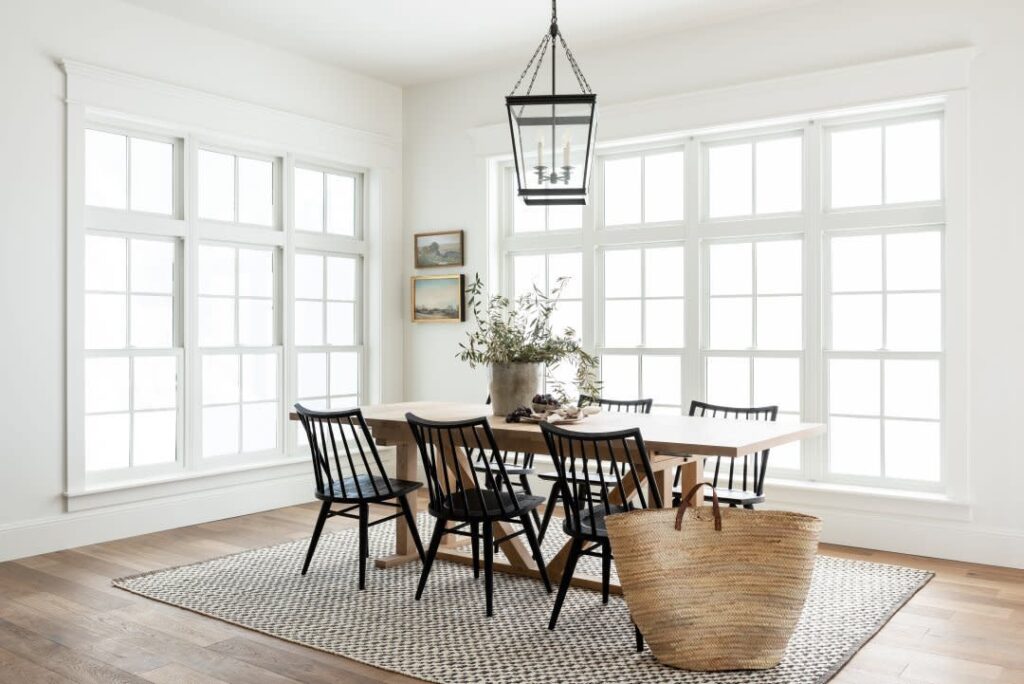 A hand-made rug under the dining table idea always hits differently. Let your handwritten letter or handmade things leave a lasting impression! The immaculate feel of these rugs is enough to make you feel comfortable. 
You can pair them with long pointy chairs which can be one of your popular options. Just make sure you finish this up with a lot of fenestrations to let in sunlight. Handcrafted rugs go well with wooden or glass dining tables due to their personalized and natural look!
Vintage Rugs!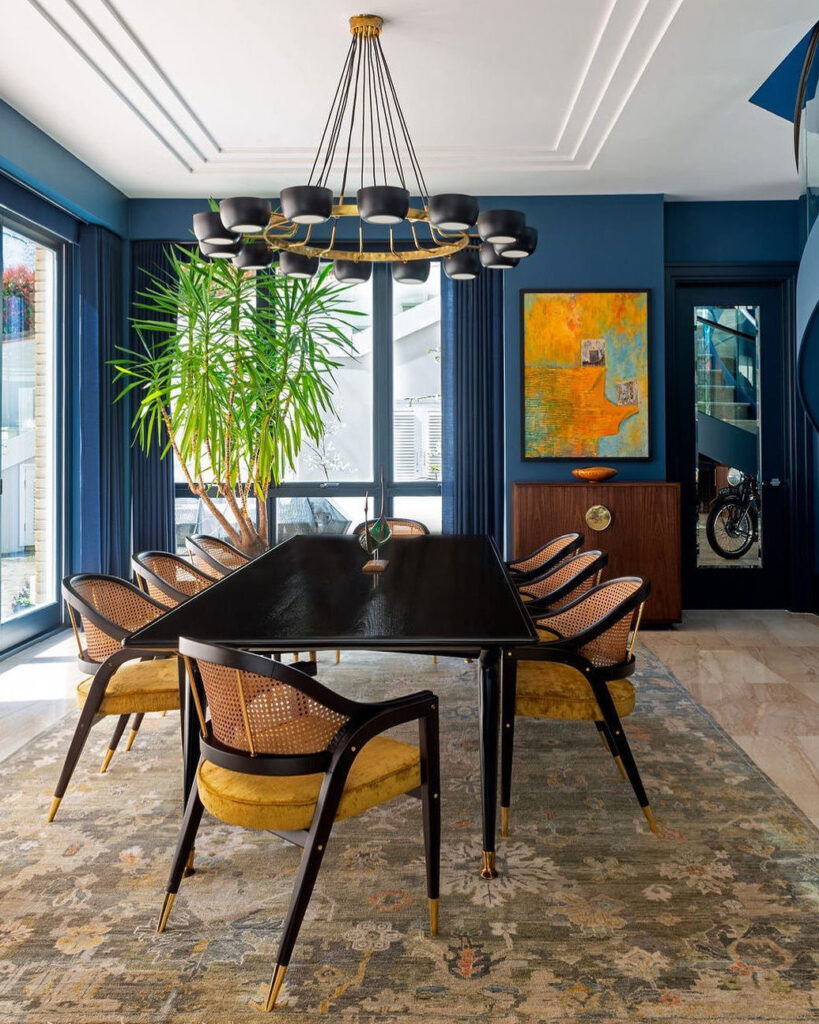 Vintage designs are all about your tastes and interests! This style has been in and out of the market several times in history. A vintage rug under the dining table idea can offer your dining room an antique appearance! 
Vintage goes best with royal bold colors, and a dark blue shade can make anybody fall in love with this well-curated space. Contrasting elements like yellow can be used for decor. Together, they make a well-balanced space just like how all the perfect things should be!
Flooring's Companion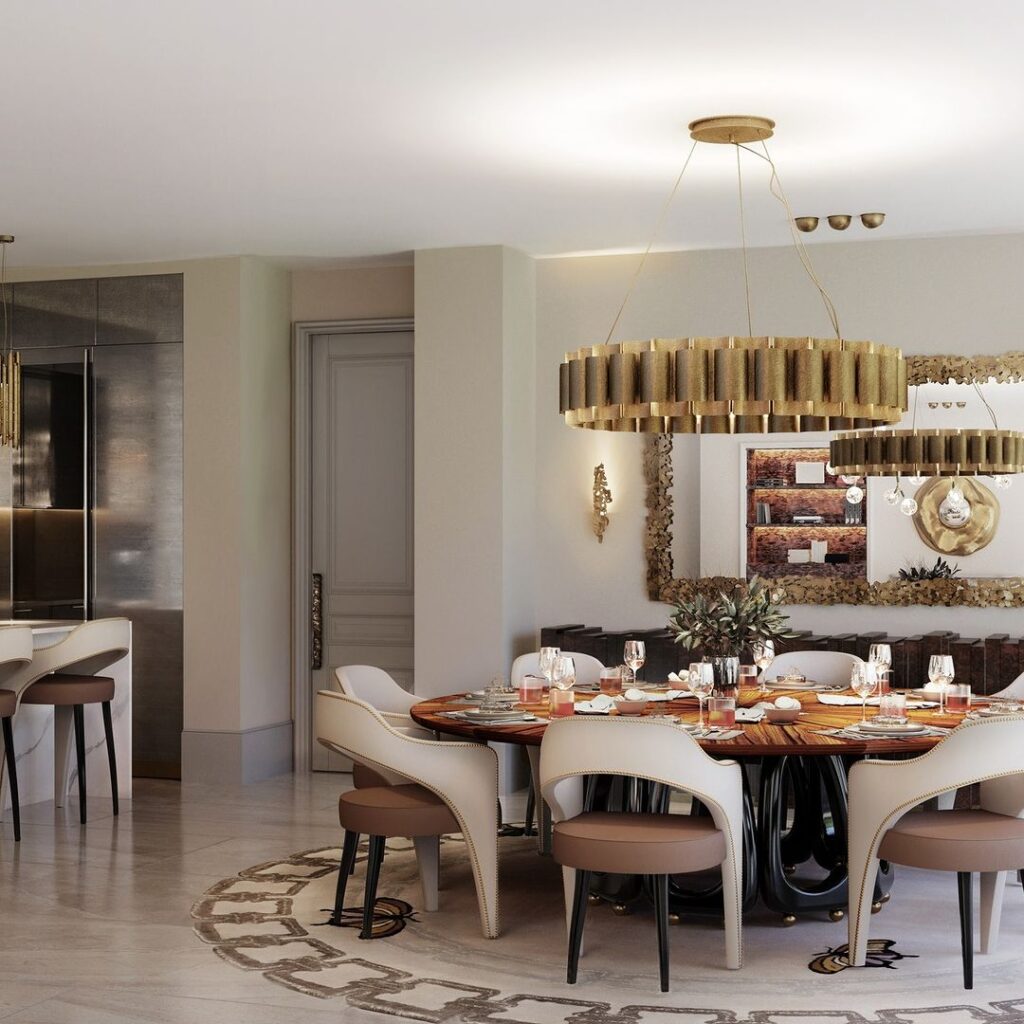 If you think your flooring color does not matter while picking the right rug – You are missing out on the best part. An off-white flooring needs a rug slightly bolder in color! 
Cream-colored rugs are a great option for that. This idea makes your space more sophisticated while also inducing the blend of two separate spaces. 
Pro Tip: Another great way is by contrasting rugs with your flooring! A pure white rug on dark teak flooring can be the new talk of your town! 
Faded Rugs!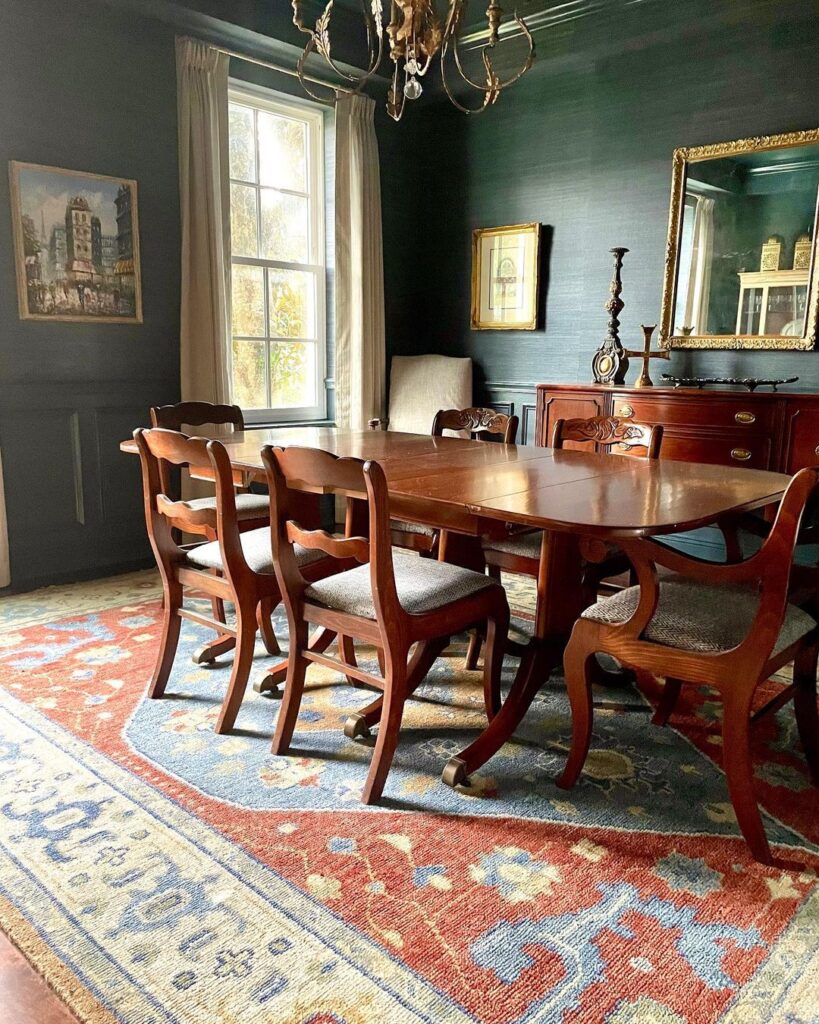 Bright and colorful? Nah, it's subtle and soft! This faded rug under the dining table idea adds a softness to your dining space that everyone craves! 
But, don't worry – it's not going to look like an old pair of rugs! The faded colors are quite unique and subtle. Your down-to-earth personality will love this choice for sure! 
Artistic Rugs!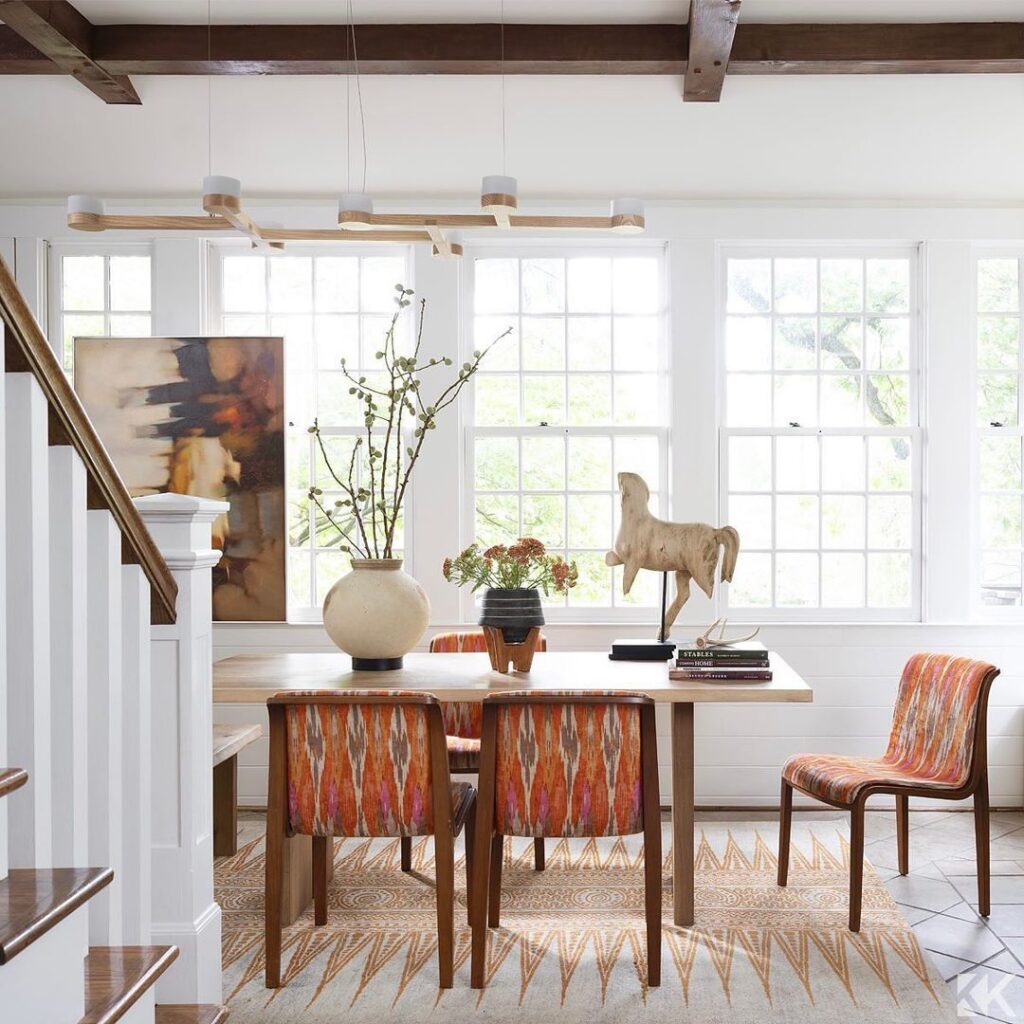 How about adding an artistic touch to your dining space? This classic rug will be the new showstopper. The alluring patterned orange with a minimalistic look along with the orange dining chairs is a wonderful pairing. Creative people like you will crave an expressive rug like this! 
5 Tips To Choose The Right Rug For Your Dining Room
Size and Shape
The size and shape of a rug is crucial. Measure your dining table and chairs to determine the appropriate size. Ideally, a rug should be large enough to accommodate the table and chairs, even when they are pulled out.
Material
Dining rooms are high-traffic areas. So, choosing a durable material is essential. Wool and synthetic fibers like nylon and polypropylene are excellent choices as they are stain-resistant and easy to clean. 
Style and Design
Consider the overall style and decor of your dining room when choosing the rug. If you have a minimalist and modern theme, you must go for a rug with simple patterns and solid colors.
Maintenance
Practicality is essential when it comes to dining room rugs. Select a rug that is easy to maintain and clean, especially if you have kids or pets. 
Colors and Patterns
The color and pattern of the rug can significantly impact the ambiance of your dining room. So, choose them wisely, according to the above factors. 
FAQS
Should You Use Rug In The Dining Room?
Placing a rug in your dining room instantly changes the look and feel of the space. Rugs add warmth to a space and absorb sound. They bring a luxurious texture to walk on.
How Big Should A Rug Be Under The Dining Table?
The size of the rug depends on the dimensions of your dining table and the space available in the room. The general rule of thumb is to choose a rug that is at least 24 inches (61 cm) more extensive than the dimensions of your dining table.