Hey there, interior design enthusiasts! If you've landed here – Then, you must have a snazzy navy blue couch, and you may be wondering how to jazz up your living space like a pro! Don't worry, because I've got your back (and your sofa's!) with a few fantastic ideas on how to get started. 
Decorating a room with a navy blue sofa may seem confusing, but I'll be your trusty captain here and guide you through these designer choices! From nautical themes to bohemian vibes – Get ready to experiment with everything! Whether it is about balancing colors, adding textures, or tying it all together with that dreamy centerpiece. 
This time, I've rounded up 17 fabulous ways to transform your living room with a blue sofa into an exotic sensation. From colorful cushions to pillow throws – These ideas are bound to make your space feel like a beachside vacation! So, grab your notepad and a pen as we are about to explore the best dark blue sofa decorating ideas! 
17 Ideas For Decorating Around A Navy Blue Sofa
Create A Coastal Chic!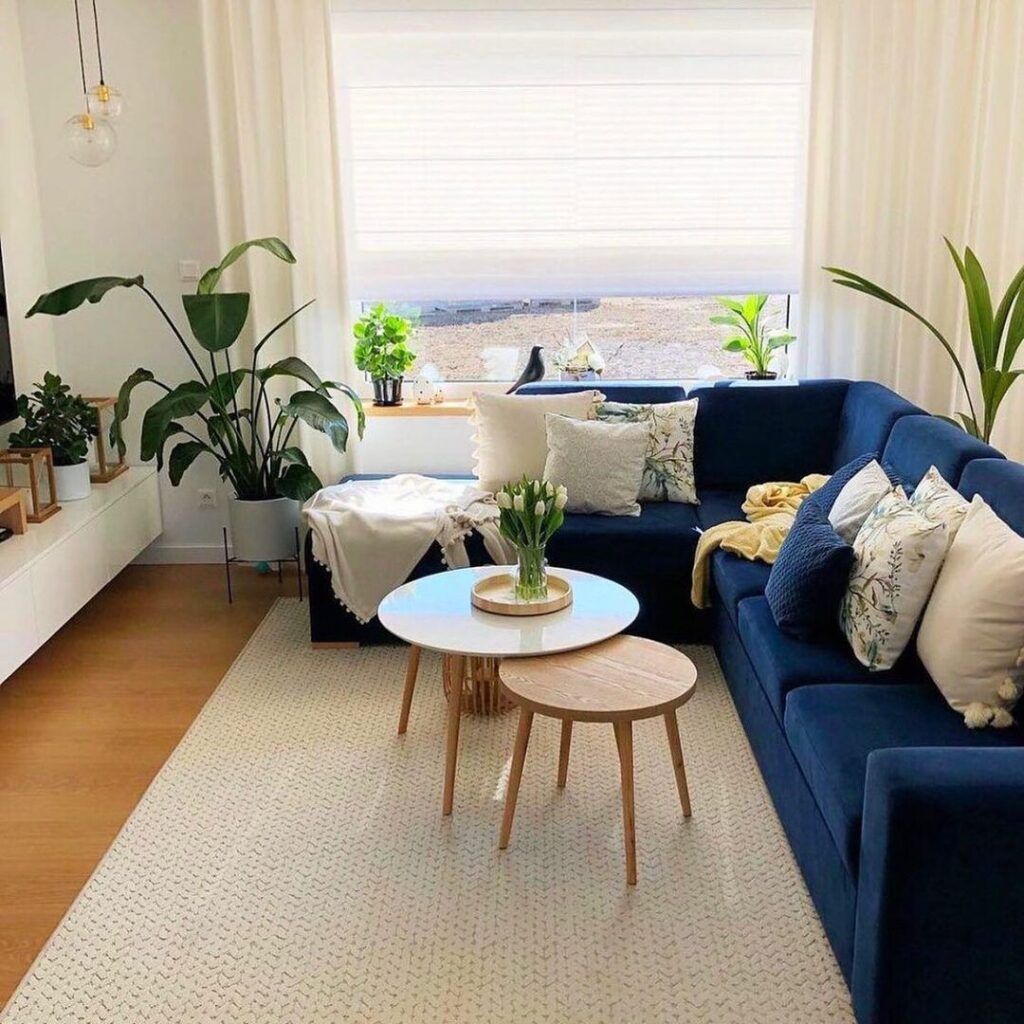 Decorating around a navy blue sofa is not as hard as it seems. You can start off with white and sandy beige accents, nautical prints, and some seashell décor! These will make your space a breezy beach-inspired living room.
Along with a seaside charm – This blue couch will effortlessly draw attention with its elegance and versatility. It has a deep, oceanic hue that exudes a calming vibe while blending well with coastal-inspired décor! 
Bring In The Boho Bliss!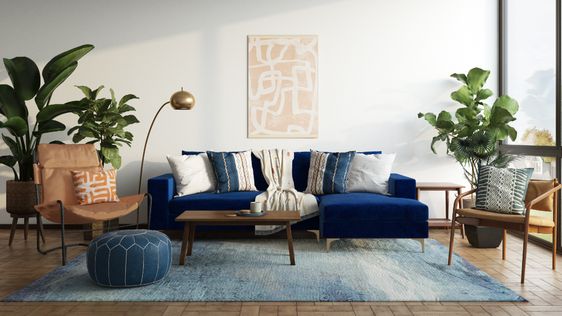 Let's try something quirky! You can layer vibrant throw pillows, and eclectic rugs, with macramé wall hangings or free-spirited artwork all in the same space. This eccentric combination can create a bohemian style that complements the rich hue of the sofa. 
This charming navy blue sofa between vibrant textiles, and lush greenery is all about the bohemian spirit. The deep, soothing hue of the sofa blends with a Bohemian earthy palette. It further creates a cozy, inviting space that's just as stylish as relaxing. 
Modern Monochrome Vibe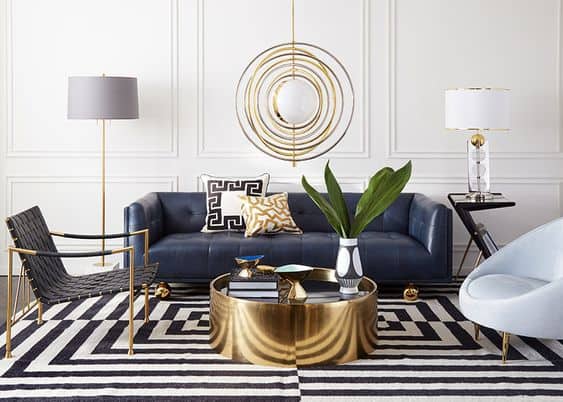 It's always best to stick to shades like black, white, and navy color schemes. Get some sleek furniture and metallic accents to add a contemporary touch! A navy blue sofa goes well with a monochromatic living room, building a timeless allure! 
Decorating around a navy blue sofa is versatile with this monochrome idea. It welcomes various accent colors, patterns, and textures with open arms. So, if you're craving a refined living room that stands the test of time – Try out this monochrome magic!
Pro Tip: You can use muted grays and crisp whites against a backdrop, and watch how your navy blue sofa exudes a luxurious statement. But don't worry, a little luxury won't overpower your space.
Go For A Green Oasis!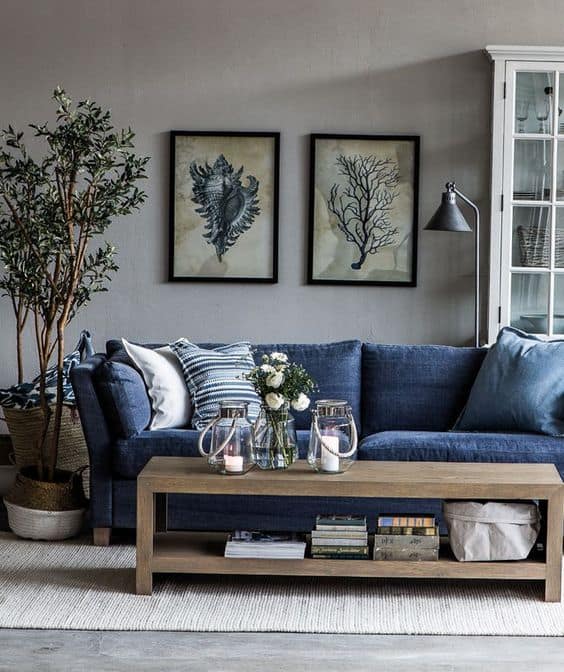 How about surrounding your sofa with lush indoor plants and botanical prints? These elements infuse your space with a refreshing and natural ambiance.
You can bring the natural beauty of the outdoors with a navy blue sofa that complements the lush greenery in your living room. The rich hue of the sofa adds a striking contrast against the lush foliage, making both elements stand out in all their glory!
Give It An Industrial Edge!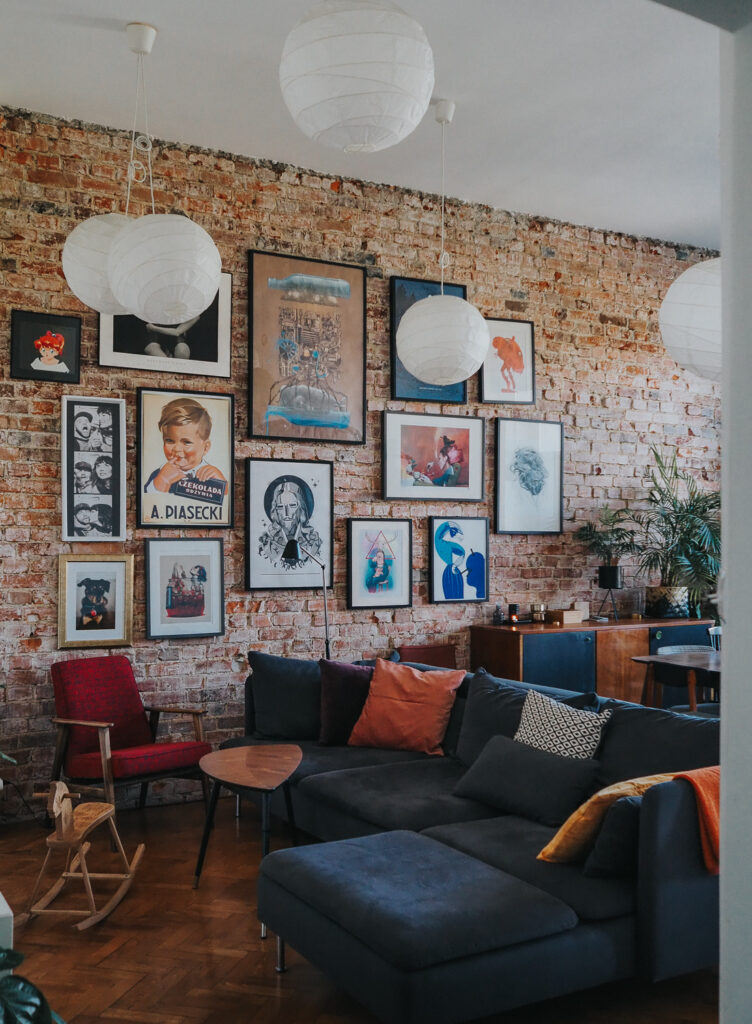 Combine raw materials like metal and exposed brick with leather and vintage accents to achieve a trendy urban loft vibe!
The navy blue sofa adds depth and richness to this industrial backdrop and creates a magnetic focal point. In the edgy realm of industrial chic – This navy blue sofa takes center stage among the raw textures and urban allure!
Pair It With Glamorous Gold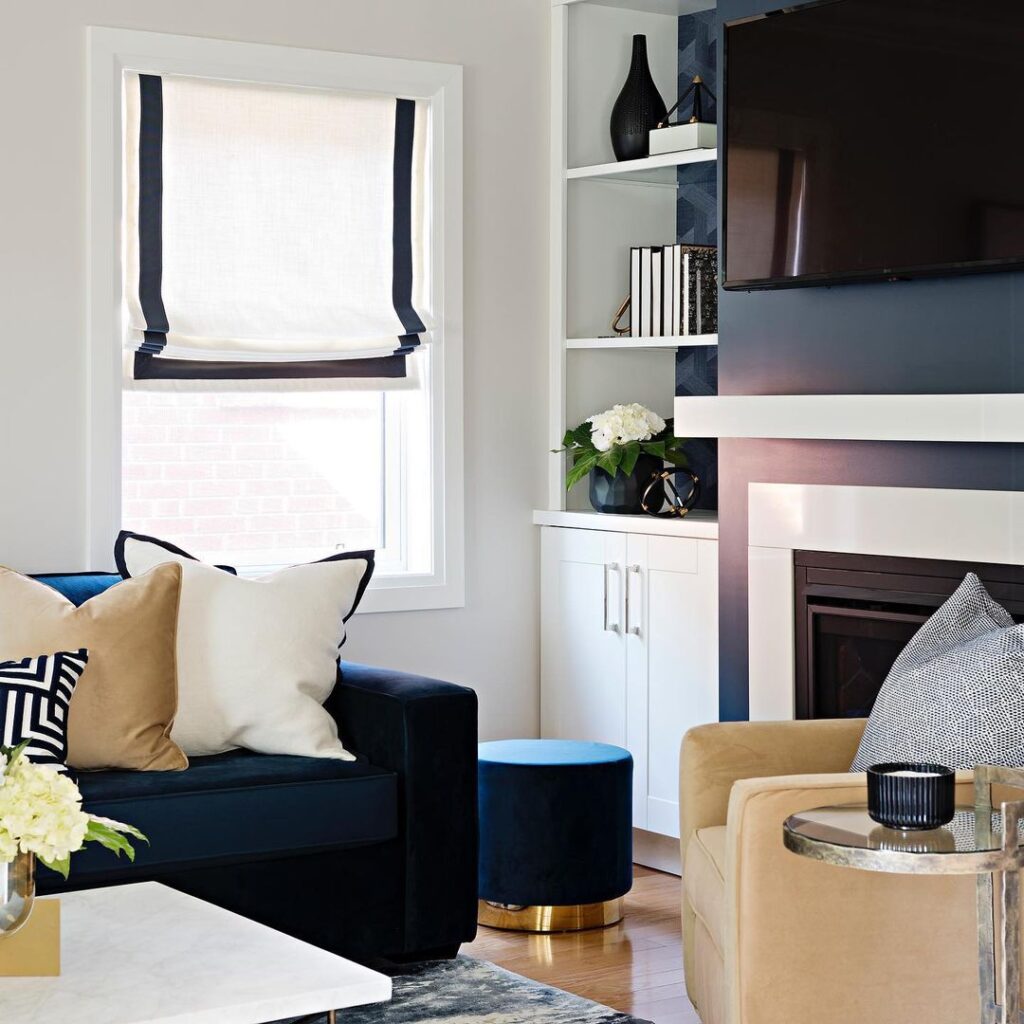 Let's scream wealth and opulence, shall we? You can incorporate gold accents, mirrored surfaces, and plush velvet throw pillows for a luxurious flair in your space.
A navy blue sofa complements beautifully with shiny gold elements, like gilded mirrors, metallic coffee tables,  fabrics, and golden trims. The interplay of these colors uplifts your room to newer heights, capturing a regal charm that is impossible to resist! 
Introduce The Global Fusion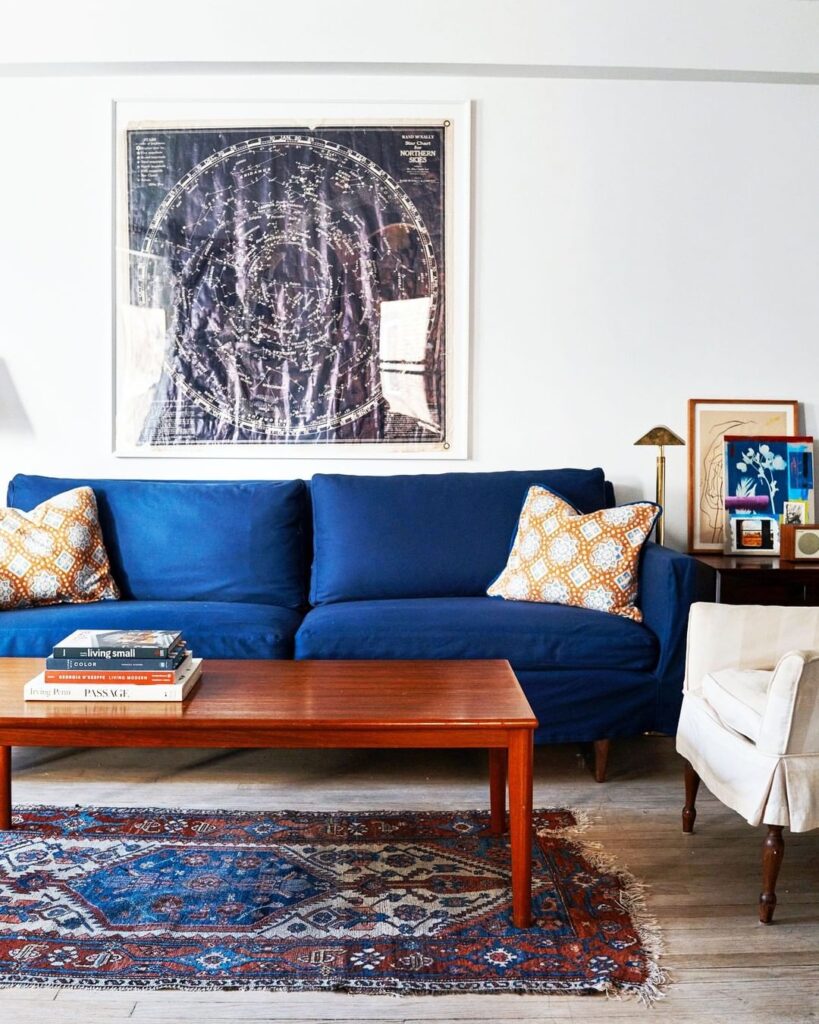 You can style a navy blue sofa by mixing patterns and textures from various cultures! Bring some Moroccan rugs, Indian prints, and African artwork for a worldly vibe and mix-match them up! 
Along with these, the navy blue sofa lends sophistication and versatility to the room! This whole decorating around a navy blue sofa creates a unique and inviting sanctuary with eclectic decor. 
Scandinavian Simplicity!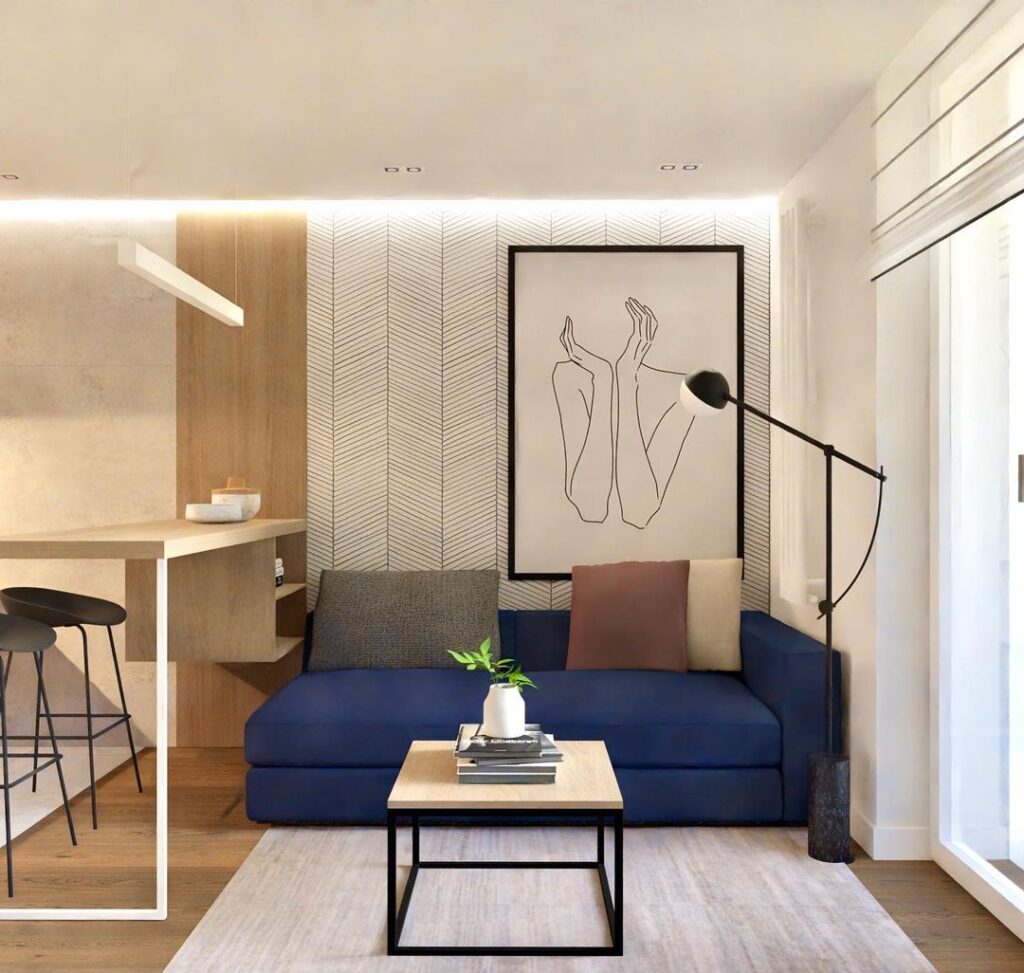 Time to get minimalistic with light-colored furniture, natural wood elements, and hygge-inspired cushions! These elements together can create a sophisticated setting. 
The minimalism of a Scandinavian living room makes your navy blue sofa the prime example of understated elegance! The navy blue sofa stands out as a stylish statement piece that blends with the Scandinavian charm. 
Invite The Vintage Charm!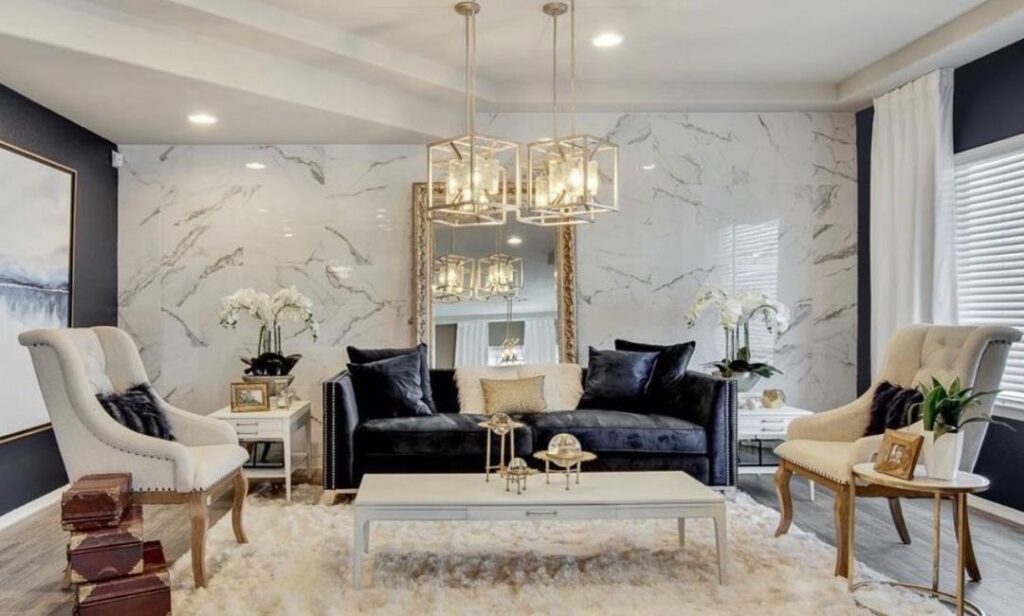 Decorating around a navy blue sofa with retro pieces, antique frames, and repurposed furniture can do magic! They have the power to capture the allure of a bygone era. 
Here, the navy blue sofa bridges the gap between old-world charm and modern allure, with vintage accents. Now, you have a living room that exudes chic, timeless charm while highlighting the features of both the past and present.
Art Lover's Haven!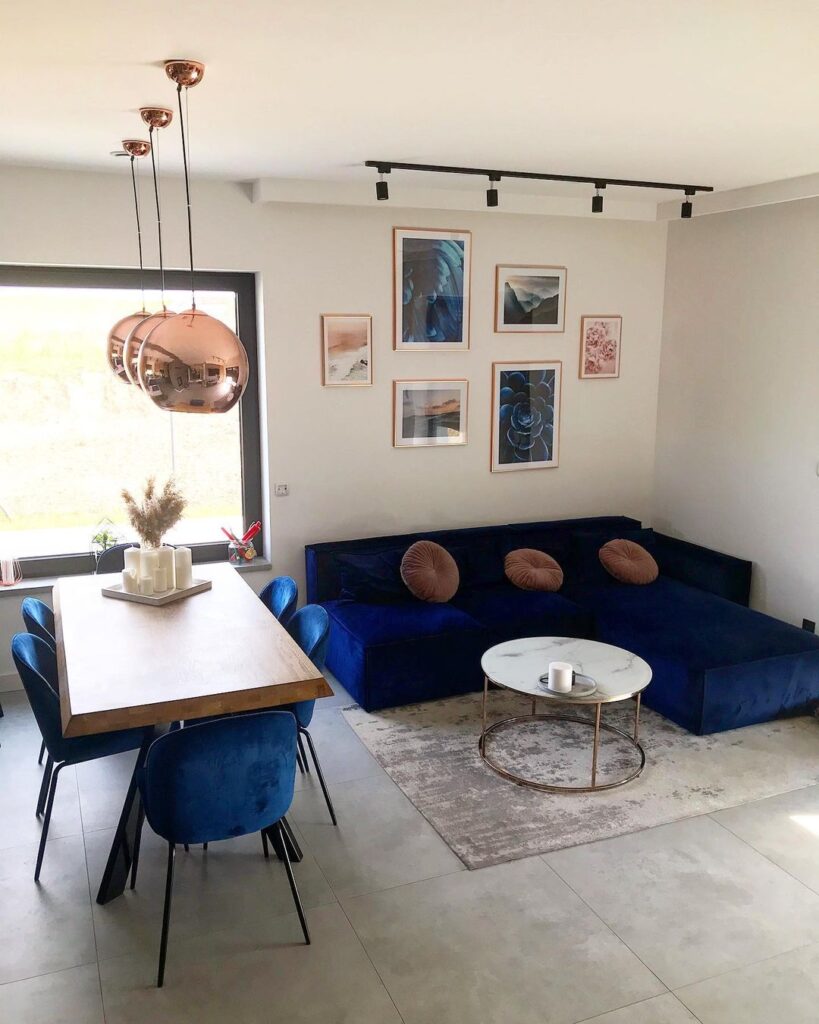 Like this living room cum dining room, Create a gallery wall behind the sofa, and showcase an assortment of artwork in different sizes and frames! This idea can become an inspiring focal point of your living room. Your navy blue sofa acts as a striking backdrop to display your prized art collection. 
Whether it's a gallery wall of paintings, framed prints, or abstract sculptures – Decorating around a navy blue sofa brings out the best in every piece! Altogether, they create an artful masterpiece within your living space.
Create A Rustic Retreat!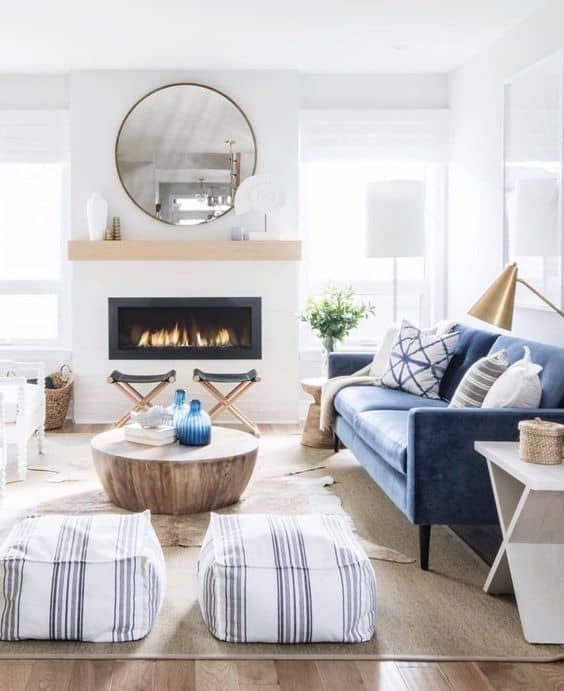 You can incorporate wooden accents, cozy throws, and farmhouse-style décor to achieve a warm and inviting country retreat fully equipped with a pretty modern fireplace! Its classic yet sophisticated presence serves as the focal point! 
It brings out a farmhouse-inspired décor with weathered wood accents, vintage-inspired décor, and plush, textured fabrics. The refined navy blue sofa allows you to infuse the space with your personal farmhouse flair!
Eclectic Elegance!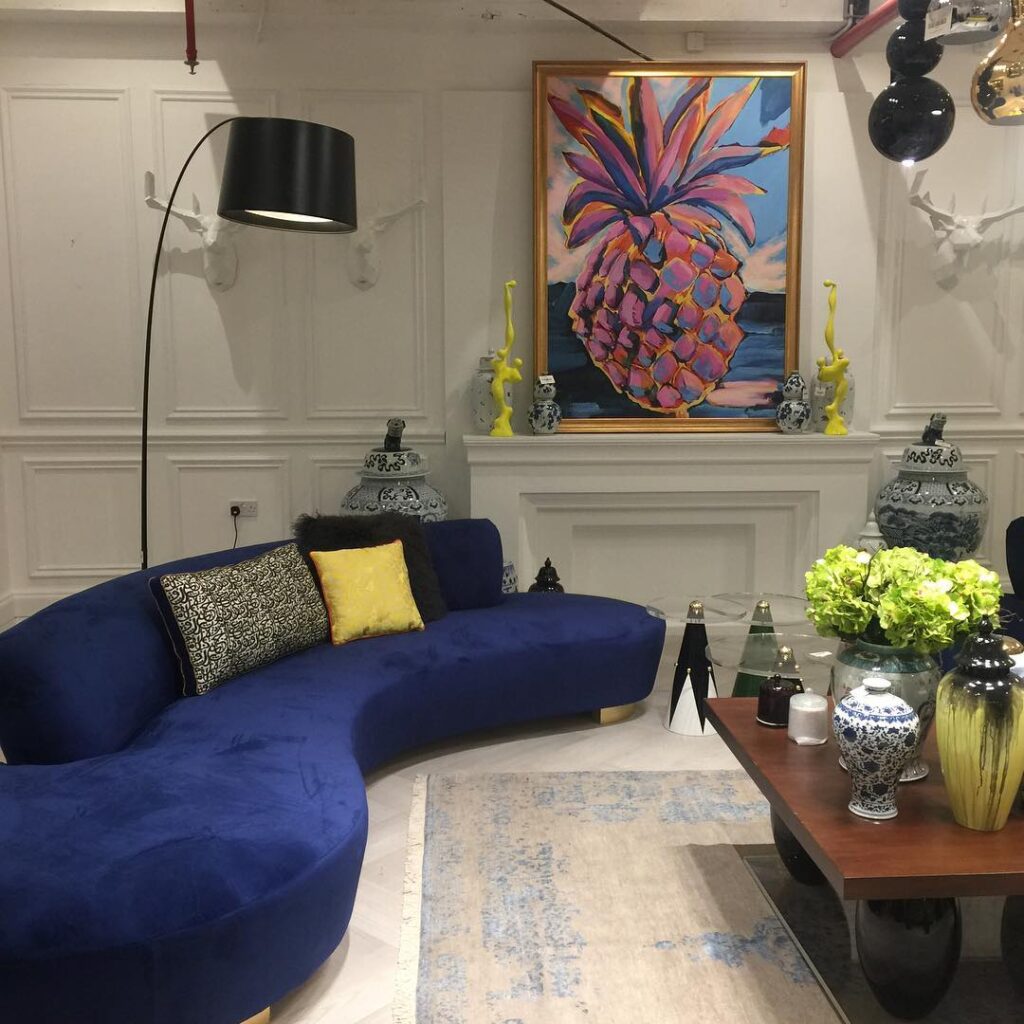 Mix and Match has always been a trend! Imagine the mid-century modern and traditional style with vibrant patterns and bold colors! It's perfect for a curated yet daring atmosphere, isn't it? 
It's fun to try mixing styles, colors, and textures as you keep decorating around a navy blue sofa. This versatile idea infuses your room with an array of bold patterns, quirky décor, and unique art pieces!
Pastel Paradise!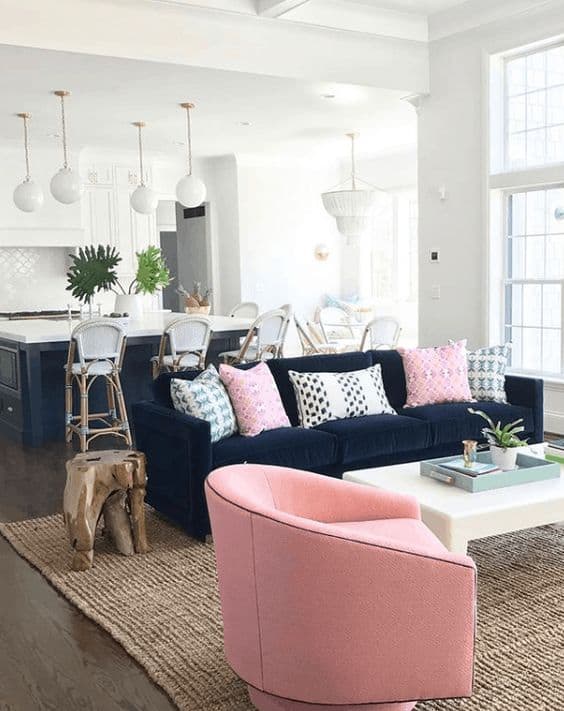 You can soften your navy sofa's intensity with pastel hues like blush pink, mint green, and light blue! You can also try delicate textiles for a serene and dreamy look when decorating around a navy blue sofa. The rich navy complements the delicate pink palette and enhances a perfect balance of femininity and elegance. 
The navy blue sofa becomes the captivating centerpiece here. So, it's your turn to adorn the room with accents like gold elements, plush cushions, and whimsical décor! Trust me, this magical allure will leave you spellbound with its beauty. 
Urban Jungle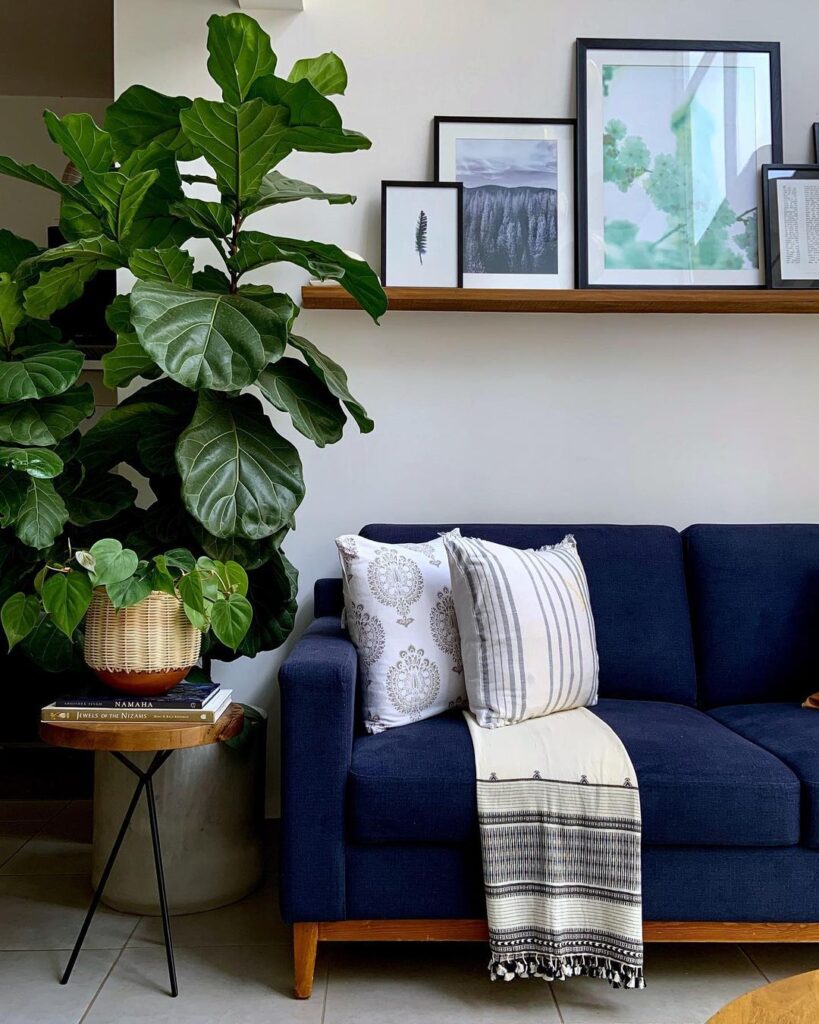 Let's introduce an indoor jungle with hanging planters, potted plants, or terrariums! To top this off, you can also add rattan accents for a trendy and natural urban look. 
Your living room will exude organic charm, greenery, and natural textures. While the navy blue sofa is quite versatile, it also blends well with the rustic charm of rattan furniture and the vitality of indoor plants.
Pop Of Orange!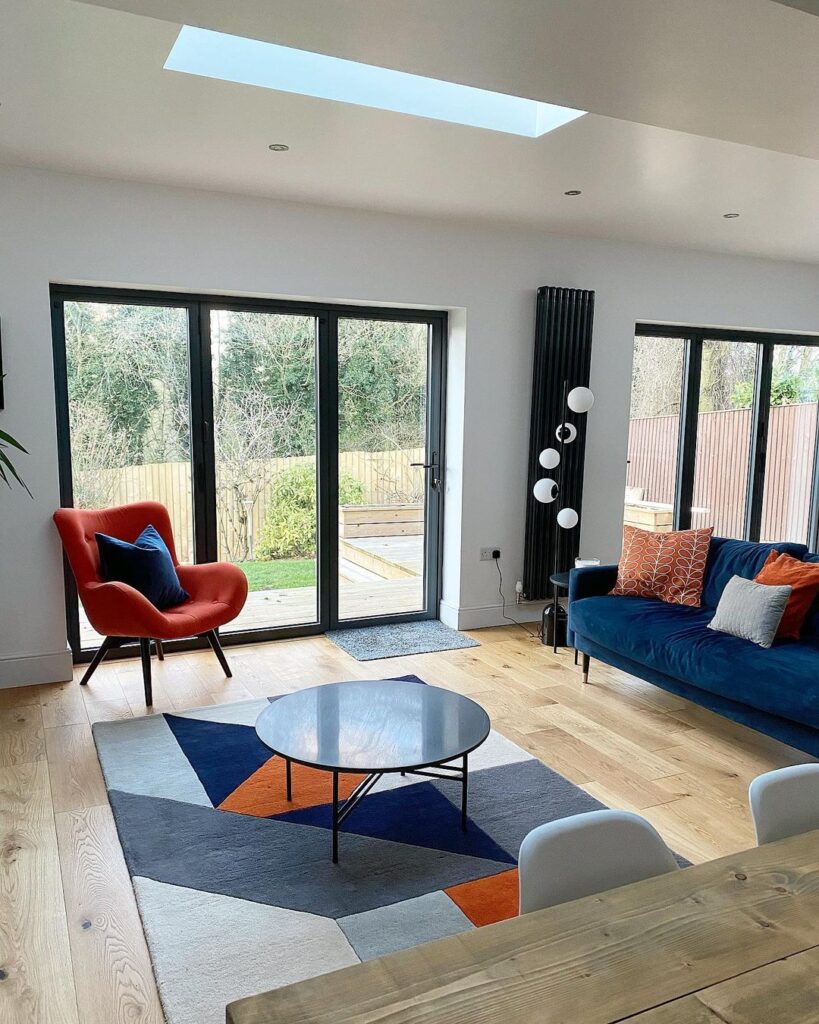 Adding orange accents like throw pillows or artwork can create a striking contrast against the navy backdrop! The classy navy blue shade allows the orange accents to shine and enhances a visually captivating space. 
Bring some bold throw pillows, a statement rug, and an eye-catching single-seater for an exotic flair! These two color complements result in a living room that's both inviting and full of personality.
Art Deco Glamour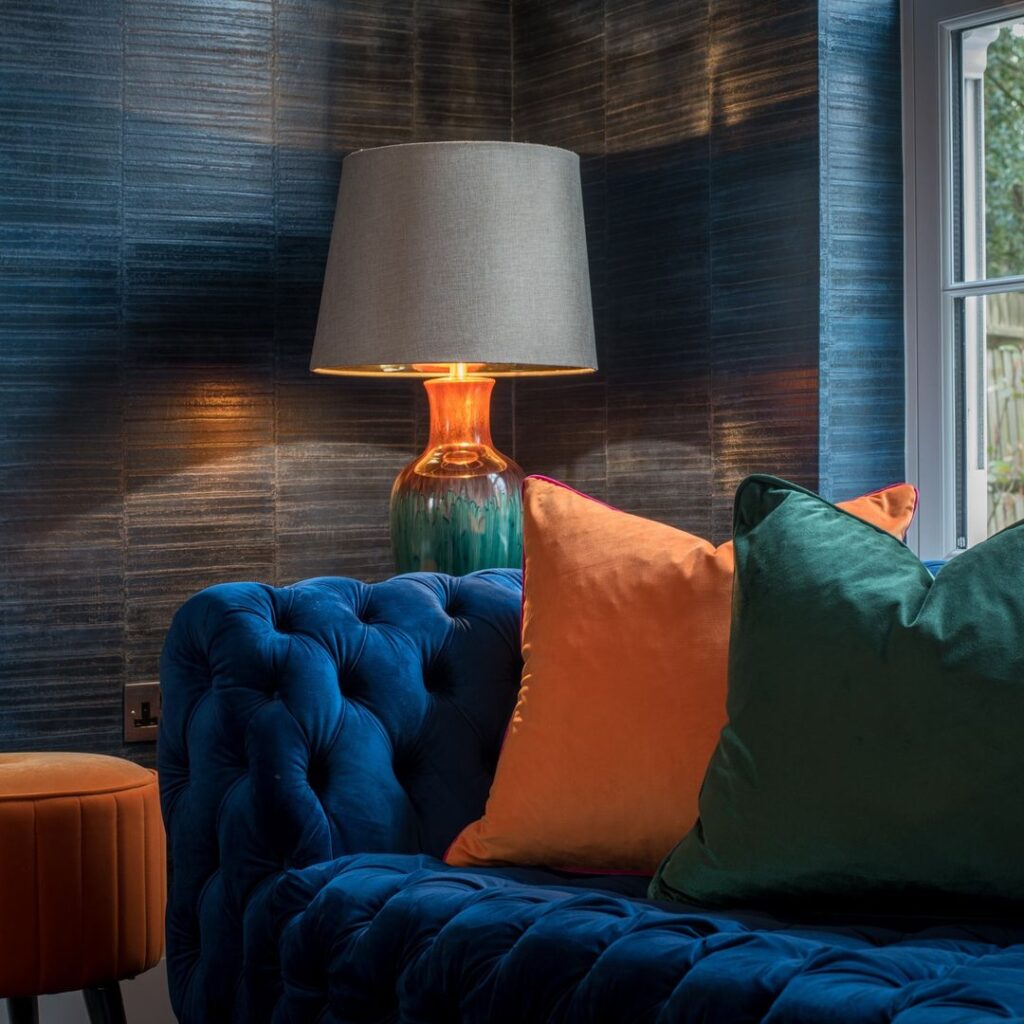 When decorating around a navy blue sofa – Elements like geometric patterns, sleek metallics, and bold art pieces are excellent for evoking the glitz and glamor of the Art Deco era!
The navy blue sofa has a regal presence that complements the gold accents like mirrored surfaces, sleek lines, bold geometric patterns, and luxurious textures! This entire idea adds a timeless aura with statement lighting, exquisite art pieces, and plush fabrics.
Serenity in the Navy!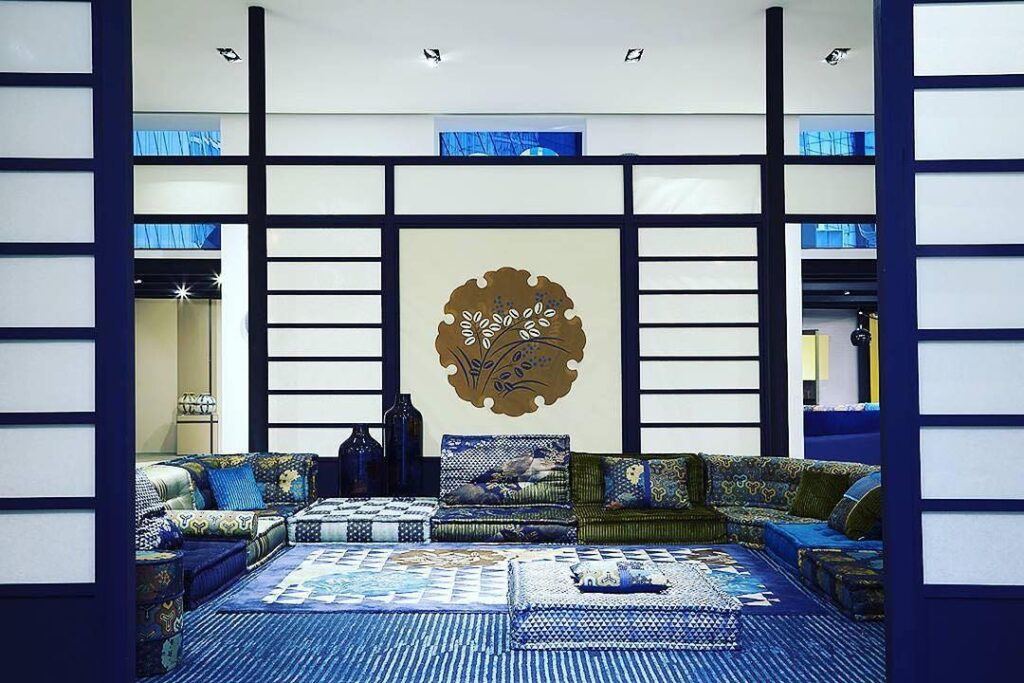 Japanese-inspired décor including tatami mats, paper lanterns, and bonsai trees are perfect for a peaceful living space when decorating around a navy blue sofa.
Japanese designs are best suited for simplicity and natural elements! So, you can decorate your space with bamboo accents, shoji screens, and minimalist items! Now, your navy blue sofa can take the center and be the star of your living room!
Color Schemes That Go With A Navy Blue Sofa
Nautical Neutrals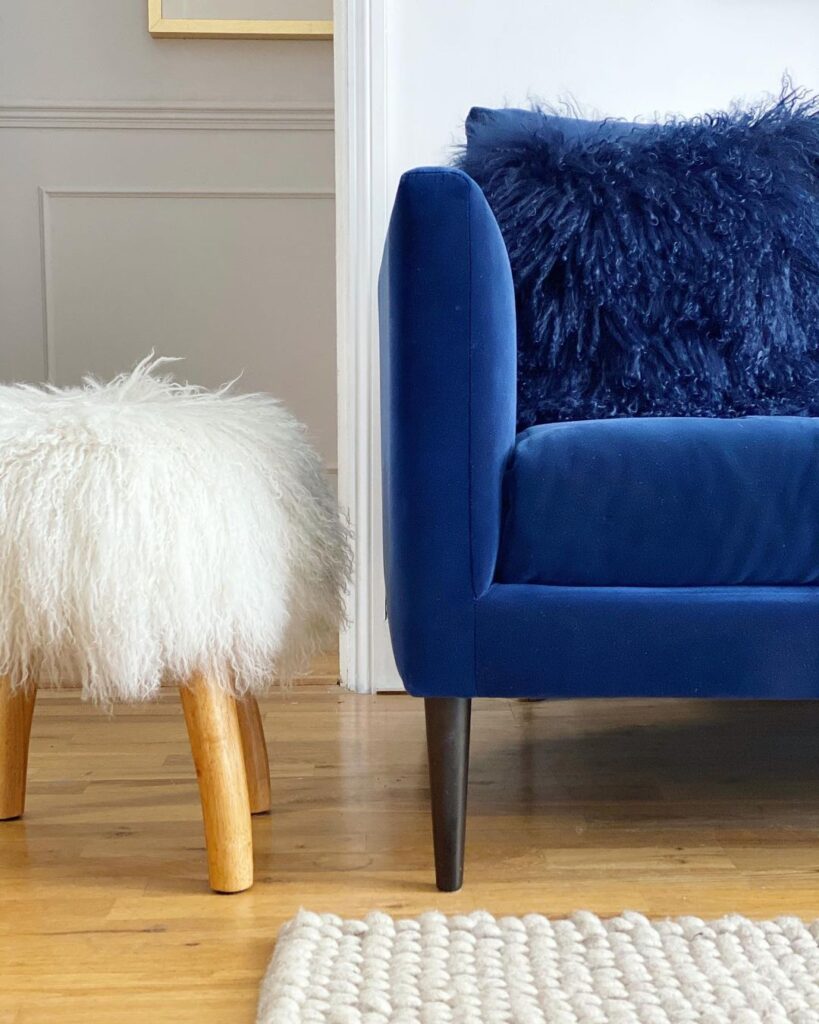 Neutrals like navy blue and white, supported by sandy beige accents are a popular choice. This classic combo will have your space feeling like a chic beachside vacation. 
Yellow Splash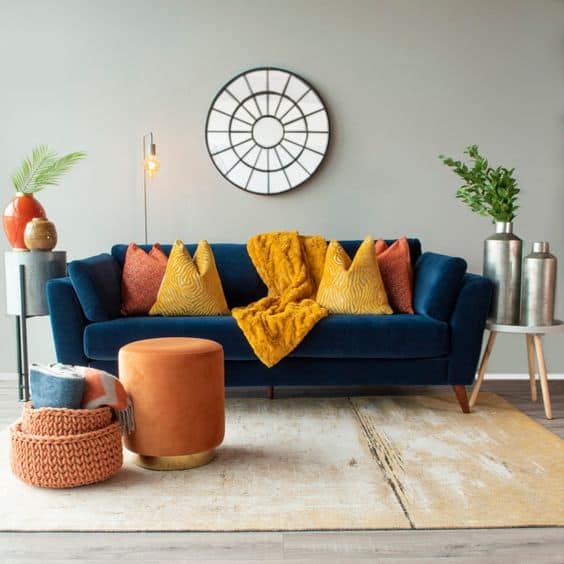 Your navy blue sofa is best friends with pops of vibrant yellow and orange that lead to a lively and sunny ambiance. It's like sunshine on a cloudy day, bringing warmth and cheer to your décor.
Pretty Pink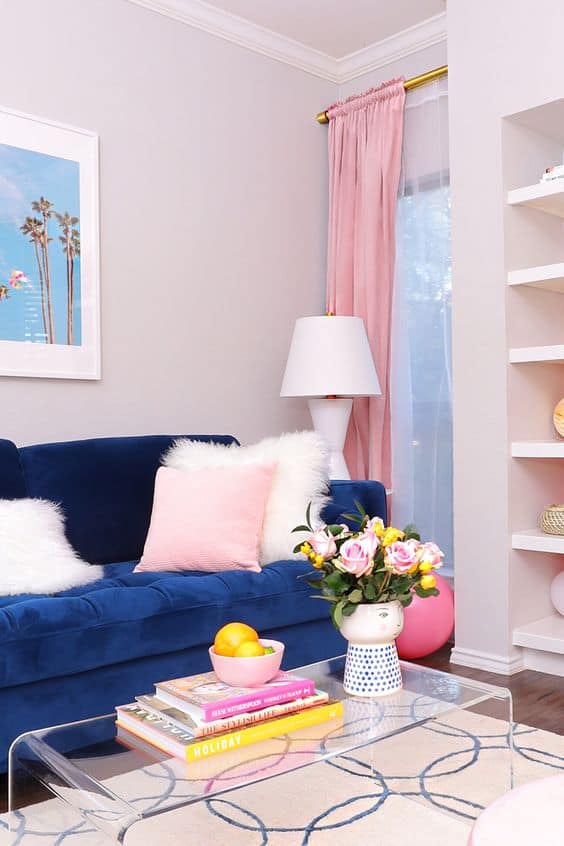 Infuse a flair of femininity by pairing navy blue with soft blush pink. The result? A dreamy and romantic space fit for a modern-day fairy tale!
Minty Fresh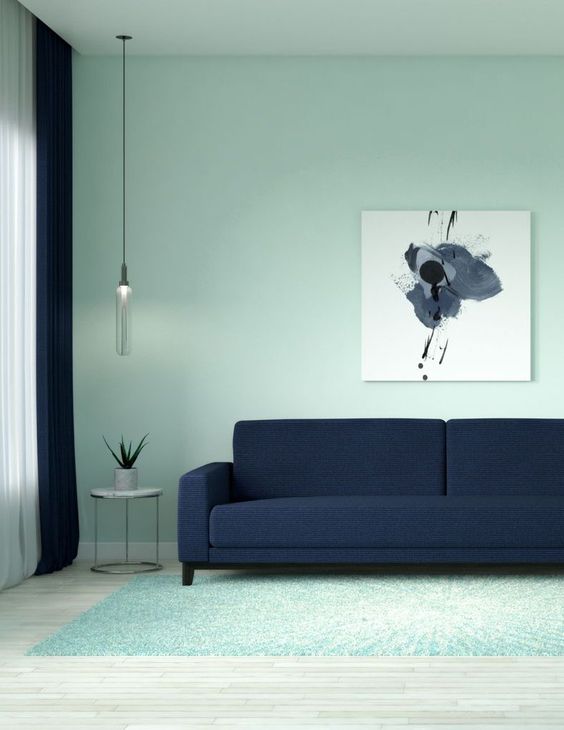 Combine cool mint green with navy blue for a refreshing and invigorating color scheme. It acts like a breath of fresh air for your interior design, making everything feel light and breezy.
Purple Hues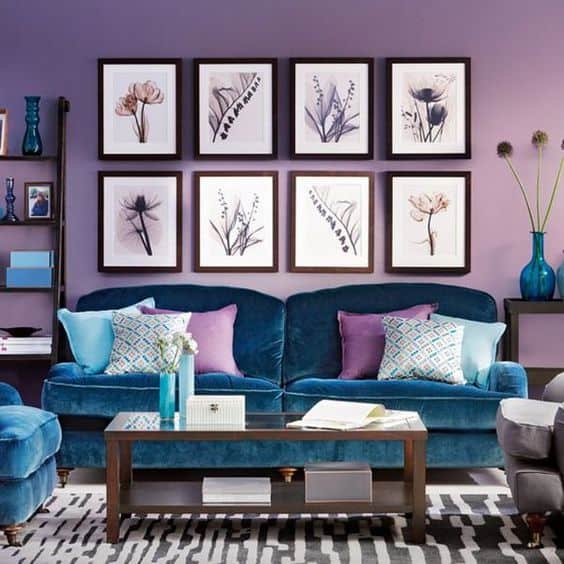 You can uplift your décor to royal status by pairing navy blue with regal purples like amethyst or lavender. It depicts the luxurious and sophisticated aura of a king or queen.
Tropical Teal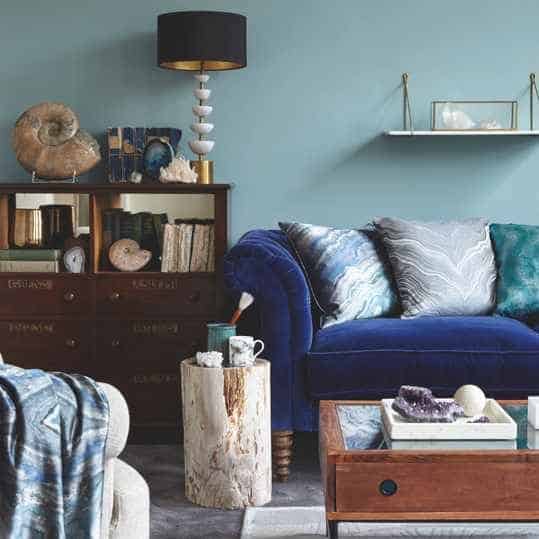 You can infuse a tropical paradise by combining navy blue with vibrant teal accents. The blue and teal color combination is a beauty just like a vacation to a far-off island from the comfort of your home.
Bold Red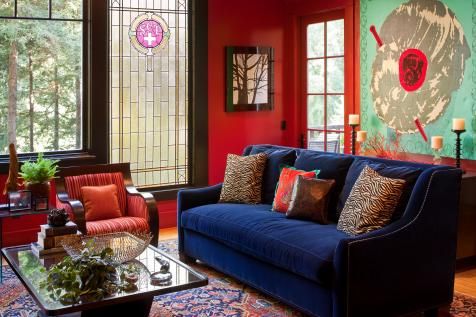 Make a daring statement by mixing navy blue with fiery red accents. It's a combination that demands attention and adds a powerful punch to your décor.
Earthy Rustic Tones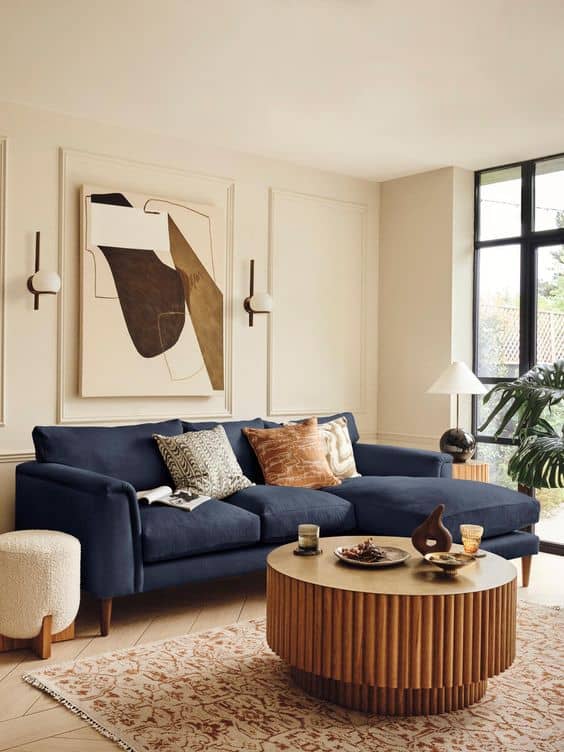 Invite the coziness of the countryside with earthy hues like rusty orange, deep browns, and mossy greens! These shades harmonize with navy blue for a warm and inviting atmosphere in your brown living room.
Charcoal Seas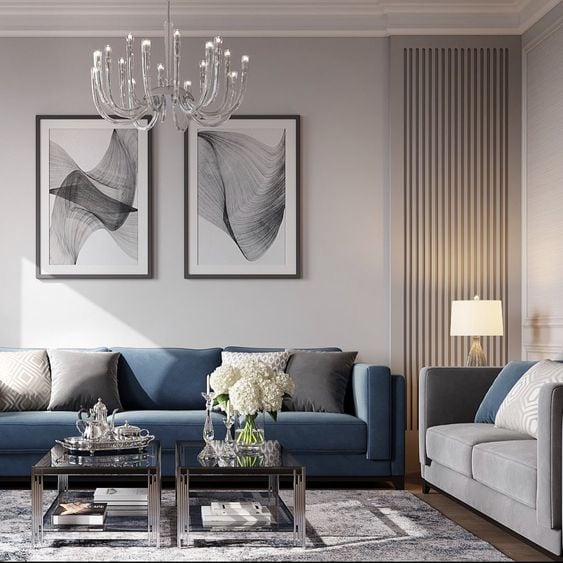 This can be the dream team of your décor! Pairing a navy blue sofa in the living room with sleek charcoal gray accents is an effortlessly stylish choice. Navy blue is one of the best colors that go with charcoal gray! It's like Batman and Robin – A stylish partnership that brings depth to your living room corners.