Are you in for a new fireplace, but want something a bit more stylish and modern than the traditional one? If so, you're in luck! The world of fireplaces has come a long way from the days of sooty brick and roaring fires. They have been a staple in homes for centuries now, but thanks to recent advancements we now have – the modern fireplace. It is sleek, stylish, and designed to fit seamlessly into contemporary living spaces.
Whether you're looking to add a touch of sophistication to your living room or want to create a stunning focal point in your open-plan space, a modern fireplace is the perfect solution! So, buckle up and get ready to get inspired by the greatest modern fireplace designs of this century.
Go Linear With Your Fireplace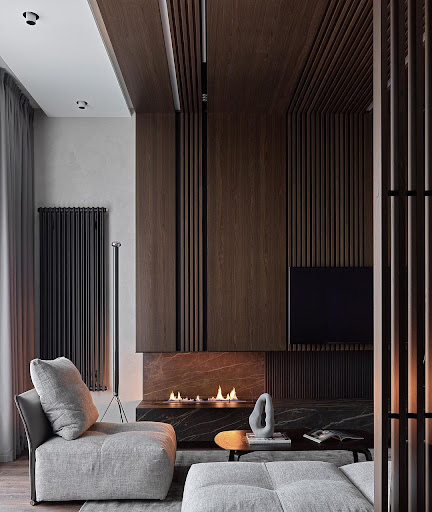 If you're looking for a sleek, chic, and modern fireplace design, then look no further than a similar integrated fireplace! With its clean lines, minimalist aesthetic, and cutting-edge technology, this fireplace will have you feeling warm and cozy! You could have a TV mounted above, to fully enjoy your movie nights.
Mount The Modern Fireplace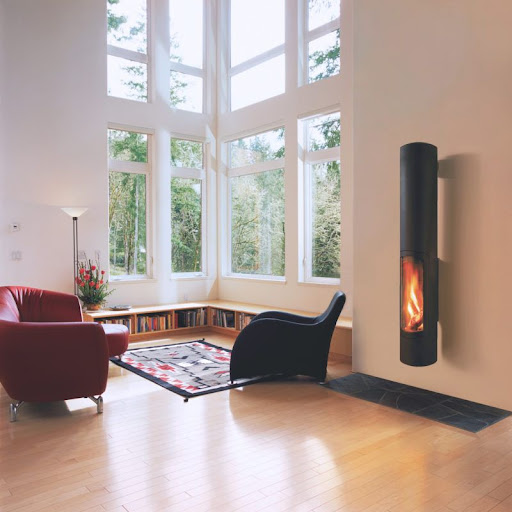 Wall-mounted fireplaces are the perfect blend of form and function, making them the ultimate statement piece in any large or small space. They free up some floor, come in a wide range of styles and materials to choose from, and are easy on your pockets! No reason to not give them a try!
Or Suspend It!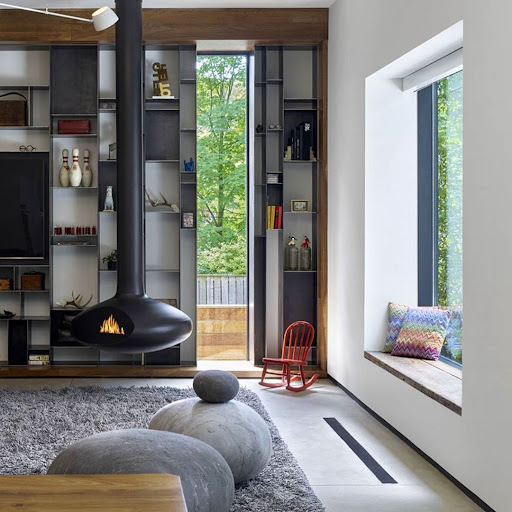 Bring in the high style and dramatic flair with this super aesthetic fireplace that will take you in awe. The suspended fireplaces are not just visually pleasing but also offer a new level of sophistication and can be mounted anywhere, making them the perfect accessory to elevate your interiors. I think it works best in your living room if you want to add some statement pieces and make your space look luxurious. This is the way! 
One Fireplace For Two Spaces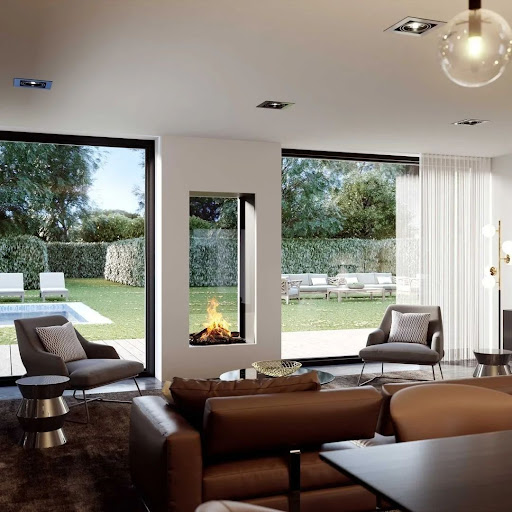 Placing a fireplace against transparent partitions is the ultimate modern fireplace idea with the feature to act as a focal point for two spaces at once! These fireplaces are the perfect solution for open-concept living rooms, giving you both a fully functional heating source and a chic focal point. 
Keep It Simple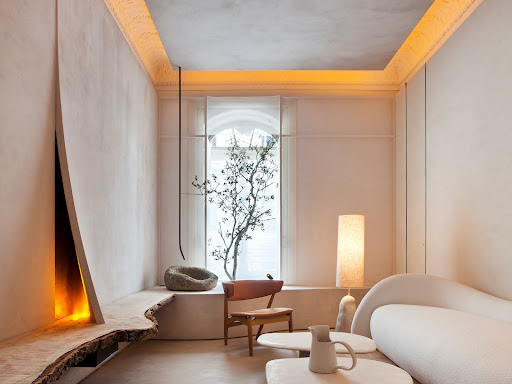 Minimalistic fireplaces pack a punch when it comes to functionality, with features like hidden flues, wall-mounted designs, and the perfect blend of modern materials. It's simple, yet bold, and can elevate any room! So, if you are looking to adorn a minimal room with a modern fireplace, a minimalistic one is the perfect marriage.
Give It A Rustic Touch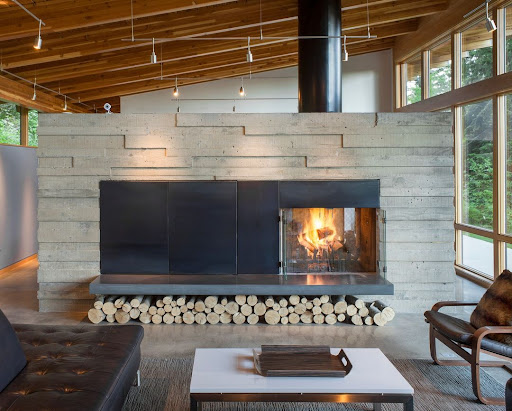 Add a touch of classic rustic charm to your living space by adding some wood detailing to your fireplace area. It keeps your home looking stylish and sophisticated. And since wood is so versatile, you can stain it, paint it, or leave it natural to match your ever-changing decor needs- whether you prefer a rustic look or a sleek, modern feel.
Save Space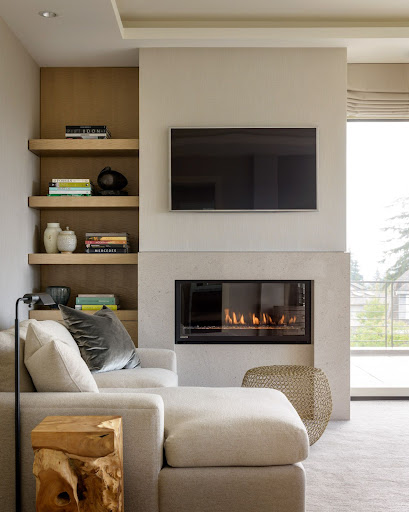 If you love aesthetics that come with functionality, this linear fireplace design might just be the one for you! Spruce up your space with this built-in cabinetry fireplace with the warmth and coziness of a fire, and the sleek modern look of custom cabinetry, that gives you ample storage for all odds and ends!
Use Natural Materials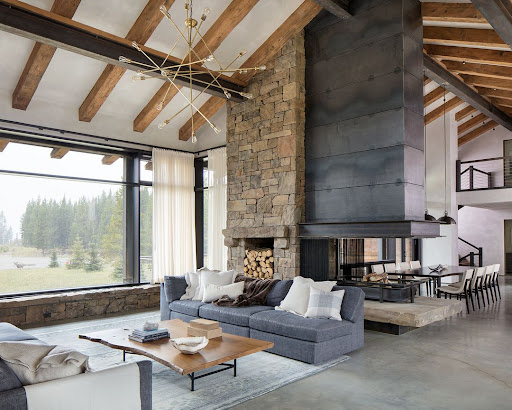 Adding natural materials like wooden logs to your fireplace can be a great option if you want an accent wall with a nice touch of ruggedness. The natural look this brings in makes you feel like you're lounging in a chic modern cabin. A stone cladding can make any simple fireplace look more grandeur so be creative and find out ways to pull the look in!
Enclose The Fireplace In Glass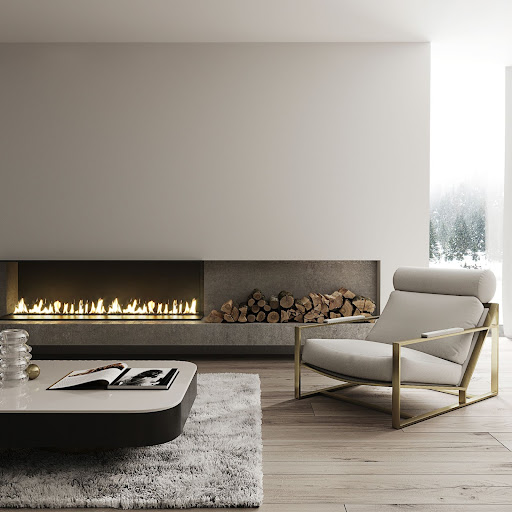 A glass fireplace can be a great option if you're looking for something modern yet luxurious, unlike a regular fireplace. Besides the aesthetic benefits, a glass fireplace doesn't produce any smoke, soot, or ash making it very low maintenance and eco-friendly. Modern fireplaces are the best to make your home look pretty and charming and have no room for harmful chemicals.
Install A Fireplace In The Corners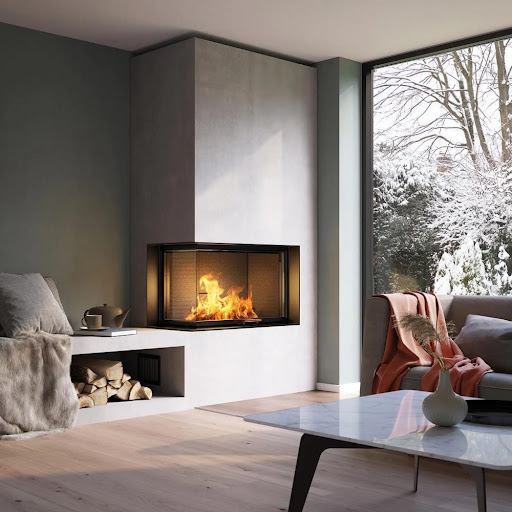 Corners are usually the most underutilized areas in our homes. And electric fireplaces built for corners are perfect for those awkward corner areas, that you never knew what to do with. Plus, the added perks of snuggling up in a comfy armchair in a corner next to the fireplace while sipping on a hot chocolate, sum up a perfect winter.
Built-In Tv Niche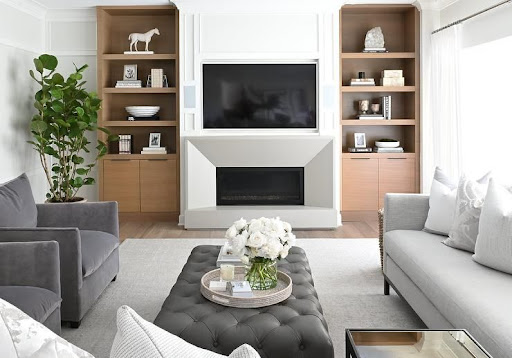 A fireplace underneath the TV can make you fall in love with your movie binge-watching sessions in the winter! Imagine curling up in front of a warm fire while binging your favorite shows, all in one spot, that's a dream! You can create your dream entertainment hub with the perfect warmth! And you can go beyond a tv niche by installing cabinetry too so sit back and unwind. 
Make It Dark & Moody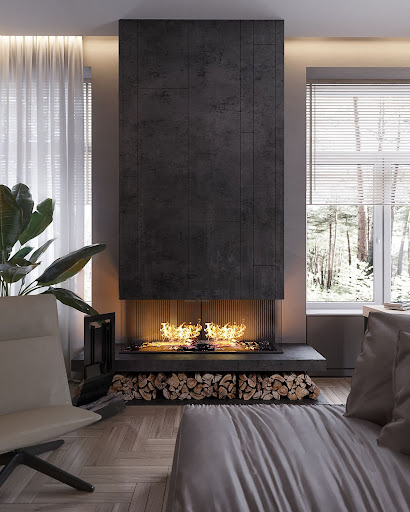 Picture this: jet-black accent wall, a dim-lit fire, and a comfy chair that's just begging for you to get cozy with a good book. If this is your vibe, this modern fireplace idea is tailored for you! For dark interiors and a little bit of whimsy, a fireplace would be a great addition to your space, making it the perfect little space to escape from the hustle and bustle.
Fireplace With A Floating Mantel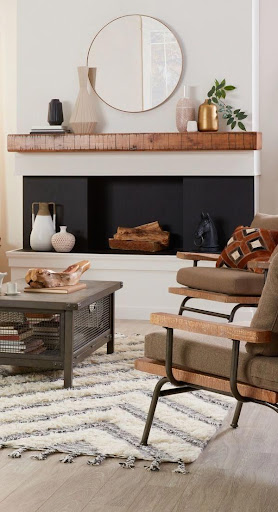 If you fancy a fireplace idea with no clunky support beams or chunky brickwork getting in the way of your dream décor, then look no further than the fireplace with a floating mantel! Start by painting your fireplace with a deep color, in order to highlight and bring focus to it. The height of the mantel can be easily adjusted to accommodate everything – from your candlesticks to your favorite vase and also a place to keep your planters. (don't forget to hang up a mirror to add to the aesthetic!)
A Simple Fireplace To Relax & Rewind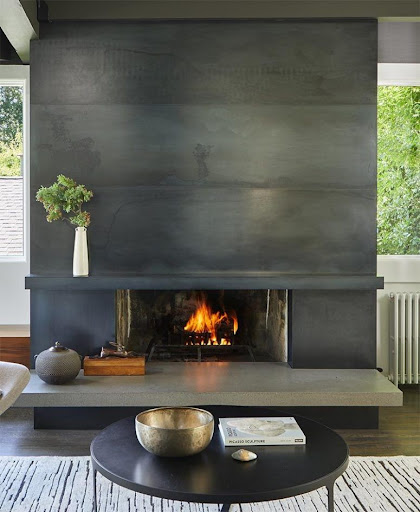 There's just something about a crackling fire that screams "home sweet home" and the addition of a hearth bench makes everything better by giving you the perfect spot to feel warm and snuggle up on cold winter nights. You can have a mantel above to keep your books within your reach! 
To not compromise with real fire and still get the modern vibe, you can go for a streamlined shape of the fireplace and paint in dark and plain just like many modern designs.
Install The Fireplace On An Accent Wall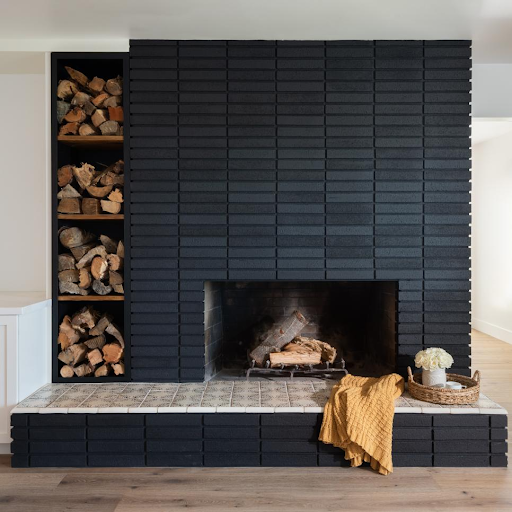 If you want a large fireplace that can complement the décor of your space, installing one on an accent wall is a fail-proof hack! All you need is a little bit of creativity and inspiration from us, so start by picking a focal point in your room where you want the fireplace to be, and then pick out the elements you want to include like – tiles, cladding, storage space for your things or to store wood and your source of fuel! 
Add Some Geometry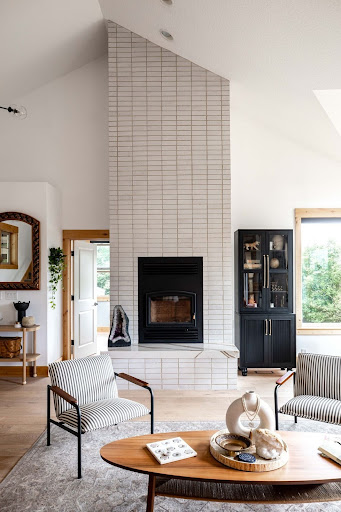 To add a geometric touch to your fireplace that draws some extra attention and complements, tiles can be just the right things! Besides adding a lot of taste and sophistication to your living room, they are durable and heat resistant which is a great choice if you have pets or children around!
Stay Sustainable!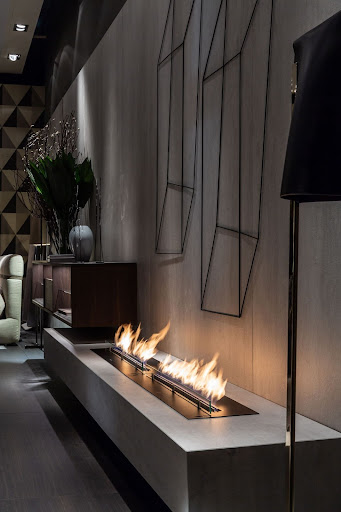 It is always better to try looking for sustainable options for fireplaces because we need to be responsible for our environment. So switch to eco-friendly fireplaces! They use renewable resources (like wood pellets, corn & grape seeds) without compromising on their efficiency. They will keep your home nice and toasty, while still functioning like a traditional fireplace but with a modern look! So, if you're looking to upgrade your fireplace, why not consider an eco-friendly option? It's good for the planet and your wallet!
Add Some Shine With Steel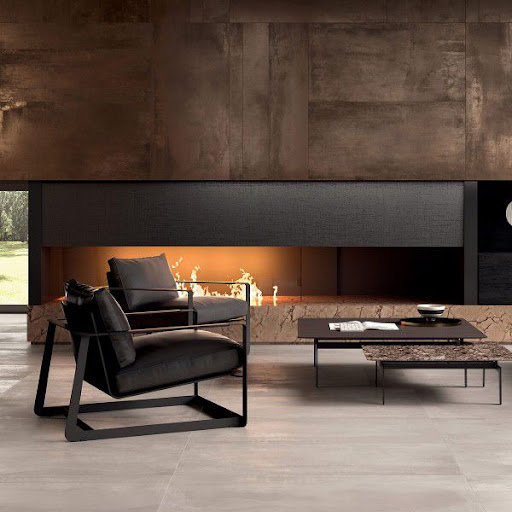 A steel fireplace makes the perfect centerpiece for any room. Its linear shape gives it an extra edge that will leave you swooning!  For the best part, the steel makes it more sturdy, and durable and heats your space very efficiently, so if you have a large space this is a good option to go with. But ensure that you take precautions if you have kids at home since the steel might heat up too much and harm their touch.
Take It Outdoor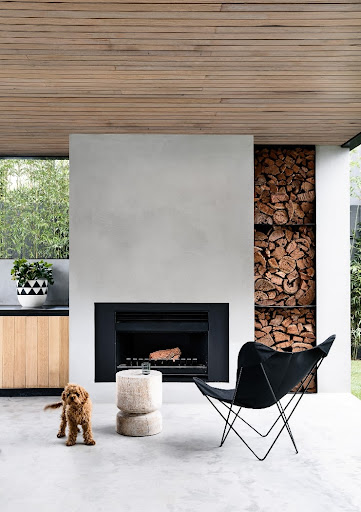 Take your luxury beyond your room with the fireplace that's just near the threshold or even portable- a great way to enjoy the outdoors all year round! Not only does it keep you warm but also gives you the perfect spot for all your outdoor gatherings. The key is to keep it minimal and use modern pieces of furniture for the seating, to maintain the modern vibe.
Three-sided fireplace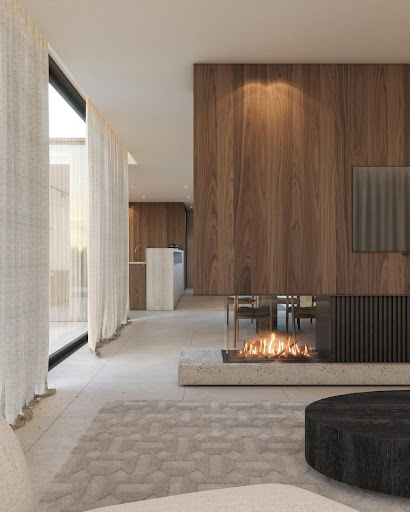 Have you heard of a three-sided fireplace? That's right! Not one, not two, but three sides of warmth to bask in. If you have an open-concept living space, I highly recommend you use this! It can act as a transition element for your space from your living room to your kitchen, creating an aesthetic division for you to enjoy the ambiance from all three sides!
FAQs
What is the current trend for fireplaces?
Fireplaces have become a statement piece now with sleekness, modern and chic aesthetics. People are now biding adieu to the traditional bulky fireplaces that take up almost all your space.
The latest trend is all about clean lines, bold shapes, and minimalistic design. Think floating hearths, linear gas fireplaces, and unique shapes that create a focal point in any room, The materials include marble, concrete, and metallic finishes that are all the rage!
What is a modern vs traditional fireplace?
Traditional fireplaces give off that nostalgic vibe while modern ones offer a stylish and unique flair. You must've seen the traditional ones in older homes, typically with brick or stone surrounds, a mantel, and a chimney. On the other hand, modern fireplaces are simple and sleek in design, shifting more towards the contemporary style, They often have clean lines, a minimalist design, and use materials like glass, metal, or concrete.
Are fireplaces still in style?
Fireplaces are definitely still in style and for good reason! They can add a cozy and inviting feel to any room. The best part is that there are many different styles and designs of fireplaces to choose from, so you can easily find one that fits your personal style and decor. Some people even use their fireplaces as focal points in the room, with elegant mantels and decorative surrounds with a modern flair.