Japandi design may be quite new to most of us but don't worry, it is as easy to understand as it is to admire! A Japandi design is a stunning fusion of Japanese and Scandinavian design. It perfectly blends Japanese minimalism with Scandinavian functionality. The result turns out to be a well-adorned space that can make anybody fall head over heels! As per David Mason, the Founder of Knobs, "A Japandi living room can be an excellent way to create a sense of calmness and relaxation in the home. Incorporating light colors and natural materials such as wood can add a lot of appeal to spaces." 
According to Mason, Japandi's living room should then definitely be on your to-do list. It has a simple, naturistic, and immaculate vibe as the characteristics of this design. So, get ready to change the face of your living room with a Japanese vibe in the living room! Sounds intriguing, right? So, grab your matcha latte, put on your cute bunny socks, and snuggle up to get inspired by the 17 Japandi living room ideas!
17 Japandi Living Room Ideas
Minimalist Furniture!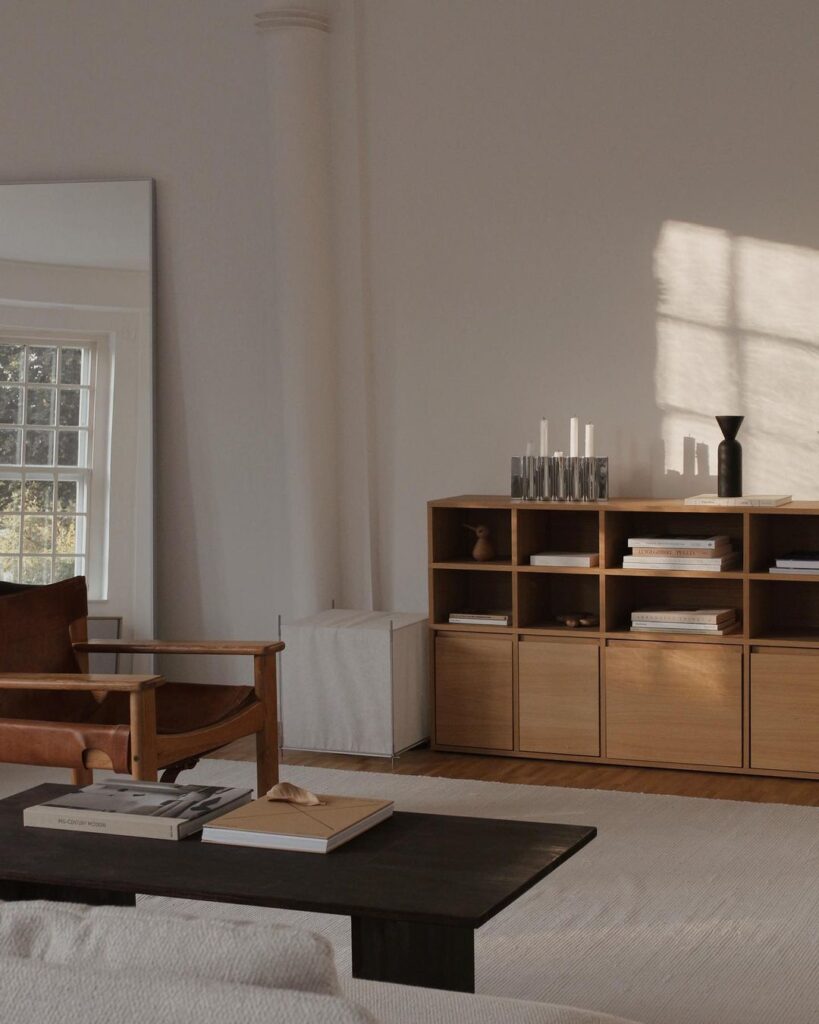 Minimalism is the new trend! Usage of minimal furniture with clean lines and geometry forms a Zen vibe in your living room. Davin Eberhardt, the Founder of Nature Of Home states, "Japandi living rooms are based on less is more. The design is focused on minimalism. This is why there is a certain softness in such living rooms." 
This is a sure-shot way to amplify your Japandi design in the living room and manifest the space straight from your dreams!
Ambient Lighting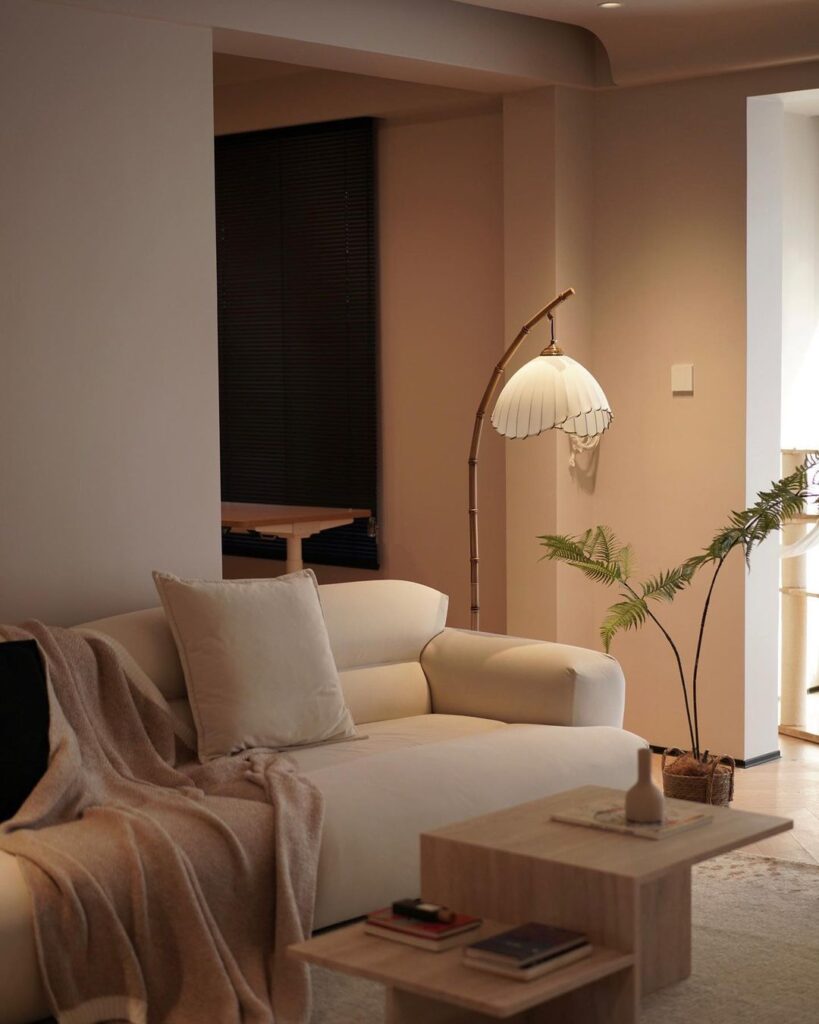 Use ambient lighting fixtures that have a touch of Japanese design to invite a magical aura! This fixture is about creating a soft vibe in your room while adding a glamorous essence to your living room. 
Pro Tip: This Japandi living room idea is perfect for your rom-com date nights! This lighting fixture adds a focal point and gives more definition to your room!
Light Tones!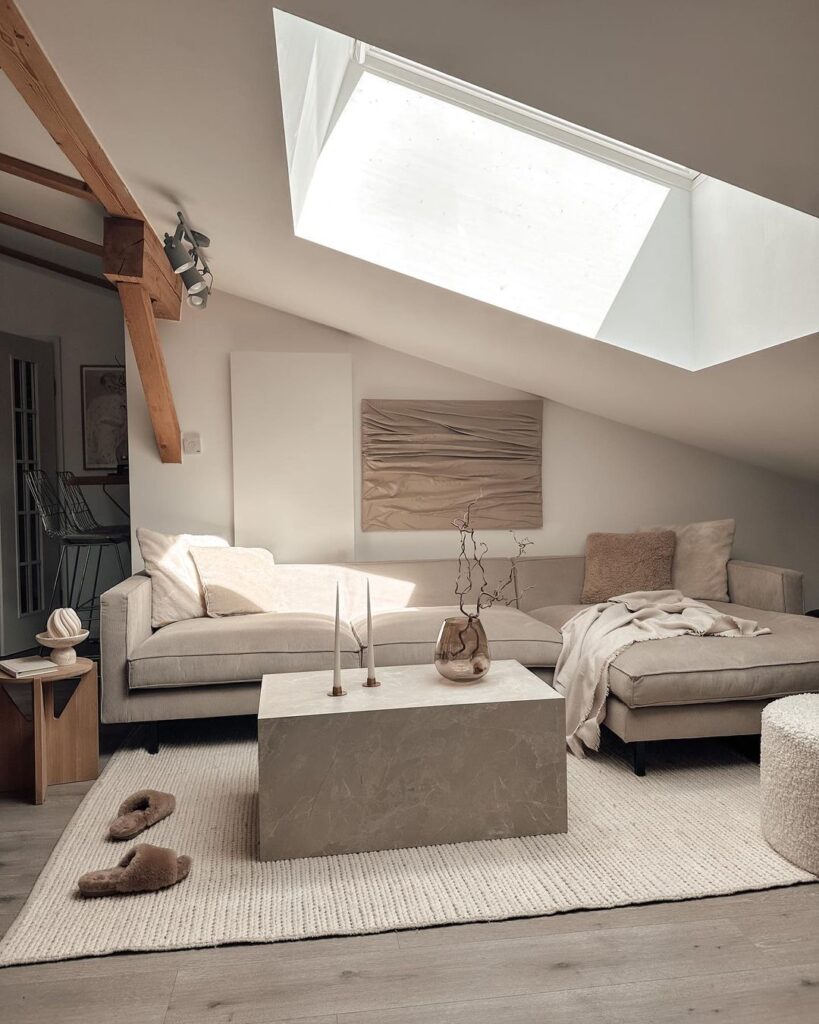 Earthy tones are always here to the rescue! This earthy brown living room is an amalgamation of natural light tones that are pleasing and soothing! 
A neutral and earthy color palette creates a serene and tranquil atmosphere. White, beige, gray, brown, and black are the go-to colors in Japandi design. So, these colors have a hint of sophistication while also being quite aesthetically pleasing!
Geometric Patterns!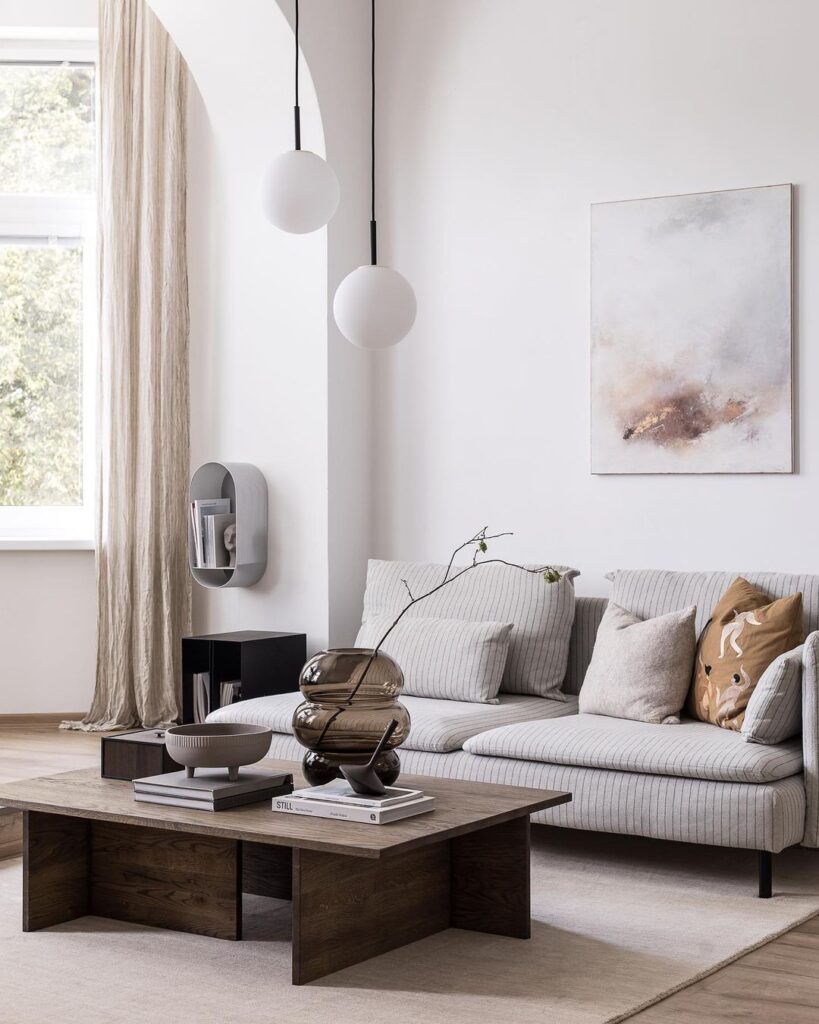 Clean immaculate lines along with geometric shapes can be excellent for designing an unforgettable Japandi living room that will leave you in awe.  
Achieve balance and symmetry in the room by harmoniously arranging furniture and decor along with decor and accessories to give a minimalist yet comfy vibe.
Pro Tip: You can add a classic sofa with a clean table finish, or some soft curtains with soft edges of the decor! These elements will complete the look of your space in an instant. 
Natural Light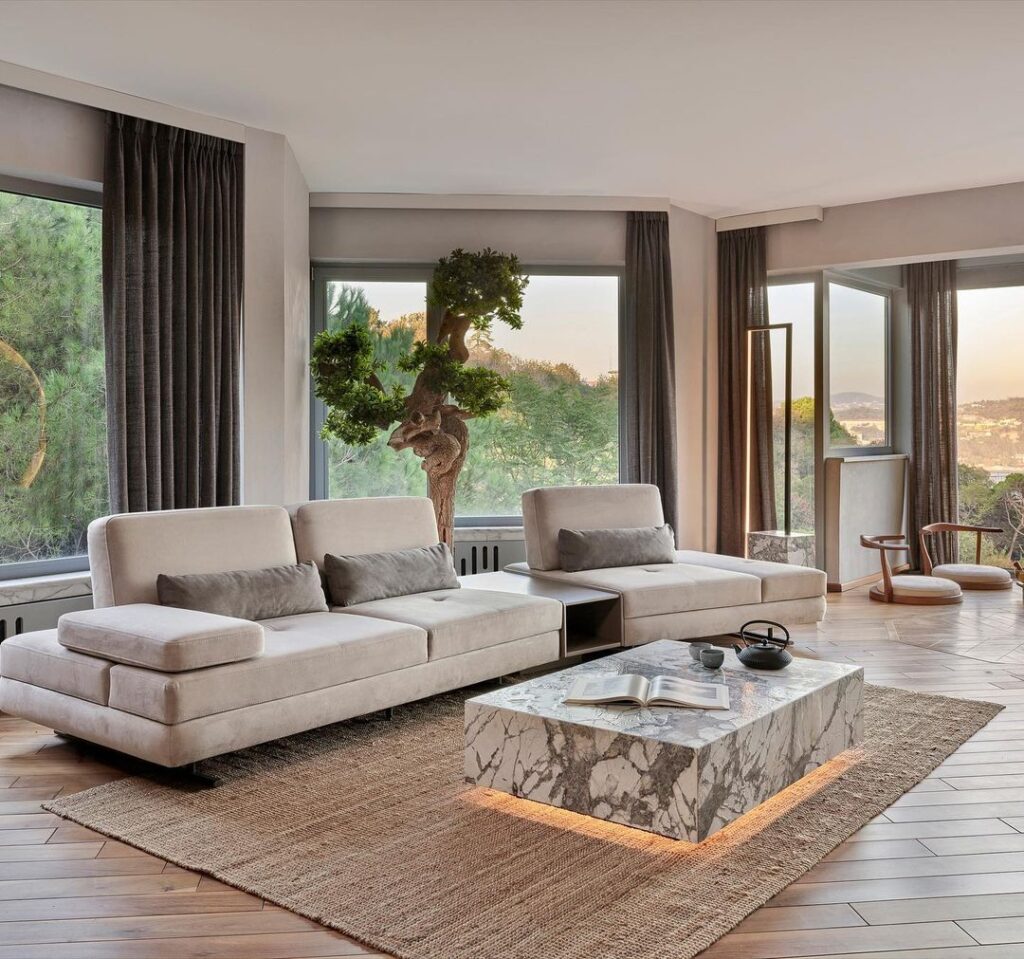 "A natural room will give your living space a sense of calmness and tranquility. Sunlight has many positive benefits, such as improving mood, boosting the immune system, and reducing stress. Therefore, use lots of glass to invite more natural light into the room." says Ricky Allen, the Director of Ever Wallpaper. 
We can't but agree that sunlight hugely impacts spaces and alters their face. So, say hello to a zen vibe that your guests won't get over, especially for its natural sunshine!
Low Coffee Table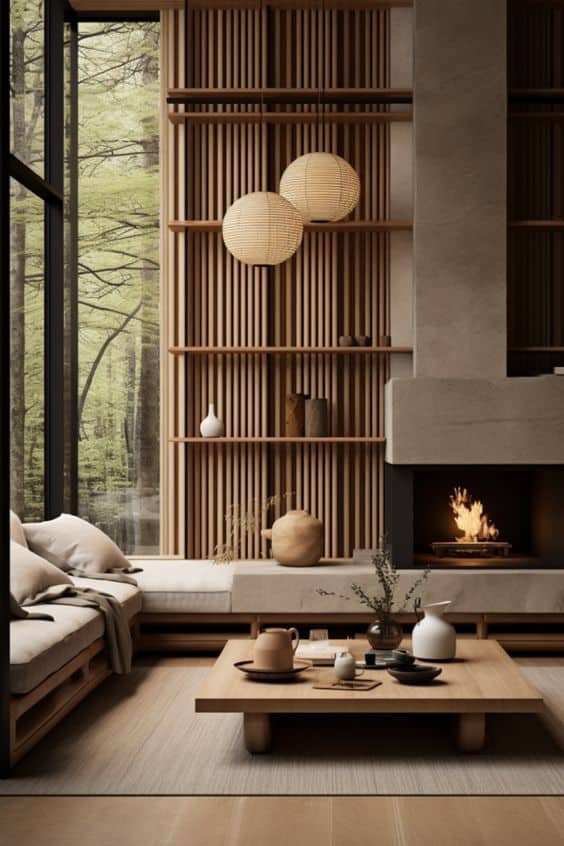 How about a low-centralized Japandi coffee table? Yes, please! You can elevate your contemporary living room with this modern focal point that's also functional. It is comfortable and easy to use, so it won't be a surprise if this coffee table becomes your new favorite, or "match"? 
Pro Tip: You can pair this up with other geometric and clean furniture! Now, you've got a living room that has the most zen and coziness in the area!
Scandinavian Textiles!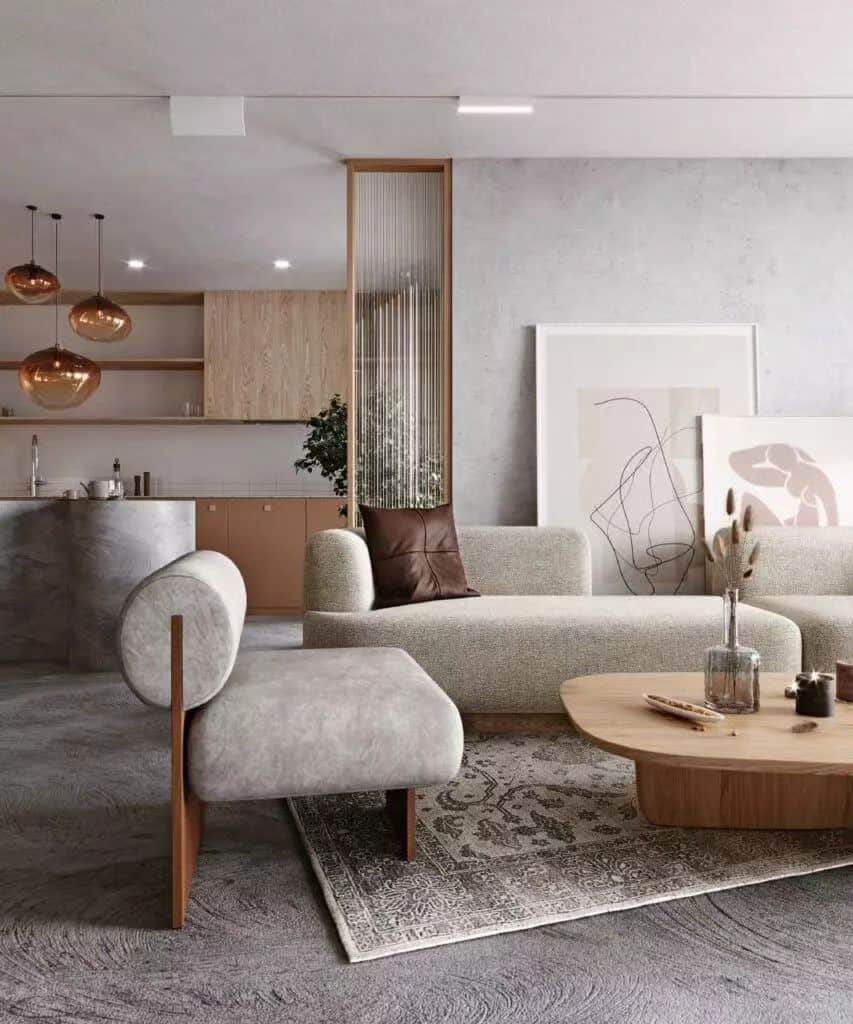 It's always hard to resist textiles like woolen throws and sheepskin rugs! These are the elements to make your Japanese living room stand out! 
The textiles create a whole new space with an alluring effect and can transform your living room into your favorite snuggle spot. Get ready to spend your nights reading your favorite comic in this gorgeous living room!
Wabi-Sabi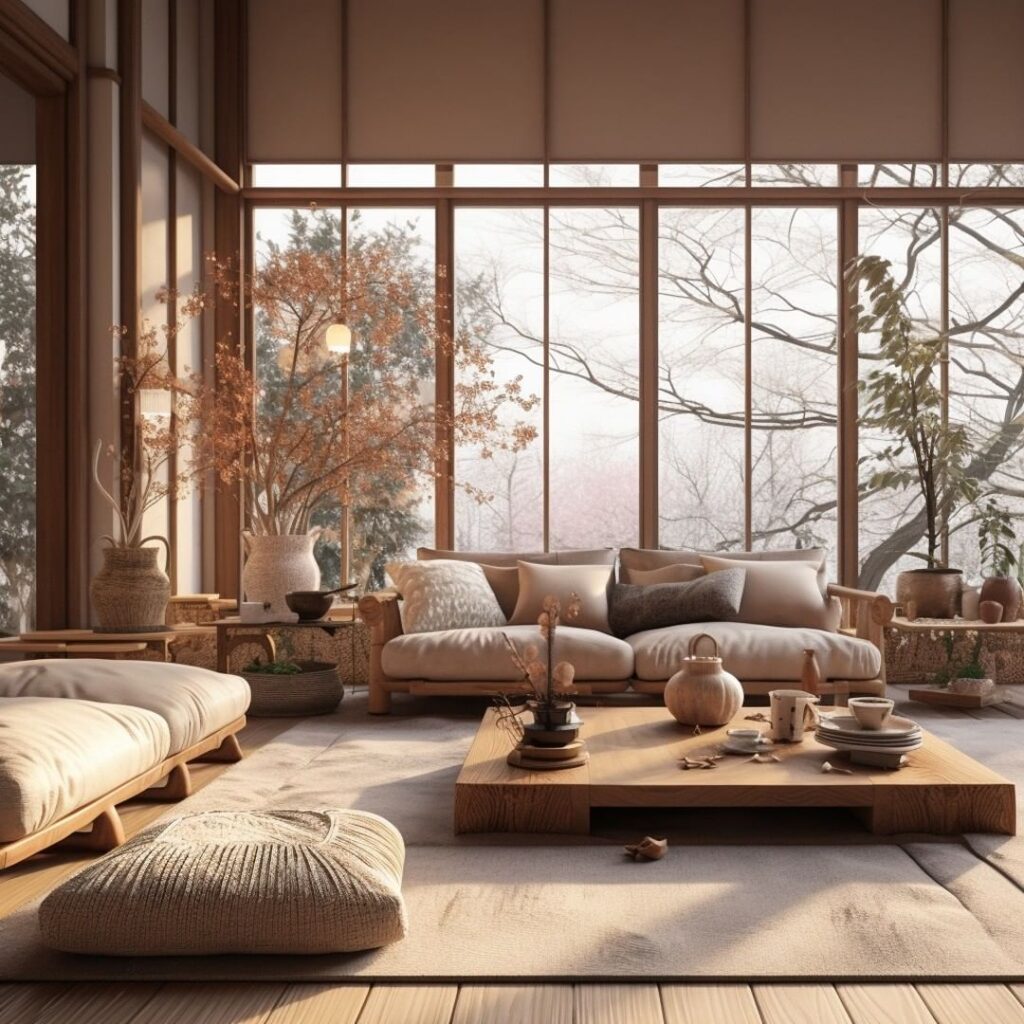 It's time to embrace the elements of wabi-sabi by including a Jute pendant lighting fixture, pottery pieces, and artistic art elements! 
These handmade additions are bound to make your living room stand out while giving an artistic touch to the space! This contemporary Japandi design is sure to leave your guests in awe and can be your perfect Pinterest-worthy spot.
Indoor Plants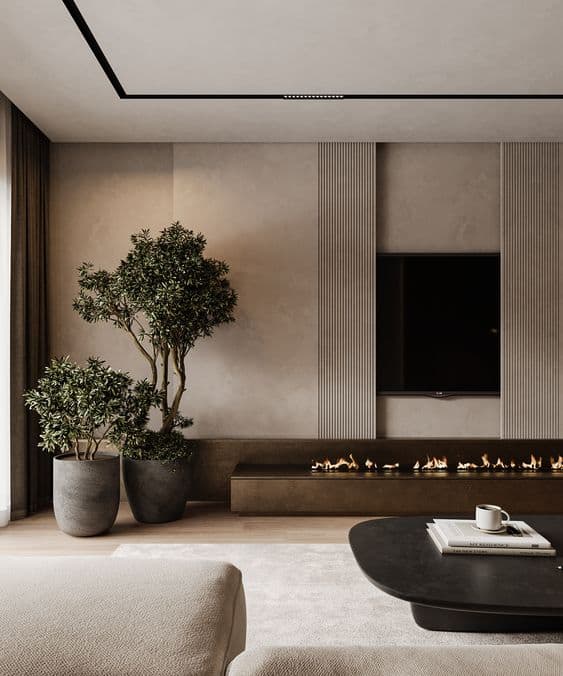 Bringing indoor plants in the Japanese style is like adding a little bit of natural peace inside! Combining the greatest elements of Scandinavian and Japanese style – It's a gorgeous and casual approach to improve the peaceful mood of your living room! 
These indoor plants lighten up your space and blend in beautifully with the uncluttered, minimalist aesthetic of Japandi! Indoor plants are the quickest way to upgrade any given space within a minute. It complements the earthy tones and neutral color palette in the best way possible to offer the living room you've always dreamt of. 
Japandi Mats!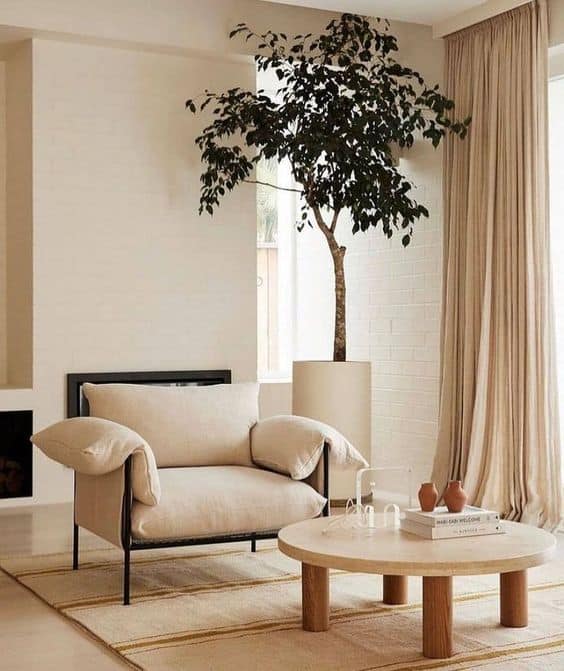 Japandi design is the twin of Mats, just like Architecture is the one for Interior design! The fun fact is, that Japandi mat is a secret getaway to your guest's heart! It creates a balanced look with contemporary and modern decor while enhancing a comfortable space for hangouts! 
A solid black mat with a low coffee table and other complementing furniture decor is the way to go! This Japandi living room idea will form a well-balanced living space in your household!
Decluttered Space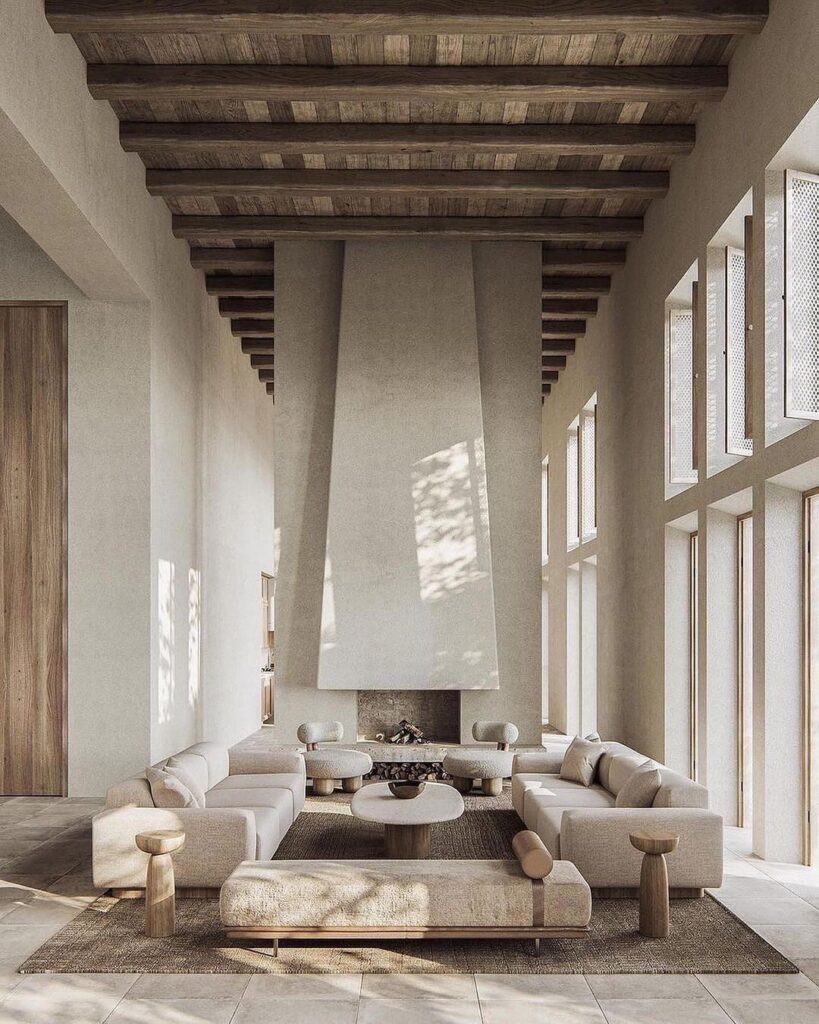 Say hello to a clean and decluttered space with this Japandi living room idea! By using functional elements like coffee tables and fireplaces – Your storage issues would be wiped out in a second. This practical idea keeps your space clean with low maintenance, which is perfect for all of you who are neat freaks! 
Upbeat Furniture
Placing a fun, geometric, and curvilinear sofa set is the most comfortable way to be forever stuck in your living room. You can top it up with ambient lighting fixtures, a unique coffee table, and some eccentric rugs. 
These elements will offer a balanced finish to your Japandi living room. So, are you ready for a room that may end up in an architectural digest?
Minimalistic Greenery!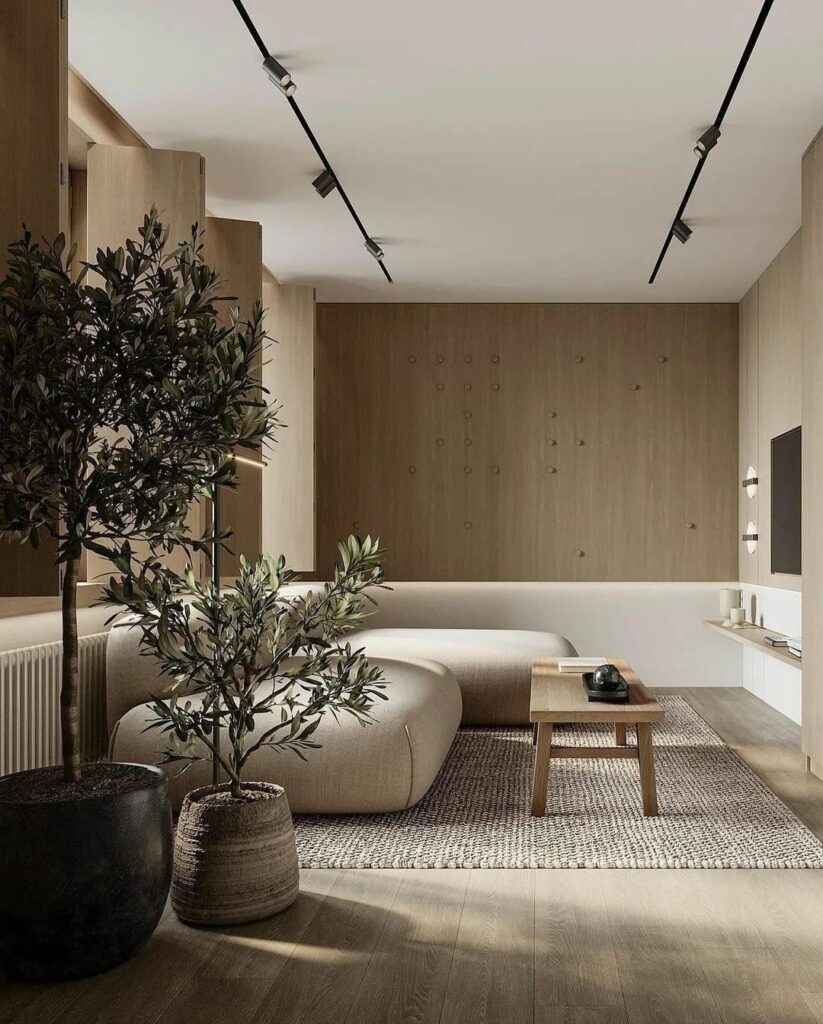 You can easily infuse minimalistic greenery by placing a single bonsai tree, which is the key to a perfect Japandi design! 
The best friend of a well-furnished minimalist Japanese living would be minimalist greenery! This small element adds to the sophisticated space that you'll be bound to fall in love with. 
Art Decor!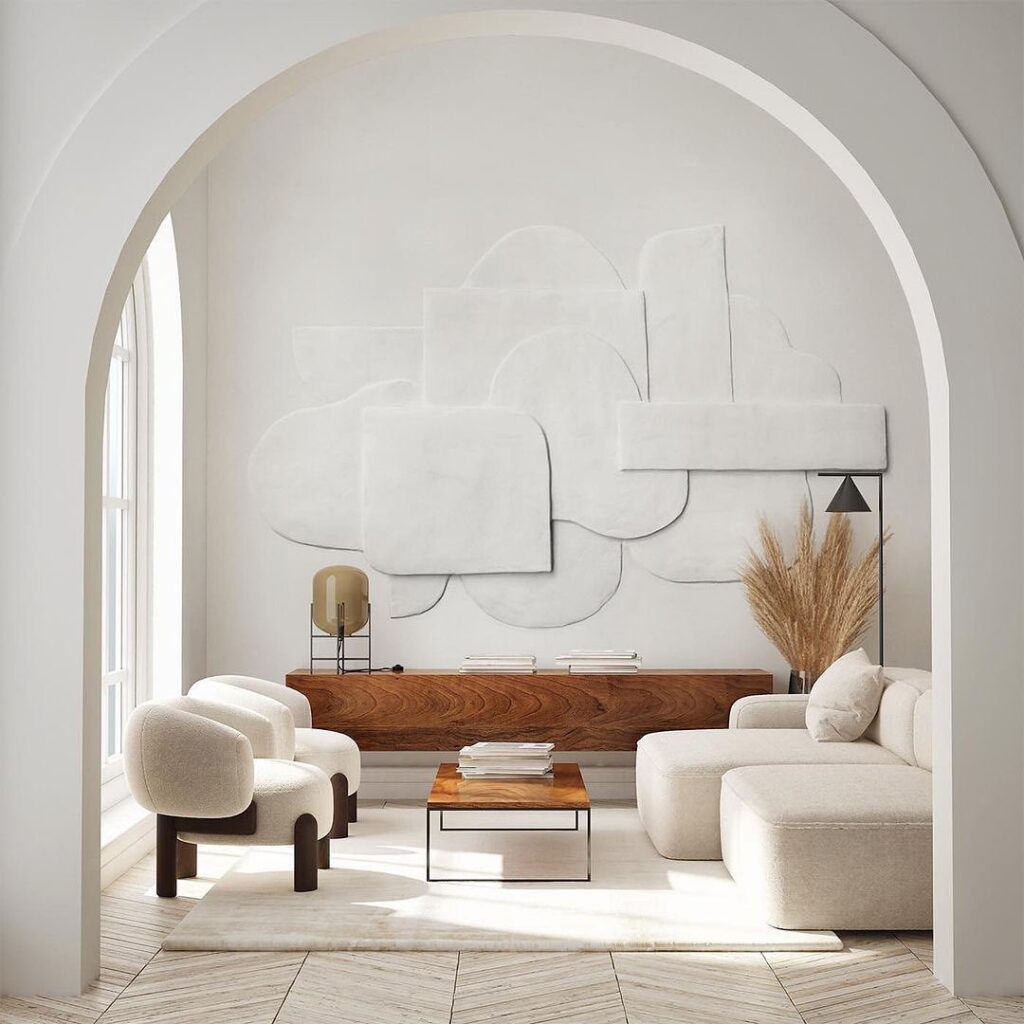 Minimalistic and sophisticated art decor blends perfectly well with this Japandi living room! The seamless white curves are extra responsible for adding up to a well-balanced space. 
Japanese Art!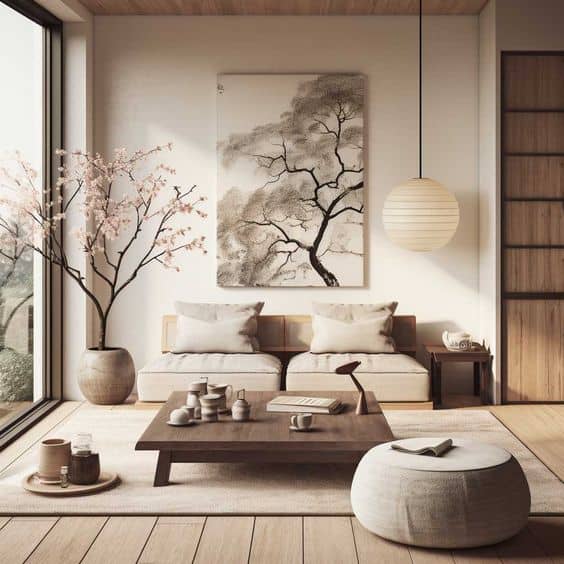 Japanese art is the amalgamation of simplicity and modernity. Is there any better place to flaunt art than a Japandi living room? This quirky addition can magically enhance your space in the least amount of time! 
Floor Cushions!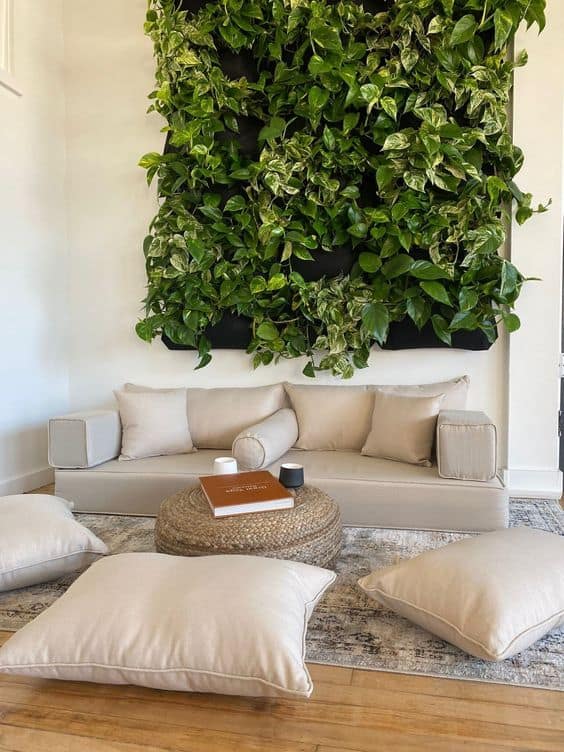 Do you want to know a functional and fun way to add more seating to our living room? These Japandi-style floor cushions are the ideal best friend for your Japandi living room seating space! It brings more scope for seating, which leads to extra comfortable guests in your homely atmosphere.
Shoji Screens!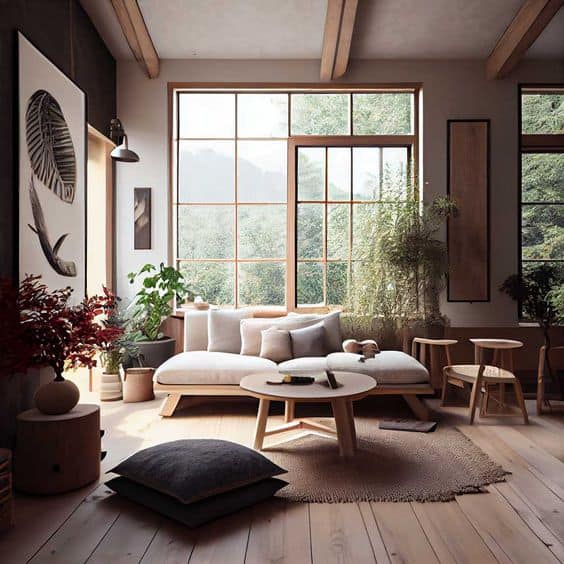 Shoji screens are used for letting in diffused light to brighten up a living room! They make your space much lighter and aesthetically pleasing. This Japandi staple is a must-have idea if you want your living space to resonate with peace and tranquility!
FAQs
Is Japandi Style Expensive?
Like every design, the cost of a Japandi design can vary based on your tastes, the quality of the furnishings, the materials you select, and the amount of modifications you want to make to your living area. It's entirely up to you if you wish to go all out with Japandi or just be happy with minimalism.
Can You Use Black In Japandi Interior Style?
For providing contrast and drama to the earthy and neutral color scheme – Black may be utilized sparingly and strategically in Japanese style. The secret to combining black materials while maintaining balance and simplicity is to use the minimalistic Japandi style, which is renowned especially for its harmonious design.