Nothing says cozy and autumnal like an eathy-toned color scheme so much as brown! Although brown may not be the first color that comes to mind when you're thinking of upgrading your space, it can be a real game-changer! Unlike trendy colors that come and go, brown has been a staple in interior design for decades and will continue to be for years to come! 
So, if you want a living room that looks great now (and forever) brown is the way to go! And there are so many shades of brown, from warm caramel to rich espresso, that you can get creative with! Being a neutral color, it's the perfect backdrop for all sorts of pops of color and statement pieces, it's a classic choice that's always in style, making it the perfect canvas to experiment with. So sit back and check out these brown living room ideas for some inspiration and have fun decorating with the versatile hue!
Play It Safe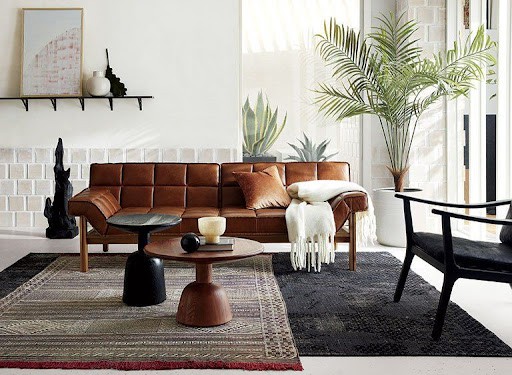 If you're on the hunt for a chic and cozy living room look, then you gotta check out the modern brown living room ideas everywhere.
Add a sleek leather brown couch, a fluffy beige brown rug, one more cozy seating area, and a statement coffee table in a warm walnut finish. Add in some pops of color with throw pillows or a subtle piece of artwork to tie the whole place together and you have at home, the best brown-themed living room out there!
Subtle Yet Bold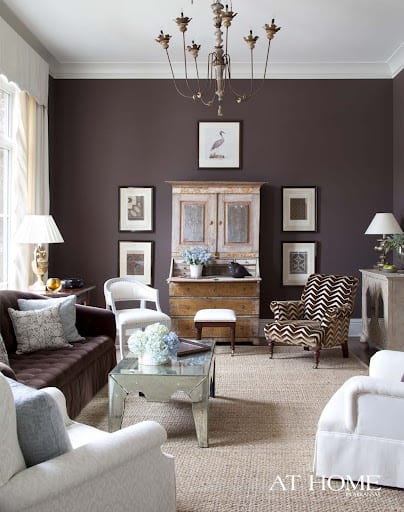 If you don't want to go overboard with your living room, consider adding a brown accent wall! It's the perfect way to add some warmth and depth. And if you're not feeling quite so adventurous, don't worry- you can't go wrong with some classic neutrals against brown for a rich and earthy look. 
Go For The Rustic Vibe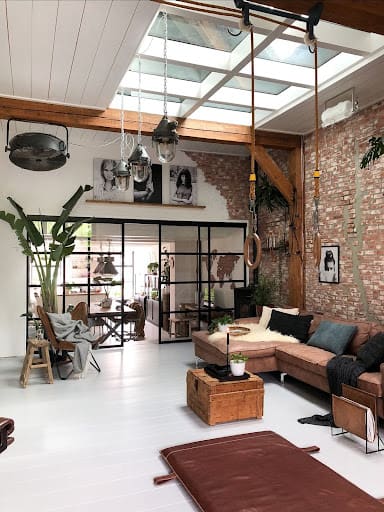 Who doesn't want a cozy space that'll make you feel like you're tucked away in a cabin? If that's you, then consider going rustic all the way, exactly like this brown living room idea! Start by selecting a neutral color palette with shades of brown, beige, and cream with some pops of color.
Always remember it's not about being perfect! Imperfection is what makes it so charming. So, don't worry about everything matching perfectly or having a perfectly polished look. Instead, embrace the natural imperfections of your furniture and decor. 
A Touch Of Boho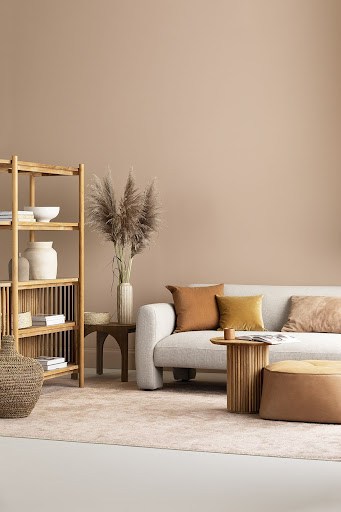 Brown is cozy. So is boho. It's the perfect marriage! When it comes to boho design, it's all about mixing and matching patterns, textures, and colors, and a brown color palette makes the perfect foundation for this aesthetic! Incorporate bold accent pieces like a vintage rug, a macrame wall hanging, or some floor cushions. It's the perfect style for anyone who wants to create a space that's as unique and free-spirited as they are! 
Brown & Green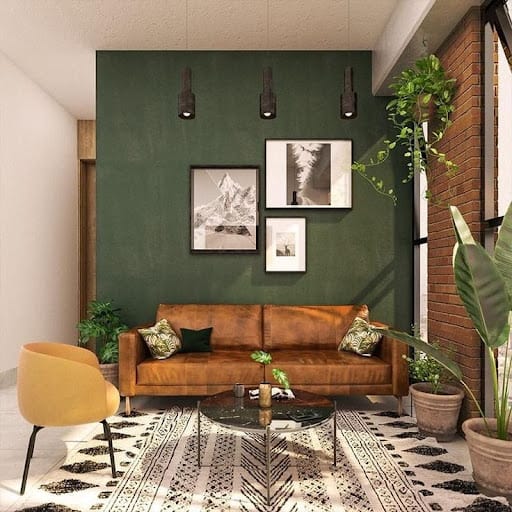 The rich, warm tones of brown are the perfect complement to the cool, calming hues of green. Naturally, it's impossible to go wrong with a green and brown living room idea. With the right accents and textures, you can make this combo work wonders. Imagine plush green velvet pillows against a chocolate brown seating area or a rustic wooden coffee table set against a leafy green accent wall. Who won't feel like sitting in the lap of a tree?
Some White Is Perfect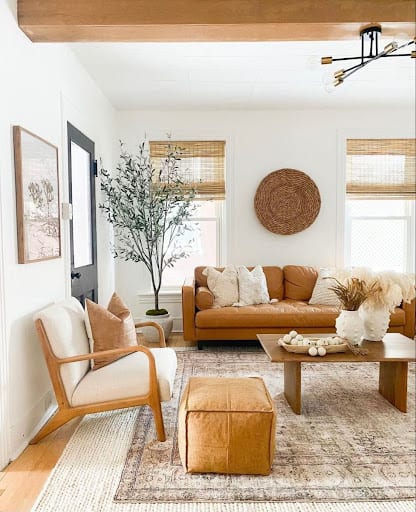 White and brown combo – It's the perfect balance of chic and cozy. White walls and furniture are classic choices that never go out of style, and brown accents are easy to find in just about any home decor store.
You can go for a modern, minimalist vibe with sleek white furniture and simple light brown accents, or you can opt for a more bohemian look with white textiles and natural wood elements. And if white feels too minimalist, how about getting a white accent wall in your living room?
So Woody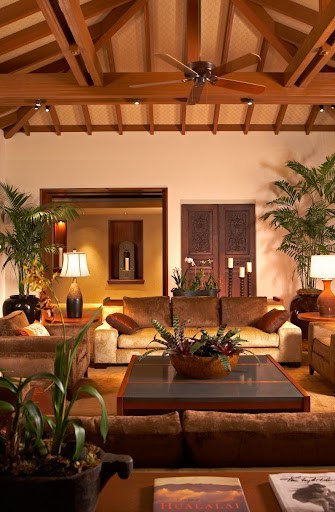 Using natural elements in your living rooms is all about using materials that are inspired by nature, like wood, stone, and textiles made from natural fibers. You can go for a rustic cabin vibe with a fireplace and exposed beams, or keep it sleek and modern with clean lines and minimalist decor. Just remember the idea is to bring nature in! (and it's warmth too)
Add A Wooden wall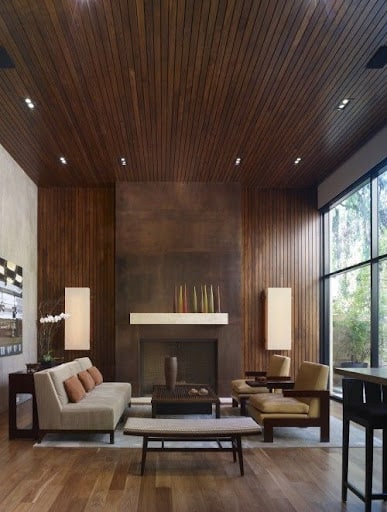 Adorning your living room with a wooden wall is the perfect way to add some texture and depth to your living room, that work with a variety of styles from modern to chic. You can pick from a lighter to darker brown tone to fit your style. 
But to avoid overwhelming the look, balance it out with some sleek furniture or add some metallic accents. As an architect, I can assure you that it'll add a perfect touch of rustic charm and give your space that natural, earthy feel that we all crave! 
Play with Textures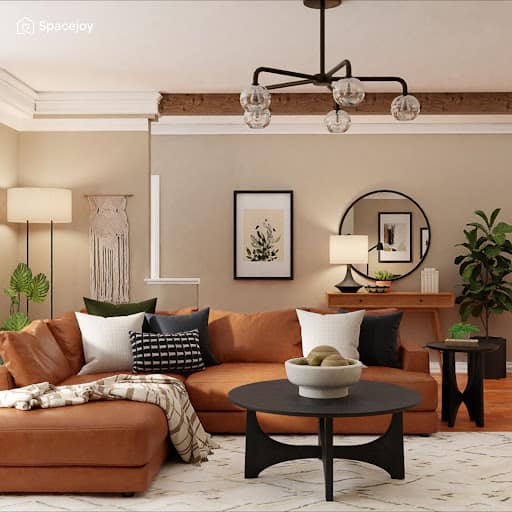 Textures add depth to your room. Adding texture is the easiest hack to add a luxurious vibe to your home without breaking the bank!
Mix and match different textures like a plush shag rug, a cozy knit throw, some woven wicker baskets, and coffee table decor. The key is to play around with different materials, think: a leather sofa, a black coffee table, and some accent pieces. These materials will complement the brown color scheme and add some visual and tactile contrast to your living space.
Get That Luxurious Flair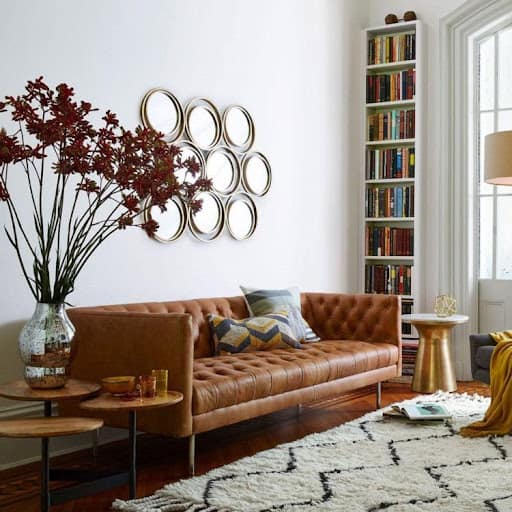 Just like this brown living room idea, decorating the living space with gold accents is a great way to create a cozy yet stylish environment that's perfect for entertaining or just lounging around! Gold accents can easily go from classy to tacky if you're not careful. So, it's important to balance the bling with some understated elements, like a neutral-colored coffee table or some natural wood decor. 
Keep It Classy
You can elevate your space easily with brown when done right. The key to such a classy brown living room idea is to keep things simple and elegant. Start with a neutral wall color, such as cream or light grey, to create a subtle backdrop for your furnishings. 
Then, bring in plush brown sofas and seating arrangements with clean lines and simple silhouettes This color scheme exudes warmth and elegance, making it the perfect backdrop for all your other décor! 
All Neutral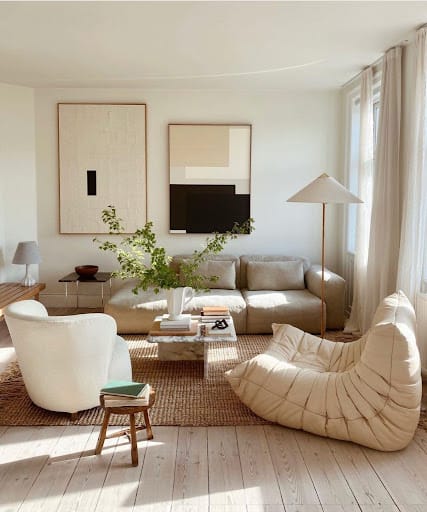 One of the best things about a neutral color scheme is how versatile it is. You can switch up your decor and accessories as often as you want without worrying about the existing colors or patterns. You can play around with different shades of whites, creams, greys, and even some beige or taupe tones to create the perfect blend of the different shades of browns in your living room and make it look way more classy!
Go Wabi-Sabi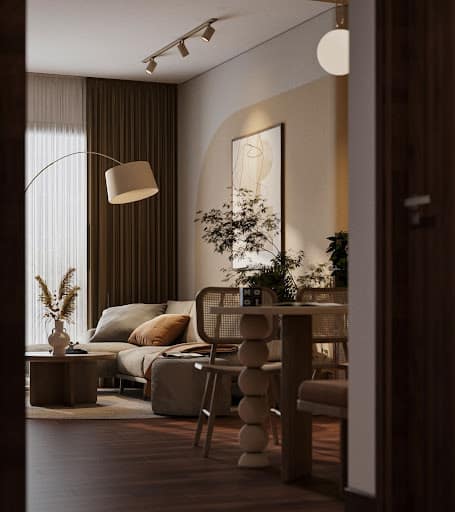 When it comes to simplicity and style, wabi-sabi is the no-brainer! The key to nailing the wabi-sabi look is to keep things simple and organic. Use wooden coffee tables to add brown rattan chairs and a vintage rug. Don't be afraid to embrace imperfections – a slightly chipped vase or a rug with a few stains will only add to the overall charm of the space. 
Add Some Color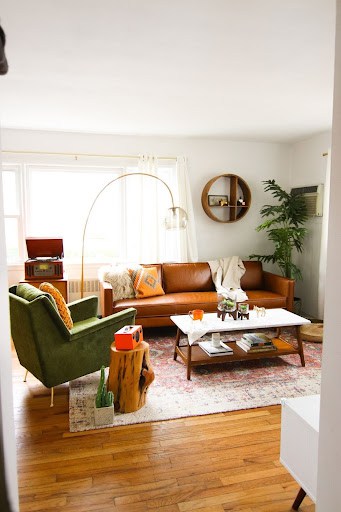 Imagine a plush brown couch, accented with bright orange and yellow throw pillows. Or a sleek brown coffee table, surrounded by colorful accent chairs in shades of blue and green. If you like the idea of this, this is what you should be going for! It can be tailored to your unique style and personality. Whether you prefer a modern, minimalist look or a more eclectic, bohemian vibe, there are endless ways to make this color scheme work for you! 
Long story short, open your mind to new colors to pair with brown. They'll only add personality and interest to your otherwise monochrome living room.
Brown & grey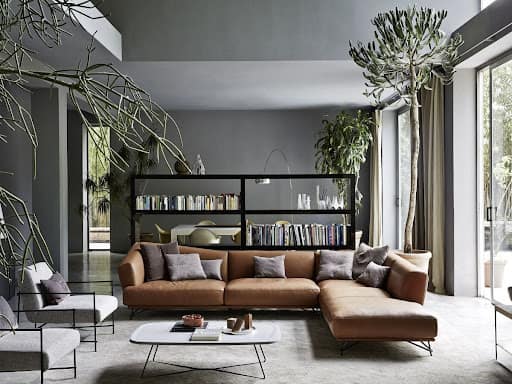 Grey is a cool and calming color that adds a touch of elegance to pretty much any area. On the other hand, we have brown that makes your space cozy and warm. Using both of these colors you can get the best of both worlds. And just like brown, grey is also a neutral color, so it becomes even easier to pair with other colors and patterns.
Just Elegant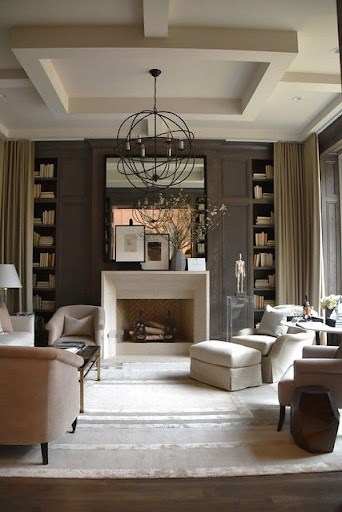 The real secret to an elegant brown-themed living room is the lighting. Make sure you have a variety of light sources, from table lamps to floor lamps to overhead fixtures, to create the perfect ambiance for any occasion. And if you want an impressive space like this brown living room idea, throw in some dimmer switches to set the mood just right! 
Go All In With Cottage style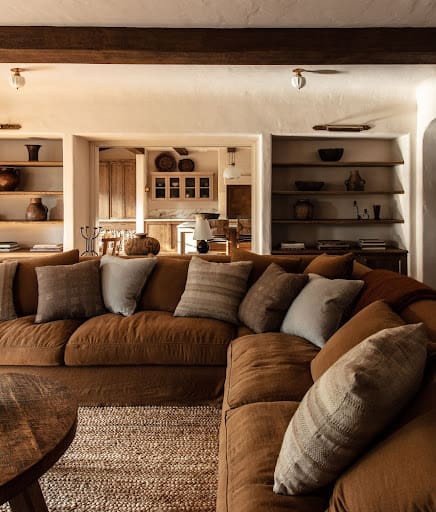 If you want to feel like you're living in a fairytale cottage, opt for pieces that have a rustic or vintage feel to them. A distressed wooden coffee table or a cozy armchair with a floral pattern can set the tone for your cottage living room. Don't forget to add some greenery with a few potted plants or fresh flowers to bring the outdoors inside.
FAQs
Is brown color good for the living room?
Brown is a fantastic color for a living room. Whether you prefer light or dark shades of brown, this color can work well with any design style, from traditional to modern. It's also a great backdrop for showcasing artwork or accent pieces, as it doesn't compete for attention but rather complements the decor.
So if you're considering a living room makeover, don't be afraid to incorporate some brown hues. Whether you choose to use it as your main color or as an accent, brown is a timeless and stylish choice that will make your living room feel warm and inviting for years to come.
What goes with brown in the living room?
Brown is a versatile color that can work with a variety of other colors and textures. If you want to keep things neutral, try pairing brown with white, cream, or beige for a classic look.
You can also add pops of color with accent pillows, throws, or artwork – jewel tones like emerald green, sapphire blue, or ruby red look stunning against a brown backdrop. And don't forget about metallic accents! Like gold, brass, or copper. There are a lot of combinations that you can embrace! Just remember to choose colors and textures that make you feel happy and comfortable in your space.