Hey there, beach lovers and budget-savvy decorators! If you've ever dreamt of lounging in a modern coastal living room from your favorite coastal movie scene – Then you're in for a treat! I'm about to introduce you to a treasure trove of beachy living room ideas that won't break the bank! So, think of it as your personal 'Home Makeover: Coastal Edition.'
Whether it is about Captain Jack Sparrow's adventurous spirit or the breezy charm of Moana's island – I've got every wave of inspiration ready for you! So, get ready to transform your space into a sandy haven, where you have your style and savings! Let's explore how to craft a beachy retreat that'll make your friends jaw-drop with these fabulous beach house decorating ideas!
18 Beach-Themed Living Room On A Budget Ideas
Shiplap Ceiling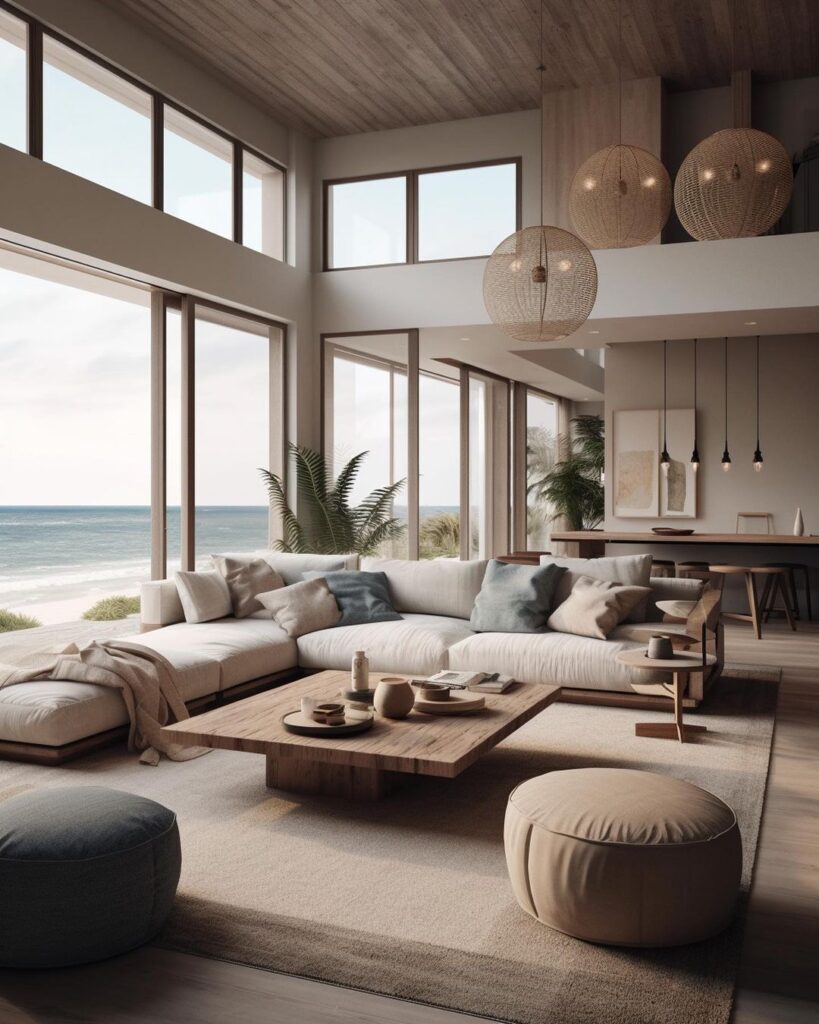 You can add a touch of coastal elegance by installing a shiplap on your ceiling! This budget-friendly DIY project can instantly bring beachy charm. Pair it with soft, sandy tones for walls and furniture for an extra mood. 
You can also incorporate nautical-themed accents like rope décor and driftwood as well. The shiplap ceiling will enhance an inviting and airy space, reminding you of a beachside cottage!
Navy Blue All The Way!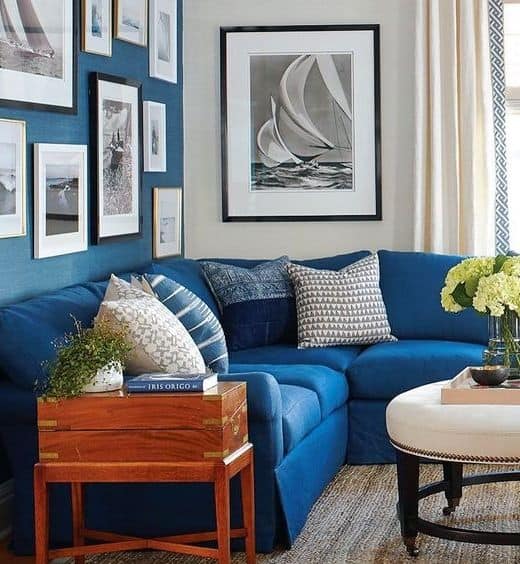 Are you bored of your same plain living room? A bold navy blue accent wall is just the right element to transform your space into a gorgeous coastal living room! You can complement it with whitewashed furniture, jute rugs, and woven baskets for an added texture. 
Feel free to bring pops of seafoam green or coral in cushions for decorating your blue sofa for a vibrant coastal vibe! This dramatic contrast captures the essence of crashing waves against the sand, evoking a breezy seaside ambiance.
White Accent Wall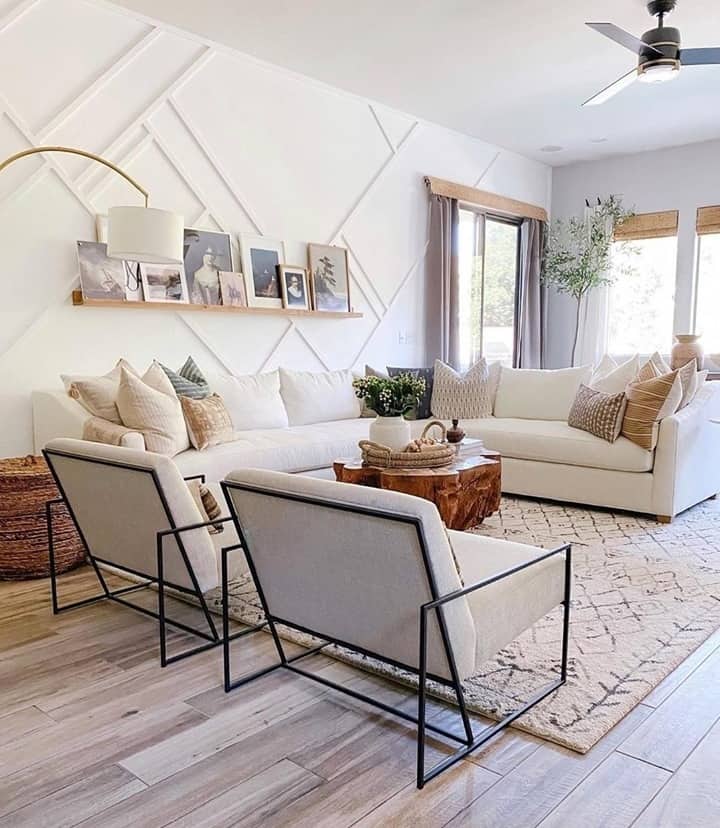 For a fresh take on beachy vibes – Go for a crisp white accent wall. Just pair it with light wood furniture like driftwood-inspired coffee tables and see the magic! You can even introduce shades of aqua and turquoise in decorative elements like vases and artwork. 
The white accent wall is a great addition to brighten the room. Meanwhile, the chosen coastal features also maintain the image of a relaxing coastal aesthetic.
Decorate With Seashells!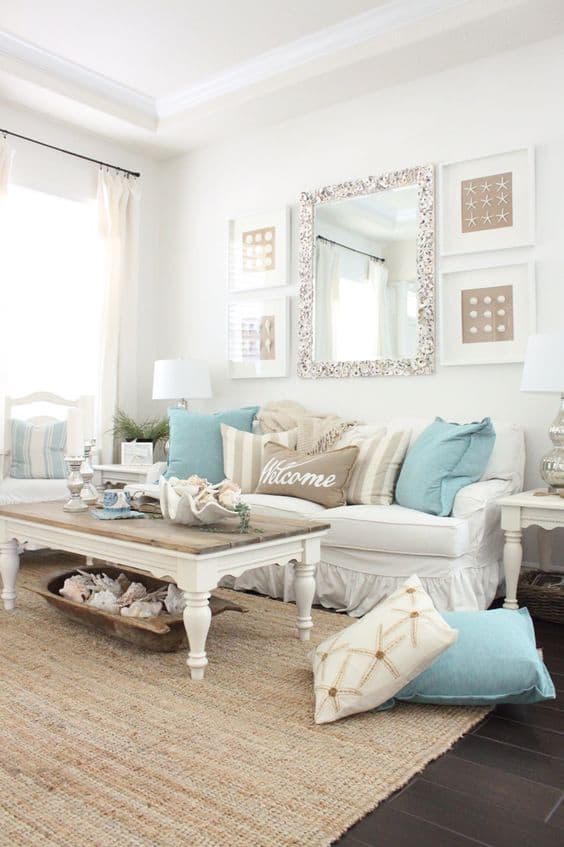 Don't forget to collect seashells during your beach visits and use them to decorate your living room! You can create seashell garlands, frame shell art, fill glass vases with them, or display them on your coffee table too! 
Combine them with cool blue accents and light, flowing curtains to create a bonus serene coastal escape!
Pro Tip: Less is more! So, choose a few statement pieces like a sizable seashell bowl or a beach-themed wall clock, instead of numerous small knick-knacks for your accessories.
Thrifted Treasures!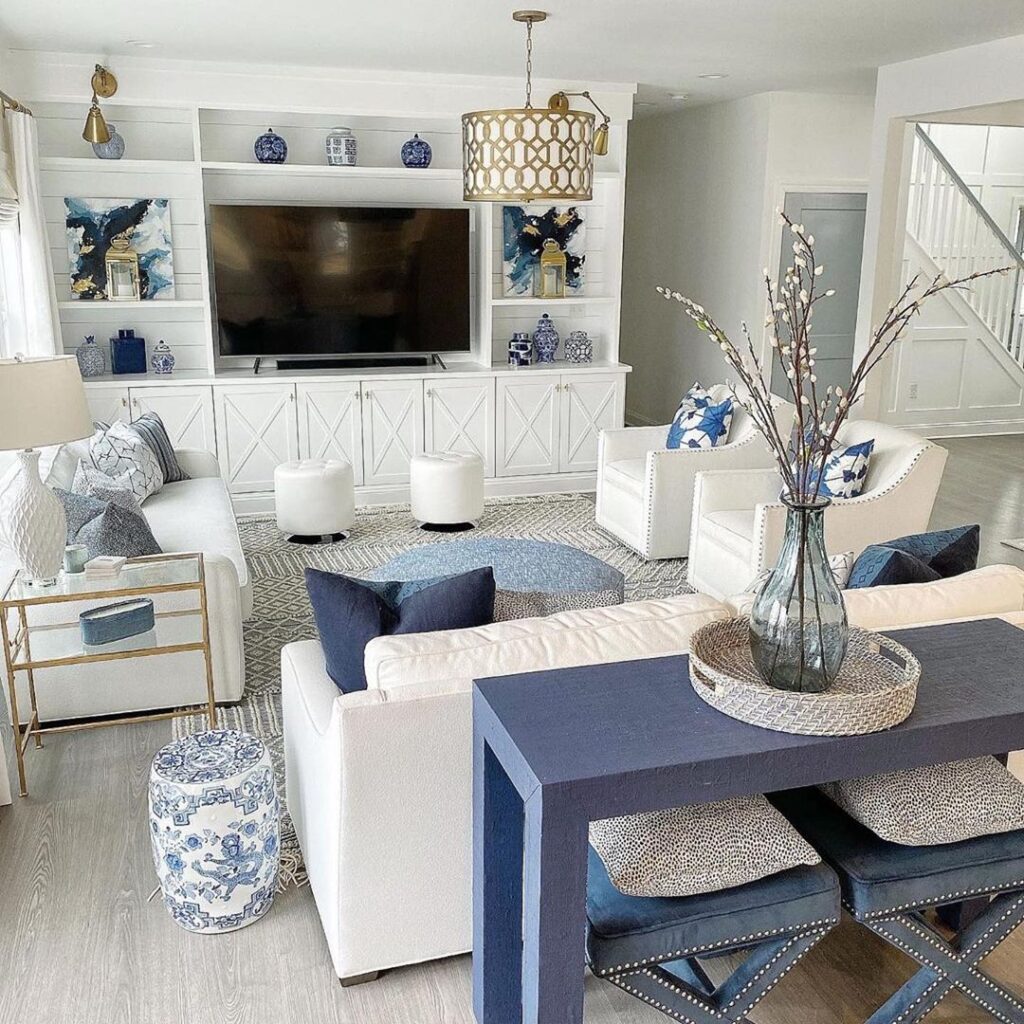 It's time to scour the thrift stores for coastal décor gems. Think about vintage glass bottles, ceramics,  worn beach signs, and weathered picture frames for this! 
You can paint your furniture in calming ocean hues and adorn it with your thrifty finds. This approach transforms your living room into a coastal oasis without overspending!
Coastal Living Room With Driftwood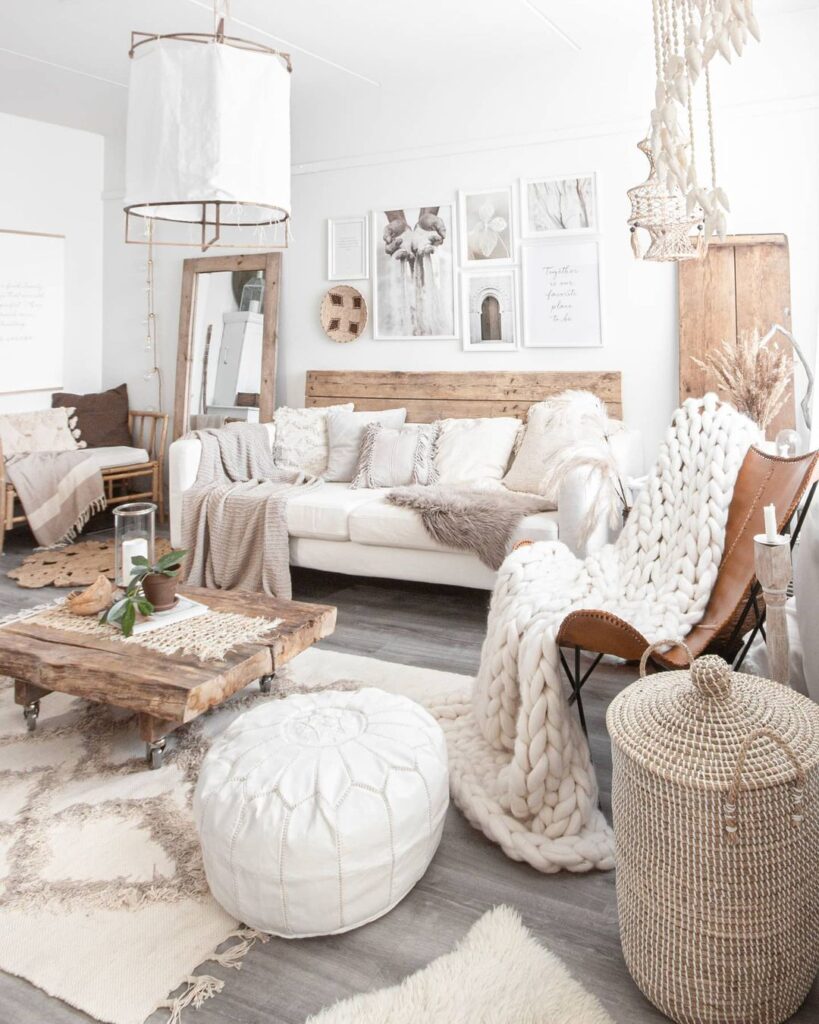 Let's gather driftwood and create DIY furniture! Bring some wall art, mirror frames, or curtain tiebacks to pair them together! You can combine earthy tones and woven textures to give a finishing touch to this look and add a bohemian vibe to your coastal living space. 
This way, you can craft with found materials that build your personalized beach-themed living room on a budget. 
Pro Tip: Always keep a central element in furniture to anchor the theme like a driftwood coffee table! Keep another décor complementary to avoid overcrowding your living room.
Oceanic Gallery Wall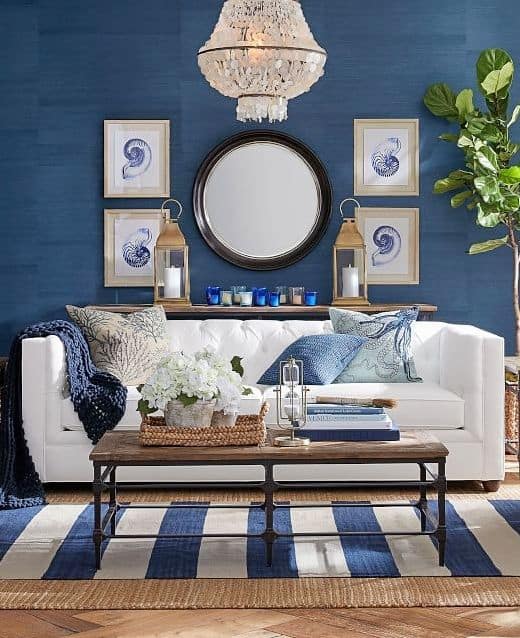 You can set up a gallery wall featuring ocean-themed art, photographs, and prints. After that, you can pair them with woven baskets and rope décor! 
This arrangement turns your living room into an intimate beachside gallery, showcasing all your favorite coastal elements!
Beachy Textiles!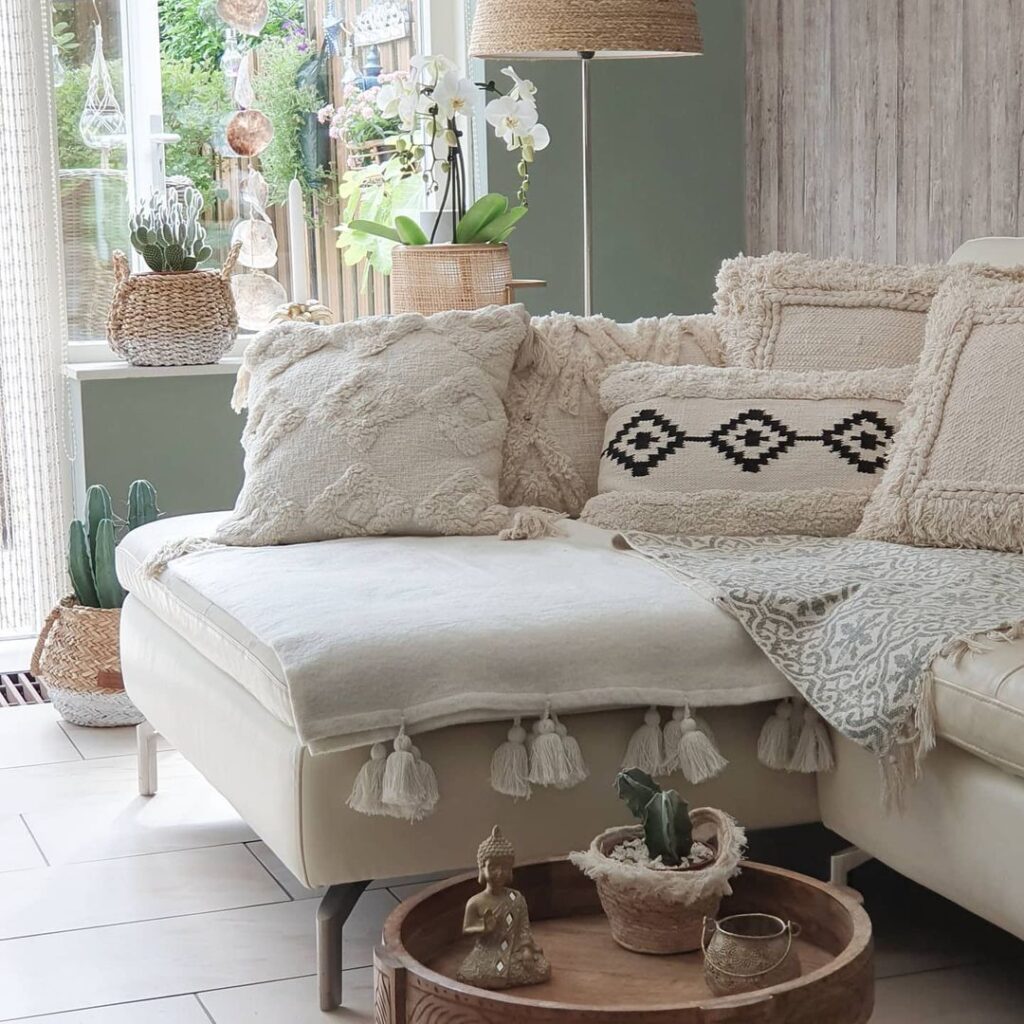 Now, let's focus on textiles! This one is all about layer cushions, throws, and curtains in sheer material, beachy patterns like stripes and coral motifs, or just going boho like this living room.
You may also opt for budget-friendly linen or cotton fabrics. This blend of textures and prints brings a breezy and warm atmosphere, just like seaside scenery. 
Nautical Rope Accents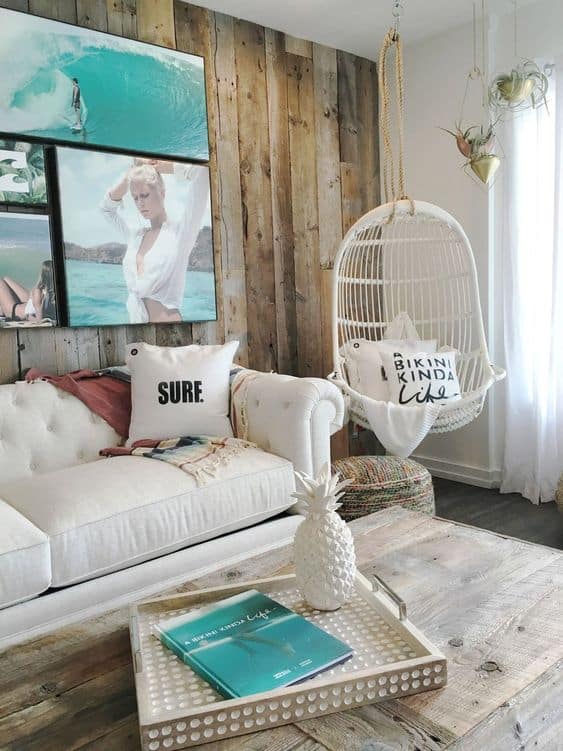 It's pretty easy to incorporate nautical rope accents into your living room décor! Just wrap them around table legs, create curtain tiebacks, and use them to craft wall hangings or hang a swinging chair. 
The options are plenty! It goes best with a beachy color palette of blue, white, and natural tones since that evokes a maritime feel on a sweet budget!
Seaside Palette!
You can redesign your living room's color palette using budget-friendly paint. Go ahead and swap outdated hues for calming blues, sandy beiges, and pale greens. 
Then, you can combine inexpensive beach-inspired art, or pretty framed mirrors and throw pillows! All these elements enhance a refreshed coastal living room appearance that feels brand new.
Palm Paradise!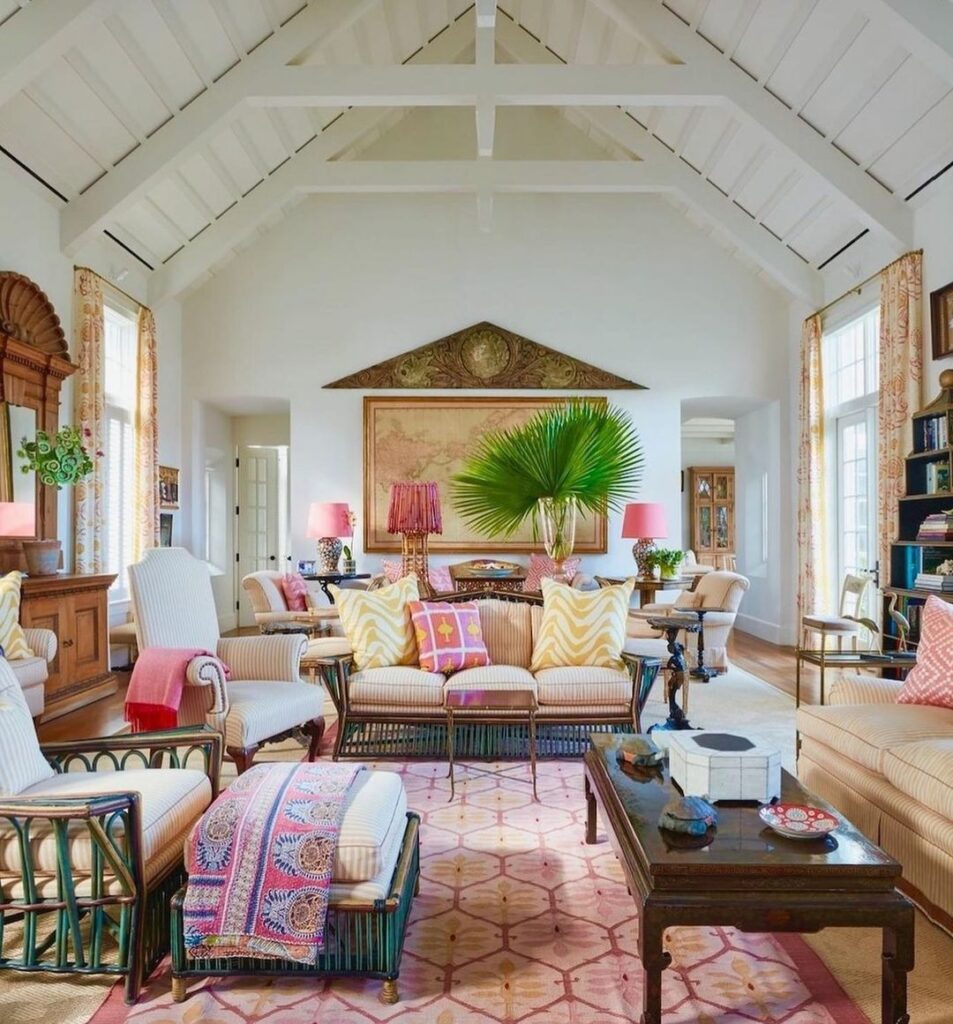 Potted plants are the best go-to when it comes to adding tropical vibes to your beachy living. For this, you must choose hardy indoor palm varieties and pair them with light, airy textiles in neutral tones! 
This idea enhances the breezy summer vibe, transforming your space into a budget-friendly beach escape!
Pro Tip: You can go for a timeless beach-themed living room on a budget that won't feel outdated after a season! Just go for charming classic elements that will stay on trend for many years. So, this can save you a few more dollars in the long run.
Beachcomber's Retreat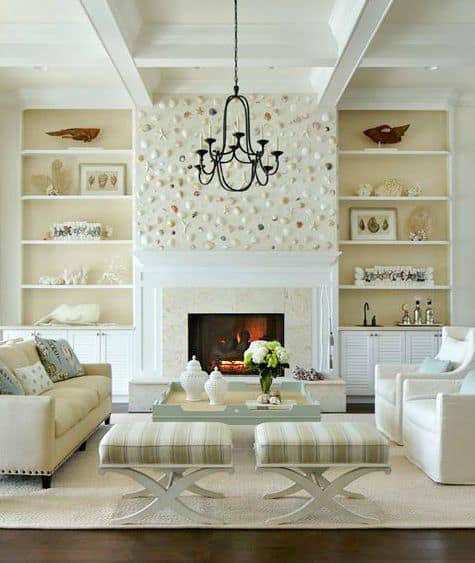 How about creating DIY décor from your beach findings? You can use driftwood mobiles, seashell wind chimes, and sand-filled glass jars. 
Alongside these elements, bring some woven furniture or ones with beachy textiles and muted coastal colors. This personalized approach infuses your living room with a proper beach-themed living room on a budget vibe.
A Curtain Of Sea Breezes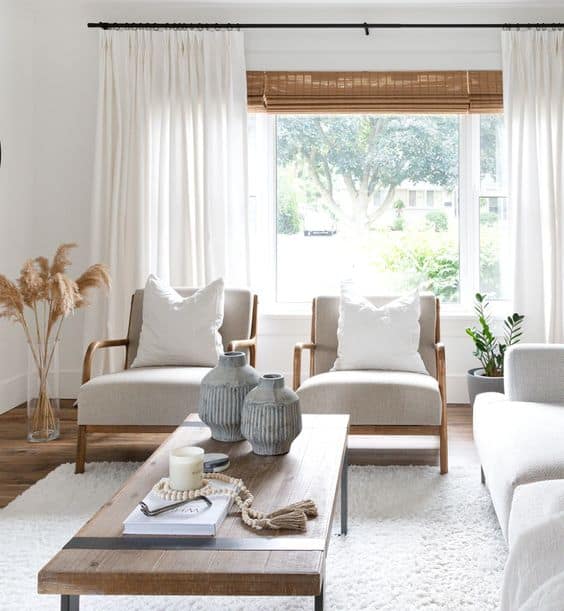 Let's not leave the windows this time! Enhance your windows with sheer, billowing curtains reminiscent of ocean breezes! Choose a light color palette and pair it with breezy linen upholstery. 
You can also incorporate marine accents like anchor motifs or sealife sculptures for a coastal living room! Now, your space can capture the serene magic of the beach with this beach-themed living room on a budget.
Rattan Accents!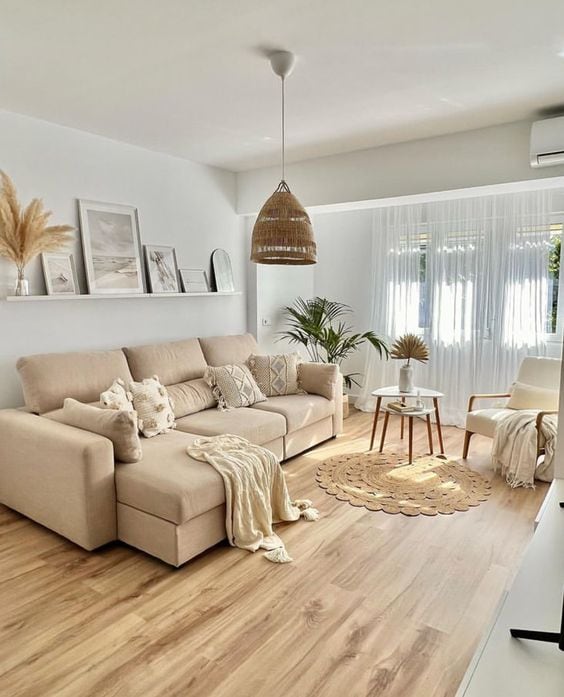 Opt for rattan furniture or accents to achieve a casual beachy vibe, like a light fixture and a carpet. You can adapt sandy beige tones for this idea. But, if you feel more interested, you can also bring turquoise or coral in cushions and décor. 
This budget-friendly approach brings the coolness of a beachside cabana right into your living room!
Sunny Window Nook!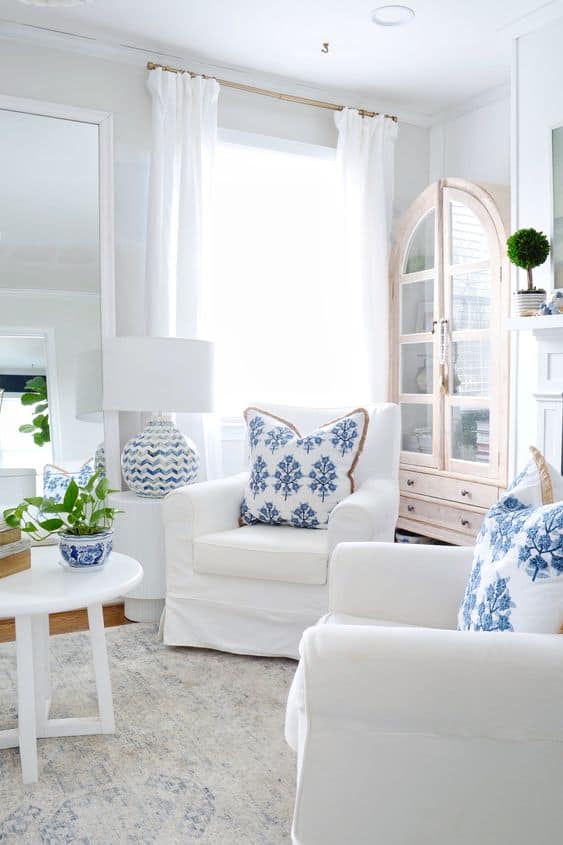 In this idea, you can craft a sun-soaked reading nook by a window! Use budget-friendly wicker chairs or sofas, pile with cushions in sunny pale reds and sky blues, and drape with sheer blinds. The seating area will instantly become a tranquil haven while capturing the beachside essence without splurging.
Beach Cottage Elegance!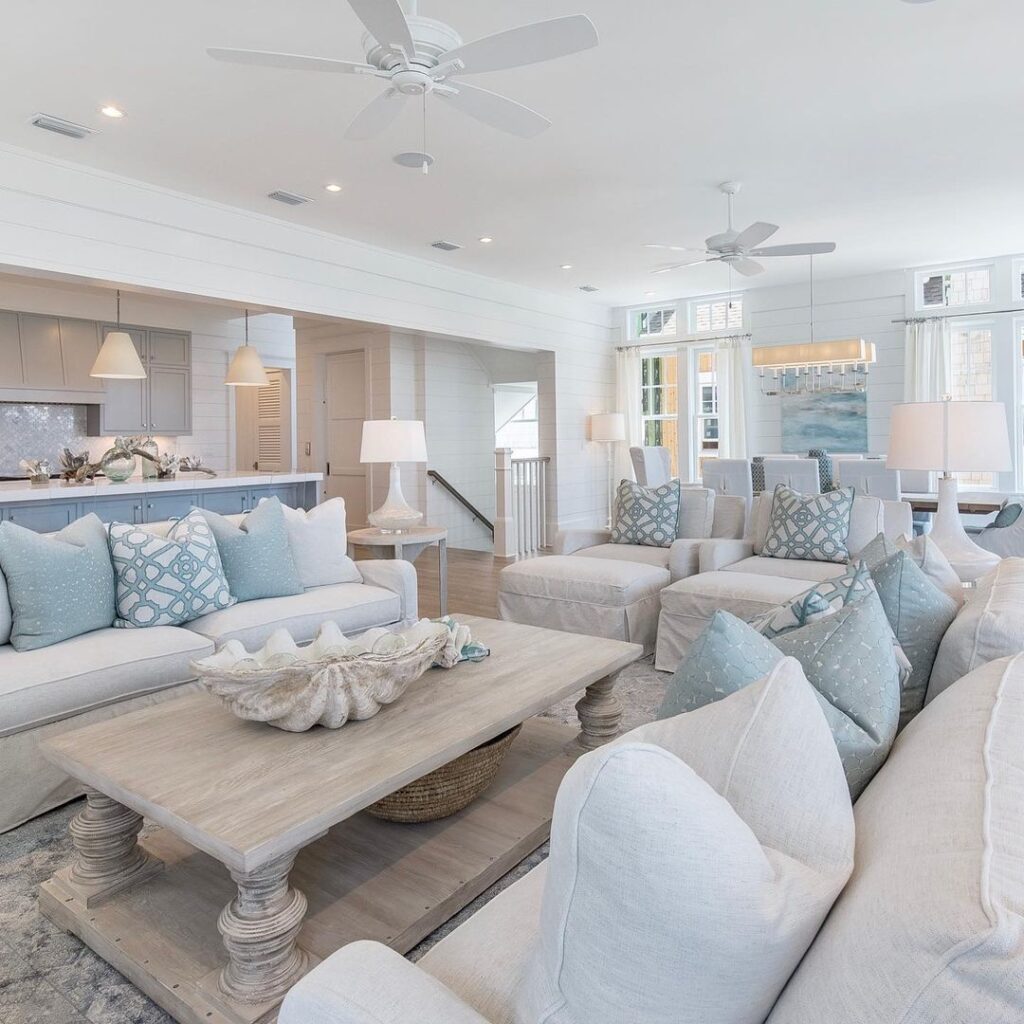 Experiment with some vintage furniture pieces from thrift stores or flea markets! You can even give them a coastal makeover with a paint coat or reupholster them with affordable fabrics. 
Don't be shy to place subtle oceanic elements like beach-patterned textiles or sea wall art. This blend of vintage charm and coastal elegance creates a beachy living room that's both timeless and budget-friendly.
Driftwood Shelving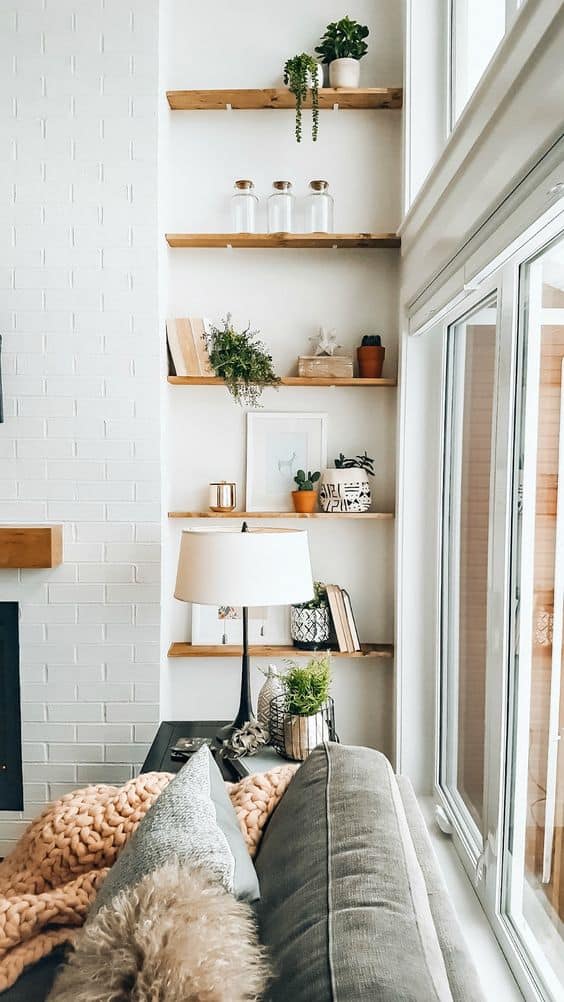 It's innovative to utilize driftwood branches as DIY shelving units! So, arrange them artistically on the wall and use them to display your beachy trinkets, books, and plants. 
This creative solution adds functional décor with rustic beach vibes without straining yourself. This style can offer you the perfect beach-themed living room on a budget!
Wicker Wonderland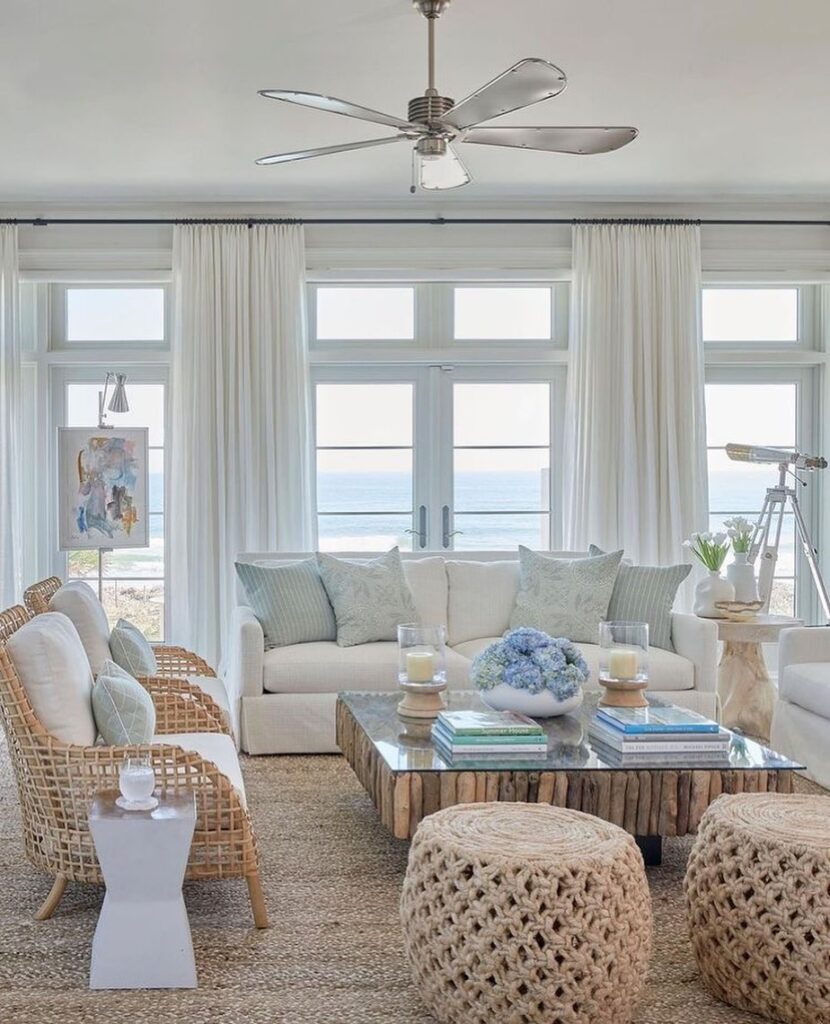 Decorate your living room with budget-friendly wicker furniture like chairs and coffee tables! You can layer them with sea-inspired cushions, throws, and curtains in soft blues and whites. 
For added beauty, you can place more beach-inspired ornaments and framed ocean prints! You can quickly achieve a coveted beachside retreat this way, without emptying your pocket.
A Quick Guide To Creating The Best Beach-Themed Living Room
Color Palette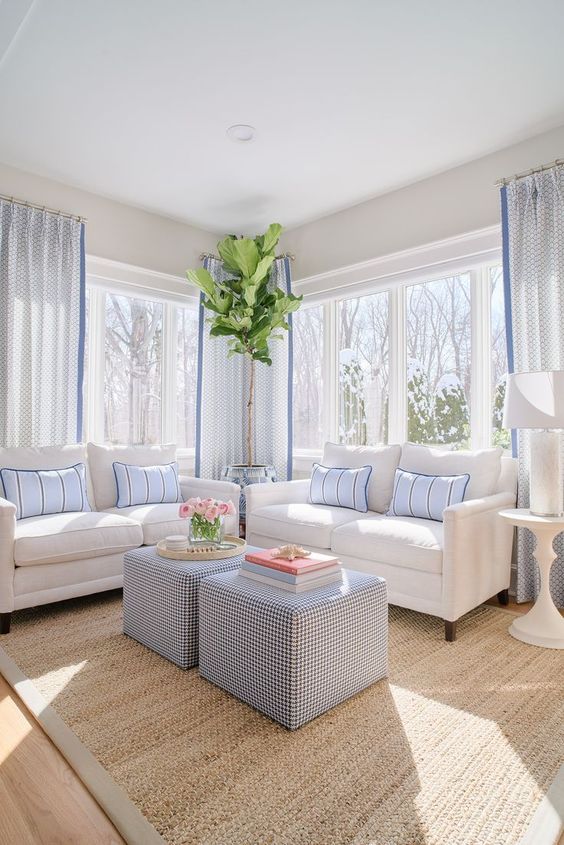 Opt for soothing blues, sandy neutrals, and crisp whites as your primary colors. Remember to pick just one or two of these as your base colors! These shades reflect the ocean, sky, and beach, evoking a coastal feel. You can use accent colors with coral or seafoam for added vibrancy. This harmonious palette sets the tranquil and airy ambiance of a beach-themed living room on a budget. 
Lighting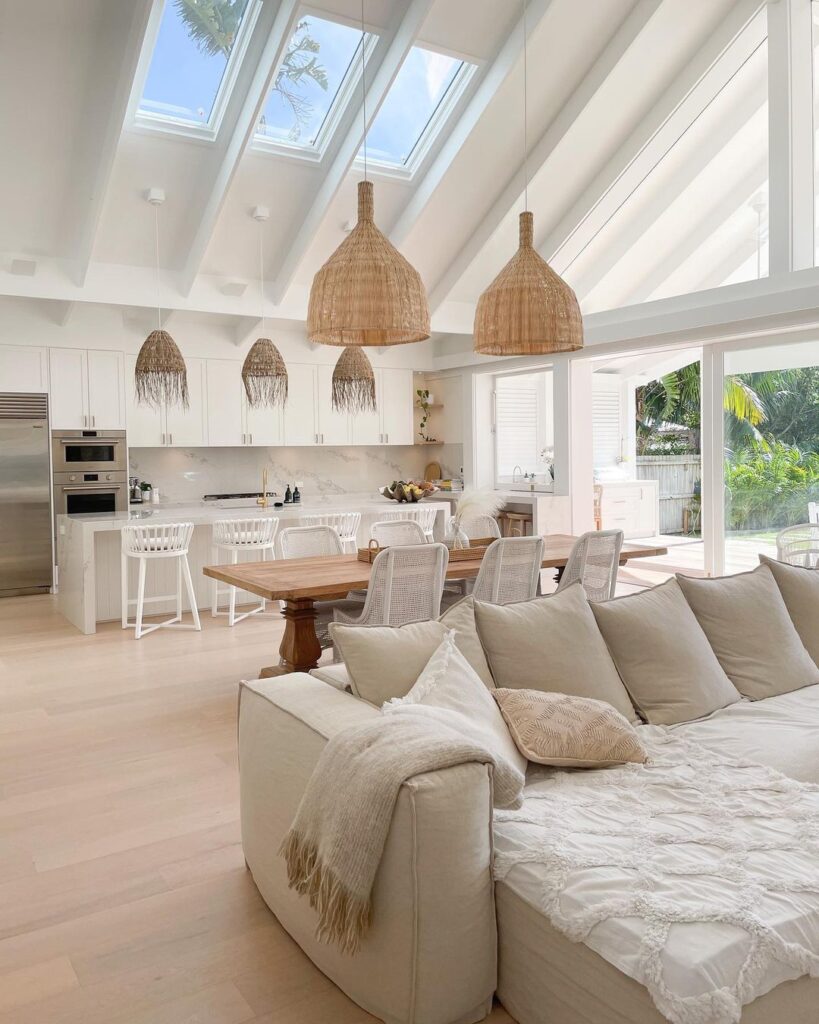 Invite natural light by using sheer curtains to allow sunshine to fill up your space. Incorporate woven or rattan pendant lights for a beachy texture. Opt for warm, soft lighting in the evenings to mimic a sunset-like glow. This can create a cozy and relaxed atmosphere that complements well with your theme.
Furniture
Choose light-colored furniture with clean lines to reflect the open and breezy beach aesthetic. You may consider distressed or whitewashed wood for a weathered look. Incorporate wicker or bamboo chairs and tables to infuse coastal charm. Bring multi-functional pieces like storage ottomans to optimize space and maintain the laid-back vibe.
Textures And Prints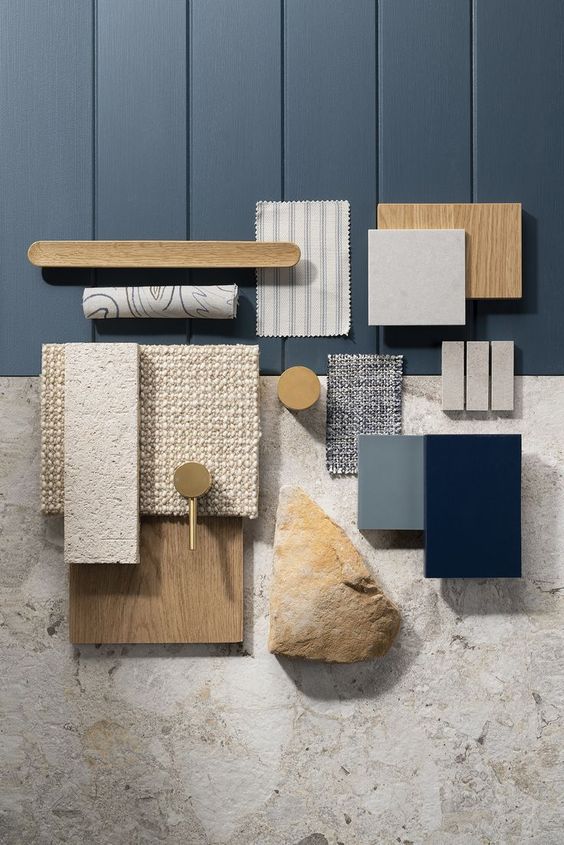 You can introduce texture through jute rugs, nautical-striped throw pillows, and cozy knit blankets. Feel free to mix and match textiles for depth and dimension. Incorporate sea-inspired prints like seashells, anchors, or coral motifs in wall art or cushions. The layering of textures and subtle patterns enhances the tactile nature of your beach-themed living room.
Other Décor And Accessories
Enhance your space with beach-inspired décors like driftwood wall art, glass vases filled with seashells, and coastal landscapes. You can hang framed vintage maps or ocean photography to add a focal point. Use woven baskets to keep your space uncluttered while adding a flair and rustic charm. But, keep the décor minimal to maintain an airy and spacious atmosphere.
FAQs
Can You Make A Beach-themed Home Without Going Too High On White And Blue?
Yes! Creating a beach-themed home doesn't require excessive use of white and blue. You must consider a balanced approach to infuse coastal vibes while maintaining a unique aesthetic. Start with a base of soft, neutral tones like warm beige, sandy taupe, or pale gray to imitate the sun-kissed shores. 
Incorporate accent colors that mimic the oceanic palette, such as seafoam green, coral, or gentle lavender. After that, you may introduce texture through natural materials like rattan, jute, and weathered wood. Make sure to strive for a mix of earthy and marine-inspired textures to evoke a shoreline charm.
Can You Make A Beachy Room Cozy At The Same Time?
Absolutely yes! You can create a coastal living room that exudes both beachy and cozy comfort! You can begin with a warm, neutral color scheme of the sandy shores. Then, introduce plush, textured rugs and soft throws in soothing hues. You can mix rattan furniture with plush upholstery to blend coastal style and comfort elements. 
Incorporate dimmable lighting to simulate the softness of a sunset. Finally, choose driftwood accents and ocean artwork to maintain the theme while adding a personal touch. By combining these elements, you can achieve a perfect balance between the beachy allure and the snug coziness.