The dining room is where you gather with friends and family for good food and great company, so it's important to make sure it's a space you love spending time in. And what better way to add some personality and style than with some bold and beautiful wall decor?
Whether you're going for a chic and modern vibe or a cozy and rustic feel, there are so many ways to decorate your dining room walls to create a space that's both functional and fabulous. So, check out these fun and creative dining room wall decor ideas out there that can bring your space to life.
Set Up A Mini Bar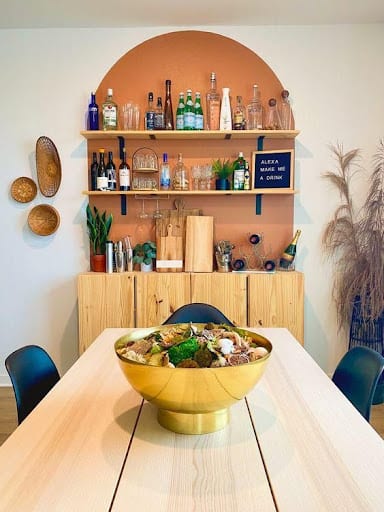 Who doesn't love having a perfectly mixed cocktail within arm's reach during dinner parties or family gatherings? With a mini bar in your dining room, you'll never have to worry about running to the kitchen to grab another bottle of wine or shaking up a martini anytime you want! 
Colorblock the mini-bar space t make it stand out and steal the limelight at all your dinner parties!
Add Some Mirrors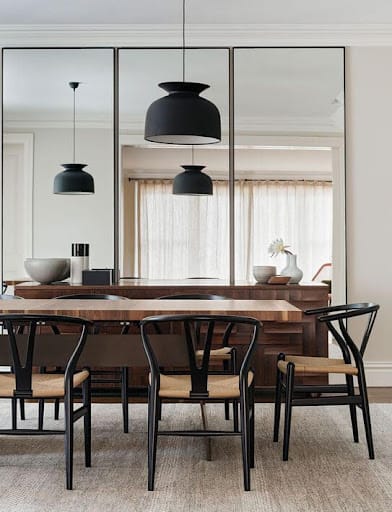 The mirrors in the dining room are enough to make a statement! Not only will they make your dining room light and airy but also chic. You can opt for one large statement mirror or a collection of smaller mirrors arranged in a chic pattern to add that glam to your space or use mirrors in different shapes and sizes to add some variety.
Play Around With Wall Art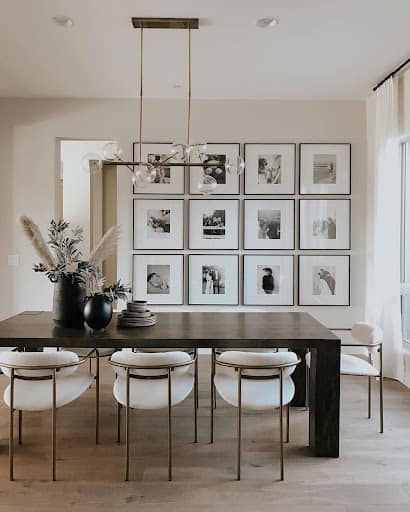 Use wall art to set the mood, create a focal point, or just add some visual interest to your dining room wall decor. Whether you prefer abstract paintings, vintage prints, or modern photography, there's no shortage of options to fit your style! A few well-chosen pieces of artwork will do the job. And if you don't want to involve any brainwork to this, a gallery wall like this one is just perfect!
Plants Are Great!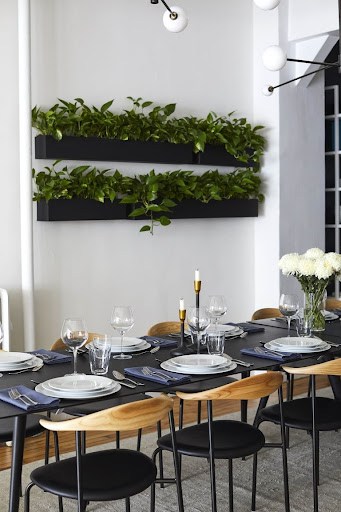 Plants aren't just for your windowsill or tabletops anymore. They're taking over your walls too, for good! They bring life and energy into your dining room, and it is a great way to add some color and texture to an otherwise plain space! There are plenty of low-maintenance plants that are perfect for your dining room wall decor. So why not give them a try? 
Modern & Minimal Wall Decor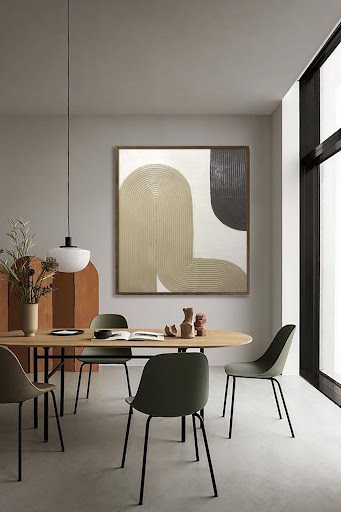 Minimal dining room wall decor is all about keeping things understated and letting your space do the talking. The great thing about minimalistic wall decor is that it works with any style of the dining room. A few well-placed pieces can make a big impact, whether hanging a single statement piece or creating a gallery wall.
Go Traditional With Decorative Plates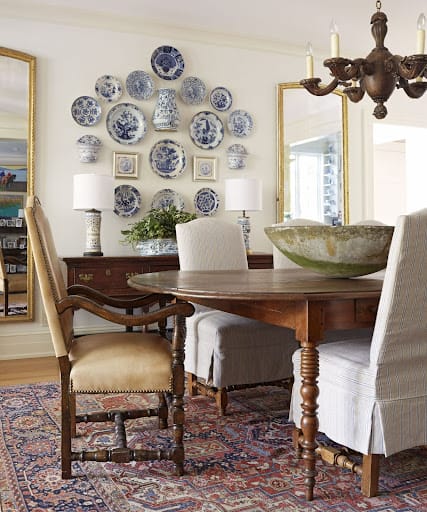 If you want an elegant vintage look, bring out some plates and place them on your wall! Decorative plates are an affordable and easy way to upgrade your dining room. With them, you can easily switch up the arrangement or add new ones just in case you pulled down a few to eat in!
Brighten Your Wall With Lights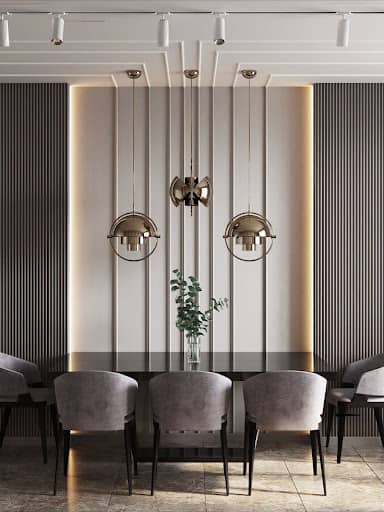 If you're looking for a fresh and stylish way to spruce up your dining room, consider playing with lights! Not only does lighting as a wall decor idea add visual interest to your space, but it can also create a warm and inviting ambiance, perfect for a dining room where all the hot and cold talks happen!
Panel Your Walls!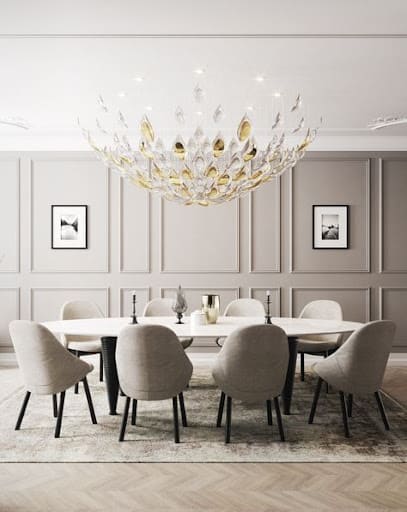 Bring in that extra dimension to your dining room with wall panels. They are perfect if you are going for a classy look. That said, if you've got a busy dining room that gets a lot of wear and tear, wall panels are a great way to protect your walls from scuffs and scratches without making you look like you care!
Try A Wallpaper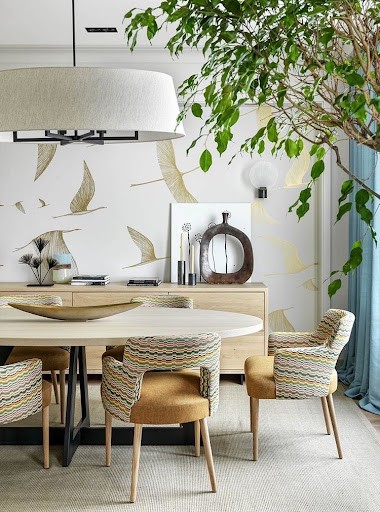 We know that dining rooms can often feel a little stuffy and formal, but a bold wallpaper can bring some fun energy to the space. 
You will have plenty of options to choose from with the invaluable privilege of not having to permanently commit to them. With the rise of removable wallpaper, you can easily switch up your look whenever. Not convinced yet? it's super budget-friendly! 
Add A Tapestry To The Wall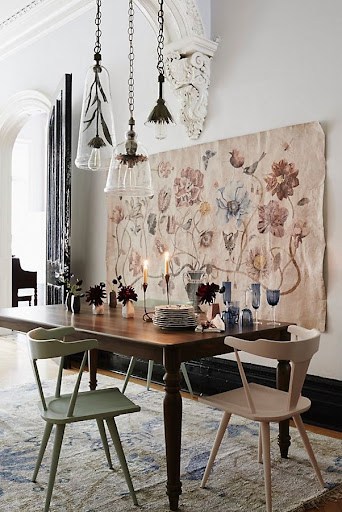 Tapestries have come a long way since the days of old castles and medieval times. But lately, they have been very relevant in interior design trends. A well-chosen tapestry can tie your entire room together, bringing out the colors and patterns in your furniture and accessories, perfect for that vintage look for your dining room wall decor!
Add A Lot Of Books!
If you love reading books more than food, same pinch! Add a large wall shelf to your dining room and showcase your favorite books, or store cookbooks, entertaining guides, and even your fancy dishes. With the right styling, a bookshelf can be just as visually appealing as any piece of art (besides being heaven for book lovers!)
Play With Geometric Designs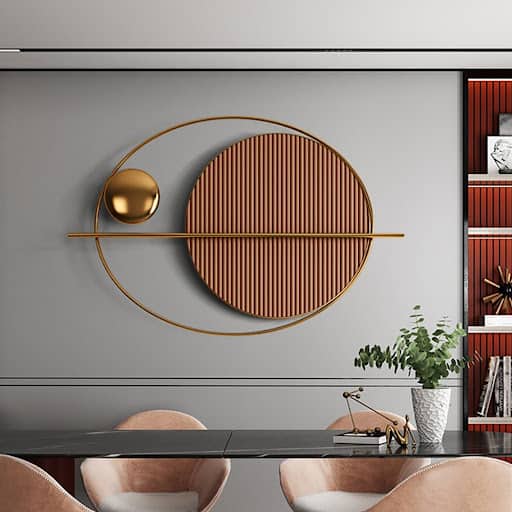 Geometric wall decor involves playing with shapes, colors, and textures. You can go big and bold with a large-scale mural, or keep things more subtle with a simple patterned wallpaper or wall decal. 
Think of using some metallic accents for that added shine, and use different materials to tie the dining room wall decor just right! 
Try The Boho Look With Baskets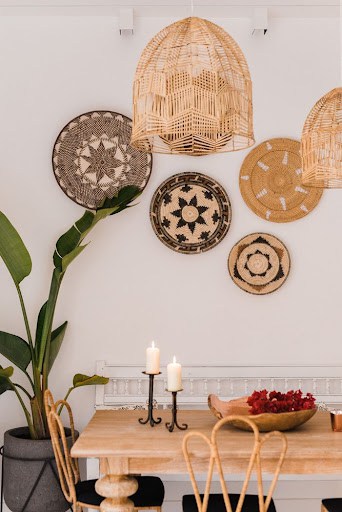 Whether you opt for a few large statement baskets or a gallery wall of smaller ones, this boho basket decor trend is sure to add a touch of warmth and personality to your dining room. And if you're feeling extra creative, you can even mix and match baskets with other wall decors, like prints or mirrors, for an extra unique look.
Get Your Hands On Wall Murals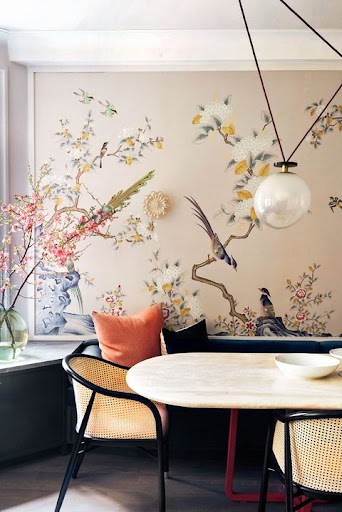 Wall murals are a bold way to go about your dining room wall decor. They can change the look of the space upside-down. You can choose bright, colorful prints or subtle, monochromatic designs, pick a tropical or abstract theme, or go somewhat Japanesey like this dining room wall design.
A Wooden Accent Wall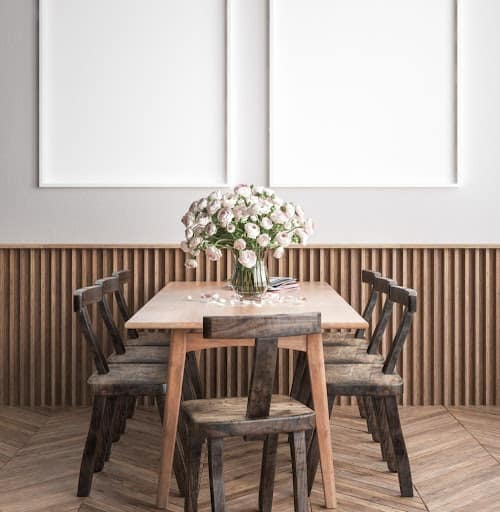 Wooden paneling is a timeless design element that adds character and charm to any room. It's a versatile look that can work with a variety of design styles, from farmhouse chic to contemporary cool. 
Opt for a rustic look with reclaimed wood or a more polished finish with sleek, modern panels. You might as well want to add some wall decor above the paneling to add to the charm and elegance of the wall.
Add Open shelving To The Wall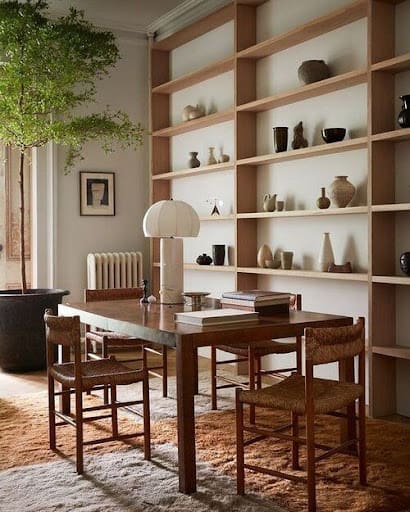 Open storage shelves in your dining room are the perfect place to showcase your favorite dishes, glasses, and even some decorative pieces. You can mix and match different textures, colors, and patterns to create a unique look. 
Plus, having all of your dining essentials on display makes it easy to grab what you need, when you need it, without digging through cabinets. Dining room decorating becomes easy!
A Mix & Match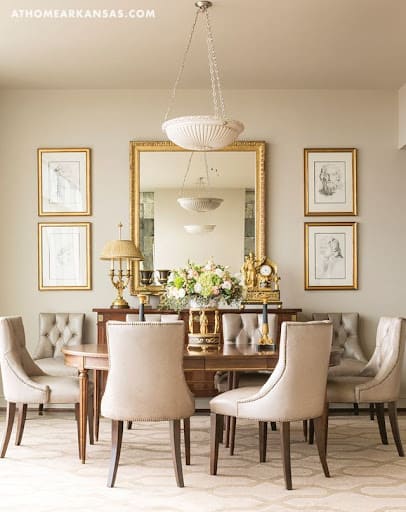 Mixing and matching different decor styles is a great way to save money and stay within budget. You don't have to go out and buy a complete matching set of good decor to match your furniture – instead, you can incorporate different pieces that you already own, or pick up unique pieces from thrift stores to create an electric vibe fr your space or one that's exclusively your own!
FAQs
What kind of art looks good in a dining room?
When it comes to dining room wall art, there are a few things to keep in mind to get the best outcomes!
First and foremost, you want to choose a piece that speaks to you and makes you happy! In terms of style, there are a few different directions you can go. A large, colorful abstract painting can be a great way to add a bold statement piece to the room. Alternatively, a series of smaller, more subtle pieces can create a gallery wall that adds interest and depth to the space.
When it comes to placement, think about the size and scale of the art piece, as well as the layout of the room. A large painting can be a great focal point above the dining table, while smaller pieces can be clustered together on a nearby wall.
How do I make my dining room look modern?
If you want to give your dining room a modern upgrade, there are a few key elements you can focus on.
First, consider updating your lighting fixtures – a sleek and contemporary chandelier or pendant light can instantly transform the look and feel of your space. 
Focus on your furniture – opt for clean lines and simple shapes, and consider investing in a statement piece like a modern dining table or chair set. You can also add some texture and interest with a bold rug or statement artwork on the walls. 
Finally, keep your color palette simple and neutral– with pops of color in your accessories or accent pieces. By incorporating these design elements, you can effortlessly transform your dining room into a modern oasis!