Green is often associated with nature, growth, balance, and harmony. It's a versatile color for enhancing the feel of interior spaces in countless ways! A green accent wall draws attention while adding depth to your room, due to its focal point.
Lighter shades like sage or mint green build a peaceful ambiance. Whereas the darker shades like, forest green or olive green bring warmth and coziness! Green reduces stress and promotes your mental well-being, making it beneficial for the human psyche!
So, it is a perfect choice for calming spaces like bedrooms or bathrooms o just to upgrade your home interior, especially for a cool and peaceful ambiance!
17 Green Accent Wall Ideas
Living room greens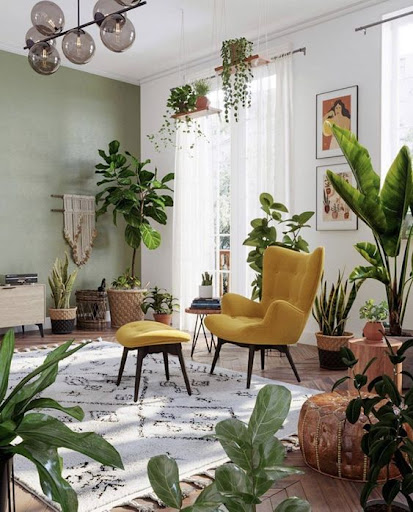 Like this seating space, a green accent wall can bring brightness and a cheerful vibe to any space! Add some yellow furniture for a nice contrast to the green, with fresh plants for natural elements to the area. Try attaching white and brown accents to the room to complement the green!
To add some warmth, use fabrics like white sheer curtains, or floor rugs! Throw some brown with wooden furniture and flooring styles. Add a variety of plants in pots in your room to enhance the natural beauty!
Pro Tip: If you love plant decoration, try to include tall floor plants or smaller potted plants in your space. You can place them on shelves or side tables!
Color block foyer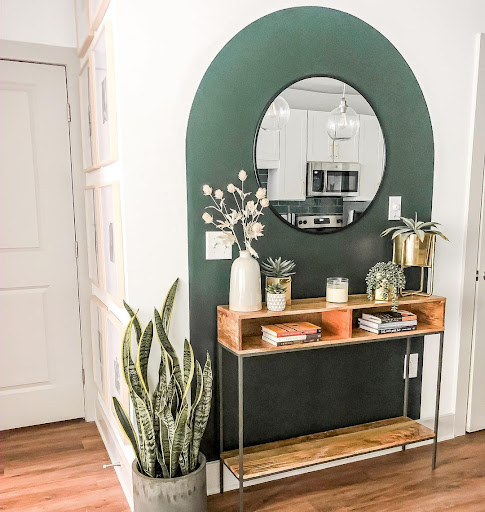 Surprise your guests with a green accent color block arch in the entry foyer! You can easily paint a part of the wall above the doorway with a green hue for this. Otherwise, try installing a separate archway structure with some green paint! 
Add a storage console in the foyer to pair with the green accent. You may introduce a simple table with shelves or a piece of furniture with decorative details! The storage console will be useful for keeping keys, or shoes while adding visual aesthetics to the room!
Mountain accent wall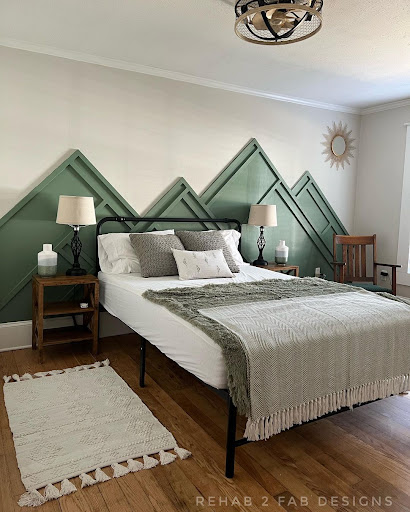 Use wooden panels to create an elegant vibe that takes you to the mountains! You can customize the size of them, as per your bedroom wall dimensions. This green feature wall forms a quirky visual intrigue to your bedroom! An accent wall doesn't have to be boring. Experiment with these simple DIYs to offer your bedroom something new!
Camouflaged doors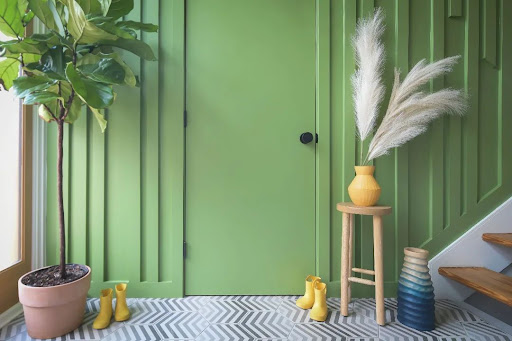 Wanna try something fun? Bring a lime green entry foyer wall with a matching hidden door, to add some illusion and storage to your space. Let the hidden door be your coat closet or storage space! 
You can use cute yellow flower pots or gray patterned flooring, for balancing the remaining look!
Mix in browns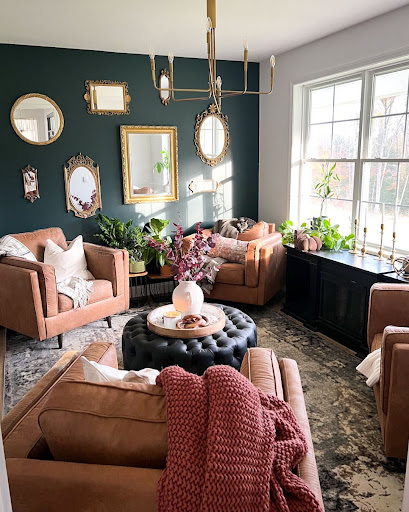 A hunter-green accent wall, brown furniture, with gold framed mirrors can do magic to your room! Place your sofa and chairs against the accent wall for a warm, and cozy vibe. For the gold-framed mirrors, they'll bring dazzle and glitz to your space, creating a rich and elegant charm! 
You may use a single large mirror or multiple smaller ones in a pattern, as per your preferences. Finally, use decorative pillows or add complementary colors, to wrap up the look!
( Enjoy setting your room with brown? Check out this post on Brown Living Room Ideas, to make your space more comfy! ) 
Shiplap bedroom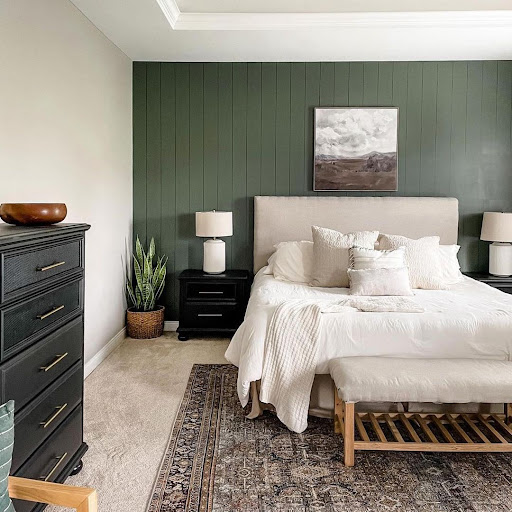 Shiplap bedroom with green accent walls provides a relaxing environment. The shiplap texture gives the wall a rustic feel, while the green color serves as a focal point to draw attention!
Make your bedrooms cooler with white lines, which offers a fresh contrast to the walls. Add more natural wood furniture, plants, and woven textiles to make it better! Get wall art or some decorative accents in contrasting colors and patterns. They enhance a magnetic finish to your room!
A green reading corner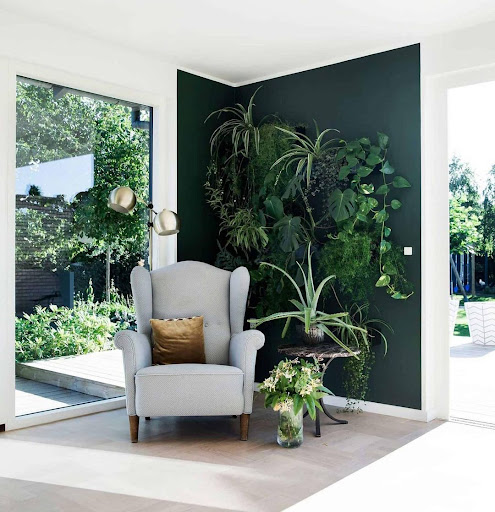 A dark green accent wall adds richness to your room when paired with natural elements and a reading chair! Choose a green hue that goes with your room's original color scheme. These accent walls work best with deep forest green or emerald green! 
Place a comfortable reading chair in the corner against the accent wall. You can select the chair in contrasting colors like gray, yellow, or white! Finally, add some potted plants on a side table or on the floor, to finish the greenery look!
RELATED: 21 Modern Dark Green Bedrooms That Are Nowhere Close To Boring!
Dining room glam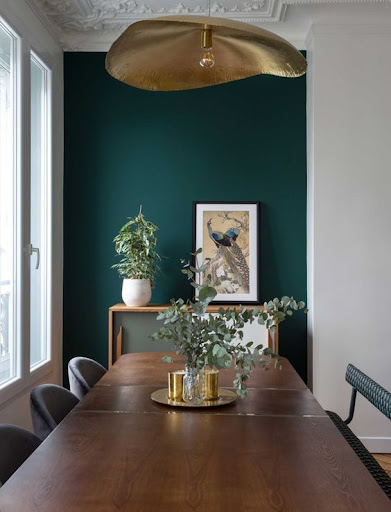 Just a single green accent wall can make your dining room a gorgeous space. Try adding gold-hanging light fixtures to your dining place to make it seem richer! Complete the look with a wooden dining table and chairs, to add a classy essence.
Subway tile shower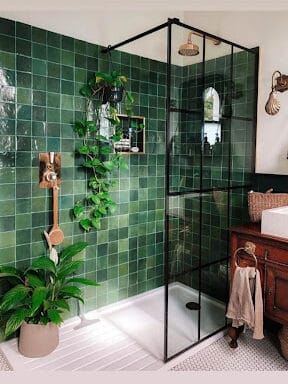 Subway tiles are a timeless choice for every shower tiling idea. You can add a splash of color to your shower for elevating your space to new heights! A green subway tile accent wall brings a lush and vibrant feel to your rejuvenating shower experience. 
Combining green subway tiles with white bathroom fixtures for a cleaner look! The white fixtures balance out the green undertones, making it more eye-catching!
Add Glam To Your Home Office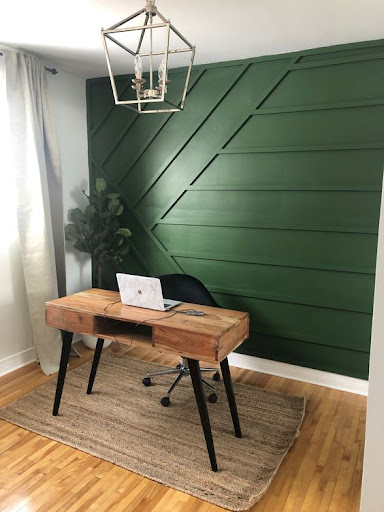 Add a colorful style to your green panel accent wall with brown furnishings for a warm and inviting vibe. Use large panels, wooden planks, MDF, and wallpaper to create the look! There are several ideas to pair the accent wall with the furniture. 
For a traditional style, try dark wood or leather furniture! For a modern electric look, add lighter wood, or woven furnishings. You can also attach some glamorous gold or brass metallic accents with that!
Add wallpaper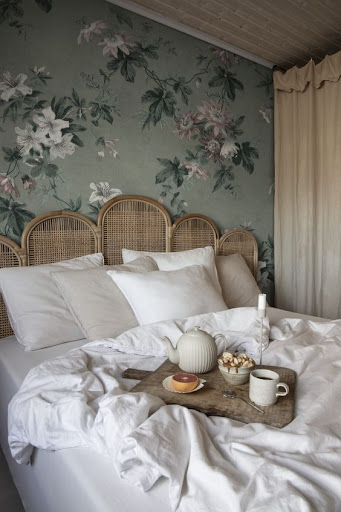 Attaching a sage green floral wallpaper in your bedroom is a wonderful choice! Choose a green floral wallpaper pattern that complements your existing bedding and décor! Floral designs prove femininity to your space, while sage green builds a soothing atmosphere.
Want a quirky farmhouse look too? Pair up the wallpaper accent wall with a rattan headboard! Rattan goes well with sage green, adding warmth and texture to the natural home elements. It could also be simple or curved, with intricate weaving and detailing! 
Go bright with lime green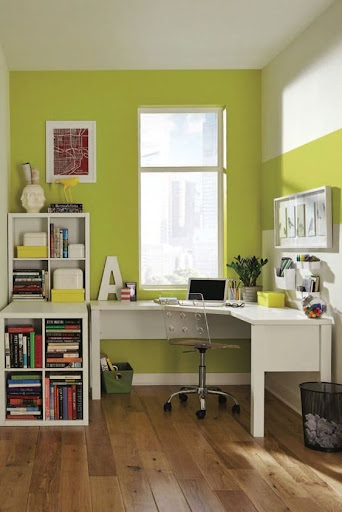 Lime green study corners blast an energetic style to any space. You can enhance this design with a white desk or furniture, to balance out the bold green! 
Choose a vibrant hue to complement your bedroom's color palette. This entire green and white combo builds a refreshing feel to your space! Go even further and create an open, airy, and minimalist design with white bookshelves or storage units.
Create A Boho bedroom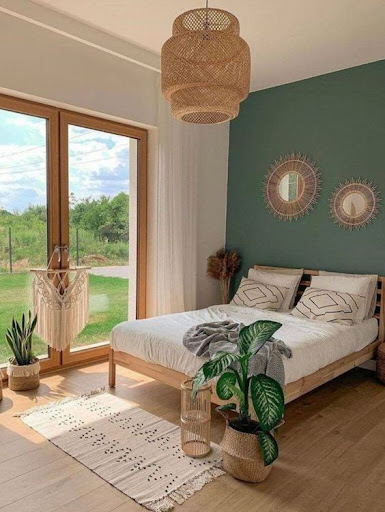 Craving a natural and organic bedroom design? Try out the boho green accent wall with a rattan light fixture. Place a woven mirror against the wall, and throw a wooden flooring to double the vibe with more texture! 
Earthy tones like olive, or sage add a natural beauty. Get yourself a mirror with a natural wooden, or rattan frame. Now, finish the look with plants and natural elements like a jute rug, woven baskets, or a macramé wall hanging! All of these will bring great depth and texture to your room!
RELATED: 23+ Cozy Boho Bedrooms To Make Winters A Celebration!
Add some pinks
Try some pretty pink hues! Whether through the wall décor, artwork, and or even fresh flowers, pink always brightens up a green accent wall. From soft to bold, pick a color that goes well with the hue.
Soft blush pink, coral pink, and dusty rose are some popular choices to get started with! Artworks are the personality of a room! So, look for pink-toned artwork like a floral painting or an abstract print. You may also bring pink rugs and curtains to build a rosy warmth and texture to your room! 
RELATED: 25 Girly Pink Bedrooms That'll Even Make Boys Wish, They Were Girls!
Color your kitchens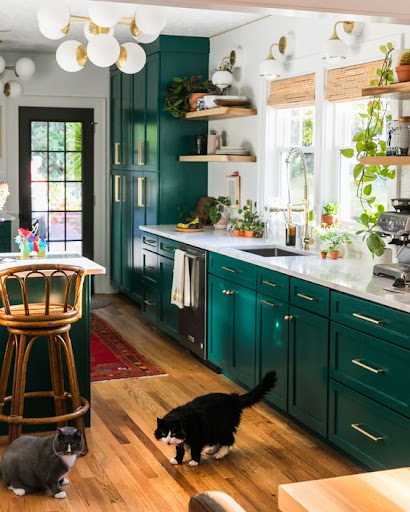 Glossy green kitchen cabinets are fascinating for modern and stylish looks! Set a moody ambiance with dark forest green, while a lighted mint green is perfect for airy spaces. Always make sure that your green complements the other kitchen tones. 
Attach some glossy green cabinets for a sleeker finish. You may pair them with white, black, or natural wood tones, to balance it out! 
Nursery room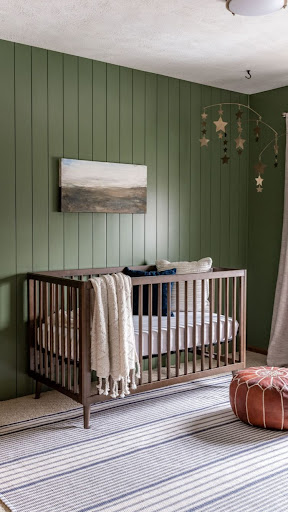 A shiplap accent wall to your nursery room is a quick interior upgrade, that is both elegant and affordable! Soft, muted greens create a serene effect, whereas brighter greens enhance a quirky, energetic vibe! 
Consider your room's layout and furniture placement while choosing a wall for your shiplap accent! It's best to select a wall that serves as a focal point while adding an intriguing aesthetic to the room without overdoing it. 
Pro Tip: Green is an ideal choice for a neutral color-themed bedroom for your children! The best thing about neutral tones is that you won't have to change your décor, even when the room is repurposed! 
Hunter green paneling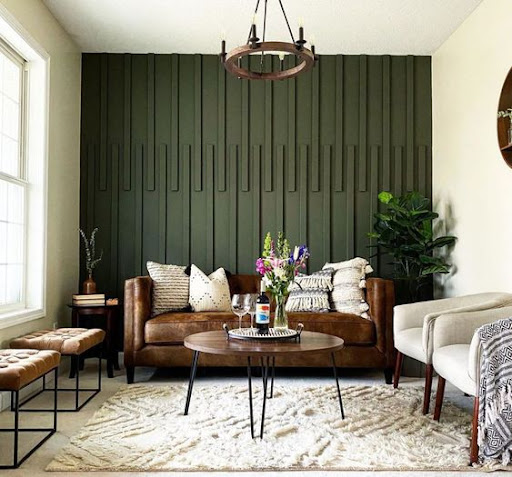 For living rooms, matte hunter-green paneling is a charming option! But, it may look quite dark, if the colors aren't balanced. Use lighter shades of green, or cream-coloured furniture, and bright accent colors to do the aesthetic trick! 
Proper lighting is essential for highlighting the beauty of the hunter-green paneling. Use a combination of overhead lighting and table lamps, to build a warm and inviting aura!
FAQs
What are the effects of green on our minds?
Green affects our minds, emotions, and our physical health. Associated with calmness and tranquility, green is mostly found in nature, and it reduces stress and anxiety! 
Green is known as a balancing color that aids in the restoration of equilibrium and harmony. This grounding color keeps us more connected to the earth and is beneficial to look at when we feel discouraged, disconnected, or stressed.
What wall color goes with the green accent wall?
When using green as an accent wall, always consider the other colors and elements in your room! Green pairs well with neutral and earthy colors like white, gray, beige, brown, and tan. It can also be combined with brighter tones like yellow, pink, and blue for enhancing a playful and energetic look!