Kids absolutely love decorating their bedrooms with their favorite cartoon and game characters, like Mario and minions! And one is definitely, the angry birds!
If your boy, is a big fan of angry birds, you'd want to surprise him with an angry bird bedroom so he can live in their presence all the time!
For that to happen, you'll need some angry birds bedroom ideas! We have made the task easier for you by compiling some awesome and fun angry birds bedroom ideas. They'll help you decorate the best bedroom for your kid, without going broke!
Without much ado, on we go!
Some DIY First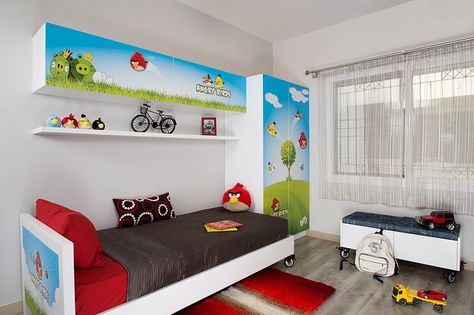 Making an angry birds-themed bedroom becomes comparatively easy when you follow a DIY approach.
Let us explain. The wall shelf and the closet in the above room are done by neatly sticking a poster on them (most probably.) Even the headboard is done in the same way.
Posters are comparatively cheap so it won't really be very heavy on the pockets and yet, quite cost-effective. But it all looks gorgeous owing to the white backdrop. So, consider that!
Then Comes The Bedding
The look of your bedding dictates the theme of your bedroom quite much. For an angry birds bedroom, an angry birds bedding is ideal.
Since we could not find a good angry birds bedding set, we could find a pretty and decent angry bird blanket. We love its balanced colors and the elegance it brings to the room.
If you like it too, get This angry bird raschel blanket HERE.
Angry Birds Wall Stickers
Any kids' bedroom is incomplete without a wall sticker. It can bring a pop of color to the bedroom, immediately without having to do much for the decor!
In an angry birds-inspired bedroom, you can place them behind the bed wall, on the headboard, or on your kids' cupboard, if you like it.
You can get this angry birds wall sticker HERE.
Use Posters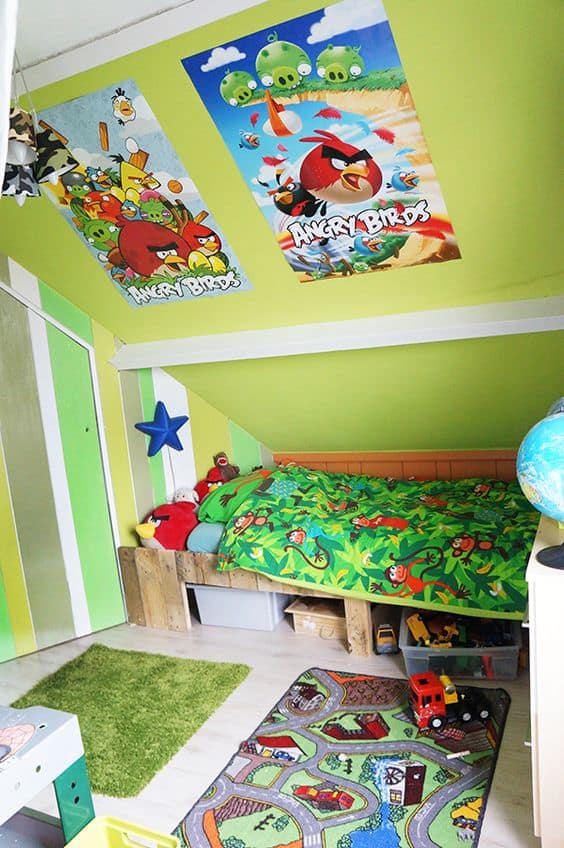 Another age-old yet a great idea to bring a theme to your bedroom, is by using posters of particular cartoons or characters- angry birds in this case.
In case you have slanted walls in your bedroom, posters can look really prominent as they do in the one above.
But in a normal bedroom s well, you can consider adding them to the walls, your study area (really?) and other places you frequently spend your time in.
Inflatable Chairs Are Kids' Love!
Inflatable chairs are what children love in their bedrooms! They provide them with a comfortable space to sit and play for as long s they want to.
Luckily, we were able to find an angry birds-inspired inflatable chair on Amazon that will certainly and surely contribute to the theme plus the added benefits.
Get this inflatable chair HERE.
For The Painting-Pros Out There…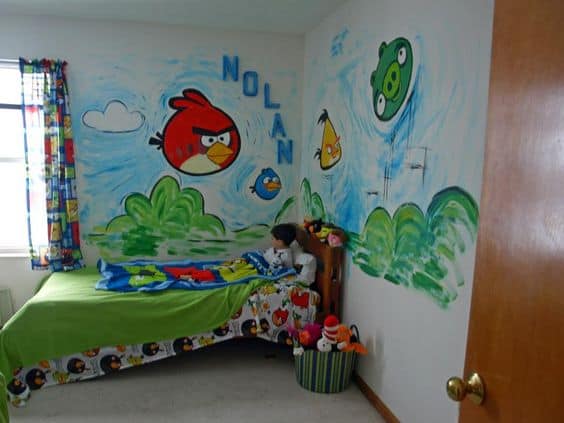 For the pro DIYers here, you can easily create an angry birds bedroom by scribbling some nice angry birds on the wall.
All you need are some good paints, crayons and an angry bird picture to copy. Plus the skills and confidence.
So long as you have that, all power to you!
The Plush Toys Are A Must
To easily pull the look together, plush toys can do it quite easily.
The moment they are scattered here and there in the bedroom, they magnify the theme as nothing else can.
For your angry birds bedroom as well, you can choose from a variety of angry bird plushies available online. They range from red angry birds to yellow to black to blue angry birds. But just in case you like the one that is shown, this angry bird plushie can be found HERE. And, if you want variety, then there's too much HERE.
How About A Lot Of Stickers?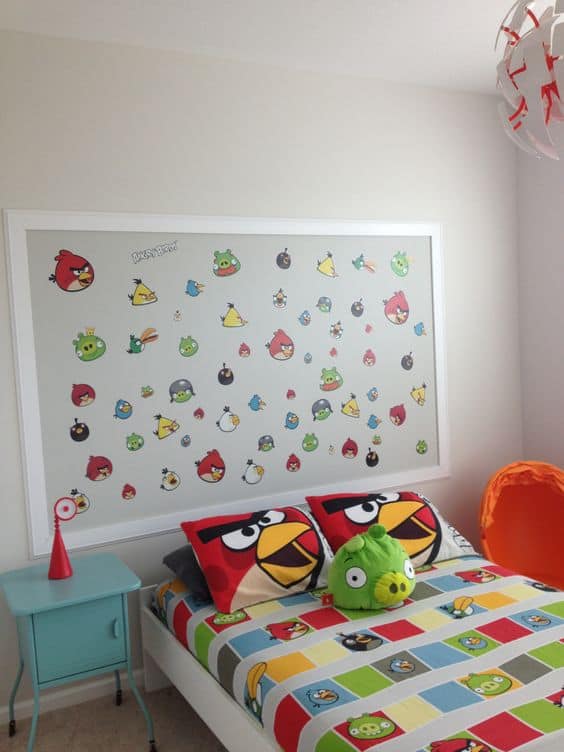 It's NOT necessary that you get jumbo-sized angry birds' wall decals and stickers to decorate your bedroom.
Having a collection of small and cute stickers on the wall behind your bed is a good enough idea to start with.
As you become more passionate about the decor, you can try adding angry birds' bedding. More about this later.
For now, the stickers can do a nice job, can't they? You can get the angry birds stickers HERE.
Display Some Collectibles
There are a lot of angry bird collectible figurines available online that you might want to collect and display on wall shelves in your angry bird-inspired bedroom.
Maybe, while collecting some cute little figurines, your bedroom decor becomes so much more fun and something you can always boast about in the get-togethers in your home!
Get these cute figurines HERE.
Decorate The Wall With Stickers
When you have large enough stickers displayed on the wall, little else do you require to bring the theme to your room, prominently.
With these wall stickers comes a quite sought-after pop of color and a fun-driven vibe that every kid craves.
If you too want to set that fun mood in the bedroom, get these wall stickers HERE.
Use A Wallpaper
Not sure if the above image shows a wallpaper or wall painting but it's enough to get the ideas.
For making things work, wallpaper is a great and economical idea to get a theme into place.
You can find, online and offline, various wallpapers that relate to the angry birds. There is variety and maybe, you won't even require anything much once that's in place.
The Footmats Are A Great Idea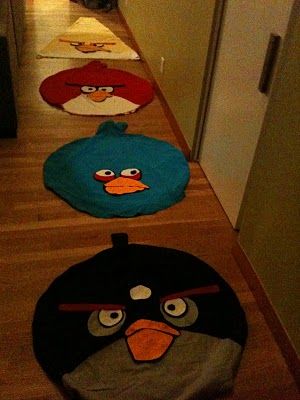 Children always like it when they get to see their favorite characters everywhere around their bedroom, and the floor is NOT excluded.
To do that, some cute little angry bird foot mats can be found that can adorn the room to a fair enough degree.
Plus, you can even DIY these mats, if you don't get them anywhere. All you need to do is get them printed on the cloth that's suitable for a foot-mat. Done. By the way, a pro-DIYer would better explain this one.
Create Angry Birds Blocks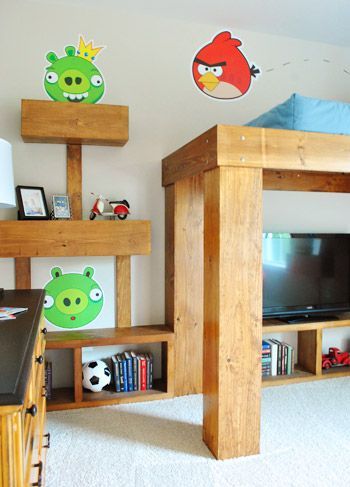 How fun and crazy would that be if you could get the game-like feel in your bedroom itself.
Well, that's possible if you have a nice canopy bed and some nice shelves to support the look.
Above them, you can use angry birds stickers and wall decals to make it look like the game even when there's no special effort that's required.
How About An Angry Birds Carpet?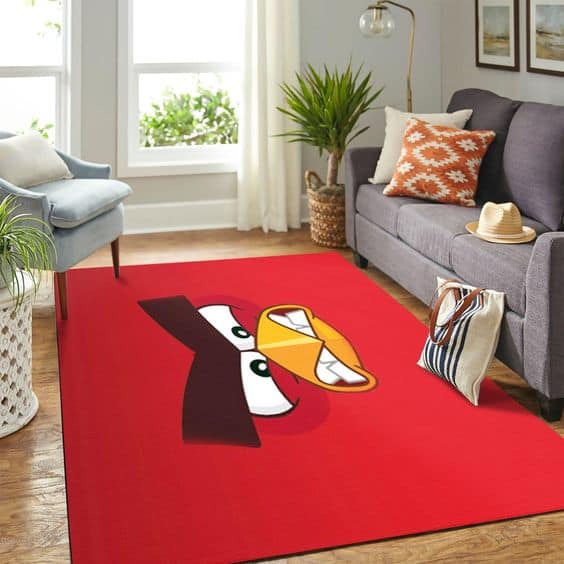 Printed carpets on the floor can give the look that nothing else can. they pull the room together and usually, underline the theme very well.
An angry birds carpet can do exactly that for your angry birds bedroom interior.
If you can manage to arrange for a carpet like this, nothing like it! Or you can always get the character printed on a plain carpet, you see?
Be Creative With Your Headboard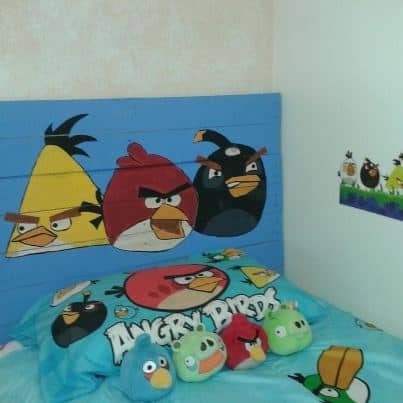 You can always use your headboard to your advantage when it comes to designing your bedroom based on a theme.
Although, it's difficult to find a headboard that already has the angry birds printed on it but you can always stick the pretty angry birds wall decals and stickers on a plain headboard as the creator has done with the one above.
To accompany that, the angry bird bedding and other stuff can be used.
Angry Birds Cushions Are Nice To Have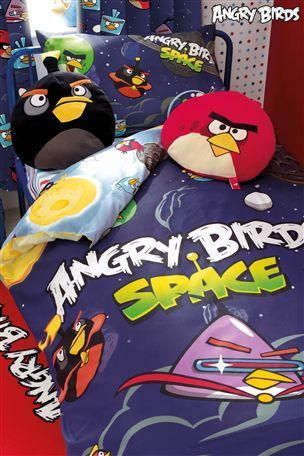 Besides those soft and cute plushies, angry birds pillows are also great to have.
At least you can always have those angry birds touching you while you sleep and even when you are awake.
We tried to find angry bird pillows on a lot of e-commerce platforms but couldn't. If you know where to get them, do let us know in the comments, please!
A Cute Angry Birds Baby Pillow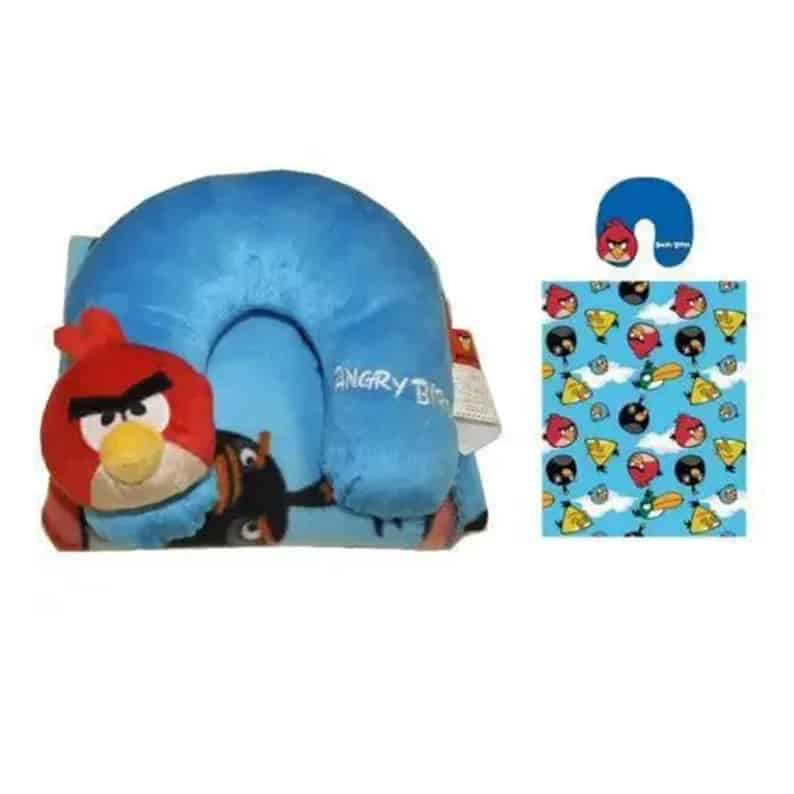 In case you are looking for an angry bird pillow for a little baby, then we found this one!
When you are traveling or you are designing a kids' nursery, then this pillow can be quite nice to have especially when it's an angry birds bedroom that you are planning to decorate (which is why you are here!)
Just to make this post longer, let's add one more line- Get this angry bird pillow HERE. 😉
Crochet Beats All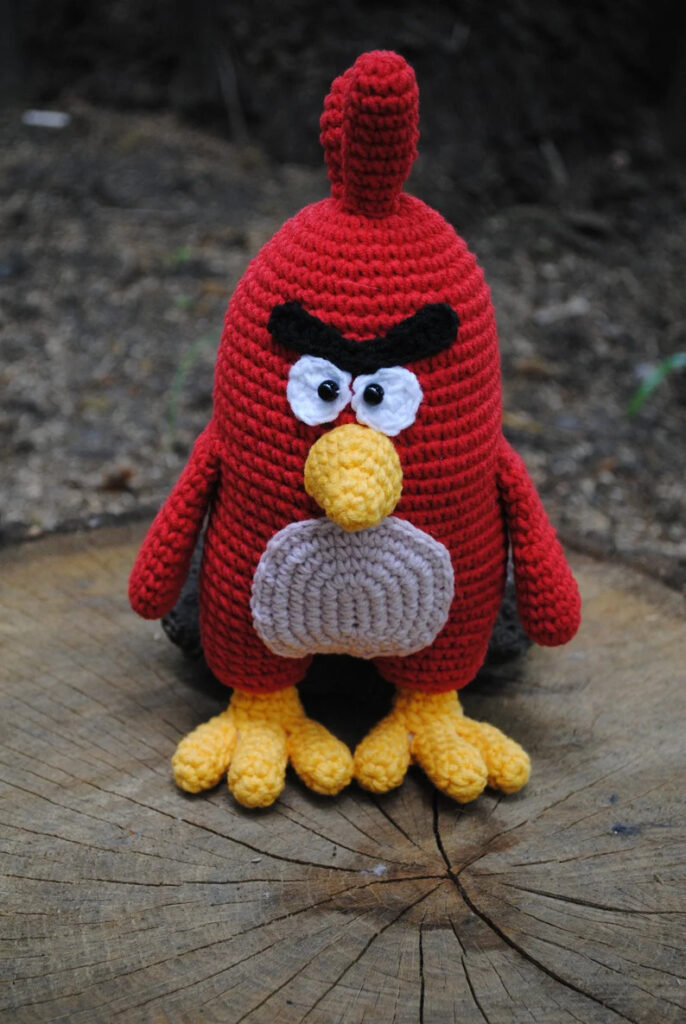 Anything that's handmade cannot parallel anything that's machine-made.
If you too have the love for handmade stuff and want to resist adding some breakable toys in your kid's angry birds-themed bedroom, then you'll be better off with an awe-inspiring and appreciable crocheted angry bird we found in 'The Clever Bear' shop on Etsy.
Have a look at this crocheted angry bird HERE.
Use Other Angry Birds Decor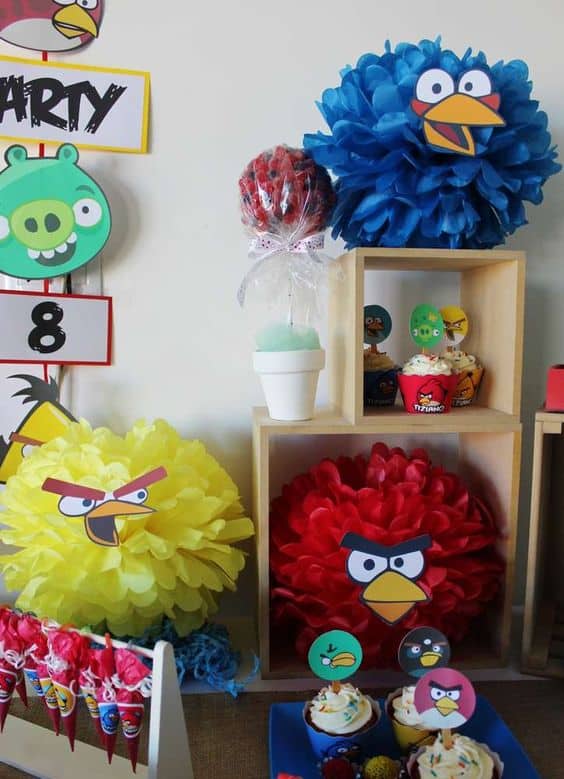 As there is not much angry birds decor that's available across the internet, you can even use the angry birds birthday party decorations for your kids' bedroom.
The shelves above, are very well decorated with these paper angry birds.
The best part is, that this decor doesn't cost a lot and is still long-lasting (if your kid is nice enough to let it be!)
You can order such angry birds birthday decorations HERE.
It Can Be A Simple Bedroom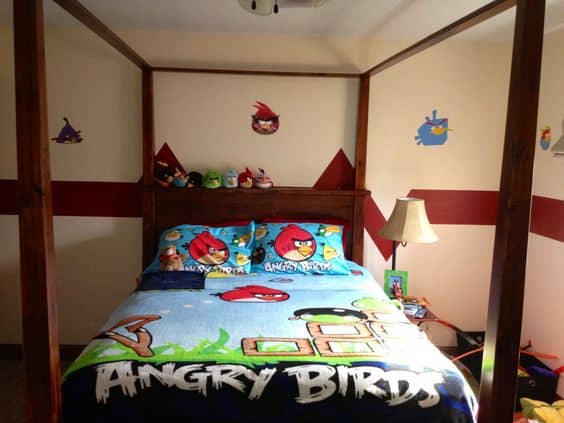 It is NOT necessary to cram your bedroom from bottom to top with the angry birds bedroom.
You can even do a simple angry birds design and your bedroom will look angry birds themed like the one above looks.
Only a canopy bed is used which is adorned by a pretty angry bird bedsheet. To make the space more pretty, angry bird wall stickers are used all over the walls.
That's enough of decor, certainly. What do you say?
The Wall Shelves With Angry Birds Plushies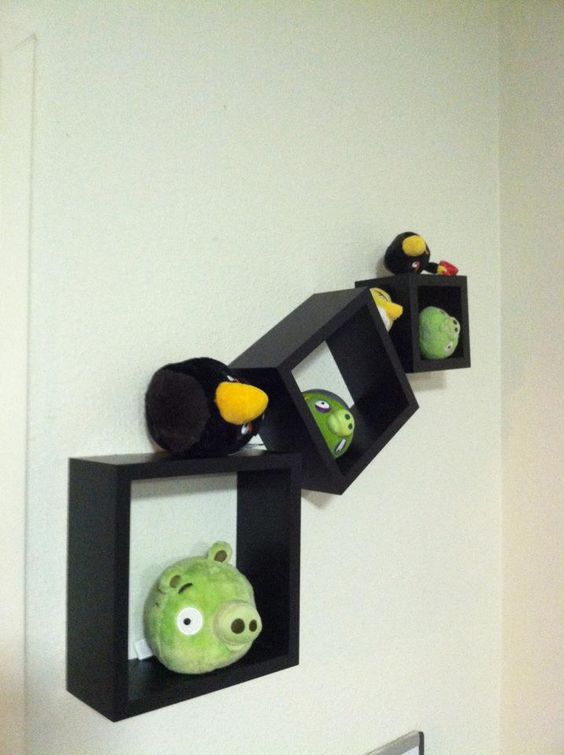 It also looks like a nice enough idea to have some sane yet designer shelves where you can place nice enough angry birds toys, plushies, and figurines.
Till you like the theme, they can stay there gracefully.
Once you are bored with your angry birds theme and want to change it or when the trend fades away, you can always replace these plushies with those of other characters. How's that?
The Little Things Matter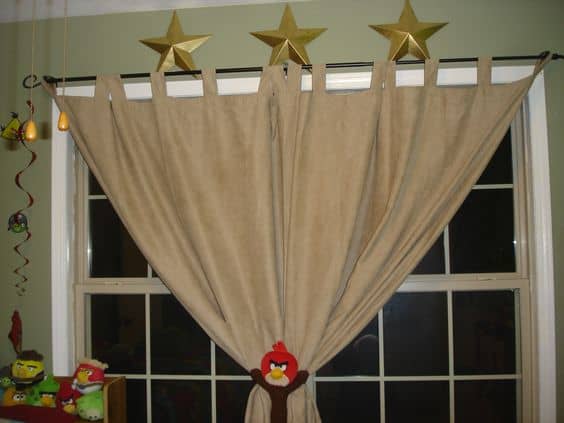 Since the little things, matter too much in decor, it is always good to pay attention to them.
For example, how about having an angry bird curtain tieback? It can always glorify your theme and not even look too over.
Plus, in case you already have a bedroom that has some pretty decor, you don't need to their it all away. Add little angry bird things luke thee and done. You are good to go!
Don't Miss The Angry Birds Curtains
But, in case you do not already have the curtains in your bedroom or are planning to buy the new ones, then why not get angry birds curtains themselves?
They will always glorify and magnify the theme and your children will always like it. Right?
Luckily, we could find where to buy these curtains. In case you want them, get these angry birds curtains HERE.
Fill It With Angry Birds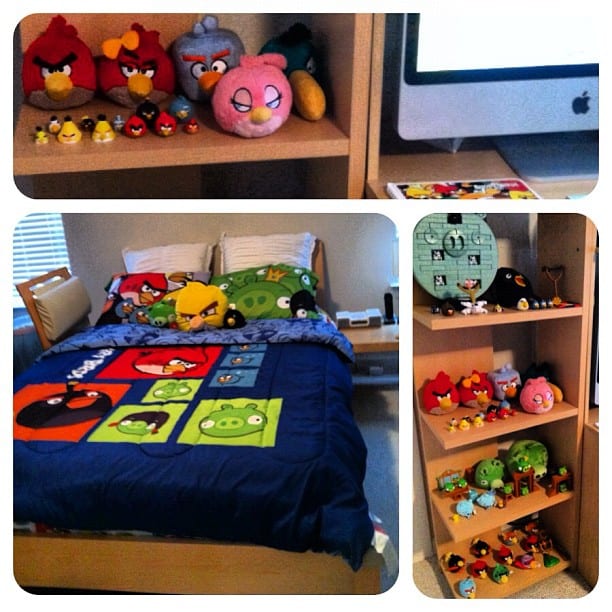 Now that you have decided to decorate your bedroom with the angry bird theme, why not fill it to the brim with angry birds-everything?
As in the image, you can always decorate the drawers and shelves in your space with heaps and tons of angry birds toys, plushies, and figurines.
So far as the bed is concerned, you know you need an angry birds bedding. But don't forget the angry birds wall decals and wallpapers in this hustle-bustle!
And Finally, An Angry Birds Bedsheet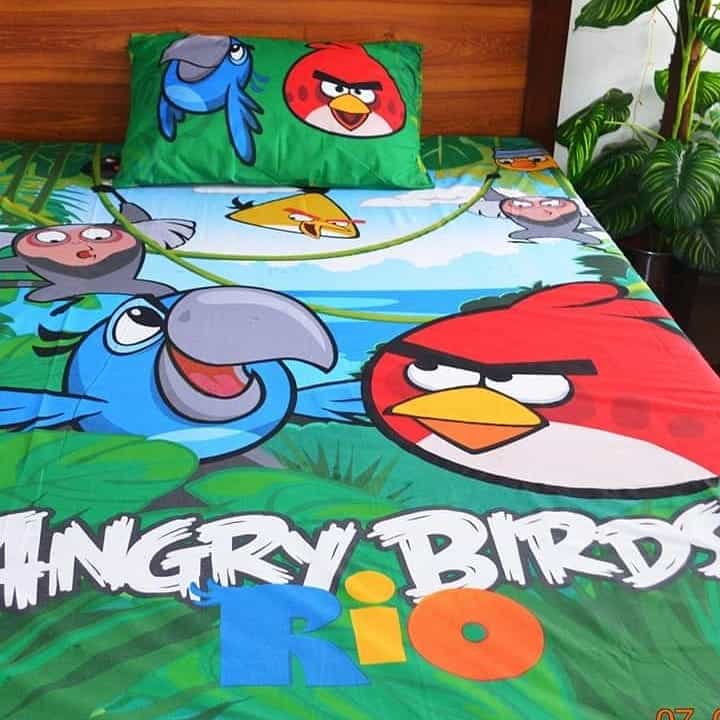 We could finally find a picture that is showing an angry bird bedsheet.
If you do not want to go for an angry birds comforter or a blanket, then a bedsheet is a good option to settle for.
We could see that this bedsheet is available in India. For checking its availability in other countries, you can definitely contact the seller on Instagram.
The Endnote
Finding ideas and decor for an angry birds bedroom was literally difficult! It took so many to's and fro's to Google, Pinterest, Amazon, and Etsy to find the ideas we managed to compile here. We hope that this post about the angry birds bedroom ideas was helpful!
There might be some missing pieces in the post that we just forgot to put in place. If you think there's any, feel free to reach out to us in the comment section. We love to hear from you all!
Until next time, happy decorating!
Love to decorate kids' bedrooms with different themes? Check these out: