It's always best to teach kids the importance of minimalism by example. And what on earth can make a better example than the environment they live in? That's why Scandinavian kids' bedrooms are those that not only form an example but ingrain themselves into your kids' lives and shape them into not-so-materialistic adults!
With all the simple colors, lasting stuff, cozy feel, and abundance of space let's get started with the Scandinavian style…
Decorate A Bedroom For Your Kids With These 13 Amazing Scandinavian Kids' Bedroom Ideas!
Try A Bunk Bed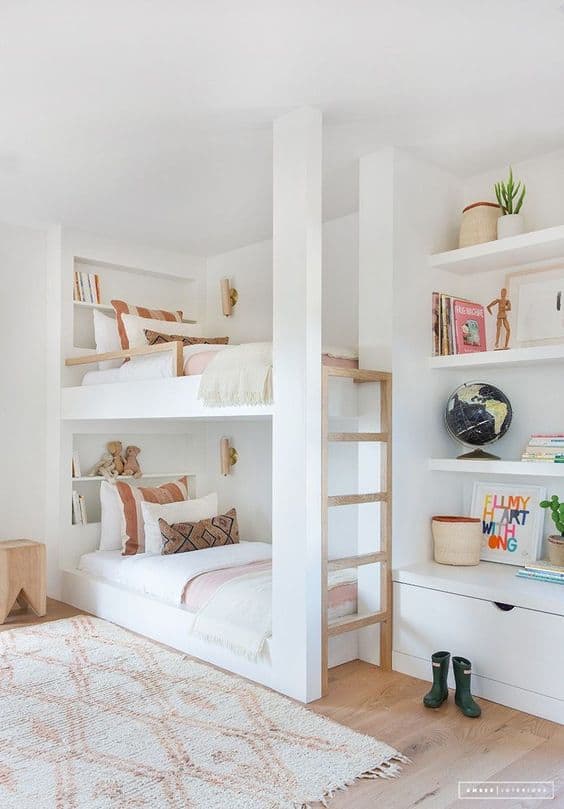 If you have two kids who are to stay in the Scandinavian kids' bedroom you are decorating, space must not be an issue.
For that, you can try having a bunk bed in the room so that it does not occupy too much space in the bedroom and looks classy too!
Also, the color scheme sticks quite well to the Scandinavian decor with some pop of color.
Let The Natural Light In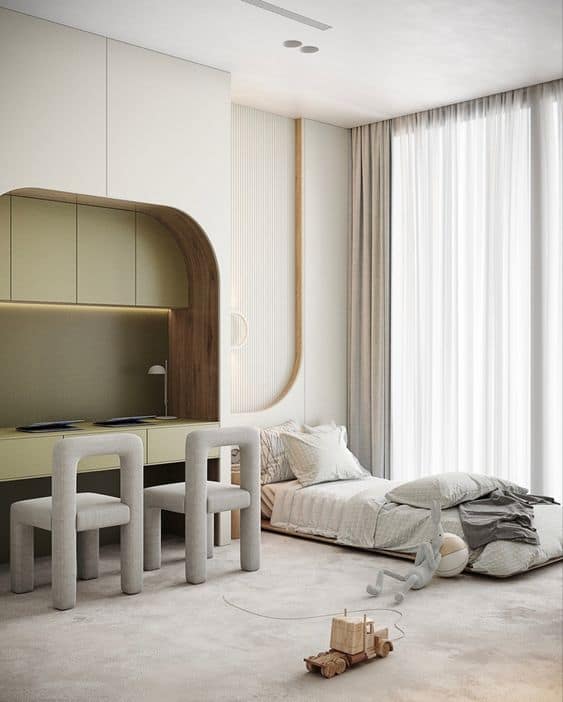 Natural light is one of the most crucial aspects of Scandinavian design.
In your Scandinavian bedroom for kids, if you can manage to get some natural light in, nothing better than that.
To maximize light, use white walls or wallpapers, mirrors, and things that maximize the presence of light.
Feel Free To Add Some Color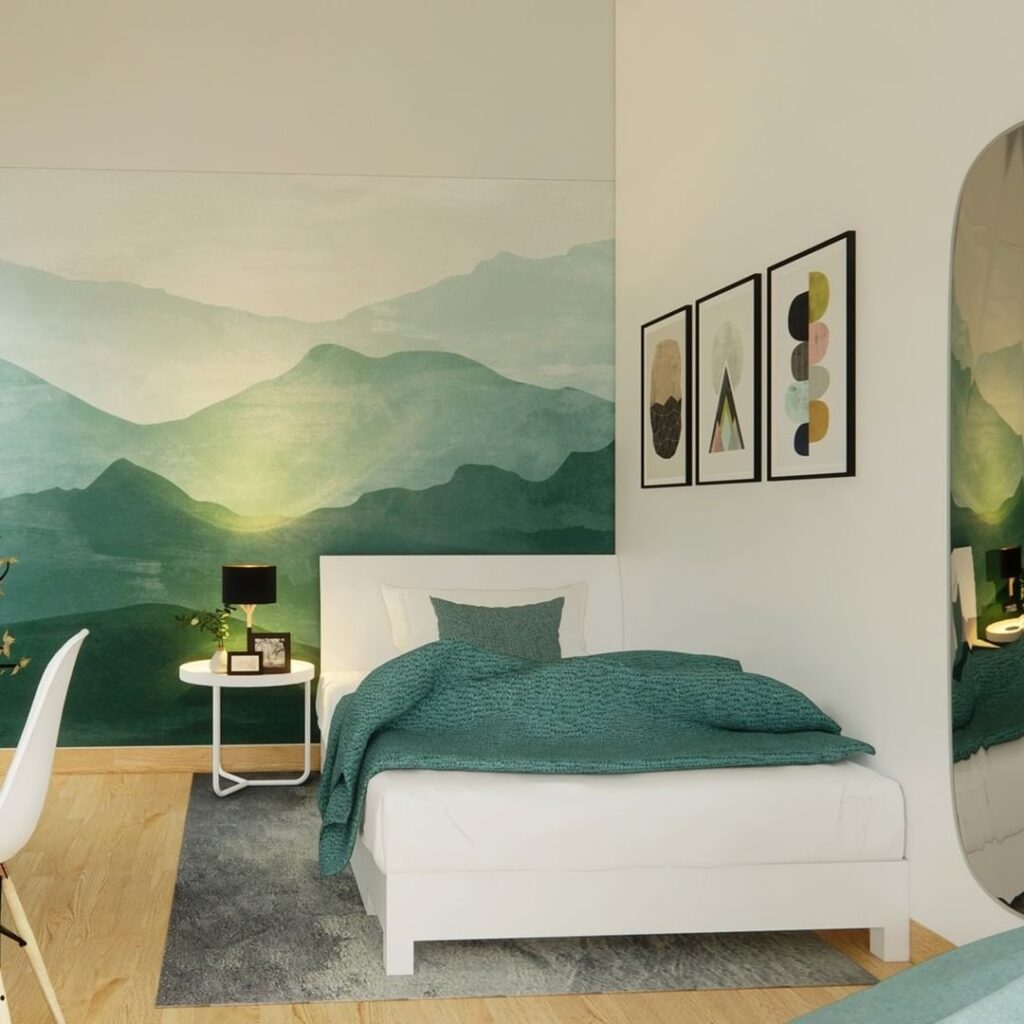 Since it is a Scandinavian kids' bedroom that you are designing, it's natural that you would want to add some color that your kid is fond of, in his bedroom. Go ahead.
Besides the neutral base, you can add some color to the bedroom that works well. The green color works great!
Play Around With Shapes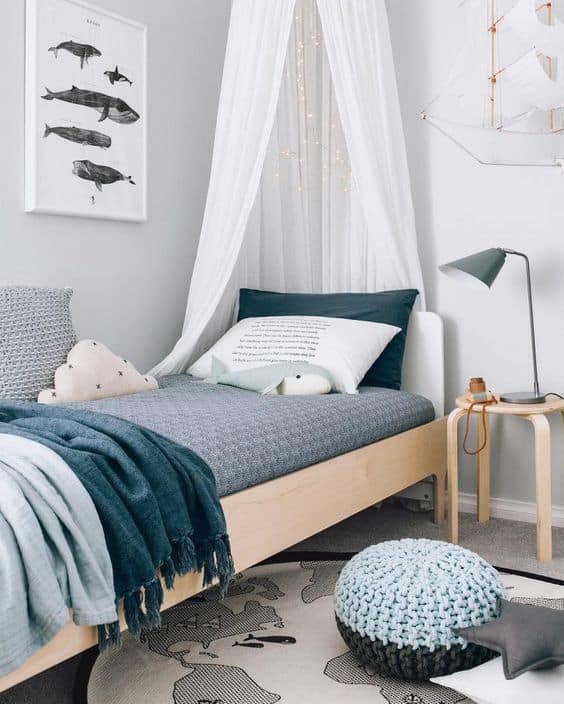 Children absolutely love shapes! Having a lot of them in their bedroom might be your best bet!
Shapes could be in the form of lamps, wall arts or toys. Even a canopy bed can be something you want to include to make their room a bit playful and fun!
For shapes, you can take inspiration from the star and cloud cushions, the dolphin wall art, the ship wall decor and the canopy bed in the image! Isn't it amazing?
Use Some Wood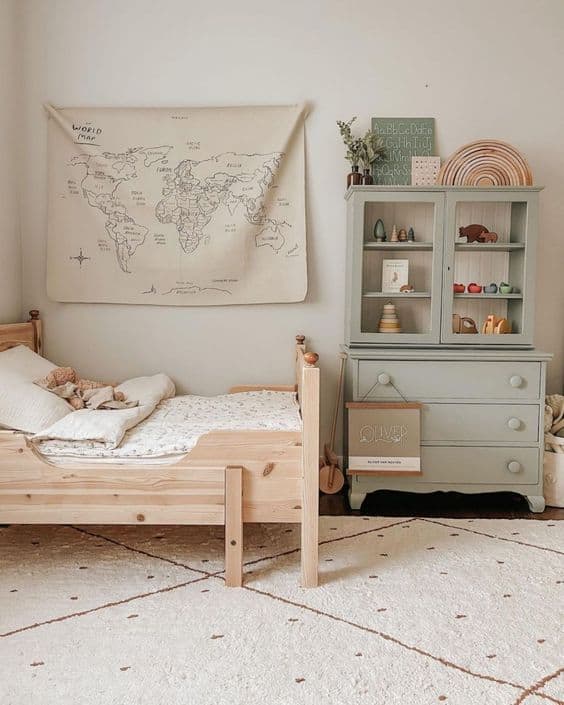 One of the goals of Scandinavian design is to go back to nature. The natural stuff can pretty much help us to achieve that, right?
Simply put, use wood. There is nothing as natural and lasting as that. It would add some natural element to your Scandinavian kids' bedroom and beauty too!
Try A Pop Of Navy Blue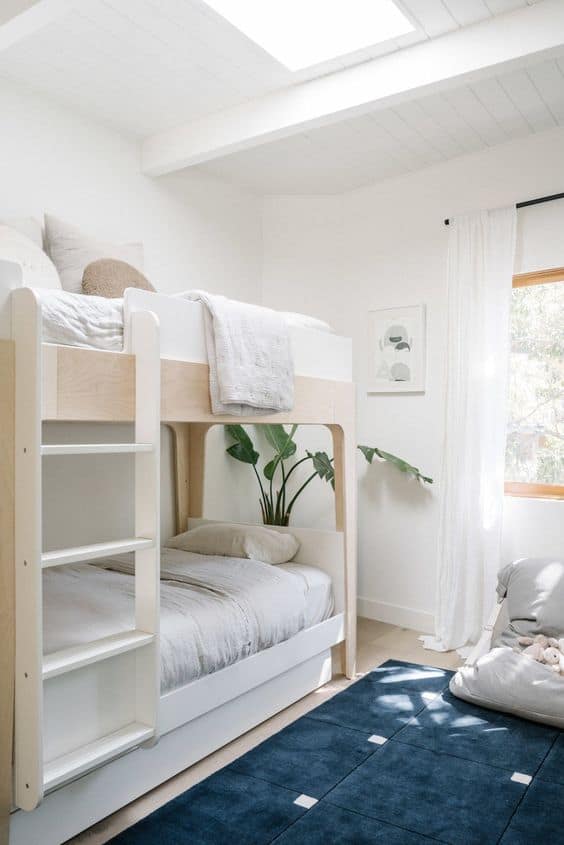 Keeping in view the neutral color palette of the Scandinavian theme, kids won't like it much!
To add some fun to the boring color scheme, you can try a pop of navy blue color in your kids' bedroom design like in the one above.
To do that, you can either have the bedding of that color, some throw pillows or an area rug at least.
Everything Neutral And Simple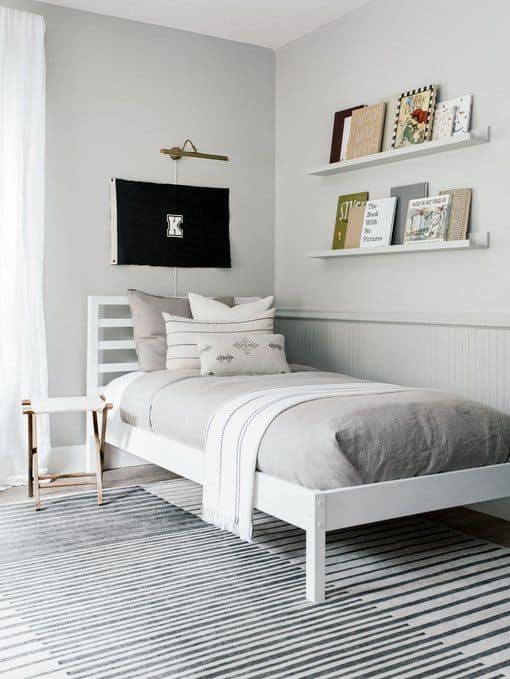 If your kid is growing up and is at peace with the some dingy and neutral hues, then why not go for them?
To copy the image above, you can have a light grey base and have shots of black and white here and there in your kid's bedroom.
Although a wall to wall carpet is not very popular in the Scandinavian theme, it's not a bad idea!
Try A White Base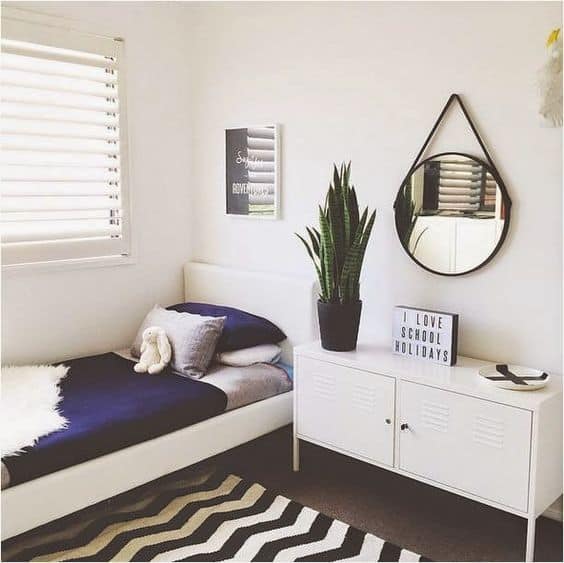 As we saw a grey base in the preceding image, the white base can look as great!
In fact, white color can magnify the light and brightness in the room and won't make it look very dull or dingy!
To make it pretty, throw in some pretty colors in the room including but not limited to blue, grey and black. The popular Scandi colors.
Don't Forget The Artificial Lights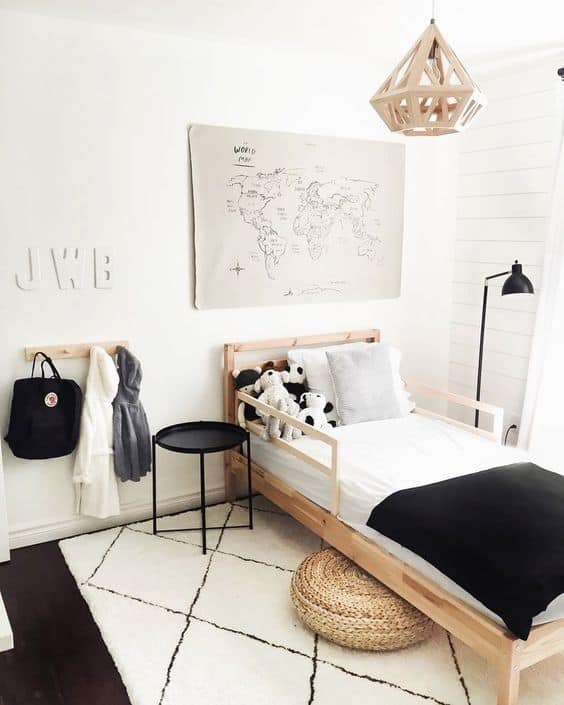 Although natural lights are very important in your Scandinavian kids' bedroom, don't overlook the artificial lights please!
And if you can manage to get some artificial lights that have a stunning wooden design like the one above, what can be better?
Simply put, install some artificial lights in your kids' bedroom and let the brightness and beauty speak for itself…
Wall shelves Are A Great Idea!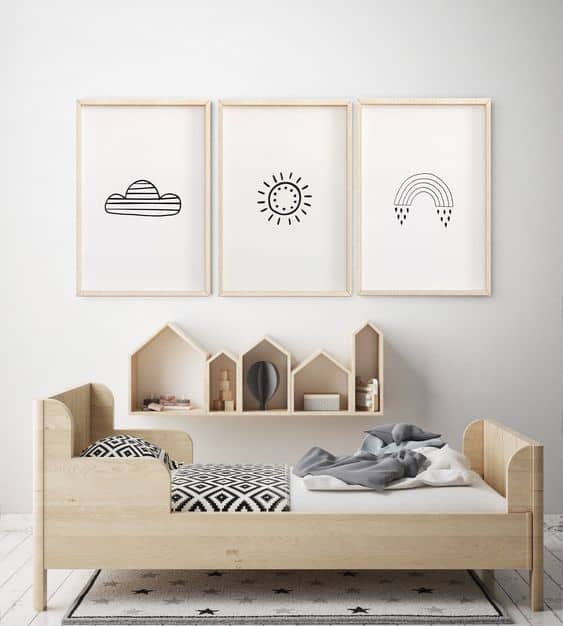 To achieve our goal of functionality in decor, wall shelves can come handy! Not only that, they can also be one of the prettiest wall decor out there.
When they are multifunctional and help us achieve what we are striving for, there is no point overlooking them. Right?
How about A Canopy bed?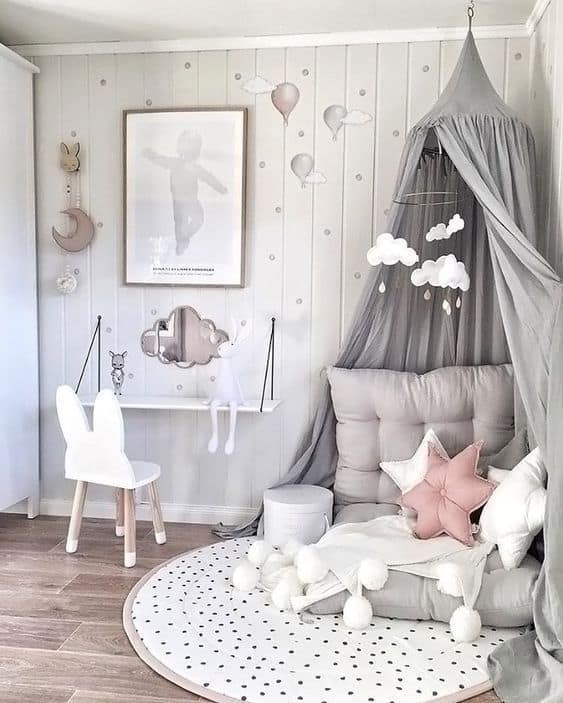 Kids absolutely love canopy beds since they see fun and beauty in them!
It is then but essential to have one for them in their bedroom so that besides learning minimalism and stuff, they can also enjoy their time in their bedroom. And a bed as intresting as a canopy bed can do just that!
No second thought needed!
Black And White And Everything Nice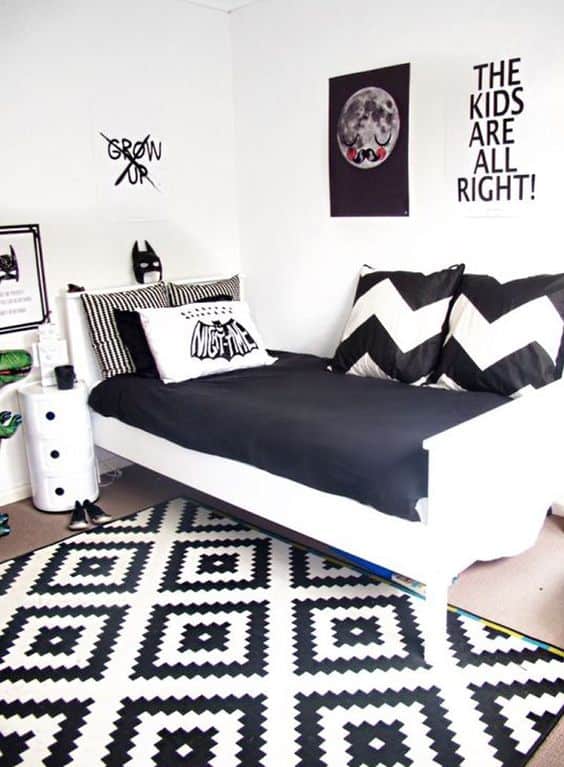 Since neutral colors come under the copyright of Scandinavian decor, steal them for your kids' bedroom design!
The combination of black and white can look stunning, and elegant, and classy all at the same time!
So if your child is okay with these colors or maybe in love with them, don't think twice before using them in his bedroom! You won't regret it.
Or Ditch Those Colors Altogether!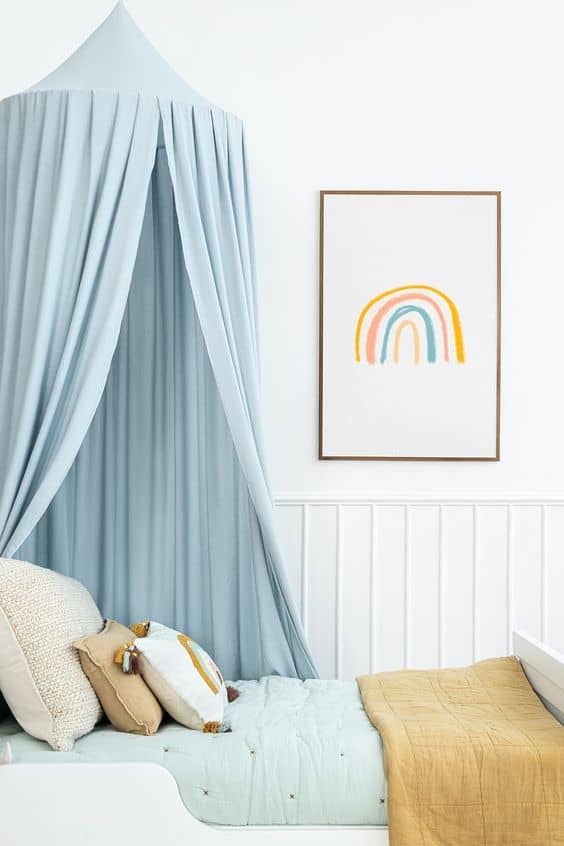 It's nowhere written that we have to stick to a particular color scheme when we are designing a bedroom for kids.
It is very much possible to go for a colorful bedroom in the Scandinavian style, think lots of lights, textures and pastel colors.
No, if that is the case, there are no boundaries. Just time to get started.
7+ Tips For How To Create A Scandinavian Kids' Bedroom
Since you are not designing a simple Scandinavian bedroom for adults but one for kids, there are certain things you'd want to consider.
To make things easier for you, here is a list of things to keep in mind before you start decorating a Scandinavian bedroom for your kid. Keep the pen and pad ready, and on we go:
Don't Make It Bland
Certainly, the Scandinavian design calls for neutral hues namely, grey, white, and black, and maximum, grey-blue, tan, or beige.
These Scandinavian colors are not what children fall in love with. Thus, it's important that you keep in mind their color choices and then decide upon the color scheme.
Ideally, you can keep the Scandinavian theme with all its neutral colors but introduce to your kid's bedroom some pops of colors. It could be in the form of some toys, wall decor, or bedding.
However, if you choose to introduce color, important is that you DO introduce it. That's when your kid is going to love the room and your efforts won't go vain!
Use Multifunctional Stuff
One of the things to consider when you design a Scandinavian bedroom for your kids is that you want to teach them minimalism through design in a smart way.
To do that best, you must ideally buy some multifunctional furniture or accessories for their bedroom that makes it functional but doesn't clutter the space. Think ottomans and beds with storage.
That said, also keep in mind that the furniture you buy meets all their needs. We want to cling to the functionality above minimalism or to both equally, agree?
Add Furniture That Lasts
One of the crucial things you ought to keep in mind about the Scandinavian design is the use of lasting furniture and other stuff.
Clearly, the Scandinavian design focuses on quality over quantity.
You must also keep this in mind when you make the purchases for your kid's bedroom. Consider buying stuff that lasts.
But practically, the case might also be that you are buying the furniture in which your kid won't even fit after 2-3 years. In that case, wasting money would not be an intelligent move. In that case, it's up to you what you want to buy regardless of what the guidelines are.
But yes, keep in mind the color scheme and minimalism among everything else.
Don't Resist The Wall Art
Focus on minimalism but more on the preferences of the kid the room is being designed for.
Meaning, don't make the room look very bland by only having black and white stuff that can be counted on your fingertips.
Add some fun elements to the room like wall art. That is something that would provide mood to the room and won't make it look dull.
If you are considering adding some splash of color to your Scandinavian kids' bedroom, then wall art is the best way you can do that.
Throw In Some High-Quality Toys
This is just another way to say that you must not resist adding decor.
And especially when the room you are decorating is for a kid, some toys are a must. Considering the Scandinavian decor guidelines, high-quality toys that last and don't die after your kid has played with them just a few times. They also make the bedroom look cute and kawaii!
But again, take decisions practically. If you feel that the toys will be hard to dispose of once your child grows up plus it will be a waste of money, then again, the decision is completely yours.
Maximize The Light
Scandinavian countries focus primarily on lighting in interiors owing to the scarcity of it in their exteriors.
If you can manage to get enough natural light to your kids' room, go ahead and do it. That's one of the crucial steps towards scandi decor. Plus, artificial lights are also crucial. They must not be too bright and gaudy but make the room feel cozy and comfortable.
Add Textures
A bedroom with all the plain textures looks very plain and boring.
To add mood to the bedroom, a variety of textures can be used, think crochet pillow covers, sheer curtains, chenille throw blankets, etc.
The motive for using various textures is that you want to give depth to the room and make it look welcoming despite the space and minimalism.
Keep An Eye On Minimalism
No matter how you try to design the Scandinavian bedroom for your kid, important is to make minimalism the focal point of it.
Whatever decision you take about buying stuff for or designing the Scandinavian kids' bedroom, keep in mind minimalism and functionality. You won't go wrong!
Conclusion
Little is left unsaid about how you can design a Scandinavian kids' bedroom. All there is to it is the neutral color palette, minimalism, coziness, and functionality. Some pops of color too.
Besides these basic elements, feel free to add anything that makes your kid feel good about his bedroom.
The key is, to prioritize the preference of your child above others.
Now it's your turn to let us know in the comments what you think about this design and if there is anything you would want us to answer, correct, or update in this post. We'll happily take it.
Until next time, happy decorating.
Interested In Designing A Bedroom For Kids? Well, here's your treat: