We all need those places that give us those pangs of creativity. Those that let our imagination run riot! The places, we are talking about, need to be creative too. And of course, a space-themed bedroom is one on the list.
A space bedroom could be anything from having galaxy-like bedsheets or having some faux-planets hanging from your ceiling to getting your room redone upside-down with the theme. The purpose is to let ourselves feel as if we are in space.
For the little astronauts and scientists around us, it's their dream bedroom. They already love this idea. And we should too.
So here is the list of 25 super-amazing, out-of-the-world space-themed bedroom ideas that we are sure, anybody and everybody from kids to adults would fall for!
Without testing your patience anymore, off to space we go:
Ceiling-Lights Can Create Magic!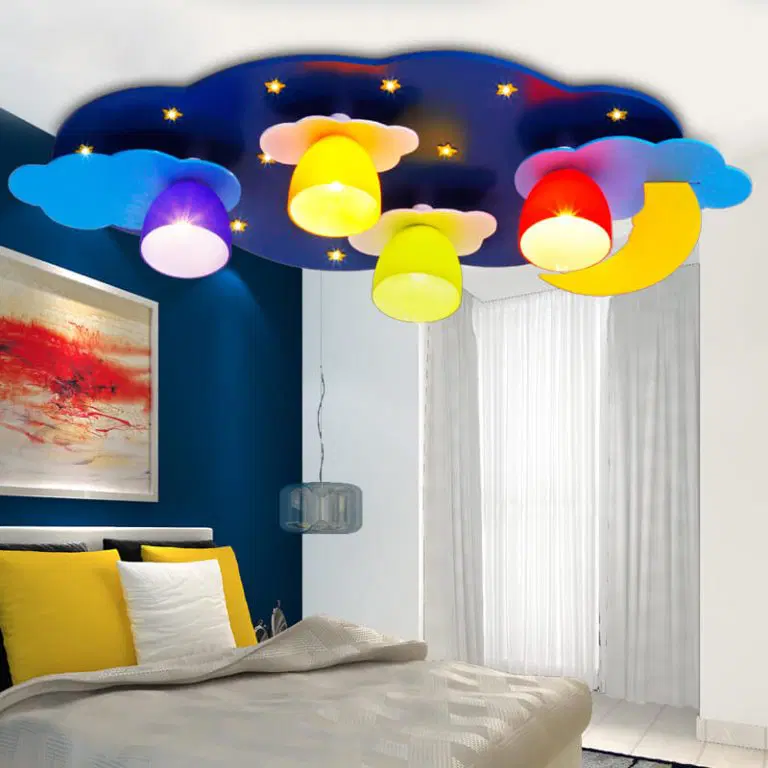 If you have a small bedroom and you want to give it not a 'complete' but a 'partial' space-themed look, what can outrank the correct usage of lights?
As in the image, why not have just the ceiling muraled or have space stickers on the ceiling and hang good lights from it? It would be budget-friendly as compared to getting the entire room made over.
The ceiling lights though must be carefully chosen so that they aid the space-themed look of your bedroom and not harm it in any way. If you are designing a space-themed bedroom for adults, consider choosing decent lights. For a space-themed bedroom for kids, colorful ceiling lights are an awesome choice!
Even YOU Can Get the Planets Hanging!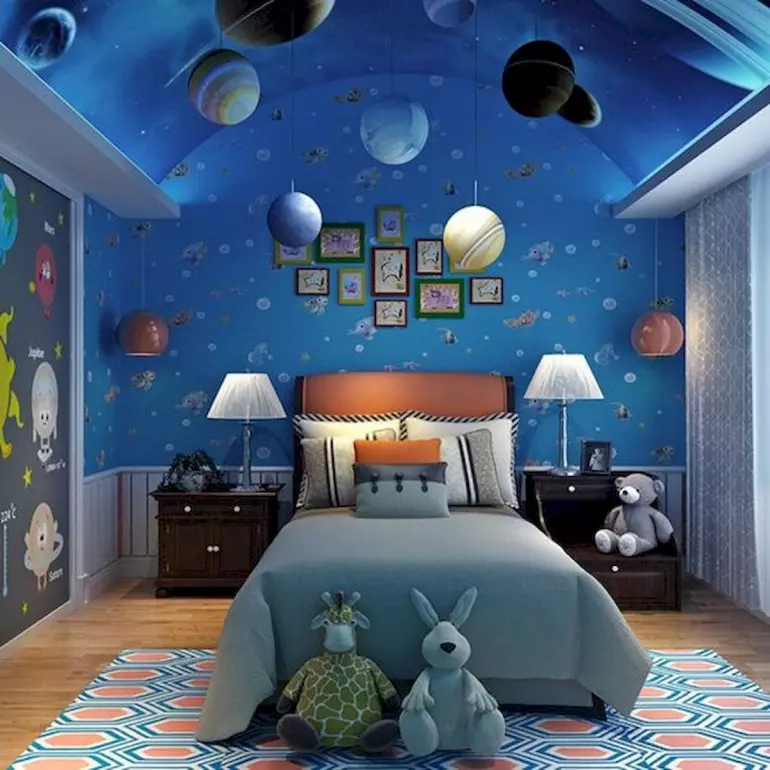 Didn't like the idea of the ceiling lights? Or finding it too expensive? Well, we got you!
Instead of using stickers on the ceilings or walls, why not make your room a solar system in itself? There is a variety of room decor (especially balloons) available that resembles the planets in the solar system. Use them to your advantage.
If you like both the ideas of having ceiling lights plus these faux planets, consider using lighted faux planets.
We even like how in this image, the wall is painted blue and there are good stickers. It's actually giving the room a space theme. Don't you think so?
A Space-Themed Bedroom Doesn't Have To Cost So High All The Time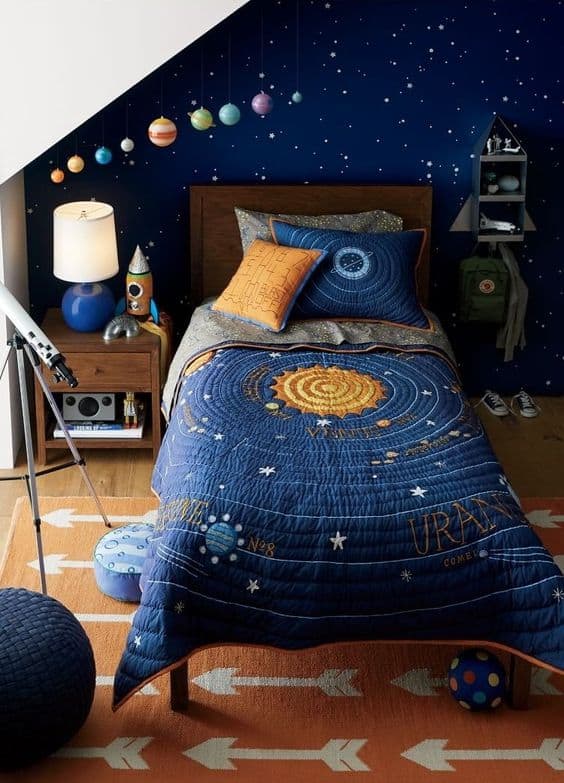 It's an amazing idea how without spending a ton of money and energy on redecorating your room, you can achieve the space-themed look by just changing the bedsheets or the quilt and pillows on your bed!
Consider getting the bedsheets that match with your notion of the space-themed bedroom. They could be galaxy-like or solar system-like. They would give your bedroom more or less the very look you desire to acquire! (And they wouldn't break the budget!)
For Themed-Rooms, What Can Beat The Wall Murals?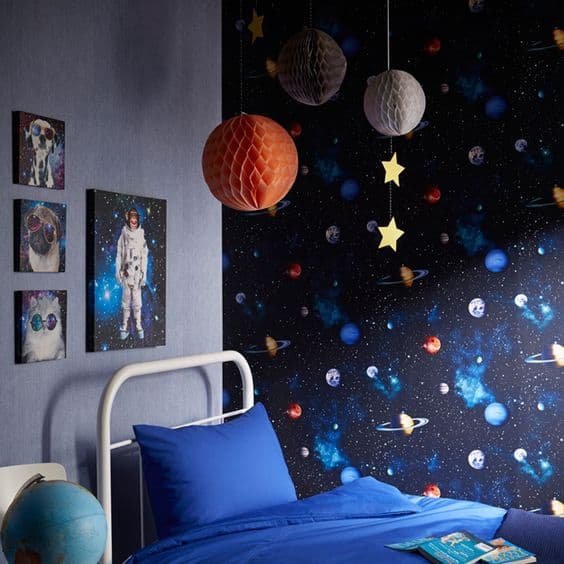 No matter which themed bedroom you choose, the best way to acquire the theme is to have wallpapers relating to it. This is definitely NOT a cheap idea and so, if you do not want to get it heavy on your pockets, it's highly recommended that you use wall stickers. They are a cheaper way of acquiring the same result that wallpapers or wall murals would give you.
So as for a space-themed room, you might want to get wallpaper that resembles the galaxy or the solar system. Once it's done, you'll love how good and space-like the room appears. Even if you get just one wall done that way like in the image, it's great!
The Satellites Belong To The Space AND Now, To Your Bedroom!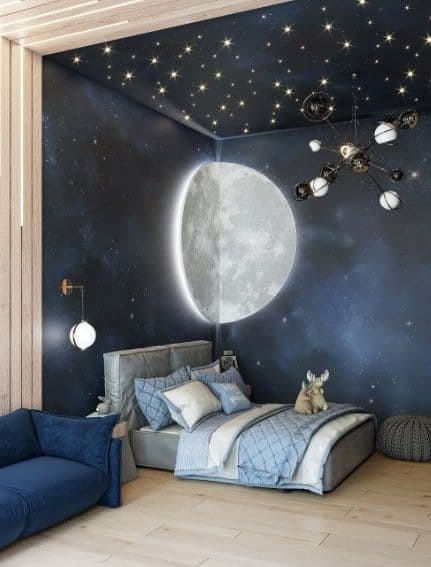 After seeing a ton of potential space bedroom ideas, we like how in this image a satellite is used as a ceiling hanging to improvise the space theme. And even the moon graphic on two adjacent walls is enough to create an illusion of the real moon in the room.
There are numerous ways you can display faux satellites in your room. One of them is shown in the images. The other ways can be, using wall art that shows satellites, or you can even have little show-pieces of satellites to display in your room. Home decor is pure creativity, you see?
Space Is So Closely Related To Blue! So Should Your Room Be.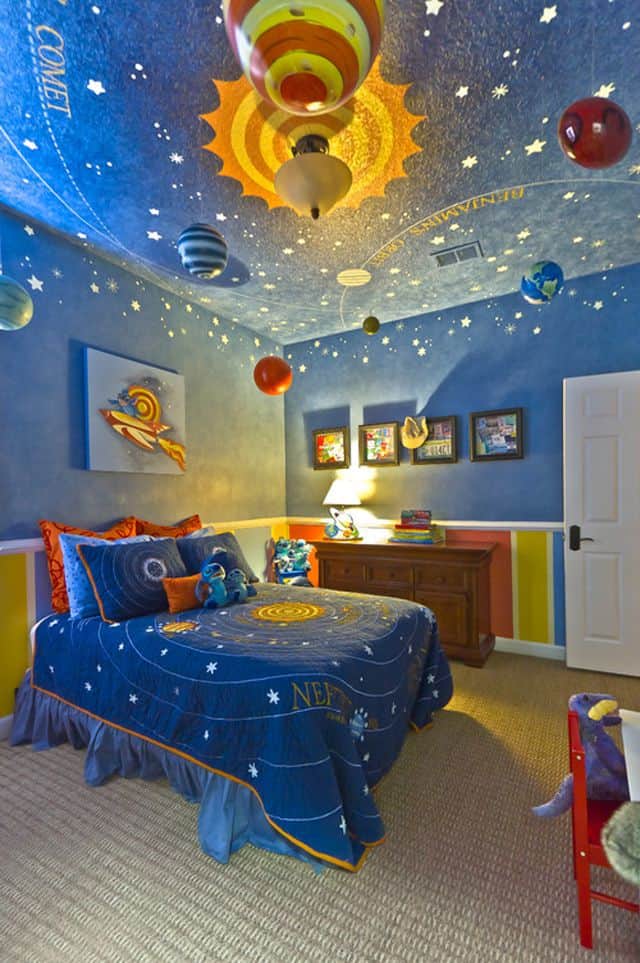 The blue color literally gives your room the look of space you want. Whether you use blue lighting as in sci-fi bedrooms or you paint your walls blue, it makes little difference. What does make a difference is BLUE.
So if you are trying to make a space bedroom from scratch, it's highly recommendable to go for blue walls. Now you want navy blue or some other shade or tint, that's your choice. But we recommend using very light blue if you are aiming to depict the sky in your bedroom. If it's the solar system or the galaxy look you are targeting, very dark navy blue is the way to go! But in the end, it depends on YOUR taste.
How About A Spaceship Bedroom?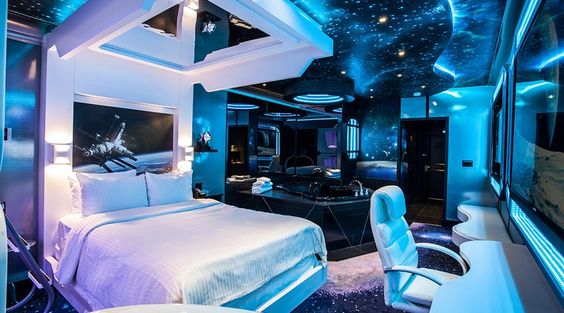 It's not always space that we love but the spaceships that we do. So it's never a bad idea to stick to what you honestly love. And in this case, recreate your room like a spaceship.
The best way to do this is by changing the lights first. Accent lights around the room, especially blue, red, and violet are the best ones. But based on your taste, you may choose the color of the lighting. Besides that, choose high-tech furniture that LOOKS like it belongs to the spaceship.
This idea is NOT all that cheap, we know. And we in no way wish for anyone to break their budget and do the decor. So if you want to go for this bedroom design but running low on the budget, ditch the high-fi furniture and just go for good lighting. You'll still achieve a fairly good look for your room. And your pocket won't regret it.
Galaxy Bedroom Means Stars, You See?
If you are designing a space-themed bedroom for girls, there's a high possibility that they don't want the solar system but the galaxy in their bedroom. And thus, this idea.
To attain that galaxy room, consider having the radium star stickers stuck around your room. That, when you turn the lights off, would make the faux stars shine and tada! You have a galaxy bedroom!
The specialty of doing this is, you can aim for any theme. You can have a Japanese bedroom or a fairy bedroom in the day and as the night falls, you have a galaxy bedroom that awaits you! Cool, right?
It's The Ceiling That Creates The Most MAGIC!
Since we have entered the zone of talking about your bedroom having a different theme in the day and a space theme by the night, let's continue this.
It's amazing how these days we can have faux ceilings that can give us the light effects that we may ever want. So if you have a liberal budget, try investing in such ceilings.
That way, you can turn on the ceiling lights when you want to enjoy your space bedroom and on the other days, enjoy the theme you already have in your room. It's very fascinating and amazing. Just try it for yourself!
Why Don't You Consider Using A Laser Star Projector?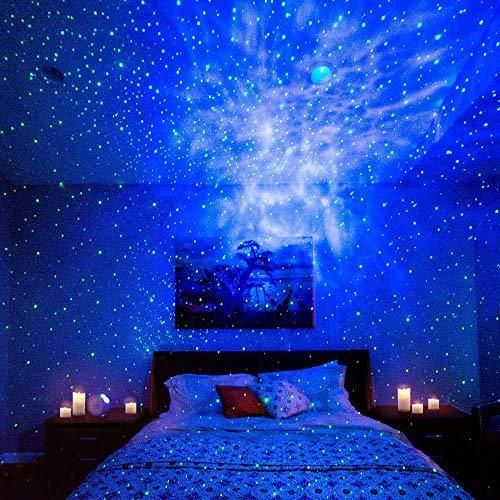 For the people who want to capture the actual space into their bedroom, what can work better than the laser star projector?
If you have them in place, you wouldn't need to use the expensive wallpapers or stickers, or bedsheets. You turn the laser star projectors on and that's it. You have a space-themed bedroom.
That even gives you the liberty to have any other theme in your bedroom by the day and a space theme by the night. Sounds incredible? It is.
But before you decide upon having such projectors, keep in mind that they are NOT cheap. They come with a price. And since we want to stick to our belief that decor doesn't have to empty one's pocket, only use these if you have the budget. If not, there are several ideas that we have listed. Try them!
For Those Who Love The Moon…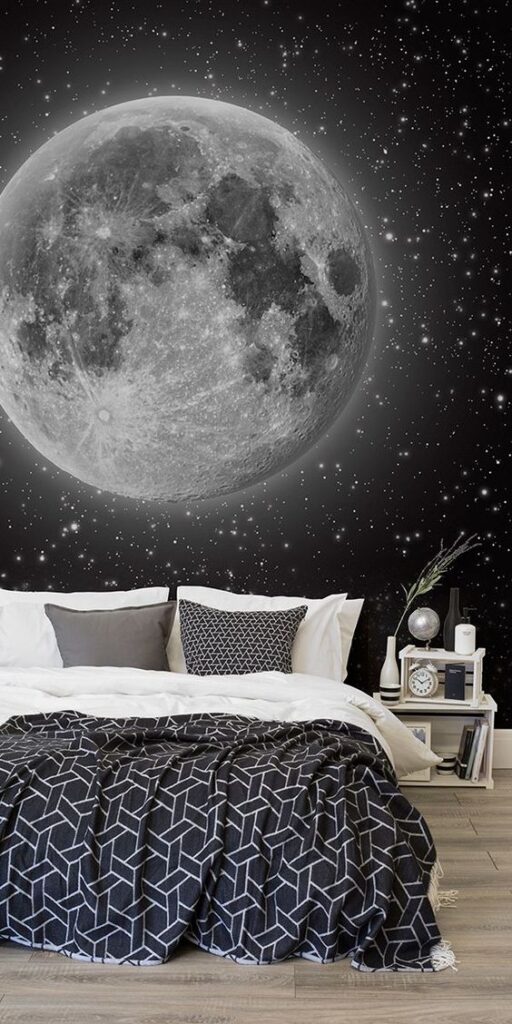 Those who love space, love the moon. And since you love the moon, why not bring it down to your bedroom? You can. Just look at the image above.
It's a great idea how you can use realistic moon wallpaper in your bedroom. That gives it a space theme but not a generic one, at all. This might be something that you want.
The best thing about this bedroom idea is that besides giving your bedroom the look you want, it makes it feel royal and classy. The bedsheet used goes so well with the wallpaper that none can resist falling for this look!
Even The Earth Belongs To The Space, Remember?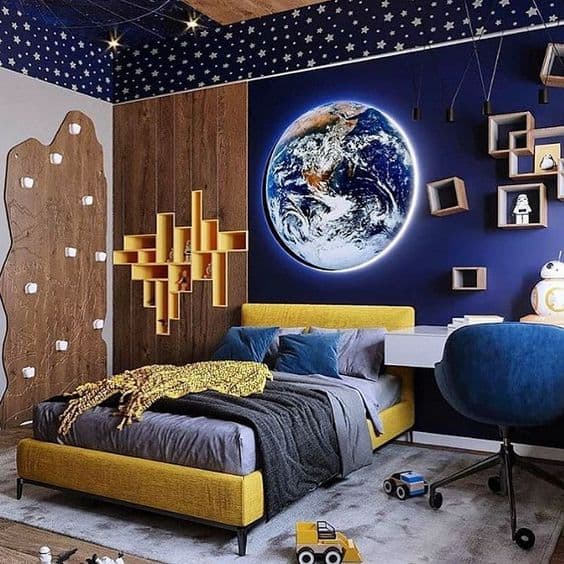 Since maximalist design is taking a flight these days, why not combine it with a space theme?
It's amazing how keeping at par the modern design trends like the floating shelves and color contrasts, the space theme is achieved with the help of the earth wall art above the bed. It is not very expensive either.
So, if you already have a bedroom that's set, having wall art related to a theme is all you need to achieve the theme in a budget-friendly way. It's a different story if you are designing a bedroom from scratch.
A Bedroom That's Floating In The Space!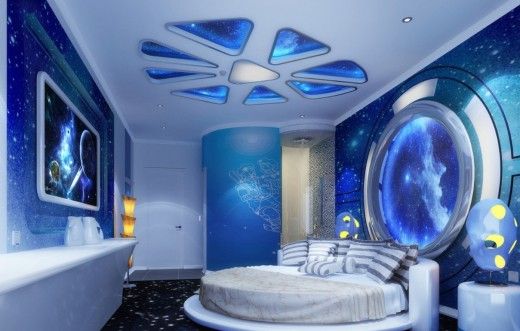 The emphasis on the importance of blue lights in a space-themed bedroom, just cannot be overstated. They make a bedroom LOOK like it's space-themed.
But besides that, if you are aiming for this theme because some 'sci-fi' movies fascinated you, we think this kind of idea is the one you are looking for. A part space-themed and a part spaceship-themed bedroom.
To achieve this look, you definitely have to spend some cash. Wallpapers are a must. The lights and some good hi-fi furniture are the way to go. This bedroom idea is great as it is futuristic and is sure to see an upward trend.
Curtains Are Magical Things!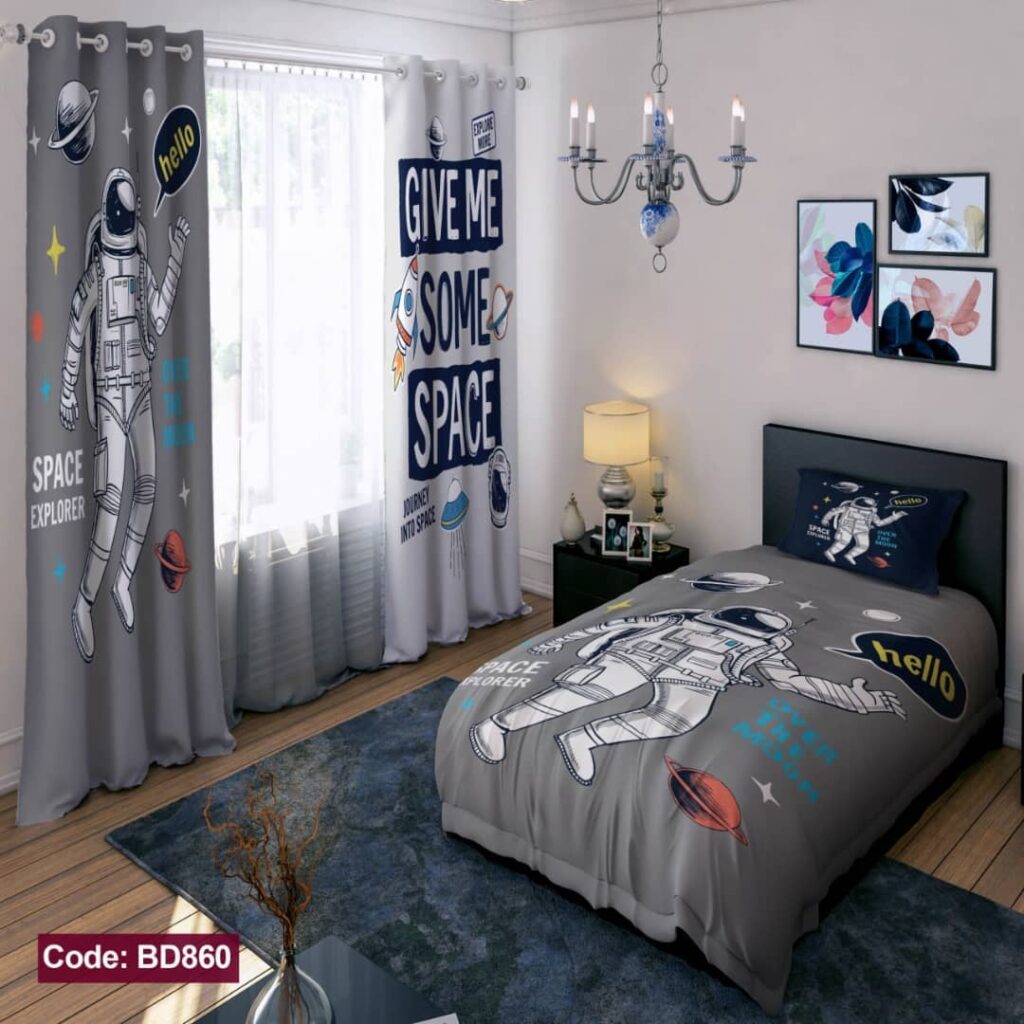 We know we focus too much on the budget aspect but you see, we aim to stick to propagate a budget-friendly decor. We in no way believe you need to scrape your pockets to achieve a good interior. And thus, here we are!
Coming to the point, if you want to create a themed bedroom, it is a pretty good idea to buy fabrics that go with that theme. Exactly like the curtains do, in this image.
And especially if you are designing a space-themed bedroom for kids, remember that their tastes and preferences change rapidly. So you don't want to waste your money. This thus is the best way to keep your pockets and your children happy, simultaneously.
A Spaceship In The Space Is A Good Idea!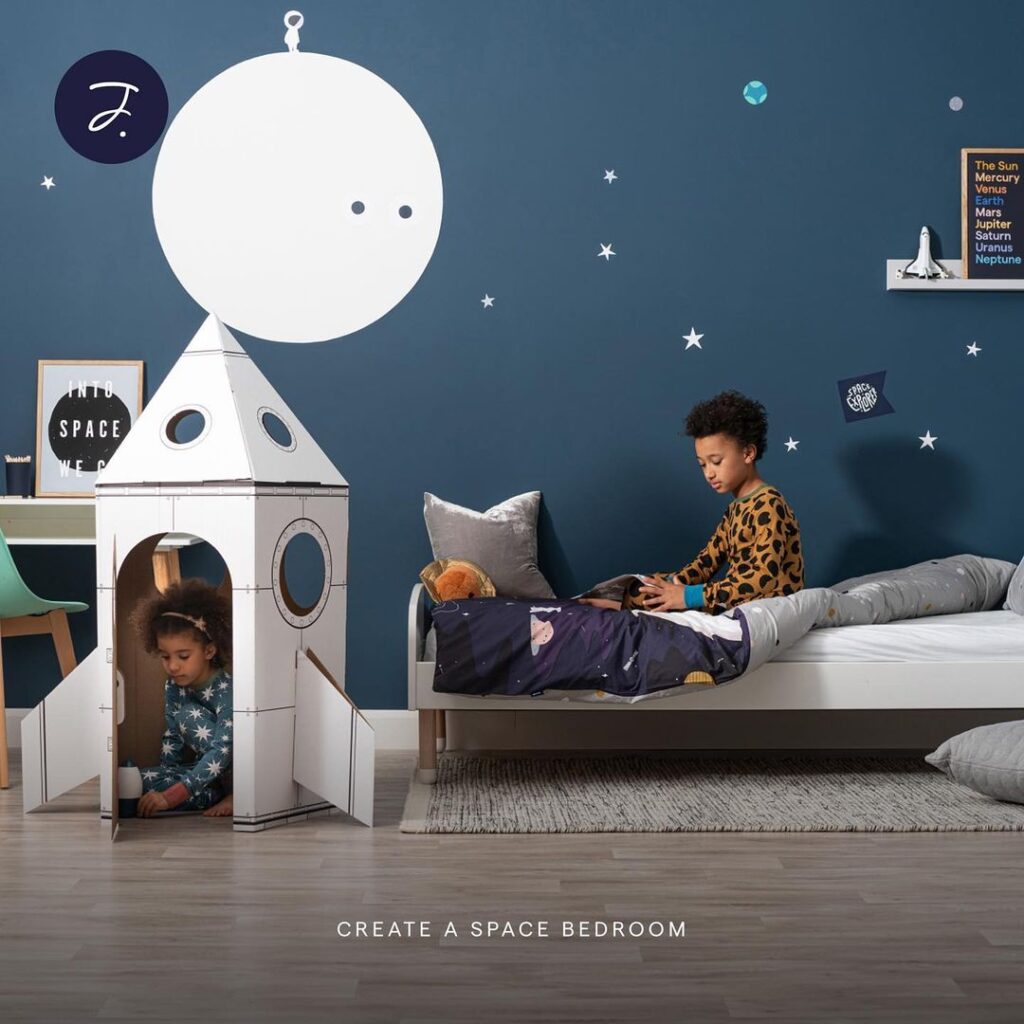 If it is a bedroom you are designing for kids, there is a high possibility that they want you to buy a spaceship for them! So buy them one. Okay, okay, don't widen your eyes now. We meant you buy them this paper spaceship.
Besides the bed, it's a good idea to have a toy spaceship with which your child can play. It won't be a space-themed room then but a fun room too. That's what the children most wish for, right?
And it's not as heavy as buying a whole spaceship! (lol)
You Can't Just Skip The Lighting!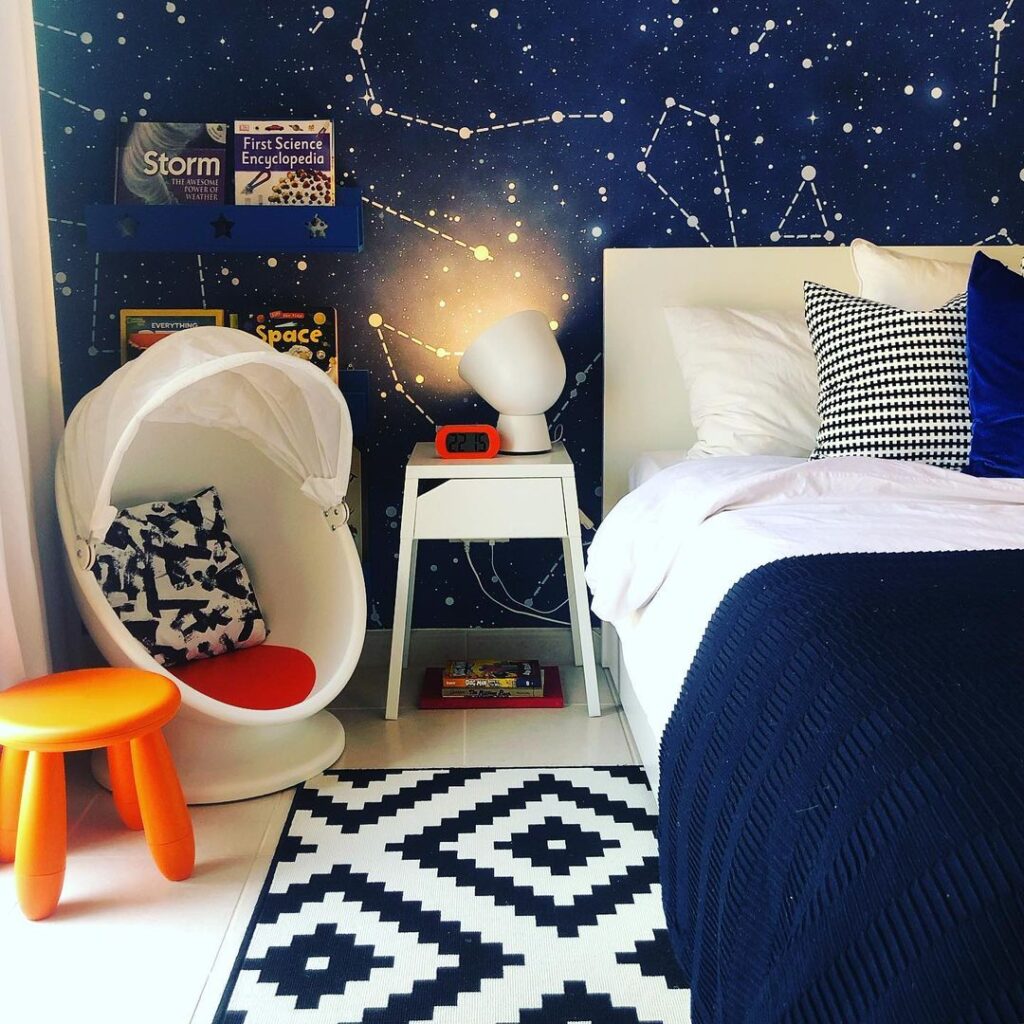 For this theme of your bedroom, there are a variety of lights you can choose from, we are sure. But this one, we found exceptionally good!
This lamp towards the wall does not cause glare on your eyes and is not a reading lamo either. It's purely for the purpose of decor.
And since, you can experiment with various kinds of lights for a space-themed bedroom, this one would be good too to give a try! So, just go ahead!
Unity Of Decor Can Be An OCD. And We Respect That!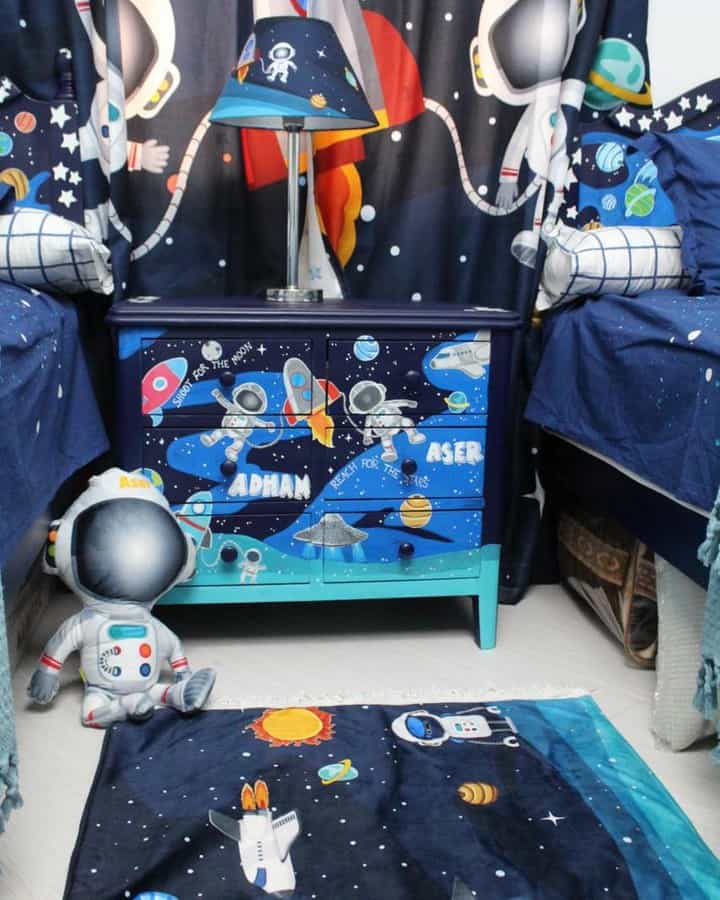 If you are really conscious about achieving the space theme in every way possible, this bedroom idea is for you!
You would like how the nightstand, the rug, the bedsheet and even the lamp have the same print. They give the look as if they are cut out from the same fabric and thus the look of unity is achieved!
And don't overlook that little astronaut! They are common in space these days.
The Bottom Line
At the end of it, themed bedrooms deserve the rise they are seeing today!
But that does not mean that you spend a great deal of money just to decorate ONE room. It's wise of you if you know how to decorate a room with a theme on a budget. This is exactly what we tried to help you with, in this post on the space-themed bedrooms.
In every post, our mission is to help you design a bedroom on a budget. So do check out other posts too. We have a lot out there, and we have a lot coming up!
Thank you for taking the time to read this!
And remember to comment down, which space-themed room out of all the above, did you like the best?