Books are love. They become close to your heart pretty quickly. And curling up with them in a cozy corner of your room is the most romantic date we, book-nerds, know!
Better still, when surrounded by books, you realize that heaven is a myth. The home library is real. (Excuse me for the cheesy lines. I hope you relate to my affair with books!)
The recent trends have brought about a revival of the mid-century modern design style for interior spaces.
The mid-century modern aesthetic refers to clean and simple lines and a mix of natural and artificial materials without excessive ornamentation. This movement in America came about post-WW2 and was extremely popular among homeowners and designers. It takes inspiration from the International and Bauhaus design movements of Europe.
A mid-century modern home library is ideal for creating a warm, comforting, minimalistic space.
The color scheme most often used for this style consists of a perfect blend of warm and cool tones that go well with brown wood used for furnishings.
The key to achieving this look is choosing your home library furniture through popular designs during the 1950s. It was the era of organic shapes and gentle curves that would gently cup your body to give you maximum comfort. This furniture is still widely prevalent and used for contemporary interior design.
So I you're ready to dive into these beautiful library design ideas and find inspiration to create a perfect little sanctuary!
Add Floating Wall Shelves
If you do not wish to clutter your floor space and keep the minimalism of the mid-century modern design intact, adding floating shelves to your home library is ideal!
Floating shelves are easy to install and look great against walls of any color.
Fill up your shelves with books, a stack of magazines, small pot holders, and posters to create your perfect mid-century modern little library.
RELATED: 31 Best Bookcases For Small Spaces For Under $187
A Cozy Reading Bench Is Must!
A soft, cushioned reading bench is a perfect addition to your home library when you have a window present in your space. They are easy to come by and can be frequently upgraded by changing the fabric.
Benches provide a minimalistic touch, creating a comfortable space to nestle in.
Add decorative pillows and a warm throw to make it cozy during the winter, so you don't have to switch your reading spot as the sun goes down. (Thank me later!)
Or Try diagonal Shelving?
If you're tired of the basic rectangular shelving options, try diagonals instead!
Diagonal shelving has become quite popular lately for library room interiors. It allows more space to arrange books, evolving into a visual treat for your eyes.
Even if you run out of books, leaving a few of these empty wouldn't ruin the aesthetics of your room. (Or bust your myth that you have enough books, LOL!)
Small Wall Units For Small Collections
For those with smaller collections, simpler small units work best. These small bookshelves allow your minimal collection of books to stand out and spare space to showcase other decorative items, such as photo frames, pots, calendars, and some magical crystals!
Opting for these shelving units allows you to switch your reading spot as often as you'd like – convenient for moving into new homes!
RELATED: 31 Best Bookcases For Small Spaces For Under $187
Mosaic Magic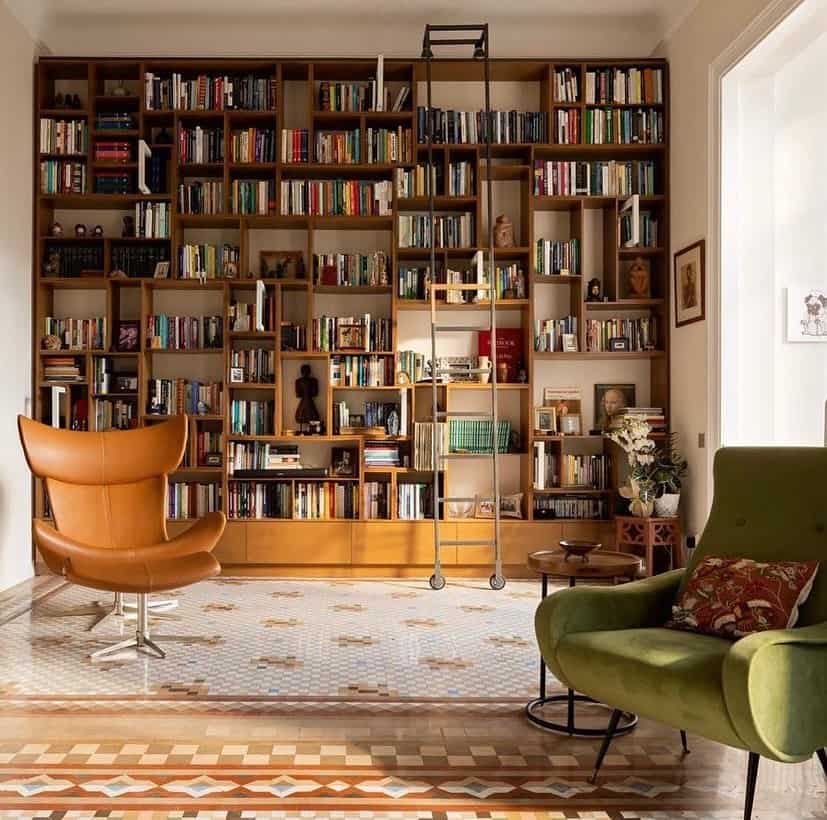 If you're going for a complete room makeover to make your mid-century modern home library, why not experiment with mosaic tiles for flooring?
You could opt for pastel shades or gorgeous tones of blue for your floor. They add a new design element to your space, and the beautiful patterns will highlight your library décor. Create a sanctuary straight out of a fairytale!
Add A Cozy Curl-Up Chair
A comfy place to sit while reading is essential to don'te that it becomes a romantic activity for you and you don't get up with odd aches and pain.
Add a chair that is gentle on your back and tailbone, besides being warm enough to keep you cozy for hours. That's the best investment for a home library!
Using white and neutral tones for your library furniture produces a beautiful contrast if you're going for warm yellow shades on your walls with wooden bookshelves.
Try Low Box Units
Safely the best minimalist home library furniture ideas, box units work well for a mid-century modern home library as they are in tune with this interior design style's clean, simple, and non-decorative aesthetics.
They are easy to clean and allow free walls decorated with posters or paintings. Use the flat surfaces above the boxes for placing even more books or other decorative pieces to decorate your reading space.
Consider Some Vintage Additions
You can't finish up your mid-century-inspired space without some vintage additions to your library décor.
Hunt some genuine old-timey posters and artwork, or search Etsy stores for framed pieces to hang up in your reading spaces.
Most artworks from this design era are inspired by this time and come in bold colors since they go well with the typical color palettes used for mid-century modern design interiors.
Use Freestanding Units
Wooden units are perfect for adding bookshelves as mid-century modern accent pieces for living room or bedrooms.
These solid units last very long and if you're lucky enough to find a sturdy-looking vintage piece at a local thrift store, grab it!
Fill the shelves with your favorite books and magazine stacks. You could even add a few fake vines to combine natural and artificial elements that the mid-century aesthetic celebrates.
RELATED: 31 Best Bookcases For Small Spaces For Under $187
Don't Forget The Floor Rugs And Warm Throws
Keeping a reading space warm is essential when you are looking to spend the cold autumn and winter days holed up indoors with a good book and a mug of hot chocolate.
Add a cozy cushion and drape a knitted throw on your chair or sofa, so you don't have to leave your book to find a warm blanket at that crucial little twist that changes the whole story for your favorite character (AKA heartache!)
Add Statement Furniture
The best way to begin compiling your mid-century modern home library ideas is by centering it around a statement furniture piece that catches the eye of anyone who visits the space!
Colordon'trniture pieces highlight this interior design era, so don't hesitate to pick up a bright-colored bit to highlight your home library.
Pair Your Single Seaters With A Footstool
A highlight of the mid-century design era was the Eames Lounge Chair. The chokehold this chair and the Ottoman set had on society is immense, to be honest, and the price range for this iconic set nowadays is just quite costly. Enter an alternative – matching armchairs and footstools!
Attain all the comfort of an Eames chair without the heavy price with the right set that goes with your other furnishings. You could go for bright colors or simple leather sets (as you will be calling it your favorite place soon!)
Consider A Pretty Floor Lamp
Good lighting is essential for reading. If you want to maintain the mid-century aesthetics for your library ideas, go for sleek floor lamps that can be placed beside your reading chairs without cluttering the floor space.
Using these movable floor lamps enables you to shift your reading corner often or adjust the angle of the light falling onto your book.
Floor lamps were used quite often during the 1950s for mid-century modern home library spaces.
Colorful Book Nooks
For those don'trefer the cooler tones of the color spectrum, don't hesitate to pick bright tones of blue and lavender paints, wallpaper, and fabrics for your reading space.
You could use floral wallpapered accent walls to make your mid-century modern home library pop like a vibrant and precious jewel.
Pair your lilac-blue walls with a contrasting baby-pink couch or armchair to finish it off – your little reading paradise is all set!
Reading Dates
If you wish to make reading an activity to bond over with a loved one, you'll need a table and matching chairs for your mid-century modern home library.
A simple wooden set is ideal for this aesthetic, and having a table will help you enjoy a drink or two with something to munch on while you read.
It is the perfect little lunch date setting that I'm sure your partner will appreciate – creating memories of bliss and calm in your comfort bubble! By the way, when you have so many lovely books around…what do you do? Read or date? Crossroad. Deadly crossroad.
Until next time, happy decorating!